Bootstrapping a SaaS to Fill a Key Market Gap
Hello! What's your background, and what are you working on?
My name is Dmitry Dragilev, I'm an entrepreneur, a fan of breaking personal records, a husband and father, a Moscow native, and a former ballroom dancer.
These days, it's easy for people to drop all of us guys who found companies into a bucket of common characteristics—podcast enthusiast, favors the color blue, physically fit and mentally present, unintentional athleisure model, privileged, and all-star paleo chef. But really, we're just as unique as everybody else. We're just all in one private Slack channel talking about how to appear less like each other. (Kidding.)
My background is that I've been working in tech for my entire career and even before that, I got my big break as a QA intern for Parametric Technology Company when I was in high school. My aunt and uncle were working there as engineers, and so they passed the baton to me when I realized I needed to help my mom and support my family a bit. It was tough growing up. We moved from one cold and snowy place in Russia to a cold and snowy place in New Hampshire when I was 11 years old. My grandparents, my mother, my baby sister, and I immigrated while my father decided to stay in Moscow, stubbornly thinking it would be an easier and better way of life.
I studied Computer Science in college and afterward I worked as a software engineer, developing software for flight plans that would be used by the military to fly C5s and C130s. I liked having my secret clearance status and I felt really successful as a single guy without any financial responsibilities. The media really nailed it though; they started to wax poetic on the virtues of startup success, the glamorous intensity of entrepreneurship...and it really spoke to me. I became interested in marketing and how my analytical skills could plot the direction of a company's growth. So I ended up in business school and got a job working for an early stage startup, Crossloop. From there I worked in various marketing roles for startups, getting a clearer picture of what kind of challenges early stage outfits faced when it came to marketing, and increasingly, PR.
I saw a fundamental flaw in the agency model when it came to startups seeking press. First, the outreach tactics were outdated. Second, the tactics they used and often still use today, were difficult for the startup clients to learn and replicate. Never mind that it's wildly over budget for the majority of bootstrapped small businesses who are still looking to show their proof of concept.
As a result, I built JustReachOut, a PR software platform that is intended to amplify the voices of companies in their infancy and early years, regardless of how scrappy they are. Today, JustReachOut supports entrepreneurs and marketers who are looking to personalize their outreach efforts, target the most relevant journalists and bloggers, refine their pitch-writing skills, and generally get a better idea of how to incorporate PR elements into a holistic marketing strategy—because operating your PR, content, and SEO strategies in silos won't be nearly as effective as housing it all under one roof. The platform focuses on PR research and outreach ,and is evolving to include more automated guidance so you can learn as you go.
We've had over 5,000 users to date since the company's start in 2014. What's incredible about this is that PR is so hard; for many of our customers, it has felt like an extremely expensive experiment only to learn that they really don't have time to dedicate to the task. Your visibility and authority are crucial in our crowded media landscape. If you can produce compelling ideas, turn it into content that your audience would lick up off the (recently swept) floor, pitch that story successfully, and build the right community or funnel to nurture this interest, you'll see people begging for more. We've managed to work with so many people who are willing to learn how to do their own PR and they know it's going to be a slog. It's harder than outsourcing these duties to an agency, but in the long run, it's more effective, it's more authentic, and it's way more fun to test things and break prevailing thoughts on what is considered pitchable.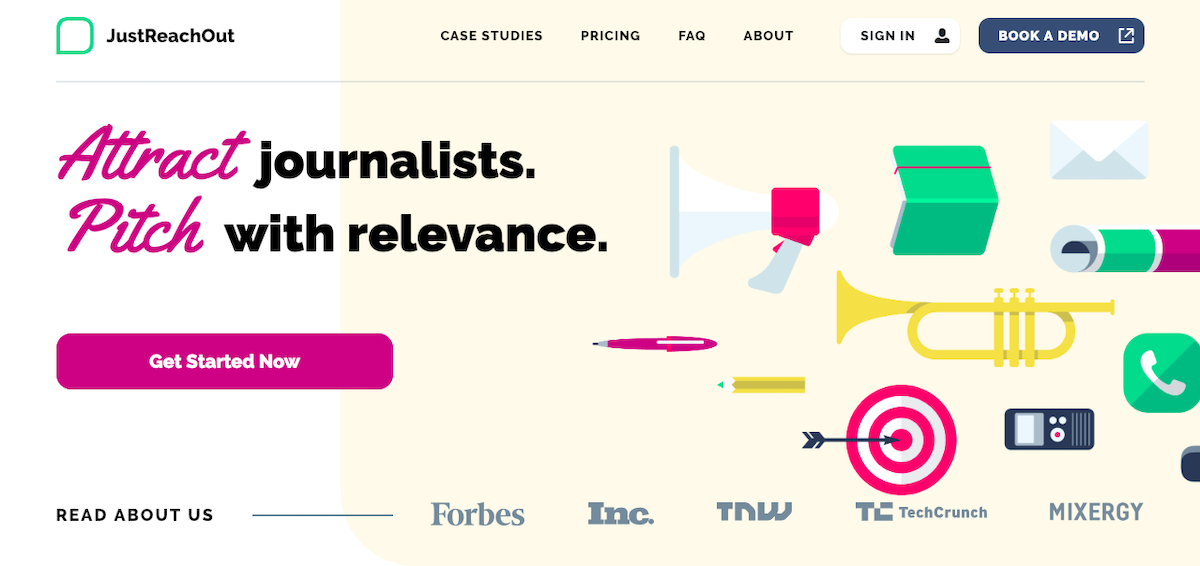 What motivated you to get started with JustReachOut.io?
I was working in-house as a marketer and then as a consultant when I first noticed that the PR bit was always tagged onto my job description as an afterthought. It would suddenly become important to the founder when a competitor got featured in TechCrunch or when a big event didn't have a full house or whenever there was a lull in other more pressing matters. I saw the constant struggle of founders weighing the decision to retain a fancy PR agency versus getting a full-time hire to handle it while also not being able to grasp the idea that PR could have a compounding effect. Once I started branching out from digital marketing and got into what was being dubbed as growth hacking, I started dabbling in PR. I thought, digital marketers have all these tools to help them analyze their campaigns, why doesn't a tool exist to teach you how to do PR, do the research and outreach that hones in on relevancy and personalization, and includes campaign guidance and monitoring?
I built a basic version of the platform. But before I built it, I got buy-in from other marketers at meetups in Boston, where I was living at the time. I even got people to pay for the tool ahead of the launch. I would sketch ideas of how I was thinking it would look on a piece of paper and ask other people in marketing for feedback until I started getting responses that amounted to yeah, I'd pay for that. Getting constant feedback from someone, incorporating it into my sketches and showing it to them, again and again, is how I won my first customers. I was relentless in landing the right mix of value and simplicity.
I stepped away from my consulting business, Criminally Prolific, to make more time to develop JustReachOut. Shortly afterward, my wife Corey officially joined JustReachOut to oversee growth and operations. I've always been laser-focused on checking off the items on my to-do list whereas Corey is better at the frameworks, the process stuff, and the dreamy strategic visions. She also had a substantial hand in the site re-design and copy overhaul that we did last year, making things (in her words) more inclusive, less blue. I've learned a lot from her about branding, writing, and how skewed our culture is thanks to the systemic effects of the patriarchy that bleed into our media every day. So while teaching our community of entrepreneurs and marketers how to build authority and credibility is crucial, at JustReachOut we also strive to bring more awareness around leveling the playing field when it comes to how companies and people are represented in the media.
What went into building the initial product?
I documented my early days in this blog post and started selling the app around 2015/2016 before it was even built! I scraped together my own dev skills until I couldn't build a prototype that was workable. Then I brought on a friend, who generously took on the task of building out the initial product to see if we could get it off the ground with minimal hours invested. My friend had a full-time job and I was working to keep my consulting clients happy, so JustReachOut was really just a side hustle in its early days.
I poured my earnings from consulting into getting JustReachOut developed through the next phase, bringing in a silent partner who provided an immensely talented bunch of engineers and product managers. We improved the search engine's functionality and outreach capabilities and started to focus more on teaching customers how to do their own PR.
There are a lot of requests that come in from customers to add new features and over time, I've learned to look at these requests and evaluate how they fit into the bigger puzzle of delivering value and helping all customers get results better or faster. Sometimes we get great ideas and suggestions but if they don't fit into the scope of development, we can't get sidetracked with building a word counter into our emails because it will only slow us down.
How have you attracted users and grown JustReachOut.io?
In 2017, I partnered with Noah Kagan's AppSumo and we did an insanely discounted deal to bundle JustReachOut. My goal was to acquire more customers, and it did just that. At the time, I had around 400 paying customers on the platform. Overnight, by bundling with AppSumo, I was able to bring in over 2k new customers! I thought I had struck gold. I ran another Appsumo deal and got over 2k more! I quickly got set up with a Zendesk account and put on my Customer Support hat, working late into my evenings to get a ton of PR questions answered.
I learned a few hard lessons with this exercise in rapid growth. The tool alone wasn't sufficient to support people through their PR campaign, because they didn't know what they were doing or why they were doing it. Also, the more traditional approach to PR is to email blast journalists, bloggers, influencers; however, JustReachOut was intentionally designed for a very different type of PR campaign. We focus on quality over quantity, narrowing down on the most relevant people and publications to contact, coming up with a value-add proposition in a brief pitch, and analyzing results often so that you know when to pivot your approach. Our outreach tactics tend to be more effective for long-term campaigns where you're looking to get continuous coverage, rather than get a quick hit in a splashy publication.
In the last year, we've pumped the brakes and shifted our exclusive SaaS model to one that now incorporates service and support. This has been a game changer for us. We said goodbye to a substantial number of customers who weren't a good fit so that we could provide greater value to customers who will benefit most from our offering. We've been given a new opportunity to study the best tactics and strategies that work best for very specific situations, document the process for teaching it, and offer a much more tailored but scalable product that better guides people through the learning process.
We have a strong subscriber list for our newsletter, so we occasionally revisit to check in with folks and ask if they need help with their PR. We don't currently do any Facebook ads but we may be running some again in the near future. I mainly write, speak at conferences, and do podcast interviews about PR tactics and how the success of a campaign hinges on:
the time you have to dedicate to the experimental nature of the process
the content, assets, or ideas you can bring to the table. If your content is deemed "pitchable" we can teach you how to pitch it. If your content is not "pitchable," you have more work to do.
As we ramp up our efforts to roll out a more robust self-service option, we're turning our attention on our marketing efforts for the first time. In the past, I haven't done much with marketing, at least not highly targeted marketing campaigns, but now I'm more confident of how JustReachOut can help support marketers with their PR efforts today than I was a few years back.
| | |
| --- | --- |
| Year | Revenue |
| 2015 | 15000 |
| 2016 | 70000 |
| 2017 | 300000 |
| 2018 | 380000 |
You can see that the revenue and traffic numbers in the first couple of years are a reflection of this being a part-time gig, and then becoming more productive as I dedicated more time and added others to the team.
| | |
| --- | --- |
| Year | Visitor |
| 2015 | 100 |
| 2016 | 200 |
| 2017 | 1500 |
| 2018 | 2700 |
| 2019 | 3000 |
What's your business model, and how have you grown your revenue?
Today, we're not purely a software business. We work with a brilliant outreach team that either teaches our customers how to do their own PR or executes the research and outreach on the customer's behalf. Since we said goodbye to many of our self-service customers, we replaced them with higher paying full-service ones. This approach is a temporary fix that's providing us with a steady MRR of $30k. This has given us the breathing room we need to polish our onboarding experience while keeping operations extra lean.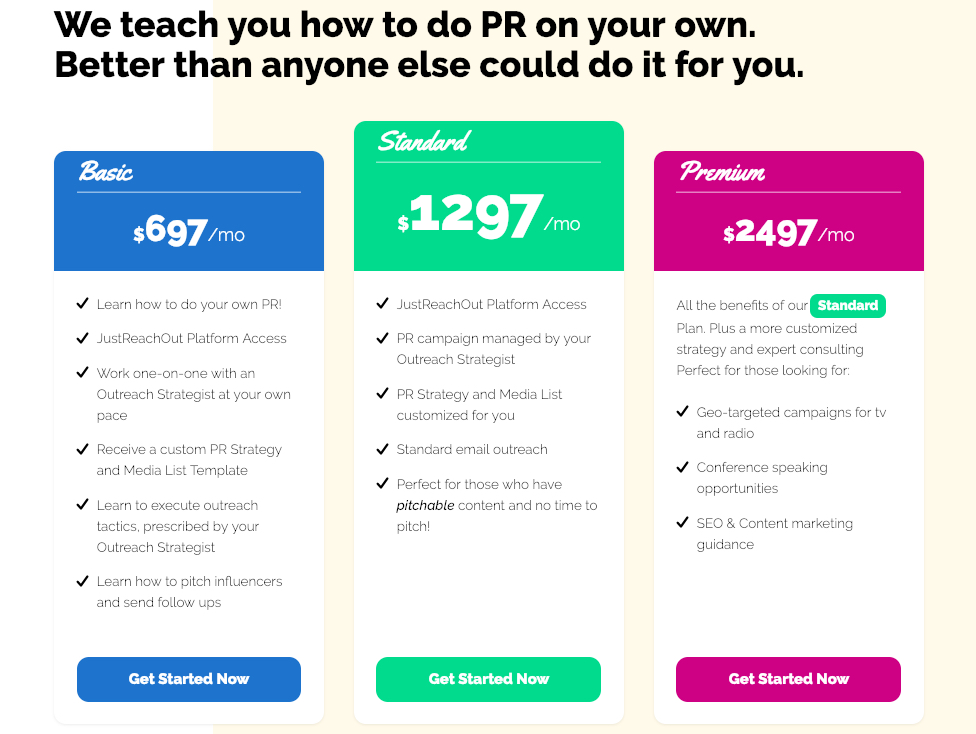 What are your goals for the future?
In the next year, I would like JustReachOut to support 500 new customers to do their own PR using our platform for learning about the most effective tactics for their goals, researching journalists and publications, and seamlessly conducting outreach campaigns. We'll be launching a new and improved self-service plan this year, one that will appeal to a broader market looking to learn at their own pace, on their own time and have the content marketing talent on their team to help them hit the ground running.
What are the biggest challenges you've faced and obstacles you've overcome? If you had to start over, what would you do differently?
In hindsight, I might do some things differently, sure. But not much. I am a fan of testing things out and learning from the process, even if it ends up taking a toll on a timeline or budget. The biggest challenge has been learning about PR from a non-PR perspective. I approach PR differently than the leading agencies do because I am looking to scale my own business or the business of my customers differently than a massive multinational conglomerate would. The stories and products that spring from small companies need to be nimble and adjust their strategy quickly.
Have you found anything particularly helpful or advantageous?
I like having a fairly regular and predictable schedule. I know what I need for my basic survival—time for meals, time to exercise, time with my family, a solid eight hours of shut-eye, and time to relax and recharge. I build that into my calendar so that it happens and let the rest fall into place. Somehow it all gets done.
There is no single book, podcast, or program that has been the silver bullet for my success. Having a supportive group of friends and colleagues—people I know well and who know me well—has really softened the blow of entrepreneuring while parenting.
What's your advice for indie hackers who are just starting out?
If you're looking to build authority and credibility with your audience through PR, there are so many different approaches out there. You can't go wrong with testing different PR tactics early and building a strong community around your expertise. Know who you want to reach and focus on building relationships with them, providing support where they have gaping holes of knowledge.
For anyone who is set on bootstrapping and is looking for some raw and honest insights around the experience, I really enjoyed reading Rand Fishkin's Lost and Founder. A few short decades ago, very few entrepreneurs—if any—were so open about the financial, emotional, and strategic matters of growing a company. Today, in the startup and tech space, it's commonplace to share growth and failure trajectories, but Rand's style lends such a personal view, I think I enjoyed the human side of his story that much more.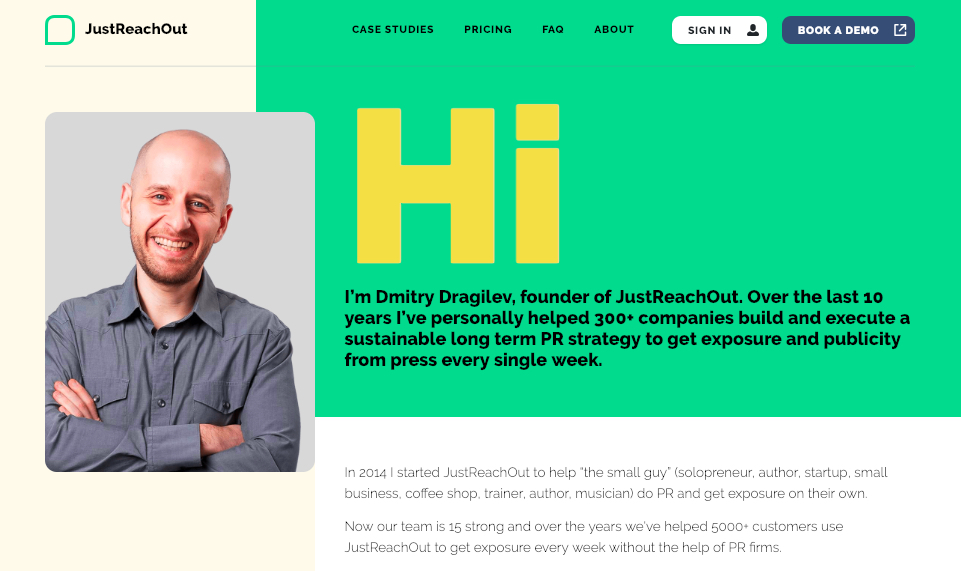 Where can we go to learn more?
When people are on their deathbed, they never express regrets over not spending enough time at the office or not making enough money. Usually, people wish they had better managed a relationship or had a greater impact on society or their community. Our impact is only as great as we imagine our capabilities to be. Making a bigger impact in your life starts with having a vision of how we want to be perceived by others and then acting accordingly. PR operates much in the same way, we dream up the impact you want to have and what value you have to share with your audience and then we help you define what efforts will help you make it possible.
If you haven't thought about how your company or your brand can influence your audience, I encourage you to do so. Whether you pour over all the advice available for free out there or you decide to pony up some time and money for basic training so you can let your brand blossom with a proper introduction to PR, the potential reach of compelling content and expertise is critical in our world of distractions. Learning how to use the right PR tactics to spread the word then becomes priceless. Interested in learning more? Check out https://justreachout.io/ and subscribe to our newsletter to get PR stories and lessons delivered to your inbox!
What questions about PR can I answer for you? Pop them in the comments below and I swear I'll respond.
—
Dmitry Dragilev , Founder of JustReachOut.io
Want to build your own business like JustReachOut.io?
You should join the Indie Hackers community! 🤗
We're a few thousand founders helping each other build profitable businesses and side projects. Come share what you're working on and get feedback from your peers.
Not ready to get started on your product yet? No problem. The community is a great place to meet people, learn, and get your feet wet. Feel free to just browse!
—
Courtland Allen , Indie Hackers founder