Escaping the "Trough of Sorrow" and Growing to $5K/Month
Hello! What's your background, and what are you working on?
Hello! My name is Lucas Maldonado and I am an entrepreneur and developer from Argentina. My 16-year-old brother and I created Convertify, a service that converts websites into native mobile apps for both Android and iOS.
I began my entrepreneurial career eight years ago, and since then I have co-founded several ventures:
Image hosting websites with around 40,000 affiliates.
PopMyAds, an ad network serving more than 10 million daily ad impressions.
Doctor, a searchable database of more than 100,000 registered doctors in Argentina.
But today I'm here to talk about Convertify. We help people with zero mobile development knowledge convert their websites into mobile apps. Today we're making around $5,000/month from the service.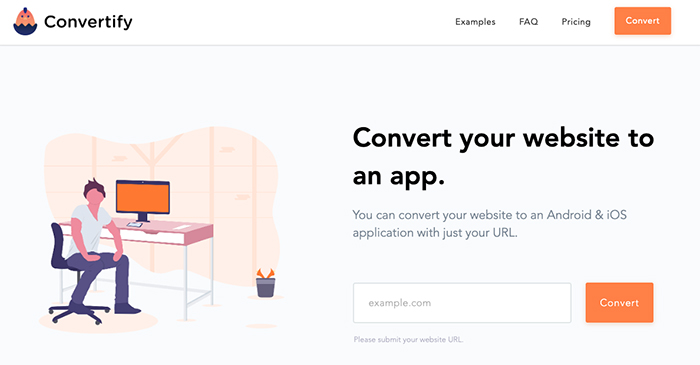 What motivated you to get started with Convertify?
We were working on a side project when my brother and I realized we were going to need to create a mobile app. Our website was very robust but had the right kind of user experience needed for a mobile app. That is when we began playing with idea of converting websites into apps.
As web developers, we always thought it would be impossible to create a native Android or iOS app. App development is much different than developing for the web. But we figured that if we used some of the latest web technologies (Angular, React, Vue) we could create a responsive web app that would look and function just like a native app. We decided to pitch the idea to a couple of friends who are in the tech industry and received great feedback.
What went into building the initial product?
We began building an MVP in order to launch as quickly as possible and assembled the website in just a week. It was a simple landing page with a brief explanation of our product's purpose and value.
The difficult part was developing the actual framework that would convert websites to Android and iOS. Without much experience developing mobile apps we really had no idea how to start. It took countless hours of reading Android Studio, Xcode documentation, and Stack Overflow until we had an MVP product ready.
Because Convertify started as a completely bootstrapped side project, it took us nearly five months to build it out; about two months for Android and three months for iOS. We found iOS development to be a bit harder.
That is the heart of Convertify. We've removed the hassle and the hours of work it takes to create a native app so indie hackers can easily launch their own apps on the Google Play and App Store.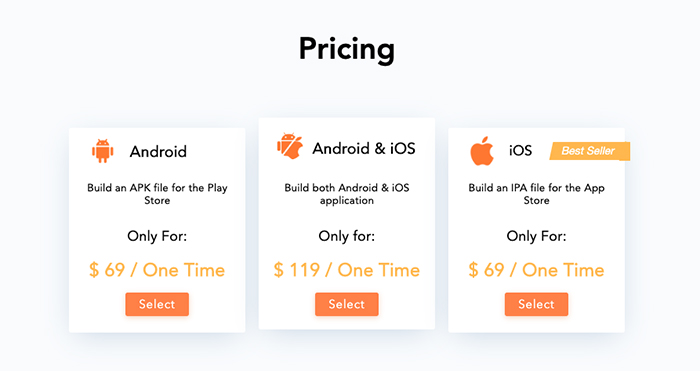 How have you attracted users and grown Convertify?
Just as many founders choose to do, we decided we to launch on Product Hunt, and further decided to do it on a Tuesday. Since Product Hunt servers are based on PST time, we set our alarm to wake up early and post our product. We were super excited but went back to sleep.
The next morning our product was on fire. We already had 108 upvotes, 15 comments, and nine requests to convert websites.
Launch day is always a roller coaster; our advice is to plan ahead and choose to do it on a day when you can be fully dedicated. You'll be replying to comments, emails, and chat all day. Every interaction counts; many of the sales we closed that day happened directly over live chat.
That first week we got 525 upvotes and 64 comments on Product Hunt, which pushed up our product to third on the website. On our actual launch day we got 21 sales and 43 overall during that first week.
We ended up having 4,000 unique visitors during the first month. However we didn't get much more traction after the initial Product Hunt launch. So we decided to pivot our efforts and focus on increasing organic traffic by writing high-quality, SEO-boosting articles. We mainly wrote about how to use Convertify to solve specific problems using keywords like "convert website to android app" and "convert website to ios app."
Visitors quickly dropped to 1,000 in December 2018 and hit a rock bottom of 200 in January and February 2019. We almost abandoned the project. But SEO takes some time to go into effect, and we started to notice an uptick in March as visitors increased to 400 followed by 1,200 in April.
What's your business model, and how have you grown your revenue?
Our business model is simple: sales of apps. When we convert websites into apps, we're selling a lifetime app. Once we convert the app, our relationship with the customer ends.
Even though we had a very successful launch on Product Hunt, we quickly entered the famed trough of sorrow. We sold almost $900 worth of app conversions the first month, but that revenue quickly dropped down to just north of $100 for the next three months. We soon realized we needed a sustainable flow of new customers.
Our SEO efforts started to take off in March 2019, and raised our price from $14 to $49. We added Stripe as a payment option and more people began to purchase. We managed to get around $500 in revenue organically. It was during this month that we started to feel like Convertify could be quite successful.
Our next step was to determine how to get more money from our current customers. We added push notifications as an extra feature for $30. This turned out to be a huge hit; 90% of our customers chose to add push notifications to their order and we managed to earn around $5,000 in April.

What are your goals for the future?
We have many goals and objectives:
Each app we deliver is carefully handcrafted by us. We would like to automate this process as much as possible without having to forgo customizations.
We would like to reach an average of $10,000 in revenue each month.
There is still a lot of room for SEO growth, as we don't even appear on the first page for our keywords.
Similar to the push notifications add-on, we will continue to develop new features to provide more value for our customers.
We want to integrate with more native SDKs such as in-app purchases.
We plan to add more content to the blog.
What are the biggest challenges you've faced and obstacles you've overcome? If you had to start over, what would you do differently?
Pricing was really hard to nail. We started charging $15 for every app converted to iOS or Android. We thought that by charging very little we would attract thousands of customers. But we quickly realized that this pricing scheme was completely wrong. In talking with hundreds of clients, most of them said they thought the website was a scam and that they didn't trust our website.
Our service is quite manual. We have to convert each app by the customer's specifications and we quickly grew tired of spending hours converting websites for just $15.
So we raised the price to $49. With this simple change we were once again motivated and found that more customers trusted our service. We saw an increase in sales almost immediately. Since then we've raised it again to $69 with similarly positive results.
If we could start over, we would set a higher price at the beginning as opposed to the other way around.
Have you found anything particularly helpful or advantageous?
Having knowledge of running online businesses definitely helped, but I would say having my brother as a co-founder really made the journey as smooth as possible. We are a small business and there have been plenty of times where the workload was extensive. Having a partner to work with has been really beneficial in that way.
Focusing on SEO early on can really set your business up for future success. SEO has been a huge part of each of my businesses. The first step is to make sure you have on-site SEO which builds the foundation for a solid SEO strategy; without this, everything is in danger of falling apart. Choose your target keywords using two must-have tools: Google Keyword Planner and Google Trends. Make sure everything that is written for your website relates to those keywords.
I've learned that a blog is one of the most important pieces for any software business, because writing content about your niche makes you an authority.
Once you've nailed on-site SEO turn your sights to off-site SEO or the link-building process. Write guest posts for blogs that are related to your business, add your business to software directories like Capterra and AlternativeTo, and share your product on as many websites as you can. Off-site SEO is really important but will only work if you have great on-site SEO to back it up. This is how you'll rank high on Google.
We realized live chat is also a huge component of our success. Communicating with customers in real time is a must. We only have one or two chats every day so we answer as soon as we receive the messages. Most customers need that extra push to purchase and live chat allows us to do just that! Our business heavily relies on Intercom, with good reason.
What's your advice for indie hackers who are just starting out?
Here is some of the best advice I can give to entrepreneurs who are just starting out:
Ship. As a bootstrapped company it can be really easy to abandon your project. Work hard until you launch. I promise you it will be the best thing for your business in the long-term.
Deliver fast. The faster you ship your product the faster you'll discover if it's a hit or not. Don't try to make a perfect product; build an MVP first and you'll be able to see if you are on the right track sooner. At worst, you'll have saved countless hours working on a product that has no chance.
Charge from day one. The longer you wait to charge for your product, the more normalized the "free" part becomes and the scarier it gets to ask for money.
Where can we go to learn more?
If anyone has any questions for us please don't hesitate to ask in the comments. We'll try to answer everything. Thanks for having us on Indie Hackers!
You can learn more about Convertify at:
—
Lucas Maldonado , Founder of Convertify
Want to build your own business like Convertify?
You should join the Indie Hackers community! 🤗
We're a few thousand founders helping each other build profitable businesses and side projects. Come share what you're working on and get feedback from your peers.
Not ready to get started on your product yet? No problem. The community is a great place to meet people, learn, and get your feet wet. Feel free to just browse!
—
Courtland Allen , Indie Hackers founder