Failing to Find a Developer, and Building the Product Myself
Hello! What's your background, and what are you working on?
Hey there! I'm Tracy, a designer-developer-author-entreprenerd (phew) living in Toronto, Canada. I'm originally from California and have a BFA in art and design from Cal Poly San Luis Obispo.
While I was in university, I started working at a startup (literally in a garage) as their first and sole designer, and there I really started to enjoy working on a small team and being in charge of the direction that I wanted to go. It was a great introduction to starting my own startup.
After 4.5 years, I departed that role so I could start working for myself — first by freelancing, then by building my startup. WeddingLovely's first property launched in January 2011. Today, WeddingLovely is a wedding vendor marketplace and planning app, with eight specialized directories (like WeddingInviteLove.com, the first website I launched and what I learned to code with), our main general directory (WeddingLovely.com/vendors), our planning app (WeddingLovely.com), and last but not least, a popular weddings blog (WeddingLovely.com/blog).
We're profitable, and we had our best month ever in August 2017 with $7,200 in revenue.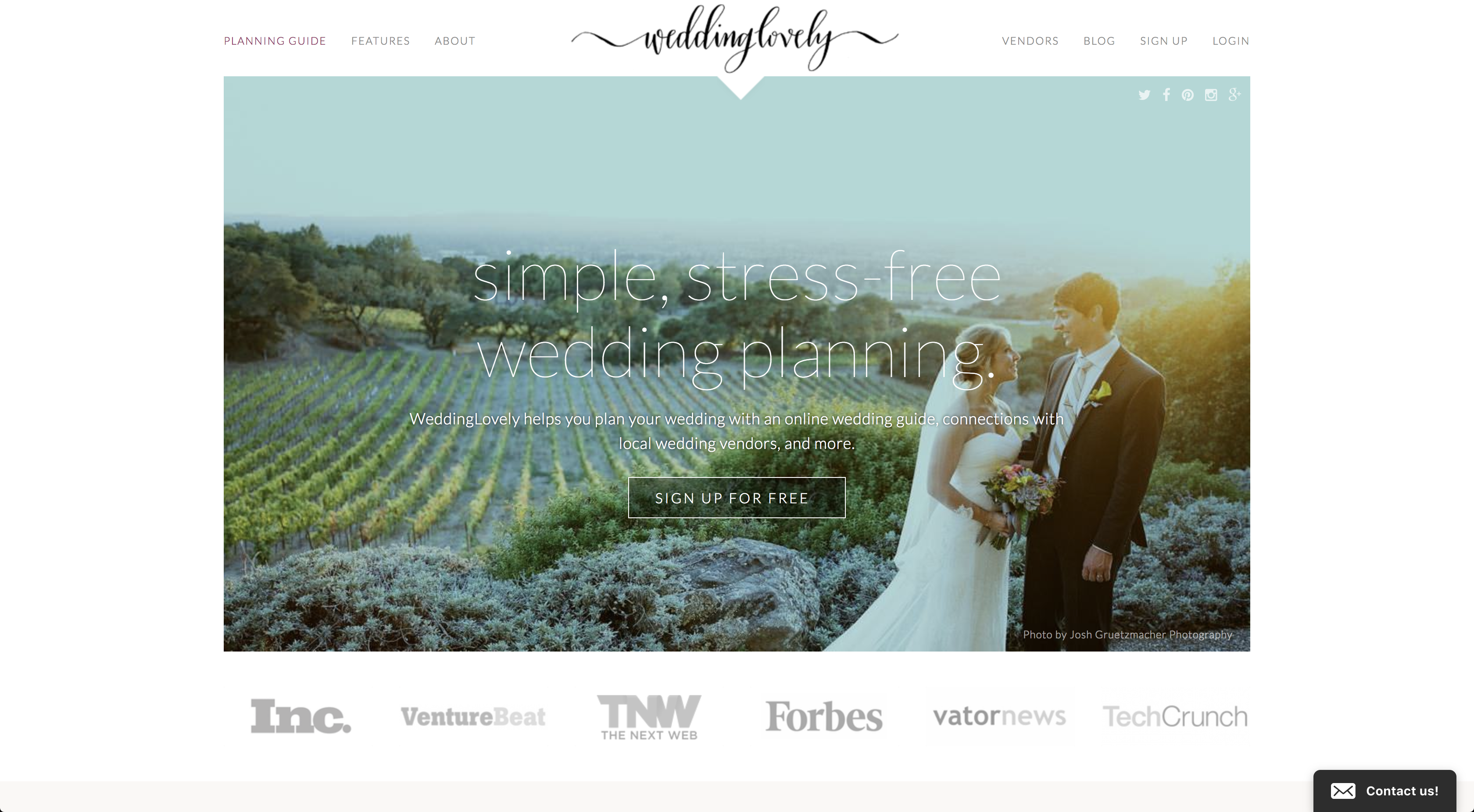 What motivated you to get started with WeddingLovely?
Living in Silicon Valley, it's easy to catch the startup bug! My (now) husband was going through Y Combinator, and I was lucky to do freelance design with his startup as well as a few others in his batch in the summer of 2010.
I decided I wanted to build a website generating wedding invitation designs for folks to print at home. As a designer, I love wedding invitation designs and wanted to help more folks get beautiful typography for their DIY invitations.
I'm actually not the biggest fan of wedding planning and that whole hullabaloo (I eloped in Vegas for my own wedding because I see the stress that goes into planning!), but wedding invitations was a fun niche where I could apply my design skills. Unfortunately I was scared of programming and spent months searching for a co-founder to build this idea.
Worse still, finding a co-founder didn't work out, so I decided to scale back and build something I could teach myself coding with: a wedding invitation designer directory. Other directories existed but I found them rather ugly, and Haystack by 37 Signals (now Sortfolio) inspired me to build a simple app with large, beautiful pictures and easy-to-access contact information so folks could work with local and small business stationery designers.
I built and launched the MVP in about six weeks, and the blog post I wrote about the process) went viral on Hacker News, giving me the moniker of "that HN weddings person" at any meetup I went to. It started out as just a fun side project to teach myself how to code, but in the next few months I was accepted into the Designer Fund, and then 500 Startups — so I quit my freelance work and leapt head-first into full-time startup life.
What went into building the initial product?
Honestly not much! I'm a big advocate of building something small and lean to test out your idea with real customers as fast as possible. My background as a designer definitely helped — folks could only see the polished front-end and not the gigantic mess of the back-end.
I continued to teach myself how to code by learning how to build features as I went — adding payments meant a whole mess of Googling and new knowledge, adding geolocation was a whole new set of Googling and more knowledge. The MVP itself took six weeks (again, starting from scratch as a programmer) and was just a form to sign up, a "profile" page, and a homepage, all built on Django/Python.
I'm so glad I had an early MVP up as a few weeks after launch, I happened to get lunch with Tina Roth Eisenberg, the blogger behind swissmiss. I've always wanted to meet her and joined up with her coworking space for lunch after taking a chance and emailing her. I didn't mean to pitch her my new website but since it was live, I demoed it and 4-5 hours later, my phone blew up with notifications of new signups after she blogged about my project). Her audience was a perfect fit for the folks I wanted to attract so it was a perfect marketing accident.
To cut a long story short, I took that initial directory and (over time) launched seven more to focus on other wedding business niches, then built a "hub" to contain all the businesses in the network under one searchable roof, then a planning guide to better direct planning couples to the businesses we worked with.
If I remember correctly, the first year was only directories, then I added the planning app and general vendor directory around year two or three. I'm now in my seventh year of running an online wedding business.
How have you attracted users and grown WeddingLovely?
Oh goodness, it's been a rough road! WeddingLovely has not been a rocket ship — it's been years of trying different things and seeing which ones stick, sometimes staying only barely above bankruptcy.
One of the keys to WeddingLovely's success has been working with wedding businesses. Today we work with over 8,000 wedding businesses worldwide, and these small businesses are our partners in growth. The more we can help them, the bigger WeddingLovely grows.
| | |
| --- | --- |
| Year | Business |
| 2011 | 496 |
| 2012 | 1644 |
| 2013 | 2468 |
| 2014 | 3861 |
| 2015 | 5417 |
| 2016 | 7187 |
| 2017 | 8392 |
A fun marketing hack is our weddings blog.
First off, I started the blog because I wanted to attend a wedding trade show but didn't want to pay a fee to enter, and found out that "press" got free tickets. A couple hours in Wordpress and a week's worth of blog posts later, I had an invite to the trade show and access to the hundred or so businesses exhibiting.
I brought my DSLR and took photos of booths and their products (later used in the blog, and shared with the businesses so they'd share the post and I would get more traffic). I also ordered some cookies from a local bakery, and packaged them up with my business card. I figured the business owners would be exhausted and hungry from exhibiting all day, and indeed it helped me stand out and make some quick friends in the industry (not to mention, more businesses signed up on our marketplace.)
The blog grew into our best marketing tool. Our content is largely sourced from the businesses on our platform: they're happy to share their work, from photos of their products, photos from weddings where they were a part, or being interviewed. The businesses promote the features we do on them, exposing new planning couples and businesses to our blog, and therefore our vendor network and planning guide. The blog drives traffic, makes our businesses happy (since we feature their work), as well as giving us another source of income from advertising and affiliates.
In the beginning we focused a lot on SEO and cold emails, but now the majority of our traffic and users come from referrals, press and PR, and social media. We try to use our business partners as much as possible since promoting them promotes us — it's win-win.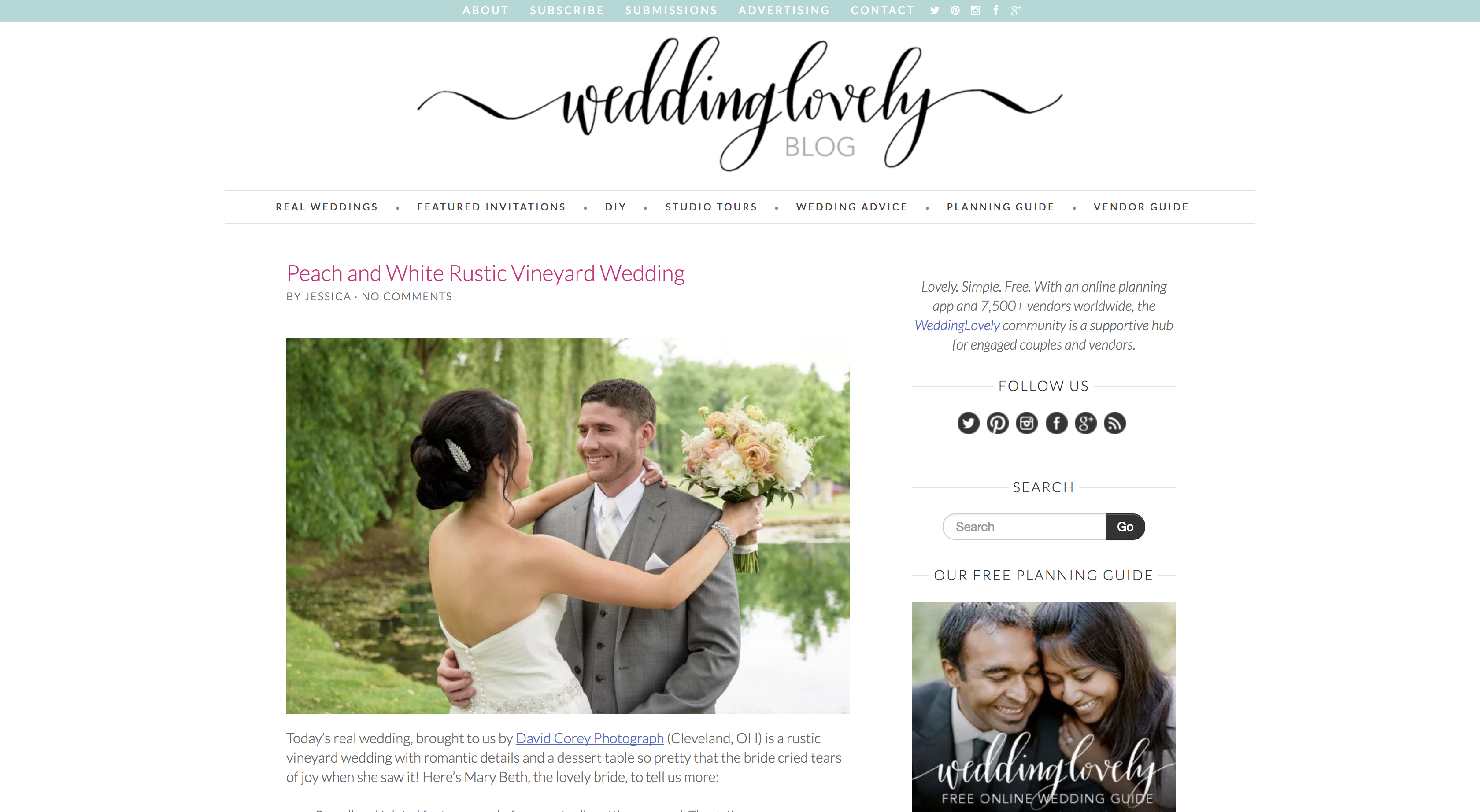 What's your business model, and how have you grown your revenue?
We primarily make money from our business partners. While the vast majority of our vendors are on free accounts, there are two different paying programs that businesses can opt into. I've often thought about making WeddingLovely paid-only (as quite a few of our competitors do), but at my core I want to help small businesses, and I'd hate to refuse a signup just because they couldn't afford to pay a fee. We're a small business too and understand how hard and expensive it can be to run and advertise a business.
We've also had success with affiliate marketing through our weddings blog. This was a complete accident — there were a few blog posts where I recommended products and discovered they had affiliate programs after publishing. These posts rose to #1 in several Google searches, so in good months we can make around $2,000 in affiliate revenue alone.
We also run ads on our blog, some sidebar ads (becoming harder and harder to sell) as well as sponsored posts. We publish 2-3 times per day and try to keep any sponsored content to once a week. I think we've found a good balance between natural and paid content.
I'm often asked why I don't make our planning product a paid product. We actually charged for it when it launched! It originally had a wedding website feature, something I coded up quickly without thinking about the consequences to throw into the product as an extra feature.
The support requests went through the roof: "Can I have a different background color?" "Can I add more images than you currently support?" "Can I have a map for each location?" All reasonable requests, all completely overwhelming for a one-person developer team (me).
I ripped out the wedding website feature, made WeddingLovely's Planning Guide free, and focused instead on working with as many planning couples as I could to maximize traffic to our vendor partners.
| | |
| --- | --- |
| Month | Revenue |
| 2011 | 572 |
| 2012 | 19092 |
| 2013 | 36479 |
| 2014 | 22085 |
| 2015 | 27602 |
| 2016 | 32246 |
| 2017 | 62000 |
What are your goals for the future?
I've fallen in love with hiring!
WeddingLovely has been growing so much faster with enthusiastic team members, and I love watching them work together to solve problems. I'm definitely going to be reinvesting any profits right back into hiring and seeing how far I can take the company. After working solo on WeddingLovely for so many years (telling myself I was saving the company money by doing so), it's so much fun managing a team instead.
We also have done a lot of good work on the wedding business side of things but we have a lot of work to do to really make our wedding planning app shine.
Traffic-wise, it's stalled over the last few years as we've focused on our vendors, and I'd love to build it up into the best free wedding planning app online. Perhaps a mobile app! I don't know how to build mobile apps so maybe that'll be my new learning-to-code project.
If you had to start over, what would you do differently?
Oh lordy, I've made so many mistakes over the last seven years.
The biggest mistake was flip-flopping between bootstrapping and fundraising. With a bootstrapped business, you want to make as much money as possible as early as possible. With a VC-funded business, it's better to focus on user growth and virality without distracting revenue numbers (especially, in my case, when revenue wasn't great for the first five years of business).
I started WeddingLovely thinking that I would make it a bootstrapped business (being a fan of patio11 and other famous bootstrappers on Hacker News.) When I got my 500 Startups offer, I decided to pursue VC funding (ultimately only taking the $50,000 that 500 Startups gave).
After failing to raise, I decided to bootstrap it again, but then tried to raise another round after a year, taking a small amount of money but ultimately failing to raise another around… again. And back to bootstrapping I went. Each of these swaps drastically slowed the pace of my business and distracted my focus.
I was considering trying to sell the business late last year when an old remote employee (who left for personal reasons a year or so before this) emailed me and asked if I could hire her back. Burnt out, I decided that instead of selling, I'd take my meager $20,000 salary and give it to her as a part-time salary and let her have free rein on the business. I would take no salary (working on writing books, my other project) and stick around as an "advisor".
The effect she's made by being enthusiastic about the business (compared to burnt out me) has completely transformed what we do. Today WeddingLovely is profitable with her full-time, two part-time contractors (including myself), and a full-time virtual assistant. We are making more revenue and have more traffic than any year that I was working solo.
At the time, it felt like I was firing myself and honestly, I should have fired myself years ago to hire someone better. By being stubborn and insisting on running the business myself when I lost enthusiasm working on it, I was actually holding it back.
Have you found anything particularly helpful or advantageous?
Previously, I thought I should have shut the website down when the business wasn't going well — saving myself brain cycles and being able to fully move onto other projects. Now I'm glad that I persisted and kept the websites running as now I have a team working under me who are enthusiastic and excited to work on WeddingLovely. I get to employ these awesome folks and give them a job that they love, and I'm so very happy that I didn't take the "fail fast" motto to heart.
Especially since WeddingLovely is a marketplace — we're doing better than before because we finally have enough businesses and choice on the platform to make WeddingLovely useful to folks looking for their wedding vendors.
I'm also very happy that WeddingLovely primarily works with and generates revenue from small businesses (rather than the folks who are planning their wedding). I've seen so many wedding businesses fail as the wedding industry produces a ton of churn, forcing businesses to generate a whole new set of users year after year. By producing our revenue from wedding vendors, we don't have to worry about aggressive marketing to replace our user base every year.
What's your advice for indie hackers who are just starting out?
Use your community! In the hard times when I felt like quitting, it helped to lean on others and know that I wasn't alone. Startups are a rollercoaster day-by-day, and it can get majorly depressing if you're all on your own. Friends, local meetups, online communities (like Indie Hackers!) are all great places to let some steam out, get advice, and help keep your motivation up.
Another thing that seriously benefited me was keeping my costs low and setting up my projects to mostly run themselves through automated emails and processes. So when I needed to take a day away (or three weeks, in some cases) I could do it without the business completely tanking in my absence.
Last but not least, hire a virtual assistant. I wrote a blog post about my process using OnlineJobs.ph.
I should have hired my full-time assistant years ago. She takes care of the emails that come in, uses documentation I wrote to take care of basic tasks (like getting content from vendors for our blog, helping with username requests, approving vendor applications).
For a long time (years!) I did these tasks myself, which made me feel like I was being productive. But now that I've delegated those tasks away, I realized that I was actually slowing the business down as those little daily tasks distracted me from growing the business.
I might extend the above advice to hiring in general — when I fired myself and hired my marketing manager, her enthusiasm improved my own enthusiasm and productivity. Taking the risk of using my revenue to pay her part time was worth it, as revenue grew to pay her full time, hire more, and start paying myself again.
Where can we go to learn more?
You can sign up for WeddingLovely at weddinglovely.com. My personal website is at limedaring.com, and I'm active on Twitter at @limedaring — send me a DM anytime.
I'll be answering questions in the comment section below as well. Looking forward to chatting. Thanks for having me!
—

limedaring , Creator of WeddingLovely
Want to build your own business like WeddingLovely?
You should join the Indie Hackers community! 🤗
We're a few thousand founders helping each other build profitable businesses and side projects. Come share what you're working on and get feedback from your peers.
Not ready to get started on your product yet? No problem. The community is a great place to meet people, learn, and get your feet wet. Feel free to just browse!
—

Courtland Allen , Indie Hackers founder