Finding the Right Audience and Bootstrapping to 5,000 Users
Hello! What's your background, and what are you working on?
Hi there! My name is Rick van Haasteren, and I'm the founder of SiteGuru. I live in the Netherlands, 30 minutes from Amsterdam and two minutes from the beach. SiteGuru is my side project; my day job is working as a team lead for an internet agency. I'm a curious mix of a developer and an online marketer who likes building stuff.
I've always been building side projects. After I learned how to build a website in high school, I created a very successful online HTML course. After traveling to Australia, I started a travel blog service that let people share their stories and photos with friends and family. This was in 2002, way before social media had really taken off — back then I was sending printed photos to my parents. I've sold both these sites. I also run an online wine shop together with my wife, which is going really well.
SiteGuru helps website owners and marketers find and fix issues on their websites. I believe your website is a bit like an iceberg: you can only see part of it. Some issues may be underneath the surface, affecting your visitor's experience and hurting your search engine rankings. SiteGuru aims to give you the full picture of how your website is doing, and how you can improve.
I like my job, but love to keep building stuff on the side. I hope to be able to fully focus on SiteGuru in the future, but I'm not there yet. SiteGuru generates $500 a month in revenue and it keeps growing every month.
SiteGuru currently has over 5,000 users and it's super cool to see that, every day, about 100 people use SiteGuru to improve their websites. I get a lot of positive feedback, which is great motivation to keep going.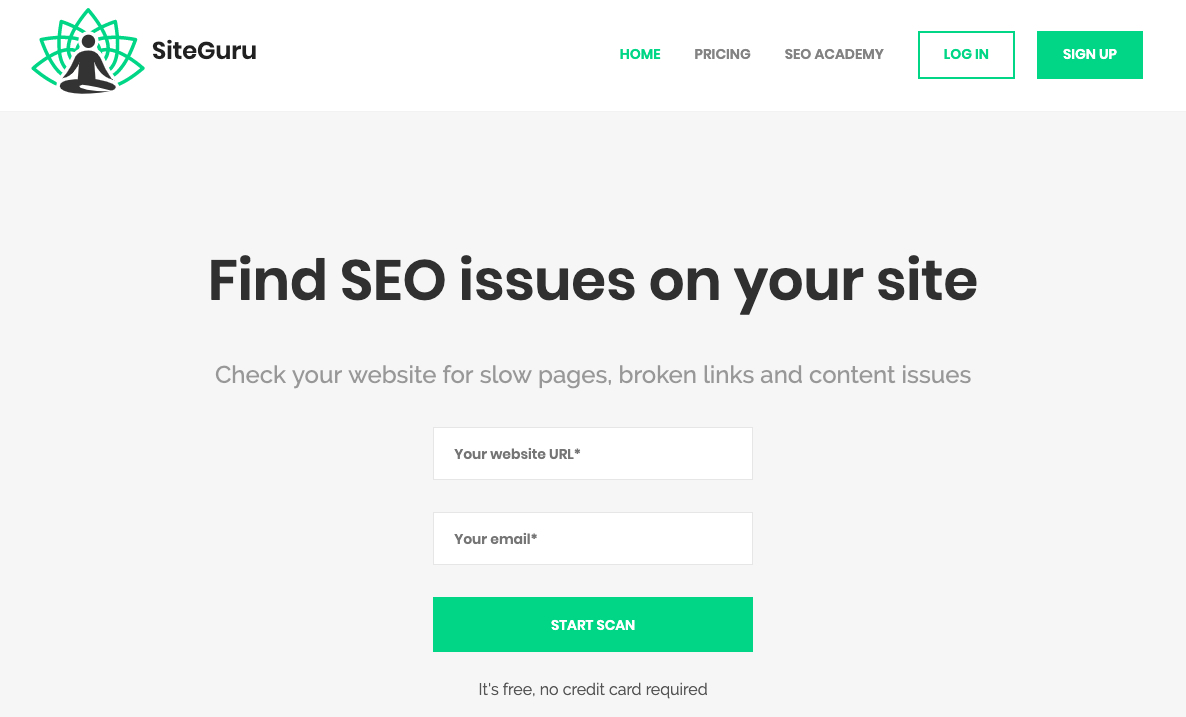 What motivated you to get started with SiteGuru?
While working at an internet agency, I was looking for a way to check websites for common errors once we launched them. It started with an Excel sheet, but no one likes using Excel checklists. So I turned that list into a tool that checks your website for those issues automatically and tells you what's wrong. This eventually turned into SiteGuru.
I built a simple version in a week or two and spent $100 on validating the idea. I put a screen recording tool on the site and used Google Ads to get some visitors. I watched everything they did on my site, and most of them seemed pretty happy with the tool. I interviewed some of the people who signed up to gather more feedback, and their positive experiences motivated me to keep going.
At this point, I had no clue how hard building a full-blown website checker was going to be. I guess that's a good thing because I probably would never have started if I knew what I was getting myself into.
What went into building the initial product?
I'm not the best developer in the world, but I love building stuff myself. I also didn't have any budget to hire developers, so doing it myself was my only option anyway.
Building a website audit tool is hard — a lot harder than I thought. Every website that gets checked is completely different. When I just started, with every new site that was checked, I found new exceptions that would either break the tool or break the website being checked. Turns out checking all the links on a website can quickly turn into an unintended DDOS attack, bringing down the customer's website.
Slowly but surely that got a lot better, and I'm really happy with the quality of the reporting now. Still, every week I'll find a new edge case or something I hadn't thought about. Luckily, my users are super supportive and share the issues they find so I can fix them.
One of the USPs of SiteGuru is that we don't bombard users with data, but instead give them actionable tips to improve their sites. A big challenge was to present the findings in a meaningful way that could really help you as a website owner. I run about 15 different checks on every page, on sometimes hundreds of pages. Combining all these data points into an actionable report took a lot of trial and error.
All in all, it took me about three months to build a product that was just okay. The problem in this market is that you don't win with okay products; you need to have a great product to become successful. Two years in, the product has slowly become super reliable and helpful.
Finding time to work on the product is an ongoing challenge. Combining building a product with my day job and raising two little girls is not easy, but luckily I can always find some time to lock myself up and focus on building.
How have you attracted users and grown SiteGuru?
I launched SiteGuru on ProductHunt, which brought in a lot of new visitors. I also made sure to get on every startup list there is — and shared how to do that. I also shared the story of how I reached my first 1,000 users on Indie Hackers, which did really well and also made the front page of Hacker News. Sharing your growth strategies with other founders is super cool and a great way to get positive feedback and exposure at the same time.
I think a lot of founders, myself included, make the mistake of targeting fellow start-up founders. It seems logical because you hang out in those communities and most of them are interested in new tools. But often, these are not the people that get the most value out of your product or become paying customers.
If you can, run a deal on sites like StackSocial. Sure, you'll need to give a massive discount, but you'll get so much attention in return. I think it's a great way to supercharge your early stage growth. I nearly doubled the number of users in just a month.
| | |
| --- | --- |
| Month | Users |
| Jul '17 | 79 |
| Aug '17 | 181 |
| Sep '17 | 205 |
| Oct '17 | 229 |
| Nov '17 | 469 |
| Dec '17 | 667 |
| Jan '18 | 793 |
| Feb '18 | 878 |
| Mar '18 | 949 |
| Apr '18 | 1013 |
| May '18 | 1619 |
| Jun '18 | 1886 |
| Jul '18 | 2099 |
| Aug '18 | 2295 |
| Sep '18 | 2462 |
| Oct '18 | 2633 |
| Nov '18 | 2764 |
| Dec '18 | 2925 |
| Jan '19 | 3050 |
| Feb '19 | 3165 |
| Mar '19 | 4709 |
| Apr '19 | 5048 |
What's your business model, and how have you grown your revenue?
I offer paid plans that let you check more pages and more websites.
I'm still struggling to find the ultimate pricing model. I've tried a couple of things: 14-day free trials, after which you had to upgrade, predefined plans with a set number of sites and pages, customizable plans where you could select how many websites and how many pages you needed. Nothing has worked perfectly, and each model seems to have serious downsides.
Right now, I'm offering an endless free trial that checks five pages only. The nice thing is that you'll get your weekly updates about how your site is doing, while it doesn't cost much in the way of resources to check the site. Those weekly contact points give me the opportunity to stay in touch and convince people to upgrade.
You can either sign up for a $9/month plan that includes 100 pages, or a $99/month plan that includes 500. We're using Stripe because it's super easy to set up and manage the subscriptions.
I'm now working on a plan for agencies, focused on online marketers that need to check many different websites and share the reports with their customers. I'm also considering limiting specific functionality (like broken link checks or PDF report downloads) to paying customers.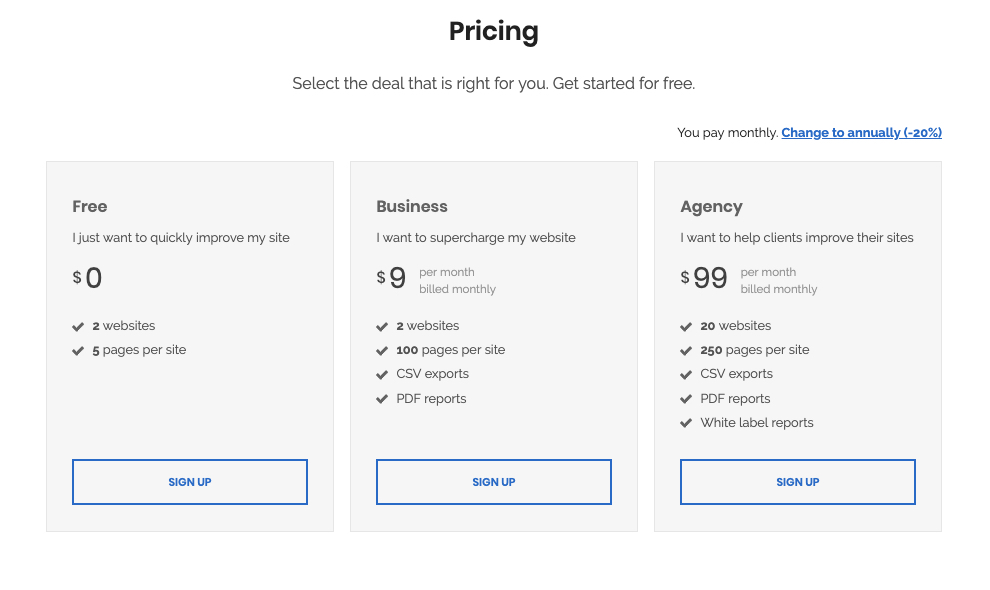 What are your goals for the future?
My aim for the short term is growing SiteGuru's user base, and to grow revenues to a point that I can fully focus on it.
To get there, I need to be able to reach the right audience: professional online marketers. That's my biggest challenge for now. Those people would get the most value from the product and are used to paying for online tools that help them do their jobs.
My biggest driver is to help people improve their websites. There are so many businesses out there that could do much better if their owners could see the full picture their website. I strongly believe SiteGuru can help with that.
What are the biggest challenges you've faced and obstacles you've overcome?
Although my marketing strategy worked great to get lots of visitors and signups, the problem is that these weren't the right kind of users: they are price sensitive and don't get enough value out of SiteGuru. They are happy with the report, make a few fixes, and carry on. They have little incentive to upgrade and monitor their site regularly.
I realized that, instead, I should focus on online marketing agencies and SEO professionals. Those people are willing to pay for a great reporting tool because it makes their lives so much easier. Reaching them in such a competitive market will be a challenge but I'm convinced it's the only road to success.
Have you found anything particularly helpful or advantageous?
I'm a big fan of the books of David Heinemeier Hansson and Jason Fried. Rework and Getting Real confirmed to me that you don't need venture capital or huge teams to build a great product. Just get going and keep it simple.
I've also learned to appreciate the value of focus. A long stretch of focused work really gets you into a flow and makes you super productive. Books like Deep Work by Cal Newport and Busy by Tony Crabbe have helped me with that.
More generally, the rise of solo entrepreneurs and indie hackers is great to see. So many people sharing their ideas and numbers, providing feedback, and helping each other is just awesome. It's good for the individuals and it's good for the community. Courtland has definitely created a great platform for that, so a big thank you!
What's your advice for indie hackers who are just starting out?
When I started SiteGuru, I never really thought about who my audience was. I should have spent way more time defining my ideal audience. Who are the people who would use my product, and would be willing to pay for it? Where do they hang out? How can I reach them? I wish I would have thought about that earlier. It would have been easier to build the right product, use the right messaging, and engage with the right people.
If you've been building a product for months, you're no longer "fresh." It's super important to know how a new customer experiences your product and it's super easy to do that. Just put a screen recording tool on your website, and see what people are doing.
Every week, I watch at least five recordings of real people using my site. That's a rule I made for myself. Without exception, at least one of those sessions gives me new insights. It's a great way to experience what your users are experiencing, see their frustrations, and then solve their problems. And that's what it's all about, right?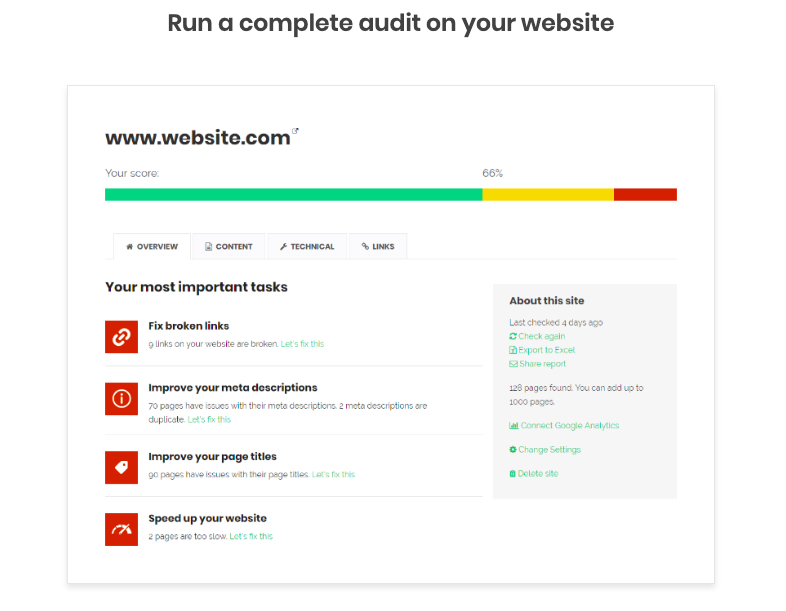 Where can we go to learn more?
Learn all about the product on SiteGuru.co, and follow me on Twitter @rickvanhaasteren.
—

Rick van Haasteren , Founder of SiteGuru
Want to build your own business like SiteGuru?
You should join the Indie Hackers community! 🤗
We're a few thousand founders helping each other build profitable businesses and side projects. Come share what you're working on and get feedback from your peers.
Not ready to get started on your product yet? No problem. The community is a great place to meet people, learn, and get your feet wet. Feel free to just browse!
—

Courtland Allen , Indie Hackers founder