From Internal Tool to $85K/month SaaS Product
Hello! What's your background, and what are you working on?
My name is Mark Thompson and I am a serial entrepreneur. I founded Digital Kickstart, a software and info-marketing company that has sold over $20MM in sales since 2009.
More recently, I've been working on PayKickstart, a platform that helps online businesses sell their products and services, manage subscription-based revenue, maximize customer lifetime value, and retain more of their customers.
In three years, we have bootstrapped the business to $1MM ARR ($85,000/mo) with less than 20 employees, all working out of a virtual office.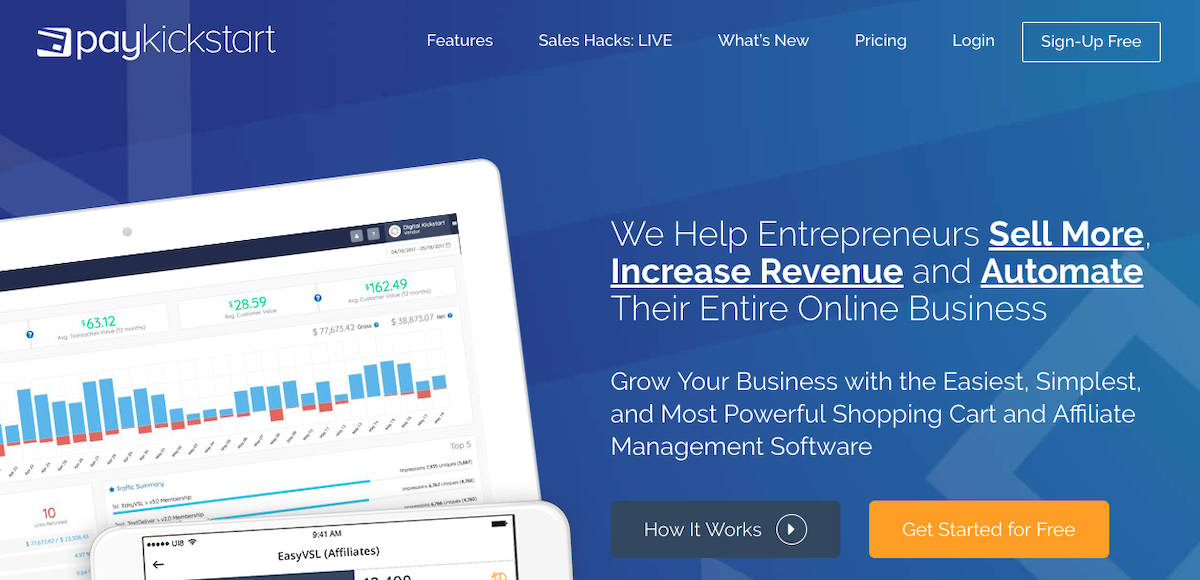 What motivated you to get started with PayKickstart?
We started PayKickstart out of pure necessity. We could not find an adequate solution that had the flexibility we needed to sell various types of products and services but that also provided the functionality needed to maximize each new and existing customer we generated.
At first, we started with a bare-bones internal solution — building a simple Stripe and PayPal integrated shopping cart that could process payments and manage simple recurring payments. Over time, we started adding additional functionality like coupon code management, new customizable checkout page templates, one-click upsell functionality, and more.
We have worked with thousands of affiliate partners over the years to help drive traffic to our various offers. In the early days, we started using Infusionsoft to manage affiliates and their referral commissions. While it was a massive learning curve and the solution wasn't perfect, we knew it was a stepping stone to building our own internal affiliate management system behind the scenes.
After about one year of using the platform internally, we had a fully-functioning shopping cart and affiliate management solution! Luckily for us, the system did everything we intended for it to do. Just one year after that, the development costs paid for itself in the transaction processing fees that were saved by ditching the other shopping cart we were using.
We also quickly realized that the upsells in our sales funnels saw a 30% increase on average in conversions simply by using the one-click functionality. We ran a simple A/B split test (with almost the same amount of traffic) with the old cart against our new cart and found that our new cart generated about $121K more revenue.
After that, we started adding order bumps to our checkout pages — offering to add an additional product to their initial order. The results quickly increased our revenue by another 40%, with 61% of the customers adding the order bump at checkout.
A glaring hole in our business, which became a massive profit leak, was that we didn't have a way to reclaim failed or delinquent payments from our subscription customers. I hopped into my Stripe account and added up 18,119 transactions that had failed over the past three years, which totaled over $900K in lost revenue. My stomach dropped.
That revelation hit me hard. Almost $1MM in lost revenue simply because our previous shopping cart didn't have a way to communicate to our existing customers that their payment failed and they needed to update their payment method on file. As you can imagine, adding a dunning management feature to our internal cart became a top priority, and one that saved us tens of thousands of dollars in the first year alone.
We slowly started to find and fix the mistakes that had cost us millions in lost revenue. What we didn't realize at the time was that countless other entrepreneurs and businesses were making the same mistakes and were in need of the same solutions.
This slow-rolling snowball was the early stages of what would become PayKickstart.
What went into building the initial product?
It was amazing how quickly the word spread after other SaaS companies, information marketers, and coaches started seeing what we were doing.
Before we knew it, we had dozens of people contacting us every week about the project, wanting to know how we were saving on transaction fees, boosting conversions, and increasing the value of every customer. They banged hard enough on the door that it turned into our "ah-ha" moment and we knew that we needed to take our solution to the next level. Other online businesses didn't just want what we had, they needed it!
We spent the good part of 2015 preparing a go-to-market strategy, working on everything from a website, webinar presentation, marketing collateral, branding, and a complete revamp of the user interface. Luckily for us, our sister company, Digital Kickstart, was extremely profitable and was the source for funding what is now PayKickstart. While we shifted many of our resources, time and energy to PayKickstart, the Digital Kickstart business continued to run, albeit lean and efficiently.
For perspective, here's a quick overview of the PayKickstart timeline:
2013-2015: internal use, new development, and testing
2015-2016: prepare for PayKickstart go-to-market
2016-2017: early beta testers
2017-Present: platform maturity, growth, and scale
After we had successfully built the first iteration of PayKickstart, we knew the real work was just around the corner. We brought in around 20 beta testers to push the platform to the limits and, like any new SaaS, were flooded with new bugs and feature requests.
In retrospect, I realized that what we did was both an asset and a liability. For the next year, we tried to accommodate each and every feature request to satisfy our beta group. While that made our early-stage users happy, it started to pull our focus away from the core of what PayKickstart was all about -- being the very best shopping cart and affiliate management solution on the market. Instead of implementing a feature set that would appeal to our core market (SaaS companies, subscription-based businesses, information marketers) we started adding random functionality to appeal to sometimes just one beta user.
We had to learn how to say "no."
Nevertheless, we listened closely to our beta group, working out bugs, adding new functionality, and hardening the core framework. Once we were happy with the product, we turned to marketing.
An asset that we had in our back pocket was a 100K-deep email list of people that had bought other Kickstart products. Naturally, that was the first place to start. We generated an initial group of around 100 vendors right out of the gate from a live webinar and replay promotion that we did. This group, along with a handful of affiliates that promoted the same webinar sequence, helped us to create our seed group of vendors.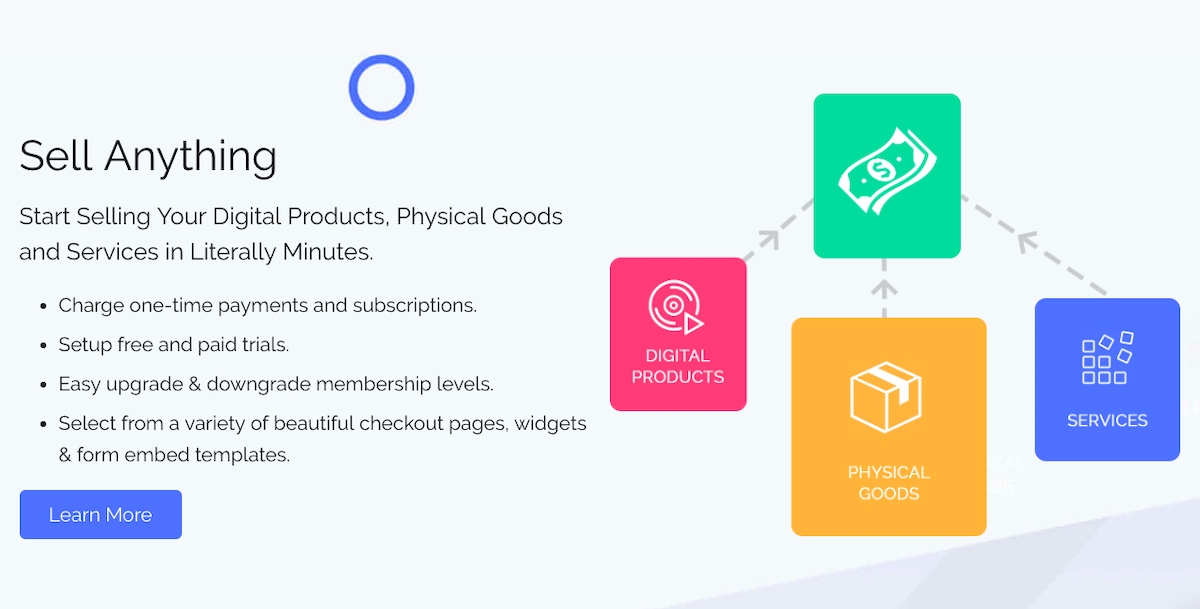 How have you attracted users and grown PayKickstart?
While we were able to generate that seed group relatively quickly from our existing email list, it was much harder to build or even maintain the momentum. The next 18 months were a slog.
We took the approach of throwing everything at the wall to see what would stick: a promotion on ProductHunt, submissions to directory listings, Facebook Ads, cold email campaigns, blog content, answer questions on Quora, etc. The goal was just to get our digital footprint out on the web. Nobody knew us, so we needed to be proactive. And while things didn't progress as fast as we wanted, our name started to get out there.
Throughout the first few years, regardless of what was going on with marketing or anything else, we made it a point to provide amazing customer service and continue to listen to what our users had to say, good or bad.
Looking back, I think we spread ourselves too thin and tried to do too many marketing-related activities instead of focusing on research. Our resources may have been better spent coming up with one or two hyper-targeted strategies to identify and reach out to our target audience.
But hey, you live and you learn, right?
What's your business model, and how have you grown your revenue?
One thing that really excited us early on was the number of case studies that were coming in from our users. Vendors were getting amazing results, and the serious business owners who were making sales (not just poking around the platform to see what it can do) have been loyal ambassadors.
While we wanted to continue to reward our early adopters who took a fair amount of risk on a new startup, we realize today that our pricing is far too low compared to others in the space. Part of the plan for ringing in a new chapter for PayKickstart will be to adjust our pricing and service plans in order to expand our revenue further. We feel that the new plans are competitive within the market, and will allow us to scale with confidence through every stage of growth.
We will continue to process with Stripe (for credit cards) and PayPal. It's about 50/50 in terms of customers who pay with credit card versus PayPal. Another part of this new chapter will be working on becoming on own credit card processor and offering lower per-transaction fees than some of the bigger gateways that we already integrate with. This is all part of our larger plan to derive additional expansion revenue from the business.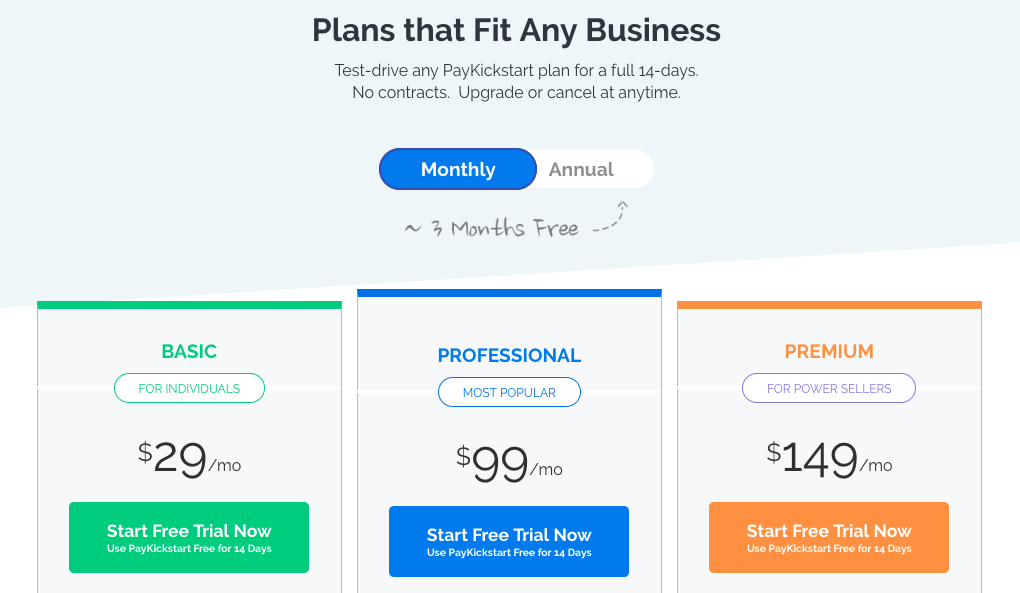 What are your goals for the future?
Our entire team is excited for the future of PayKickstart. Looking back at the past three years, I'm amazed at what our team has been able to do. We've been able to disrupt the market, reinventing how businesses sell online and becoming the backbone for so many amazing companies.
The future of PayKickstart is more of the same recipe:
Continue to listen to our users in order to provide better usability, new ground-breaking features, more integrations, and more flexibility
Continue to provide amazing 24/7 support
Continue to innovate and keep up with a fast-paced and ever-evolving landscape.
What are the biggest challenges you've faced and obstacles you've overcome? If you had to start over, what would you do differently?
As I mentioned before, the journey has been a long and hard one. Every day, every week, every month, every year is a new challenge, a new problem, a new obstacle we need to overcome. Our passion, determination, and drive to be the best and for our customers to have the best is what keeps us going.
We've made a ton of mistakes, more than I can count. But we've learned from all of them. You have to learn from your mistakes in order to grow — take a step back every once in a while and ask yourself "what could we have done differently to have reached a better outcome?" You'll be surprised by what you find. Sometimes little things make a big impact.
Have you found anything particularly helpful or advantageous?
I truly believe it's next to impossible to create a business doing something that has never been done before. If it hasn't been done, you need to ask yourself why. There's probably a good reason for it.
You don't need to reinvent the wheel. Instead of diving in to unnecessary risks, just make something better. That's what we did. A shopping cart and affiliate management platform is nothing new, we just saw inefficiencies and made it better. We studied the market and solicited feedback, and learned what has worked (and, more importantly, what hasn't) from our competition, mentors, coaches, and students.
It's also important to come to terms with the fact that some things are out of your control. Things will go sideways that you couldn't have anticipated or mitigated. Figure out the best way to deal with them, adapt, and move on.
Create positive habits and routines in your life, just like a finely tuned athlete or any other master of craft. Eat well. Get seven to eight hours of sleep. Work hard. Prepare for the short-term and the long-term, but don't be afraid to pivot.
What's your advice for indie hackers who are just starting out?
My single biggest piece of advice is to surround yourself with like-minded people and take action. There are too many entrepreneurs that fail because they were afraid to make mistakes.
I've found these books (and many others) to be really helpful:
Where can we go to learn more?
You can visit us out at PayKickstart.com or check out our Facebook group.
This is my story and I love sharing it, but I'm eager to hear from you as well. Say "Hi" and tell me a little bit about the biggest challenges you face when it comes to selling online.
—
Mark Thompson , Founder of PayKickstart
Want to build your own business like PayKickstart?
You should join the Indie Hackers community! 🤗
We're a few thousand founders helping each other build profitable businesses and side projects. Come share what you're working on and get feedback from your peers.
Not ready to get started on your product yet? No problem. The community is a great place to meet people, learn, and get your feet wet. Feel free to just browse!
—
Courtland Allen , Indie Hackers founder