Generating $50k/mo Helping Users Build Outreach Campaigns
Hello! What's your background, and what are you working on?
I'm Dave, an Applied Math graduate from Harvard. Currently, I'm co-founder and CEO of NinjaOutreach, an influencer-prospecting and outreach tool.
After working for a financial institution for a couple of years, I realized that the extreme corporate lifestyle wasn't for me. So I quit and used my savings to travel the world with my girlfriend. It sounds cliche when you hear stories like that these days, but in retrospect, I still believe it's one of the best decisions I made.
My tool, NinjaOutreach, helps agencies find bloggers for their clients to partner with. It's used by digital marketing agencies, small business owners, eCommerce websites, startups, and entrepreneurs.
At the end of our first year, 2015, we were doing $10k/month. After 2016, it was $30k. And last month, we cleared $50k in revenue.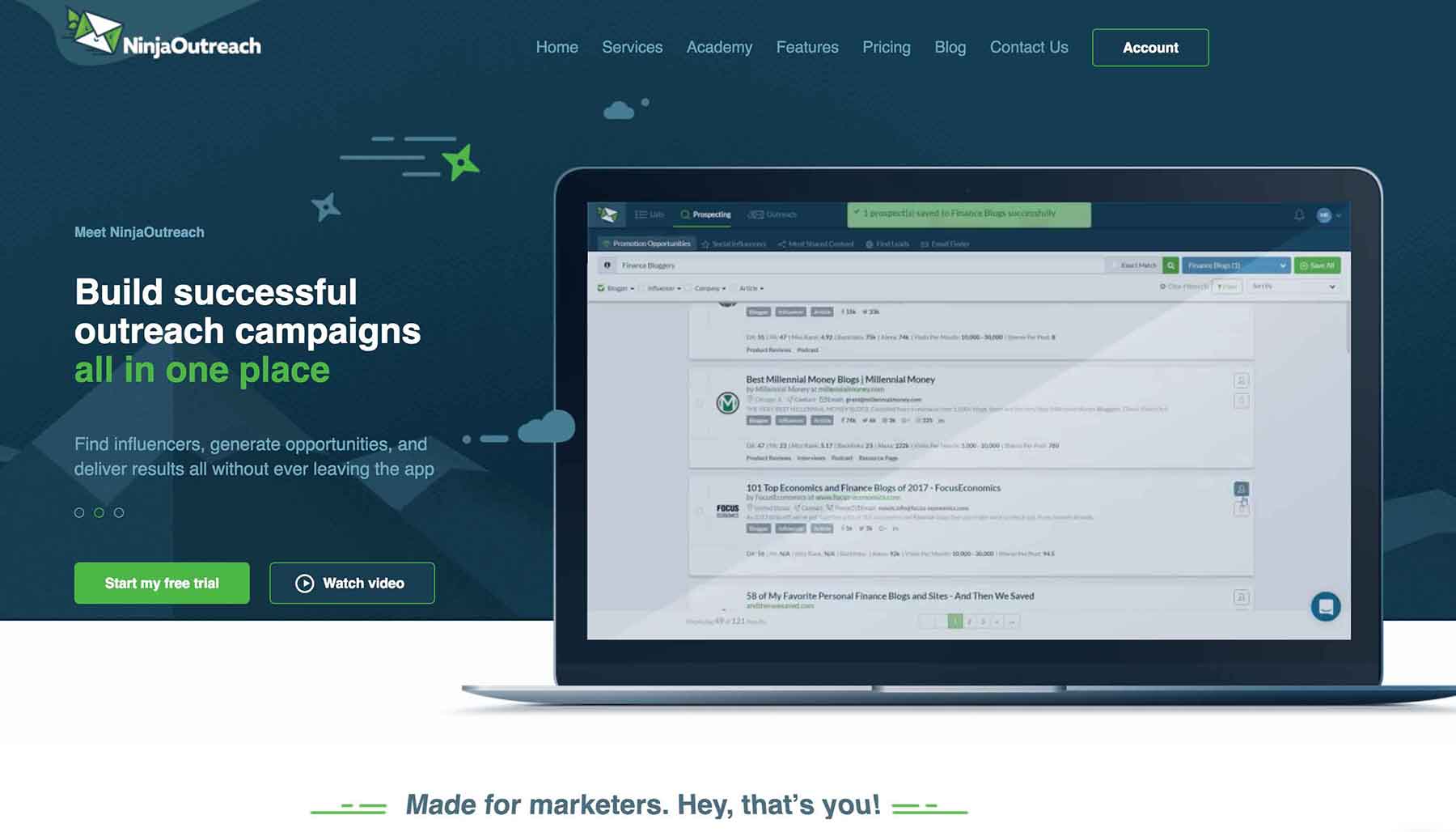 What motivated you to get started with NinjaOutreach?
Before NinjaOutreach, I had my own entrepreneurship blog, "SelfMadeBusinessMan", where most of my earnings came from affiliate marketing, and never really amounted to much. I eventually decided to shift to a more product-based business — specifically related to software and digital marketing — and that's how I got into SaaS.
It was when I did a podcast for another influencer in the inbound marketing space that I met my first co-founder, Mark. Turned out he was also hatching the same idea I had with one of his programmers (our third co-founder). He was doing a lot of manual prospecting and outreach to a ton of influencers and bloggers to feature on his podcasts, and his programmer was like, "Hey, we can automate most of this."
For my part, I was getting a bit frustrated with the current tools I had on hand because there wasn't a single one that gave the particular functionalities I needed to promote my blog content. We thought: why compensate for functional deficiencies by using and paying for all these various tools?
We also reached out to other prominent marketers in the space, like Brian Dean and Matthew Barby, and they indicated that they were interested in a similar tool to the one we were planning on building, so that added to our validation. (In hindsight, we did far too little validation, which has made the road very bumpy.)
So we built an all-in-one tool where we could do all our prospecting, email outreach, campaign management, relationship management, the whole haul, using just a single platform. And that's how NinjaOutreach came about. It was made to address our own dissatisfaction with the tools and processes we were using for prospecting and reaching out at the time.
What went into building the initial product?
Ideation began in June of 2014. We spent roughly 4 months building the prototype. Obviously, we realized this could benefit other marketing professionals, agencies, and businesses as well, so we reached out to them to see if they wanted to be in the beta.
Our third co-founder, Mark's friend Gurpal, did all of the development. He had an initial prototype — desktop software that we decided to build on top of because we didn't want to start over from scratch.
Mark's and my job at the time was to investigate the competitors and map out the design and feature set for the minimum viable product (MVP). So we signed up for a lot of competitor tools and interviewed a lot of people on the phone to get their suggestions. Then we fed them back to our developer.
(By the way, what I just said makes it seem like we knew exactly what we were doing. Actually, we didn't know anything! And as a result, we made a lot of mistakes, which I'll get into later.)
So we worked to refine the product. It was in beta for around 2 to 3 months, and by January 14, 2015, we officially launched. Because of all the mistakes, no one bought it from the beta, and we basically had to start over!
How have you grown NinjaOutreach's revenue and user base since then?
To flesh out our sales process and pricing, we began with direct sales via Twitter, email, and LinkedIn. They were quick to set up and see results from. Eventually, we would go for more long-term and sustainable strategies such as SEO and relationship-building with influencers. Basically, we'd end up using our own tool a lot. :-)
We had a promotion partnership with Warrior Forum and AppSumo to help sell our products, and this gave us more links, traffic, and exposure. We also gave free accounts to many of our early adopters, which landed us product reviews and frequent mentions.
Between our launch in January 2015 and July of that same year, the business grew from $0 to around $3k in monthly recurring revenue (MRR). We only had 100 subscribers at the time. Then we increased our prices, and by December, we were able to reach our first goal: an MRR of $10k. After that, we stalled for a few months.
It was during this period that I thought we had peaked, and that this was as far as we could get the business. We'd had a bad start in our first year, and we were running out of ideas.
We were able to pull through when I made the difficult decision to have NinjaOutreach absorb my first blog, "SelfMadeBusinessMan". We republished articles from there, and redirected all the links to NinjaOutreach. This led to a significant boost in traffic and signups.
We followed these up with other business website acquisitions, as well as broken link and competitor link building campaigns, which led to even more traffic and signups.
For content marketing, one of our most effective methods for generating authority has been to build expert roundups. We choose a relevant topic and gather answers from dozens of influencers. This usually leads to a lot of engagement and backlinks. We've also published guest posts and joined podcasts on blogs aligned with our target audience.
Eventually, we changed the course of that bad quarter by getting to $20k monthly recurring revenue and eventually ended the year at $30k MRR.
Looking back, I learned that a bad year doesn't necessarily spell certain doom for your business. You hit a wall for some time, but you just have to keep trying and exhaust everything you know before giving up. We've taken advantage of every opportunity we've been able to find!
Just how much did your prices change?
We solely relied on subscription revenue at first, and our prices ranged from $19 - $149. Now we have several plans that range from $49 - $599, and we're still testing out different pricing plans.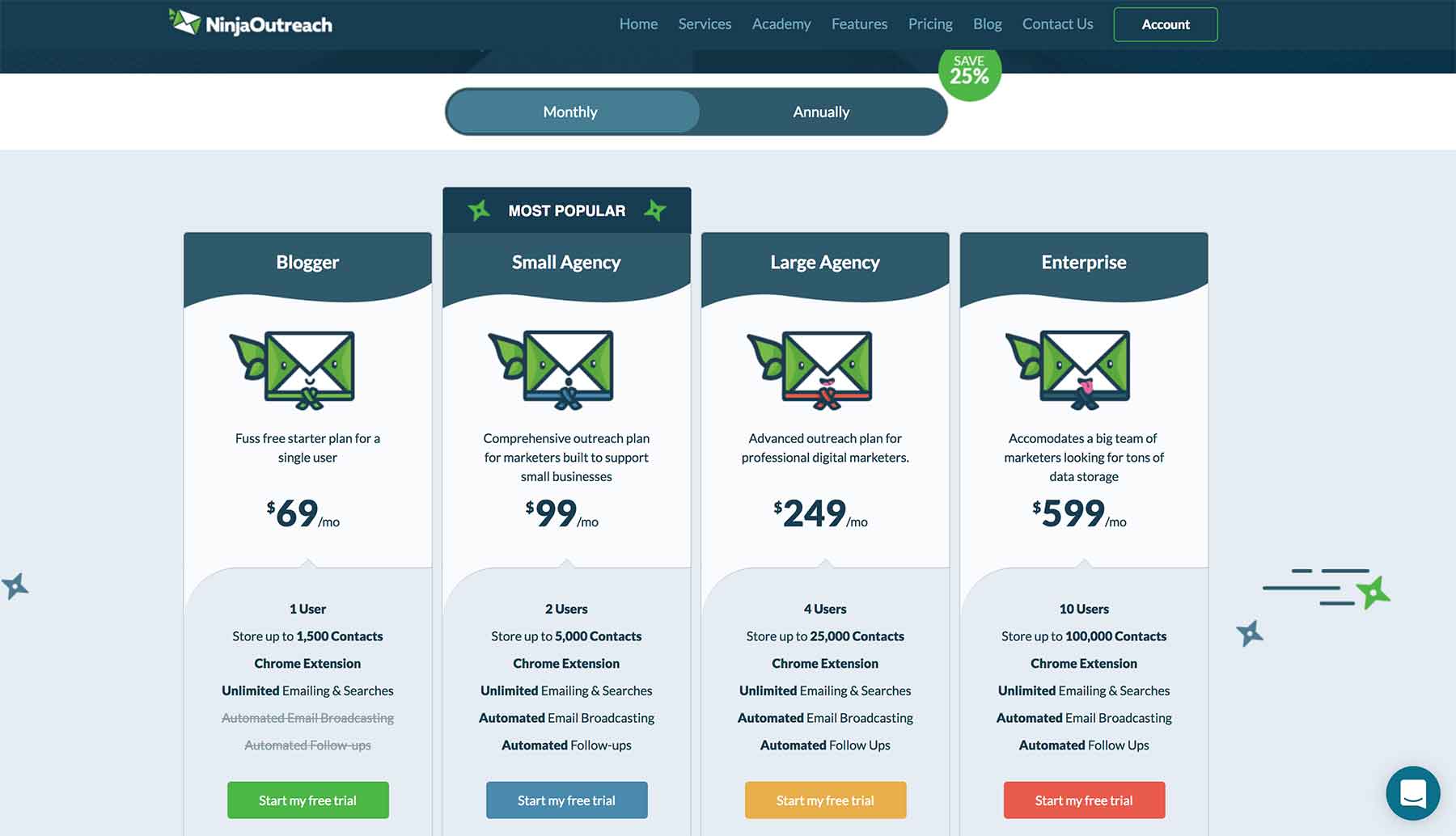 What are your goals for the future, and how do you plan to accomplish them?
From solely relying on our tool for revenues, we have since launched other profit-generating avenues. We now have Ninja Academy, an online business coaching service, and our done-for-you services, such as lead generation, outreach, link building, and blog writing.
While these services aren't as big as the software, they are adding nicely to our overall revenue and adding new dimensions to the business. Our next revenue goal for 2017 is $80k/month.
What kinds of challenges have you faced on your journey?
Um, everything?
As I mentioned before, we made a lot of mistakes with our MVP. We made it a desktop app; used PayPal for our payment processor; had an ugly, unintuitive design; hired additional cheap developers who did poor quality work; failed to talk to enough customers; and used the wrong tools.
I know it sounds like I'm exaggerating, and maybe I am a little bit, but there is a lot of truth to this.
Inevitably, mistakes are going to happen. But our largest mistakes came from not researching enough and not talking to enough people. If a decision is important, take the time that's needed to inform yourself!
What kinds of things didn't you talk to customers about?
We didn't talk to our customers about things we thought were obvious.
For example, we didn't ask them if they used a PC or a Mac. My partner and I used PCs, I only knew people who used PCs, and I looked at the market share on Wikipedia, which said that PCs represented 90% of the market. So building a desktop app for Windows only didn't seem that bad of an idea, given that we already had a prototype to work with. I also knew of several other tools that were similar. MassPlanner, for example, has remained a Windows-only desktop app for years.
We didn't ask them how they purchase software. Did they use a paypal account, a credit card, or something else?
We didn't ask them if they were comfortable using a desktop app.
There was no good remedy to this. Eventually as people started trying out the software, they'd yell at us and it'd become really obvious that we needed to integrate with Stripe, we needed a web app, etc. These transition to were long, painful, and costly.
What were your biggest advantages? Was anything particularly helpful?
In terms of workflow, we were a bit more agile when we started. There were only three co-founders, so it was a multitasking environment where everybody had a hand in various tasks and decisions were made quickly.
We've since grown to a team of around 15 people whose roles are flexible, but as we continue to increase our standards, people have started to specialize. There are some workflow processes that we need to iron out, especially since the volume of the team's output has led to more internal documents in need of organization.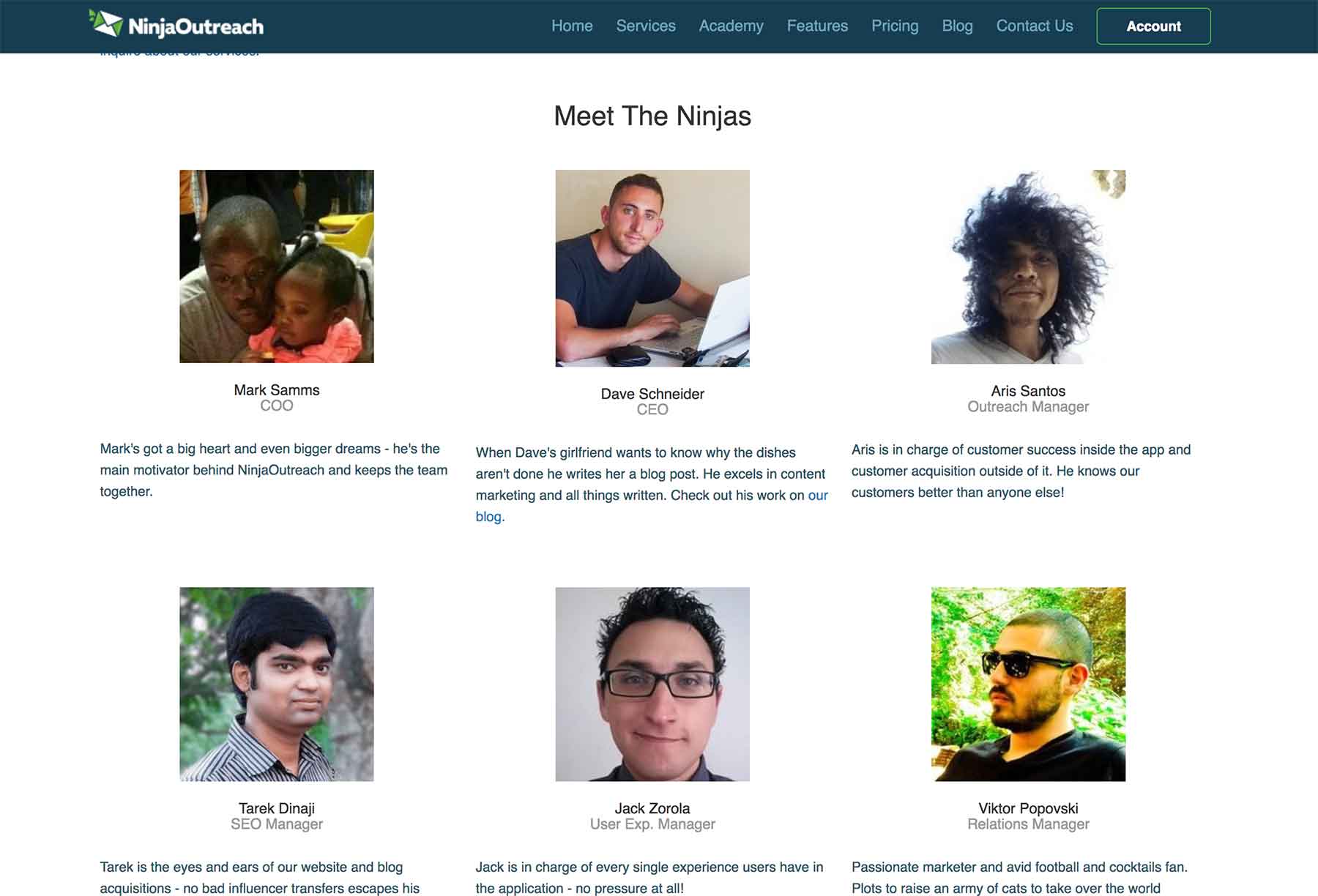 What's your advice for indie hackers who are just starting out?
Something I've often repeated because it was one of the most costly and hard-won lessons I learned is that, when it comes to building your business, take care to launch everything right from the get-go — especially if it's infrastructure-related.
If you have a product, make sure you hire quality employees, because product quality trumps marketing in my opinion.
Also, do proper research among your target market before launching something as crucial as a payment processing system for your product.
Where can we go to learn more?
If you want to know more, you can reach me at [email protected]ch.com or on Twitter @ninjaoutreach.
I also posted more details about our journey to Reddit here and here.
Finally, you can read more about our NinjaOutreach story on our blog.
Update (8/9/2018):
Dave no longer runs these websites, but can be found at lesschurn.io and daveschneider.me.
—
ninjadave , Co-founder of NinjaOutreach
Want to build your own business like NinjaOutreach?
You should join the Indie Hackers community! 🤗
We're a few thousand founders helping each other build profitable businesses and side projects. Come share what you're working on and get feedback from your peers.
Not ready to get started on your product yet? No problem. The community is a great place to meet people, learn, and get your feet wet. Feel free to just browse!
—
Courtland Allen , Indie Hackers founder