Growing a Knowledge-Sharing Community to Six Figures in Ten Months
Hello! What's your background, and what are you working on?
My name is Nick Eubanks and I'm a serial digital entrepreneur. I'm currently working on a new set of companies that includes:
From The Future: a digital agency
NK Tech: a digital asset investment company (this is the company that owns Traffic Think Tank, among others)
semantic.io: a keyword intelligence tool
Traffic Think Tank is a private SEO training community where some of the most curious and brightest minds in the marketing world come together to sharpen our skills. Because it's private and relatively tight-knit the level of assistance and information that is shared inside is second to none I've experienced elsewhere on the web. It's also open to anyone who wants to join, and we have folks at all levels of experience.
TTT is currently doing over $31,000 per month in recurring revenue, and it's been 10 months since the community was launched.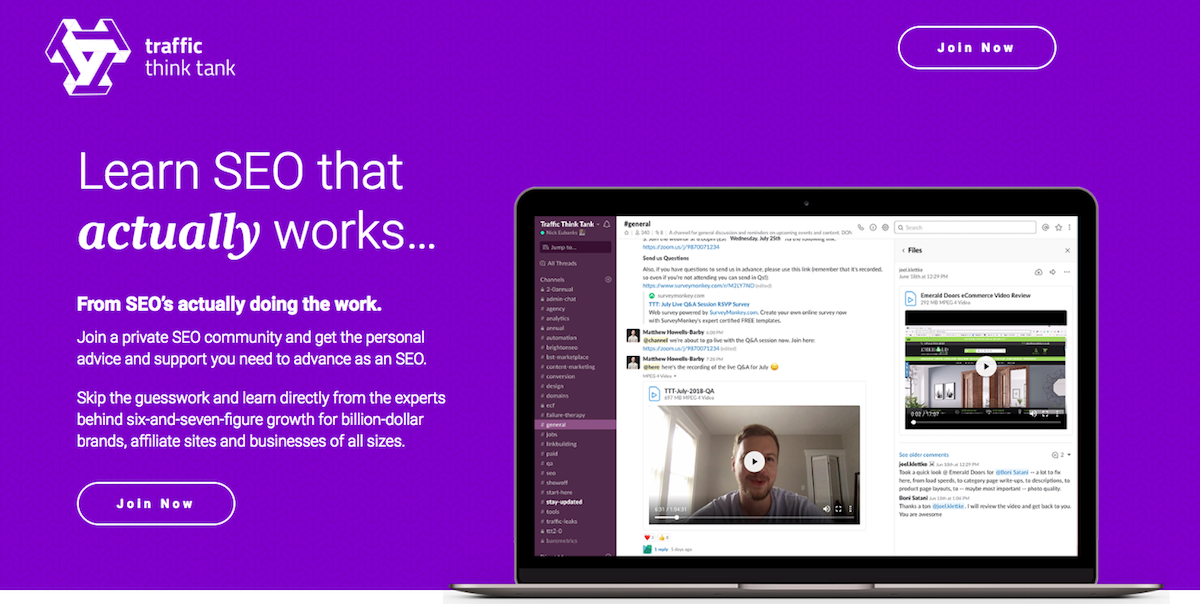 What motivated you to get started with Traffic Think Tank?
I used to frequently email my newsletter list and offer up advice and ask for questions and feedback, frequently getting hundreds of replies that would take weeks to respond to - but I loved doing it. I thought to myself that it would be great if I was able to share more of the intimate details of my SEO campaigns and testing strategies such that 1) they would be more accessible via a more consumable/reference-able medium and 2) there was a way to get compensated so I could dedicate more time to it.
The first crack at TTT was offering it to my email list, for $500/month with a one year commitment, and all the content was hosted in a Kajabi website with a private Facebook group. The engagement within Kajabi just wasn't there, and a lot of the conversation was lost between the two platforms, not to mention that $500/mo is a lot of money for a lot of people.
So after some searching I found a platform that allowed you to build a paid community in Slack. I linked up with two of the smartest and most accomplished SEO's I know (Matt Barby, Director of Acquisition at Hubspot and Ian Howells, Director of SEO at LendingTree) and we decided that $99/mo for a private Slack community where we would share everything was a worthwhile endeavor.
I had never run a paid community before, but the allure of something more active and engaging than a "paid newsletter" where there could be true interactions between everyone involved, and not just me and the person I'm emailing with, made it an obvious right choice.
What went into building the initial product?
To be honest, not much.
The first version looks a lot like it does right now, we used a landing page on LaunchPass (then called SlackPass), integrated it with Slack and Stripe and started sending traffic their via our email lists.
It has since matured a bit, but not a ton. We moved to our custom design and a direct integration with Slack (still through LaunchPass to handle the memberships stuff in Slack) and built a few custom post types in WordPress to make it easier for members to access the full archive of exclusive content and to stay up to date on the most popular threads each week.
Our current plans include adding in a more robust LMS into the main website to support more structured "modules" for training and also to build our own Slackbot to support a bunch of user onboarding and billing functionality that we still do manually.
How have you attracted users and grown Traffic Think Tank?
Our initial launch was limited to just 100 users. We weren't sure what we were getting into or how much of our time it was actually going to take. We sold out in a few days simply through sending emails to our respective lists and tweeting a few times. We waited a full two months before opening the doors again to another 100 members, flipping out landing page over to an email-based waiting list in the meantime.
The waiting list grew to over 200 people before our next opening and, again, we sold out the next 100 spots in only a few days, though this time I think it was closer to six or seven days.
We then closed again for two months, and raised prices to $119/month for new members. Churn was still pretty high at this point, as we had not yet built out the content and threads directory and there wasn't quite enough folks to keep the channels really active.
It was the third and final opening that allowed us to get our act together, so to speak.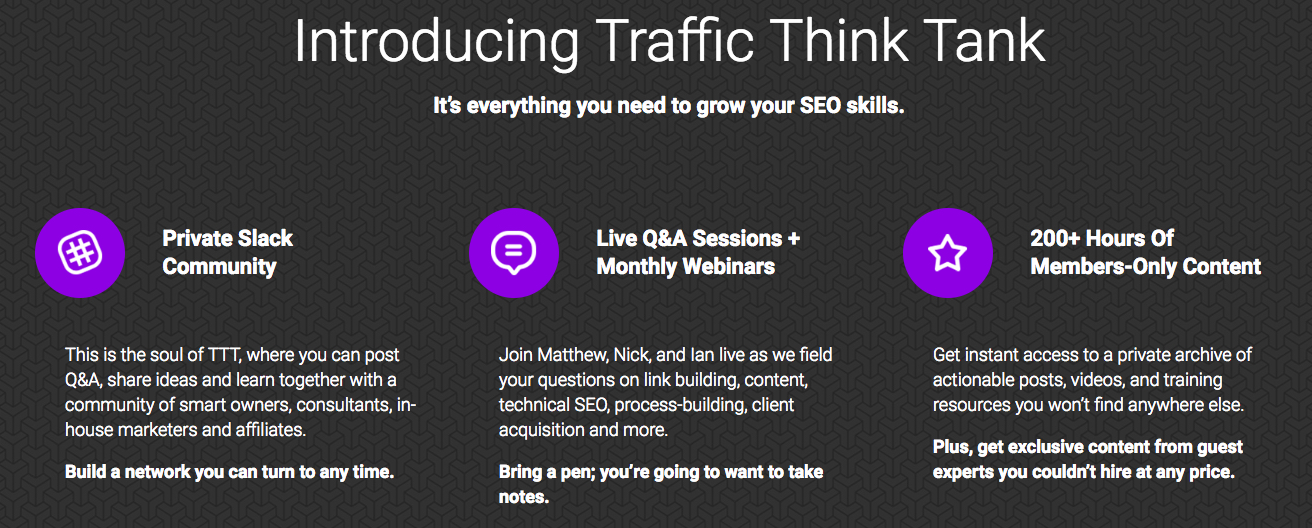 We have since started testing paid ads on Facebook but have not had much success, so we're preparing to shift to a form campaign with a nurturing sequence to see if that does any better. We've also launched a private affiliate program to a few select members, but that has yet to produce any significant results. Lastly, we will be hosting an event in January 2019 that we hope to make a really special experience for our members and drive a lot of word of mouth to people who may be on the fence about joining.
Our number one growth channel has been members talking about their experiences organically. The level of marketers and the caliber of the conversations within TTT is pretty incredible — it's become a community that I'm really proud to be a part of, and not just because I've helped to create it.
What's your business model, and how have you grown your revenue?
We started charging right from the beginning and many of our first customers came from our existing audiences. We currently have around 360 members, and the project makes just over $31,000/month with plans to continue growing until our next major membership milestone, which is 500 members.
Right now 100% of revenue comes from member subscriptions. This will likely change in the future if we start offering individual content for purchase, which will be priced much higher than the cost of membership, though you'll always be able to access ALL the content at all times.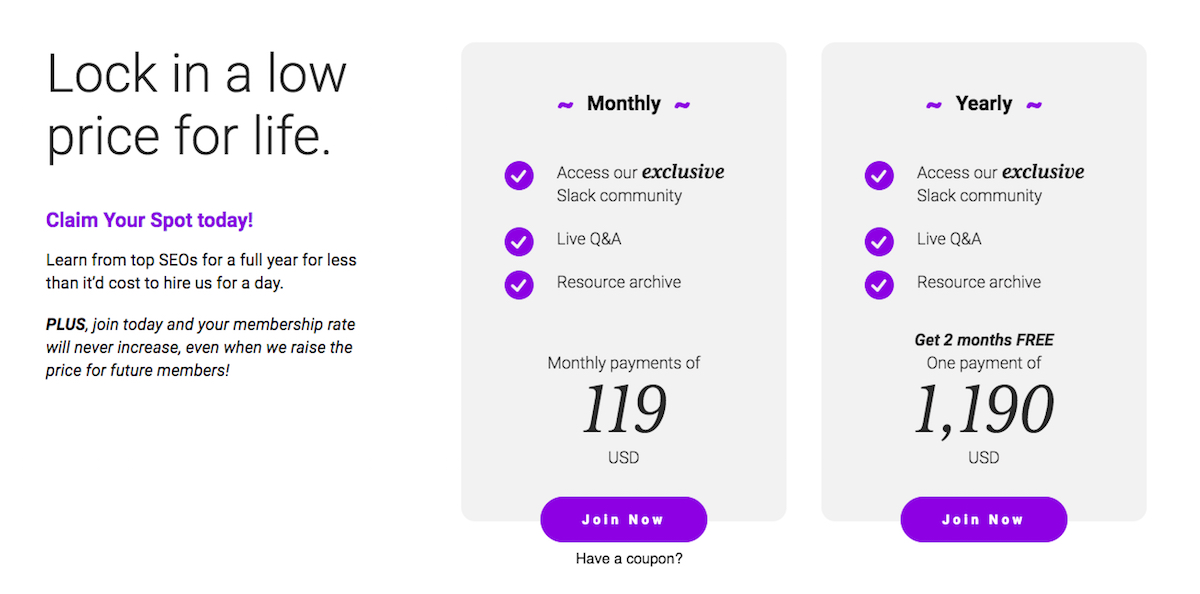 The metric we pay the most attention to currently is user churn. This is our north star metric that lets us quickly understand how much value we're creating and if we're filling a real gap in the market. Right now churn is right around 6% and we hope to push it under 4%.
What are your goals for the future?
We want to continue to expand membership and develop exclusive content that provides industry-leading training and support to digital marketers.
While much of our branding and marketing focus solely on SEO, we have channels fo paid, conversion, agencies, tools, jobs, domains, and more. The information and access goes far beyond SEO, and I think we're probably doing ourselves a bit of a disservice by not doing more to show that off.
One major thing that will be happening soon is we will be releasing exclusive content from a big name brand in the link building space. This consultant has agreed to let us exclusively license his content so it will only be available to TTT members. This will be our first test with this sort of feature so we're excited to see how it goes. If it works out, we can scale this in the future.
It's not really a roadblock, but the cost of Slack is not insignificant, and there are other platforms starting to come out that are extremely similar in functionality but significantly cheaper in terms of cost. So this might be a bridge we cross at some point in the future.
What are the biggest challenges you've faced and obstacles you've overcome? If you had to start over, what would you do differently?
So we're still early in this journey, but the mistakes we've made so far are almost entirely with respect to oversights around user on-boarding and communication. For example, for the first few months we weren't sending any emails to members highlighting the content and upcoming events.
We also paid for a bunch of software that we thought we'd want/need that ended up simply not adding the value we thought it would.
What's your advice for indie hackers who are just starting out?
Invest in your education, and never accept that you "know enough" about a topic that's important to you or your career.
Start immediately, like today. It doesn't matter how small the scale or what you do — make a move to start working on your idea. One of my favorite quotes to get motivated is "Yesterday you said 'tomorrow'."
Where can we go to learn more?
You can get a sense of what TTT is all about on our website at TrafficThinkTank.com, and I'm always game to answer questions or debate about SEO on twitter @nick_eubanks
If there's anything you have questions about that I haven't answered here, please drop me a comment below and I'll follow-up.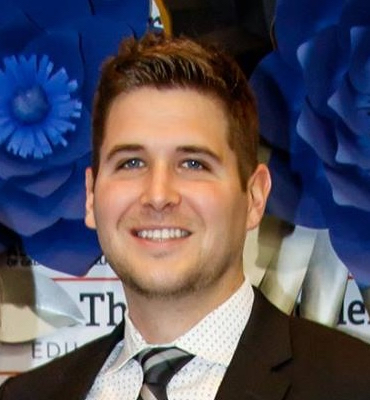 —

Nick Eubanks , Founder of Traffic Think Tank
Want to build your own business like Traffic Think Tank?
You should join the Indie Hackers community! 🤗
We're a few thousand founders helping each other build profitable businesses and side projects. Come share what you're working on and get feedback from your peers.
Not ready to get started on your product yet? No problem. The community is a great place to meet people, learn, and get your feet wet. Feel free to just browse!
—

Courtland Allen , Indie Hackers founder