Growing an App That Simplifies Email Marketing to $1,500/mo
Hello! What's your background, and what are you working on?
Hi, we're Shevon and Chris, and we're the creators of BuildMyEmails. Previously, Shevon was the art director of a creative agency, where he led marketing and branding campaigns. Chris used to work in the finance industry as an IT expert. We met over drinks and found that we could put our combined skills to good use towards a common goal. And that's how BuildMyEmails was born.
In essence, BuildMyEmails is an email development tool for businesses. What this means is, we write, design, and code marketing emails that are ready for businesses to send out to their databases.
We handle everything from content creation and template design to the testing and coding of emails for every platform and device. By automating the entire process, we also keep our costs low. And this is translated to our customers through our low prices and competitive packages.
Today, BuildMyEmails generates around $1,500 of monthly revenue.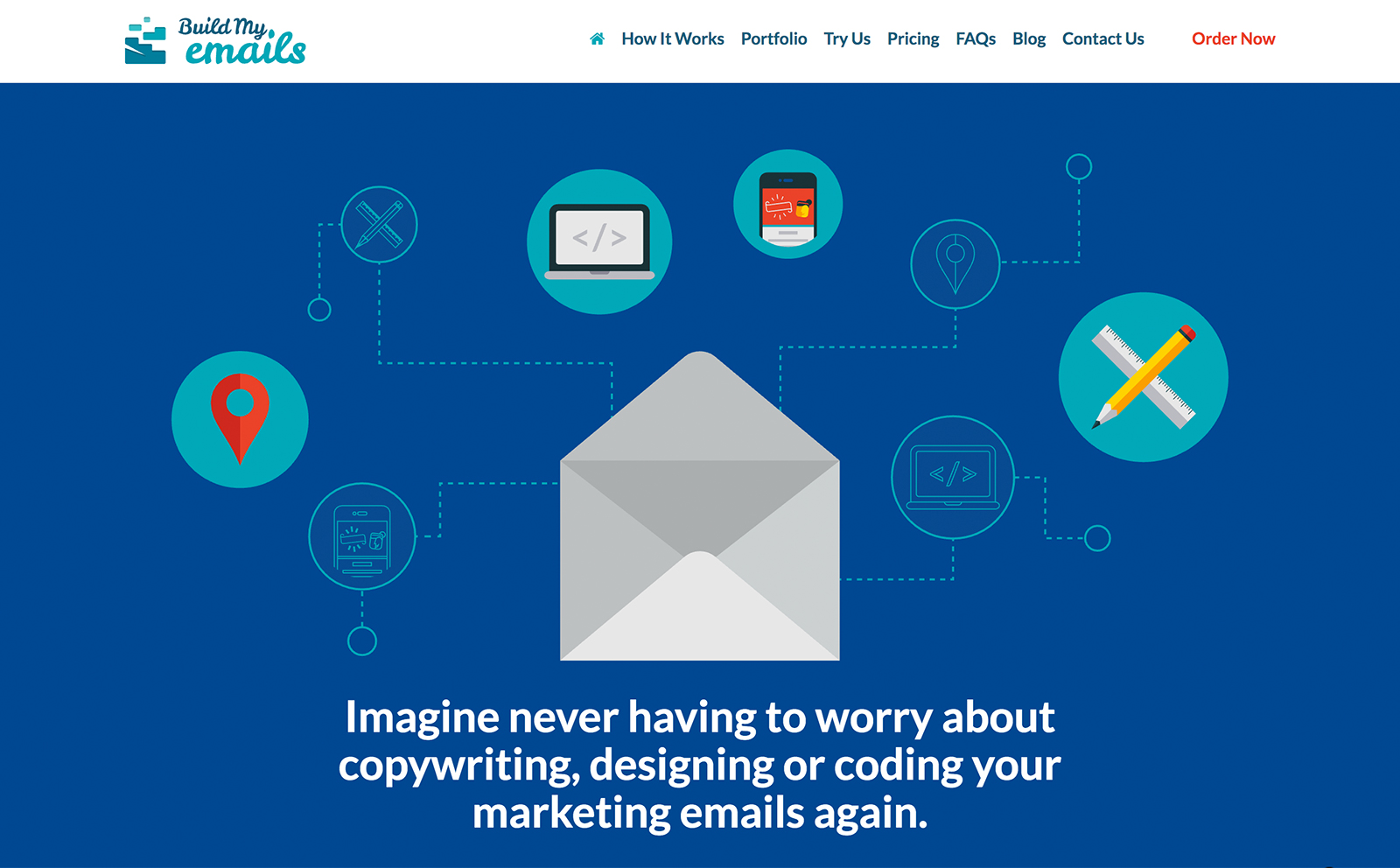 What motivated you to get started with BuildMyEmails?
The idea for BuildMyEmails was really inspired by the digital age. Email marketing remains one of the most successful forms of digital marketing. Unfortunately, many companies do not realize this and do not use it to its full potential. So we wanted to create something that would encourage companies to adopt email marketing as one of their key marketing tools.
Back then, I was working at a design agency while Chris was in a financial institution. Despite our individual achievements, we were both actively looking to get out of our jobs and start our own business. However, we didn't know each other very well at that time.
It just so happened that I had a freelance client who needed to get their internal communications aligned. Working with this client made me realize how badly companies need this service. And it's not just small businesses, but international corporations like the client I was working with. That's when I decided to have a chat with Chris.
We started playing around with the idea, and the magnitude of what we could offer really hit us. Our initial plan was just to create a platform where companies could purchase standard templates. But the more we spoke, the more we realized that companies didn't just outsource their email marketing — they outsourced all their marketing efforts.
Not many companies have in-house creative or digital teams. This means they'll need help at some point in the email development process, whether in content, design or coding. They'll then turn to third-party vendors. But all that is extra time, stress, and money.
With this realization, we decided that BuildMyEmails was a viable project worth exploring. Additionally, given my extensive experience in branding, marketing, and design and Chris' expertise in data security, we had a winner in our hands.
What went into building the initial product?
When we first started building BuildMyEmails, we decided that we only needed the bare essentials for a start. So we set a conservative budget of around $5,000 for the initial set-up. Once we knew how much we needed, Chris made a few calls and spoke to his friends and family to ask if they would be interested in funding BuildMyEmails. In all, we managed to raise over $30,000.
As our goal from the start was to bridge the gap between automated email marketing platforms like MailChimp and design agencies, we hunted for the best system that could support this. After several trials, we decided on the Laravel framework.
To build the actual system, we interviewed scores of developers, searching for those who were familiar with Laravel and skilled enough to create the features we wanted. The process almost killed us.
What many companies don't realize is it takes a lot of time and effort to find the right people. Long story short, we finally hired two developers on a freelance basis. And we were determined to do absolutely anything to retain them. After what we had gone through, we really didn't want to go through the chore of finding and training someone every 6 months.
While building the system, we decided it would be a great perk if the entire process was automated, so we added that into our plans. Finally, after three months, we launched BuildMyEmails. Even though the site is now up and running, we're still evolving and improving the system, adding in new automated features.
How have you attracted users and grown BuildMyEmails?
We knew that the hardest part was reaching out to businesses and standing out from the competition. That's why we set out to differentiate ourselves from all the other companies offering email marketing services.
With this in mind, we created our website to highlight our USPs (unique selling propositions) and showcase our services. This resulted in several inquiries being made through the site. But then we encountered a problem: many people still didn't understand the real nature of our business. So it was back to the drawing board and rewriting the content of the website so it would show at a glance exactly what we offered.
To start, we differentiated ourselves from mail service providers like MailChimp. We also changed the headers of various sections to clearly state what our clients would be getting. Finally, we illustrated the entire process from start to finish.
Once that was done, we sent out an email blast to our databases. We also decided to get onto the different social media platforms like Facebook, Twitter, and LinkedIn to get the word out. Besides creating accounts for BuildMyEmails, we joined LinkedIn groups and forums for email marketers. We regularly posted material on email marketing to establish ourselves as thought leaders in the industry and boost our reputation. Next, we went online to research legit groups showcasing new tech startups, like Indie Hackers!
Understanding the power of content, we also set out to create high-quality, insightful blog posts that would boost our SEO and Google rankings. It took awhile but our hard work has paid off. Now, we come up pretty high in the search results for email marketing.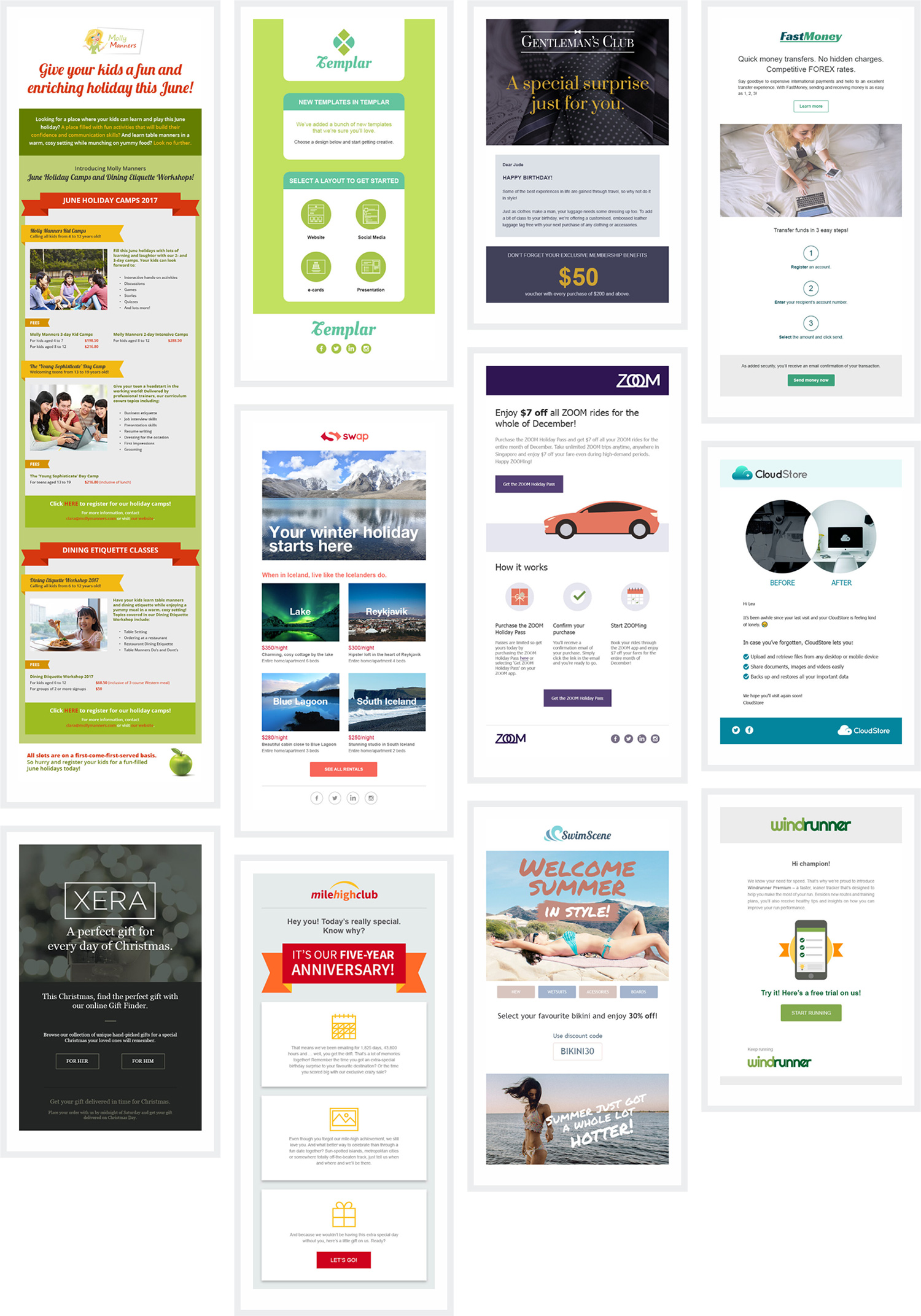 BuildMyEmails' Portfolio
What's your business model, and how have you grown your revenue?
One of the things that we are really excited about is the fact that customers can select and pay for only what they need. Our main business is developing marketing emails for companies. But not every company wants to run an email marketing campaign on a regular basis (although that's what we're striving towards). So we decided on a flexible payment model where our users can decide if they want a single email or multiple emails, whether it's a one-off thing or they want to do it long term. As an added perk, the more emails they order, the cheaper it gets.
We've been doing this from as early as 2015 and so far, it's been great. We're raking in $1,500 a month in revenue, and our aim is to reach $3.7 million by 2020, and we're feeling really good about that goal. The reason for our confidence is automation. We refuse to do anything manually if it can be automated. And that's the vision for BuildMyEmails.
Also, we take a fairly conservative approach to risks. We don't push for things that are beyond our reach. We stay grounded and we always prepare for worst-case scenarios. Right now we're working on other stuff for clients in addition to BuildMyEmails. However, BuildMyEmails is our main business, and we're hoping to grow it and make it profitable so we can continue building other innovative projects.
As mentioned earlier, price is a key selling point for us. Since we started, we haven't increased any of our prices. We've done intensive research on what regular design agencies charge for their email marketing and we've cut it down to a third of the market rate. We think our pricing is pretty competitive so we won't be making it any cheaper. We really don't want to start a price war. Plus, we need to make some profit. That said, we may increase our rates slightly in the future. But it won't be more than 10% as we still want BuildMyEmails to be the most affordable email marketing service around.
Overall, it's worked out pretty well for us. We currently have an average of 2 clients on retainer per month doing 1 email each week at $350–$400 per email. So that's 4 emails per client. On top of that, we also have roughly 2 ad hoc clients per week.
What are the biggest challenges you've faced and obstacles you've overcome?
One thing that we only realized recently is that we should have done this earlier. If we hadn't procrastinated and just got down to it, we would have built the system long ago, and it would probably be doing great right now. So don't leave anything to tomorrow if you can get it done today. Like Nike says, just do it.
Another lesson we learned in the process is nothing ever goes to plan. If you're starting your own business, make sure your backup plans have backup plans.
That said, it's been a good experience. We've made many mistakes, but we also learned a lot from them, which has helped us to implement changes much faster.
What were your biggest advantages? Was anything particularly helpful?
Our biggest advantage is probably our experience. Shevon's expertise in branding and marketing provided the strategic direction for BuildMyEmails, while Chris' skills in data security helped ensure the integrity of our system.
Over time, we have also managed to gather a team of talented copywriters, designers, and programmers who have years of experience in what they do and the track records to prove it.
What's your advice for indie hackers who are just starting out?
Three things — the first is stick to your idea and see it through. Cliché as it sounds, you really are the master of your own destiny. If things get bad, you just have to go with the flow. It happens. But never let it get you down. The key is to keep moving. As long as you do, you'll progress.
Secondly, put aside some time every day to think about your idea. Your plan might already be awesome, but break it down, put it back together, and break it down again. Your idea won't turn into revenue if you don't have a vision. By looking at your plan from all angles and really thinking it through, you might have an epiphany and a "Eureka!" moment for something even better.
Lastly, make it a point to know everything. There's no such thing as too much information or wrong information. You're building products for people, and before you can do that you need to understand how they work. So make everyday a learning process and take in as much as you can. The more you know, the better you can plan.
Where can we go to learn more?
Check out our services at https://buildmyemails.com or visit our blog http://blog.buildmyemails.com for posts on anything and everything related to email marketing. You can also get in touch with us on Facebook and Twitter. Or you could just ask us in the comments below.
—
Shevon Perera , Creator of BuildMyEmails
Want to build your own business like BuildMyEmails?
You should join the Indie Hackers community! 🤗
We're a few thousand founders helping each other build profitable businesses and side projects. Come share what you're working on and get feedback from your peers.
Not ready to get started on your product yet? No problem. The community is a great place to meet people, learn, and get your feet wet. Feel free to just browse!
—
Courtland Allen , Indie Hackers founder