Growing My Business by Bringing New Tech to Recruiting
Hello! What's your background, and what are you working on?
My name is Adam Goldstein and I'm the co-founder of Vettery, the hiring marketplace that connects top talent with growing companies. Before Vettery, my co-founder (Brett Adcock) and I researched, analyzed, and invested in the recruiting and staffing industry at a hedge fund. These days we're working on changing the recruiting industry by creating access and transparency for both job seekers and companies.
Vettery has over 5,000 of the top engineers that are open to speaking with companies about new opportunities, and we're adding thousands more every month. Companies are able to view candidate experiences, compensation data, and preferred role before immediately connecting with them without the use of a staffing agency.
Thanks to the demonstrated value of the platform, we receive over 10,000 monthly applications from eager job seekers looking to use Vettery to find their dream job. To help evaluate the candidates, we use an algorithm combined with human intelligence, ultimately leading to fewer than 5% of candidates accepted onto the platform. Currently Vettery operates in two industry verticals (technology, finance) across 3 core cities (New York, San Francisco and Los Angeles).
Vettery is used by over 2,000 companies, including top tech companies like Uber, Blue Apron, and Casper, as well as smaller startups.
What motivated you to get started with Vettery? What were your initial goals, and how'd you come up with the idea?
In 2009, Brett and I started a blog that trained people how to get a job in finance. We created this blog out of frustration, as the applicants that applied to our company were severely unprepared, and we wanted to give people the upper hand when applying to jobs in the opaque world of financial services. We assumed only a handful would read our blog, but we were wrong — millions flocked to it and it became a go-to source in the industry.
Our passion for the staffing industry continued to grow as we experimented with building different types of technology-based recruiting tools like video interviewing, mobile job applications, and applicant tracking systems.
We soon realized that the $100+ billion recruiting industry was largely dominated by brokers and complacent about technological innovation. At that moment it became our mission to raise recruiting up to the standards of several others industries improved by technologically enhanced processes and dislodge the antiquated headhunter system.
We launched the marketplace in New York nearly two years ago with an initial sole focus on the technology sector. From the start companies scrambled to get on the platform, because the industry had never before had the opportunity to access high-quality candidates in such a transparent format.
Most recruiters will send a company 2-3 resumes at a time; over the course of working with a recruiter you may only see a handful of resumes, so you have a very narrow view on what else is out there. Vettery gives companies access to thousands of high-quality, vetted candidates all at once enabling clients to take control and an extensive view of a qualified pool. Vettery provides key candidate details including resume, compensation detail, and job preferences.
As the candidate quality and number of companies on the platform increased at a tremendous pace, we reached out to select venture capitalists to raise a round of capital to really give the company the fuel it needed to fulfill our vision. The venture capitalists at Lightbank, started by the founders of Groupon, loved the idea and were one of our earliest supporters. They, along with Brian Spaly (founder of Bonobos and Trunk Club), introduced us to Greycroft Partners, who rounded out our first backers.
What went into building Vettery and the tech behind it?
By the time we started Vettery, Brett and I had built several other software technology products, so the product itself was not the most pressing challenge. The true difficulty was launching and cultivating a healthy marketplace. Every marketplace faces the same challenge: how do you attract buyers (employers) and sellers (job seekers) in the right proportion? Or even any at all?
Failure to have a critical mass on either side of a marketplace results in the entire platform collapsing. With that in mind, when we launched we worked tirelessly to attract as many people to the marketplace as possible. There were many sleepless nights where we weren't sure if it was going to work.
The deep technology work began after we got the marketplace off the ground. Our biggest asset is our data, so we needed to predict what to track and store even before we had any use for it. Data integrity and management has been a core practice of ours since inception and has continually yielded benefits.
Most directly, we knew that this data could be used to provide high-quality matches of candidates for our clients. By analyzing client behavior patterns based on the types of job seekers they like and the roles they're searching to fill, we can predict which candidates have the skills and experiences needed to succeed.
What marketing strategies have you used to grow Vettery's customer base?
Day one was just a hustle job. We had to call, email, and contact every single person we knew. We pulled strings, called in favors, sent cupcakes, and pretty much did whatever we could do to get both companies and candidates to the marketplace.
There's no real secret to grow your customer base. Everyone is looking for "growth hacks," but sometimes worthwhile things are just hard for a reason and there is no shortcut. The reality is that you need sweat, flexibility, and a little bit of luck. We tackled both the company and candidate sides of our marketplace at the same time because we had to. For us it was a matter of life or death, so we worked relentlessly at it. We still do today!
One of our biggest channels has always been creative marketing. We never had the money to run expensive ad campaigns or sponsor large events, so we had to get creative. We always create a scene wherever we go in order to generate free buzz. In 2016 we were named as one of Crain's Best Places to Work and at the honoree lunch we wore 6' high custom-made giraffe head masks so every single one of the thousand attendees would know we were there. Thanks to efforts like that, we also happened to win Crain's Best Idea award that year too.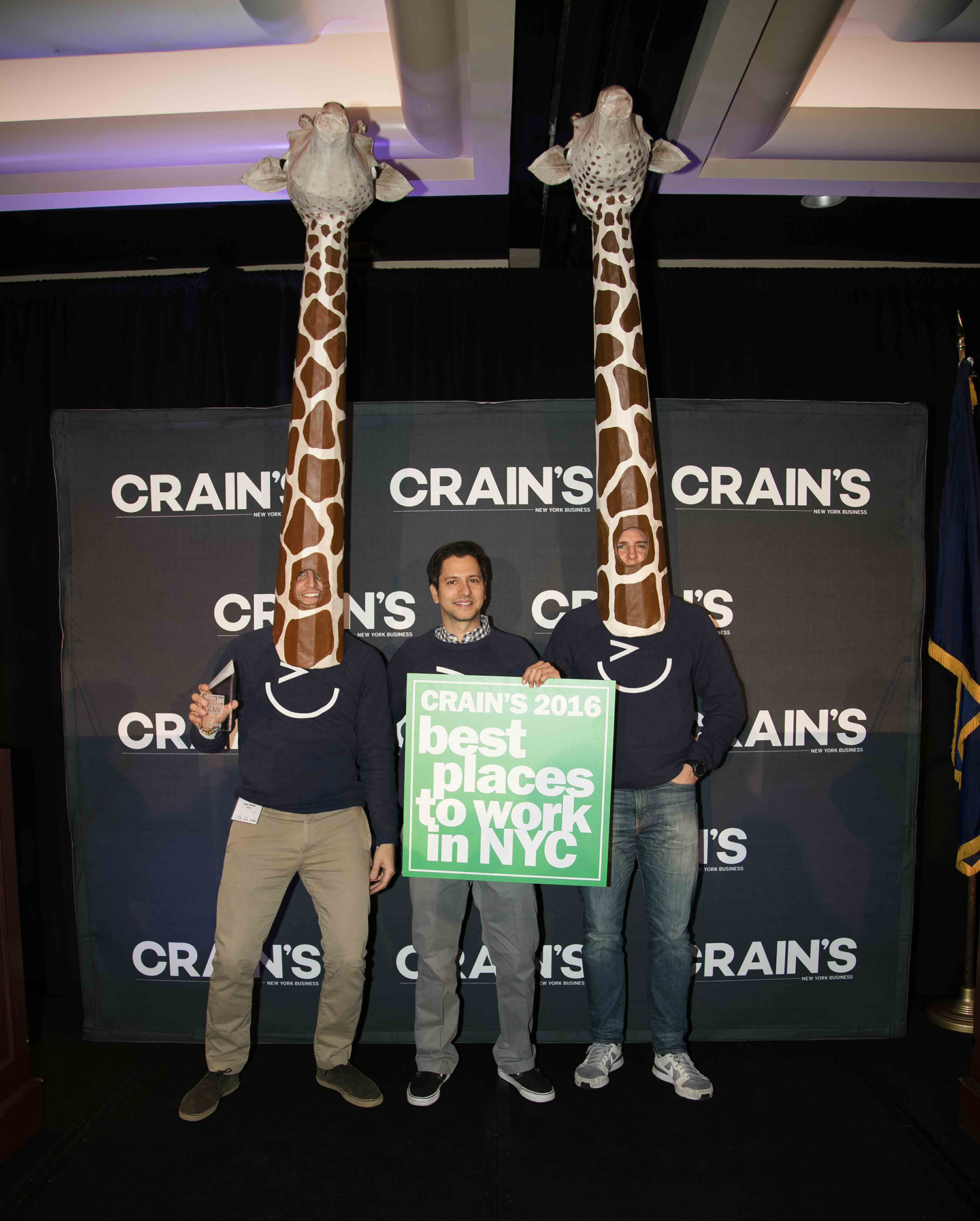 After raising our Series A, we had some money to advertise with but not much, so we still have to be creative and careful with our expenditures. We have experimented with content marketing, events, referral systems, and direct mail. All of these campaigns combined have helped position the company over time as a recognized brand in the space.
Our best marketing channels have been referral systems, as we've received extremely positive feedback from users of our platform. They'll always be your best source of growth because people trust their peers more so than a 300x250 pixel advertisement. A channel that we've been more deliberately cautious with has been networking events and panels. Although you have the opportunity to reach a large audience, often it may be the wrong audience and can prove costly from both a monetary and time standpoint.
How does your business model work? What's the story behind your revenue?
Vettery has two main ways it generates revenue. The platform is free to try out, and the only cost to an employer is when they hire a candidate. In that scenario we charge 15% of the candidate's first year salary. We also have an unlimited hiring subscription plan which ranges from $3,000 a month to $10,000 a month depending on the size and needs of the company.
The subscription plan is the future of the business. Once a company commits to the product and eliminates the pay-per-hire model, the entire relationship improves. Vettery provides additional advice to clients on which candidates to interview and how to effectively close those candidates. In contrast to a traditional recruiter, there's no misalignment of interests. Typically when a broker (e.g. a recruiter) is incentivized by money to place a candidate, they will say and do almost anything to get the employer to hire their candidate; but if an employer just pays a flat fee, there's no incentive to push hires, resulting in a more trusting client and recruiter partnership.
We're lucky that we compete in a space with a defined and structured revenue model, allowing us to spend more of our time focusing on improving the user experience and increasing adoption of the product.
What are your goals for the future?
Our goal is to become the largest platform in the world used to recruit any position in any industry. Today we operate in just technology and finance, but later this year we're expanding to additional industry verticals.
Additionally, we want to bring joy to the recruiting industry. If you ever hear anyone talk about recruiting, it's typically negative — whether it's a job seeker complaining about filling out applications or recruiters bemoaning the lack of quality candidates. Recruiting, in our view, should be seen as a positive. It's a huge life event for the job seeker and a brand new team member for the employer. Our goal is to have people's reactions to recruiting properly reflect how amazing the journey of finding a dream job can truly be.
On a personal level, I have two main goals that I use as a guidepost: 1) I want to build a large company, and 2) I want to build a company that is surrounded by positivity.
What would you do differently if you had to start over?
I fell for the oldest trick in the book, and if I could I would undo it: I mixed business and friendship, and it predictably ended poorly. We've all heard this lesson over and over. but for whatever reason I thought I could make it work.
The dream is definitely to be able to celebrate successes with friends, and while it may be about the journey and not the destination, sometimes the journey can be painful too if you have to sacrifice a stable friendship along the way.
That's why when I started Vettery, I chose to partner with someone I truly despise. Kidding, Brett. That said I will absolutely destroy your team at the next company kickball tournament...
What were your biggest advantages? Was anything particularly helpful?
I loved Ashlee Vance's book on Elon Musk, and it gave me an incredible perspective on what can be done as well as the relentless dedication it takes to accomplish something worthwhile. Any time someone on my team tells me they can't do something, I always tell them we are not landing reusable rockets on drone ships in the ocean — believe me it is doable. And it usually is.
I even hung up a picture of Elon Musk in our main conference room and a couple team members thought it would be amusing to turn it into a shrine. We decided to leave it up, and despite the somewhat confused looks by visitors from time to time, it's worth the extra motivation it provides the team.
My other great influence is Tony Robbins. I try to stay in a peak state throughout my day. Whenever I feel myself slowing down or getting low on energy, I put on my headphones and turn up some loud music. Tony Robbins taught me that in order to do your best work, you need to be in a peak state both mentally and physically. Exhaustion is a mindset, it is rarely a reality.
What's your advice for indie hackers who are just starting out?
Only go for it if you are all-in. There is no hedging. Burn the boats and take the island. Whenever I hear entrepreneurs talk about a fallback plan, or how they are going to do a startup on the side, it's obvious that they're dead before they even start.
Every startup has multiple periods of time where it's near death, and if there is a backup option it'll be a tempting path to take. Unfortunately, great businesses rarely go without a hitch, and if you give up at the first sign of trouble, you'll never fulfill your full potential. You need to be 100% all-in.
Where can we go to learn more?
We'd love to chat so if you have any additional questions about Vettery, you can feel free to post a comment. You can find us on www.vettery.com or on Twitter too!
—

AdamVettery , Creator of Vettery
Want to build your own business like Vettery?
You should join the Indie Hackers community! 🤗
We're a few thousand founders helping each other build profitable businesses and side projects. Come share what you're working on and get feedback from your peers.
Not ready to get started on your product yet? No problem. The community is a great place to meet people, learn, and get your feet wet. Feel free to just browse!
—

Courtland Allen , Indie Hackers founder