Growing to $4,000/mo by Utilizing Several User Outreach Methods
Hello! What's your background, and what are you working on?
Hello Courtland and Channing! My name is Marc Montagne, and I'm the founder of Toolwatch.io. I'm currently living in Geneva, Switzerland, the country of mechanical watches, where I am working as digital marketing manager for Vacheron Constantin, the oldest watch manufacture.
I was born and raised in Paris and hold a double degree in engineering and business. As long as I remember, I have always enjoyed creating and building stuff in all the domains that I like (literature, tech, art, music, etc.) and right now my main focus is watches. I'm an absolute watch geek.
I've created Toolwatch.io in 2015 with two friends, Mathieu Nayrolles and Vincent Satiat, to help watch aficionados like us measure and track the accuracy of their mechanical watches. We also launched iPhone and Android apps and currently have over 30,000 users with a monthly growth rate of 12% and monthly revenue of $4,000.
Since we started, Toolwatch has made over 200,000 measurements.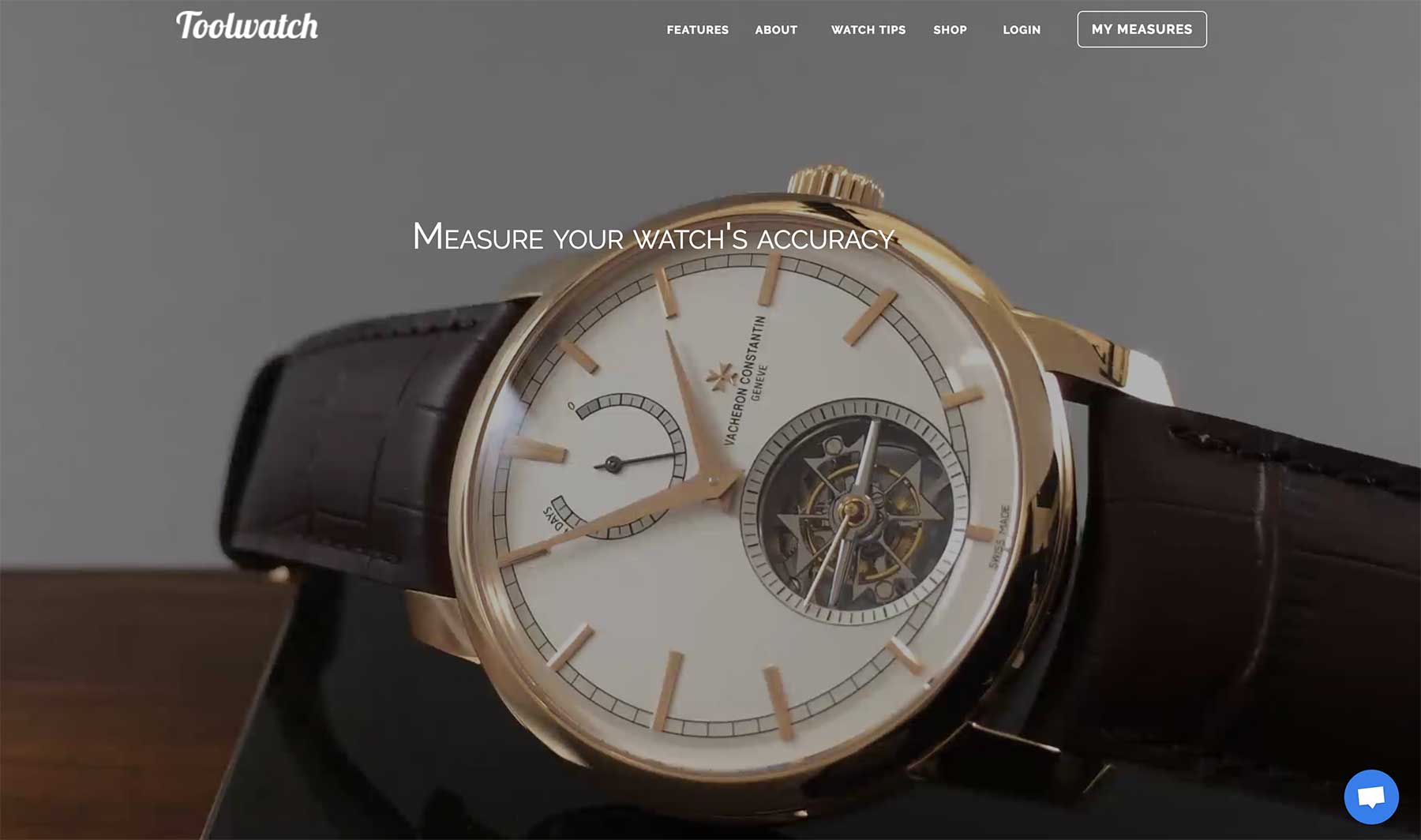 What motivated you to get started with Toolwatch.io?
Since I was a little boy, I have always loved watches. Growing up, I discovered mechanical watches and got instantly hooked! Unlike quartz watches, mechanical watches have a little drift in accuracy because they are… mechanical! I consider the best watches to be the most accurate ones, so I've long had an obsession over accuracy.
I started measuring the accuracy of my watches simply by using pen and paper (a lot of cool stuff usually start that way too)! I would synchronize my watch with a reference clock and see how my watch would compare after a few days.
I then had the idea of using an Excel spreadsheet to automate the math and simplify the whole process. It was convenient so I started sharing this spreadsheet with my father and some friends. I realized I wasn't alone with this watch accuracy madness! It then made sense to share this tool with more people, which meant it had to be available online.
Even though I was enjoying my day job, I was sometimes frustrated by the time it took to bring a project to life in a large corporation. I needed to do more stuff — I couldn't just stay there and wait for things to happen. Using that frustration and my passion for watches, I managed to find the energy to build Toolwatch with two friends who were also passionate about watches.
We began with a web app, managed to publish a cool blog article from a specialized blog on our launch date and got over 600 users over a weekend. The feedback was great and working our way into the watch industry we were able to have our app tested and validated by people who understood watches. We knew we had something. By listening to our users, we improved the web app and then launched iPhone and Android apps as we had a huge demand for those.
What went into building the initial product?
As soon as I got the idea for Toolwatch, I started building a landing page where I would collect email addresses of future users interested in the product. I'd created an Instagram account where I posted a watch photo each day and this would drive people to our landing page. We got 131 leads during the three months we built Toolwatch: nothing huge, BUT I saw that a watch blogger subscribed so I emailed him. This is how we got a cool blog post on our launch date!
We wanted to focus on the core promise of Toolwatch (measuring the accuracy of a watch) so we removed all other potential features, and I started prototyping the web app using Axure. The idea was that if we couldn't get anyone interested through our five-screen MVP then we shouldn't waste more time and energy on the rest.
The MVP looked like this:
Account creation
Add a watch
Watch-first synchronization (by clicking on a button at the exact time where the seconds hand reaches the 12 o'clock position)
Using those two synchronizations, Toolwatch would be able to tell if there was any drift in the accuracy.
And of course we added a homepage and a contact page.
It took approximately three months to build the MVP during night and weekends and here is a breakdown of the tools we used.
At that time, we had very few MailChimp subscribers, so it basically cost us less than $100 to build.
Later we added a blog using Wordpress, and we just opened an online boutique using Shopify.
How have you attracted users and grown Toolwatch.io?
Attracting users to Toolwatch has been our first focus. The worst feeling would have been to spend countless hours building something with no one even seeing it. We didn't want that!
The first thing we did was read Traction by Gabriel Weinberg and Justin Mares. This gave us a lot ideas of traction channels to explore, and we've kept adding new channels since. Here is the full list of what we tried.
PR
As we are in a niche, it is easy to identify to which bloggers we should reach out, especially as we were already familiar with their work as watch fans ourselves.
Getting press coverage is a lot of work and takes so much time, but the exposure can be really big, especially when you are starting and don't have a voice of your own yet.
It can be difficult if your communication relies on PR as you are never 100% sure of getting an article until it's posted and getting a blogger/journalist to commit on a publication date can be a nightmare. Also the lifespan of a press release is very small, 48 hours later it's over!
I would consider it as a nice bonus boost to have and always try to get, but this shouldn't be the core of your user acquisition strategy.
We were lucky to have a nice article when we launched, so I take the opportunity to thank Robert-Jan again for his support!
Social
We are active on a few major platforms.
Twitter, where we relay a lot of material on the watchmaking industry using Sniply to embed a link to our app and Buffer for the scheduling. The results are far from being impressive there, but we have some nice interactions with users so we keep on going.
Instagram, where we post a new watch picture each day. Working in the watchmaking industry, we regularly put our hands on some incredible watches, and it's always great to be able to share them. Hashtagging works well on the platform and allows us to get discovered by new users. Watches are really big on Instagram, and it has been working great for us so far.
We publish all news related to Toolwatch on our Facebook page so we can't say we are very active there. If I had more time, I would probably invest more on Facebook.
LinkedIn is interesting as well for its big organic reach. Posts on LinkedIn can still be visible after a few days. This is a platform where you can get nice results even without investing so much time on it.
Finally we also built a Chatbot on Facebook Messenger, but I guess this was just me having fun and trying new stuff.
Forum posts
As a watch guy I spend a lot of time talking with other enthusiasts on a few watch forums, and I've allowed myself to discuss Toolwatch there. I could have done this on many more forums, but it just didn't feel right copypasting the same message over and over even if a single post would generate tens or hundreds of new users.
I guess it would be worth spending some time on building a legit presence on more watch forums and introducing Toolwatch when it is appropriate. This would be the same with Facebook groups.
Content marketing.
This has been huge for us. We started with our own blog, where we would mainly post watch tips. Those article were fairly successful and would also give us food to share on our social channels. By regularly engaging with our users we would know what they were looking for when it came to taking care of watches. And then I discovered Quora!
I knew about Quora, but I had no idea they had a watch section. Instead of answering questions on forums, I would do it on Quora, and in a few months I had almost 3 millions views on my answers and am now the most viewed writer on watch-related topics. Needless to say, this brings a constant flow of new users and authority.
Email marketing.
We are using a lot emails for retention and to engage our users. We use them to spread our content, which then gets reshared, giving them more visibility.
We also include ready to share buttons for our users to share those emails. While this isn't the biggest user acquisition channel, it solidifies the whole ecosystem.
Infographics
Since we measured so many watches, we have enough data to come up with some cool infographics. Those tend to become pretty viral each time we release one.
This is a nice thing to do as an indie hacker as your data is pretty unique and will allow you to immediately stand out.
Built-in virality
We used two critical moments of our experience to try and get our users to spread the word. The first was with our welcome email which included a mailto link with a prepopulated email for our users to share. We hadn't demonstrated any value at that stage of the onboarding, so the incentive for that was a cool infographic with data that couldn't be found elsewhere in the industry.
The second moment where we ask for a share is right after a measurement, when the user has had a full experience of the product and is confident in sharing it.
Speaking of virality, no one shares on Facebook anymore. Messaging apps have way more success. Be sure to include such sharing buttons!
Word of mouth
Word of mouth has been a big acquisition channel, though it can be hard to measure and/or improve it. We find out every day that someone has been talking about Toolwatch on a blog, on a forum, in a Facebook group, on a YouTube video, and so on. This is great of course and shows you that people have a genuine interest in what you are building.
You should try to listen when people are talking about you and then engage with them. On our side, we are using the Notify bot to let us know in a dedicated Slack channel whenever someone mentions us.
Product Hunt
We used Product Hunt when we first released Toolwatch (thanks again Jeremie Berrebi for hunting us!) and later when we launched our mobile apps. While Product Hunt's audience might prefer an Apple Watch over a mechanical one, you'd be surprised by the number of tech executives with nice mechanical watches.
Above that, PH is a great place to instantly get a lot of eyeballs on your project and, most importantly, great feedback. For those interested, I have written an article on what a "normal" Product Hunt launch looks like.
Facebook groups
There are a gigantic number of Facebook groups with watch fans. Some are very specific to a brand and others to a country, but all have pretty large and engaged communities. As for the forums, I was okay sharing Toolwatch on groups I belonged to but reluctant on joining groups just to talk about Toolwatch. However, it always feels great when I see someone in my Facebook feed talking about Toolwatch in a dedicated group.
In the future, I would try to find a way to share Toolwatch on Facebook groups, watch forums, and reddit in a genuine way that doesn't feel spammy. Those are some really large audiences that have shown interest in watches and shouldn't be neglected.
Also, I would continue investing time in content production. When spread on the right channel, this is the most cost-effective strategy.
What's your business model, and how have you grown your revenue?
There are a few ways we are generating revenue and these past months have been about testing each one of them.
As we have many users asking us for advice on which watch they should get or which accessory they should use, it's been really easy for us to set up affiliate deals, mainly on Amazon. We are able to generate a few hundred dollars each month this way, and there is definitely some room for improvement as we only placed a few links here and there.
With the data we have on our users, we could be smarter with the links we are proposing and implement something that would convert even better.
We are also regularly contacted by professionals of the industry looking to advertise, so we opened a sponsorship push in our mailings. There aren't many ways to reach out to watch owners at scale, and Toolwatch is one of them. We are charging on a cost-per-impression basis, and depending on the volume this can bring in a few thousand dollars per month. In the future, we are considering proposing more innovative advertisement products.
A few months ago we also opened an online shop where we are selling secondhand watches that we have carefully selected along with some accessories. We opened the shop with a limited edition accessory which was a great way of organizing our launch.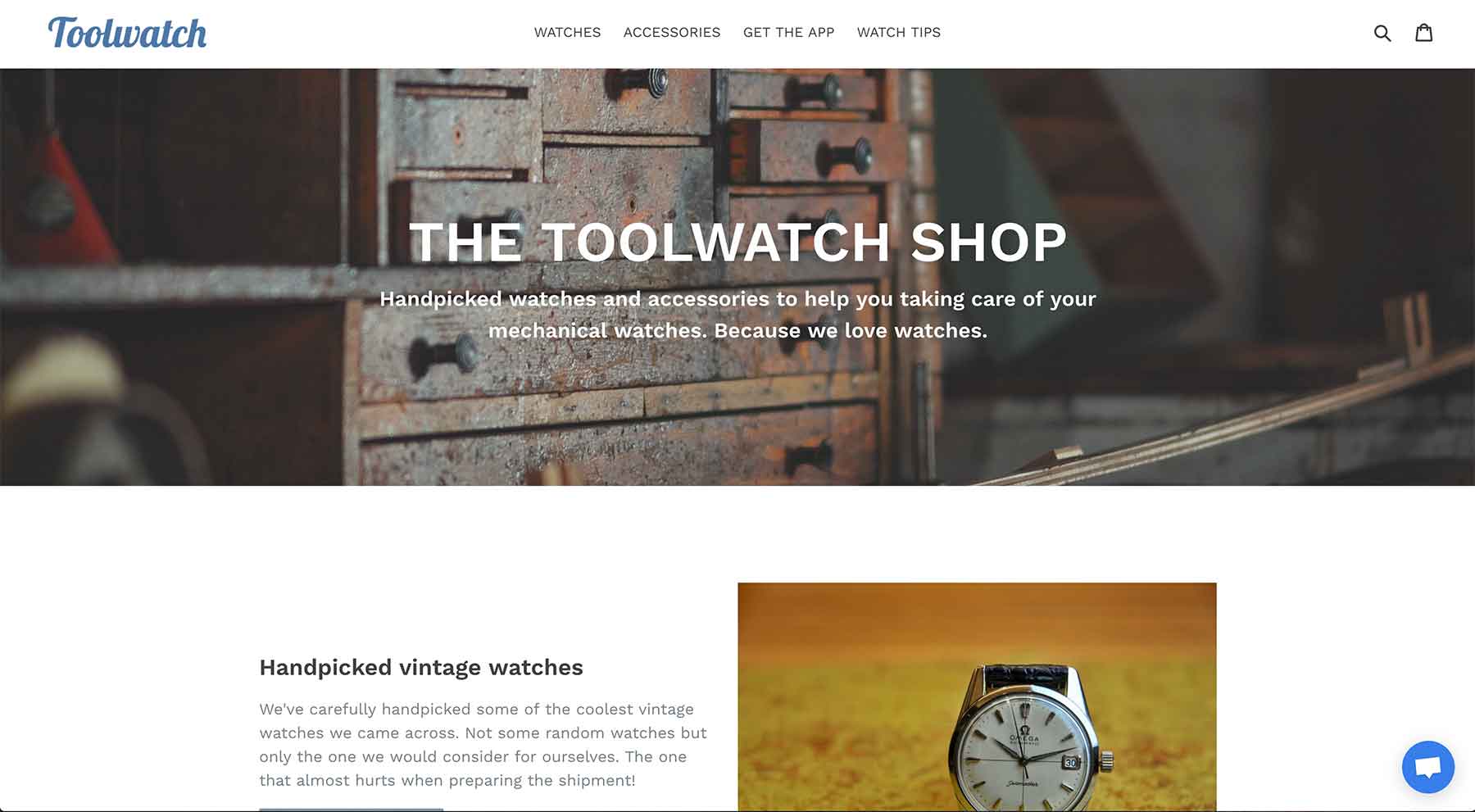 The shop is still pretty confidential for the moment as it has not yet been integrated in the mobile apps, but we are just starting out with it and are planning on increasing our inventory little by little. Ultimately, this could be a business in itself.
Finally, we have included a donate button on Toolwatch. While it is almost hidden, we regularly see some users contributing which makes us very happy as this is a proof that people are enjoying Toolwatch and consider paying for it even though it is free.
Our revenue is still pretty irregular at this stage, but there are some great opportunities ahead. We will continue testing new things out before doubling our efforts where it makes sense.
What are your goals for the future?
One of the greatest things about building Toolwatch is the number of great interactions we have with our users. Being able to share our passion with other passionate people is a great feeling.
Our first goal would be to increase the rate at which we are producing content across all our platforms. The acquisition channels we discussed above have shown some promising results, and we haven't used them at their full potential yet.
Having that many users (relatively speaking) also brings some responsibilities, and we now have a roadmap of features that have been massively requested and that we need to tackle. Another goal would be to improve the rhythm at which we are able to ship new features to our users. Since we are open sourced, it would be great to involve our users there as well.
Finally, while we are making some decent money, we are still experimenting with our business model and need to settle down on what works best.
Of course, we would like to continue growing our user base, but we don't have specific goals for that as we have had the chance of already having some nice organic growth. If things continue working well, there's no reason why this should change.
What are the biggest challenges you've faced and obstacles you've overcome?
The biggest challenge we are facing is time. Toolwatch is a side project, and we all have very busy lives. That being said, the benefit here is that we are constantly forced to focus on what will be the most effective. We just can't afford spending time on useless stuff.
Time has also impacted our content marketing production. It is really important to get content out regularly, and we sometimes fail at it. Being organized and setting clear production goals has helped us a lot.
I found it useful to make a checklist with every place we should share our content as soon as it is released. It's a shame if you work on something great but no one sees it because you haven't taken the effort to share it properly.
If you had to start over, what would you do differently?
If we had to start over, we would have launched our mobile apps sooner, as they were massively requested by our users and have more than doubled our user acquisition rate. I haven't listed them as such, but the App Store and Google Play are two more acquisition channels we use.
Finally, we should have launched our shop sooner and integrated it in the mobile apps from the start, as it can be operated separately while generating revenue.
Have you found anything particularly helpful or advantageous?
There were a few books that I found helpful and would definitely recommend:
Working in the industry in which I'm building my side project is also a great advantage as it gives us a lot of knowledge and added ability to reach out to any stakeholder we might need.
Since I'm genuinely passionate, I think I'm doing a decent job at sharing this passion. I truly enjoy it. I'm receiving daily messages from people saying that they bought the watch "because" of me. So we just need to connect all the dots and do this at scale!
Finaly, despite what we might hear about digitization and "new" technology, I've never seen so much interest in mechanical watches. This is a great a time to work in this industry!
What's your advice for indie hackers who are just starting out?
Build. A common mistake is to spend too much time thinking of doing something and actually end up not doing anything at all. With today's tools, anyone can build something, even with little knowledge, and have it used by the whole world. Your main focus as an indie hacker should be to ship fast and put it in front of as many users as you can.
Simplify. Take your concept and simplify it. Then simplify it once more. Simplify it one last time, and then build it. Try removing features instead of adding them. You won't be able to do everything from the start, so focus on what's important.
Focus. When thinking about your growth channels, list them all and give yourself some clear targets, and then think about how you will get there. There's nothing worse than doing things in the dark without knowing the end goal or where you currently stand.
Produce content. Every company or individual is media — that is, a medium of information. You're nothing if you don't produce content. Content is one of your greatest assets so start doing it from the start. Talk about your product, your industry, your journey. Document everything. Stay genuine, be consistent, and provide value to your audience. You will see great things happening, and sooner that you might think.
Community. Your users have many things in common: your product, their struggles, shared interests, and so on. Benefit from that and create a community around your product. This can even be done before launching, which helps you see if there is real interest.
Where can we go to learn more?
If you like mechanical watches, you should definitely check out Toolwatch. If you know nothing about watches, then Quora could be a good place to start!
Toolwatch is open source. Here is our GitHub account, and we also share the occasional wrist shot on Instagram!
You can also follow me on Twitter and learn more about me at my website.
If you have any questions about Toolwatch or watches in general, feel free to email me, and I'll also be here to answer any questions you have right below in the comments!
—
MarcM , Creator of Toolwatch.io
Want to build your own business like Toolwatch.io?
You should join the Indie Hackers community! 🤗
We're a few thousand founders helping each other build profitable businesses and side projects. Come share what you're working on and get feedback from your peers.
Not ready to get started on your product yet? No problem. The community is a great place to meet people, learn, and get your feet wet. Feel free to just browse!
—
Courtland Allen , Indie Hackers founder