Growing to $50k/mo by Bringing Great Design to eBay Listings
Hello! Tell us about what you're working on. What is CrazyLister?
Hi, I'm Maxim, and I'm one of the founders behind CrazyLister, a tool that helps you easily create professional, mobile-optimized eBay listings. CrazyLister replaces expensive graphic designers to save you time and money while delivering stunning designs.
Multiple researchers have shown that professional design increases conversion rates, so CrazyLister is not only about awesome design, but more importantly it's also about increasing your sales.
Today CrazyLister is used by 45,000 eBay sellers to power more than 8 million eBay listings.
What motivated you to get started with CrazyLister? What were your initial goals? And how'd you come up with the idea?
Prior to starting CrazyLister, Victor (my co-founder and our CEO) and I were eBay sellers ourselves. We started selling on eBay without any prior experience, and within 3 years we reached $4.5M in sales. The vast majority of our success as eBay sellers comes from having very high conversion rates thanks to the emphasis we put on professional design.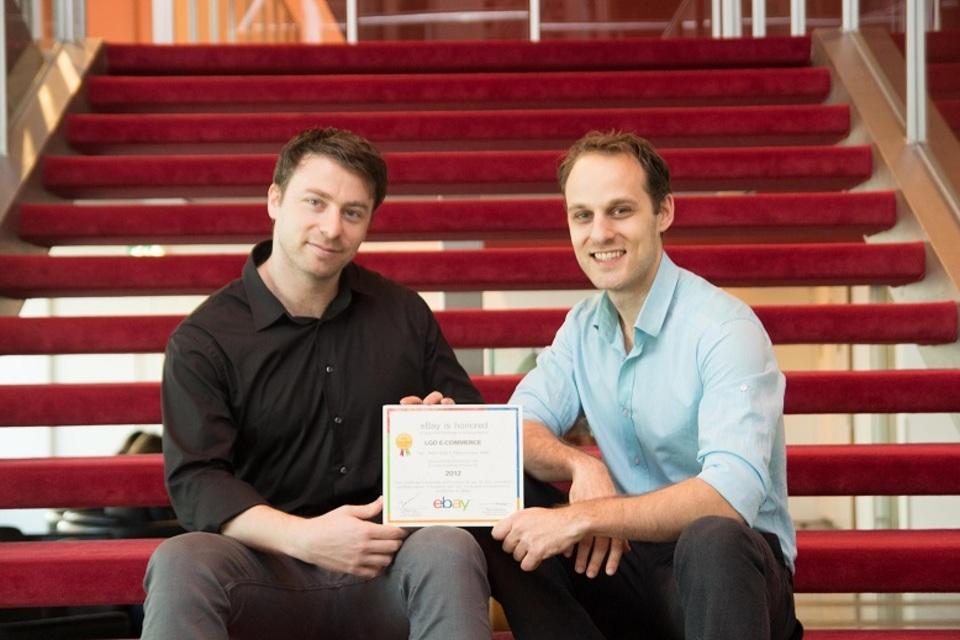 After winning a couple of eBay awards for the highest conversion rates, we started getting a lot of requests from companies who wanted us to do for them what we did for ourselves. We saw this as an opportunity to expand our business and started consulting for these companies.
However, after working with a few dozen customers we realized that this was not the type of business we wanted to grow into. We didn't want to be another consulting company, because it wasn't scalable in our eyes. What we needed was to provide all the knowledge we'd accumulated during these years to benefit as many sellers as possible without having to consult them one-on-one.
We knew very well that one of the biggest pains for eBay sellers is the listing design creation process which, to put it mildly, isn't a very positive experience. Moreover, eBay didn't provide a good solution — if you needed a professional design for your listings, you had to pay a lot of money to graphic designers unless you were extremely computer savvy and knew both HTML and design principles.
We poured all our knowledge about ebay sales conversion optimization into one super easy-to-use solution, and that's how CrazyLister was born. We hired a developer, and the first lines of code were written in 2013.
Neither of you guys are developers. What was the process like for getting the initial product built? How much time and money did you invest?
At the time we started building CrazyLister, Victor and I were already very familiar with eBay and all of the challenges it posed to beginner sellers. After all, we went through the journey of being clueless beginners to well-known eBay experts who consulted some of the largest Israeli companies, all within 5 years.
To create the MVP for Crazylister, we hired two developers who worked for about 6 months on the MVP. Afterwards, they continued working on the product for another year before we recruited a 3rd co-founder as our CTO: Or Poran, a seasoned software engineer who led teams at Intel and IBM for 16 years.
By that time we'd invested about $250k of own money (and by "our own" I mean mostly taking crazy loans from the banks) to get the product off the ground. Then we received a $600k seed funding from a VC. As a non-technical founder, I would highly recommend starting such projects with a technical co-founder who'll be willing to work for nothing and who'll set product development milestones.
In terms of direction, we built CrazyLister the way we would have liked it to work if we needed such a tool for our own work as eBay sellers. We wanted to make the process of creating a professional eBay listing design as easy as possible for people who don't have time and money to spend on expensive graphic designers but still require professional results quickly.
What marketing strategies have you used? How have you attracted users and grown CrazyLister?
In 2014 we launched CrazyLister's beta and started gaining some initial traction. We didn't have money to spend on paid marketing, so we started writing content with the hope that enough value through our content would convince people to give CrazyLister a try. This tactic worked pretty well, and although the software was barely what you can call an MVP (minimum viable product), users seemed to find it very useful.
Our blog eBay Sellers Journey to $100,000 a Month was probably the biggest contributor to our initial growth. To this day we've continued to release a weekly blog post, which is always written by myself or Victor. We rarely allow guest posts on our blog, and when we do it must be of the highest quality and full of relevant insights for our users.
One other substantial contributor to our initial growth was concentrating on conquering a very, very small market in Israel, which has no more than 600-800 professional eBay sellers. Since Israel is very small and we were already quite well-known within the eBay community, once we launched CrazyLister and put the word out to the Israeli community, it was quickly adopted by most of the sellers.
We'd taken an existing technology (drag-and-drop editor, similar to Wix) and implemented it in an industry that never seen anything like that, and this was enough to make quite a lot of fellow eBay sellers excited. Within two months we grew to over 1000 registered users and started getting amazing feedback that helped us build the roadmap for the future of the product.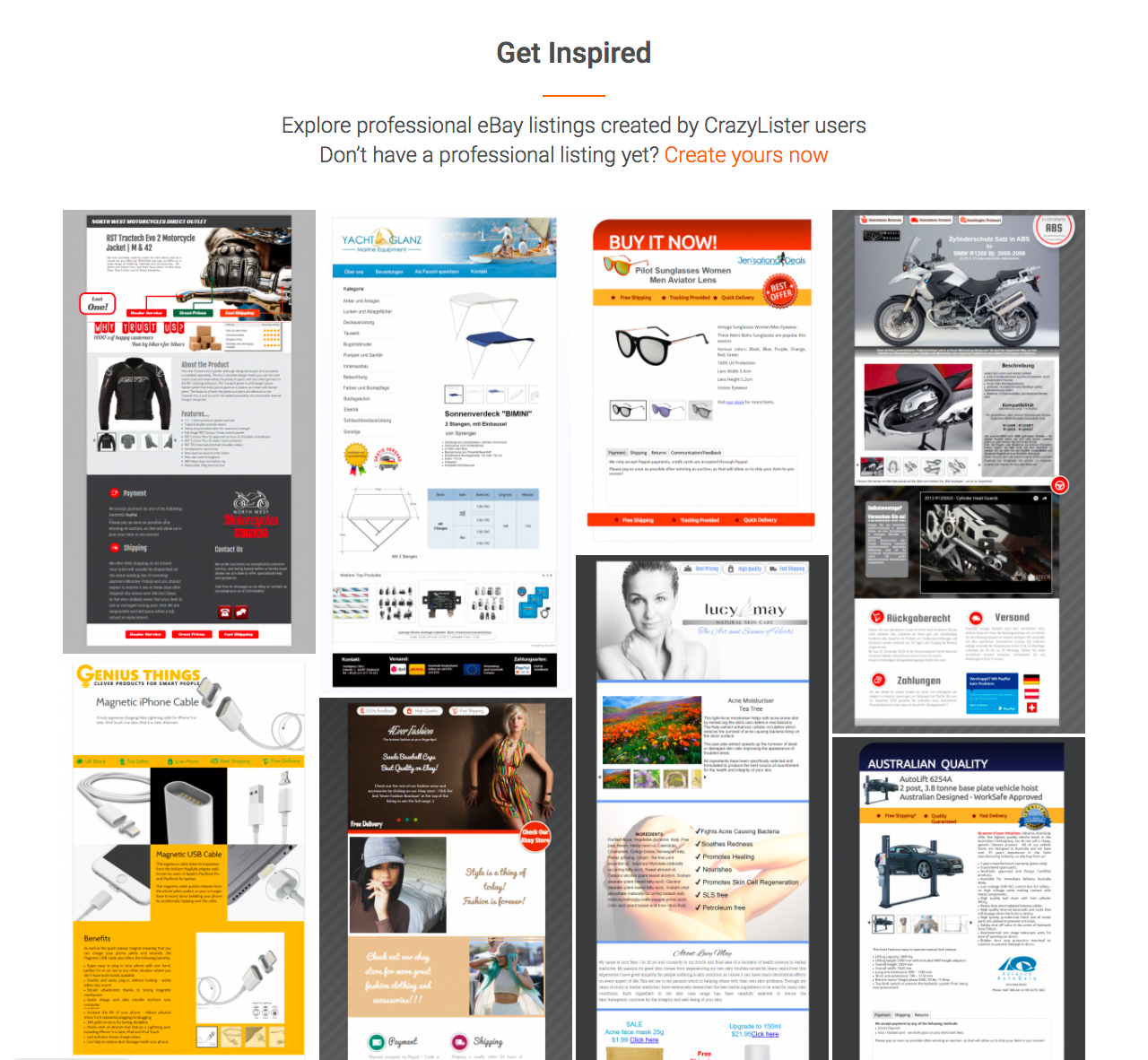 When we reached 15,000 users, we were accepted to Europe's leading accelerator program Startupbootcamp, and we spent 4 months in Amsterdam. At the same time we received seed funding of $600k, which really boosted our growth by allowing us to recruit experienced team members in both R&D and marketing. We started experimenting with paid marketing and increased our expense on validated experiments.
Organic SEO is another important channel we spend time on. It's mainly performed by writing high value content on various channels and improving the content we've already written with meta tags, relevant focus keywords, etc.
We also recently launched a YouTube channel called eBay Doctor where we educate eBay sellers about the best practices for selling on eBay. It's already reached over 10k views, and in turn drives traffic to CrazyLister.
How does CrazyLister's business model work? What's the story behind you revenue?
CrazyLister is a SaaS solution, and our business model is subscription-based. We cater to anyone from very small eBay sellers who've just started to large enterprises who want to replace their expensive designers and get more value for their money.
We started as a freemium service, and the amount you pay for CrazyLister depends on the number of eBay listings that you apply a CrazyLister design to. We charge as little as $7 a month and offer a 14-day trial, which allows essentially every eBay seller to try out CrazyLister for free and then decide whether they're going to stick with it. This model also enables businesses to pay only for what they need.
We use PayPal for accepting payments. Our revenue has grown 15% month-over-month throughout our history, and our overall MRR growth in 2016 is 547%. We've also grown by more than 30,000 users in 2016, and we're finishing out the year generating over $50k/month in revenue.
We introduced annual plans recently, which turned out to be very popular among our users with over 25% choosing annual. Until now we've mostly been used by smaller merchants (sellers with fewer than 500 product listings) who make up about 90% of our users. In 2017 we'll introduce new features for the bigger merchants — bulk features to allow creating designs for thousands of products in seconds — and will go after the bigger brands who require designs for all their e-commerce needs.
Today CrazyLister is nothing like it was in its early MVP days. We're very much focused on development and keep introducing new features on a monthly basis. We focus on innovative features, for example the world's first and only editor for mobile eBay listings which we introduced a few months ago. Improving the product directly contributes to revenue growth.
Most of CrazyLister's team is comprised of developers. We believe that CrazyLister is far from being complete and keep improving it. CrazyLister a year from now will be much smarter and more valuable for its users.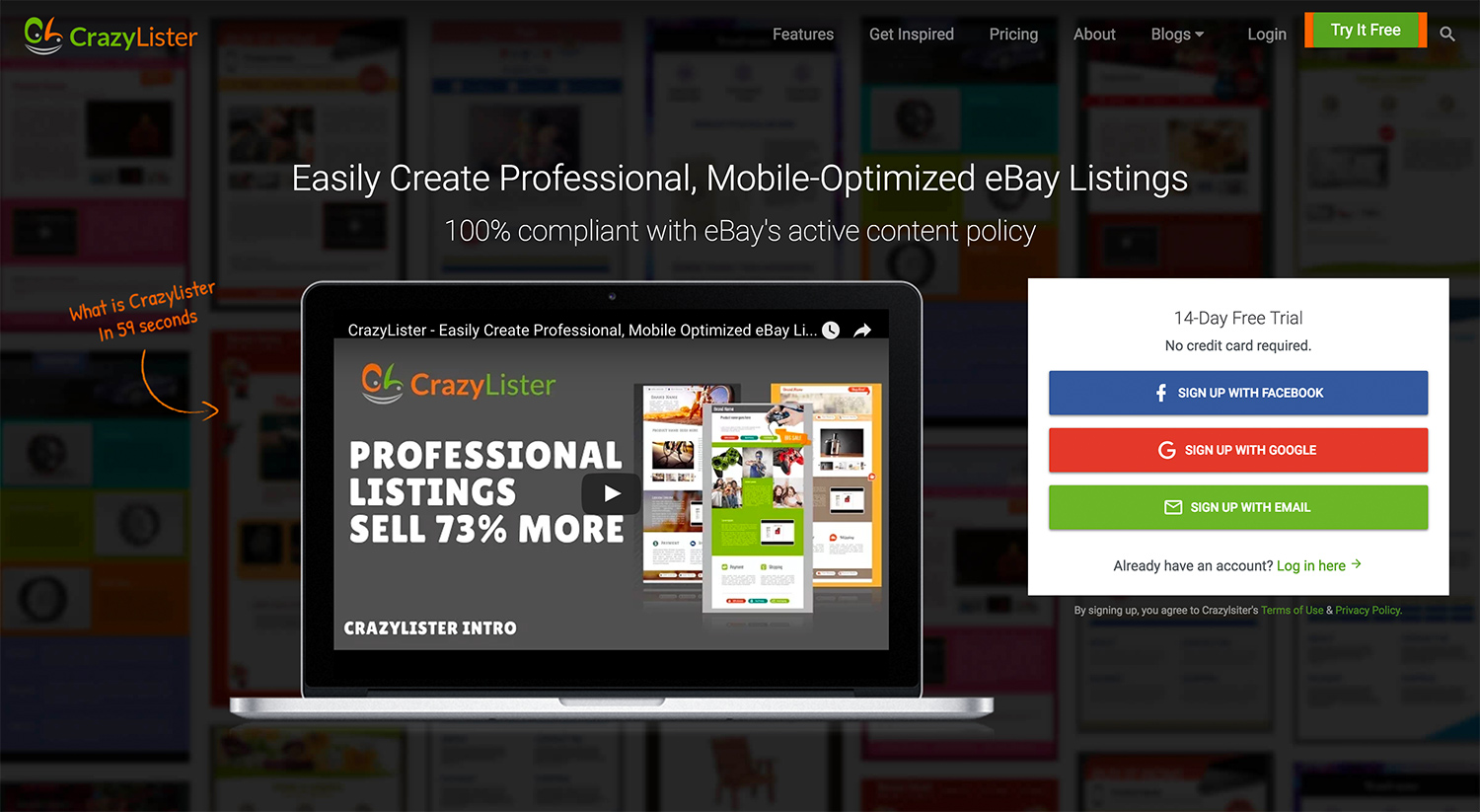 What are your goals for the future? Are there any big challenges you see on the horizon?
eBay listings are just the beginning for CrazyLister. Any online merchant who's serious about their business sells on multiple platforms such as Alibaba, their own webstore, and social media channels like Facebook and Pinterest. All of these platforms require professional design to increase one's chances of selling, and nowadays you need to use a different design tool for every channel you want to sell on. This creates immense inefficiencies in your business processes.
With one centralized design hub at CrazyLister, you'll be able to save hours of work by creating just one design and using it across all the different sales channels relevant to your business. With our expansion to new marketplaces and sales channels, we hope to tap into an audience of about 20 millions online businesses who require professional design at their fingertips.
CrazyLister will also become smarter as more users join. We collect data points on almost every action performed during the design phase (e.g. adding images, editing text, resizing the page, etc.). There are around 80 different events we track, and we collect over 1 million data points each month. We've now collected enough data points to start analyzing them and looking for connections. The most interesting effect to analyze is the connection between specific actions and the conversion rate of the listing. This is similar to A/B testing but on a more complex scale. The goal is to reach a level where designs create themselves, similar to The Grid project.
E-commerce today is just too hard for online sellers. Let's say that you sell on eBay and you want to expand to other marketplaces such as Etsy. You will need to re-create your product pages, and you'll need to re-create a design for each of the other marketplaces and social media channels you'd like to post the product to. It's too hard, and it shouldn't be this way. We see the e-commerce future as frictionless, and by building an AI-powered design solution we'll remove the friction of both creating professional designs and distributing them to multiple sales channels.
What are the biggest lessons you've learned so far? If you had to start over, what would you do differently?
Lesson #1:
Starting a business is a grind. It's hard to get to the point where you start seeing some return on your investment (whether it's time or money). You will have setbacks, and you will fail. It's an amazing opportunity to learn and improve. Failing early is probably the best thing that can happen to you if you have the courage to learn and keep going.
Lesson #2:
Keep track of your revenue and expenses from the first day. When you start a business there are many expenses you should take into account. You might not have them at the beginning, but once you start growing they will start adding up, and if you don't keep track then you will not be able to recognize in time when you're losing money, and by the time you do it will be too late.
Lesson #3:
Our almost religious focus on customer feedback is what drives our development team. Even today, Victor, who's serving as the CEO, is actually doing most of the customer support by himself. That's how important we think that customer support is.
There's no point building a product that no one wants to use. If you keep listening to your customers and act upon the most frequent feedback then you will improve some of your most important metrics like churn and LTV.
Lesson #4:
Stay true to focus. Laser focus. Stick to doing one thing until you're great at it. When you're a small startup you cannot spread your attention to many things. You have to make sure that you're solving one problem extraordinarily well.
When we just started raising funds, we were talking to investors about two products. Looking back it was absolutely ludicrous. How can a small startup with neither revenue nor funding develop two products at the same time? Case in point, when Steve Jobs returned to Apple he closed down 70% of the product lines, stuff that they had been working on for years. The reason was simple: He understood that Apple lost its way and needed to bring back focus in order to lift the company, and he did so big time.
Lesson #5:
When you're a small startup with limited resources, every monetary decision you make is crucial. Salaries are often the biggest expense in a young SaaS startup's journey. Every single employee is crucial to the overall progress. You have to trust your employees to come through with their part without watching them all the time. If I'm in a room with all my employees and I feel the dumbest guy in the room, then I'm full of joy, because then I know that I made the right hiring decisions.
What's been most helpful to you on your journey? What do you think your biggest advantages have been?
I believe that the fact that we had previous experience in business was very helpful. We learned a lot from the mistakes we made in our first business. But there were also a lot of situations we never encountered in our first business, so what we do is read a lot!
I read articles relevant to my line of work, specifically SaaS and marketing related articles. My favorite SaaS readings include Christoph Janz (author of the Angel VC blog and well-known early stage investor; he's invested in several startups relevant to mine), and Jason Lemkin (one of the prominent figures in SaaS with 3 exits as a founder).
I advise picking 1-2 blogs/publications you like and make sure to read them consistently. Don't try to follow all the interesting blogs, because you simply won't have time and might end up not reading any of them consistently.
Where can we go to learn more?
—
Maxim Godin , Founder of CrazyLister
Want to build your own business like CrazyLister?
You should join the Indie Hackers community! 🤗
We're a few thousand founders helping each other build profitable businesses and side projects. Come share what you're working on and get feedback from your peers.
Not ready to get started on your product yet? No problem. The community is a great place to meet people, learn, and get your feet wet. Feel free to just browse!
—
Courtland Allen , Indie Hackers founder