Growing to $5k/mo by Filling a Technology Gap in the Fitness Industry
Hello! What's your background, and what are you working on?
I'm Eran Galperin, a software developer and tech entrepreneur. I've been developing web applications for over 14 years now. I started working in the industry while studying for physics degree back in 2004.
During college I co-founded a web development shop that focused on SaaS development. After accumulating experience and some capital, one of my co-founders and I started Binpress, a marketplace for open-source code. During our time with Binpress, we went through the 500Startups accelerator program and raised an institutional seed round.
We ended up selling our company at the end of 2015, mainly to pay back investors (read a full post-mortem here). Following that, I started Martial Arts on Rails, which provides online management to gyms and martial arts schools. It's now generating almost $5k in monthly recurring revenue.

What motivated you to get started with Martial Arts on Rails?
I've been training in Brazilian Jiu-Jitsu for close to a decade. After selling my previous company, I was looking for ideas for my next project and I knew that I wanted to combine my passion for Jiu-Jitsu with my SaaS expertise.
I started interviewing the people who manage the gyms I trained in, and identified a pain point with the software they use — it's generally bloated and outdated and feels like Windows 3.1 software. With my background in software development and user-experience design, I figured I could do much better and began working on an early prototype. To get more data points, I also tried asking on reddit — and overall the response was positive, though some people thought I was getting in over my head.
I had a lot of experience building SaaS products, so I knew that I could get something up and running by myself in the timeframe of a couple of months. I had a designer friend come up with the basic concept and style, and took it from there to create all of the flows in the app. During development, I kept showing my work-in-progress to gym managers in the area to make sure I was on the right path.
During this time I wasn't working or generating other income, just living frugally off of savings. I didn't have much of a budget for advertising or marketing, so I was doing everything myself. The goal was to bootstrap this project into profitability without taking outside money.
What went into building the initial product?
The whole development process from concept to launch was about three months. During that time, I had weekly meetings with different gym managers to go over the software they were currently using and discuss their pain points. I would then go back and start brainstorming how to address these pain points, and build my ideas into the prototype. When it launched in February 2016, it had all the basic features I had in mind from discussions with gym managers, though the product I have today has evolved significantly.
Despite the name, MAonRails is actually built on a LEMP stack (Linux, Nginx, MySQL, PHP), and not Ruby on Rails. The backend is built on a heavily extended Zend Framework installation that I built over many years through doing other projects. The front end uses basic web technologies with a heavy dose of jQuery. All the flows are fully optimized for mobile and tablets.
How have you attracted users and grown Martial Arts on Rails?
Since I didn't have a major budget for marketing, my focus was initially on the organic and social channels. I tried generating some press for the launch but it was difficult. I did get it featured on Product Hunt, though it wasn't exactly the target audience.
I created content targeted for gym managers on the company blog, focusing on the digital aspects of running a gym — how to run marketing, do local SEO for gyms, generate funnels to attract gym members, running referral programs and so forth. I contacted many online publications in the fitness and martial arts verticals, and did some guest blogging to generate traffic and links back to my site.
At the same time, I ran a very active Twitter account that was sharing general fitness and martial-arts related content. To gain awareness of the account, I used a Twitter automation tool that is no longer available due to changes to the Twitter API. I was also very active on several subreddits where many gym owners and managers participate (specifically /r/bjj), and did a soft sell here and there without being too aggressive. I had been a longtime part of the community so I knew the right way to approach it without upsetting people. Now whenever someone posts there about gym management software, people usually refer them my way.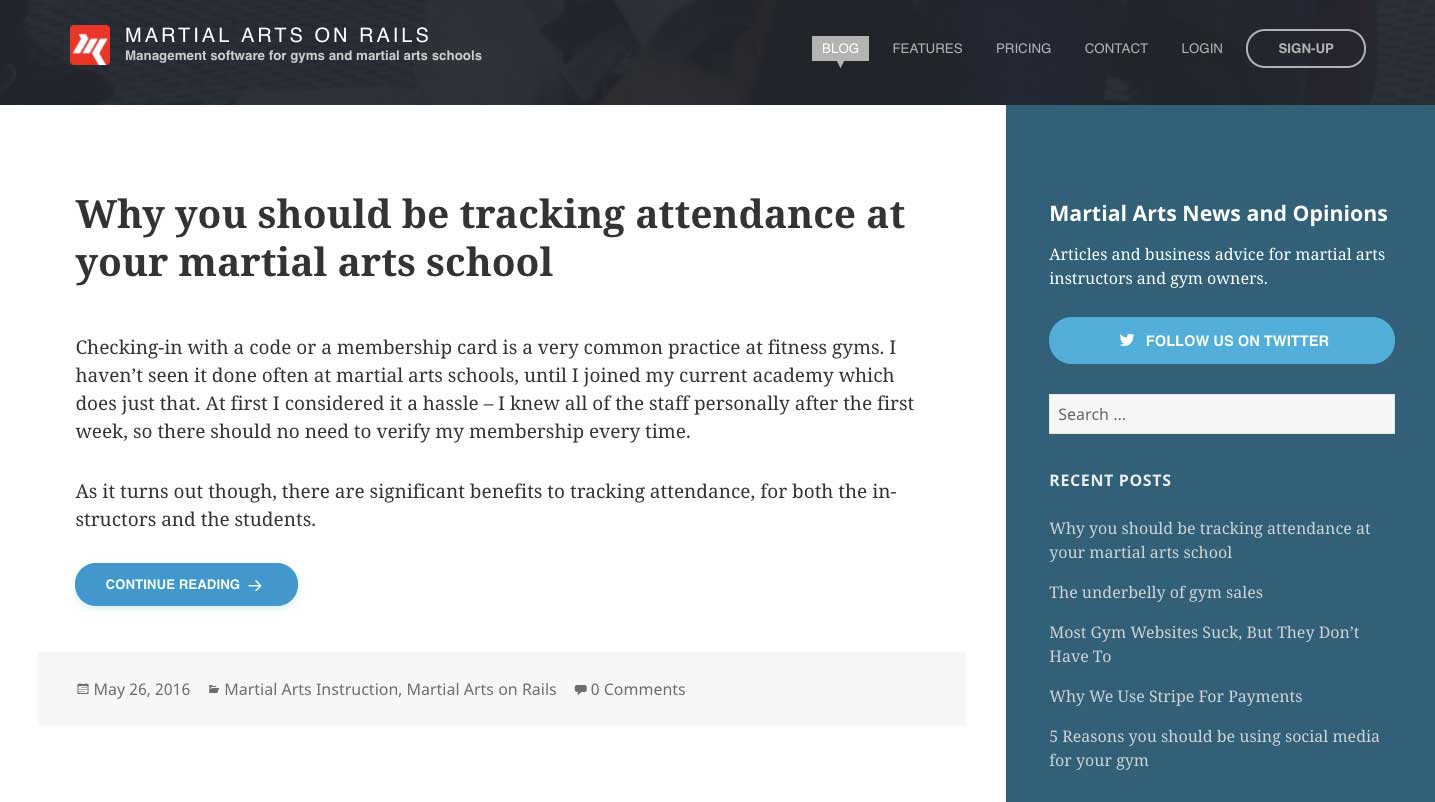 I contacted all the gym owners I'd been working with to develop the initial software and got them to try it out as an actual replacement to what they had. Those were my first real customers. It's a very tight community, so over time they referred others my way. Surprisingly, merchant account sellers have also been a source of referrals. After connecting with one through one of my customers, we started a cross-referral collaboration, and they referred quite a few new customers my way over time.
I tried AdWords for a little while with a small budget, but couldn't get good results there since it requires deep knowledge of competitive keywords. After a couple of months I started running ads on Capterra, a search engine for business software, where I am now ranked first in searches for "martial arts gym software". This has become my strongest source for conversions. I was initially spending around $180 a month on Capterra, and it's now closer to $400 a month. Currently, Capterra and organic search results are the main acquisitions sources for my business.
| | |
| --- | --- |
| Month | Customers |
| Jan '16 | 10 |
| Jun '16 | 70 |
| Oct '16 | 194 |
| Feb '17 | 293 |
| Jun '17 | 393 |
| Oct '17 | 504 |
| Feb '18 | 643 |
What's your business model, and how have you grown your revenue?
The service is a freemium subscription based SaaS. Paying users are either charged on a monthly basis at one of five different pricing plans, or on custom plans. I provide a 30-day free trial with all the features included, after which it is downgraded to a limited free version if the account is not upgraded.
One of the main things that helped with growth was setting up an online chat on the site (I use Olark). By talking to potential customers on a daily basis, I was able to learn a lot about what is needed to get them on board. I also set up an email drip campaign for new sign-ups that starts with a personal welcome email, and then sends several follow ups that try to engage users to avoid churn. One of the emails is sent 10 days before the trial period is over, and asks the user if they would like an extension of the trial — many users respond to this one, and it has helped keep more users than any other feature.
In the beginning, the conversion rate of sign ups to paying customers was around 5%. Four months after launch, I got my first two paying customers. They were a couple of the gym managers I knew personally, but it still took me several months to get them to switch to the paid plan. Now conversion is a bit over 8%, an improvement I attribute mostly to feature additions that address some common use-cases, and the email drip cycle mentioned above.
As a career software developer, I never did much in the way of customer service because generally I had co-founders or employees to handle most of the customer interactions. As a solo operation, however, it quickly became apparent that getting good at providing customer service was paramount. Talking to customers really exposed me to all the weak parts of the application — problems with the user experience, missing documentation, confusing features, and more. This focus on customer service has helped me establish personal relationships with many of my paid customers. Over time, many of them have referred additional paying users, not just based on the quality of the product, but because of how happy they were with the customer service I was providing.
The main takeaway is to always be talking to your customers — that's the only way to really understand how people interact with your product.
| | |
| --- | --- |
| Month | Revenue |
| Jan 2016 | 0 |
| Jun 2016 | 180 |
| Oct 2016 | 1050 |
| Feb 2017 | 1630 |
| Jun 2017 | 2110 |
| Oct 2017 | 3240 |
| Feb 2018 | 4280 |
What are your goals for the future?
2017 was mostly about listening to customer feedback and improving the product incrementally. I now feel that the product is in a good place to start increasing marketing efforts and spending, though I'm currently on pace to double revenue without any additional marketing. My overarching goal for 2018 is to quadruple revenue.
As revenue is ramping up, I'm looking to invest more of it back into growth. Some of my goals for 2018 include:
Setting up an ROI positive AdWords campaign and slowly ramp up spend
Hiring an outbound sales person
Establishing more cross-referral collaborations with merchant account resellers
Starting an affiliate program to incentivize users to refer us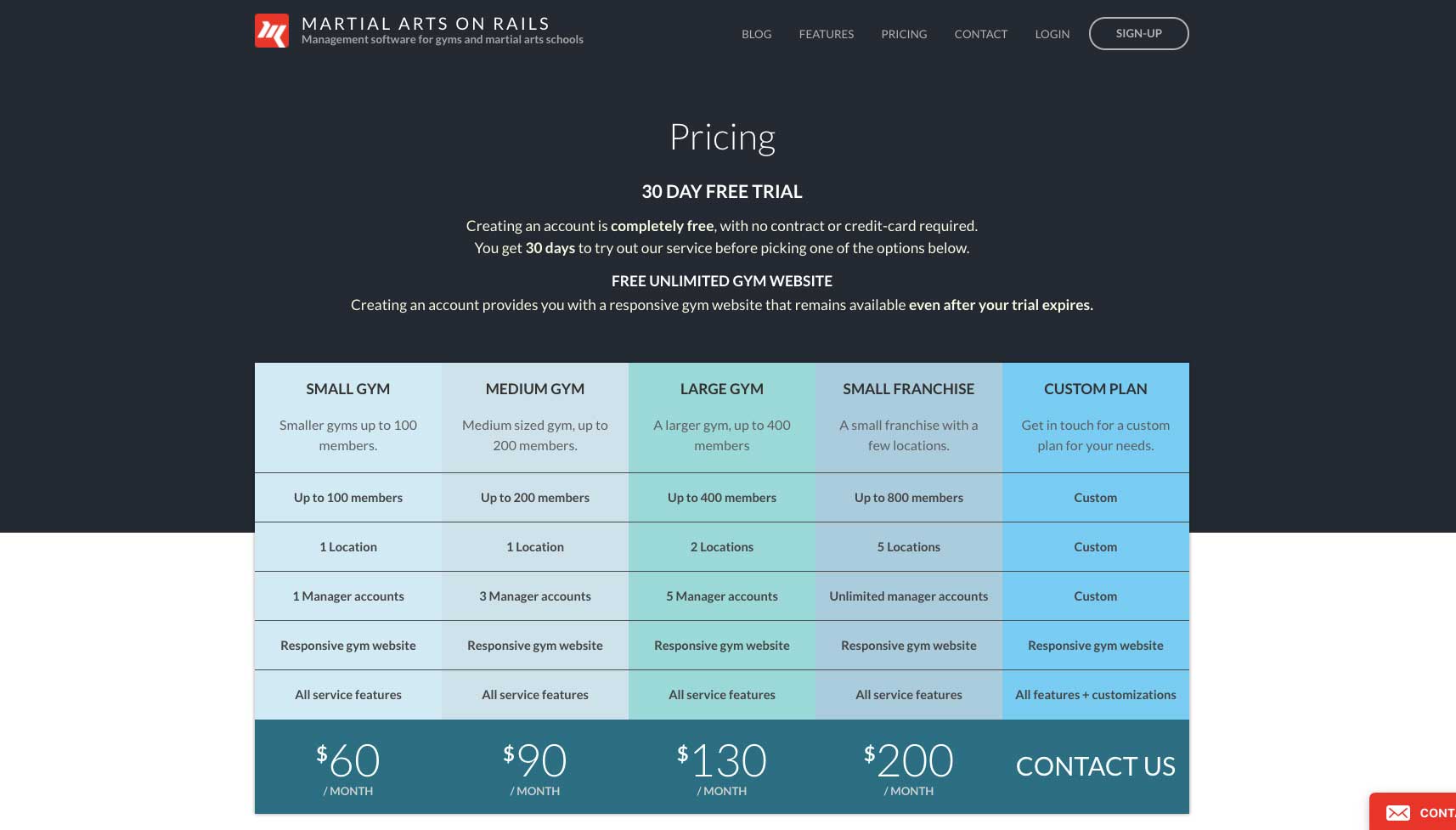 The biggest challenge will be getting the outbound sales effort started. The main problem with hiring salespeople is that they're usually good at selling themselves at interviews and it would likely take a few attempts until I find the right person.
What are the biggest challenges you've faced and obstacles you've overcome? If you had to start over, what would you do differently?
Getting the word out there was difficult initially. I had to do a lot of leg work just to get a few articles published, and for a few months I was getting zero traction, which was a bit discouraging. If I had wanted to grow more aggressively, getting an outbound sales operation going early would have probably been a good idea.
Other than that, the process went about as I expected from having previously started multiple similar companies.
Have you found anything particularly helpful or advantageous?
Starting a business in an industry I've been involved in as a consumer for many years has really helped me understand the market and build the product accordingly. I also had existing connections I could use to get feedback and gain early customers.
I see a lot of entrepreneurs try to tackle lucrative markets that they don't know much about because they see an opportunity. While that can work, I'd recommend you start a business in a market you're deeply familiar with to increase your chances of success.
On the more operational side, a few things I'd recommend:
Set up a live chat — either Olark or Intercom
Setting up an Email drip campaign. I built my own system using Mailgun's API, but Mailchimp and others have pre-built systems you can use. Also, check out Patrick McKenzie's course on drip campaigns
If you have a B2B product, consider Capterra for running ads
Engage your customers on a daily basis. Talk to them, understand how they're using your product and what their pain points are. Talk to people who churn out or pick a competitor — understand what's missing for them.
What's your advice for indie hackers who are just starting out?
If you don't have all the skills needed to build, launch, and market a product by yourself, strongly consider finding a co-founder to do it with you. It's hard to get everything right the first time, and sharing responsibilities can be a big help.
I'll repeat this one more time: talk to your customers. Many technical founders that I meet base all of their decisions on analytics and technical metrics. There's value in that as well (I track a bunch of parameters), but true understanding only comes from actually talking to your target audience. Engage them in chat, send them emails, get them on the phone, meet them in person — do everything you can to understand them better.
—
Eran Galperin , Creator of Martial Arts on Rails
Want to build your own business like Martial Arts on Rails?
You should join the Indie Hackers community! 🤗
We're a few thousand founders helping each other build profitable businesses and side projects. Come share what you're working on and get feedback from your peers.
Not ready to get started on your product yet? No problem. The community is a great place to meet people, learn, and get your feet wet. Feel free to just browse!
—
Courtland Allen , Indie Hackers founder