Growing to Over 30 Million Downloads by Marketing Globally
Hello! Please tell us about yourself and what you're working on.
Hi, I am Surbhi from India, and I currently put up in the beautiful city of Chandigarh. I love to read books, go to the gym, and explore new things. I'm also a business, growth, and marketing enthusiast, and I look after the marketing and content stuff for Videoder. We are a small team of less than five, and we often handle multiple roles.
Videoder is an Android app that allows you to download music and videos from YouTube, Facebook, Instagram, Dailymotion, and many other sites so you can watch them offline. You can stream, download, and manage all your favorite songs and videos through our app.
Videoder has been used by over 30 million music and video lovers, and has a following of 500,000 fans on Facebook page. We've been rated one of the best YouTube video and music downloaders for Android by many app review sites, and today we're making $12,000/month in revenue.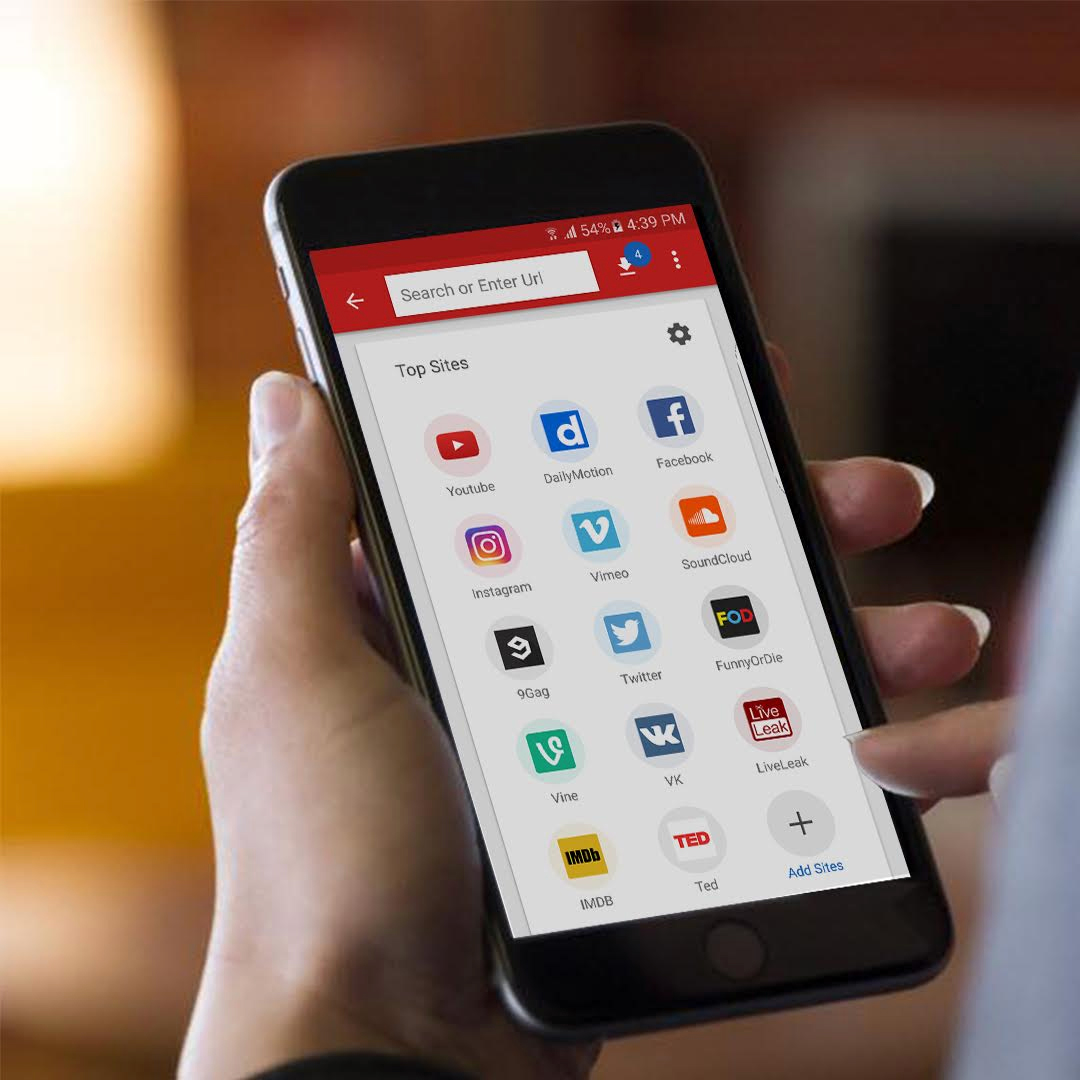 How was Videoder created? Where did the the idea come from?
Videoder was initially started as a college project by Rahul Verma when he was in his last year of graduation in 2013. Being fond of music and videos, he often faced problems with streaming YouTube videos, as doing sp required a faster and more reliable internet connection. This is how the idea for Videoder came into existence.
Initially Videoder was a simple app. It took a week for him to code the first version, which only allowed users to download YouTube videos, and only in resolutions up to 720p. It had a simple but easy to use interface, as Rahul was in his early days of learning Android development. (Over the years Videoder has evolved to become a fully-fledged entertainment hub which lets you download pretty much anything from anywhere.)
Out of curiosity, Rahul published Videoder on the Google Play store to see how it would do. It's been growing ever since, however he stopped working on it in 2014 to focus on his other projects. But after seeing the potential of the app and the loyal userbase that it had, he went back to working on it again in 2016 alongside Varun Verma, myself, and two employees.
With the exception of the Google Play store fee, there was not much initial investment required. It was only after the app grew in popularity that we needed to invest more money in marketing and branding stuff.
How have you attracted users and grown Videoder?
We believe that a product largely speaks for itself, and there's no better growth strategy than word of mouth. If you have a great product, you just need to give it a push. In today's highly social and digital world, things can catch on fire easily. You might not even realize when your product goes global and things change! So product quality is always our primary objective.
| | |
| --- | --- |
| Month | Daily Active Users |
| Mar | 200000 |
| Jun | 300000 |
| Sep | 500000 |
| Dec | 900000 |
| Mar | 1200000 |
The traditional marketing strategies we investigated required a lot of funds, and usually the returns are never able to cover the cost of user acquisition. However, the modern marketing era is different. It does not demand huge budgets, but just some social connections and writing skills. We have thus adopted a digital marketing strategy for our app, and we've been working on it successfully:
We primarily focused on promoting our app via our social channels of Facebook, Twitter, Instagram, and YouTube by frequently posting and being connected with our audience.
We uploaded the app to all of the popular app stores (in addition to the Google Play Store), such as Uptodown, Aptoide, APKMirror, and Mobango, so that we can get through to our local audience as well.
To make our app popular globally, we made sure that it's translated in as many languages as possible, which today is over 35 languages.
We've focused on improving our website's visibility (SEO) by writing useful content about the app and getting a good amount of backlinks from popular sites.
We also try to upload videos (or ask tech reviewers to do so) about all of the features of our app on YouTube.
We continously pitch famous tech bloggers to review our app.
Since the launch of v1, Videoder has grown to 500k Facebook likes and 30M users.
What's the story behind your revenue?
For the past year we ran our app without earning a single penny from it. It was absolutely free to use, and it had no ads either. The reason was that we wanted to build a loyal user base, and we wanted our app to do exceptionally well on the charts. It was only after we reached those milestones that we made the decision to monetize it.
Its been two months since we added a revenue model to the app in the form of advertising, and it's been doing fairly well. We've thought about many other revenue sources, too, but it will take us some time to execute them. Through ads, Videoder has been earning approximately $12,000/mo currently. This is growing, and we're planning to take it up to $20,000/mo very soon.
| | |
| --- | --- |
| Month | Monthly Revenue |
| Oct | 0 |
| Nov | 3000 |
| Dec | 5000 |
| Jan | 9000 |
| Feb | 12000 |
How do you plan to grow revenue, and what are your goals for the future?
We plan to grow revenue by...
investing in some paid marketing strategies on social media and app stores
optimizing ads in the app for better quality, higher fill rates, and higher eCPM ("effective cost per mille", where "mille" is 1000 views)
targeting regions and supporting sites which are popular locally
releasing more frequent updates with features that are in high demand by our users
We have a long list of to-do's for the app. It's almost endless (because the scope for the app itself is limitless), but in the near future we are planning to add a media player so that you can stream or play downloaded videos/songs from the app itself.
We believe that there's a long way to go. The app is maybe only half a percent done, and we'll be working all the way until the end. The main challenge, however, is that since the app has become huge and serves multiple purposes, every new feature that we add takes a lot more effort than before, because it's quite difficult to integrate them with existing features in an effective way.
What's your advice for indie hackers who are just starting out?
I've gained a lot of knowleged and experience from working on Videoder, and if I had to sum it up in a few words I'd say the following:
First: Sell your values and not your product. Don't sell your product as a commodity, but as a reflection of your work values and ethics. For example, at Videoder we focus on providing quality and strive for perfection in our work, which is reflected in our app. Usually our user feedback is, "Videoder doesn't have X feature as compared to others, but I prefer it because of its design, quality, and the service that you guys provide." That's how we know that what we're doing is coming across via the app and reaching our users.
Second: Quality is something which should never be compromised. It may lose you some users in the short-term, but in the long run it will earn you a loyal user base who will stick with you through good and bad.
Third: Keep yourself in the shoes of the user and build everything according to that. Make something for an audience at large. You have to know and understand who your users are and what their needs are. If you're trying to sell Italian food to American people who like hamburgers, for example, then even if your product is good, it won't do that well. So just keep yourself in the shoes of users, understand them, and serve them accordingly.
At Videoder we interact with our users through email and social media quite frequently. We involve them in testing our alpha and beta versions, translating our app, letting us know about local trends, etc. So we know what they want, and thus we build accordingly.
Finally: Don't give up. There's a lot of competition and you may lose hope, but don't give up. Only those who fight until the end will survive.
Where can we go to learn more?
You can go to our website to download Videoder, and you can follow us on Facebook, Twitter, and Instagram.
—
sur_singla , Creator of Videoder
Want to build your own business like Videoder?
You should join the Indie Hackers community! 🤗
We're a few thousand founders helping each other build profitable businesses and side projects. Come share what you're working on and get feedback from your peers.
Not ready to get started on your product yet? No problem. The community is a great place to meet people, learn, and get your feet wet. Feel free to just browse!
—
Courtland Allen , Indie Hackers founder