Improving My Business by Moving to Where My Customers Live
Hi! Tell us about your background and what you're working on.
My name is Sanja Zepan. I have a degree in communications and media studies, and I'm an absolvent for my masters in communicology. I come from Slovenia, and I started Homey with my boyfriend, an economist and a programmer, while doing my masters. We were living together and sharing the apartment with other students, and we had the same problem many families do — making sure everybody does their chores.
Homey is a mobile app, available for iOS and Android, that enables parents to assign chores to their kids and set allowance or other rewards for these chores. Chores can be responsibilites or extra jobs children can do around the house — they can reward them just for the extra jobs or for both, and with the v2 of the app that we're working on, they'll also be able to transfer allowance directly to the kids' bank accounts. What parents really like about Homey is the fact that it teaches kids the value of work and delayed gratification and provides financial education early on.
While the app is free to download, we do offer some premium content available for purchase which makes the setup faster, from which we're making around $300 a month. v2 of the app will have a couple of premium features for a monthly subscription.
We're very happy with our growth thus far and also with the fact that we have highly engaged users who love our app — some even so much that they translated it for us for free, so we're now able to offer it in a couple of foreign languages.
What motivated you to get started with Homey? What were your initial goals? And how'd you come up with the idea?
Homey started as an app for roommates and couples living together. It all works with photos, because that's what we were doing before — sending photos with the mess to each other with the note, "You better clean this up before I come home!" My co-founder made a working prototype pretty soon, although he was still working as a CTO at another startup.
We thought other people might like it, so we started making some design mockups. I shared those on Instagram and used #DIYchorechart and suddenly parents (mostly moms) from the US started writing asking what is the app called and where can they find it. We made a landing page and gathered 500 families to beta test the app.
From that response we decided that a family chore app is a much better idea than the initial roommate app and we started interviewing parents, deciding on the features, showing them prototypes and then developing it.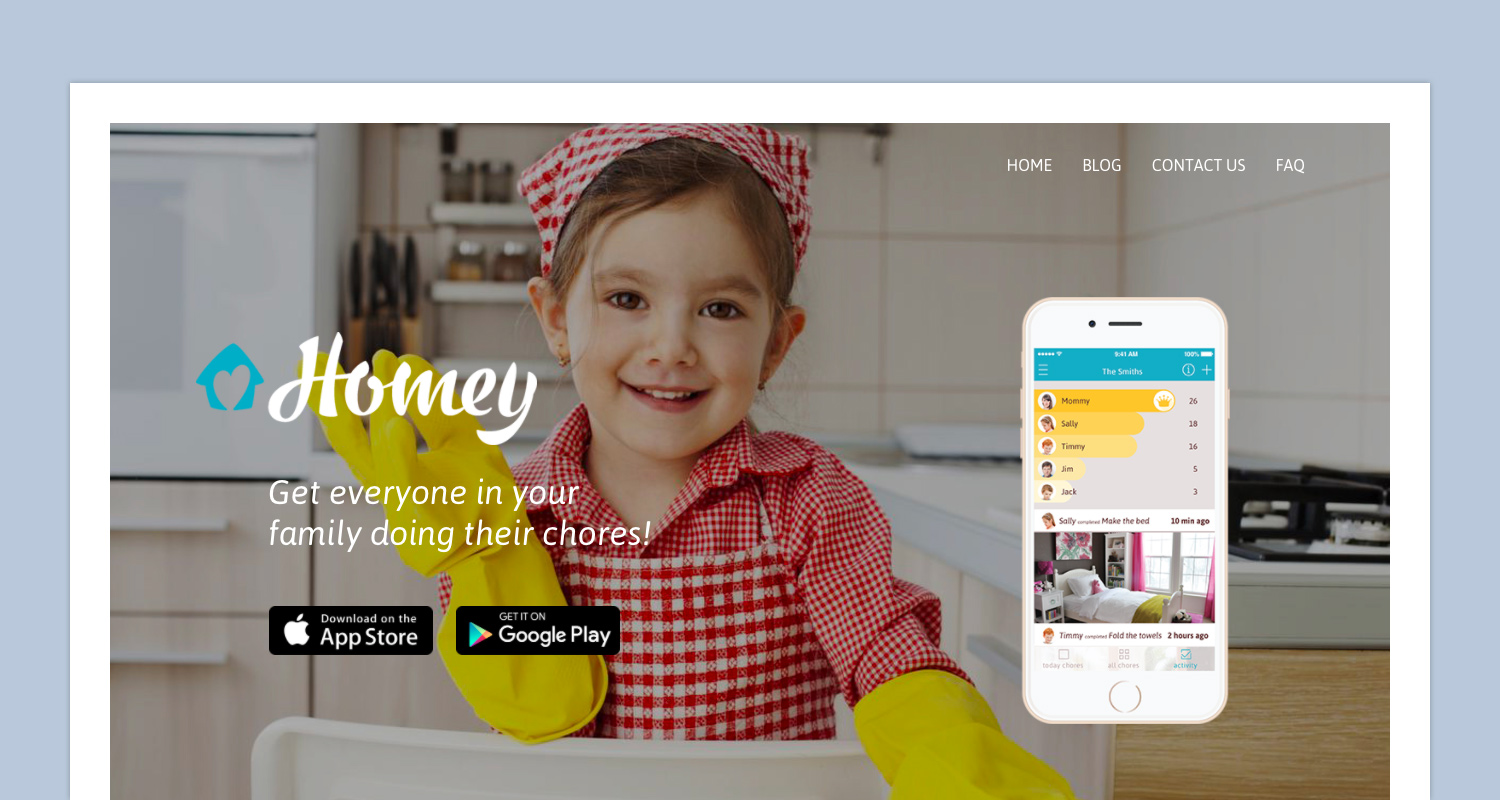 What did it take to build the initial product after you gathered this feedback? How long was it before you were ready to launch?
In the summer of 2015 we started beta testing Homey with wonderful families who volunteered to try out the buggy and ever-changing early versions.
In January 2016 we had to release it as it was, as it was getting too hard to do beta testing. We needed to onboard the whole family for the app to really work, but kids often don't have email addresses, don't know their Apple IDs, and don't know how to join Google Communities.
So we released an obviously unfinished version, and it was one of the best decisions — we got a lot of great feedback and also a lot of ideas for new features, like rewards and allowance transactions. That's especially important for us, since we're not parents ourselves, so we weren't sure what parents wanted.
We found out how important it is to them to teach kids delayed gratification (it's one of the biggest predictors of future success!), the value of work, how to manage money, to be part of the family, and all the technical things that go into chore management. Some of our users were using really elaborate chore charts or even sticking dollar bills to them before!
We're lucky that Slovenia has some really great programs for startups, so our first funding came from an equity-free grant. We then joined ABC Accelerator in Slovenia and got a bit more funding there.
After launch it became apparent that almost all of our users were coming from the US, mostly from southern states. We weren't sure if that was because of southern parenting values, but we knew we needed to meet these parents. We started searching for accelerators in this region and joined Start Co in Memphis, which also provided us with seed capital and connections to develop the next version which will enable parents to actually transfer allowance to children's bank accounts. We made our first partnerships with local brands here and that definitely got us some recognition.
What marketing strategies have you used to grow Homey's user base?
Since we launched publicly out of necessity, we didn't make any public announcement or marketing campaign around that. Our initial users were the 500 families we beta tested with. But we still found that people were finding our app organically in the app stores and from recommendations. Our early users also mentioned us on their social media accounts and blogged about is. (Although at the time we didn't have any share buttons in the app and we still don't incentivize that as we should.)
When we felt our app was at a level where it made sense to market it, we tried Facebook advertising, but we quickly found that it is too expensive for us. US parents are the biggest consumers and we were competing with biggest household brands to show up on their timelines. That's why we decided to focus more on virality and getting PR.
When we came to the US we reached out to a couple of local parenting magazines and they covered us, which gave us the best ROI, since it was free. We also started reaching out to mom bloggers, since we found that has worked best for us.
We also partnered with local brands who target families (for instance a local theatre in Memphis offered free tickets for their family series for the kids that did enough chores through our app) and did a bit of cross-promotion which helped with growth.
How does your business model work? What's the story behind your revenue?
To be honest, we weren't sure about monetization when we started with Homey, and in many ways we still aren't. We wanted to get the product right before we started thinking about how we'll make money, although a part of the product/market fit is also figuring out what users are prepared to pay for your solution.
Parents asked for an easier way to set up all the chores, so we made a couple of premade packs of chores, along with descriptions, recurrence, and pictures. We decided to make a couple of them payable, just as a test, and found out many users love them. We started with payable spring cleaning and charged minimum for that. Our users loved that pack.
A couple of mentors then asked us how have we came to that price. We didn't have an answer! We increased the price a bit and found the pack was just as popular, even when Spring was long gone. We then made a couple more packs and priced them based on their size. We're not making much money with that since the majority of our users set recurring chores once and then don't come back to that screen, but it's a start.
When we launched the rewards and wishlist feature we saw that kids were putting in links to products on Amazon, so we started talking with kids about that. One little girl told me that she once asked her parents for a doll. Specifically, she wished for a blue-haired doll, but she got a green-haired one instead, and she was definitely not happy haha! She said that now she just sends links to things she wishes for, so she gets the right thing. Because of this we integrated Amazon affiliate links into the app and it works well — parents pay the same price for products, and Amazon pays us 4-8% of the product price.
But since the majority of the rewards that go through our app are monetary — either regular allowance or money for extra jobs around the house — we're now integrating a feature that will enable parents to transfer money directly to the kids' bank accounts. Since facilitating bank transfers will come at a price for us, and we'll also have to deal with compliance and all sorts of things, we'll make this a premium feature and charge a monthly subscription for it.
But even with all the interviews about how much are parents are prepared to pay for an app that enables them chore and allowance management and teaches their kids the value of work, getting to the right price point and monetization strategy will still require testing.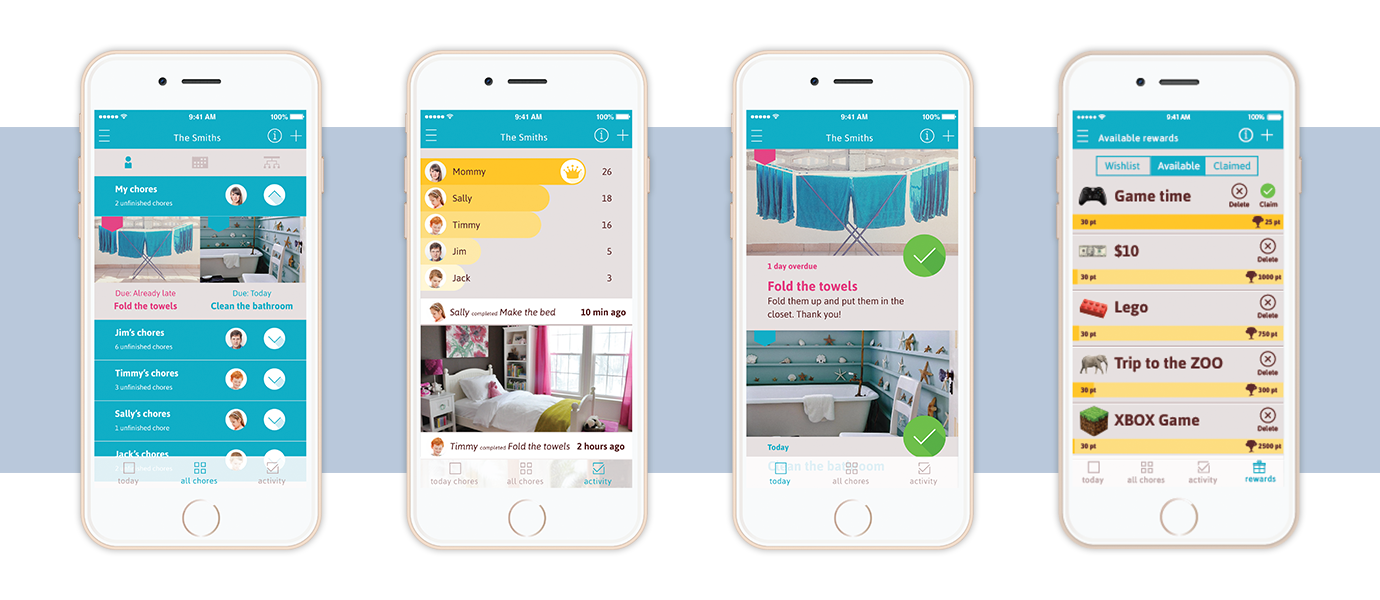 What are the biggest challenges you've faced with Homey? Knowing what you know now, what would you do differently if you had to start over?
Figuring out how to monetize the app sooner would've been much better. If I could start again, I would launch the allowance transfers right away — it is more difficult on the tech and partnerships side, but once you're moving money, the path to monetization is a lot clearer.
We spent a lot of time changing the user experience in the app, which is something we could maybe figure out better and cheaper with mockups. For a while we worked with both a designer and a UX designer who set colours and fonts and basic architecture, but we don't have them full-time. As a result, all of the UX and design work is done by my co-founder and me, and neither of us has a design background.
Homey is also a native app for iOS and Android, which means we have two lines of development, and that is costly. Some features come late on one or the other platform and that complicates things — even things like customer support. Maybe a cross-platform app would be better, but we also know that that comes with its own set of troubles.
What were your biggest advantages? Was anything particularly helpful?
Joining an accelerator very early on was one of the best decisions we've made — you really learn so much in such a short time. Moving to where our users are (and being in an accelerator here) was also extremely beneficial. And coming from Slovenia means our cost of living and development is cheaper, which was definitely a plus when we were starting out. Both my co-founder and I are quite disciplined when it comes to work, and we work really well together.
We attracted very talented people to work on this with us and join our team full-time, even if it maybe looks weird for people who are not yet parents to work on an app for parents. But having kids and starting a company together at the same time would be extremely hard, so we think we are in a better position than most people who decide to tackle this problem simply because they know it from home.
Finally, the best book that we've read was Hooked: How to Build Habit-Forming Products. It's really essential if you're building a product that requires high engagement for its success.
What's your advice for indie hackers who are just starting out?
I would say getting to a product you can test with your users as soon as possible is crucial. As is just starting to charge for something. You may not make a lot of money right away, but having at least some cash flow takes a startup from, "We're just building something because we're passionate about it," to an actual business.
The other thing that I think is crucial is having mentors and meeting with them regularly. It makes the whole team accountable and also creates a network of people who can help in many ways — even if not right away.
Where can we go to learn more?
You can find out more about Homey on our website www.homeyapp.net, where you can also find links to the app on the App Store and Google Play.
We love to hear from our users, so any emails or comments with feedback or questions about the app are more than welcomed. And if you don't have kids yet, we would really appreciate it if you told your parent friends about us!
Want to build your own business like Homey?
You should join the Indie Hackers community! 🤗
We're a few thousand founders helping each other build profitable businesses and side projects. Come share what you're working on and get feedback from your peers.
Not ready to get started on your product yet? No problem. The community is a great place to meet people, learn, and get your feet wet. Feel free to just browse!
—

Courtland Allen , Indie Hackers founder