How a COVID-19 Lockdown Inspired Me to Start My Business, and Grow It
Hello! What's your background, and what are you working on?
Bonjour, my name is Ben Issenmann. I'm a French-American designer and entrepreneur.
I launched Supercreative in 2020 while coming out of business school. Supercreative is a website with templates, courses and articles for creative freelancers to become more prolific.
The website generates close to $10,000 in revenue as of October 2020.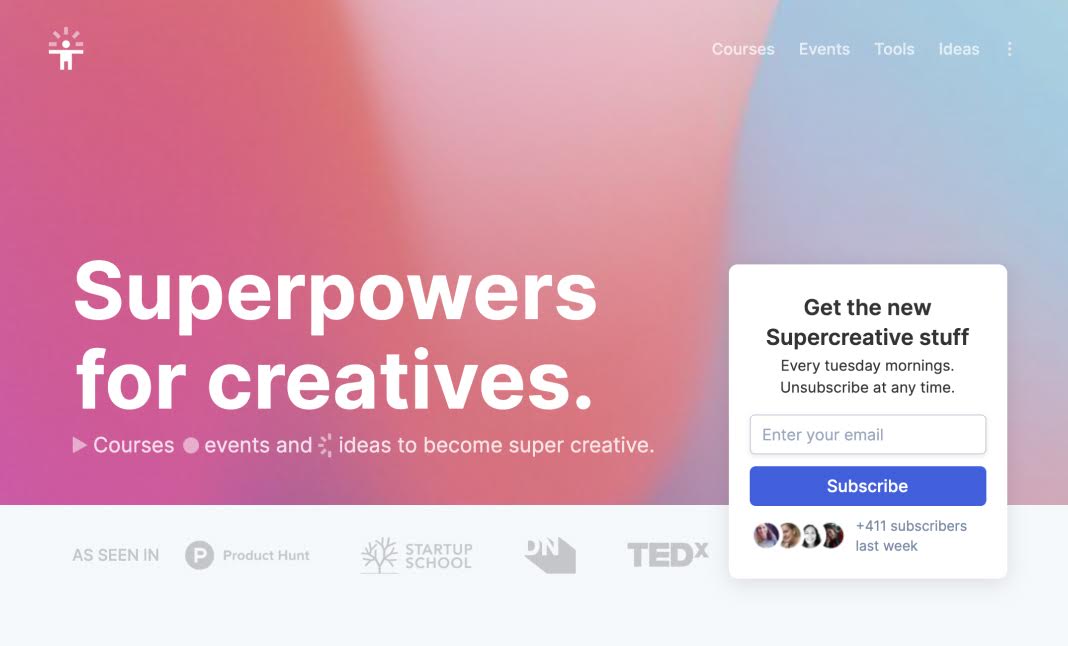 I'm building Supercreative in my bedroom. I have almost no costs and I can reach millions of people. It's hard to grasp how large these numbers are. I'm aware I'll never have enough time or energy to fully leverage the web. But I can try. I can make hypotheses. I can learn. And even if I reach just 0.1% of creatives online, I believe I can build a very successful creative business.
What motivated you to get started with Supercreative?
I started a design agency when I was 16, making logos and animations for Minecraft YouTubers. My mom is a freelance designer, and my dad is an entrepreneur. I grew up in an environment where creativity and business were celebrated.
Contemplating the beginning of my career, I realized starting a company was the best way to level up fast and learn. It's like a cheat code. So I just knew I would start a design startup.
For the first six months, along with two friends, we toyed with the idea of building a marketplace to hire great designers. But only during the lockdown did I really understand I should focus Supercreative on online education and resources. It aligned better with my ideals.
What went into building the initial product?
In May 2020 I gave myself 30 days to create and sell an online course. If I succeeded, I would continue with it. So I set up a landing page and prepared an outline for a course to teach Webflow. The course would focus on hands-on coaching and last for a month.
I locked myself in my bedroom. I announced the course with a LinkedIn video, explaining that I worked at Webflow, built hundreds of websites with it and was now teaching this tool. I had 10 students sign up within a week. It earned $4000 and I got to meet and help awesome designers and entrepreneurs.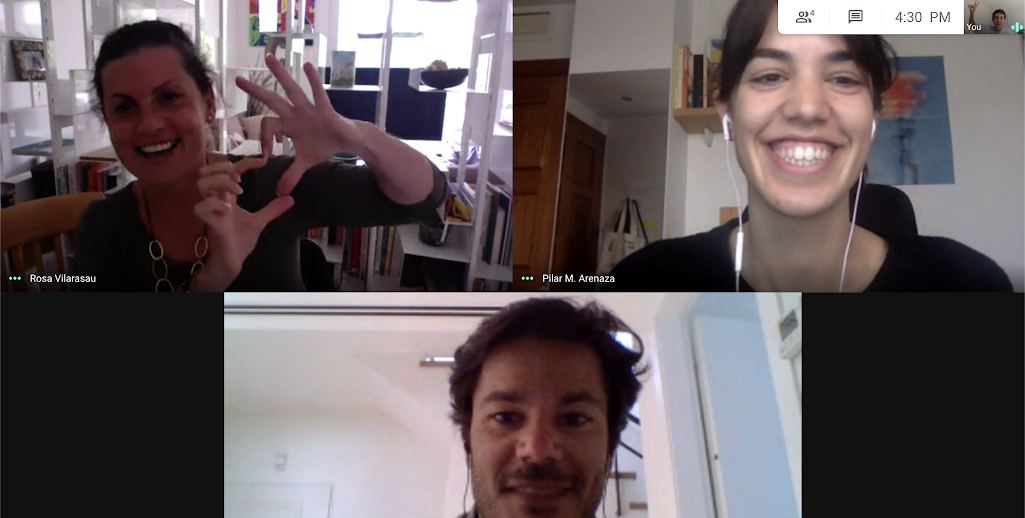 At this point I understood how powerful this could become. I could also sell templates, side products, books, and more. But more importantly, it was the first time in my life where I felt viscerally good about a business model. Earning $100 from teaching someone something feels 10x better than $100 charging for client work. There was no coming back.
So this began as a 30-day project. Did you have any stakes for if you'd failed?
I actually didn't think too much about what would happen if the course didn't work.
Maybe I would have taken a more traditional path: going for a masters degree, being a design freelancer, taking a job... I don't know, but these options now look terrible to me!
What's your tech stack?
I go very, very fast with Webflow, Figma, Notion, and thinking on paper.
My stack is minimal. I've spent too much time in my life obsessing over insignificant tech features or learning new frameworks. What matters is marketing, design, psychology, feelings.
I'm a happy byproduct of the continuously abstracting software stacks.
How have you attracted users and grown Supercreative?
Since I'm creating things that I wish I had myself, I target people like me. This makes marketing easy if I introspect enough. So I promote new Supercreative content in places I hang out.
First of all: Twitter. Twitter is a great way to validate new ideas. Within hours I know what's worth creating. Using Twitter as a validation machine is uncommon, but it's the type of workarounds I need because I'm the only one working on Supercreative.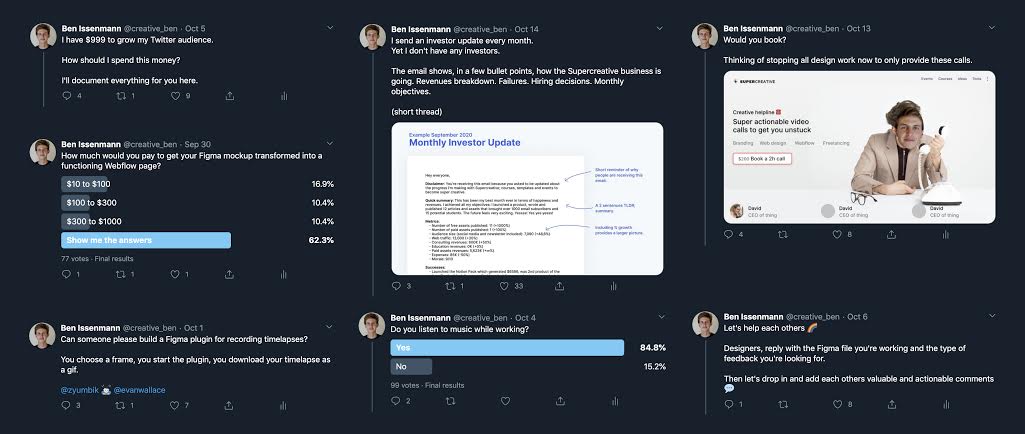 I'll then create a tiny MVP. This can be just a post on a Facebook group, writing an article or building a standalone landing page. At this point I gather more feedback, do more research and if the idea survives I go to HN, PH, DN, IH.
AKA Hacker News, Product Hunt, Designer News and Indie Hackers. When these posts get traction, I can then talk to influencers and media outlets for a bigger reach. This is the only moment where I do outreach (I don't like it).
As you can see I have a launch-driven marketing strategy. I've also started working on a neat new YouTube channel. Very excited about that.
What's your business model, and how have you grown your revenue?
As I talk about in the hyper freelance model, I run Supercreative by combining three activities simultaneously: consulting, education and products. Consulting is highly volatile; it pays the best but it's an energy drainer. Education is cyclical, pays well, and gives me ton of energy. Products are most stable, pay decently, but require zero ongoing effort. I find balance doing these simultaneously.
Right now 30% of my income comes from client work, 30% from online courses, and 40% from products. Working with clients directly gives me direct insights about what problems companies and other people are having. This gives me the ideas to build the right courses and products afterward.
Right now Supercreative has about 15,000 monthly visitors and the newsletter is growing +100% every month. More than 2,000 people have bought or downloaded Supercreative resources in the last three months.
Each months I need to pay for Webflow, ConvertKit and Circle for about $100 per month. Even if we take into account the depreciation of my computer and days where I work at a co-working space, this is still low spending.
For collecting payments I use Gumroad for products, Webflow Ecommerce for online courses, and Stripe checkout for invoicing consulting clients. I plan on moving everything to Webflow Ecommerce in the coming weeks. I was actually Webflow's first intern and was one of the first working on the Ecommerce features in 2016, so I'm glad to be using it now! :)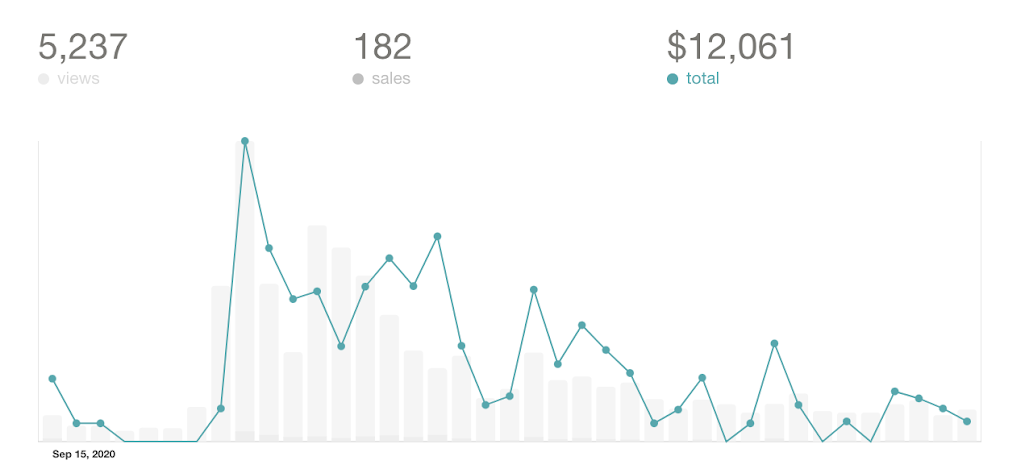 What are your goals for the future?
By September 30, 2021, Supercreative will have a small set of three to five creative courses, hosting about 30 students per month who pay on average €500.
To get there, I will write 50 articles, share 30 free assets that will be downloaded 1,000's of times, grow a YouTube channel, and publish a book. I will share the journey with people I admire and who'll become lifelong friends, mark my words.
If you had to start over, what would you do differently?
I lost months of work creating Supercreative's original product (great designers matching service) from scratch. But I over-optimized an idea that had not been rigorously validated. Worse yet, I worked on an idea that, if I extrapolated far enough, would become a company I wouldn't actually want to work at.
I should have forced the equity discussion with my two friends much earlier. I also should have avoided applying to incubators and getting caught up in startup FOMO.
The worldwide lockdown was the big shock I needed; it activated my full introspection mode. And I came out of this crisis much happier. A successful pivot. Now I'm the only person in the world who can make Supercreative successful, because I've changed it to be a company that's completely built from the intersection of what I like doing and what I'm uniquely good at.
What part of indie hacking makes you feel the most alive?
Speed of execution, independence and the limitless growth of internet-based ventures.
It's fascinating to work on products that have zero costs of reproduction, zero costs of distribution and zero costs of maintenance. Historically speaking, this has never happened before. And if you're clever with marketing, there are truly no limits. I don't think many people realize this.
If someone offered to buy your company tomorrow, would you sell? Why or why not?
I've built myself a system where I am (almost) completely free. I can work on whatever I want, wherever I want, whenever I want. I also think Supercreative is going to get bigger and more successful in the coming years. So selling anything to an external company right now would be meaningless: I'm just starting and I'm fulfilled. I don't want it to stop.
What I'm more interested in is finding a model where early fans are rewarded if Supercreative becomes big. The attention, time, and kind words they're investing in me right now has a certain risk. They should be in some way compensated for being early believers.
Perhaps this will one day be possible with crypto tokens or a creator fund. I'm excited for the future!
Have you found anything particularly helpful or advantageous?
In random order, here are all the things I do with very high return on time invested:
Sharing everything I learn in a newsletter
Using Twitter as a validation machine
Keeping a journal
Forcing myself to spend equal time on creating and sharing content
Scoping projects on paper
Being an optimist
Setting myself SMART goals
Some personal traits that help me online, in random order:
Speaking english
Being a decent designer
Enjoying reaching out to new people
Acting a bit weird, being obsessive
Being young
What matters is creating every day. My audience will determine what's good or not. I trust my future as long as I'll keep creating and sharing every day.
Creatives have a reputation for chaotic workspaces, and you say you started this in your bedroom, so what does your workspace look like?
My workspace is orderly. My ideas are not. I can't handle chaos materially and intellectually.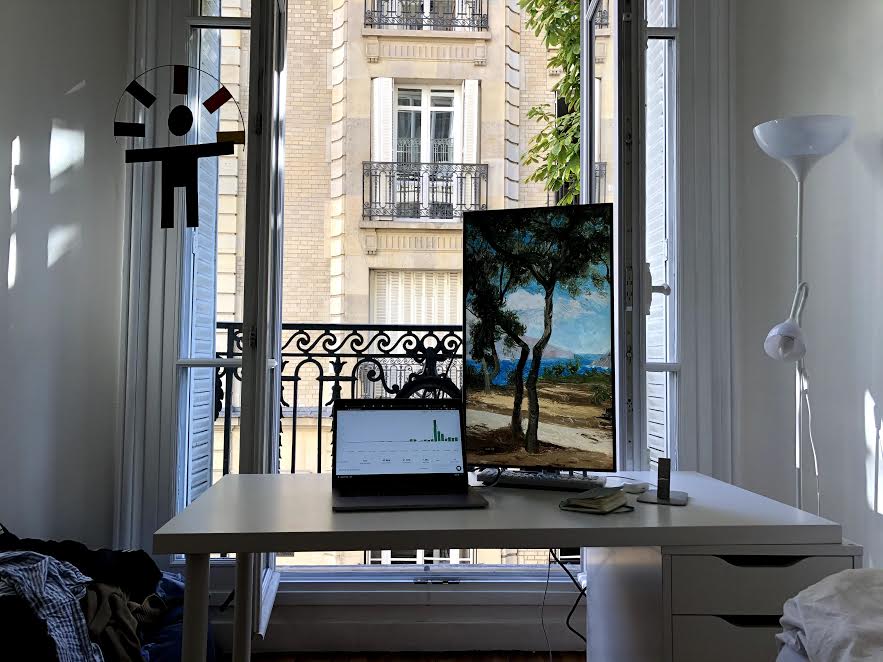 It's just very pleasant to have a clean desk, a nice screen and a notebook to write. Bonus points for natural light and nature nearby. I wish my workspace was more social, that I interacted with more people IRL. Good ideas come from good conversations too.
What's your advice for indie hackers who are just starting out?
The biggest problem is not finishing what we've started. Our mind is our biggest enemy. We self-sabotage, we seek shiny new things, we lose interest, we create unnecessary complexity, we procrastinate. Our intuition isn't even that good, so what we think will succeed probably won't.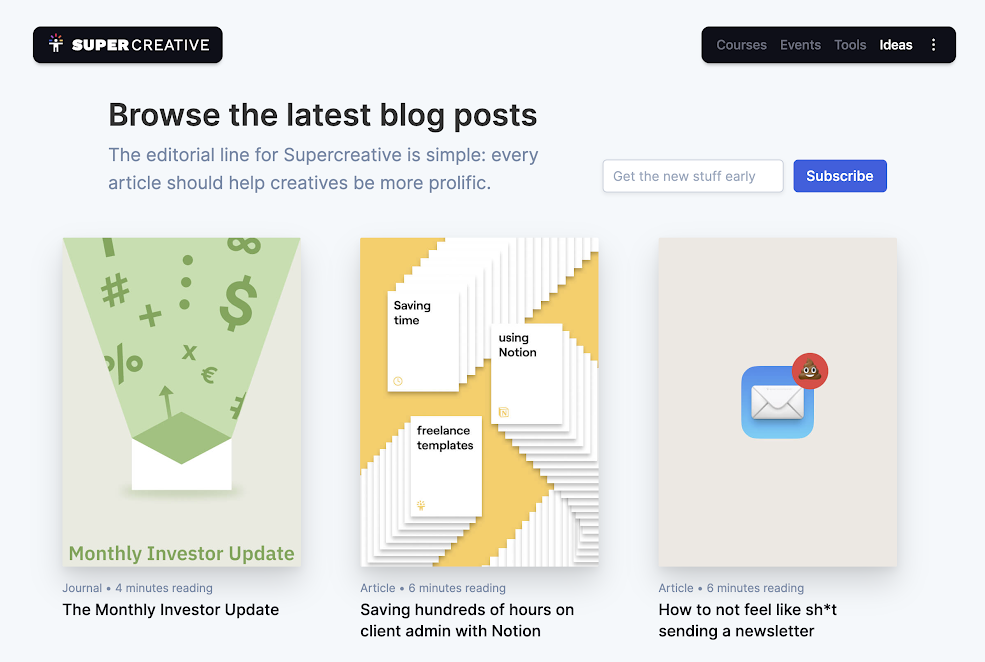 Our brains trick us, so I advocate for tricking our minds back. Setting myself precise goals, making accountability deals with a financial stake, letting myself do X only if I do Y, ruthlessly deleting or delegating tasks, saying no to meetings, saying no to almost everything, taking time off, meditating, breaking habits, keeping a journal. You've heard of all these things. They're common ways to fight back.
But direction and meaning first, optimization second.
Where can we go to learn more?
Go to the Supercreative website to download free templates, get new ideas or take my creative course.
Follow me as I test ideas on Twitter, join my weekly inspiration newsletter or check out my upcoming YouTube channel.
I'd be happy to answer your questions in the comments below. Cheers!
—
Ben Issen , Founder of Supercreative
Want to build your own business like Supercreative?
You should join the Indie Hackers community! 🤗
We're a few thousand founders helping each other build profitable businesses and side projects. Come share what you're working on and get feedback from your peers.
Not ready to get started on your product yet? No problem. The community is a great place to meet people, learn, and get your feet wet. Feel free to just browse!
—
Courtland Allen , Indie Hackers founder