How a Few Wrong Turns Led Our Product to $1,000/Month
Hello! What's your background, and what are you working on?
I'm Dmitrii, CEO at Dashly — a customer conversation and marketing platform. The product closes lead capturing, management, and communication problems for SaaS companies. I have a 45-person digital agency but decided to cast my lot in the SaaS world about two and a half years ago with three other cool people. Four members of the agency work on Dashly full-time, and other team members pitch in when and where we need it.
Together, we work on Dashly to help businesses save time, improve metrics, and make more money. Live chat allows our customers to provide perfect support, and the pop-up builder allows businesses to create pop-ups that collect leads. Companies can create triggered message chains and save time on engaging, onboarding, and returning leads by automating instead of doing it all manually.
Dashly makes $1,000/mo and has customers all over the world.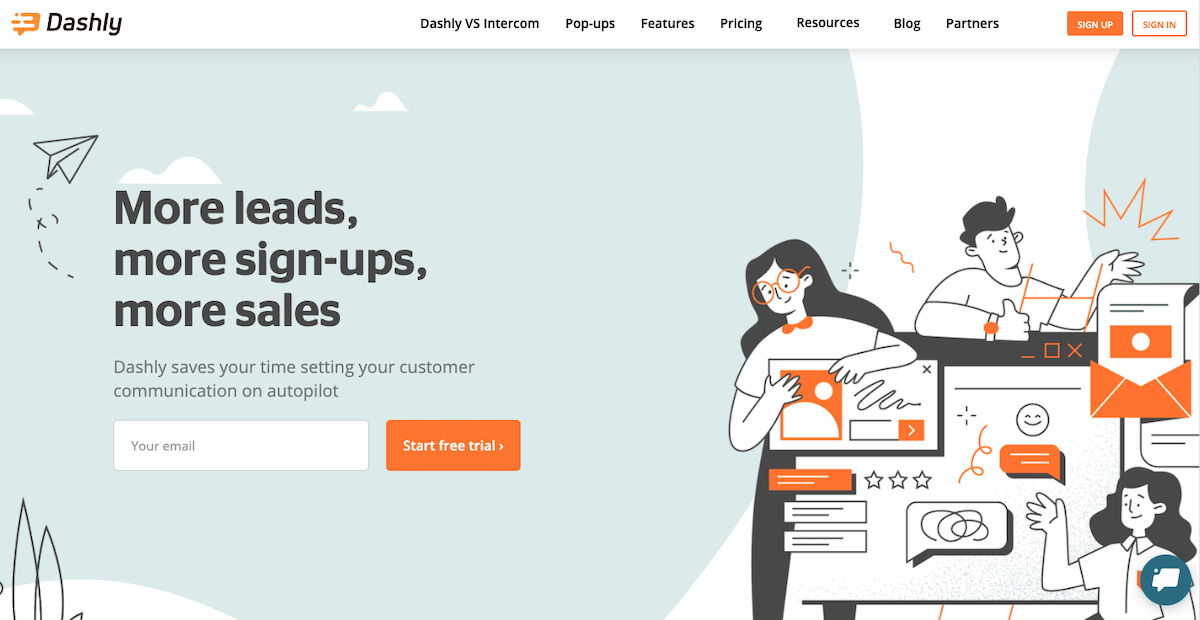 What motivated you to get started with Dashly?
While working in our digital agency, we felt the pull to do work that was more long-term and engaging. Creating websites can be small-scale and isolated, and we thought that creating a product would give us the chance to do something that is intensive, potentially boundless, and valuable. We also wanted to create long-lasting relationships. With this in mind, we decided to create a product for end-to-end analytics. Our expertise and instinct told us that across the board, SaaS businesses had a fundamental need to find funnels, bottlenecks, and weak points in the business process, and we were confident we could build something to meet that need.
We created a mock-up and a presentation (without actually building the MVP) and attended conferences and met with stakeholders in businesses where we had friends to pitch our idea. And you know what? We found out that no one wanted or needed the product we were selling. People weren't looking to identify their bottlenecks — they knew what they were — they were looking to fix them and improve their metrics. Businesses wanted to improve communications with visitors and users and try to close out some of the more common issues that were mucking up the process, and they wanted a tool that would help them track how they were doing to that end. That's how Dashly was born.
What went into building the initial product?
All four of us were working full-time in our digital agency, so we spent evenings, weekends, and any other free time we had to build the product. Two of us were developers, one was a product designer, and I acted as CEO and head of marketing — this, plus our experience from the digital agency, was what we had to work with. We didn't solicit any outside funding or investment.
Once we understood that end-to-end analytics weren't enough and that people wanted to actually solve problems, we went full-steam ahead building a prototype that incorporated all of the functions we'd heard about while making our initial pitch. Because we'd had the experience of running our idea past potential users and receiving really critical and timely feedback, we knew that the most important "resource" we had in our toolkit while developing this new product was the opinion of our target demographic. Receiving feedback, getting recommendations, and understanding the needs of our users would be the key to creating a successful product.
So we started the process all over again. We created mock-ups and presentations and ran it by people we thought might be interested in the product, which allowed us to pivot quickly and easily make changes if we sensed that people weren't interested in what they were seeing. In this way — step by step and pitch by pitch — we validated our idea and were able to start developing a product we knew would sell.
It took us about a year to build out the MVP, complete with a fairly unattractive interface, a lot of manual actions that we had to do for our first users, no billing functionality, etc. It had a lot of room for improvement, but it was viable.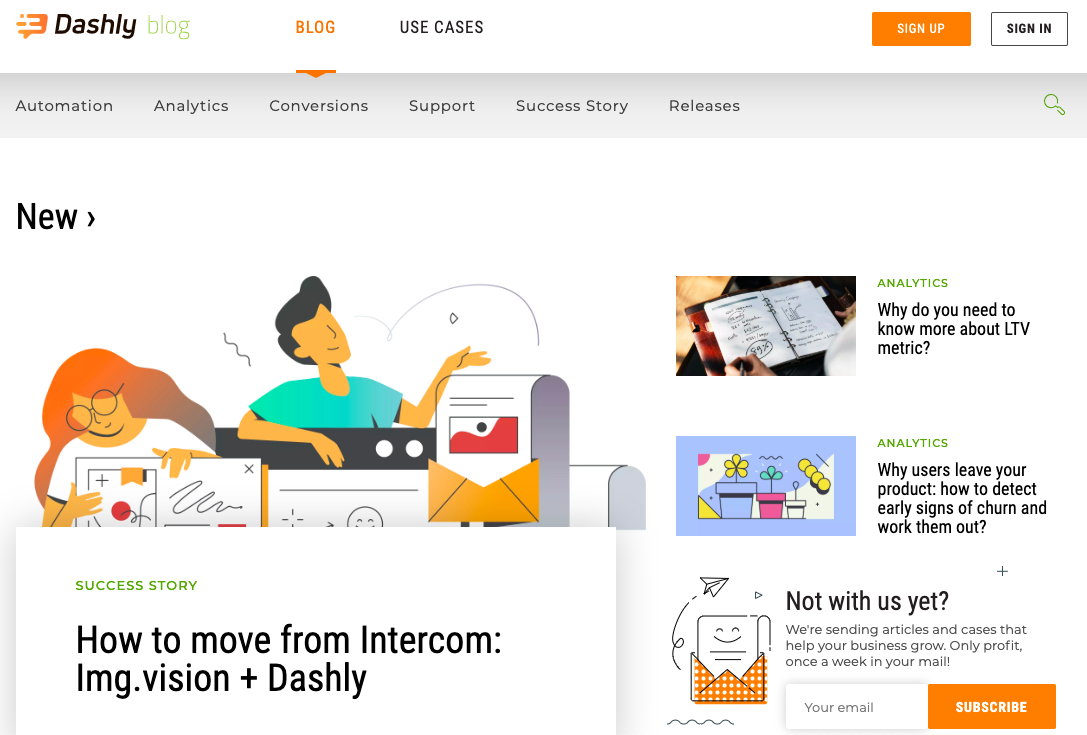 How have you attracted users and grown Dashly?
Our first 10 customers bought that MVP, which is almost unrecognizable as the product we have today. Those first customers were people from our network who gave us a lot of feedback, took part in the product development, and saw its value while it was still in the ugly duckling phase.
When we started our marketing efforts, we focused on content instead of paid ads. We wanted to find a perfect market fit before going the paid ad route since we were investing personal capital and wanted to make sure we got the most we could with the money we had. Plus, we'd gained a ton of experience from working in our digital agency and had been attending tons of events and gleaning wisdom and advice from others in the industry, so it made sense to lean into inbound marketing.
We found a content marketer who got to work on our blog, developed a social following around the product, and told the world about Dashly. BetaList and Product Hunt brought in a ton of traffic and our next batch of customers. We still get customers from these platforms, with different conversion rates, of course. Now we've started shifting our focus based on testing to see what yields the best conversion rate and what needs more work or isn't worth it.
We started to build out our brand awareness by sharing our expertise and talking about Dashly on every possible platform — Facebook, Quora, Reddit, Product Hunt, LinkedIn, etc. The quality of the traffic isn't as good as targeted marketing, but we think that gaining some domain authority and brand awareness will pay off in the long run.
What's your business model?
We offer tiered monthly pricing based on number of unique visitors per month. In the early stages, we were focused singularly on making our product as valuable as possible and making sure this value was apparent to any and all of our potential users. If people love your product, they'll pay for it. It's that simple.
Because we were so focused on the product and marketing, we never really got around to setting up a payment process. The first wave of users was still paying via PayPal. When that became too complicated for both our team and our growing number of customers, we connected Stripe to make it possible to pay via Visa and Mastercard and continued to see our numbers grow.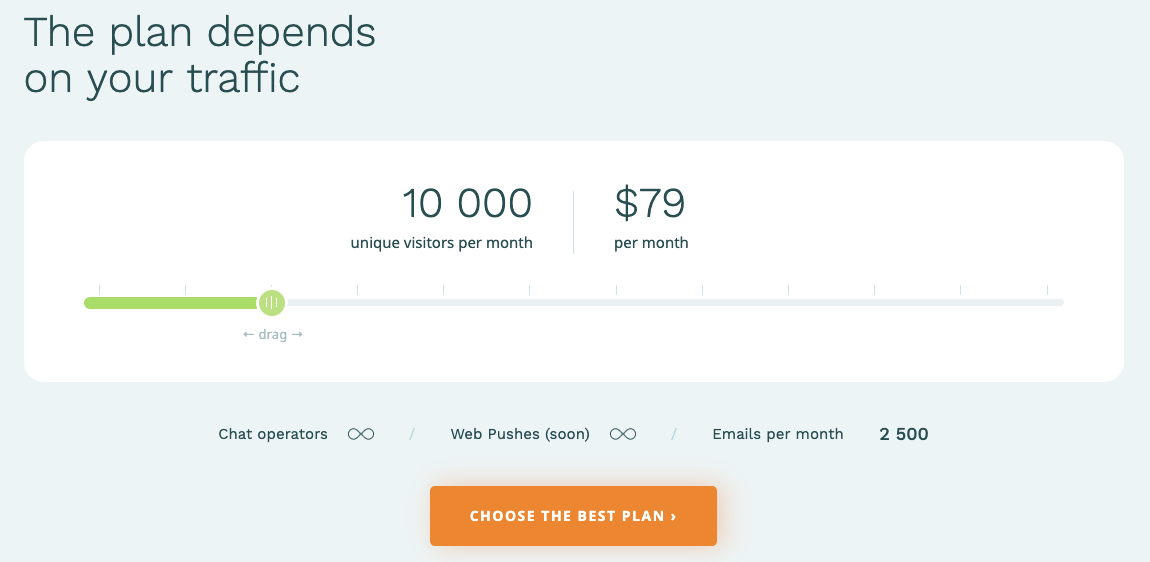 What are your goals for the future?
Grrrow! 😊
We invest a lot in team development — books for our corporate library, attendance at product and marketing events — because a good team can make or break a business. We'd love to continue to add to the Dashly team and see growth there.
Of course, we plan to grow our MRR as well. Last year we built our first set of objectives and key results, which were to triple MRR and double or customer lifetime value. And we failed. We didn't have a good enough grasp on the market yet, so our goals and targets were unrealistic and completely arbitrary. We're currently working on a new iteration of objectives and key results using the experience we've gained over the past year. Each department will have its own objective and key results will function as checkpoints that will help them reach the objective.
The overall goal is to find a product-market fit, one that will set us apart from our competitors and allow Dashly to shine and grow.
What are the biggest challenges you've faced and obstacles you've overcome? If you had to start over, what would you do differently?
I'm pretty happy with what we have and think that all the mistakes we made brought us to where we are now. Of course we turned the wrong way a couple of times, but that gave us valuable experience that enabled us to keep growing and developing as people and as a business.
One thing we didn't factor in initially was GDPR compliance, and even when we knew it was on the horizon, we didn't do too much around it until we absolutely had to, which was fairly last minute. We ended up adding all of the GDPR compliance features in a mad dash, which put a halt to a lot of other releases over the course of a month or two and was overall pretty stressful. We've got a few GDPR inside jokes that we carry around with us to this day as battle scars. 😊
Have you found anything particularly helpful or advantageous?
We've got some rituals that we've had going since the very beginning that have served us well.
When it was just the four of us, we started to have Saturday meetings. It was the perfect time to talk strategy that we otherwise didn't have time for during the regular workday. But it was Saturday, so we'd make it fun. We'd play PlayStation, have snacks, and just hang out. We've extended that practice now to the entire agency as "Founders Saturdays," but together with team leads.
The hours we spend together on Saturdays are surprisingly productive — all of the key problems are solved and we can come back to the rest of the team on Monday and share our ideas with them. At the beginning of each week, we have a demo at the very beginning of the day. For about 15 minutes, we go over all of the new developments and ideas from Saturday as well as all of the new releases.
We also do something every Thursday after work where one of the team members (from any team) will share their successes, failures, insights, and lessons learned. It doesn't take more than an hour and isn't meant to be an official report or presentation, but rather something that allows the whole company to be on the same wavelength and stay in touch with what everyone else is doing and achieving.
These rituals have really helped us stay centered and focused around our work, and been a great way to build cohesion and camaraderie.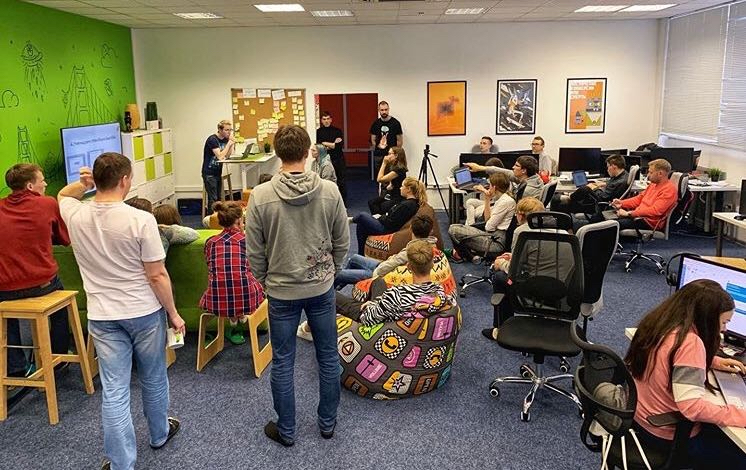 What's your advice for indie hackers who are just starting out?
Always ask people outside of your business what they need and what they think about your product. You have to know about problems in order to solve them. And often the best way to get feedback about your product simply to ask. Feedback should not be something you're scared of — it's a great and necessary tool and you should try to get as much of it as possible. Of course, all that feedback is only as good as what you do with it. 😉
Where can we go to learn more?
You can test Dashly with a 14-day free trial at Dashly.io. If you want to read a bit more, check out our blog. If reading's not your thing, you can also find us on YouTube.
We'd also love to connect on Linkedin, Twitter and Facebook if you're up for it!
—

Dmitrii , Founder of Dashly
Want to build your own business like Dashly?
You should join the Indie Hackers community! 🤗
We're a few thousand founders helping each other build profitable businesses and side projects. Come share what you're working on and get feedback from your peers.
Not ready to get started on your product yet? No problem. The community is a great place to meet people, learn, and get your feet wet. Feel free to just browse!
—

Courtland Allen , Indie Hackers founder