How Building a Community Helped Us Grow to 10,000 Users
Hello! What's your background, and what are you working on?
👋🏻 Leo here, born in Jordan, raised in Dubai, and moved to the UK at the age of 18.
I'm building an all-in-one business management platform designed for freelancers and small businesses called Plutio. From projects and tasks to time tracking and invoicing, it's everything you need in one intuitive and deeply customizable platform.
Plutio started out of frustration when trying to grow my first business, and made over $250,000 in sales within one week during our soft launch in November 2017.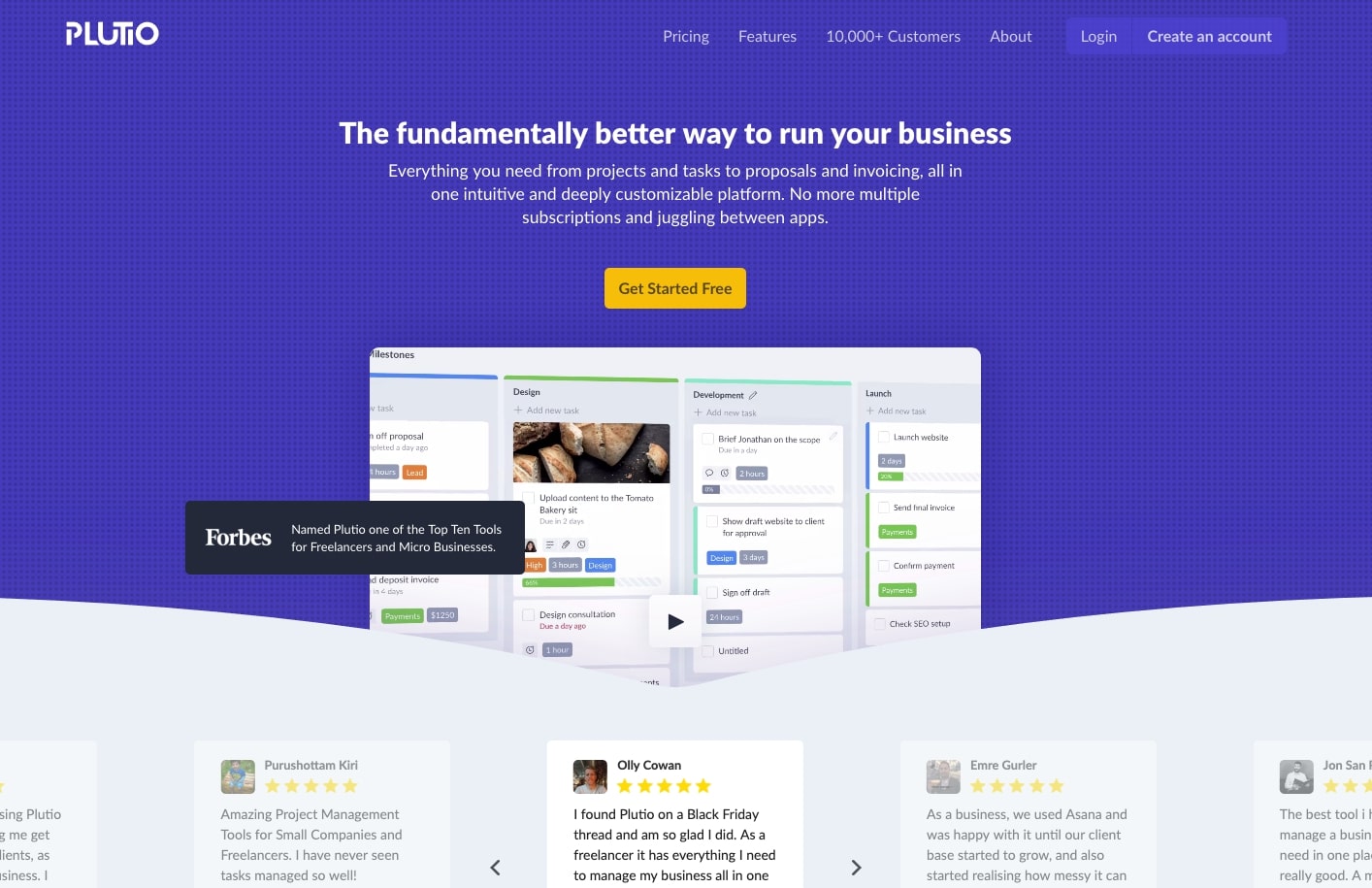 What motivated you to get started with Plutio?
It all started when I was 15 years old. I wanted a dog but my parents wouldn't let me have one, so I'd often end up in a pet store near us after school, where I fed some of the animals. One day, I decided to try and do more: I had a vision of sheltering every homeless animal.
I started by building a website for pet owners where they could connect with veterinarians for medical advice. The website later had more features, like pet of the day, tips, and a gallery.
Building the website wasn't too tricky as I used a drag and drop website builder called Wix, which allowed me to create a great looking site without the need to code. At the time, I wasn't able to get my hands on resources to learn how to code, so Wix was very handy.
Around that time, Wix launched a designers directory and I was invited to be one of the first to join. From that directory, I received my very first paying client, which was for an internal project at Dubai International Airport. After spending some time playing around a bit and building a couple of different websites, I was sure I could do it for a living. Before I knew it, I had taken on a few more projects and was running my own design business called Loai Design Studio.
My first site turned out to be a really good learning experience for everything I'm building now. It gave me heaps of confidence.
During college, I tried to branch out into passive income by offering hosting, email, and other retainer-based services, but I was pulled back by the overwhelming amount of administrative work involved. And it didn't really help that the majority of productivity and management apps were designed for teams and enterprises. I couldn't find anything focused specifically on the needs of freelancers.
That's when I decided to build Plutio with a mission to support and become the right hand of the underserved community of freelancers and small businesses all over the world.
What went into building the initial product?
Because I didn't know how to code, I couldn't start the project by building the software. Instead, I leveraged the design skills I already had to build prototypes. Although building the prototypes helped concretize my abstract ideas, I couldn't take them any further without programming skills.
That's when I pushed myself to learn how to code, starting with the basic programming languages such as HTML and CSS, which helped me turn my vision into functional prototypes. Once l had the actual skeleton of Plutio, I needed backend development to make it actually "work."
Being stuck at that stage was very frustrating and my growing desperation pushed me to turn to investors. I had a quick meeting with Mark Pearson from Fuel Ventures where I presented my prototypes and vision. Despite Mark's appreciation of my work, our meeting was wrapped up with a "you're very early stage for us but let's stay in touch."
That was my first and last attempt at raising investment. Not because I was rejected, but because I learned that raising money at such an early stage means losing a huge chunk of my company before it even gets off the ground. And it would have taken at least four to six months of consistent hunting to close a seed round.
So instead of going the investor route, which I knew I wouldn't enjoy, I challenged myself to bootstrap Plutio. But I knew I couldn't do everything myself, especially as learning backend programming would have taken me a long time, risking significant project delays.
My next step was to find a co-founder, someone that could complement my skill set. Having a business is like having a child, and finding a co-founder is like looking for a partner to help you raise that child and send them off into the world. It has to be someone you know and trust and can rely on for better, for worse, for richer, for poorer, in sickness and in health…you know the drill.
I gave myself a month to find a co-founder but, unfortunately, my circumstance at the time didn't play to my favor. I lived in a small town in the north of England, which made it hard for me to attend events and grow my network. And my network of people at that time were mainly designers and creatives.
I learned a very essential lesson from that initial hunt: Humans prefer to be surrounded by their own likeness. There's nothing wrong with that, per se, but if you're running a business, you need to surround yourself with people that can complement your skills and experiences. Those people often won't be within your natural networks if you haven't been diligent about branching out.
Since I couldn't find a co-founder, I decided to use my savings for hiring a local team to develop an MVP. However, I came to realize that the team I hired didn't truly believe in me or my vision, which complicated the work. Long story short, things didn't go as planned and I had to get my money back through the courts. I learned the hard way that to build a successful business, you first need to build a team that believes in you and your vision.
Clearly, getting Plutio off the ground was a challenge. While this series of failures demotivated me, they also fueled me to keep going and push through to make things work — and so I did! I decided to start Plutio as a side project funded by my first business until it was mature enough for me to fully focus and rely on it.
Instead of dropping everything and focusing fully on a business that was still in the idea stage, which may or may not work out, I continued my freelance work as a designer and used the income to hire a developer to work with me. For my efforts, I was blessed with Dovydas Kukalis, a passionate, ambitious, and skilled programmer.
Progress was going well but at a very slow pace as I was only able to afford so much. That's when I decided to find a part-time job. So alongside working on my design studio and renting one of my spare rooms on Airbnb, I joined Paddle as a designer on a part-time basis. Everyone at Paddle knew what I was working on and was incredibly supportive! They believed in me and always took an interest in helping me as much as they could.
Having this new source of income helped double the speed of development and we were reaching our goals much faster. Although everything was going well, I was always overworked and exhausted. I was overwhelmed.
I knew something needed to change. If the business is practically just me and I'm falling apart, the business will too! But I also couldn't just stop working, as that would slow us down.
Not long after, I signed a deal with AppSumo, which helped us reach over 5,000 early users and hit over $250,000 in sales within a week! Not only did this validate Plutio, but it also helped us maintain our progress without so much exhaustion, as I was able to cut down on some of the extra work I was doing to make ends meet.
How have you attracted users and grown Plutio?
Our first users came after submitting Plutio on BetaList. They helped us expand our understanding of the market need and shape our product to fit accordingly.
After months of testing, we soft launched in partnership with AppSumo, resulting in a huge spike in new users. The huge spike of traffic was amazing but we were overwhelmed by the amount of support we had to provide — hundreds of messages a day and only one person to respond.
We really struggled and thought that maybe bringing someone else on would help. But we knew that this would involve onboarding them, teaching them the product so that they could independently provide support, and ensuring that they reply in line with the brand. We just didn't have time for all that.
Due to the slow response time on our end, many users took their questions to our freshly opened community group on Facebook and fellow Plutiopions (Plutio users) actually helped. From this, we realized that the Plutio community was the perfect way to help tackle the overwhelming spike in support requests. So we started funneling everyone to it by adding links to our onboarding emails and social media channels. The community soon become a safe environment for everyone at Plutio to connect, exchange ideas, and, most importantly, share their feedback.
This community has been a great tool to keep us connected to our amazing customers and keep us informed on how best to shape and grow Plutio based on their wants and needs.
What's your business model, and how have you grown your revenue?
We offer three subscription plans starting from $15/month, with optional add-ons such as white-label for $9/month.
We rolled out our plans and started charging in May 2018 using Stripe as our payment processor, closing our first month with $400 in MRR. We doubled it in June. While Stripe is great at processing payments, it's not so good at providing detailed analytics of how our business was doing. So we integrated Profitwell for deep analytics and an overview of the health of our business. Profitwell has helped us visualize how new features might affect our growth before deciding to move forward with them.
For example, around the start of July, we introduced a white-label add-on at $5/month, which added $2,300 to our monthly recurring revenue by the end of the month. Six months later, we hit $7,000 in MRR and became profitable. The suite of improvements to our user experience and journey, as well as the consistent introduction of new requested features, has helped us reduce our churn from roughly 13% to around 3%.
In November 2018, we added a new page to our website showcasing reviews from users. It is really easy to collect and show reviews using EmbedSocial. We also funneled new sign-ups to join our community group on Facebook and added social proof to our main landing page, introduced a deal on white-label, and rolled out a major update. It was a busy month! Those changes have helped us add $2,000 to our MRR, which became $6,000 by the end of the month.
The main reason we were able to convince so many to subscribe was mainly the result of leveraging the powerful influence of social proof in our marketing efforts. If there is anything we've learned from the past few months, it's that humans tend to follow the crowd and are heavily influenced by the people around them. So when there is a way for a new visitor exploring our website to relate with an existing customer, such as through reviews, the chances of them signing up are dramatically higher.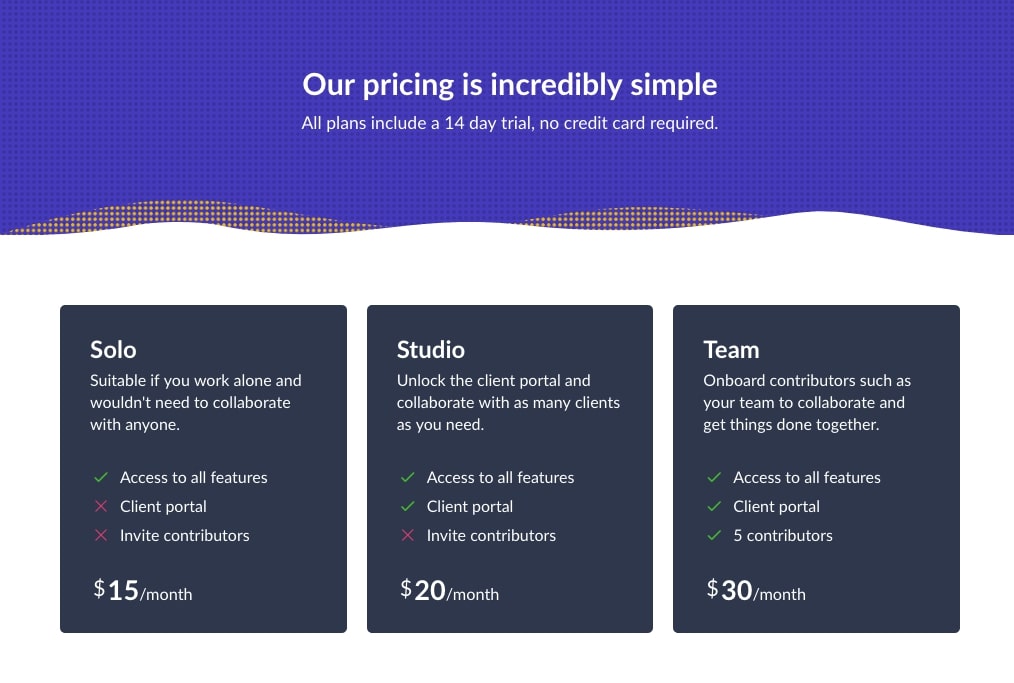 What are your goals for the future?
Our vision is beyond just offering the tools in an intuitive, all-in-one platform. We envision Plutio as the right hand of every freelancer all around the world, offering everything they will ever need, from the right tools to insurance to co-living spaces, and more!
Growing our team and securing partnerships with companies that share our vision are a couple of the many steps we need to take towards successfully reaching our goals.
Have you found anything particularly helpful or advantageous?
One of the best decisions I made was designing and building the app's interface completely from scratch, not using any generic frameworks such as Bootstrap or Materialize. This has helped ensure that Plutio has its own unique feel and experience, which was extremely flexible and not generic.
What's your advice for indie hackers who are just starting out
Don't launch your idea too early just to validate it. Validating your idea before you even start working on it has never been easier with the help of services like Ship by Product Hunt. With Ship, you can build an audience for your product to help you validate your idea, test, and shape it to fit before you even launch.
Build a community as you're building your product. Having a community behind your brand can help you in so many many ways, from increasing your conversion rate through social proof to helping you test and shape your roadmap to fit. Start by creating a group on Facebook or Slack, wherever is easier for your audiences to access.
Be the face of your brand. Video is one of the most powerful engagement tools for a reason. Leverage it to talk to your customers, announce updates, and even ask for feedback.
Where can we go to learn more?
Join over 4,000 in our Facebook Community Group as we share sneak peeks and you can have a say in shaping the next update!
Visit our website to explore all that Plutio has to offer and follow us on social media (Facebook and Twitter) for a sneak peek into what's coming next.
—
Leo Bassam , Founder of Plutio
Want to build your own business like Plutio?
You should join the Indie Hackers community! 🤗
We're a few thousand founders helping each other build profitable businesses and side projects. Come share what you're working on and get feedback from your peers.
Not ready to get started on your product yet? No problem. The community is a great place to meet people, learn, and get your feet wet. Feel free to just browse!
—
Courtland Allen , Indie Hackers founder