How I Bought a Business I Knew Nothing About and Doubled Its Revenue
Hello! What's your background, and what are you working on?
Hi, my name's Dan Rusu. In 2006, after getting my business degree from the University of Washington, I started working for a digital marketing company. Eventually, I branched out on my own and took on my own clients, so I could have more free time to travel and pursue my passions. I've also taught myself software development over the years, which has given me the skills to automate work tasks and think analytically.
Lighting Shoes sells light-up LED shoes. We carry sizes from toddlers to adults, and various styles in many colors, including sneakers, hightops, and lowtops.
We have two demographics, and they couldn't be more different from each other. The first is people who attend EDM festivals and raves, and the second is kids who might wear them daily or at events like birthday parties and trips to Disneyland.
Our sales for last month were just over $10,000 (with about 11,000 visitors to our site), and we're on track to do close to $20,000 this month.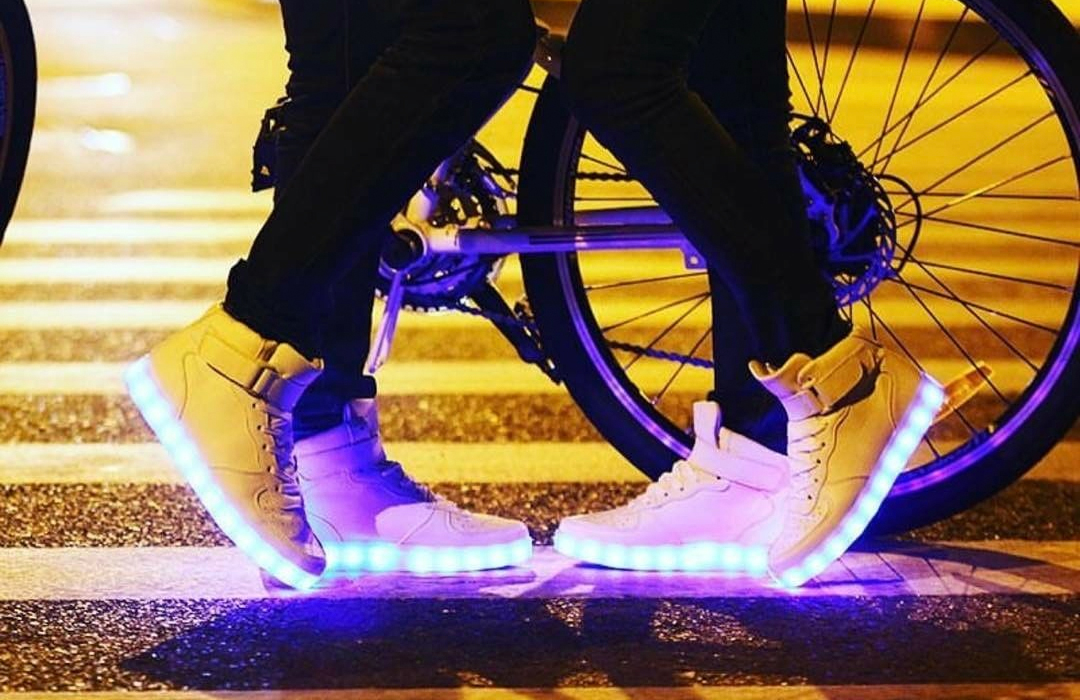 What motivated you to get started with Lighting Shoes?
There's actually an interesting story of how I came to own Lighting Shoes. I wanted to explore building plugins for Shopify — a popular ecommerce platform — as a "side hustle". I figured I could build some plugins and generate some easy recurring income.
However, it turned out to be pretty hard to gauge what the Shopify market wanted/needed. I decided the best way to find out would be to have Shopify shop of my own.
I happened to come across LightingShoes.net for sale on Flippa. I spoke to the owner, and I felt it was a good price for the profits it was earning and the potential it had. So the next thing I knew, I was selling a product I had no experience with. :)
This was my very first time owning an ecommerce site, although I had done marketing for a few online shops in my digital marketing career, so I wasn't completely green. I was also fortunate to have a main job which granted me steady income and a good amount of free time, so I felt I could take the risk.
What went into purchasing the store and making it your own?
I drew from my own savings to buy the site. It wasn't a huge amount, and I felt comfortable losing the money if things took a turn for the worst.
Now, since this was a site that I'd inherited, my process was quite a bit different than for those who start from the ground up. When you buy a company, it seems the general process is to first learn the operations and details of the business, then to solve whatever problems the business currently has, and finally to make further improvements.
My first task in building the business up was actually to learn what was going on. To do this, I ordered a pair of the shoes myself so I could get familiar with them. Then I did market and competitor research to make sure I understood the demographics properly. This was crucial — when I first bought the shop, I figured the main buyers would be ravers and EDM fans. Turns out they were mostly kids and toddlers.
I also spent time learning the customer support side, order fulfillment, and Shopify itself. I definitely underestimated how long all of this would take. It was easily 3 weeks before I was comfortable with everything.
The next step was to solve the problems the business was currently facing. It was a massive amount of work to get it "cleaned up". Here's what I ended up doing:
Found a new supplier: The biggest issue by far was our supplier. The previous owner used AliExpress.com to dropship the shoes from China to the buyer. Nowadays, with Amazon Prime shipping in 2 days and many other retailers doing the same thing, no one is going to wait 3 weeks to get their order. On top of that, many of the orders were getting lost in transit. So I found a supplier that had a warehouse in the US and would ship shoes directly to our buyers within 3-5 days.

Redesigned the site: Shopify has great themes, but you need to take care of the details when using them to create sites. This hadn't been done with Lighting Shoes. The logo had spelling issues, the site loaded extremely slowly, the footer was inaccurate, etc. I ended up doing a good amount of redesign to ensure that people trusted the site when they visited.

Increased conversions: The site was converting at 0.75%. By improving product images, adding discount popups, abandoning cart emails, etc., I increased that to 2%.
Once those issues were solved, I began to focus on efforts to increase the reach of the site and the product. This included increasing the budget for pay-per-click and social media ads.
We're also doing a large campaign for PR and SEO — reaching out to bloggers in the dance and mom/dad community to write about our product. I'm hoping that this will get the word out about the site and send us more organic visitors from search engines.
To get all this done, I've been spending about 5 hours/day on the site, typically during and after work hours. I try to freelance where I can so I can leverage others' work and expertise.
Can you talk more about how you've increased the site's reach?
Here's a list of everything we've done to attract and grow customers for Lighting Shoes:
Hired an Adwords consultant to optimize the current Adwords campaign. As the majority of our traffic and sales comes from Adwords, this was very helpful in increasing our volume and conversion. He was able to clean out our product feed, make onsite conversion optimization suggestions, and work to lower the cost-per-click.

Started a remarketing campaign on FB and Instagram for site visitors who didn't buy.

Started a PR/SEO campaign. For this we are doing blogger outreach to connect with bloggers who have readers that would be interested in our product. We're also doing guest blog posts on various blogs that have agreed to it. We're using HelpAReporter.com to connect with journalists and get our site listed on publications. So far, all of this has resulted in over 50 backlinks and mentions of our site, and a corresponding increase in search engine traffic.

Growing our social media followers. We're posting user-generated photos from our buyers and fans to engage our followers more. We've also reached out to influencers to ask them to try our product and let their followers know about it.

Social media ads. We just started exploring different sites we can advertise on, including Pinterest and Instagram.
Since most of our campaigns (with the exception of Adwords) are new, we're still in the early stages with many things. But here are some of the stats we've collected so far:
over 1,000 impressions/week on Instagram, and 300+ new followers
353 visitors from organic Google search
400 likes on Facebook
What's your business model, and how have you grown your revenue?
Our business model is very simple: sell LED Shoes! That's all we sell for the time being, although we'll be exploring other LED products in the future as cross-sell items. We use PayPal and Authorize.net to process all payments. Although our fee is a bit lower with Authorize, I've learned that some of our customers prefer PayPal, so we've included that.
Our sales for March 2017 were just over $10,000. This month is projected to be closer to $20,000. When all expenses are accounted for, I'm left with 20% profit.
Since I've only owned the site for a month myself, instead of doing a monthly breakdown, I can do a weekly breakdown of revenue:
| | |
| --- | --- |
| Week | Revenue |
| Mar 8 | 1578 |
| Mar 15 | 3371 |
| Mar 22 | 5285 |
| Mar 29 | 4870 |
Our prices have remained the same, so these increases have come from improvements to conversion rates and traffic acquired through our marketing efforts.
What are your goals for the future, and how do you plan to accomplish them?
My main goal is to get first-page ranking on search engines for our main product keywords. The sales from that would be a great addition to the site's current revenue. It would also be a great confidence boost for me to know I could build a brand's SEO from virtually nonexistent to the first page in search results.
Another marketing goal is to increase the visitors and sales from social media marketing. This is still an area that's very new to the site.
I've already mentioned adding other LED products to the site's inventory. That's something I'd like to do once all the marketing channels are optimized and performing well.
As for personal goals, I'd like to get someone in to handle customer support and social media, so I can have time to explore other project ideas.
What are the biggest challenges you've faced?
A big issue has been the supplier. While it's great that they're in the US, they have run out of stock and I've had to find outside suppliers to fulfill those orders. Some advice I'd give is that you are only as good as your supplier. Make sure your supplier is able to handle your orders and handle them well.
If I had to start over, I would change the brand of the site. Currently, it's very generic. Your brand plays a huge role in how well your marketing performs.
Has anything particularly helpful to you so far?
Hiring an Adwords consultant was huge. One piece of advice I'd give is to hire experts. Pour the business earnings back into the company itself to hire experts to come in and make improvements.
Another huge advantage today is the availability of freelancers. For example, I got our logo designed on Fiverr, found a PR person on Upwork, and solicited SEO help from Elance. By capitalizing on all these sites for finding freelancers, you can better leverage your time.
What's your advice for indie hackers who are just starting out?
Really do your due diligence before you start or buy a business. When you get started on something, there's a lot of excitement and a tempting belief that the project is going to be easy. But it won't. Starting a business is hard work. Be sure to research and investigate every angle, and really think through what the project is going to take.
Personally, I'm a big Mixergy fan. I love learning from other founders and entrepreneurs, and find you learn the most from interviews. Book-wise, I'd recommend the classic 7 Habits of High Effective People, by Stephen R. Covey, to anyone who hasn't read it.
Where can we go to learn more?
Please reach out to me if you have any questions. I'm happy to help!
—

lightingshoess , Creator of Lighting Shoes
Want to build your own business like Lighting Shoes?
You should join the Indie Hackers community! 🤗
We're a few thousand founders helping each other build profitable businesses and side projects. Come share what you're working on and get feedback from your peers.
Not ready to get started on your product yet? No problem. The community is a great place to meet people, learn, and get your feet wet. Feel free to just browse!
—

Courtland Allen , Indie Hackers founder