How I Built a Better Team and Grew Revenue to $50K MRR
Hello! What's your background, and what are you working on?
My name is Aurelien Amacker, and I'm a French entrepreneur and online marketer. Since 2010, I've been selling online courses in the French market that focus on teaching people English and how to start an online business.
My ventures eventually led me to build Systeme.io, a SaaS app that offers all the features needed to start an online business, including a sales funnel builder, autoresponder, membership site builder, affiliate program management, and more.
Today, one year after launching, Systeme.io is at 1,500 paying customers and $50K in monthly recurring revenue.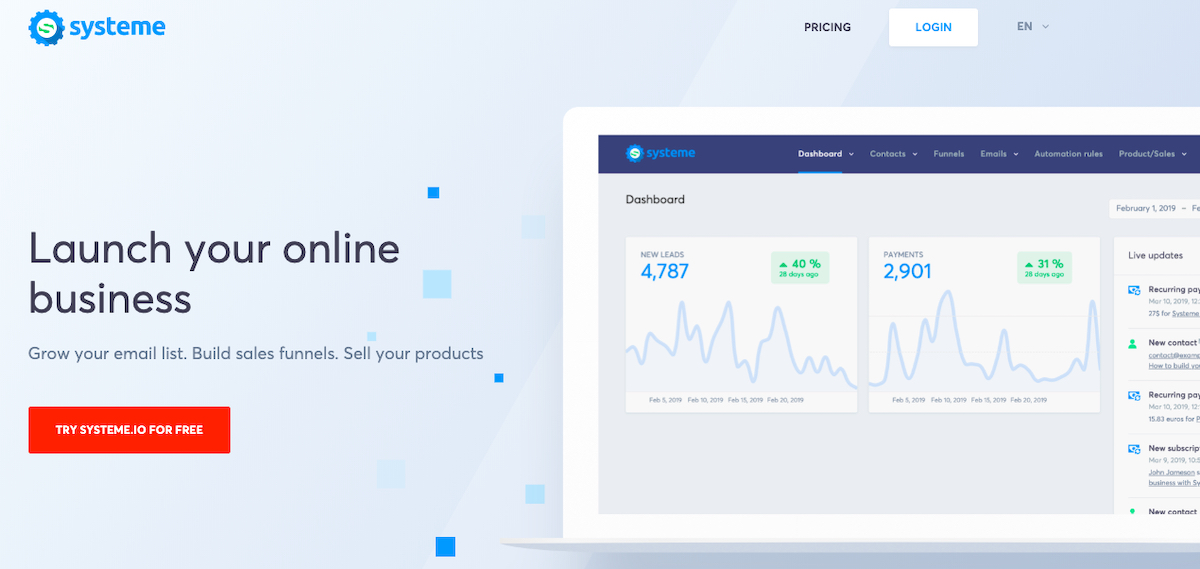 What motivated you to get started with Systeme.io?
Around 2012, I read The Lean Startup by Eric Ries, and also started listening to a bunch of podcasts about startups, like Mixergy and The Top. The Lean Startup blew my mind and, combined with all the podcasts, I got the itch to build a SaaS app somewhere down the line. But at the time, there weren't really many great options for running an online business. Unless you were a coding prodigy, you had to duct tape several apps or software packages together to build out your business, which was expensive and more or less cost prohibitive for people just starting out, especially if you were bootstrapping.
The dream solution would be an app that brought all the main features together under one roof — a page builder, email marketing, and membership sites — but building out so many features felt impossible.
Despite my hesitation at what seemed like a monumental challenge, I decided to take the leap in 2015. At 36, I made the decision to invest in real estate properties and, through the process, came to reflect on my own business as not just a challenge, but an investment. You can't get anything out if you don't put anything in, and sometimes it's worth it to take the risk. Plus, I figured that the experience I'd gained in the industry over the years would make investing in my business a much safer bet with potentially much higher returns.
At the time, my business was doing $30K per month selling online courses, so I was able to fund the project on my own.
What went into building the initial product?
I initially hired a company in a different country to build the product. The owner was a customer of my online courses, a French guy living abroad, so it was an easy enough connection that seemed like it would be beneficial. Unfortunately, they were clueless. They never returned my emails and I ended up writing all of the meeting notes and reports myself, despite that I was paying for a project manager.
It seems silly now, but I even flew out to meet with them and to check out the situation for myself and see if I could grease the wheels. I remember sitting in their meeting room explaining scrum to them and telling them that they should use it to build my product — they had no idea what I was talking about.
In the end, it became clear that they were really good at telling me everything that was gonna be ok, but really bad at actually building the product. Six months later, I threw in the towel and fired them. It cost me around $34K and a whole year of work.
After that epic failure, I turned to Upwork to try and find someone more reliable. In early 2017, I found a developer that stood above the rest. He was exactly what I was looking for, the polar opposite of the first company. If he told me something would be done in two hours, he'd have it done in two hours — no excuses, no complaints, just done. It was truly a breath of fresh air.
Since we had to build a lot of features, I quickly added two more developers to bring us up to two backend developers and one frontend developer (to build our page editor). The backend is built on Symfony (a PHP framework) and our editor is built on JS/NodeJS using the ReactJS framework. Our team is 100% remote, using Slack for communications.
It's hard to explain, but this team seems to have a bit of magic tossed in the mix: we love working together and we move fast. Having a small team prevents us from wasting time on pointless meetings and enables us to be a lot more efficient. Everyone is focused on their respective tasks and can work efficiently.
In 2017, we migrated my online businesses over to our app: first my email lists, then my payment pages, and finally my online courses.
How have you attracted users and grown Systeme.io?
We launched in the French market in April of 2018. I had already built an email list of around 50,000 from my online course business through affiliates, my blog, and my Youtube Channel. I sent emails to them for a couple of weeks letting them know about the product and making them special offers.
Right after launch, we settled nicely at around 400 paying customers. While that's not a lot relative to the size of my email list, the bigger and the older your email list, the less responsive it is. Luckily, we kept growing at around 10% month over month, and six months later we reached 1,000 paying customers. Today, we're sitting at 1,500 paying customers and $50K in monthly recurring revenue.
The main growth channel has been affiliates. We pay out 40% lifetime commissions to our affiliates to incentivize them a lot to promote us, and it seems to work. It also doesn't hurt that our customers love the product. We get great feedback all the time from users, so even if we pay out commissions for referrals, I know that the quality of the product plays a decisive role in generating word-of-mouth growth.
We spend a lot of time thinking about how to make every feature as simple as possible and we hired a top designer based in California to create the design. A word of advice — finding a great designer is easy, contracting them...not so much. Good designers get a lot of offers so you need to be persistent and get a bit lucky.
Also, a low starting price ($27 per month) relative to our competitors ($97 per month) definitely helps us attract customers. When you are just starting out on your business, it is hard to invest $100 per month, so I think our price point makes a big difference in where customers end up. Plus, I love the business model of having very affordable offers to get people in the door and then upselling them down the road.
What's your business model, and how have you grown your revenue?
Today we generate about $120K per month in revenue:
$50K from paid subscriptions to Systeme.io
$30K from online course sales
$40K from coaching sales
These three lines of products work in tandem with each other, as the ideal customer of one line of product is, in turn, a great customer for the other two.
Online courses are a great product with a high profit margin if you can figure out how to get the ball rolling. Once the courses are made, you can sell them for years with virtually no overhead, so it's a good source of income. Our online courses cover a wide range of topics, like copywriting and email marketing.
At about the same time we launched Systeme.io, I hired a salesperson to sell coaching products to our clients. Each week, we run a live webinar for our customers that ends with an invitation to book a strategy session with our salesperson on the phone, where we sell them on our coaching offers. The coaching is handled by one of my team members (a former student of my online training).
Both my salesperson and our coach are paid on a commission basis, so for me, it's a good source of income for very little time spent. In the first month alone we generated almost $20K in coaching sales. This, plus launching our app, allowed us to quadruple our revenue in a matter of months: in January of 2018 we did $30K in revenue, and by December we were at $120K.
I don't understand why most startups don't sell services or online courses on top of their software as it seems like an obvious way to dramatically increase their chances for success. Customers are happier and more likely to keep using your product, and it's an extra source of income with very little overhead. It seems like a no-brainer.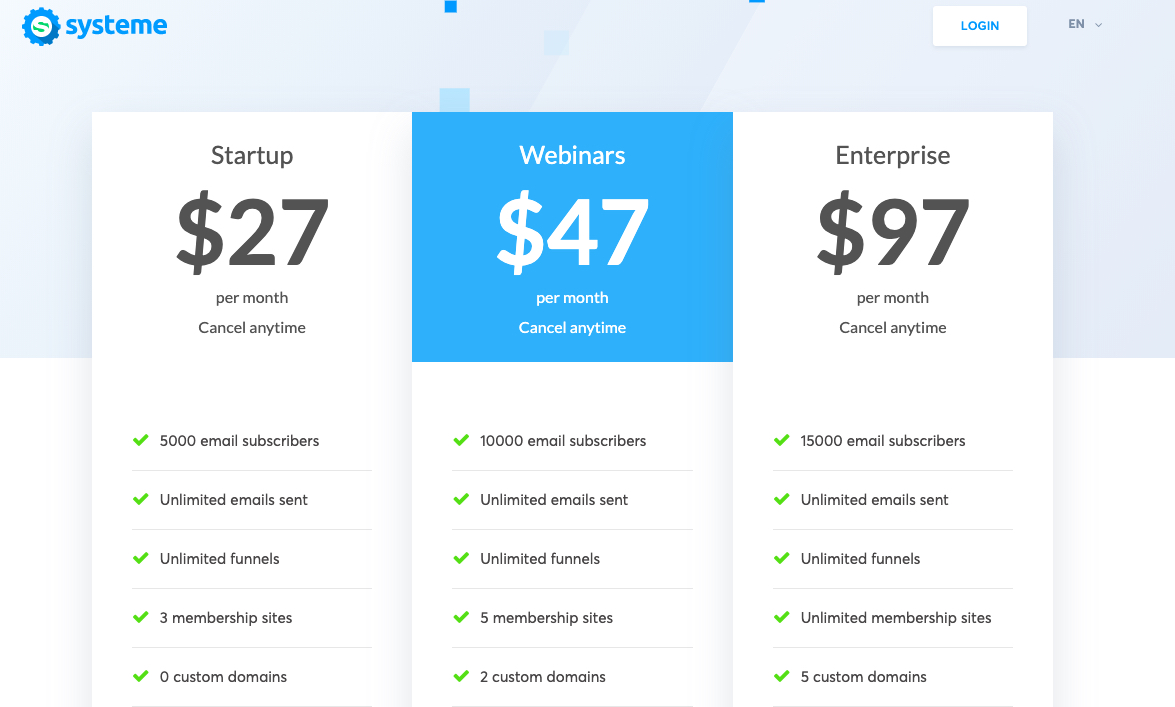 What are your goals for the future?
Our competitors have revenues between $10M and $100M per year, so I believe that, even if we do a bad job, we will land around $5M per year in revenue. My goal is to bootstrap to $10M, and then to $20M in revenue.
My vision is a small team where everyone loves their job and knows each other, no politics, no stress, Basecamp-style. I'm just trying to build a great product and a sustainable business. And with our low price point, we might be able to get some traction in emerging markets that may be underserved right now (like Latin America and Africa).
What are the biggest challenges you've faced and obstacles you've overcome? If you had to start over, what would you do differently?
If I had to start over, I wouldn't change a thing. Of course we made mistakes, but mistakes are how you grow. It's part of the game.
I don't even regret the initial outsourcing blunder because I took responsibility for that and it taught me that I should be more careful with the companies I work with and invest in. Plus, working with terrible developers enabled me to see and appreciate the difference when I finally found a really good one, and to work hard to create an environment that would keep him and others around. All of these "mistakes" led me to the fantastic people I work with today.
Today, our main challenge is to grow in the English market. Our app is available in English but we only have a dozen or so customers. We plan on trying different marketing channels and we'll see how it goes.
Have you found anything particularly helpful or advantageous?
I love the book Simplify by Richard Koch and have read it three times thus far. He studied dozens of successful companies and found out that they were either:
proposition simplifying — offering a much better product at a premium price (think Apple)
price simplifying — offering a good enough product five to 10 times cheaper (think Ikea, Ford, McDonald's)
We're trying to price simplify with Systeme.io by offering a product that is three to 10 times cheaper than our competitors, and I believe it's the main reason why we've been able to go from zero to $50K per month in revenue in just one year.
What's your advice for indie hackers who are just starting out?
Just keep trying. After I lost one year and $ 34K, I just kept trying. The more you invest, the more you are committed to it.
I have been an entrepreneur since 2010 and I can tell you that as a rule of thumb:
20% of what you try will fail
60% of what you try will produce average results
20% of what you try will produce great results
This is the 80/20 principle in action (another great book by Richard Koch), and I take it to mean that you just have to keep trying to find out what works for you.
Also, it can be easy to get weighed down or distracted by all the chatter, but it's important to make decisions based not on what people say, but on facts and data. Everyone says that you should raise your price, but we found that, with a lower price, we were getting more customers. It's also common rhetoric that you shouldn't sell services, but we found that it was a relatively low-risk product that turned out to be a nice source of income.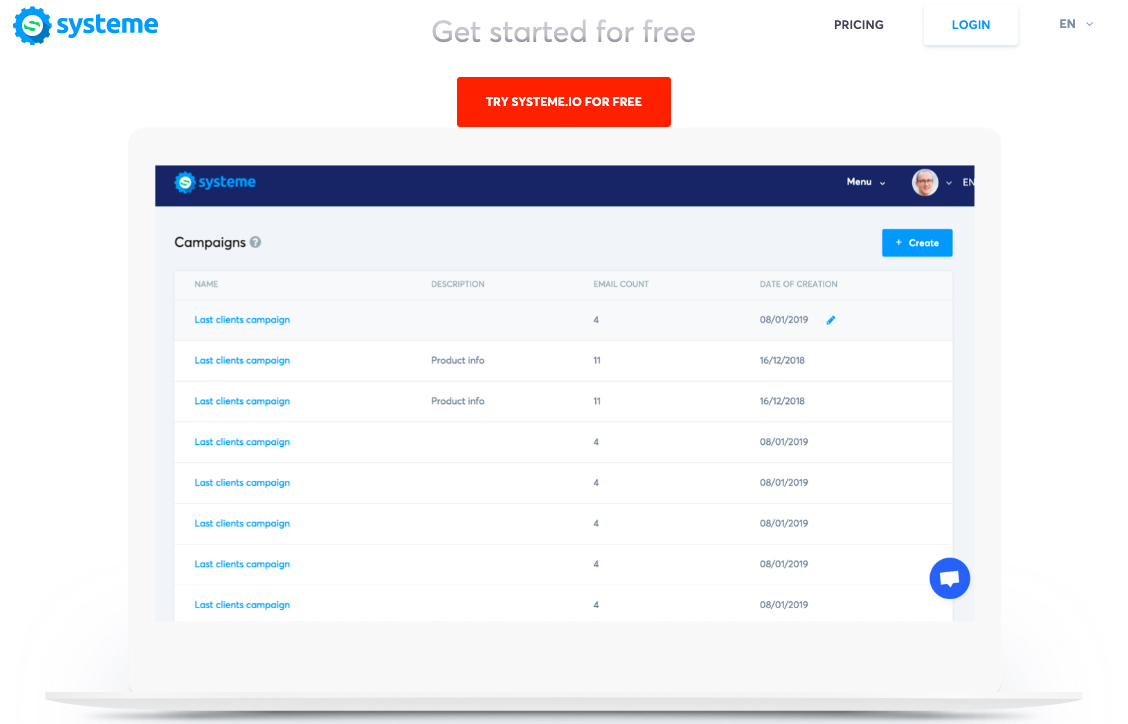 Where can we go to learn more?
You can add me on Facebook if you want to connect and you can also try Systeme.io for free.
I'd be happy to answer any question you have in the comments!
—
Aurelien Amacker , Founder of Systeme.io
Want to build your own business like Systeme.io?
You should join the Indie Hackers community! 🤗
We're a few thousand founders helping each other build profitable businesses and side projects. Come share what you're working on and get feedback from your peers.
Not ready to get started on your product yet? No problem. The community is a great place to meet people, learn, and get your feet wet. Feel free to just browse!
—
Courtland Allen , Indie Hackers founder