How I Kept My MVP Lean and Reached $15K/Month
Hello! What's your background, and what are you working on?
Hello! I'm Nate Ritter. I am a technical entrepreneur located in Austin, TX, the CTO for Hotels for Hope, founder of Perfect Space, and popularizer of the hashtag.
At Perfect Space, we build fintech products like PingBid which is a two-sided network between lenders and marketers. The platform automatically optimizes the revenue a marketer makes by running real-time "reverse auctions" for each loan applicant with lenders who would like to service the loan.
PingBid currently generates about $15K/mo in revenue and is closing in on $3M total revenue since its inception.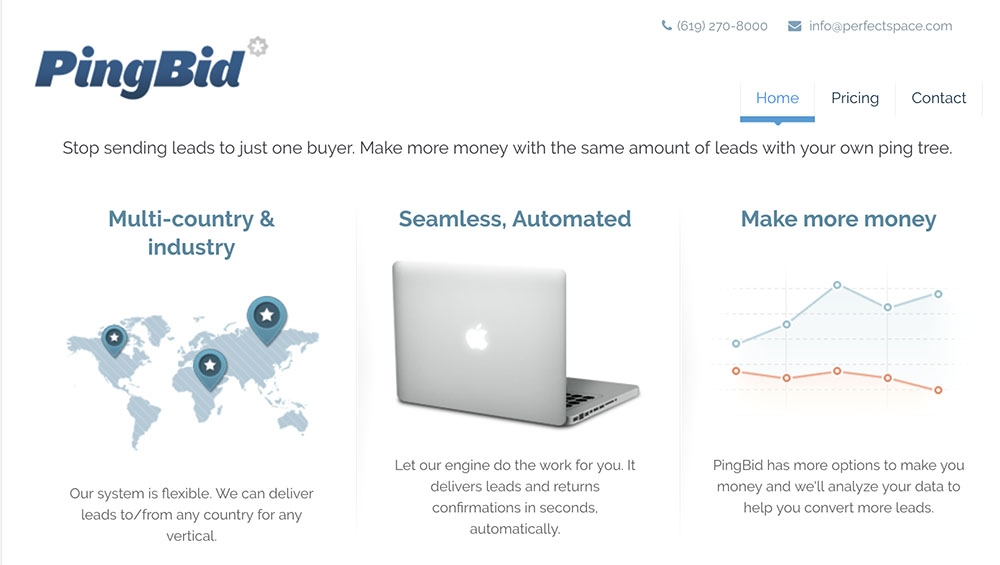 What motivated you to get started with PingBid?
After years of participating in the affiliate marketing industry, freelancing, and eventually building a web development agency, we were fortunate enough to have a client come to us with the idea. They didn't want to pay for it up front, but were willing to pay a commission for each lead sold through the platform. A few weeks later the first version was launched and we started making revenue on the very first lead.
At the time my co-founder and I were building out our agency, supporting each of our families while living in San Diego, CA. While we enjoyed building the agency (with clients like Microsoft, LandRover, Activision/Blizzard; we were doing well), we both had a desire to build SaaS products.
What went into building the initial product?
In the agency world we were very good at scoping out products and working with clients to get down to the absolute minimum product someone would pay for and a person would use. So we pushed the client as far as we could.
With an extremely simple scope, we decided to build using a popular PHP framework and the LAMP stack I knew well, because of how quick it would be to prop something up and get validation.
It ended up being just a single API endpoint, database, and a few pings to lender APIs which the client brought to the table for us. No branding. No business cards. No user interface. No login. No accounts. No reporting. No billing connections.
(To this day I enjoy challenging potential entrepreneurs, coders, and clients as to what they think is really "minimum viable" when they describe their MVP.)
Thankfully, since we had contractors working on our other agency projects, we were able to invest spare time between projects on building it. Since the scope was so small to start with, I was able to push out the first version in a matter of a couple weeks.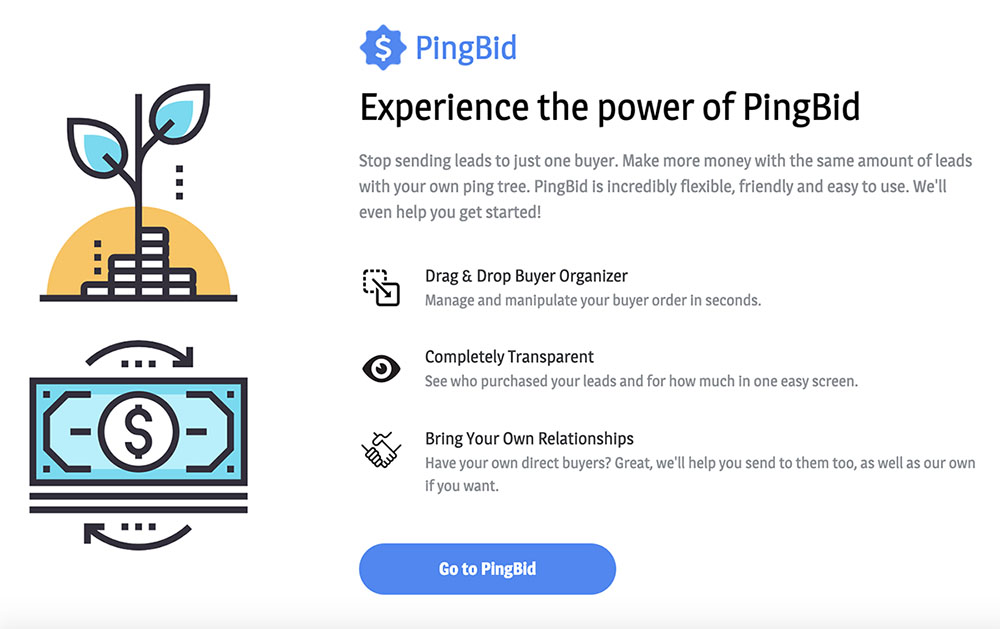 How have you attracted users and grown PingBid?
My business partner was a former channel developer at a national cable company, so he knew how to cultivate B2B relationships. We also had a lucky strike where a former colleague of mine at a previous startup somehow heard through the grapevine what we were building. He reached out and put us in touch with our next client who we still have to this day.
With the fact that we had a two-sided B2B network, we knew to grow using the relationships we were generating — the lenders and marketers we already had as clients.
This was one thing I had learned from the original "Perfect Space" concept. Long before it was an agency (and before Craigslist had been so far-reaching) Perfect Space was a search engine for rental properties. I learned while building that business that networks need to be seeded on one side or the other. The best way to grow a network is to try to monopolize a single node. In other words, try very hard to get one single person's/client's entire network on-boarded. That is the most potent action you can take to grow. It starts the snowball rolling downhill.
Those first two clients intimately knew the lenders in the space already, so they made introductions for us which was to their benefit as well (the more lenders, the more likely a higher price would be paid for their leads). Those introductions led to more marketer introductions. And the gears kept turning in that way for years.
At the highest point, we were running over 100K leads through PingBid per day with room to scale. The system was built with hardware as the chokepoint, so all we had to do was add load balancers and replicated database servers as load grew and leads kept pouring in.
What's your business model, and how have you grown your revenue?
We make money simply by charging the marketer/seller a percentage commission of all leads sold to a lender/buyer.
One unique value we offer to our clients is the use of our relationships with the lenders so that they can start selling immediately. We also offer payments (and receipt of payments) via ACH or wire transfer after a reconciliation period, because the payments are so large and generally happen monthly. To this day we still don't have a payment system like PayPal or Stripe in place to keep our costs low. Since we're working with lenders and marketers (whose biggest worry is cash flow), it's optimal for everyone involved and charges less in fees than current payment systems.
Today we make about $15K per month. This number is substantially less than we were doing at its height. The fintech space, being as profitable as it is, also has its share of bad actors. We grew so quickly we didn't have time to vet all our clients properly, so we had some issues there. We eventually stopped onboarding new clients who didn't come with personal referrals from clients we already trusted. This slowed our growth but reduced the time it took to track down fraud. It's a balance we're happy to have regained where we enjoy cultivating relationships and providing quality service.
That said, we eventually did build everything out and it has been pretty much a self-service platform (with logins, reporting, etc).
Eventually we decided to shut the agency down but keep PingBid running. It happily continues to run well and our clients are still very happy with the value it provides. In fact, in the past year or so we've had lenders decide to sell leads that they get from other sources to other lenders.
| | |
| --- | --- |
| Year | Revenue |
| '13 | 5509 |
| '14 | 439824 |
| '15 | 387946 |
| '16 | 625905 |
| '17 | 194540 |
| '18 | 149601 |
What are your goals for the future?
PingBid's future for now is to live in maintenance mode. My business partner and I enjoy the fruits of our labor, keeping a scaleable platform like this running and the relationships we've built over the years that continue to give us new ideas for improvement.
While we've been entertaining acquisition offers, we've also continued to add on other services which can connect but are not required, like an SMS and/or email follow-up system for applicants who end up not committing to the lender to be used by their call centers.
What are the biggest challenges you've faced and obstacles you've overcome? If you had to start over, what would you do differently?
There were two things I'd probably do differently if given the opportunity.
The first is to spend more time and effort on finding ways to reduce fraud in the network. That was a killer – both to our revenue as well as our motivation and emotions. If we had done that we would definitely be sitting on a beach somewhere today.
I'd also spend more time marketing at conferences to get additional clients.
The combination of those two would increase revenue significantly again. There is still opportunity to do both, with a little work on the platform to bring it up to speed with a more current UI and a few additional features.
The other thing that probably hurt us more than anything was the fact we lived in San Diego; although it is one of the most fabulous places in the world to live in, it is also prohibitively expensive. If we'd had a lower cost of living, we likely would still be running it today as our primary source of income.
Have you found anything particularly helpful or advantageous?
The best decisions we made with PingBid were starting with a smaller product than anyone thought an MVP could be and taking money from the moment the doors opened. Although it's now a cliché, following the Lean Startup methodologies and books are what made this product successful from the beginning.
We also would have had a much more difficult time without already having an income. I still suggest entrepreneurship to everyone, but if you're in the corporate world making big bucks it's difficult to walk away from the money. Hacking away at something with an income already feeding you means you now have to (get to) make a new choice.
Today I have distilled my effectiveness down to a few habits: being thankful, spending time on the most important thing that will get me closer to my goal, meditation, exercise, and giving explicit praise to others. In fact, I use an app called "Done" to help me focus on doing those activities each week.
What's your advice for indie hackers who are just starting out?
Read Blue Ocean Strategy and Lean Startup, and learn about customer development.
Stop talking. Listen. If the pain is strong enough, someone will pay you for it. If they won't pay you, it's not that big of a pain.
I'm a better B2B person than I am about understanding a typical consumer, but one thing I learned recently is to think about the "when" as it relates to marketing.
What I mean is that we so often get caught up with "who" will want the products we build, but we don't give enough thought to when they will want them.
A 30-year-old woman doesn't want diapers. A 30-year-old woman who just had a baby definitely does. And so does the father probably. Targeting the "who" at the moment of their "when" is incredibly important.
To distill that down I ask myself this question now: When is the moment in which my target person will absolutely need my product?
Most of my mistakes with other products happened when I didn't think about the "when," but instead focused purely on the "who" (or worse, focused on my own product instead of my client's words/pain).
Where can we go to learn more?
If you're a marketer in the lending industries and are interested in learning more you can visit PingBid.com or Perfect Space and connect with me personally.
I love talking business, philosophy, and hashtags on Twitter, so please feel free join me there too.
And last but not least, I love Indie Hackers, so leave me a thought, question, personal musing, or delightful limerick in the comments below!
—
Nate Ritter , Founder of PingBid
Want to build your own business like PingBid?
You should join the Indie Hackers community! 🤗
We're a few thousand founders helping each other build profitable businesses and side projects. Come share what you're working on and get feedback from your peers.
Not ready to get started on your product yet? No problem. The community is a great place to meet people, learn, and get your feet wet. Feel free to just browse!
—
Courtland Allen , Indie Hackers founder