How I Leveraged Partnerships to Build My Online Course Audience
Hello! What's your background, and what are you working on?
My name is John Shea. I run an online blog called No Shame Income. I got started in the online marketing space around 2012 after seeing someone on Facebook talk about making money online with a blog.
I was compelled by the idea of making money on the internet and was determined to figure it out.
I spent years jumping from one thing to another trying all kinds of things to find success online. Something that took me years to figure out was that I wasn't going to make any money by constantly buying other people's products.
I realized that it seemed like everyone making income online was also selling something.
My No Shame Income blog is currently my home base where people can keep up to date with what I'm working on to make a living online.
One source of income is from selling online courses and creating products that help solve specific problems, though I also work with local businesses to help them with marketing services such as SEO or web design.
What motivated you to get started with No Shame Income?
For my first year as an online marketer I used a terrible blog under my own name just to publish content. I eventually started a podcast over at VoicesOfMarketing.com and did this for roughly two years.
After having a hard time monetizing my podcast and ultimately not wanting to pursue it any further I decided I wanted to start a new blog with a bolder name.
A friend of mine I've known since middle school always would claim that I have no shame — think Frank in the TV show Shameless.
I typically don't come off this way to people online, but in my personal life I'm very brutally honest with everyone. Because of this I typically come across as this really blunt honest guy who does not seem to care much about what I say or do.
I thought the online space could use a bit of this. I was sick and tired of seeing all the sales pages out there with glorious testimonials about how awesome a product was when in reality a lot of stuff out there is garbage.
No one was willing to admit this, so I thought my No Shame Income blog would be a good approach to being honest about my success and my failures online.
You don't really see the true struggle and depression people go through as online entrepreneurs. People tend to only either be having massive success or simply very little if at all.
I wanted to show my true self through my blog and share the good and the bad: if I made $10,000 one month and $2,000 the next, I didn't want to be afraid to share that with people.
What got you to where you are today?
I've had a lot of ups and downs as an entrepreneur. I spent thousands of dollars on courses and programs, in some cases mentoring, and had mixed results.
I constantly found myself justifying why this next course purchase would be the answer.
I believe the biggest change I've had to make and still work on today, is that I had to change my mindset about how I approach success.
It's very common to buy a product, take some action and quickly give up because you don't get results quickly enough. I was constantly looking for a better way when in reality everything you do takes time in this space.
Some things may work better than others, but ultimately I just wanted to find something that:
I enjoyed working on
Actually made me money
Would be considered a real business model and not some method that works for a month and not a year from now
My first breakthrough was in 2014 when I'd been working on a niche site all about skull-related clothing and accessories called SkullClothing.net
I had this sort of realization one Thursday at my day job that I could create a course all about how I'd built the site along with the steps I'd taken to do it.
That day I mapped out the syllabus, and by Sunday of that weekend I had the entire six-week course filmed and completed.
I published the course on a platform called Udemy where online courses are sold in a marketplace.
This happened in early November of 2014, so with Black Friday being the biggest time of the year I managed to earn over $850 in sales through their marketplace without any of my own marketing from the course.
I was hooked and decided to keep going with courses. Today I have over 40 courses and over 70,000 students on Udemy.
This was no overnight task, but creating online courses was something I became more and more passionate about doing.
Today I've earned over $36k from Udemy, over $20k on Skillshare and another $30k+ from selling through my own website.
How have you attracted users and grown No Shame Income?
For the first year I didn't do much with the blog. I've always felt like I wasn't that good at generating traffic, and honestly I still feel that way.
Most of the visitors come through my email list which I built from product and course sales. I've also written quite a number of product reviews for my site. This has allowed me to rank some articles on Google and get monthly traffic from that.
Since my blog itself has not been the major component of growing my audience, I'll share what has worked for me: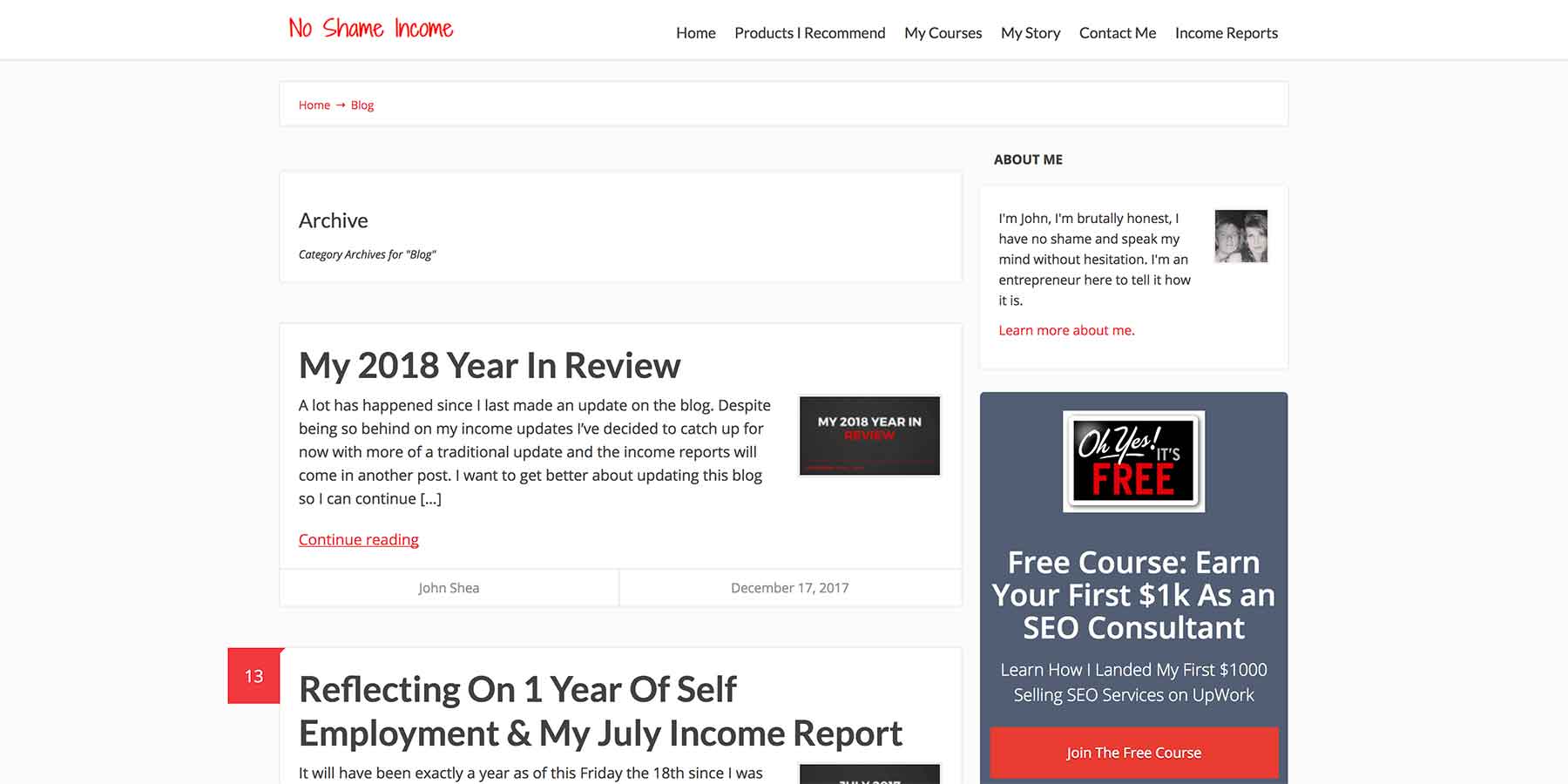 Partnerships
I've found seeking out the right people to work with can be huge for building an email list, launching products, and making an income online.
One example is how I created a course sharing how I achieved all of my success with Udemy and Skillshare.
Years before, while doing my podcast, I'd met my now long-time friend Mike Thomas, who runs an interview show called Mike From Maine. He interviews product creators nearly every day and promotes their products as an affiliate.
I approached Mike with my idea and showed him the success I was having with courses, so we decided to package it up and sell this story as a product.
Sharing all the details of doing this would be another course in and of itself, but the general approach was:
I create the content and the course
Mike approached well-known affiliate marketers for promotion
Brett, Mike's partner, helped created the sales page and sales copy, along with a promotional video
We launched Video Course Cash Kit with the help of my girlfriend (she gave a testimonial of being a total newbie following this course and making sales) and the entire launch did $58,000, split between Mike, Brett, and myself.
From this we had over 1,000 buyers, which I was able to add to my email list and in turn promote more products to as I saw fit.
A great place to seek out partners is by looking around on the internet marketing forums.
I also highly recommend approaching people with a personal video to introduce yourself. You'll stand out from everyone else by doing this.
What's your business model, and how have you grown your revenue?
When people ask me this question I just tell them "I create and sell online courses"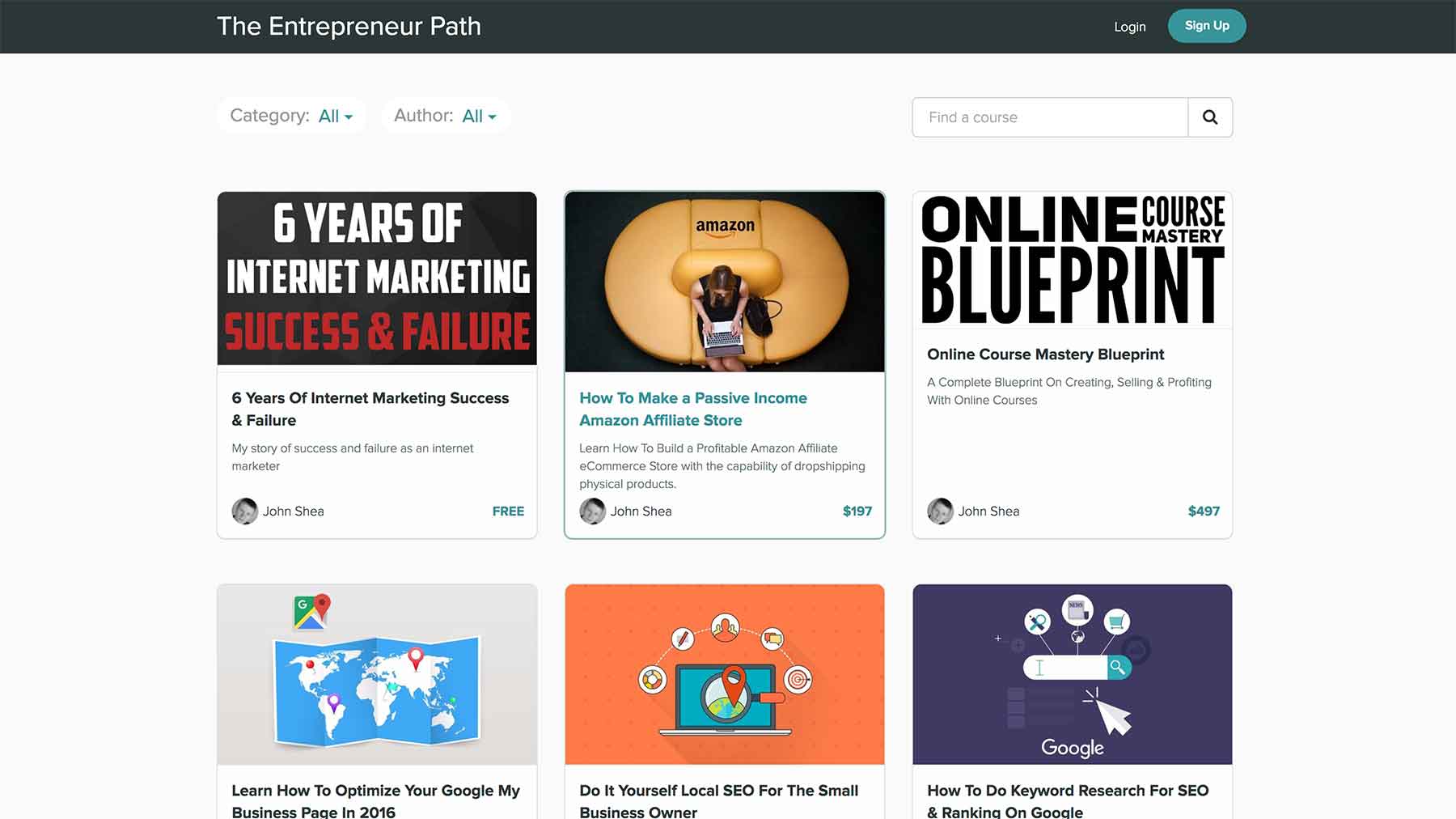 Despite putting a lot of energy into this over the past year, I've been struggling to do it through my own site, but I'm still learning and I'm not giving up on it.
Typically the other ways I make money are by promoting other products as an affiliate or doing local marketing with businesses to help them rank on Google. These both make good money, but ultimately my passion is in creating and selling courses.
Right now I'm using a combination of Active Campaign and Clickfunnels to segment my email list, get people interested in what I'm teaching, and then sell them a high-end product they can find success with.
My current primary focus is selling a course all about how to start an SEO consulting business.
One of the other ways I've made good income online over the years is by creating websites and helping businesses with SEO. I've earned somewhere north of $50k doing this part time, and it's one of the best ways to build a real business.
You can check out my in-depth article on how I approach this model now with the clients I work with.
Today I'm earning anywhere from $5-10k/month from a combination of both models.
What are your goals for the future?
Right now my biggest goal is to pay off my house. In my world this is sort of like my ultimate goal so I can have more freedom to take risks with my money. And quite simply, I plan to do this by working with more clients and selling more courses.
Ultimately it's not so much about the money for me but being able to do what I want when I want.
What are the biggest challenges you've faced and obstacles you've overcome?
Probably for me it's always been focus. This is an area people constantly tell me I need to improve: trying to do too many things at once and never really becoming a master in one specific thing.
It's always been a challenge with all the new shiny objects, courses, and potential ways to make money online.
I share a much longer version of my personal story and all the struggles I've faced over the years in this post here.
It's a long read (almost like a short book in and of itself) but you will learn from my years of mistakes how I got to my position today.
If I were to do things differently I would have started teaching people something I was good at sooner and focused on just getting really good in that one area.
Have you found anything particularly helpful or advantageous?
I use a to-do platform called Nozbe to track my daily goals and keep myself accountable for what I'm working on.
I've also had great success getting a lot more done when I did a 30-day Ddiscipline challenge. You can follow the journey I had with this here.
What's your advice for indie hackers who are just starting out?
I'm just going to leave my top two tips.
Focus: Pick one thing and stick with it. Make sure it's a real business model and it's something you enjoy doing long term.
Mindset: Realize that the potential is there to achieve great things and go for it. Place a high value on yourself and what you are offering, and don't be afraid to go after it. Believe in yourself that you will find success.
Where can we go to learn more?
You can head over to my blog No Shame Income or find me on Facebook.
And if you want to learn more about my client SEO success be sure to grab my eBook on how I landed my first client.
—

aehs01 , Founder of No Shame Income
Want to build your own business like No Shame Income?
You should join the Indie Hackers community! 🤗
We're a few thousand founders helping each other build profitable businesses and side projects. Come share what you're working on and get feedback from your peers.
Not ready to get started on your product yet? No problem. The community is a great place to meet people, learn, and get your feet wet. Feel free to just browse!
—

Courtland Allen , Indie Hackers founder