How I Pivoted and Found Product-Market Fit Selling Online Jewelry
Hello! What's your background, and what are you working on?
Hello, everyone. I'm Nicolas Tranchant, a 37-year-old Frenchman. I have a mechanical engineering degree, and I've worked for four years as an industrialization engineer in the aeronautical industry in France where I produced products for new aircrafts.
Vivalatina is a jewelry workshop based in Mexico. It's a pure play business, producing custom-made jewelry for clients on the web. We started back in 2012 and, until now, have operated only in the French market, shipping to French-speaking consumers in eight different countries: France, Switzerland, Belgium, Canada, Netherlands, Germany, French Guyana, Vietnam.
Our clients are looking to buy jewelry with the personalized support of jewelry shops but without the sticker shock. And that's what they find with us. On top of this, we help them save time and money with the help of the comparably lower cost of labor in Mexico.
For the last three months, we've made $9,000/month. Our business growth rate is over 100% through the last two years and should be maintained this year. We had 52,000 unique visitors in December of 2017 and reached more than 413,000 unique visitors in the year overall, with a traffic growth of 94% between 2016 and 2017.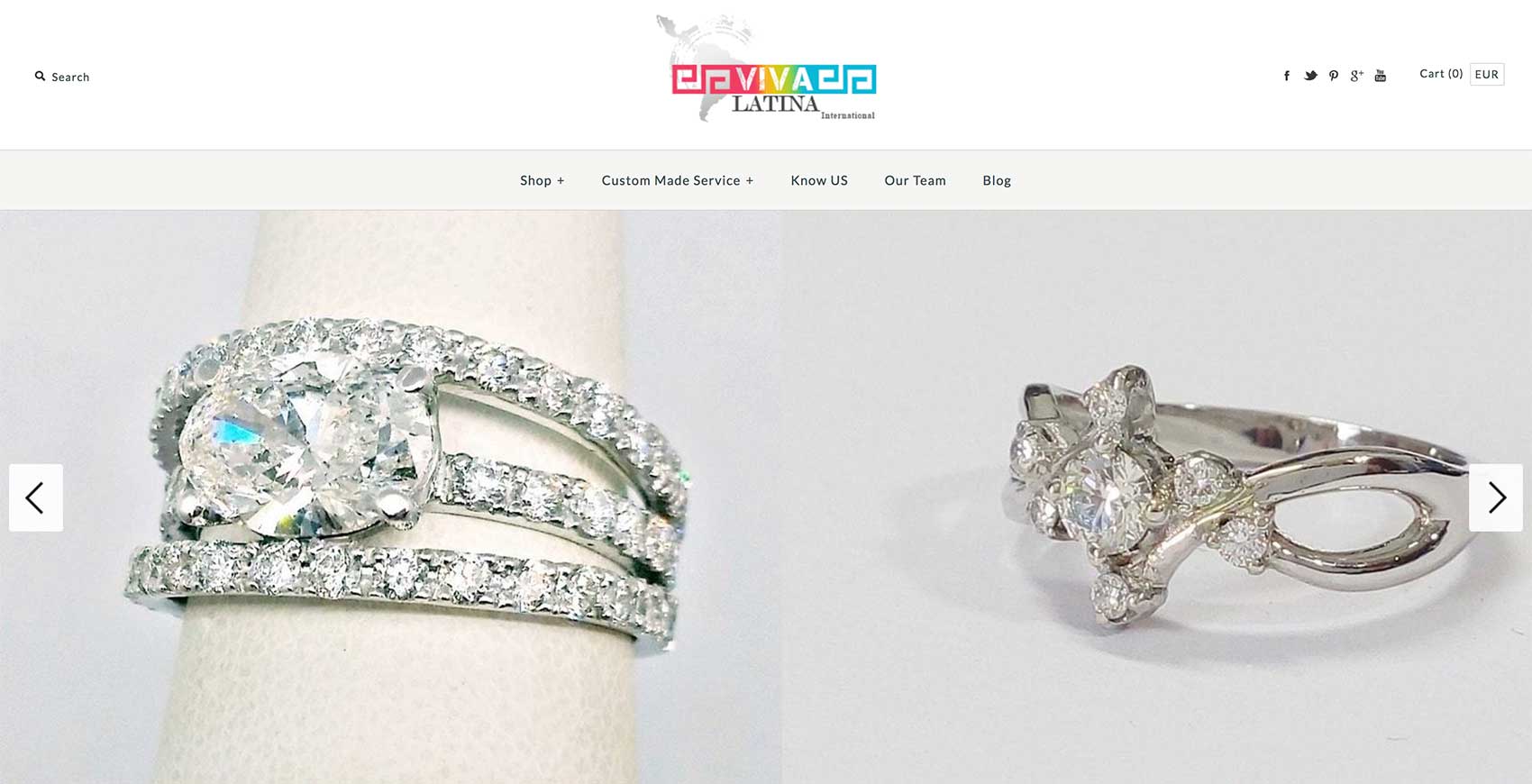 What motivated you to get started with Vivalatina?
When I first conceived of the business back in 2010, I had absolutely no knowledge of web marketing or blogging. Back then I was in France with my Mexican wife, and we came up with the idea to import Mexican sterling silver jewelry to sell online in France. I had some Mexican friends in Taxco from whom I was able to buy and import the jewelry.
At the time, I had a full-time job as an engineer while my wife was unemployed in France. So our original intention for the business was for my wife to run it.
Finally, we decided to move to Mexico in 2012. My wife, being a doctor, chose to pursue her career, while I decided to move forward with the business idea we had not been able to jump start while living in France. I had to start from scratch to find local providers, build the site, and manage the web marketing efforts. (Web marketing would later turn out to be one of the biggest pieces in the jigsaw puzzle.)
By November 2012, we were on a tight budget. We had just settled down in Puerto Vallarta with $10,000 in savings. We had moving fees to pay, a car and a laptop to buy, and a baby on the way.
Given the challenges of making a living with this business for the first 30 months, I started selling cakes in coffeeshops and teaching French in language schools while working on the project.
What went into building the initial product?
My first attempt failed.
I was trying to sell Mexican jewelry online using a Shopify shop. I still use Shopify, as I am very satisfied with the ease with which I can run my business, publish a blog post, and release new products, but it was very hard for me to grow the site's visibility quickly enough to turn a profit. The upside was that the small bit of visibility I did receive allowed me to interact with clients, and some of them told me about their interest in custom-made designs.
So I started to work with a local jewelry workshop to produce the designs my clients needed. While I grew my business, custom-made jewelry started to make the lion's share of my revenue, so I decided to focus all of my efforts on this one service.
I began to increase my online marketing efforts while expanding my net of subcontractors to four local jewelers, each one making a different kind of jewelry for me. I also started using a jewelry CAD software so I could assist my clients in designing their jewelry projects.
Soon after, in early 2015, I decided to take a big step forward by buying a 3D jewelry printer ($5,000) so I could produce my own designs through a foundry process in the workshop of my subcontractors. At this point, I could guarantee that the design of the jewelry would be 100% identical to the CAD design.
In the spirit of transparency, I'll note that I didn't have enough money on my own to buy the 3D printer, so I received some help from my parents to pay for it.
Altogether, I spent two and a half years trying to sell jewelry before fully making the pivot to custom-design jewelry.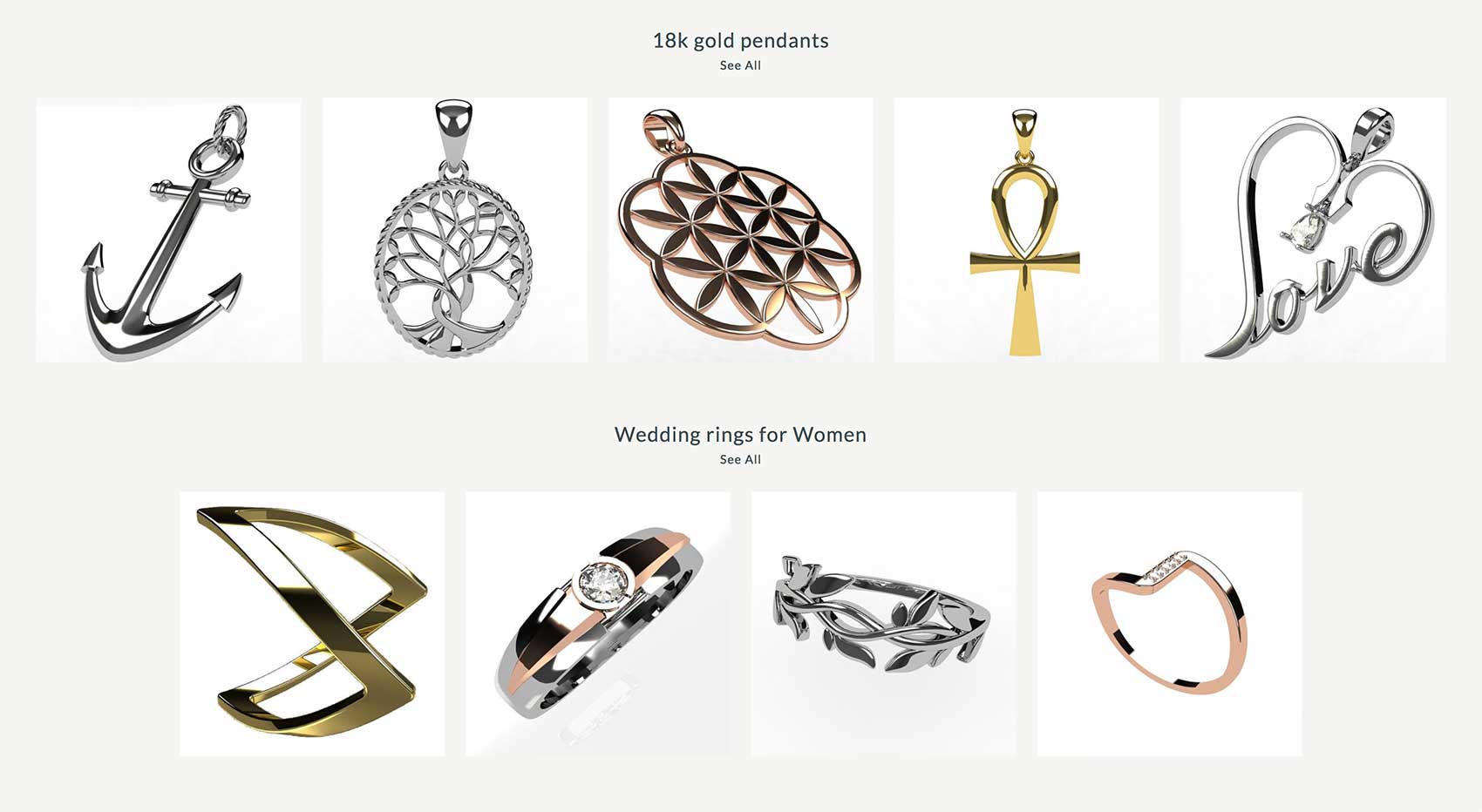 How have you attracted users and grown Vivalatina?
I was a 100% newbie in web marketing when I decided to work full time on the project. I had no community and started without a launch.
I decided to teach myself SEO and make it my sole focus, learning by trial and error. I knew it might be a long road, but I also had a clear understanding how powerful SEO knowledge could be — both for this business and for any other business idea I might come up with in the future.
My first SEO tasks in 2012 were on-page optimization and submissions to directories. I didn't do either of them well. I had already grown my traffic to 3,000 users a month, but few of them were qualified, so I didn't receive many orders. Then, in May 2013, my site got penalized by a Google Panda filter.
So I decided to learn SEO the right way through books and webinars. I bought several books explaining how search engines and SEO worked. I followed a webinar in summer 2013 with Garret French and Mac Gaffin, and then I followed another webinar (which I recommend) in 2014 with Brian Dean, the founder of Backlinko. These lessons helped me to change my web marketing efforts and to grow from 3,000 users in May 2013 to 8,000 users in May 2014. By May 2015, I was reaching more than 11,000 users.
In order to achieve this kind of growth, I followed these steps:
I've continuously studied SEO (I will always be a student in this area)
I've used a tool since October 2016 for better keyword research: Secockpit
I've written well-documented articles on my blog and in guest posts for other sites
I've focused mainly on guest posting to grow my notability and get some backlinks
I've developed web partnering with small jewelry business owner with lower traffic than mine but still very relevant websites to get links from, as Google gives a lot of importance to the relevancy of the links.
I've created a blog for small jewelers to present their work, making it easier for me to reach them with a proposal, rather than by asking for somethin.
I've published infographs and shared them with a handful of websites bigger than mine
I always include links in my content, linking to complementary resources on my site or on other sites. This seems trivial, but it's a very important factor for Google in determining whether your content is top notch or just another blog post.
When I link to a different site, I let them know about it so I can eventually arrange a reciprocal link back to my site.
I've asked the providers of services I use if they were interested in a customer testimonial from me. Those who have accepted put the testimonial on their landing page or a specific page for testimonials. This works pretty well. Links from these providers, who are often very relevant to my niche, are generally high in domain authority.
I also organized a jewelry design contest to get traction and earn links. However, though I gained a couple dozen slightly relevant links, it appeared to be too much work for the result.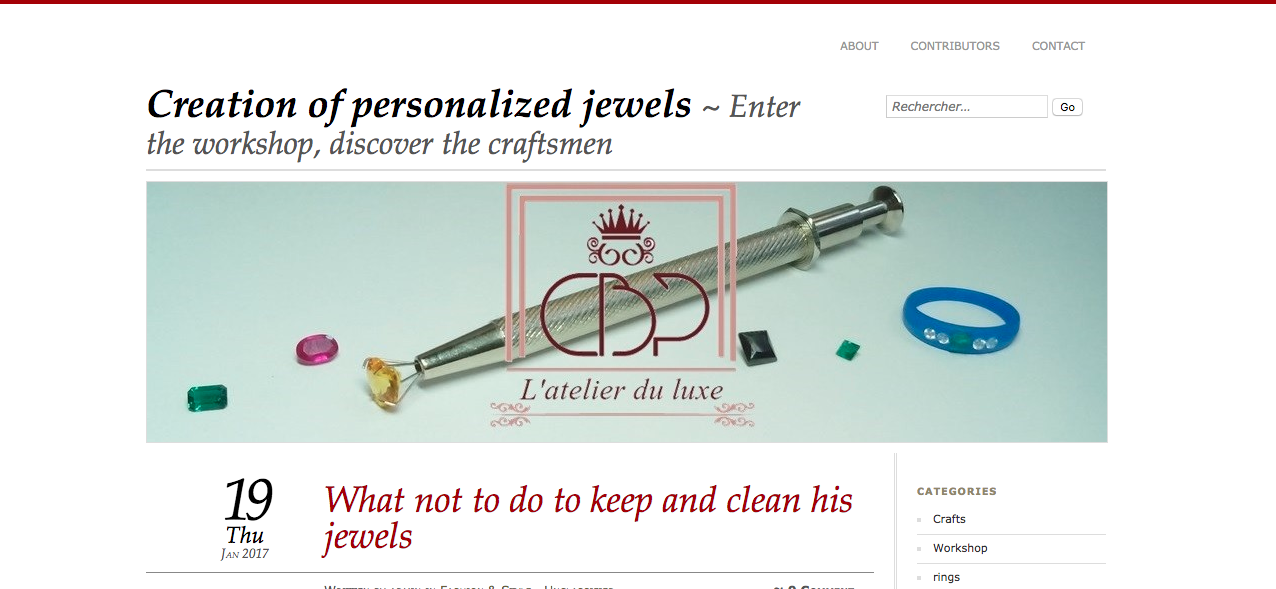 What's your business model, and how have you grown your revenue?
From the traffic generated through content writing and SEO, I receive emails from people requesting quotes for jewelry projects. Those are my leads. I don't have any other strategy than content writing and SEO to generate leads. I send them the quotes and, when necessary, discuss the project with them. When we agree on the design and the terms, I receive a first payment (50% of the total) to start the project. Then, once I present photos of the finished jewel to them, they send the final payment.
The payment is made through PayPal, which is quite expensive in my case, but I have no other choice here in Mexico. Payment portal services are not as developed here as in the US.
At the start, I was charging a minimum of $100 for the service. After 10 months, this lower limit grew to $200 and is now at $350. This evolution was possible through traffic growth and choosing which kind of content I would publish. For example, I've started to attract clients interested in gold jewelry instead of silver jewelry. Clients, in other words, whose expectations and budgets are larger.
This also allows me to filter out clients with exceedingly low budgets. This makes a big difference to my bottom line, since I try to spend only 15 hours per month on quotes. (I now receive over 45 quotes per month and spend only 20 minutes on each.)
So I need to save my time and services for the more serious clients. Whereas a lot of people are focusing on volume and cheap products on the web, I am focusing on high-priced products and personalized service. The average jewelry project we manage is around $650. Because I have full authority on my SEO and content creation, I can drive the growth rate and have full visibility into how the business will evolve over the next 12 months.
What are your goals for the future?
For 2018, I plan to reach 750,000 unique visitors through my French website and to generate around 10,000 unique visitors a month by December for the English website. Annual revenue should be over $140,000 dollars, which would allow me to hire a fourth employee who could assist me with daily small tasks, which I'm currently spending too much time on.
By 2020, I should be able to generate enough revenue through English-speaking clients to go bigger and offer my services in Spanish and, eventually, the rest of the languages.
What are the biggest challenges you've faced and obstacles you've overcome? If you had to start over, what would you do differently?
My biggest mistakes were not focusing on SEO knowledge from the start and not knowing enough about my market.
Over the five years that I've run the business, I've had a lot of dark moments when, despite my best efforts, things continued to go in the wrong direction. But I've always been able to seize an opportunity from those bad experiences.
Let me explain. When I failed to sell enough silver jewelry online, I managed to seize the opportunity to start making jewelry for my clients. I didn't dig my heels in with my initial business idea; I listened to my clients and adapted to their needs.
I ran into more trouble in February 2014 when a jeweler in my network wouldn't produce a jewel exactly as I needed. To make matters worse, the Mexican post office routinely took eight weeks (instead of the two weeks expected by my clients) to deliver my products. I needed a better shipping solution (UPS), which I could not afford with the jewelry I was actually selling.
So I decided to make higher-priced jewelry for which a higher delivery rate would not be a problem. For this kind of jewelry, a 3D printer would be necessary and would also solve the design problems I was facing with the jewelers in my network.
Flash forward to early 2016. My main jewelry workshop started to be really picky and blackmail me for quality details. They got me by the balls, and I felt terrible. So I quickly decided that I should be independent and run my own jewelry workshop. And that's just what I did. Five months later, in August 2016, I opened my own workshop with my first full-time employee.
Every problem can be seen as an opportunity, depending on how you view it. Back in 2013, I could spend several weeks wondering how to solve a problem, whereas now I'll spend only a few days.
Have you found anything particularly helpful or advantageous?
The best decisions I ever made were to read and to invest in my education in general. I try to read one book about marketing or business every two months. I see it as a vital resource for helping me plan the future of my business. The best education I ever got was the online SEO course given by Brian Dean. It shifted the way I understood and pursued SEO.
Considering the particularities of my business, a few of my skills as a mechanical engineer have helped me a lot:
I learned and ran CAD software pretty easily
I taught myself 3D printing (and built the last one as a DIY kit)
My travel and work experience helped me to manage a network of providers in French, English, and Spanish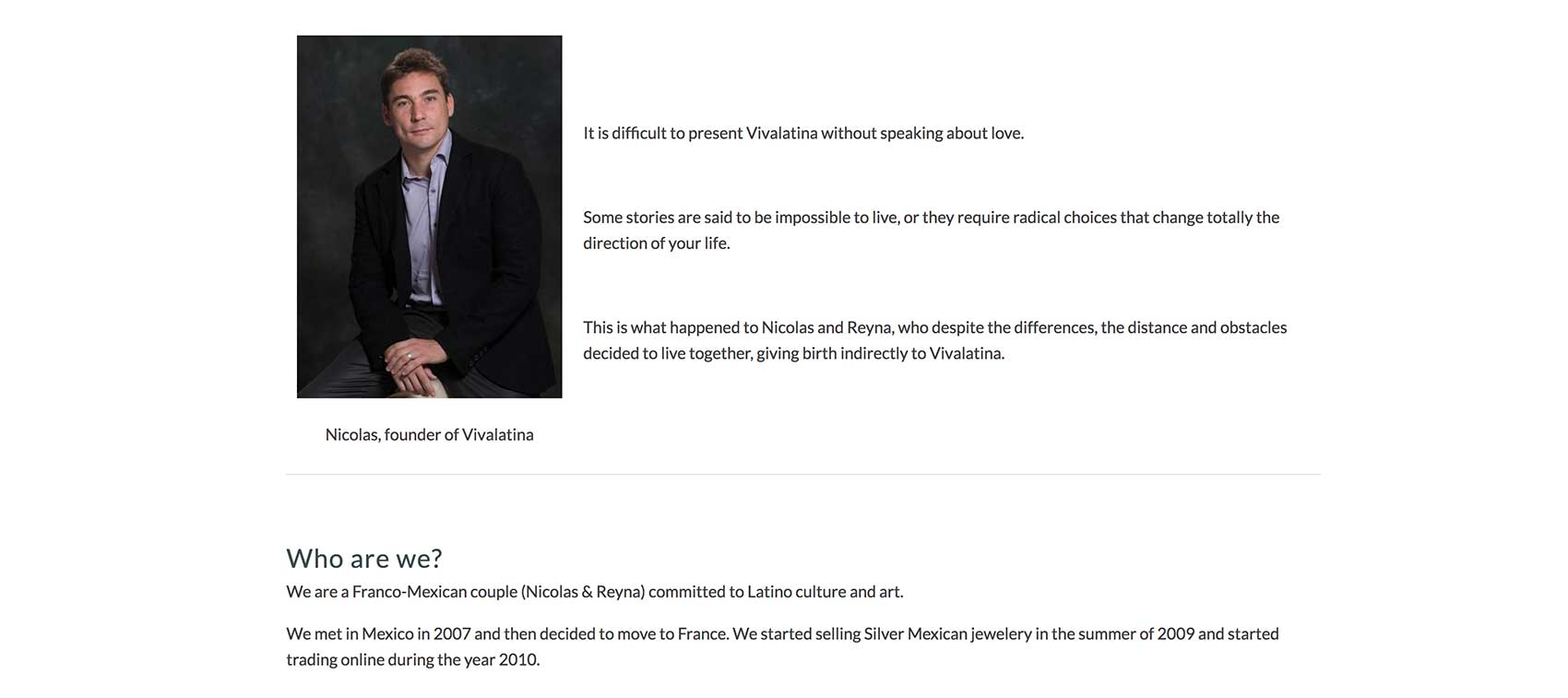 What's your advice for indie hackers who are just starting out?
The best pieces of advice (in question form) I can give are:
Are you prepared to fail and keep going? (The answer has been "Yes" for every successful entrepreneur.)
Do you know enough about your market?
Do you have someone who can provide honest and critical feedback about your project, showing you its flaws?
Do you have a group of entrepreneurs who can share their experiences with you and assist you sometimes when you're in doubt or facing a new difficulty?
A rule of thumb about your expenses: 20% must go to your project itself and 80% to marketing. This can be true for your money or your time. The fact is that if you have a bad website that still makes sales, it will be easy to improve the site. On the contrary, nice sites with no clients are legion — and those businesses almost always fail.
Important: Each year, have a planning session in which you lay out your goals and what you need to do each month to achieve them. This seems incredibly simple, but it's helped me stay focused all year long, and it's allowed me to check my results and correct my actions when necessary.
The 4-Hour Work Week by Tim Ferris had a great impact on me. It showed me what was achievable and helped me to stay focused on a single goal. (It might be a bit outdated now as far as online businesses are concerned.)
Hopefully I'll be able to keep you updated in a year as to the progress and growth of my English store!s
—
Nicolas Tranchant , Founder of Vivalatina
Want to build your own business like Vivalatina?
You should join the Indie Hackers community! 🤗
We're a few thousand founders helping each other build profitable businesses and side projects. Come share what you're working on and get feedback from your peers.
Not ready to get started on your product yet? No problem. The community is a great place to meet people, learn, and get your feet wet. Feel free to just browse!
—
Courtland Allen , Indie Hackers founder