How I Quit School and Learned to Launch a Successful Product
Hello! What's your background, and what are you working on?
Hi indie hackers, my name is Luca Micheli and I'm from Italy but recently moved to Ireland because of a SaaS I built called Customerly, a customer life-cycle software solution that boosts your customer engagement. I quit university to start working on my first app, QuizPatente, and am completely self-taught. When I launched QuizPatente seven years ago, it hit seven million downloads and created a pretty steep learning curve on how to run a SaaS. The lessons I learned from that app and the needs that arose from its success inspired me to create Customerly in 2016. Both apps have been entirely bootstrapped.
Since actively working on Customerly, I've been on a mission to help and inspire at least one billion people, which you can read about in my personal newsletter.
We recently launched a Lifetime Deal with Pitchground that helped us to make $65K in less than a month. Customerly has users from all over the world and is currently earning $4k/month.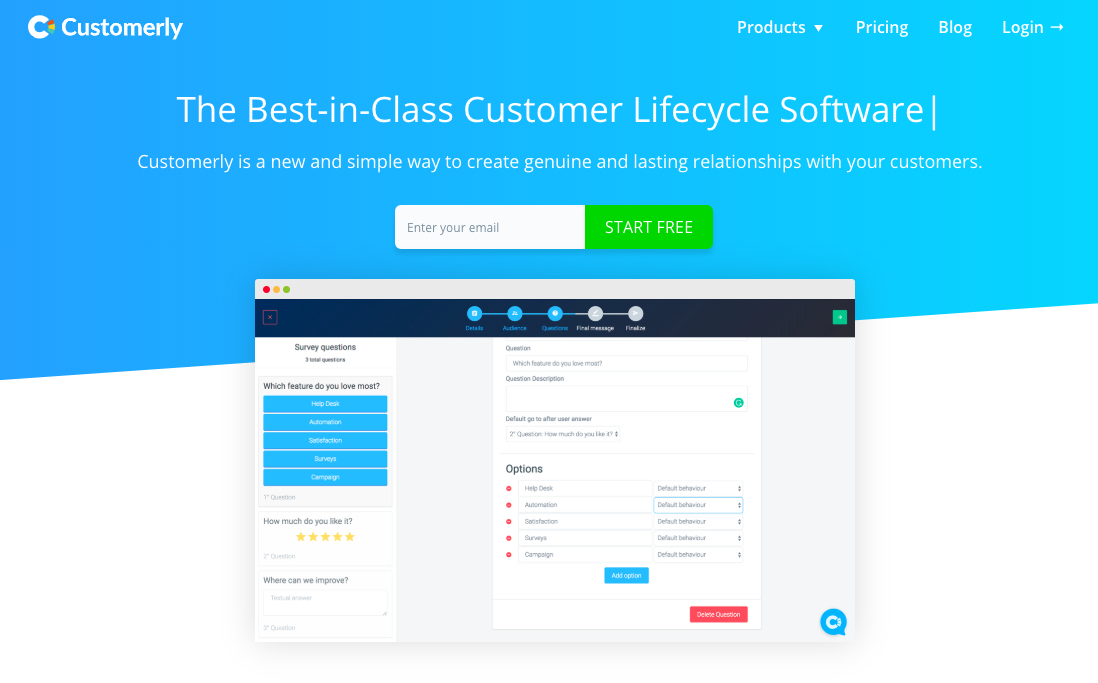 What motivated you to get started with Customerly?
When I was working with my previous SaaS, I had three needs:
Gather feedback from my customers
Automate some communications
Centralize customer support on a single platform
So the idea was to create a single platform that can handle all these features in one place. In the early stages, right after the beta phase, we gathered a bunch of friends that had the same needs and had them do some testing and provide some feedback to validate the idea.
At this point, I was still working on my previous project and had a good stream of income (36K€/year) to support me while working on Customerly.
What went into building the initial product?
Initially, all three of us founders—Matteo, Daniele, and myself—were squeezing in work for Customerly at every possible moment on nights and weekends while working on other projects during the day. It took one full year of working from 9 pm to 3 am to deliver the first version of the live chat and the dashboard.
I had to learn how to develop a widget that can be installed on every website with Vanilla Javascript, which was both challenging and fun. My partners are the engineers, and they had to solve a lot of tech bottlenecks in order to create the tool. We are using 30+ repositories on 35+ servers.
We invested a total of 4,500€ to set up the company, and I personally moved to Dublin to set up shop. We enrolled in the FbStart program, which came with AWS servers and other amazing benefits that were immensely helpful.
After the launch, two more amazing people joined us in the adventure: Paolo and Gianni. We really couldn't have hoped for more. They're both passionate about their work at Customerly and are learning a lot of new skills in order to help Customerly grow.
How have you attracted users and grown Customerly?
We "launched" our beta by asking our friends to adopt Customerly into their projects. Doing a soft launch like this helped us to keep improving our software with feedback from folks we had a personal connection with before releasing the product into the wild. We never had a proper launch, and instead started acquiring users thanks to the "powered by" label on the live chat widget. We've grown from zero to 2,500 users over the course of two years without doing much else.
We tried Capterra CPC campaigns but in the end, it was an expensive traffic source and didn't convert very well. We also tried to sponsor a Framework (materializecss) widely used by front-end developers—it produced a lot of visits but few conversions. We spent around 5k€ going to various events, like SaaStock and WebSummit, which also didn't turn up much.
On the other hand, responding to all the questions on Quora and other blogs where people search for alternatives to our competitors produced pretty good results. And in November, we launched our Lifetime Deal and are now we are investing in creating various content for our target market and delivering it through Facebook Ads.
| | |
| --- | --- |
| Month | Visitor |
| Jan '18 | 89 |
| May '18 | 212 |
| Jul '18 | 382 |
| Sep '18 | 247 |
| Nov '18 | 8800 |
| Dec '18 | 8300 |
| Jan '19 | 9300 |
What's your business model, and how have you grown your revenue?
At Customerly we have three different pricing tiers with the same three modules in each of them. The pricing tiers are based on your number of contacts, and are Starter, Growth, and Enterprise. The modules that we offer are:
Live Chat and Help Desk
Email Marketing with Automation
Feedback
All the modules in the Starter Plan are €9 per month. We found this to be a good starting price for our target demographic as it seems to be about what they're willing to pay to dip their toe in the water.
When you grow above 1,000 contacts, you will get a Growth Plan, which can manage 10k contacts and at a much lower cost than other tools on the market. On the Growth Plan, our Email Module cost only 49€ per month. The Live Chat and Help Desk Module and the Feedback Module are both only €29 per month.
We started charging our first customer at the end of September 2018. We have integrated with Stripe and developed our own payment system, but got stuck with payments when we started getting worldwide customers. At the moment we're considering bringing on an external partner to handle payments and subscriptions.
We are earning 4k€ per month and saw a lot more interest when we changed our pricing from contact-based pricing to pricing based on three defined tiers (starter, growth, enterprise). To better understand our pricing please check our pricing page.
At the moment our expenses are AWS at 1k€ per month and a few service subscriptions that cost us less than 500€ per month.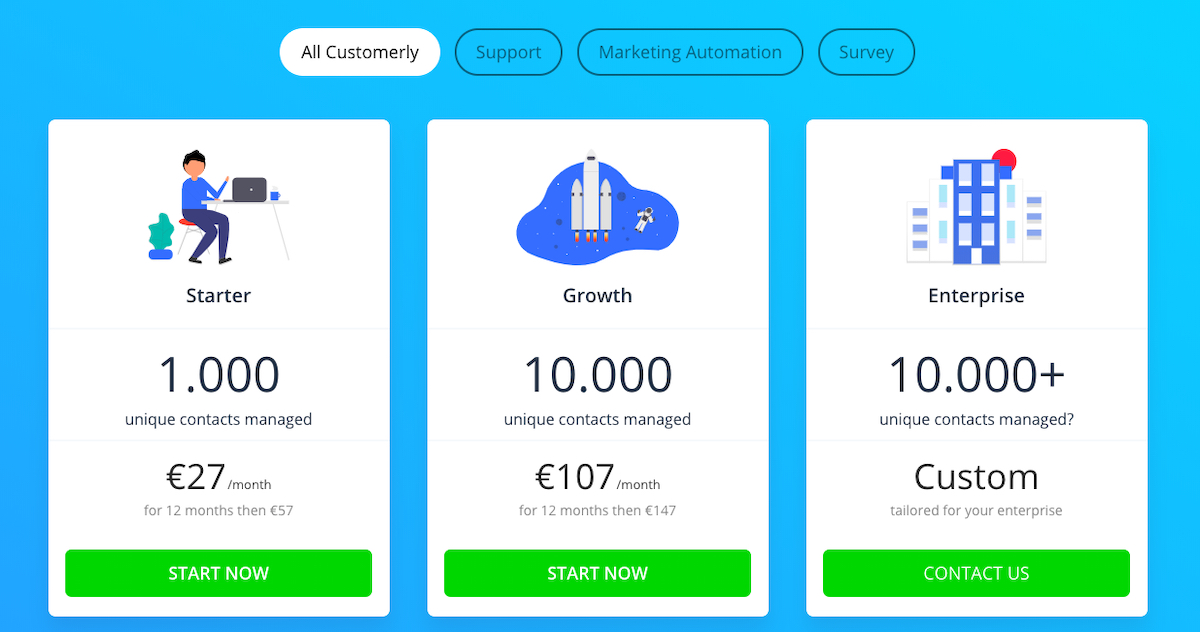 What are your goals for the future?
Our main goal is to become the first in mind for communication between businesses and their customers. We need to work hard to find a strategic angle to sell Customerly in a niche that will open new opportunities for us in larger markets. Our mission is to help and inspire at least one billion people, which we believe is totally possible since we are supporting businesses to develop their strategy and reach their customers.
Our product goal for this year is to integrate the knowledge base, bring in new communication channels, and improve what we have done so far with the feedback system. In terms of customer acquisition, we are looking to bring in at least 200 new customers per month by the end of the year.
Because of the $65k we received from our Lifetime Deal with Pitchground, we have a strong investment plan which will help us develop great content and new products and features. We've also just opened an affiliate program since we've received numerous requests to resell Customerly.
What are the biggest challenges you've faced and obstacles you've overcome? If you had to start over, what would you do differently?
Our biggest challenge right now is figuring out the right sales and marketing angle to position ourselves well within our niche. The problem is that we have three products rolled into one package, which is super cool if you know the tool and how to apply it, but is a struggle to sell because you need a single, focused pitch to offer potential customers.
One mistake we made was in releasing new tools instead of focusing on the good ones we had. We need to focus more on the things that help us further develop our product-market fit.
Have you found anything particularly helpful or advantageous?
I read a lot of books, and I suggest you do the same. I listen to Audible books when I walk to the office every morning, meditate every day to keep my mind balanced, and do my personal affirmations to keep me focused on the goals that I want to achieve.
The books that I suggest are Start with Why by Simon Sinek and The Lean Startup by Eric Ries.
I also follow people that inspire me, like entrepreneurs, marketers, and other successful people to glean whatever insights they might have to give. You need soft skills to better communicate with your team and to achieve good partnerships. I did a course similar to Tony Robbins' Leadership Academy that changed my life from being a quiet nerd to an entrepreneur that talks in front of thousands of people.
What's your advice for indie hackers who are just starting out?
Believe in yourself. Find a passion of yours and focus on that one thing until you succeed or fail. If you fail, then start again, over and over, until you succeed. No success has been achieved without struggle and passion behind the scenes. And remember, sometimes it's not a matter of hard work but smart work. You can achieve better results by working smart than by working hard.
Fears are things that obscure our successes. Do something every day to test your fears or push against them, and you will not recognize yourself a year from now. During the "Millionaire Mind" course I did in Dublin, I had to break an arrow pointed at my throat by pushing my body against it. It was one of the most enlightening and exciting experiences I've ever had. I'm a fire-walker, as well, but the experience of going against my fear (of death, in this case) and literally breaking it by taking the first step forward was so empowering.

Where can we go to learn more?
Since my life mission is to help and inspire others, I send out a weekly personal newsletter full of tools and tips on how I've improved my life and my businesses.
I'm also giving indie hackers the chance to try all of the features of Customerly at a discount. You can take advantage of using our live chat for six months at just €3 per month, and our complete email marketing tool for your campaigns at €3 per month. Of course, you can try it for 14 days without any credit card required. Join the other 3000+ users all around the world and take the Indie Hackers offer!
—

Luca Micheli , Founder of Customerly
Want to build your own business like Customerly?
You should join the Indie Hackers community! 🤗
We're a few thousand founders helping each other build profitable businesses and side projects. Come share what you're working on and get feedback from your peers.
Not ready to get started on your product yet? No problem. The community is a great place to meet people, learn, and get your feet wet. Feel free to just browse!
—

Courtland Allen , Indie Hackers founder