How I Regained Momentum After a Post-Launch Traffic Slowdown
Hello! What's your background, and what are you working on?
My name is Filip, and I am on of the co-founders of Society Socks. I currently live in Toronto, Canada, where I have lived my entire life. I recently graduated from the University of Toronto's Rotman Commerce business program with a BComm in finance and economics. While in school, I worked in a variety of summer internship, student club, and part-time job roles while managing this business.
Society Socks is a men's funky sock subscription with a social cause. We release two new sock designs every month and ship them to our subscribers. Our socks are soft, stretchy, and have unique designs which work well with both formal and casual outfits. With every pair of socks that we sell, we donate another pair of socks to a youth homeless shelter. That means that for every subscription (two pairs), we'll donate another two pairs to charity.
Our customers are mainly split between subscribers who buy socks for themselves and gift buyers who want to purchase a recurring gift for someone special in their life. Customers who don't want to commit to a month-to-month subscription have the option to purchase sock designs from any previous month in our store.
To give you an idea of our size and growth, our business is currently making $5k a month in the non-winter holiday months and has grown roughly 4x in the last year.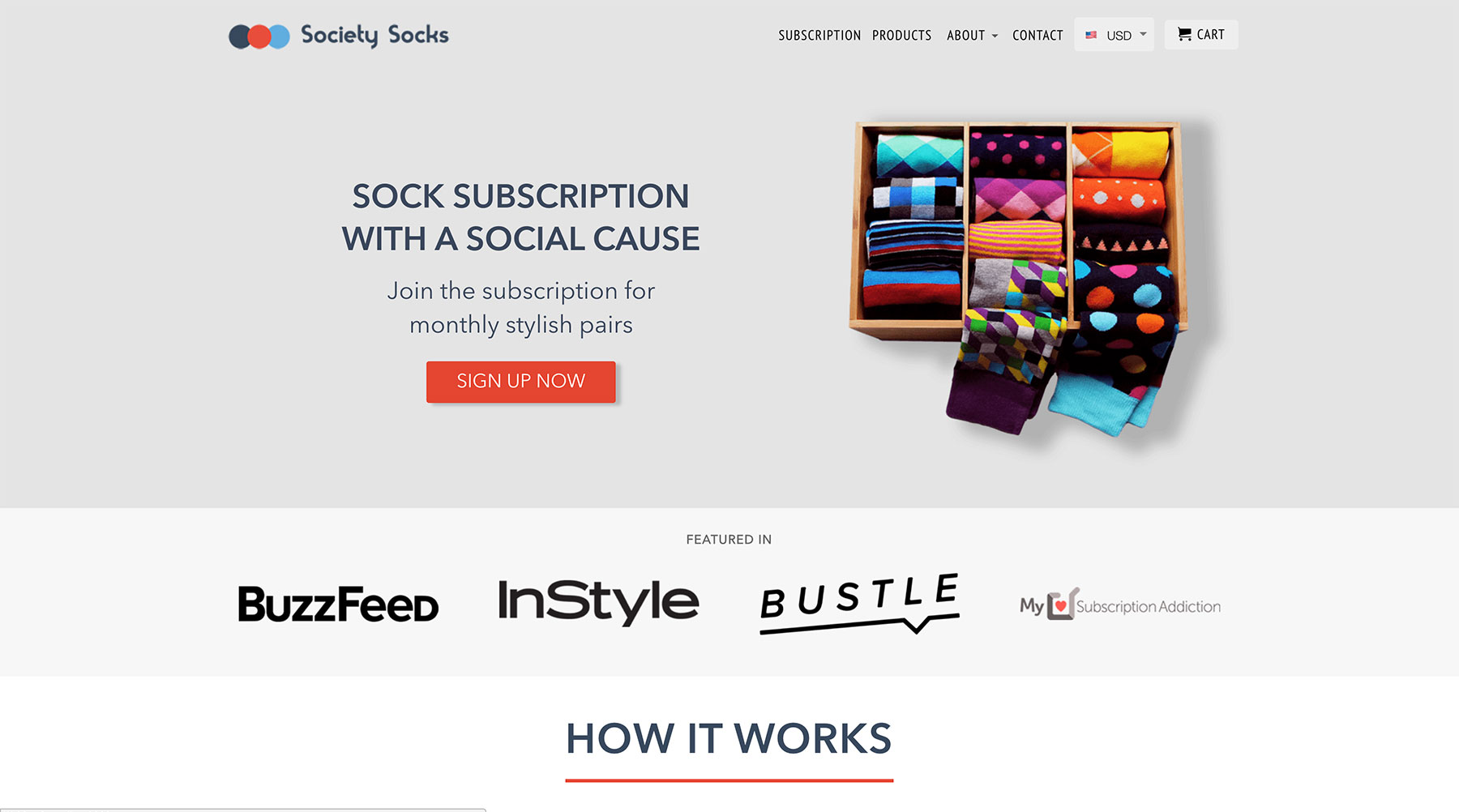 What motivated you to get started with Society Socks?
Having been in business school at the time I started, I was being exposed to a wide variety of business areas including marketing, finance, accounting, and strategy. While I had the opportunity to work several summer internships, I didn't feel I was completely utilizing all of the information I was absorbing in my classes. I looked to entrepreneurship as an outlet for my business knowledge and a way to create something that I personally felt proud of.
I had very limited experience with startups prior to launching, and my co-founder was in the process of shutting down his first e-commerce site. We were both friends from university who happened to be living together at the time.
Fortunately, our internships and part-time jobs had helped us save enough to support our costs of living and the upfront investment for our business. By leaning on our learnings from school, the internet, and my co-founder's experience with his past business, we decided to launch. While we were by no means experts, we had a burning desire to create a company and learn new ways to make it better.
We formed Society Socks in mid 2015 while studying for our second year final exams. We got the idea for it from our mutual interest in the growing funky sock trend. While at first we wanted to simply sell a line of funky socks, we found an article that stated socks are the least-donated but most-needed clothing item. So we saw an opportunity to not only start a business with a product we enjoyed crafting, but also create a meaningful impact in the world while doing it.
After sourcing an initial small batch of socks off Alibaba, we contemplated different ways to launch our site, and settled by replicating the Harry's process to generate some buzz about our product. We weren't nearly as successful as they were with their launch, but we generated an email list of roughly 500 subscribers, of which several purchased our product upon launch.
While we initially believed we had validated our idea, the following months were slow. At that time we weren't running the subscription model and were struggling to bring users to our site. We eventually shifted to the subscription model. After this we felt that our business truly started to grow.
What went into building the initial product?
The initial product required quite a bit of negotiation with suppliers overseas to ship to Canada. We were ordering small quantities (10 pairs x 10 styles) from manufacturers with MOQ's of 1000 socks per pair.
After a ton of back and forth dialog, we eventually convinced a supplier to take a chance on us with our socks. Beyond our physical product, we struggled to create both our website and our launch page having no coding knowledge. We leveraged Shopify and KickOffLabs to piece everything together before our launch.
By working with the designs that were being shipped and the resources we had to build our online presence, we were able to begin crafting the Society Socks brand.
After a month and half of work (while waiting for our socks to arrive in the meantime), we launched our referral program, followed by our website two weeks later. And within three months we would make that switch to a subscription model as I mentioned earlier, and we'd truly begin growing our business. All together, the upfront costs for this process totaled roughly $2,000.
Having another founder made the launch a lot more manageable as we had each other to bounce ideas off of and split tasks when it came to marketing, sales, website development, and product design.
Learning how to practically apply concepts we were reading about in school and online proved to be difficult. It felt like we knew that we weren't doing things the right way and had to fail at first before getting them right. I feel that making a lot of mistakes early on when it came to things like selecting material for our socks, managing email newsletters, and asking for feedback from customers helped us learn a lot of valuable lessons about running a business.
The first year was very slow from a revenue perspective, but it was the time we probably learned the most given we were essentially starting from zero.
In addition to the challenges that came from within the business, there were many external forces that added layers of complexity to managing our growth. In the first year of our launch, both of us were enrolled in a challenging business program, working part-time jobs, participating in student clubs and sports, and seeking summer internships to build our CVs.
Given the variability of our student schedules, we had to squeeze in time whenever we had the chance. It wasn't easy to manage all of this, but we had a great support network of friends, family, faculty, and the internet to help us in our growth. Community forums like /r/entrepreneur and podcasts like the Indie Hackers podcast provided me with the fuel to keep going in hard times.
How have you attracted users and grown Society Socks?
After our initial email blast at launch, we had limited amounts of success with only a few one-time purchases. Our primary marketing strategy at the time was reaching out to Twitter and Instagram users directly, trying to find a group of early adopters who would be interested in our socks.
We experienced a very low success rate with this strategy and realized something in our business needed to change. This is the point at which we switched to the subscription model. We still had a poor acquisition strategy, but we reasoned that under a subscription model the few customers we did acquire would at least stay for a few months and generate a few more dollars.
Using the revenue from these initial users, we were able to fund other aspects of our business. Our strategy had imperfections — it was very spammy and time consuming, But it did end up working to an extent.
In parallel to the social media outreach approach, we began to execute some of the following strategies we discovered over time. (I've arranged these in the order I would pursue if I started again, along with instructions on how you can act on them.)
SEO Optimization: Plan which keywords are worth targeting (here's a great tool) and slot them in on your site. In addition, start blogging about topics relevant to your business, and target keywords in your blog posts.
New Website Launch: We've probably changed our website completely about three times, and we make small tweaks all the time. After our needs outgrew basic Shopify templates, we outsourced coding the site overseas.
Social Media Planning: Across your dedicated platforms, figure out how you want to interact with customers, where they are, how frequently you'll post (we use Recurpost for this), and who you want to partner with to grow your followers faster. Always keep in mind that blackhat and grayhat SEO tactics are risky. Listen to the MeetEdgar Indie Hackers interview for ideas on this.
Amazing Customer Service: Always try to reply to your customers as quickly as possible and offer the best possible service. Make sure you have an easily accessible FAQ where you slot in questions that regularly pop up in your email. This will save you a lot of lost sales from confused customers who don't have time to email you questions. Listen to the Ecommerce Fuel podcast about Zappos Founder Tony Hsieh to learn more about why you need amazing customer service in your business.
Affiliate Program: Partner with hyper-relevant users in your niche as a method to expand your reach. This can be very hard to master because most affiliates will make no money for you unless your product is exactly what their customers want, or they have a large enough user base that they can slot your link in and forget about it. As an example, subscription box listing companies provide a lot of opportunity to subscription box companies because users browse their sites for the perfect box.
PR Outreach: Whether you're going down the paid or cold outreach route, it's something worth exploring once you feel very confident in your website and product. PR brings a short-term boost to your traffic, so you need to find a way to get PR mentions on a recurring basis for it to be a sustainable strategy. This is low on the list because it can be very high effort if you do it manually. (There are PR firms out there.)
Partnerships with Charities: While this is very specific to our business, you may find it helpful to provide value to other businesses, conferences, schools, charities, or other relevant organizations as a method of getting yourself out there. These types of events can be a great method of meeting new people and striking wholesale deals. In our case, we like to participate in charity events as a method of getting involved in the community and making an even bigger impact than we promise through our sock donations.
Paid Ads and Paid Promotions: The best way to master this is to read a few recent online guides, open a book that gives you the how-to breakdown on making compelling ads, and open Google or Facebook and watch what others are doing. (If you see the ad often, it's probably because it works.) Make sure you have your LTV, CTR and CPC goals ahead of time. (Small Tip: Video ads are in right now.)
Listing Products on Amazon, Google, Facebook: We had little success with Amazon.ca but are shifting to Amazon.com soon. A large portion of online buying occurs on Amazon. It's worth trying to list your products there and investing time in Amazon SEO and paid ads. (Just avoid the super gimmicky Facebook groups that come along with this strategy.)
Posting on forums and doing interviews like this one!: While this isn't a method of acquiring new users, I enjoy doing interviews and sharing my site on forums because the feedback is always very valuable. I am always looking to get feedback both from customers and entrepreneurs. I recommend avoiding using this as a growth method as it is pretty much a worse alternative to PR and comes off the wrong way to a lot of other founders who simply want to learn or give advice to others. In order for this strategy to work, you also need to provide feedback to others and be involved in the community. Without people both creating and engaging with content, a community cannot thrive.
To summarize the above, if I could give one piece of advice to those of you who have validated your product and aren't sure where to start, I would highly recommend the following: Make sure your website looks amazing, your product is easy to understand, and purchasing is very easy.
If you can master these things, new users who come to your site will assume that you are an established company and won't feel like they are taking a risk buying your product. At this point, you should go back and start to tweak your product design/quality, work on your customer service, reach out to PR, or whatever you feel is your next big growth strategy.
As our business started to find new ways to acquire more and more users, we quickly shifted away from manual user acquisition and relied on our organic channels both online and through word of mouth in the various communities we were a part of.
As time progressed, we became more and more confident in our product and our offering, and our sales grew in tandem. To give you a better feel for how our business was/is actually doing, I've included a few metrics below based on our YTD performance:
Monthly Visits: 5k, 500% growth YOY (year-over-year)
Google Analytics Acquisition Breakdown
Organic Search: 50%
Direct Link: 22%
Referral Link: 21%
Social: 5%
E-Mail: 2%
Geography of Visitors (Roughly the same for Converters)
USA: 47%
Canada: 24%
U.K.: 7%
Australia: 5%
Devices Used
Gender Demographics
What's your business model, and how have you grown your revenue?
Our revenue comes from three separate channels (in order of size):
Subscription Revenue
Wholesale Revenue
Past Month Sock Purchases
Our subscription offering is segmented in two ways. We offer month-to-month, three-month, six-month, and one-year payment options for monthly subscriptions. In addition, we offer a "For Me" or "Gift" option depending on who is making the purchase. In the event of a gift, we allow customers to request a hand-written note to be delivered on the first month.
Beyond the subscription and one-off purchase revenue, we have secured a few wholesale arrangements by providing large custom sock orders for conferences, corporate events and corporate gifts.
We noticed substantial growth in our business after launching the six- and 12-month subscription options while simultaneously doing a re-launch of our site and simplifying the method by which customers could choose their subscriptions. Customers had an easier time finding their subscriptions and were given access to longer-term subscriptions with very clear discount incentives.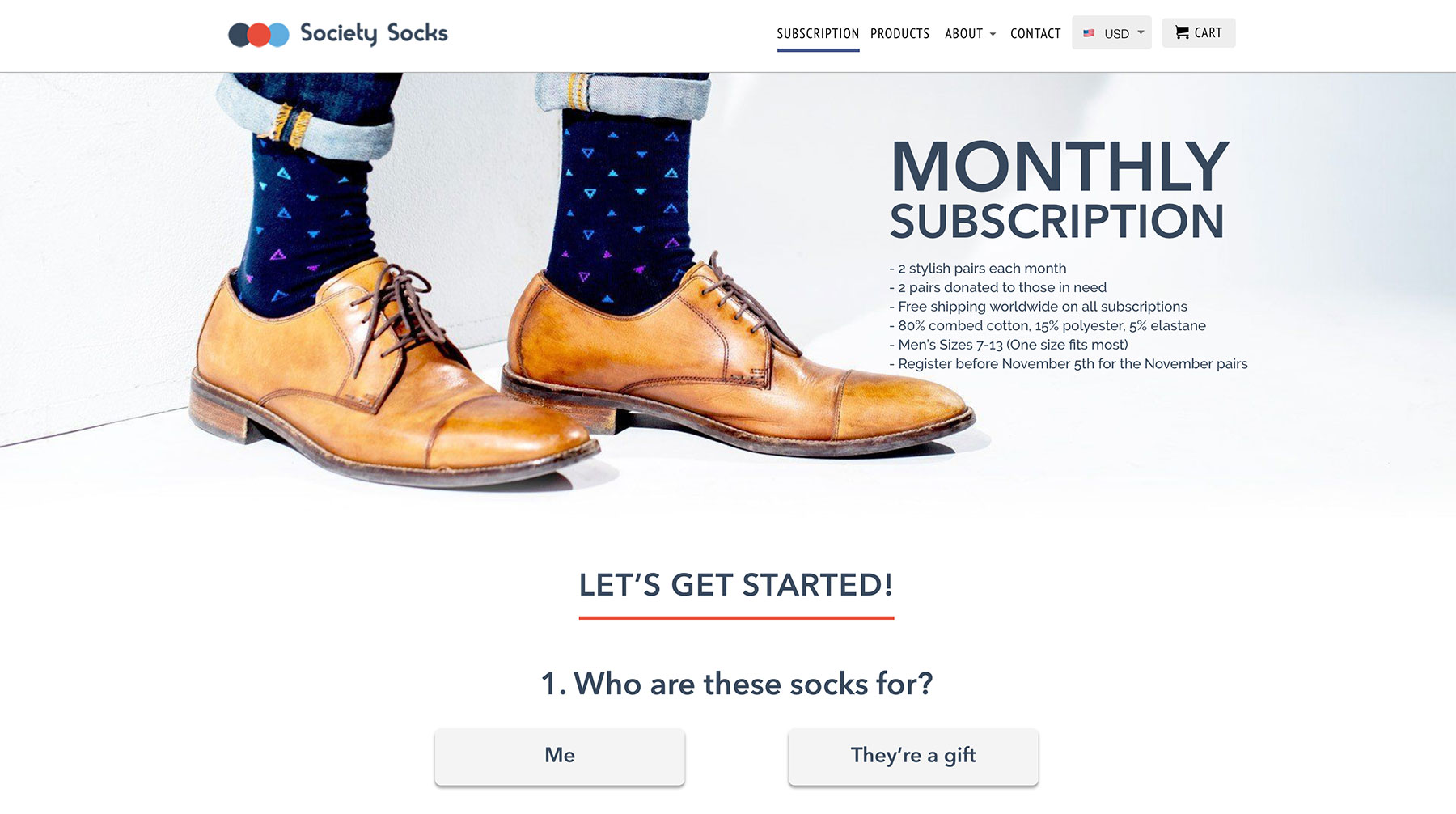 Whether you're a SaaS business or an e-commerce subscription business, I believe a lot of the same rules apply with creating your features page. It is important to offer multiple options for your customers that are easy to differentiate. Make sure to experiment with the different prices and feature offerings to see what works best.
Lastly, be sure to offer a significantly higher-tier option (in our case, a 12-month subscription). You will likely make most of your money from it. You can always learn a lot by simply checking out how companies in your niche do it.
In terms of our payment processing, we accept the following:
Stripe by leveraging Recharge Subscriptions for monthly subscriptions
Paypal and Shopify Payments for accepting both wholesale and one-off purchases depending on customer preference
If you live in Canada, RBC has the best banking option (it's basically a free bank account for online businesses)
A few revenue metrics:
Year-over-year Growth: 400%
Monthly Subscriber Growth: 5%
Margin Improvement: 10% Improvement YOY
What are your goals for the future?
From a charitable aspect, we want to provide socks to the homeless across North America. As our business grows, we expect to grow to new charities and provide a consistent stream of free socks they can depend on.
In terms of Society Socks itself, our goal is to continue to grow our wholesale orders, grow our organic website traffic, and learn to more efficiently spend marketing dollars.
We plan on growing our wholesale orders by getting more involved in the community and working with companies that put are putting a big emphasis on CSR in the new year. We plan on growing our organic traffic through a number of methods including but not limited to SEO, blogging, and online partnerships.
Lastly, we plan on increasing our marketing ROI by constantly iterating ad tests and exploring new paid partnership opportunities.
Our next big roadblock for now is the holiday season. Going into our third winter holiday season, we are more prepared than ever to provide our site visitors with the opportunity to give a gift that keeps on giving.
If you had to start over, what would you do differently?
Having started with essentially no knowledge of how to run a company, I've made a ton of mistakes.
Here's a little list of big challenges I've faced along with my advice on avoiding them.
Bad Terms Negotiated with Suppliers Total Cost (in time and money): Multiple months of waiting over the period of two years, along with earlier cash outflows.
Communicating with suppliers overseas can be a huge headache, due to language barriers. Don't let that stop you from getting exactly what you need.
Explain to your supplier in the simplest possible terms exactly what you need, and be as specific as possible. Explain the type of terms you want, and be prepared to receive push back. While there's no exact balance on how aggressive you should be with your supplier (as they control the quality), you should be able to negotiate down deposits and the amount of production time it takes them as your business scales.
In addition, try to have your next six months of product launches planned out, and work with your supplier as early as you can to have samples prepared. There is no worse feeling than waiting for a shipment to arrive two days before the recurring charge date.
Bad Ad Campaings Total Cost: $1,000
Don't just make a single ad and throw it up on a random audience target and hope that it will make you millions. Every guide will tell you to make sure you "test everything", which is a little overwhelming. Here's my advice:
Create a single ad that you feel your customers will click on
Choose one variable on the ad, and make 5-10 variations of it (your variable can be audiences)
Whichever variation of the variable(s) works best should be your new base ad. Repeat the process with a new variable.
Rinse and Repeat until you feel your ad is getting a high enough CTR and ROI
Start with a new ad
Poor Promotional Campaign Spending Total Cost: $2,000
I've spent money on a number of free product giveaways, website mentions, blog mentions, etc. There are loads of these opportunities, and most of them will give you a negative ROI.
While there may be some SEO benefits, I would focus on my advice above regarding affiliate links — it's all about targeting the right users.
Plan Your Week Total Cost: 2-3 months of time
When I first started out I did a lot of work as it came to my brain and had no real sense of priority. While this worked at first when I didn't have many ideas, once I started to find a ton of new projects to spend time on it became important to properly plan out my days.
I can't remember the exact Indie Hackers podcast, but one founder had a great method of ranking project priority based on three metrics which has helped a lot (the weights you assign are up to you):
Impact: Upon project success, how big of an impact will the project make?
Complexity: How difficult and/or how much time will it take?
Risk: How likely is the project to succeed?
Have you found anything particularly helpful or advantageous?
I find that being open to new ideas and always reading new opinions, looking at new companies, and seeking inspiration from new places has helped our company grow tremendously. I have found that continuously going back to a certain forum, reading a specific set of books, or talking to a specific set people can become dry and limits me creatively.
Instead, when I'm in my entrepreneurial downtime (reading about entrepreneurship rather than working on a project), I'm always looking to find new information I've never seen before.
Another thing I find particularly important to Society Socks is figuring out what work I should assign to myself and what work I should outsource to someone else. For example, implementing our website ideas on our site would be very difficult to achieve if we weren't outsourcing the coding process to a tech agency. This method can be extended to almost anything in your business, at the cost of losing certain aspects of control.
What's your advice for indie hackers who are just starting out?
If you keep the following steps in the back of your mind, it will be easier to plan our your launch process: validate your product, improve it to a point where you're no longer embarrassed by it, and finally plan out how you're going to get as many eyes on it as possible (without comprising your personal values or those of your business).
Don't just copy another website. While that might work in the short term, you'll eventually burn out as you run out of ideas to build on someone else's ideas. Instead, take inspiration from different places and make it your own. This can apply to business processes, designs, features, etc.
There are an overwhelming amount of resources and tools to help your business at almost every stage. Visit a site like Baremetrics (a lot of SaaS businesses make this style of blog post for SEO), read through the tools you see, and pick a few that will help your business in its current state. Try to avoid using tools that take up a lot of your time or require more data points than your business realistically has.
Have a plan for how to manage accounting early. This is often forgotten by many and will come back to haunt you if you neglect it long enough.
Resources for Starting Out:
Books (altogether you can read these three books in a few days)
Communities (beware of self-promotion — try and create your own small tight knit community)
Podcasts
Where can we go to learn more?
You can visit our website, Instagram, Facebook, and Twitter to hear more about new developments in our business.
Please feel free to send me an email and ask me any specific questions you might have about Society Socks.
I would also love to hear your thoughts about our company, questions about my learnings/advice, or any other questions you might have in the comments below. As an incentive to create more discussion, I'll give away a three-month subscription to the user who asks the best question.
Thanks for reading!
—
ballinfil , Creator of Society Socks
Want to build your own business like Society Socks?
You should join the Indie Hackers community! 🤗
We're a few thousand founders helping each other build profitable businesses and side projects. Come share what you're working on and get feedback from your peers.
Not ready to get started on your product yet? No problem. The community is a great place to meet people, learn, and get your feet wet. Feel free to just browse!
—
Courtland Allen , Indie Hackers founder