How I Started a Business With Two Lines of Code
Hello! What's your background, and what are you working on?
Hello all! I'm Adriaan van Rossum, an Indie Hacker from the Netherlands. I have always dreamt of running my own profitable business, but lately things have gotten real.
Over the past three months, I've built and launched Simple Analytics. It's a simplified version of Google Analytics that doesn't violate user privacy. There are many analytics tools out there, but very few of them address visitor privacy.
Within weeks of launching, Simple Analytics has already gathered significant interest, including #1 on Hacker News, #3 on Product Hunt, acquiring over 40 paying customers, and reaching an MRR of over $400. An unexpected but great start towards my ultimate goal of reaching $1M yearly revenue.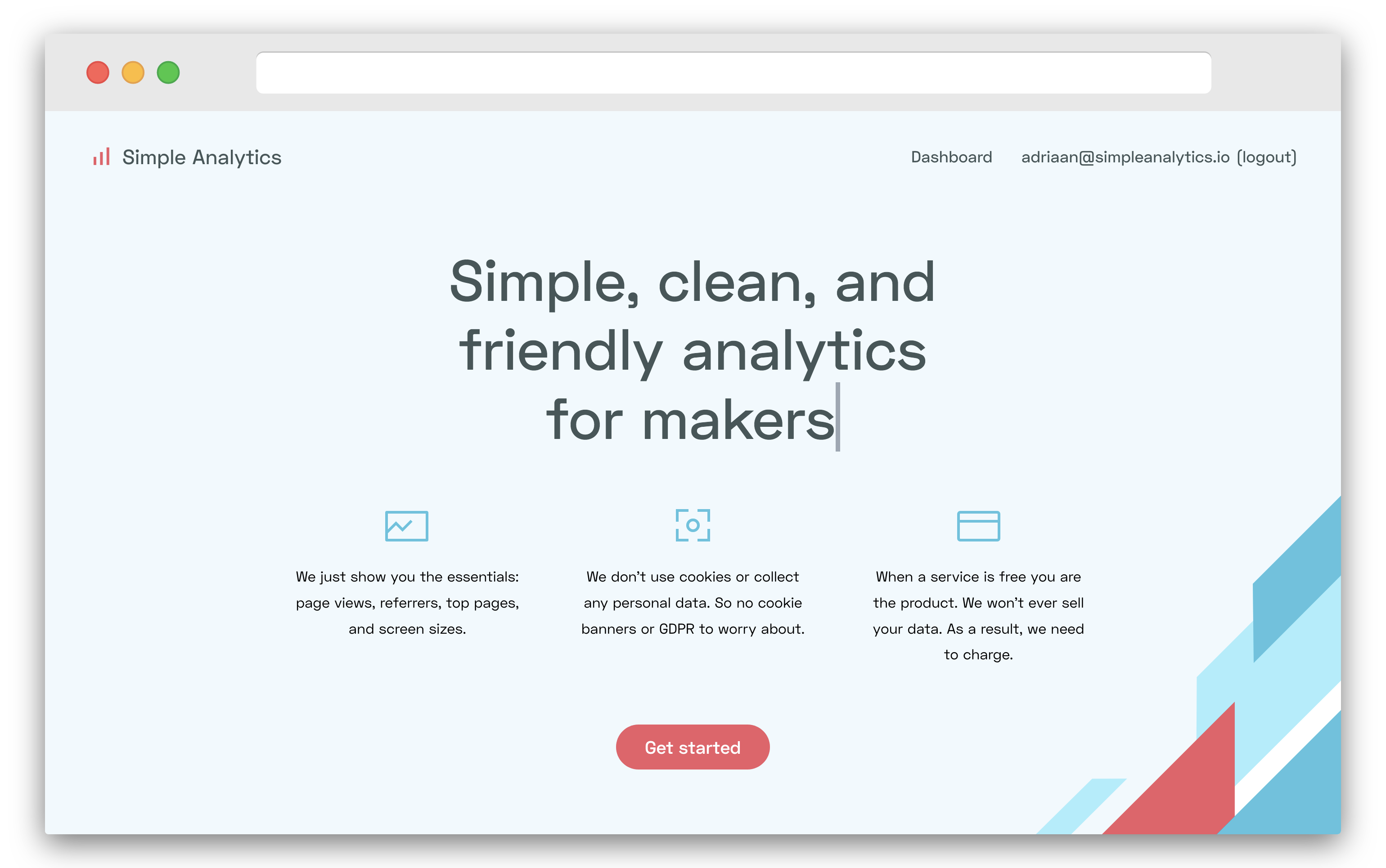 What motivated you to get started with Simple Analytics?
I've always been keenly interested in privacy issues, particularly those online. As a developer, I've become accurately aware of the possibilities for privacy invasion and opportunities to build businesses that work ethically within the privacy space. My girlfriend will attest to how much I've ranted in the past about how much Google is tracking us, how the scripts they have installed on almost every website allow them to profile us, and that, ultimately, all of this needs to change.

I set out to validate the idea with a small MVP (yes, very small), testing out a trial with test users from the Telegram group "Work in Progress". I was able to gather feedback from them on the product, but the fact that they were using it for free gave me no insight into whether people would actually pay for it.
The analytics space was not new to me. I'd previously developed a website with radio playlists for artists to track how much their songs have been played on the radio. Additionally, in a previous job, I was also responsible for sending events from our application to our analytics pipeline. This web and analytics experience provided me with the know-how to go ahead and create this product.
I usually get way more enjoyment from building new products than maintaining existing ones, but there are some unique projects for which this isn't true. The music platform was one example and Simple Analytics feels similar. I've helped make the maintenance side of things more exciting by setting up notifications, such as successful customer payment, to see when the platform is getting used and remind me that the business is a dynamic, living, breathing thing.
When I started building Simple Analytics I was working two days a week employed as a front-end developer, while freelancing the rest of the time. The freelancing was providing me with a lot more freedom in my schedule so I quit the day job. Right now, I'm fully focussed on freelancing in order to build up cash reserves, but the goal is for revenues from Simple Analytics to replace any need to freelance.
What went into building the initial product?
Building a great product is not just about the actual building, but also the environment and people you surround yourself with. I signed-up to TQ, a co-working space in Amsterdam from the people behind The Next Web. I stopped working overtime at my day job, joined a makers community called Work in Progress, dusted off my old Twitter account and ask for help where needed. By doing this, I was able to get a great designer for my website and call on some friends who are amazing pro-filmmakers to help with my promotional video.
It's so helpful to have a group of people that you can access for feedback when you have a question about pricing, the business model, or best design, especially if those people are working in the same kind of business and have similar mindsets. Of course, you shouldn't just blindly follow what other people are telling you to do, but if what they're saying makes sense for you and your business, then try it.
As a developer, it's all too easy to fall into the trap of learning some entirely new tech in order to start a project. This is fine if the goal is to ramp-up on skills, but not a good idea if the intention is to ship. We've all done it, myself included. You end up getting halfway through the project and realize you made a bad call with the tech, and then either have to start over or (more likely) abandon the project entirely. If you want to know more about this and other common pitfalls developers can run into, I've written a more in-depth article.
I think this project is the fastest I've built and released. It took me two months from start to finish, working on it two to three days a week. My end-goal was pretty simple.
There should be a statistics page where you can see:
page views of the last month
top performing pages
top referrers
screen sizes
The marketing page should be a one-pager where people can:
see the promotional video
read the features
create an account
pay for a plan
And, finally, some pages where people could log in, add websites, and edit settings. Though this doesn't sound overly complicated, I wasn't always super motivated to work on it. To get myself focused and fired up to work on a particular feature, I would set an impossible deadline. For authentication, I wanted to use magic links (links you get via email that log you into the website with one click) and set a deadline of 60 minutes to implement it. Of course, I didn't make it, but I had a working version in 90 minutes. I worked as hard as I could and got it done very quickly. After that, I still needed to fine-tune, fix bugs, and add in some styling, but for me, setting everything up as a challenge helped me work more efficiently.
How have you attracted users and grown Simple Analytics?
One other thing I learned with Simple Analytics is that marketing is more important than the product. I've always heard people say that the product needs to be so good that it will sell itself. And yes, I think a product needs to be very good, but if nobody knows about your great product, what then? With this in mind, I put a lot of my time into something I considered to be very important: the launch.
I've come to believe that the launch itself is critical to the overall success of your product since it's a moment in which you can get a lot of exposure. Because of this, I launched on two platforms: Product Hunt and Hacker News. Both platforms are totally different and have their own unique types of users. Product Hunt users are more likely to buy your product and Hacker News users are more likely to give you feedback (this can be critical, but I was very surprised at how positive and overall constructive people were). The post on Product Hunt was pretty straightforward. Before you launch you make sure you have prepared your images (in my case also video), have a nice GIF, write a good description, prepare an interesting first comment.
There is a lot of debate around who should hunt your product. I just hunted the product myself, and I personally don't think this makes a difference. Read the Product Hunt post on how to launch if you want some advice and perspective.
The evening before I wanted to launch somebody asked me if it was smart to launch on the same day as an Apple event. I didn't have any experience whatsoever, so I postponed the launch to the next Tuesday (most companies seem to push their products live on Mondays). I'm not sure if I would do that again. If you want to be the #1 of the day, I would maybe check the competition at 1:00 AM Pacific Standard Time and see if you can beat them. If so, publish your post, otherwise maybe wait a day. Apple didn't end up in the top three that day.
When I launched on Hacker News I was having a few drinks with my friend at a square in Amsterdam. I grabbed my laptop and posted my prepared post at 7:00 AM Pacific Standard Time. I thought my post would get a little attention before it would sink down the pile of Show HN's. But that did not happen. Two or three minutes after I posted, I checked the homepage and saw that I was in the #1 spot. I was excited, but figured this might have happened because some people upvoted super fast, and my post will probably be gone soon.
I was #1 on Hacker News for nine hours, on the homepage for 24 hours, and on the Show HN page for three days! It was insane and totally unexpected. Simple Analytics got a crazy amount of traffic from that post.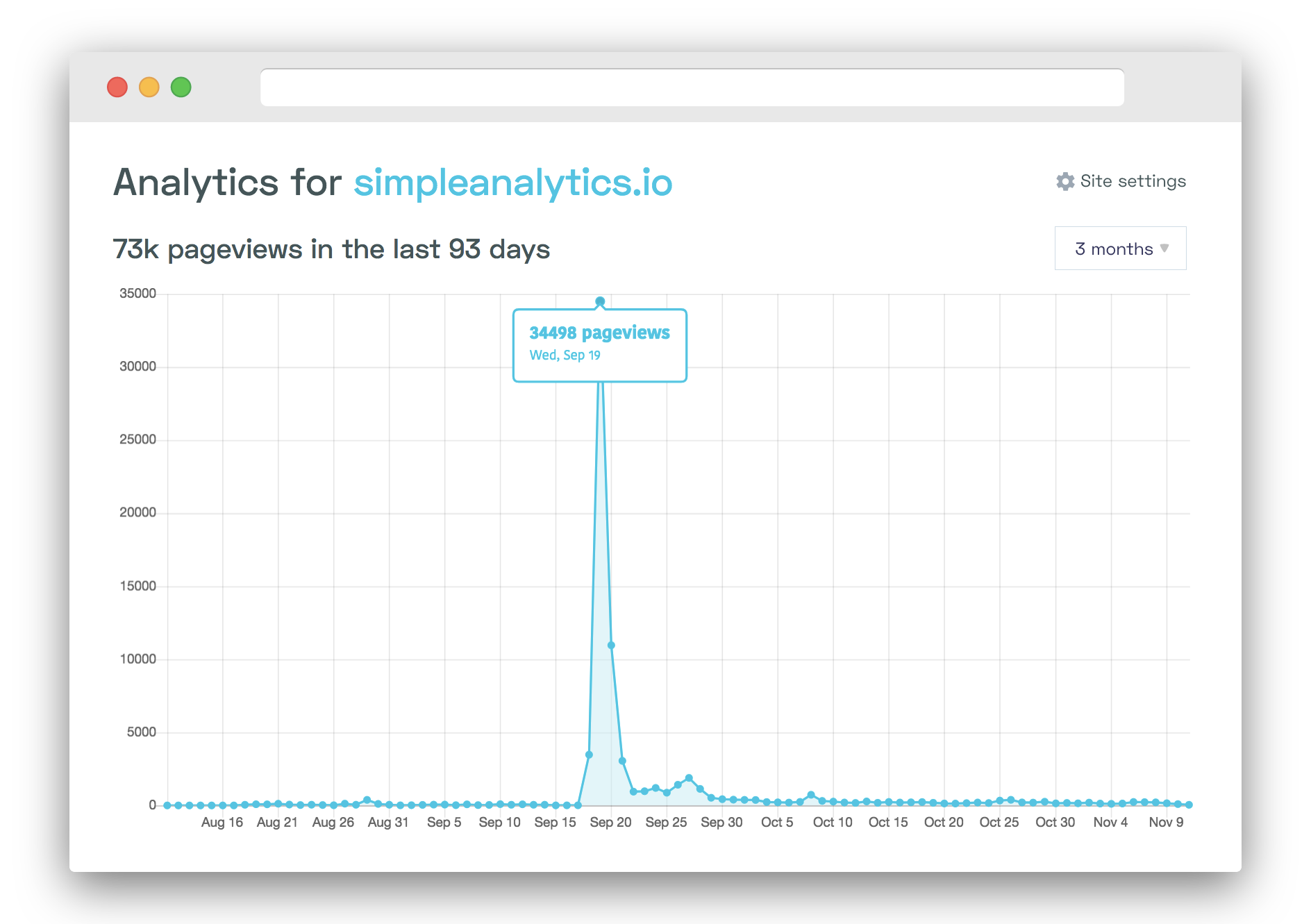 Because I didn't expect a lot from Hacker News, I had a half-empty battery in my laptop and a few beers in my stomach. Luckily, the square was close to my co-working space so my friend and I went over there to get some battery juice. I was replying to a lot of Hacker News comments, checking if my server would hold, changing the pricing a few times, adding functionality, blocking spammers — all with great success. Later that night my friend and I celebrated with some food and more beers. It was a crazy day, Joshua!
How did you prepare the launch of Simple Analytics?
Preparing is something most people do very last minute. Myself included. This time I did things a little differently. The day before launch, I prepared my Product Hunt post on Preview Hunt to see how my post would look. I also asked people around me for advice.
One thing I really need other people for is proofreading. I'm not very good with writing text. Knowing this about myself, I make it a point to ask others to write or at least proofread for me. If you have a community around you, they can help bolster areas that are normally a challenge for you.
What's your business model, and how have you grown your revenue?
The business model of Simple Analytics is very simple. It's subscription based, so people pay a certain amount per month to use the product. The amount depends on the features and the traffic they get to their websites. I just started, so at this point, most of my clients are from Product Hunt and Hacker News. As you can see in my stats, Google, Product Hunt, Hacker News, and Twitter are generating more or less the same amount of page views. I do still get quite a bit of traffic from Product Hunt a month after launch. I think Product Hunt can be a very good platform to launch, and I get the feeling that Product Hunt users are more likely to pay for a service than Hacker News users. I don't know this for a fact as I don't currently save where my clients come from when they register (I know that I should!).
When I explained my idea to my friends I had the idea to ask for $5 a month. To me, this seemed reasonable for an analytics tool. One of my friends (thanks, Mike) asked me, "Why not charge $12?", and I didn't have a good answer. I had no clue what to charge for this product. And to be honest, I still don't know for sure, but I know I'm currently at the low end. It scares me to charge more because it could result in fewer new customers. I will very likely increase my prices in the near future, but this is it for now. I think testing pricing is an important aspect of running a SaaS. There is also plenty of information written about the subject (I like this ebook), so I don't have to reinvent the wheel.
| | |
| --- | --- |
| Week | Revenue |
| Week 39 | 27 |
| Week 40 | 304 |
| Week 41 | 369 |
| Week 42 | 418 |
| Week 43 | 408 |
| Week 44 | 383 |
I have gotten a lot of suggestions to lower my prices or to include a free plan in the tier, but I'm hesitant to do this as I think it's extremely difficult to convert customers on a free plan into paying clients. I did initially offer a free plan when I was hot on Hacker News, which ended up getting me 47 new customers within an hour, but I freaked out at the thought they would never convert to paying customers and canceled the free plan. That initial free plan only included analytics for one website, so it did have some limitations, but overall I'm happy I ended the free plan quickly.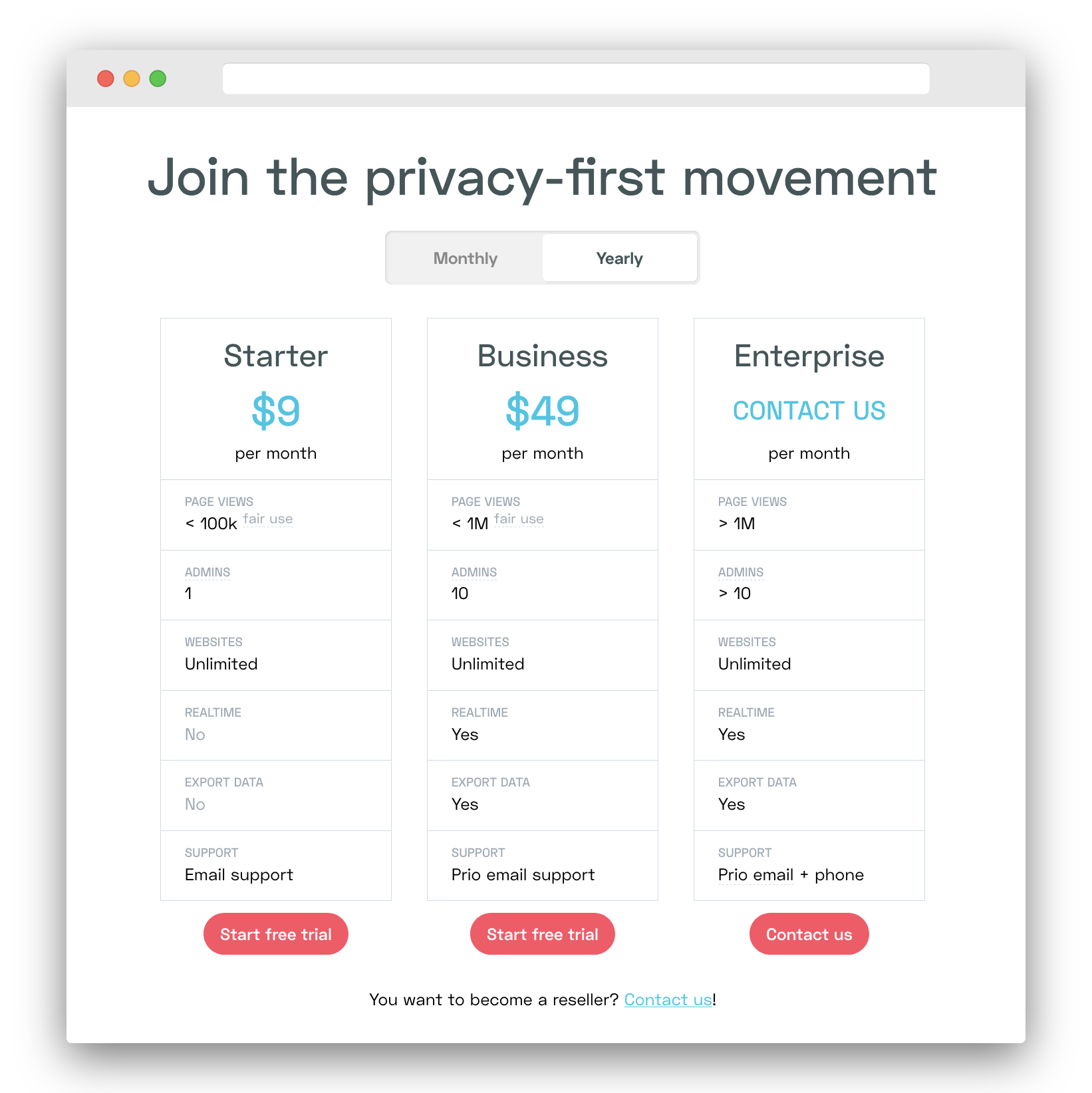 What are your goals for the future?
Analytics is just the start of my vision. I want to make more privacy-first products and motivate people to care about their privacy. But first I want to make Simple Analytics a big success. At the moment I'm focusing two-thirds on marketing (building sites like Privacy First Products and doing blog posts and interviews like this that generate traffic) and the remaining third on building new features, such as real-time data.
My long-term goal for Simple Analytics is making $1M in yearly revenue. This is definitely possible in analytics-land. I also have a short-term goal of reaching a place where I can give up my freelance work. To pay for rent, travel, food, etc. and live without worries (about money) I need to make around $2,250 a month, which takes about a week or so of work per month as a freelancer. In order to give up my freelance work, I need to reach a monthly recurring revenue of $4,500 (Dutch tax is around 50%).
To get to this goal I need to focus on bigger businesses, so the plan is to add more features (feel free to leave me suggestions!) and do more marketing for business. Indie hackers and makers are great as early adopters and I do get a lot of feedback from them. In the future, I will probably transition the early adopters to more professional business plans but keep their prices the same. I don't think it's fair to charge current customers more whenever I raise the prices.
To get to this long-term goal I need to get approximately:
1000 customers paying me $85 per month (1M/12/1000)
1700 customers paying me $50 per month (1M/12/50)
4200 customers paying me $20 per month (1M/12/20)
I have a long way to go, but it's definitely doable. Privacy issues are getting more and more attention from the media, and people are becoming more aware of the need for better privacy and security. So there's definitely market opportunity and room to innovate and grow. I do think I need to adjust my platform to better fit the needs of my customers. What I have now is just the start, and I'll keep adapting and iterating as I get more feedback. The important thing is that people are already willing to pay for it as is.
Have you found anything particularly helpful or advantageous?
The massive Facebook data breach carried out by Cambridge Analytica catapulted the issue of data privacy into the popular sphere. This is definitely an advantage for Simple Analytics, and why I believe I can hit the $1M in yearly revenue.
I recently read Business for Punks: Break All the Rules — The BrewDog Way by James Watt. He is one of the founders of the BrewDog, a brewery that is famous for its Punk IPA (a lovely, tasty beer). One of the things he talks about in his book that really resonated with me is the concept of creating a crusade instead of just applying marketing. It's the idea of trying to win people to your vision, your thinking, your brand, and of making your customers ambassadors. This why I feel like Simple Analytics is just the start for me in the privacy landscape. I want everyone to share in my goal of creating great products and helpful tools without invading the privacy of the individual. There's no need to constantly violate people's privacy, so why not work together to build awesome products with sound privacy ethics?
What's your advice for indie hackers who are just starting out?
There is endless advice on the internet, and it's hard to know what's worth following and what's garbage. My advice to you is: don't take every piece of advice you find online as gospel. Consider it as one way of doing things, and pick and choose what works best for you.
Having said that, I think it's important to keep yourself as motivated as possible. A plan is important, but motivation is what keeps you going. I joined Work In Progress to get feedback, but also to surround myself with people who could motivate me. Set up a notification when users sign up or do something important on your website (for me it's when they add a website, change settings, or look at their stats) to remind you throughout the day that your work matters and your customers are counting on you.
Another thing that really worked well for me was learning how to maximize my productivity. This tends to be a personal process — what distracts you or helps you focus may be different from what I find the most distracting or the most helpful — so figure out what works best for you. My sweet spot is working at a co-working space (TQ) and listening to Cercle with noise cancellation headphones. I use Focus to block apps that distract me, combined with SelfControl to block websites on the system level.
It's also good to know what time of day you are most effective. I'm usually not as productive in the morning, so no matter how hard I try it always feels like a waste of time. Instead of uselessly spinning my wheels, I work in two and half hour time blocks during the hours I work best (thanks, Ivan), with no phone nearby and Focus and SelfControl enabled. I do three sessions a day with 30 or 60 minute breaks in between. It's important to let other people know what's going on so you you don't get bombarded with anxious or angry texts asking if you're okay or why you haven't responded. For example, I was getting distracted frequently with Telegrams from my girlfriend. It's not that she demanded I an immediate reply, but I had an ingrained habit of responding as soon as I got one. Now I tell her when I'm starting a session so she knows I'm going radio silent for the next couple of hours, which frees up my mind to focus solely on work.
I said this before but I think it's worth reiterating: Don't attempt to learn too many new skills in one project! You're bound to fail. Prioritize what's most important for moving forward. Do you want to learn a new framework, but also need to learn how to market your project? Drop the new framework, focus on marketing. Do you want to add an extra feature but also need to learn customer requirements? Drop the new superfluous feature, focus on your (very necessary) customers.
Focus on what will have the biggest impact in pushing your project forward, not on bells and whistles. And focus on marketing your project more than on your product itself. For example, to me it's just as important to spend time contributing to the Indie Hacker community as it is building out features.
Where can we go to learn more?
I'm active on Twitter @AdriaanvRossum, and if you'd like to be kept in the loop with Simple Analytics, subscribe to our blog.
I'm just a guy who loves building great products, you can do the same. Cheers!
—
Adriaan van Rossum , Founder of Simple Analytics
Want to build your own business like Simple Analytics?
You should join the Indie Hackers community! 🤗
We're a few thousand founders helping each other build profitable businesses and side projects. Come share what you're working on and get feedback from your peers.
Not ready to get started on your product yet? No problem. The community is a great place to meet people, learn, and get your feet wet. Feel free to just browse!
—
Courtland Allen , Indie Hackers founder