How I Turned My Freelance Frustrations into a $4k MRR App
Hello! What's your background, and what are you working on?
Hello, my name is Usama Ejaz and I'm a full stack software engineer. I worked with different companies as a software developer for about four years before starting SocialBu. I also enjoyed marketing and learned about digital marketing while working on some of my projects.
About two years ago I decided to realize my passion and experience for social media marketing and development into a full-time project. So, I started SocialBu.
SocialBu is an all in one social media management and automation solution. It helps small businesses and brands manage all their social media accounts from one place. It can help schedule content, manage conversations, work as a team, and much more. SocialBu also has fully dynamic automations that enable anyone to automate any scenario, like posting from RSS feeds, automated comments and replies, web-hook integration, and so on.
The 100% bootstrapped startup has been able to attain 5,000 users. We're at around $4,000 MRR. Our customers are usually small business owners, bloggers, influencers, social media marketers, and digital agencies.
What should someone learn from this interview?
As you walk, the path appears.
We started at zero, we even had to learn a lot of things to be able to start, and are still working to reach our destination. Things looked very blurry and confusing at the beginning but as we went ahead, it became clearer and better.
Persistence and not giving up is really important. Persistence, market-fit, the right team, and a good vision are vital.
What motivated you to get started with SocialBu?
A few of my other friends and I were working as freelancers to manage social media for different businesses. We were using multiple tools to manage the social media accounts, but using various tools was very expensive and still felt limiting. I asked around about it and realized that I wasn't alone, and lots of other people felt it was too much. So we decided to build the solution that we wanted.
An earlier inspiration was a tool I build long ago for posting to Facebook groups, because that gave me an idea about the potential of such tools. Initially, I started coding for about two hours a day, while continuing my degree in business studies. I was also working as a freelancer at that time. It was very tiresome as I was working about 16 hours a day, even on weekends. But what kept me going was my love for my work. I also kept discussing the ideas and the MVP with the target people to shape the product.
What went into building the initial product?
I started building the product alone. At that time I was working as freelancer with different software companies and I worked on the product part time. Before actually going into the development phase, I spent about four to six months doing the research, asking people what kind of features they are looking for, the pain points of the current tools, how the product might work, and so on. What I learned in this phase helped me in shaping the product. After I finalized these things and the business model, I started actually building the product.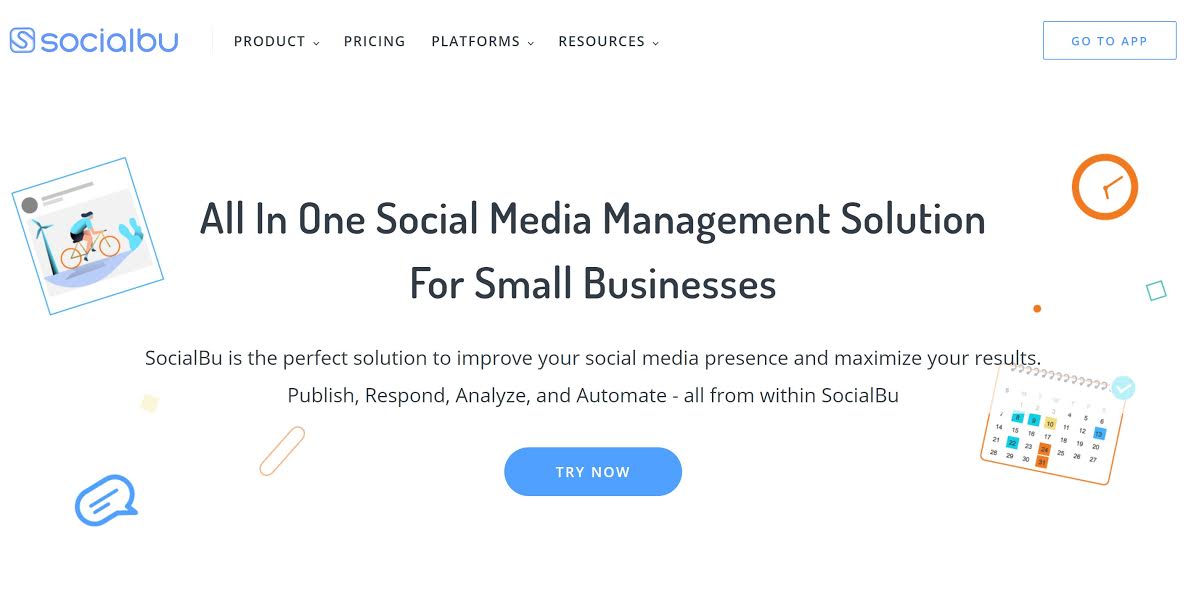 Once I got it validated, the other three co-founders joined the team. We got the business registered and officially started. We got a real boost when we got selected at a local incubator called PlanX, which offered mentorship and support, but not funding. That saved us a lot of cost in terms of rents and office costs.
Regarding the funding, our plan from the very start was to build and grow the product on our own, and we collected initial startup cost from bootstrapping. We gradually grew organically, then hired more people and slowly scaled up.
What's your tech stack?
We use multiple programming languages and frameworks. For the front end, we heavily use VueJS and Bootstrap. We also use NativeScript for our mobile app(s).
For the back end, we use PHP, Laravel. We later added NodeJS for some of our back-end services.
Designing our automation features was a challenging task because of the nature of the feature and how "flexible" it is.
How have you attracted users and grown SocialBu?
The initial version was launched on BetaList. It gave some traffic and helped us in getting initial users.
We didn't launch on Product Hunt (we wanted to be ready for the "launch") and so we will do soon in the near future. We also submitted our product on various listing sites (startup lists, product listing sites and so on).
I started reaching out to people who were looking for the solution in online communities like Reddit and Facebook groups. I kept collecting the feedback and got a few users along the way. After that, when the rest of the team members joined me, we increased our initial marketing efforts. Due to a lack of financial resources, our main focus was to target our customers through organic channels only. We zeroed in on online communities, like Indie Hackers, startup and business related subreddits, and some Facebook groups to keep learning and improving our product and business. We also used Quora, where we answered questions relating to our area. While we briefly experimented with paid ads, ultimately that didn't work for us, so we stopped.
And then there's cold emails. We manually targeted some marketing agencies and influencers and reached out to them, but we considered it a failure as the response rate was too low to keep spending the time on it. Then we planned to bring major chunk of customers through content marketing and SEO. We've got someone dedicated to it, but content doesn't yield immediate results so we're not letting it be our only focus, though we did do some guest posting, which brought some traffic to us.
More recently we've tried offering lifetime deals, which are really popular in the SaaS world, and decided to offer the deal to a small LTD group. It helped us get some money that we required and also helped as a lot to shape our product. It gave us enough users to properly test out the product and gain initial boost that we needed. Also, we didn't want to offer the deal on a hugely popular platform like AppSumo. We wanted to do a small test.
We learned that it's very important to keep getting feedback from the users, to know how they use your product, and to keep improving the product. Your users are your biggest asset and if they like your product, they'll happily recommend it to others.
I think referral marketing is really underrated. Creating a connection with our customers and providing them help and support when they need it has been critical to our progress. It's also extremely important to monitor your metrics and understand your position so you can improve it.
What's your business model, and how have you grown your revenue?
We offer monthly and yearly subscriptions. Our customers from different backgrounds and areas and to cater to their varying needs we have multiple pricing plans. It starts from $8/month and goes up to $199/month, with a 14 day free trial. We also offer a free plan that is limited for individual personal usage. A few times we've even made custom plans!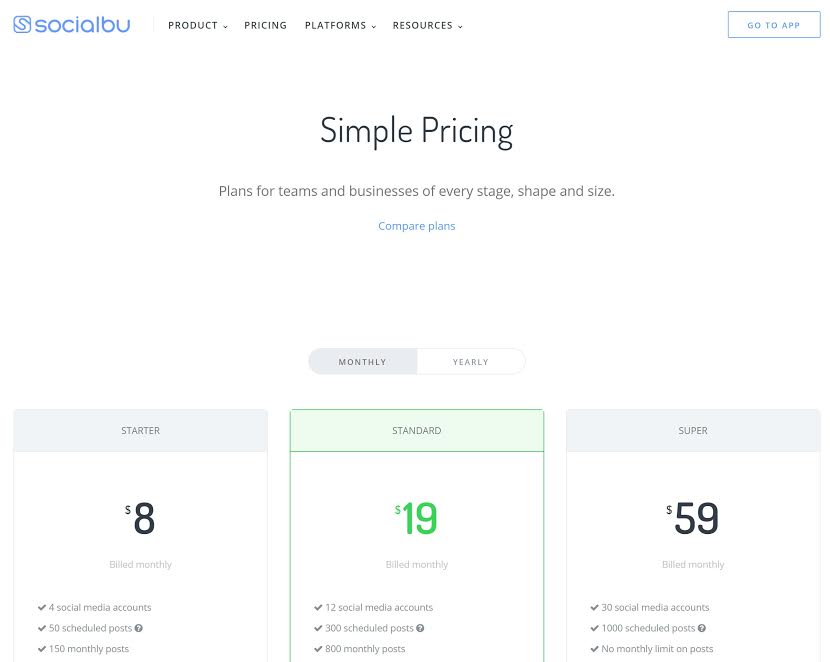 Beside these regular subscriptions, we ran a deal in the past that helped us sort out our initial cash requirements. Needless to say, not running out of money is really important! When we incorporated in the US we decided to use Stripe (over Braintree) because it just felt better.
Our initial pricing was very low and we changed our pricing after about three months. While we're proud to be affordable, we needed to charge our worth. In the first month, our MRR was only $22. Then $50 in the second month. After about six months, we were at $500. The growth has been slow, but always improving. Now we sit at $4,000 a month.
What were the stakes for you? What did failure look like, and how did you motivate yourself to avoid it?
We, the founders, are also all students. We've delayed some of our education to work on SocialBu. We risked our education, let go of our jobs, and fought anything that came in our way.
We've been giving it all of our efforts and failure would mean that all of our time, efforts, and sacrifices have gone into nothing. Failure would be an unrecoverable and a critical blow.
There is no way we'll let that happen. We're ready to do everything it takes. Failure is different for each of us but our focus and vision are aligned and we're on the same path.
Has COVID-19 impacted you at all? How so?
It has. Our net revenue increased for sure but we as a team were affected.
We were almost going smooth and then COVID happened and it disturbed our productivity. It took a lot of time to adjust.
Things are back to normal now... but we lost a lot of time.
What are your goals for the future?
Our main goal is to provide our users a complete solution for social media management and automation. And we have been adding new features and improving our product continuously. We're working on refining our existing features, from reporting to scaling, and adding new features following the same direction.
We're also aiming to increase the number of integrated channels like Pinterest, Reddit, TikTok as we go along, so a customer can manage all their social media accounts on all social platforms without having to switch between multiple services.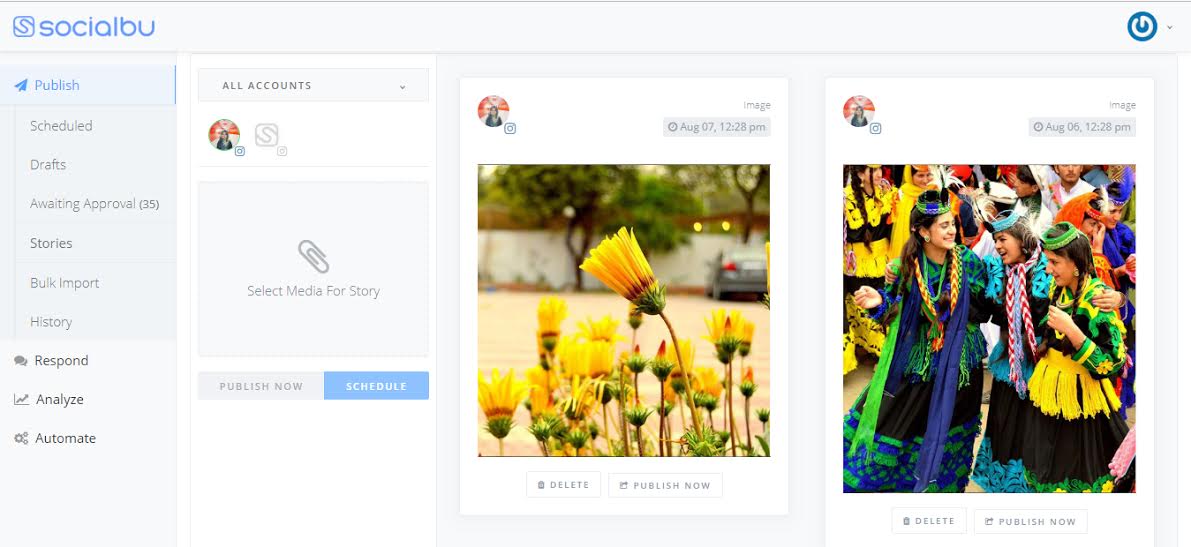 In terms of our financials, we want to stay bootstrapped and increase our growth. Our goal is to reach at least $20K MRR in the next six months.
We've never focused on marketing and sales full time... which is not a good thing and if we'd done that sooner, we would be much better now! So, we plan to focus full time on marketing and sales efforts in the near future.
What are the biggest challenges you've faced and obstacles you've overcome?
Even though we had built our website very early on, we weren't tracking the customer journey through the website, nor were we collecting any feedback. As a result we lost out on a lot of opportunities to improve user experience. Later, when we decided to update the website, we didn't have enough user generated data to really know what needed changed. We didn't even know the reasons users cancelled their subscriptions! Obviously that's extremely important data. We improved slowly and now we track almost everything and can make better decisions backed by data and user feedback.
Hiring is also much more complicated than I expected. Forming a team that shares the same vision and works well is very tricky. Hiring consumed a lot of our energy, with very little payoff. We didn't have much experience at that time but now we've learned. One big takeaway we have from that is that it's better to have one good employee then to have two mediocre employees.
Do you think there's anything you could have done to reach your revenue goals sooner? Why?
Of course. We had low resources at the start and had to focus on business development, product updates, and other non-marketing things. We were not able to focus full time on marketing.
If I start again, I would have at least one founder dedicated to marketing full time!
Have you found anything particularly helpful or advantageous?
We had a lot of people that helped us and mentored us. Our local mentors and teachers helped us so much throughout our journey.
Online communities were (and still are) a very big help for us. We used to read about how other people did things on communities like Indie Hackers, and in various subreddits. It's critical and helpful to hang out with like-minded people, founders, and target customers.
My technical skills were very helpful for building the product and my interpersonal skills were also very helpful for building our team. Don't discount your own skills!
What's your advice for indie hackers who are just starting out?
The journey of entrepreneurship isn't easy... but it's worth it. Here's some quick bites of what I've learned:
Consistency is very important
Knowing when to give up or when to pivot is also critical
Market fit should be ensured before you ever start working on the product/idea.
Product launches should be frequent; there's no need wait for the "perfect product"
Never miss a single lead or interested customer; even if you don't have the product ready yet, create an email list at the very least
Read a lot (books and experiences of other founders)
Build the right team, and make sure the roles and the jobs are very clearly defined
Where can we go to learn more?
You can learn more about SocialBu at our website.
We'd also love to offer a 25% off discount to the fellow indie hackers! To get it, just contact our support and mention indie hackers when you sign up.
If you want to know more about me or think I can help you with anything, please connect with me. If you have any thoughts or questions in mind, let me know in the comments below.
—
Usama Ejaz , Founder of SocialBu
Want to build your own business like SocialBu?
You should join the Indie Hackers community! 🤗
We're a few thousand founders helping each other build profitable businesses and side projects. Come share what you're working on and get feedback from your peers.
Not ready to get started on your product yet? No problem. The community is a great place to meet people, learn, and get your feet wet. Feel free to just browse!
—
Courtland Allen , Indie Hackers founder