How I Validated My Idea and Got 1,000 Email Subscribers in a Month
Hello! What's your background, and what are you working on?
Hey Indie Hackers! My name is Ansel Ponce Diama, and I'm a student majoring in finance at Florida State University.
I have always had an entrepreneurial drive about myself ever since I was a kid. At the age of 12, I used to pay my neighborhood pals $10 each to stand in line with me to purchase in-demand sneakers (Jordans, Lebrons, Nike SB). Little did my friends know that I would resell the sneakers on Ebay for profit. Today, I run a single side project that currently allows me sharpen my entrepreneurial skills, all while helping me pay off my student loans as a full-time student.
Gourmet Pup Club is a health-conscious monthly subscription service delivering all-natural dog treats sourced from 100% USA-based bakeries. All of our boxes are fully customizable around your dog's dietary restrictions, and we promise to only include wholesome all-natural treats, excluding any harmful byproducts and ingredients you can't pronounce.
Each month we partner with different bakeries — brick and mortar bakeries, family-owned bakeries, and even Etsy bakers — to give Gourmet Pup Club a personalized and surprising user experience! Our customers are dog owners who care about the longevity and health of their pets.
I've spent 2 months spent taking subscribers and 1 month in between revamping my business model. Within that time I've been able to achieve the following:
10,600 followers on Instagram
3,000 followers on Twitter
1,000+ mailing list subscribers
$1,763.53 in sales ($587.84 per month)
$0 spent on advertisements
What motivated you to get started with Gourmet Pup Club?
Growing up, my father adopted a beagle puppy and made it my full responsibility to raise the dog. In retrospect, that dog raised me more than I raised him: he taught me invaluable lessons such as accountability, patience, love, forgiveness, and friendship. Never did I want to see my best friend leave my side, so I made sure to only feed him the best dog food and treats to promote longevity. He is still with me today at 12 years old!
Concurrently, I often saw major FDA recalls on big box treats that caused our pets to get sick and even die. I couldn't imagine losing my dog to something like that, so I made it my personal mission to prevent it from happening. And thus, in line with my entrepreneurial drive, Gourmet Pup Club was born!
I knew artisan-crafted dog treats fall under a very niche market with many competitors in the dog subscription business, such as BarkBox and PupJoy. Given this, I sought to validate my concept via a pre-launch campaign before committing to taking actual sales.
What went into validating your idea before you decided to go ahead with it?
The pre-launch campaign lasted 1 month. I had a landing page that informed potential customers of the service I offered, why it was different than my competitors, photos of the box filled with treats, and most importantly, an opt-in form to capture the emails of interested potential customers.
I generated traffic to my website through bootstrapping the process via organic means. The most effective marketing I did came from Facebook groups. I asked two of my friends to let me use their accounts (in addition to my own) to join 40-50 different niche related Facebook groups. In total, I was able to use these accounts to post to 150 Facebook groups every day.
Within each groups I would post pictures of my subscription box and run email generating contests, all of which contained a call to action that directed people to my website. The groups ranged in size from 1,000 to 100,000 members, so I was reaching a good number of well-targeted potential customers.
Instagram also helped build my email listing. I would post engaging content 2-3 times a day during peak hours with a call to action in each caption. I was able to generate close to 11,000 followers by following people who are actively engaged in my competitors' Instagram accounts. I downloaded the app "followers" to unfollow the people that did not follow me back. Each hour I would follow 50 people and unfollow 60 people, and my account was never banned.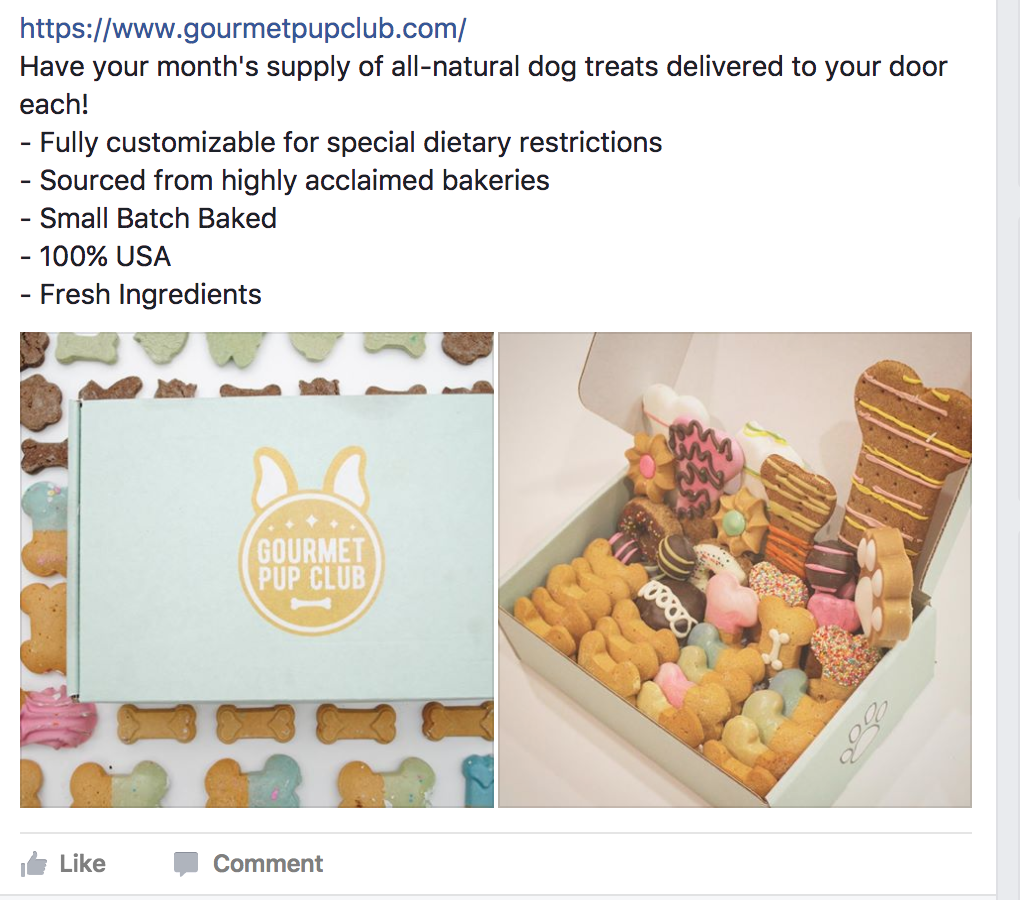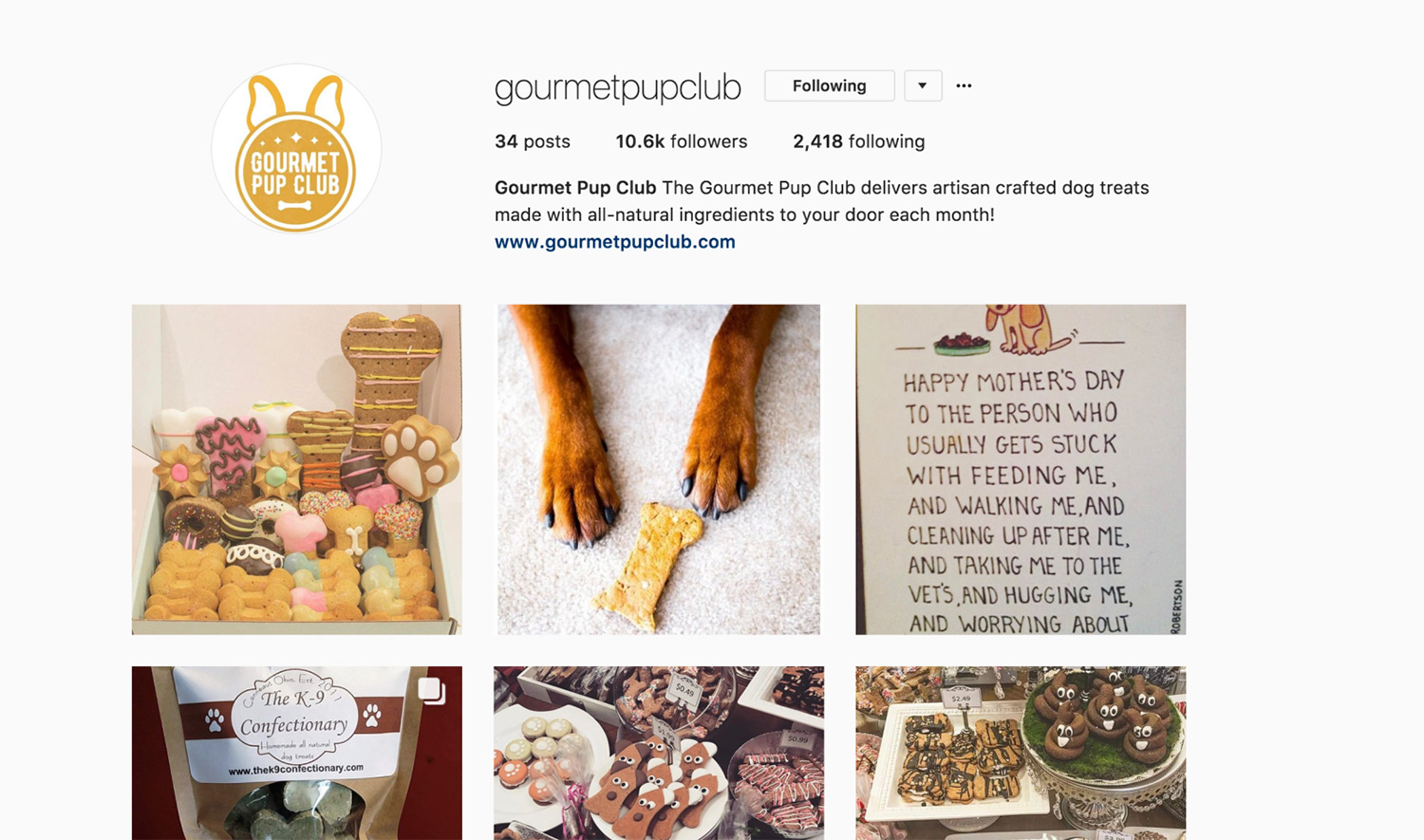 Finally, each week I used my MailChimp email list to create buzz and anticipation among my subscribers at the time. I was able to tease them by sending promotions, sneak peaks, and more information about my service. Once I'd gotten over 1,000 people to subscribe to my newsletter in a month, I felt that my concept had been validated. Thus, I decided to go ahead with the idea!
I have considered many "typical" business concepts in different industries from tech to food, but settled on the dog treat subscription box model because of the low overhead cost and the attractive margins.
As a college student hampered by student debt, dropping thousands of dollars on a business idea was not in the picture. The subscription box model worked for me because I used the revenue generated from my initial subscribers to cover the costs of my first run of boxes, stickers, treats, and shipping. Given the subscription model, I can prevent wasted product by knowing exactly how much to purchase based on my subscriber count.
What went into getting your initial shipment out?
I spent a lot of time collecting information on prospective bakers and bakeries to use as suppliers for the treats I include in each of my boxes. I found these potential suppliers through Etsy, Google searches, and word of mouth, and I spent additional time negotiating with them in order to achieve a price that made sense for my business model.
During negotiations, my leverage to the supplier would be, "I have X amount of subscribers, I have X amount of social media followers, etc..." Soon enough we'd come to an agreement, and here I am today!
I also spent many hours each day posting on social media to generate an online presence. That, along with my email list allowed me to gain the initial traction to get my business going. When I was ready to launch, I sent everyone on my list an email entitled, simply, "We have launched."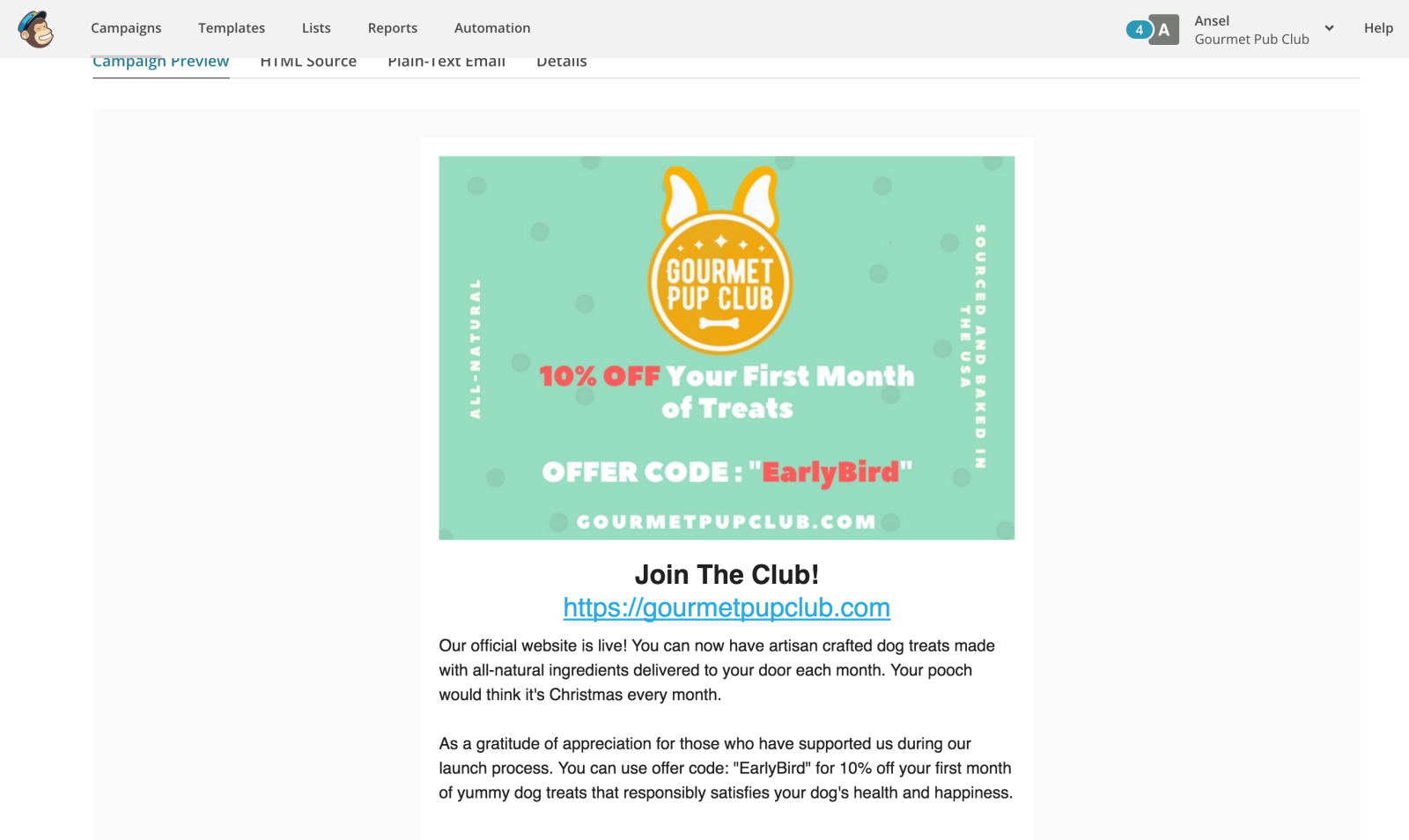 After I sent that email, I saw a jump in subscribers. Our first month of operations gave us enough capital to cover the costs of the boxes, treats, and shipping.

Now, it was time to actually package the treats, print shipping labels (via a service called Pirate Ship), and have the boxes picked up for delivery (via USPS).
In total, it took me an hour and a half to package all the boxes for my first batch of subscribers. The initial profit margin for each box came out to 40-46% depending on the plan chosen. Given those margins, I didn't mind spending the time.
How did you continue to find customers after your launch?
Our first month of operations came with both positive and negative feedback. People were pleased to receive aesthetically pleasing dog treats, and they instantly shared them on their dog's Instagram pages for the world to see.
However, one person canceled her subscription because she had a Great Dane and felt that there weren't enough treats in the box to satisfy her big dog. I also had to issue a refund to one person because the treats arrived crushed via the shipping process.
Based on the recommendation of my business mentor at a coworking space that I am part of (Domi Station), I decided to stop taking sales and center my focus on the existing subscribers that I had. I felt as if the original business model was not competitive and was lacking in its personalization as well as its user experience.
Here are the changes I made:
Instead of offering 1, 3, and 6 month subscription plans that varied in profit margin, I switched to offering recurring monthly plans that can be canceled anytime. This prevents my margins from being all over the place.
My old business model had a one-size-fits-all formula. Now, I offer "Treater" and "Eater" plans. Treater plans are meant for dogs with a moderate appetite and come with 4 bags of treats. The Eater plan is meant for dogs with hefty appetites and comes with 5 bags.
There were many potential customers that had pets with special dietary restrictions. Within my first month of operations, I had to tell 10+ potential customers that I did not offer specific treats for their pet's needs. I have since made the changes and added the ability to customize my boxes specifically for special dietary restrictions.
My original price point was far above the competition's. I wanted to gain as much market share as possible, so I made the decision to lower the pricing closer to $30.
With the revamped business model, I had to attract more customers. I began the process of launch 2.0 by informing my pre-existing email list that I generated from pre-launch. Then I rebranded the business on all social media outlets, centering my marketing message on the customizability and the competitive pricing of the box. It's proven to be beneficial, and Gourmet Pup Club has more subscribers now than it initially started with.
Can you explain your business model in more detail, and talk about how you've grown your revenue?
The simplest way to explain Gourmet Pup Club's business model is this: I buy treats wholesale from bakers/bakeries, package them in my branded box, and ship them out to my customers at a margin. I currently generate revenue in two ways:
1. Subscription Boxes — The Treater plan costs me $17 for the treats, and I sell it for $31.94, including $3.99 shipping, for a profit margin of 47%. The Eater plan costs me $19 for the treats, and I sell it for $33.94, including $3.99 shipping, for a profit margin of 44%.
2. Drop-shipped Personalized Dog Cakes — The drop shipping costs me $11.50, and I sell at $24.95, for a profit margin of 54%.
I run my website on Squarespace, using MoonClerk for recurring payments and Stripe for credit card processing. MoonClerk connects directly to Stripe, making it a very efficient process for me. Another advantage of using Moonclerk is that I can create a checkout form that includes the option of customizability, which allows me to feature that benefit in my marketing.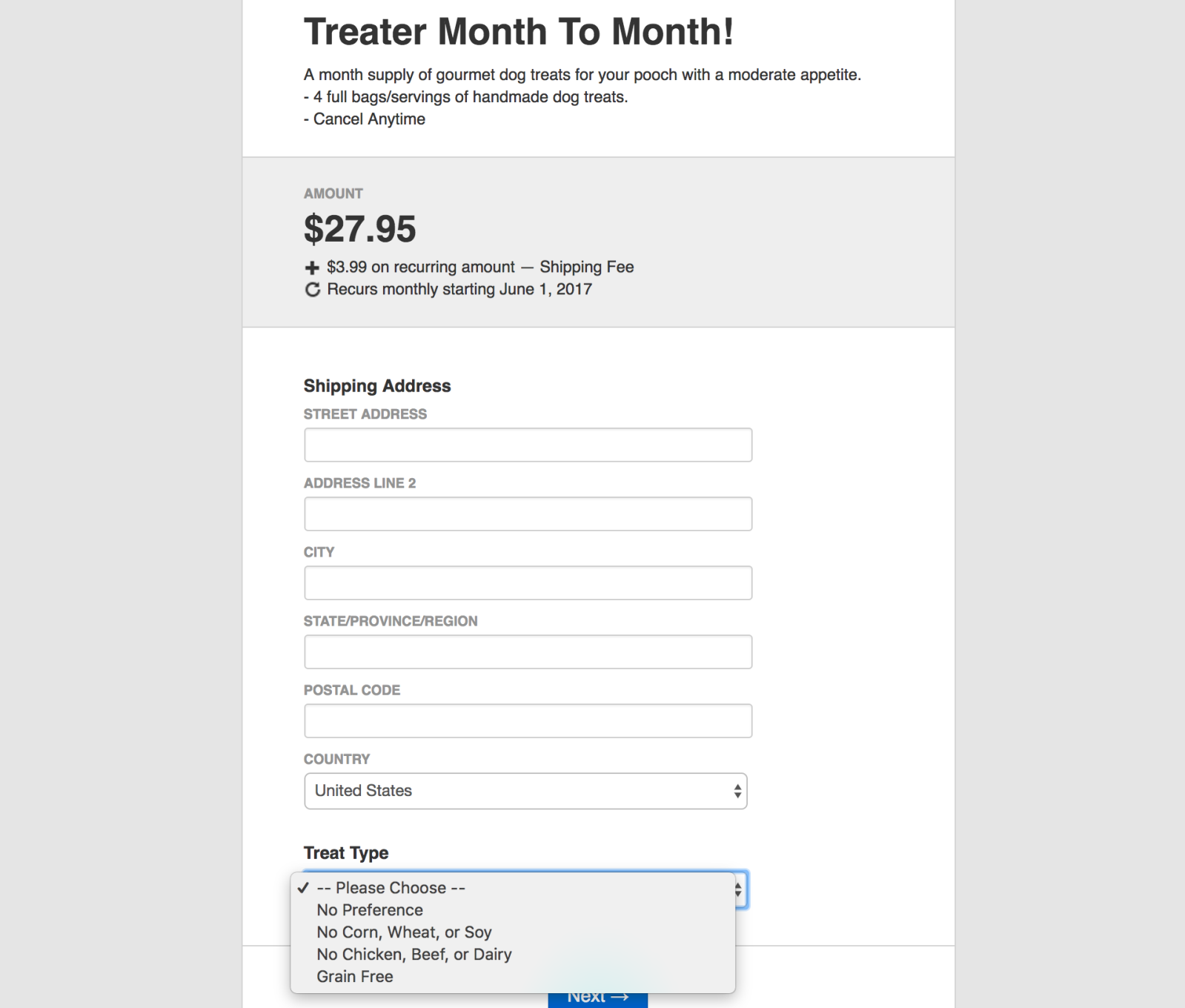 Our first month of operations was spent taking sales, and I've been profitable from that point on. The second month I spent revamping the business process, and the third month I spent promoting the rebranded Gourmet Pup Club. Our sales are just a reverberation of that journey:

What are your goals for the future?
I was fortunate enough to receive a hefty grant from my school's entrepreneurship program. Currently, I have planned an extensive marketing campaign to begin in June:
YouTube unboxers / reviewers
Sponsored blog posts
Utilizing Instagram influencers
Targeted Facebook ads
Google Adwords
My goal by the end of this summer is to have 200 subscribers. At that point in the business, I would outsource the packaging of the boxes to a fulfillment center so they could handle it. Fulfillment centers charge a dollar per box prepared, and I should be able to gain access into their discounted shipping rates.
Currently, the business helps alleviate the burden of student loans, and I want to keep growing it throughout college. The number one goal that motivates me to keep on going is to be able to pay off all of my loans through this business!
What are the biggest challenges and obstacles you've faced?
Initially, I had good intentions starting Gourmet Pup Club. However, I began to feel that my main motive was driven by profit rather than by improving the health of dogs across the nation. As a result, the consumer connection and experience was not present. Deciding to stop taking sales and instead revamp my business model was the best decision I've made.
During that period I did a lot of R&D through hundreds of surveys that I collected via Facebook groups. I became more aware of what pet parents wanted for their pooches… what ingredients were given green or red lights, how much owners were willing to spend, and just how much is considered a month's supply of treats. These surveys ended up making me a lot more passionate about my product, and this passion manifested itself into my social media posts, emails, and the business in general.
If I were to start over, I would change the way I approached the business in the beginning. I see the positive feedback and increase in sales as a result of my revamped business model, and I wish could have recreated it earlier on in month #1.
What were your biggest advantages? Was anything particularly helpful?
The biggest advantages in helping my business succeed were the people I surrounded myself with. Once I incorporated, I applied to become a member at the Florida State University student business incubator as well as its accelerator program at a co-working facility in Tallahassee, FL called Domi Station.
Being part of the student business incubator, I got access to the legal and financial mentors that the university provided to help students who had their own businesses. The most invaluable aspect is being able to bounce ideas off of and receive constructive criticism from other student entrepreneurs. This has allowed me to grow my business and work on the areas where I was weak as an entrepreneur.
Being part of Domi's Get Started accelerator program was also very impactful. It's where I learned the core foundational concepts around starting my own business: From learning about who my actual customers are, to knowing my numbers, to understanding the importance of the user experience, to realizing the true realities of entrepreneurship, I was able to learn how to properly start and run a business.
The co-working aspect of Domi station gave me access to mingle with more established entrepreneurs and small businesses in comparison to those at the FSU student business incubator. I've been able to talk for hours with these people who make a living off of their ideas.
Since then I've felt even more driven to grow Gourmet Pup Club, and I've also generated many future plans that I envision for myself after college.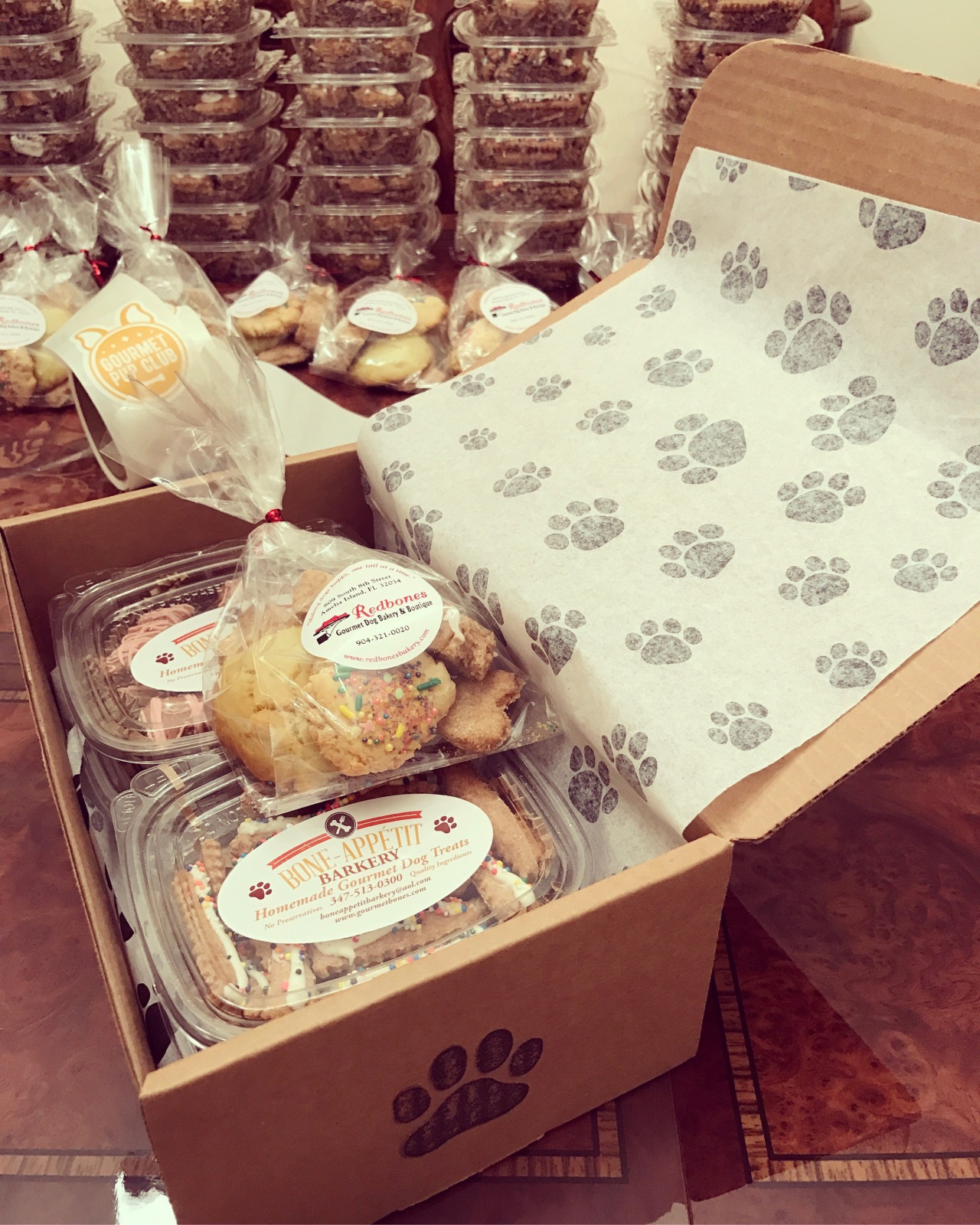 What's your advice for other indie hackers who are just starting out?
In order to make a business run, you have to wear many hats. I've had to wear the hat of a marketer, salesman, programmer, logistics director, and even a veterinarian at times. But having to play many roles in the business has allowed me to grow the most as an aspiring entrepreneur. It's fair to say within these past 4 months, I've learned more through this business than my whole two years in college. Embrace the challenge, learn, and leave an impact!
It's not easy, but being forced to learn is something that motivates me to keep on going. When you learn new things about how the world works via your business, then that just makes you a better version of yourself. Who cares if you fail — at least you tried! I don't know of one person on the Forbes 30 under 30 list that did not take initiative.
The unwritten formula of American success is: go to college, ball out on your LinkedIn and GPA, then get a couple internships, only to land a job working a set number of hours for someone else's dream rather than your own — all while earning a subpar starting salary.
The problem with "winning" this rat race, is that you're still a rat. To get a breath of fresh air means to live an abnormal life and to not conform with the status quo, manifesting your most insane dreams into reality — to create your own unique life.
Entrepreneurship doesn't apply just to business majors. It applies to anyone crazy enough to think that they can change the world. The self-gratification behind seeing your solution to a problem actually having an impact on your end customer is second to none. If you love what you do and you're good at it, the money will follow.
Where can we go to learn more?
Please feel free to reach out to me if you just want to have a conversation or if you need help starting your own subscription box. Also, feel free to comment in the section below or email [email protected] and I'll try to get back to you.
—
Ansel Ponce Diama , Creator of Gourmet Pup Club
Want to build your own business like Gourmet Pup Club?
You should join the Indie Hackers community! 🤗
We're a few thousand founders helping each other build profitable businesses and side projects. Come share what you're working on and get feedback from your peers.
Not ready to get started on your product yet? No problem. The community is a great place to meet people, learn, and get your feet wet. Feel free to just browse!
—
Courtland Allen , Indie Hackers founder