How I'm Balancing Multiple Companies, My Family, and a Passion Project
Hello! What's your background, and what are you working on?
Hi, I'm Malte Scholz, and I'm one of three co-founders of airfocus.io.
My background is product management and I've always been hunting for ways to do things better, faster, and smarter.
airfocus is a B2B SaaS from Hamburg, Germany that enables decision makers and teams to prioritize projects and features to build more effective roadmaps. We are used a lot by product managers as the strategy layer that sits on top of project and task management platforms like Jira, Trello, or Asana to make sure you do the right stuff.
Today (11 months post-launch), we're making around $14,000/month from the service and we're growing around 20% month over month.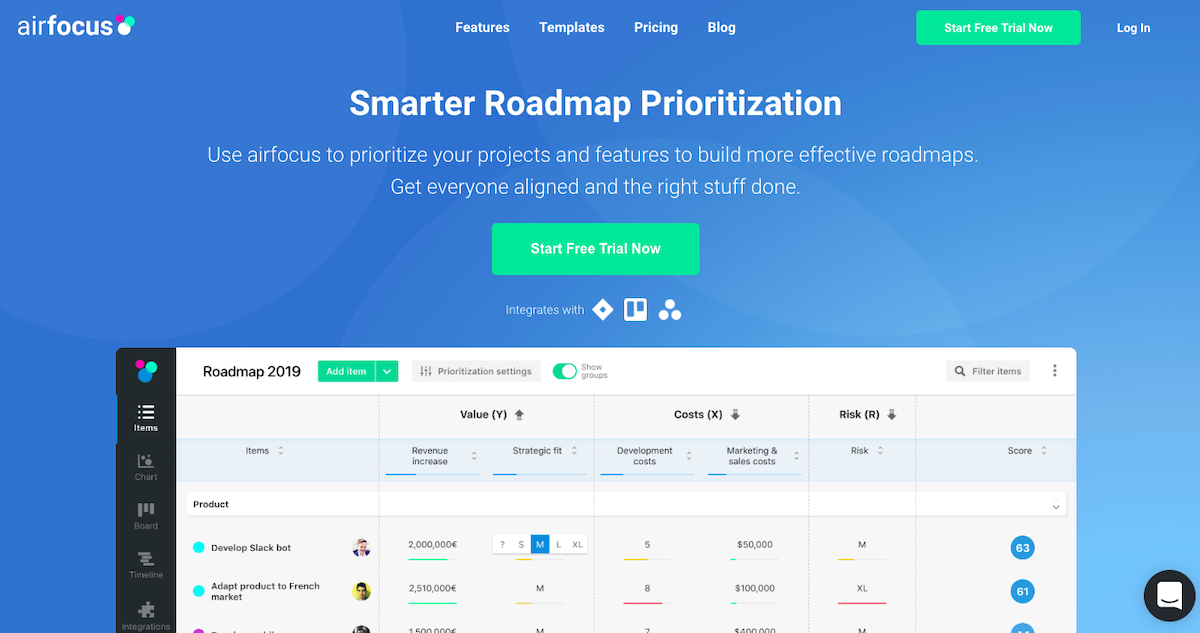 What motivated you to get started with airfocus?
I came up with the idea for airfocus because I was frustrated with ineffective prioritization spreadsheets and gut-based roadmaps. I was a fulltime product manager at a 200 employee SaaS company, and over and over again I saw projects fail, deadlines missed, or budgets exceeded because of bad strategic decision-making.
As I couldn't find a SaaS to solve that pain, I convinced my (now) co-founder and CTO, Christian, to help build an MVP over the course of three weekends. We then launched the product on BetaList and got a few hundred signups and super valuable feedback.
What went into building the initial product?
We built the initial web-app and website in around six weeks as a typical side project. We felt that we were on to something big, but that we would need to heavily invest in roadmapping functionality and integrations to make airfocus an integrated part of our users' lives.
To fund the upcoming development of airfocus, Christian and I quit our full-time jobs and co-founded a separate tech agency, WeLevel, to develop web and mobile apps for German corporates (e.g. Lufthansa) and startups. The team quickly grew to around 15 remote developers, and Chris and I split our time 50/50 between managing the clients and developing airfocus. So we used the tech shop as a vehicle to ramp up airfocus.
Being product and tech guys, Chris and I also learned that we needed help on the marketing side and decided to bring Valentin on board as a third co-founder. Valentin and I have known each other since high-school and his results-oriented mindset was exactly what we needed.
After another six months of development, we launched the airfocus paid plans in April 2018. Exciting times, especially for me as my beautiful daughter Amelia, was born just three weeks prior to the launch.
Like every startup, we tried to balance launching fast with building rock-solid tech. However, we always believed that airfocus would work, so we spent quite some time on building advanced drag-and-drop roadmapping functionality and a scalable stack (Scala/React) before we shipped the product.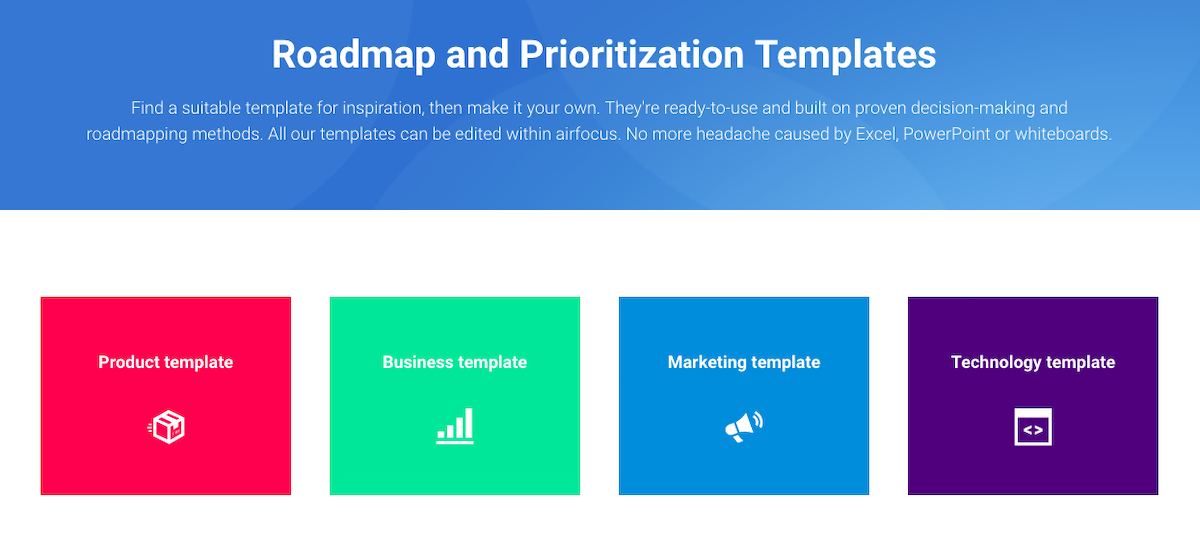 How have you attracted users and grown airfocus?
In the beginning, we followed the proven advice of doing stuff that does not scale. We introduced airfocus to our personal network as well as Facebook and LinkedIn groups. Until a few weeks ago, I was also running a Dux-Soup campaign to automatically connect to relevant users on LinkedIn.
We have also experimented with ads on Facebook and Twitter, as well as cold-emailing. Our most reliable and effective traffic sources today, however, are Capterra and Google ads, as well as the Trello Power-Up Store (Trello users prioritize their Trello cards through our add-on and build elegant Kanban and Gantt roadmaps).
In September, we also launched on Product Hunt, which brought in a few hundred sign-ups. In retrospect, we probably spent too much time preparing for the launch, as actual sales ended up being lower than what we had hoped for.
What's your business model, and how have you grown your revenue?
It was clear from the beginning that we would sell airfocus as SaaS subscriptions. What was not clear was how to best structure the different pricing tiers. Inspired by the smart people at Price Intelligently/Profitwell, we aimed to establish a value-based pricing approach. However, it turns out that this is not an easy task if you want to attract different target personas in both small and mid-size businesses.
Ultimately, we decided to segment our plans based on the number of users and features (mainly integrations). We started with two plans: One targeting solopreneurs and small teams for $19/month and one for bigger teams for $39/month per user.
One interesting and unexpected trend we're seeing with our user base is bottom-up account expansion. Many paying teams start with one license (user) and then upgrade by inviting more users to the platform.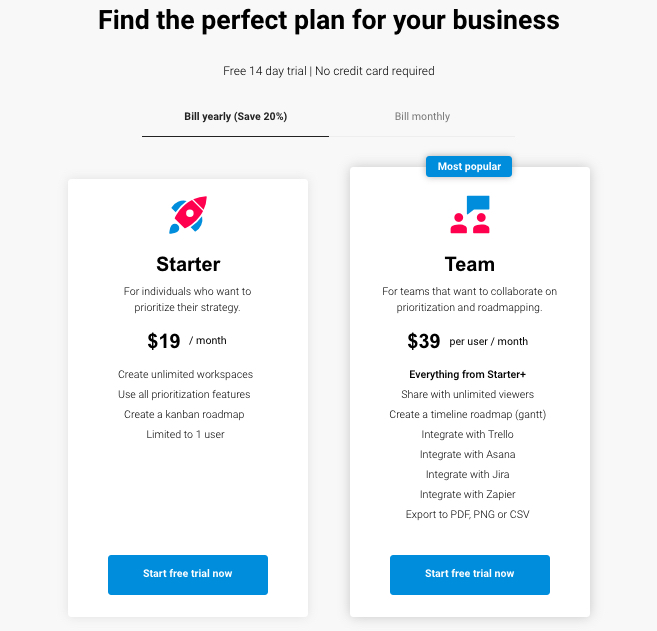 What are your goals for the future?
We're very mission-driven and want to build a lot more useful stuff around our theme of empowering companies to make better decisions.
Today airfocus is mainly a strategic planning tool and it helps thousands of users create priority-based roadmaps. However, from my experience, planning is sometimes disconnected from the actual execution (usually happening in tools like Jira, Trello, Asana or Basecamp in hundreds of tasks and sub-tasks). Remember that famous saying by some wise guy about "Everyone has a plan until they get punched in the mouth"? We now also want to close that gap to predict whether your planned effort estimates and forecasted deadlines are in jeopardy. To do that we'll apply machine learning and try to make sense of the seemingly random data in your tasks and sub-tasks.
We aim to build a meaningful SaaS company with thousands of happy customers and a happy team here in Hamburg (and from wherever they work remotely). To achieve all of that we'll continue to invest in product and we'll double down on marketing hacks that have worked to date.
We strongly believe in partnerships and will focus this year on providing major improvements to Jira and Trello users via our marketplace integrations.
We recently made the decision to take on external capital to gain more firepower on the product and marketing side. However, it turns out that all these fundraising activities take a whole lot of time. It's currently a big challenge for me to juggle my limited time between fundraising, "productive" work, and my family.
What are the biggest challenges you've faced and obstacles you've overcome? If you had to start over, what would you do differently?
It probably took us too long to set up an environment where we could work full-time on airfocus. We probably should have started to talk to investors earlier.
Another big challenge for us is content marketing. We're addressing decision makers in product and project management as well as C-level managers and we've failed over and over again to outsource content creation for our blog to remote writers. We learned (and it sounds super obvious now) that we needed someone that is able to speak the language of our people, not just someone who is great at writing SEO-optimized headlines. We now have a setup that sort of works, but I'm happy to learn from all you indie hackers about how you overcame this challenge.
Have you found anything particularly helpful or advantageous?
I'm a big fan of Jason Calacanis' podcast This Week In Startups. He has close to 1,000 episodes now and he did podcasts way before it was mainstream. His in-between comments and remarks really teach you how things work in tech and business and help you develop big-picture thinking. It's not that any of his content directly impacted any of my airfocus decisions, but he is for sure a big influence on the way I see the world and thus indirectly on how I make decisions here.
As mentioned above, we're getting lots of valuable leads from Capterra (Yelp for B2B software). We're basically paying Capterra to be listed prominently for different software categories. The price you have to pay is based on your listing position and a bidding auction. We quickly learned that we get much cheaper, but still valuable traffic, when we don't pay for top listings (#1), but can be found at spot 4 or 5. The idea is that anyone who is seriously searching for new software is also looking beyond the first spots. Use "Location Bid Targeting" to decrease the bidding way below the official minimum of $2/click. I encourage you all to try it out to get most out of the directory.
What's your advice for indie hackers who are just starting out?
Launching a SaaS is relatively easy. Making it a success is not. To win you need reliable tech and exceptional marketing skills. I believe the latter will be even more relevant in the future with more products being available and an increasing level of specialization and competition. So if you don't have these skills, I recommend adding someone to the team over teaching yourself and doing everything on your own.
The one thing that I see teams struggle with is prioritization and not working on the high-impact topics (I'm not saying this because it helps my case 😉). That counts for strategy as well time and task management. It's so easy to work on stuff that keeps you busy, but doesn't move the needle. My tip is to define a regular and structured workflow that forces you to ruthlessly prioritize your tasks and strategic decisions so you stop wasting energy and precious lifetime.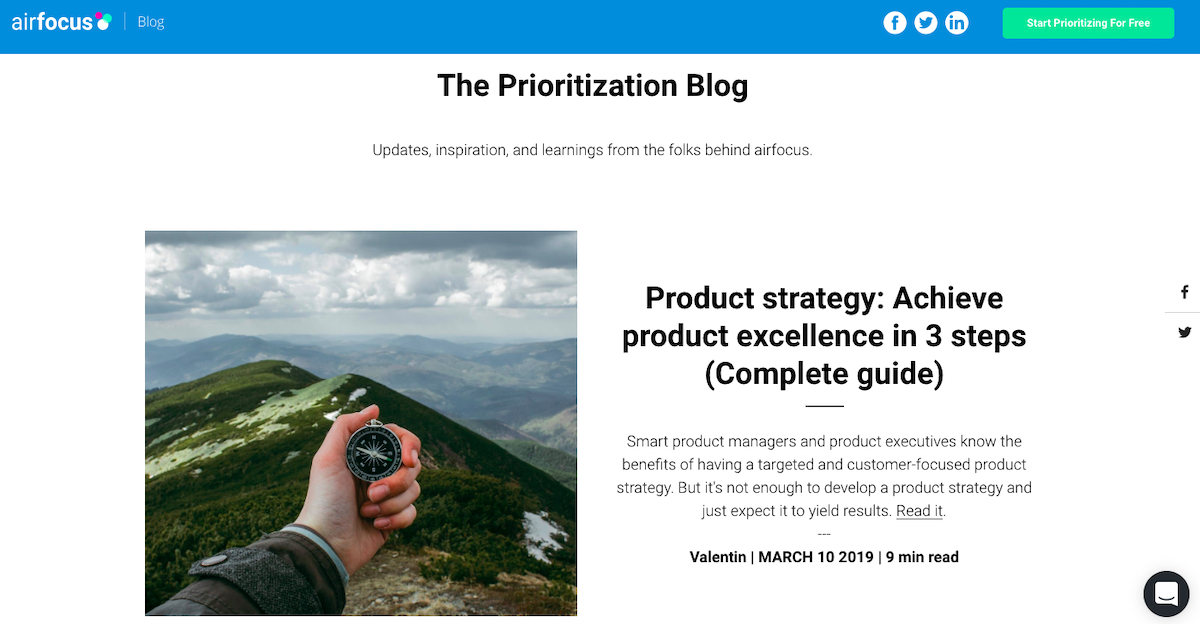 Where can we go to learn more?
You can give airfocus a try for free. For more info on prioritization and roadmapping, take a peek at our blog. You can also get in touch with us on Twitter.
If anyone has any questions for us please don't hesitate to ask in the comments. We'll try to answer everything. Thanks for having us on Indie Hackers.
—
Malte Scholz , Founder of airfocus
Want to build your own business like airfocus?
You should join the Indie Hackers community! 🤗
We're a few thousand founders helping each other build profitable businesses and side projects. Come share what you're working on and get feedback from your peers.
Not ready to get started on your product yet? No problem. The community is a great place to meet people, learn, and get your feet wet. Feel free to just browse!
—
Courtland Allen , Indie Hackers founder