How I'm Using Neuroscience to Build a Successful Newsletter
Hello! What's your background, and what are you working on?
Thanks for having me! I'm Anne-Laure Le Cunff and I'm the founder of Ness Labs, a company that's making about $80K in annual revenue. I quit Google two years ago to focus on building products that help people live happier and healthier lives. I'm also a neuroscience student at King's College London, where I study everything about the weird ways our brain works.
I'm using what I study for my masters degree, as well as my experience as an entrepreneur, to create content and products that help people achieve their goals without sacrificing their mental health. Such products include Teeny Breaks, a Chrome extension reminding people to take breaks at work, and Maker Mind, a weekly newsletter about mindful productivity.
Four months after launch, Maker Mind has more than 6,000 subscribers and generates $800 in monthly revenue — a tiny fraction of what Ness Labs generates, but an exciting start. The accompanying blog has about 30K visitors per month on average. The long-term goal is to create the go-to destination for makers — such as entrepreneurs, creators, and developers — who are interested in mindful productivity, with courses, content, tools, and an exclusive community.
What motivated you to get started with Maker Mind?
I've experienced burnout both as a Google employee and as a startup founder. Like many entrepreneurs, I suffer from time anxiety and I'm always trying to make the most of my time. It makes me a very creative and productive person, but it's not always the best for my mental health.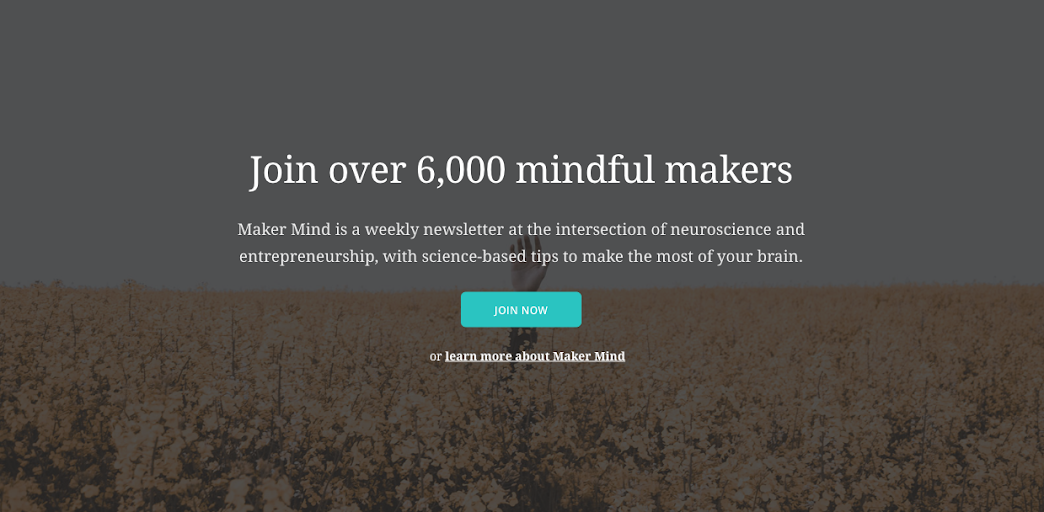 When I started studying neuroscience, I realised there were many science-based ways to maximise one's performance without sacrificing mental health. I also learned about the many neuromyths there are about how our brain works. For example, lots of people think we're either left-brained or right-brained, which isn't true at all.
One of the things I learned during my studies is that creating your own version of what you study is one of the best ways to internalise new content. So I decided to start writing every weekday on my blog about topics at the intersection of neuroscience and entrepreneurship.
I'm lucky that my main business is profitable — about $80K this year — so I didn't need to think about monetisation straight away. I'm a big proponent of working and learning in public, and a newsletter seemed like a great way to make myself accountable. I added a subscription box at the bottom of each article on the blog, and committed to writing on a consistent basis.
What went into building the initial product?
Instead of spending months building a complex product, I thought about the most simple way to deliver value while maximising my personal growth. I already had a MailChimp account, so I created a new audience segment, and put up a subscription form.
Every decision I've made in terms of building Maker Mind has been around minimising friction so I would stick with it. Consistency is key when building a content business. The newsletter is text-only, the blog uses WordPress. It's the kind of product where the value comes from the content rather than the technology, so that's what I focus on.
Every morning, I block an hour and a half to write a new article. It's the very first thing I do. Blocking time has allowed me to build a habit. It almost feels strange if I have a networking breakfast or something happening that forces me to push my writing session back to later in the day.
I have many ideas for the future of Maker Mind, but that's all it took to get the general idea off the ground.
How have you attracted users and grown Maker Mind?
I've been using a simple system from day one. I write my daily article, then I post it on Hacker News and on Twitter. The first month, four of my articles hit the front page of HN. It brought many visitors to the website, with a fraction of them converting to newsletter subscribers. Some of my most popular articles included the ones about JOMO and Time Anxiety. This got me to about 2,000 subscribers in the first couple of months.
Then I decided to launch on Product Hunt. Turns out, they have a category dedicated to newsletters. I built a dedicated landing page with subscribers' reviews, screenshots, and more, and posted it on a Monday. It was #1 for most of the day and ended up at #2 in the evening with more than 1,000 upvotes. I gained another 2,000 subscribers from that launch only, for a total of 4,000 subscribers.
Since then, I have been using various strategies to get my content out there. I post on Facebook groups, I have a weekly roundup of articles on LinkedIn, I sometimes post on Slack or Telegram. I now have more than 6,000 subscribers, without spending a dime.
But the biggest acquisition channel by far — the one that converts the best — is Twitter. People retweet my articles, share them with their colleagues, include them in their own newsletters. It's qualified traffic that converts well.
Another thing I'm excited about is SEO. It's still a small portion of my traffic, but it's growing steadily, and I like how predictable it is compared to the ups and downs of viral posts on social media. I never write about a topic because of SEO, but I optimise all of my articles using the Yoast SEO plugin. I have several articles ranking at #1 for some long-tail queries. Hopefully it will keep on going up.
What's your business model, and how have you grown your revenue?
As I mentioned, I'm a big proponent of working, building, and learning in public. I share my milestones here on Indie Hackers, as well as on Twitter and LinkedIn. Once I got to about 4,000 subscribers, sponsors started reaching out. I currently have sponsors lined up for the next couple of months, using Stripe to charge $200 per weekly newsletter.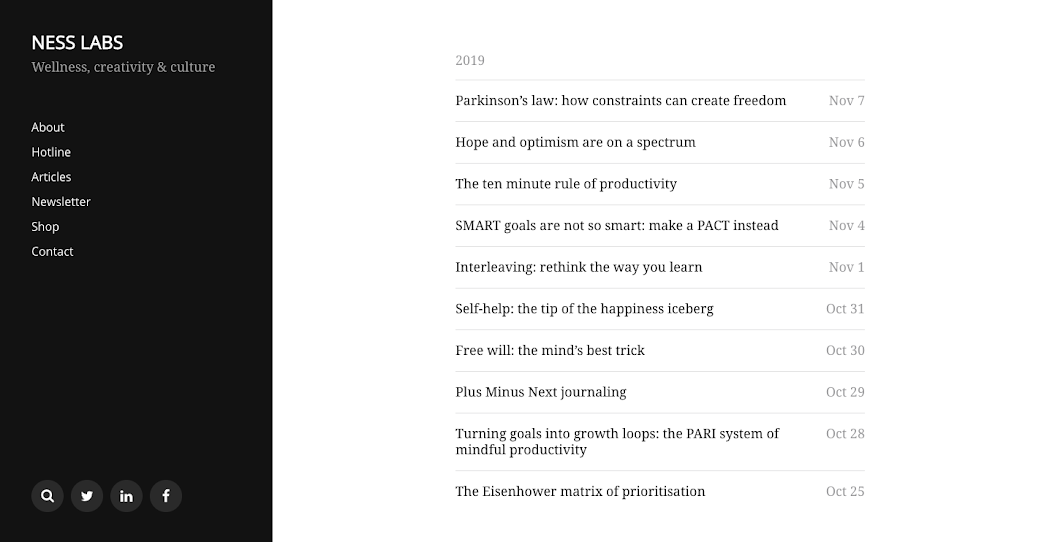 What I like about this inbound approach is that sponsors are already convinced this would be a beneficial partnership, and I don't need to do any kind of hard pitching. The sponsorship model also means that I can keep the newsletter free and not sell my subscribers' data, which I would never want to do.
I don't even have a dedicated page on my website for sponsors. They just email me through the contact form or reply to one of the newsletters to ask if they could be featured in one of the next editions. If I think their product or service would be a good fit, I ask them to send the copy, and sometimes I make some edits with their approval so it fits the overall tone better. I always make sure it will be something of value to my subscribers.
$800 per month is a great start, and my costs are very low so I have high margins, but it's obviously not enough to free myself from offering marketing and product strategy services through my main business. Also, while I have sponsors booked for quite a few future editions, I don't want to start a rat race of chasing potential sponsors. I want to build something that's more stable and sustainable.
What are your goals for the future?
As I mentioned, I want to diversify my revenue streams. I have launched a store where I sell t-shirts based on the content I write. And I'm currently creating a course based on everything I have written about mindful productivity. While people would be able to piece most of the content together from the 100+ articles I have written on the topic, this will be a step-by-step, actionable guide to learn how to put these insights into practice.
I also want to generate recurring revenue through a membership system. In the future, free members will only have access to a portion of the five articles I write every week. Paid members will have access to all the articles, as well as an exclusive library of tools and content about mindful productivity. The long-term goal is to build an integrated platform with tools, content and services to help people achieve their goals without sacrificing their mental health.
It's not going to be easy. While I learned how to code this year, and I'm now pretty comfortable with Node, what I have in mind is a bit more complex than what I can build at the moment. But I think it's needed, so I want to push through and make it happen. I may partner with someone in the future, as I wouldn't mind working with the right co-founder.
In terms of revenue, my short-term goal is to double my current numbers and to design a more stable business model with recurring revenue at its heart, so I can still partner with sponsors, but won't need to rely on them. It's all inbound right now, but it's quite unpredictable.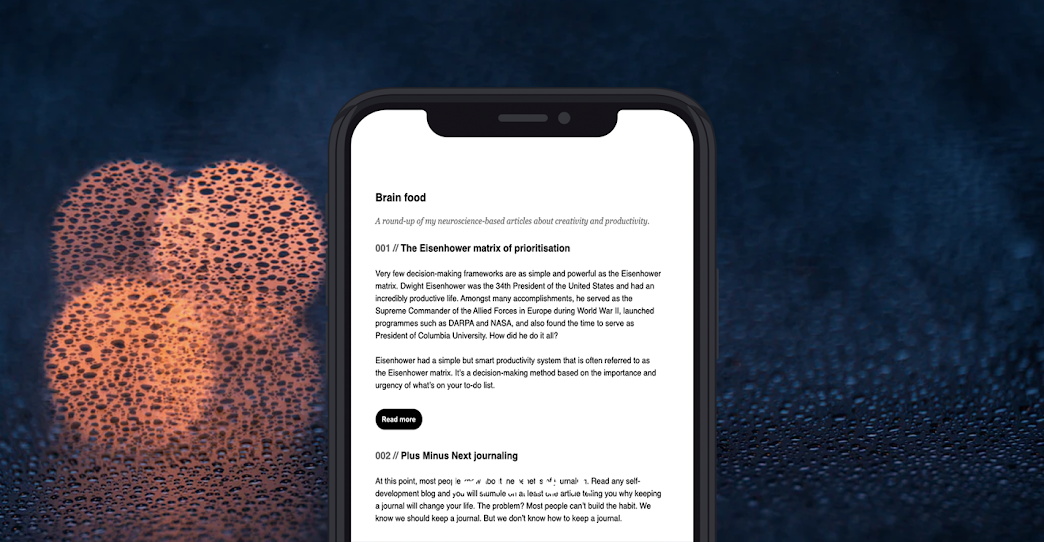 If you had to start over, what would you do differently?
I know I said this is not a tech-driven business, but I still regret going for the stack I picked in the beginning. I'm currently using MailChimp, WordPress, and GoDaddy. That combination is clunky and more expensive than it should be. One of my goals for the next few months is to find the time to transition to Mailjet, Ghost, NameCheap, and DigitalOcean.
But I still think my approach was fine: build a first version, talk to users, see what sticks. I could have spent a lot of time getting the stack right in a vacuum. Now that I know people are interested in the content, it's fine to transition to a more robust and affordable stack. Getting your product in front of users as quickly as possible is more important than getting everything right.
Have you found anything particularly helpful or advantageous?
The most helpful practice has been to build a habit around my business. Getting up in the morning, writing my daily article, sending my newsletter every week on the same day. It progressively becomes a part of you. In terms of numbers — visitors, subscribers, revenue — there are ups and downs, but building that habit helps me stick to it. It helps me focus on the output rather than the outcome; on long-term achievements rather than short-term wins.
Other than that, studying neuroscience at King's College is probably the most valuable thing I'm doing at the moment, but I know not everyone can afford to go back to school. The great thing is there's lots of content available for free online. I would really encourage any entrepreneur who wants to build a product in a new space to make the most of all the content out there. You could easily get the equivalent of a university degree for free.
If you're interested in how the brain works in particular — and I think any entrepreneur could benefit from that knowledge — I put together a collection of books about neuroscience. There is also a great course about learning how to learn on Coursera. It's free and it's the most popular course on the platform at the moment.
What's your advice for indie hackers who are just starting out?
It may seem obvious... But do get started! I coach many entrepreneurs and it's very common to see them suffer from analysis paralysis. They end up spending a lot of time researching the most optimal solution, when in reality they would learn much more by doing. Building a business is a continuous process. The best thing to do is to get started now and adapt your strategies as you go.
If I had some advice to share with indie hackers who want to start a newsletter, it would be to pick a schedule, stick to it, and share you work consistently on several channels to see which ones perform best. When it comes to building a content business, there's no magic bullet. Produce great quality content and try to get as many eyeballs on it as possible.
Where can we go to learn more?
I'm pretty active — maybe too active — on Twitter, and you can also contact me on the Ness Labs website.
If you're interested in mindful productivity, please subscribe to the Maker Mind newsletter. I would love to hear your thoughts, so let me know of any questions in the comment section below!
—
Anne-Laure Le Cunff , Founder of Maker Mind / Ness Labs
Want to build your own business like Maker Mind / Ness Labs?
You should join the Indie Hackers community! 🤗
We're a few thousand founders helping each other build profitable businesses and side projects. Come share what you're working on and get feedback from your peers.
Not ready to get started on your product yet? No problem. The community is a great place to meet people, learn, and get your feet wet. Feel free to just browse!
—
Courtland Allen , Indie Hackers founder