How My Newsletter for Developers Generates Subscription Revenue
Hello! What's your background, and what are you working on?
I'm Adam, and I run Versioning, a daily newsletter aimed at helping web developers, designers and awesome web folk keep up-to-date and develop their skills. The newsletter is a monthly or annual paid subscription, though there is a free tier of content, with free members getting at least one newsletter a week.
I have a background in journalism and content. I worked at a daily regional newspaper in New Zealand and, when I moved to Melbourne four years ago, I started working in the content team at SitePoint. Over time I moved into roles as an editor, managing editor and head of content. I began Versioning as a free, ad-supported newsletter for SitePoint shortly after I started at the company. I did this on the side, in addition to my primary roles at SitePoint, and over time we grew the subscriber base to 50,000 subscribers.
But I wanted to dedicate myself to this full time and make the product better for our subscribers. Instead of doubling down on ads, we decided to opt for the paid membership model with a new startup called Substack, where we're an early partner. Subscribers get the daily newsletter, ad-free, along with other updates I think will make their lives easier and themselves more knowledgeable about their industry. A couple of weeks after launch, we're on track to make $2,000/month with a mix of monthly and annual memberships, and our vision for Versioning is much larger than that. We have an engaged member base, including the free subscribers, and hope to bring more of those onboard as full members as we go.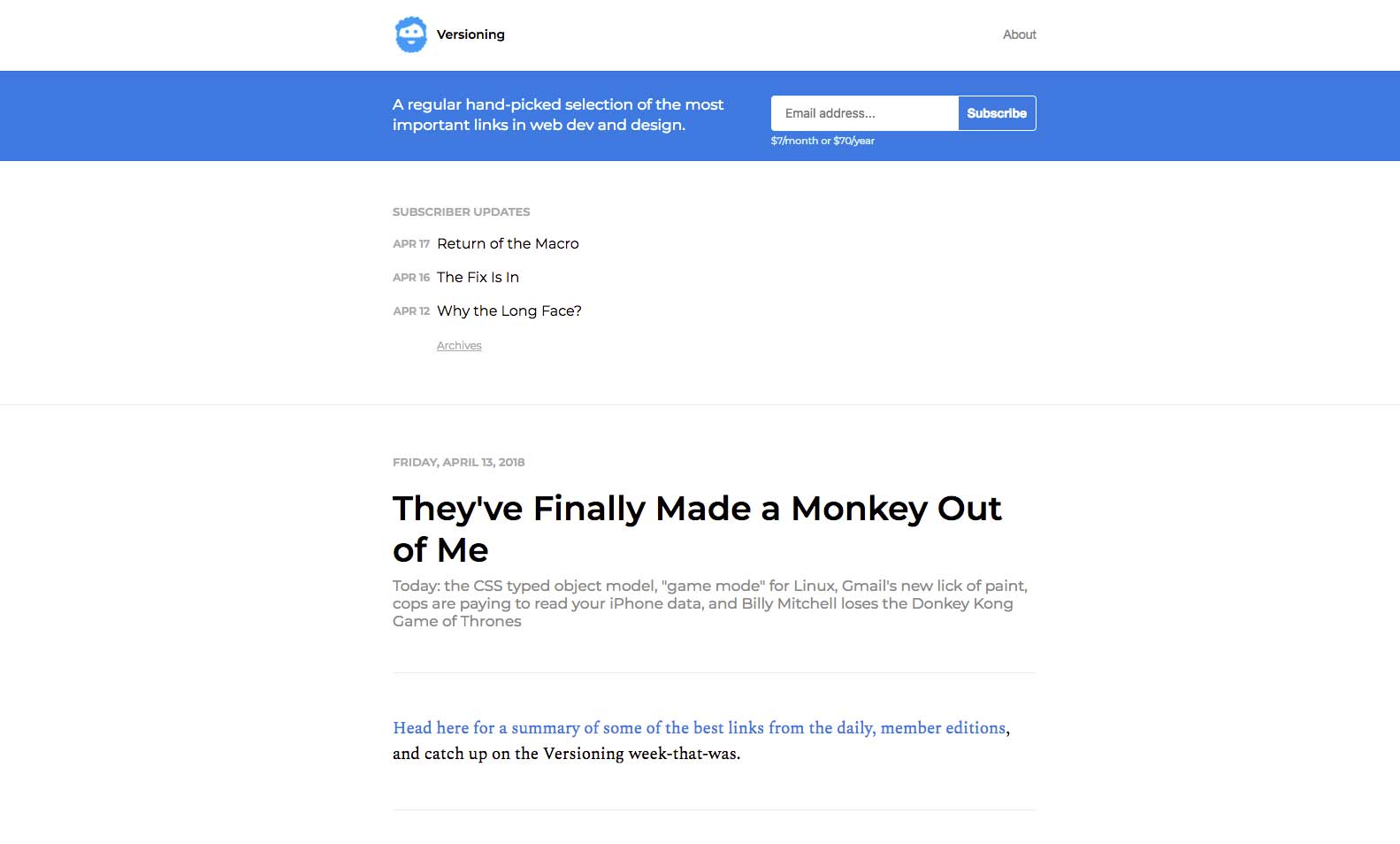 What motivated you to get started with Versioning?
I have a strong interest in technology and web development, and I find a lot of joy and satisfaction in sharing interesting things with people I like. I would be sharing these links anyway. I'm just glad I'm doing so in a way that many people find helpful and valuable. Versioning has strong subscriber interest and engagement. Since we first started the newsletter in 2014, I've seen strong subscriber growth, and I regularly receive messages of thanks or support from subscribers. As an extreme example, in 2016, I had a significant health issue that took me out of action for months, and I received hundreds of kind messages from subscribers.
I also regularly survey the audience to see what's working and what's not. One recent survey, aimed at long-time members, some from the very beginning, asked them for feedback on why they had stayed subscribed. This feedback helped me to understand what subscribers like in the product.
When asked what they like about the newsletter, I had 450 responses with positive words! Here is one example:
"Gives me a daily dose of all the best links, I like how it's sectioned (back-end is not my thang, so I just skip over it), plus it makes me look good at work because a) I sound intelligent quoting those articles, b) I have a vague idea of what's going on in the tech world (even just by skimming the link titles), c) posting them in Slack channels gives me kudos (and warm fuzzy feelings)."
And another:
"I follow more links from this newsletter than any other I'm subscribed to. Consistently interesting and useful."
Once we decided this was a direction we wanted to try, we sent out a survey to the existing audience to try to get a handle on whether there was interest, and whether the monthly fees were reasonable. There were naturally some concerns, but plenty indicated their interest in the idea. This survey was one of the signals we used to change our approach from having multiple membership tiers to something more simple and reasonable.
I've moved into the role full time, from my previous role as head of content. There were actually multiple reasons for this. I wanted to try to turn Versioning into a strong product of its own, without doubling down on ads. A full time focus would allow me to improve the product further and produce more content for subscribers. On the other side of the coin, there were ongoing ramifications from the health issue mentioned above, and a change in role from head of content to something with less oversight (and management) was actually very important to my ongoing recovery. So there were plenty of reasons to try this!
What went into building the initial product?
We've been talking about a reader-supported model for at least a year. Once we decided to actually try it, we agonized for a long time over the model, the various tiers, and the types of additional content members would receive. We also spent a lot of time working out the platform we would use. Then, partly because New Zealand is so small and Substack founder Hamish McKenzie and I have a mutual friend, he and I connected, and after talking through their product and model we elected to go with them, with Versioning as a beta client.
We continued to work closely with the Substack founders, and they shared lessons and strategies that had come from helping others to launch a paid newsletter on the platform. They also helped us fine-tune our model and PR strategy.
Once we decided to launch the subscriber-supported product, Versioning went from being a small task in my larger day to my sole focus.
How have you attracted users and grown Versioning?
Until recently the newsletter had been free, and that allowed us to relatively easily build up a subscriber base. Versioning is fortunate enough to have access to the SEO footprint of SitePoint, so we were able to leverage this to grow a subscriber base up to 50,000. We integrated Versioning into the sign-up flow for SitePoint Premium, our premium learning platform. Premium and Versioning address different needs: learning and news.
When we decided to change up the model, we first had to carefully consider how we were going to approach this with our existing subscribers. There was a loyal, engaged audience already. OGs, I called them. Some of them had been signed up from the start, in 2014, and so we decided we would give them a free month of access to the paid version of the publication. For the first month of the paid version, users could also sign up for a membership at a reduced price, and that price would renew forever.
What's your business model, and how have you grown your revenue?
Members pay a monthly or annual membership fee for access to the daily newsletter and other updates, so the business model is fairly simple. This will grow more complex, and hopefully more successful, once Substack adds a referrals feature to the platform.
Once we decided to grandfather the OG subscribers, we noticed a number of them were signing up before the end of their free month, which goes to show the value they placed on the publication, and the importance of treating your most engaged, loyal users well.
We simultaneously held an introductory offer, allowing people to sign up for a 30-ish% discount, with the price recurring for life. These two strategies worked well together, adding urgency for new and existing subscribers to lock in the special deal. In the final 10 days of the month I reminded subscribers of the nearly-expiring deal, and this also helped with conversions.
Substack's model is to take a portion of your revenue, so they are motivated to work with you to grow the publication's member base. Since they handle support and infrastructure, the only cost for Versioning is my time.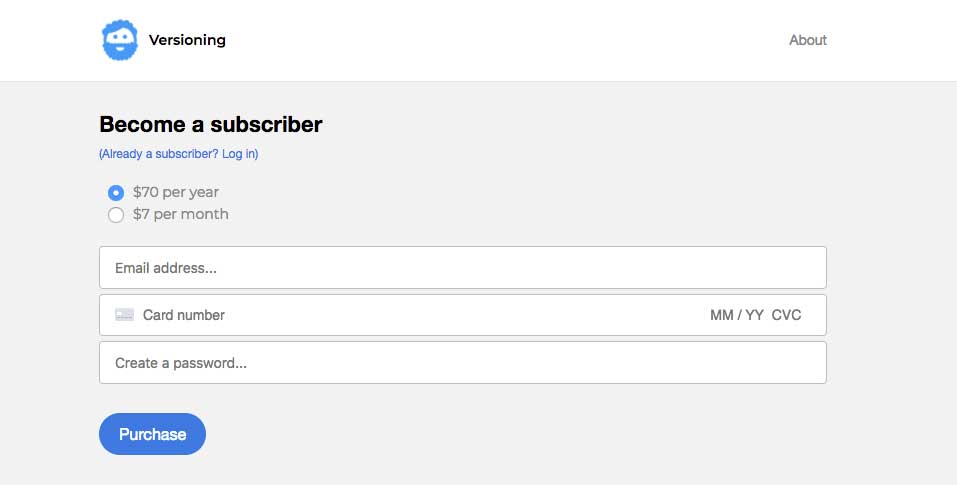 What are your goals for the future?
Growing the newsletter further, into a truly successful paid publication. I want to demonstrate that this model works for businesses as well as for individuals or as a side project.
For the short term, I'm trying to learn as much as I can about why some people were keen on the paid model, and others weren't, and then use that information to change the way the product works and is marketed.
What are the biggest challenges you've faced and obstacles you've overcome? If you had to start over, what would you do differently?
When we decided to adopt a paid model, our first instinct was to create many pricing tiers (I think we were up to about six at one stage...) each with their own incentives and rewards for joining. It quickly became apparent this would be untenable. Maintaining the content and deals for each would be complicated and not worthwhile.
I think this was an impulse born from feeling defensive about charging for something formerly free. It's easy to add things to a free product to justify the price, but much harder to take a punt and say: "this thing is worth something, this is what we think it's worth, what do you say?" That said, members will get more value, because I'll have more time and resources to focus on delivering useful content.
One of the first things I did upon announcing the upcoming change was to survey subscribers to see what subjects they cared about. One of the first things I did after launching was to ask new members why they signed up for the paid version. This is a new type of product, it's hard to know what the user flow is.
Have you found anything particularly helpful or advantageous?
I had built up a loyal following over the years the newsletter has been running. A lot of kind, interested and engaged people have contacted me with kind words, tips, ideas, and even corrections. This means I can run ideas past them.
I sent out a survey many months before we decided to pursue this idea, gauging the interest in an ad-free, reader-supported product. Make sure you're open and in touch with the user base as much as is practical.
What's your advice for indie hackers who are just starting out?
Ask for help a lot. I always consult others on product, marketing, design and finance decisions. Because of this, I've picked a few key metrics that I know will help with growth, and I focus on those.
Don't be afraid to rethink the direction of a successful product if you believe the market/demand is there. We could've left the product as an ad-supported newsletter, but it's worthwhile exploring this option. It's better for readers and it's going to hopefully work better for us.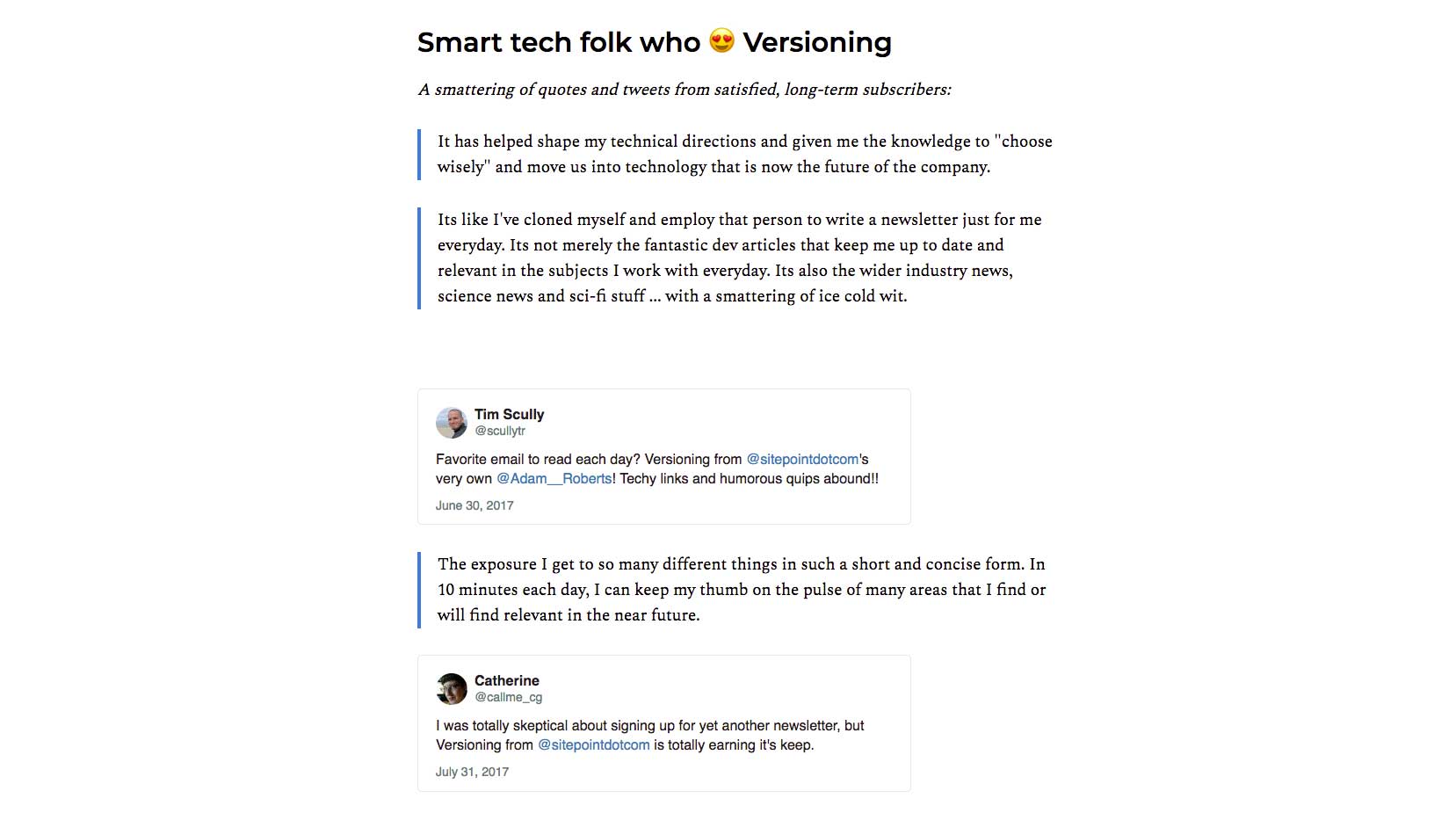 Learn as much as you can about your audience and their preferences. Use data, sure, but also ask them. If you can build a rapport with your users/subscribers, include them at every stage, then you'll get interesting insights data can't tell you. You'll also build trust, and they'll know that whatever decisions you make were made with care, and with their interests taken into account.
Where can we go to learn more?
Head to Versioning to see free posts and to sign up for either a free or paid membership. I'm also on Twitter. There's also SitePoint and SitePoint on Twitter.
Please ask me questions about things like newsletters, transitioning a free product to a paid model, curation, Star Wars, and Zelda.
—
Adam Roberts , Founder of Versioning
Want to build your own business like Versioning?
You should join the Indie Hackers community! 🤗
We're a few thousand founders helping each other build profitable businesses and side projects. Come share what you're working on and get feedback from your peers.
Not ready to get started on your product yet? No problem. The community is a great place to meet people, learn, and get your feet wet. Feel free to just browse!
—
Courtland Allen , Indie Hackers founder