How Surprising Feedback Led to a Change of Plans and $5.5K MRR
Hello! What's your background, and what are you working on?
Hello there. My name is Martijn Wijtmans and I started Tripetto with my co-founder Mark van den Brink in Amsterdam, the Netherlands. We offer solutions for creating and deploying logic-heavy forms and surveys, conversational landing pages, etc.; essentially non-AI solutions for automated personalized interactions. Our solutions are mostly used by developers, particularly — but not exclusively — in health, startups, and academia.
And we're not alone. You'll find quite a few tools suited to varying degrees for comparable purposes; from Typeform and SurveyMonkey for common forms and surveys to Landbot for really cool landings, and many more. We aspire to develop alternatives for these kinds of interactions without the typical SaaS downsides. So the primary Tripetto solutions are customizable and meant for implementation straight into our users' projects. They control the experience and collected data.
People continually surprise us with ways they're using Tripetto. Most of our tools are freely available online so anyone can have a go with it.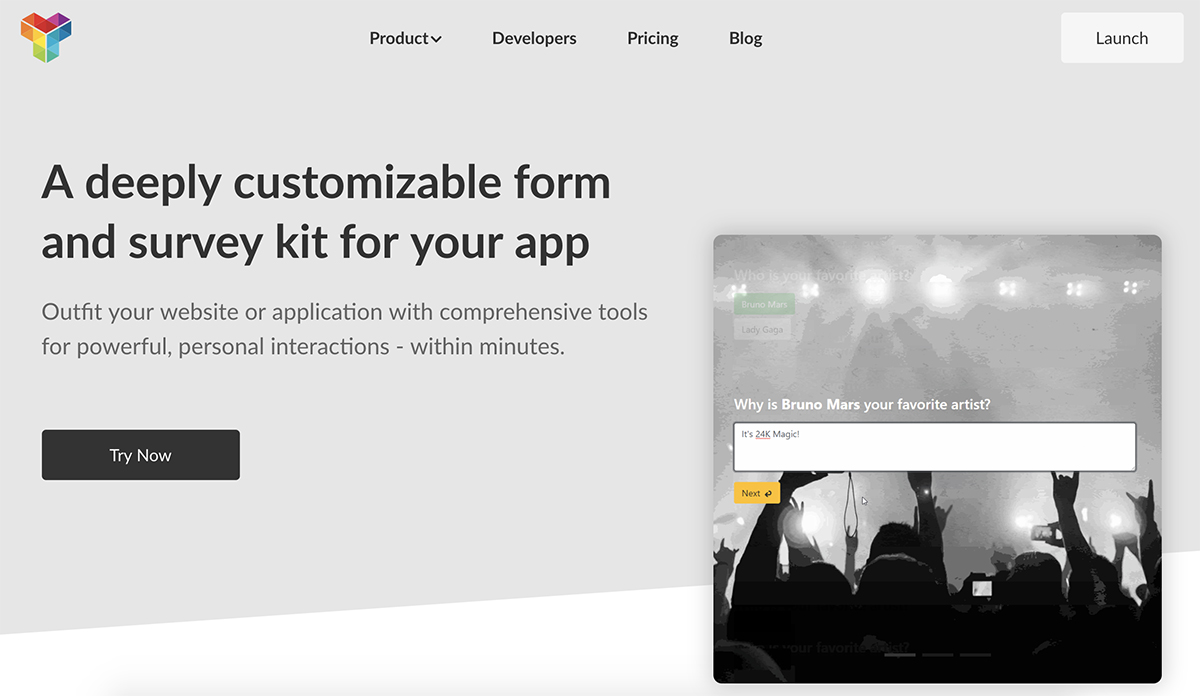 What motivated you to get started with Tripetto?
We first stumbled into the survey space in 2006 when we were asked to develop a custom solution for a healthcare-related client, even though our first startup (Solutior) wasn't specializing in surveys at all. That project eventually turned into a partnership that still exists today. Long story short, we eventually grew really eager to start from scratch with everything we learned along the way.
First, we believe automated and personal interactions need a conversational feel, and you can't achieve that without advanced logic. But logic functionality is regularly paywalled and/or hard in existing tools. We wanted to make building logic flows a core feature and more like designing a flowchart on a self-organizing drawing board. We wanted to make it easier and more fun. Plus, advanced flow structures are much easier to edit and oversee on a board than in an endless list.

Second, building conversational technologies is really hard. We appreciate and follow the work of incumbents and newcomers. But their solutions are often at odds with privacy-related issues (hello GDPR!). Why should users have to accept that the makers of these tools will run them exclusively and process the data they collect from their trusting audiences? We think the users should decide how and where to collect their data.

And finally, through the development and sales of survey tools from our first startup we've learned that generic question types tend to fall short in advanced cases. Users told us they want to be able to develop their own question types and have even more advanced blocks to unlock APIs, etc. inside advanced form flows. Why should we decide what works and what we integrate with? We realize that others often know and want better.
So we decided to bundle these concepts (and so many others) into Tripetto and self-fund the effort with resources from our other survey endeavors. This bought us the time to experiment thoroughly and prevented us from having to cut corners on quality.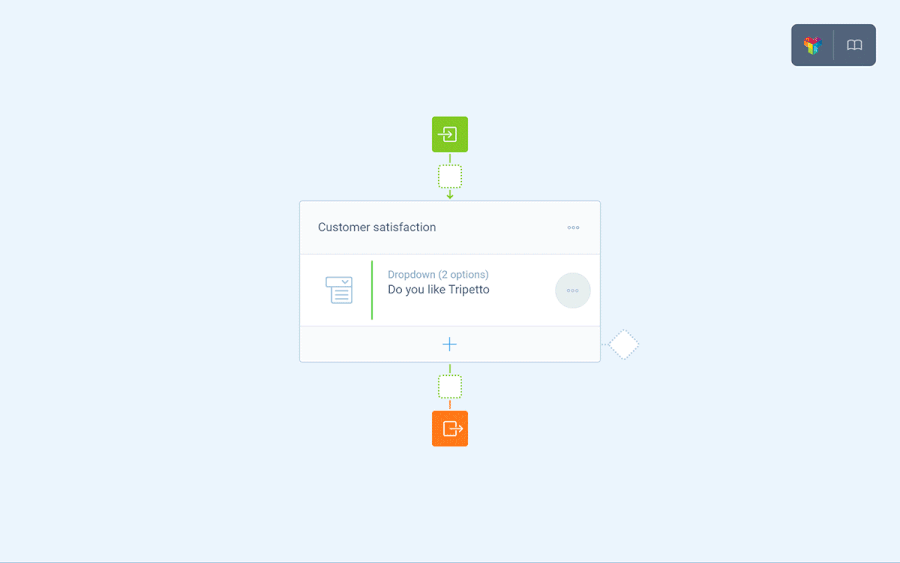 What went into building the initial product?
Almost everything took more time and energy than we anticipated at the start of the project several years ago. And we didn't end up commercializing a slick integrated end-user survey SaaS for the masses, but a much more flexible set of predominantly open-source solutions for tech-savvy people to integrate into their own websites and applications at will. That took a considerable pivot.
Nevertheless, looking back we feel that we more than honored our initial principles. We managed (with experimentation and iteration) to get the technology stack right and build the components that are now at the heart of Tripetto: the self-organizing drawing board (i.e. editor) for creating interactions and the so-called stand-alone collector for running these on a website or application.
That's not to say it was easy to cut back on ambitions. Yes, our subsequent pivots were the result of insights gained from soft launches of early components during 2017 to get feedback, and they helped us to find more direction. But the pivots were also inevitable corrections to the scope of our work. If we were to ship something useful during this century we had to rethink the first stable release, which was slated for 2018.
What has helped us a lot is being self-funded. We could and did decide to pause and re-do stuff when we wanted. And we were able to use our other company for testing important parts of Tripetto technology. Dividing our resources between multiple companies turned out to be a good thing for balance even if it meant progressing slowly at times.
How have you attracted users and grown Tripetto?
When we first released an early version of Tripetto in late 2017, it wasn't particularly polished. It also wasn't integrated enough for end-users and it lacked a backend. But it was good enough for developers to try out and start feeding us their input. So we put together a basic website, dropped a post on HackerNews, and tried some things on Twitter. We didn't know what to expect.
All in all, the response was modest but really useful. We found that people thought this version was unpolished and they gladly told us how to improve. But we were surprised to learn that developers wanted to use the core components of Tripetto themselves to integrate straight into their very own projects as a form or survey tool. They didn't need another SaaS solution — they wanted full control. That was a true eye-opener.
Looking at Tripetto from that angle and considering other feedback as well, we realized we could probably commercialize an improved version of the core components and also use those ourselves for the development of other Tripetto end-user products down the line. We would have multiple propositions on one shared technology platform.
Fast forward a bit. We relaunched Tripetto as an embeddable form and survey solution for developers on Product Hunt in the summer of 2018 alongside a dedicated website and some documentation. That's when things started to take shape. We signed our first paying customer shortly after. And we got picked up — without us knowing upfront — by a couple of developer newsletters and were also featured on CodePen.
Most recently, we also launched a first version of the Tripetto web app and WordPress plugin. We're hoping this helps increase our visibility and snowballs growth; respondents will be introduced to Tripetto organically by simply filling out the forms and surveys for existing users. We also regularly drop blog posts on Medium, and we try to do sponsorships with select developer newsletters as well.
What's your business model, and how have you grown your revenue?
We considered various ways to commercialize Tripetto along the way and realized it was hard to settle on any particular one, especially considering our ambition to remain open-source as much as we can in hope of building a strong community. So we decided to go with what felt right for the low hanging fruit first and then tweak the model as new propositions became available.
We currently offer Tripetto in three flavors:
The 'turnkey' web app for everyone (source code here);
The full WordPress plugin (get plugin here);
The form and survey kit for developers to integrate Tripetto components into their own applications (start here).
The app is free to let as many people as possible try Tripetto. The WordPress plugin comes in a free and premium flavor. And the kit for developers is mostly free, but it does require a paid license in select commercial cases. Our current revenues come from those licenses and occasional implementation support.
We've found that it takes time to convert leads for the developer proposition into paying customers. Developers are happily experimenting and testing with Tripetto — either with some help or completely independent of us. Everything they need to get going is available online. But they can play around like that for free until they decide to actually take something into production. Sometimes they do, sometimes they don't.
This makes revenue unpredictable. But it's usually substantial and largely recurring per conversion depending somewhat on the license type sold. It's a tradeoff that we're okay with for now. This will sort itself out while we continue to fill and improve the pipeline. And we absolutely prefer this over paywalling certain functionality or having to go for more strict business models.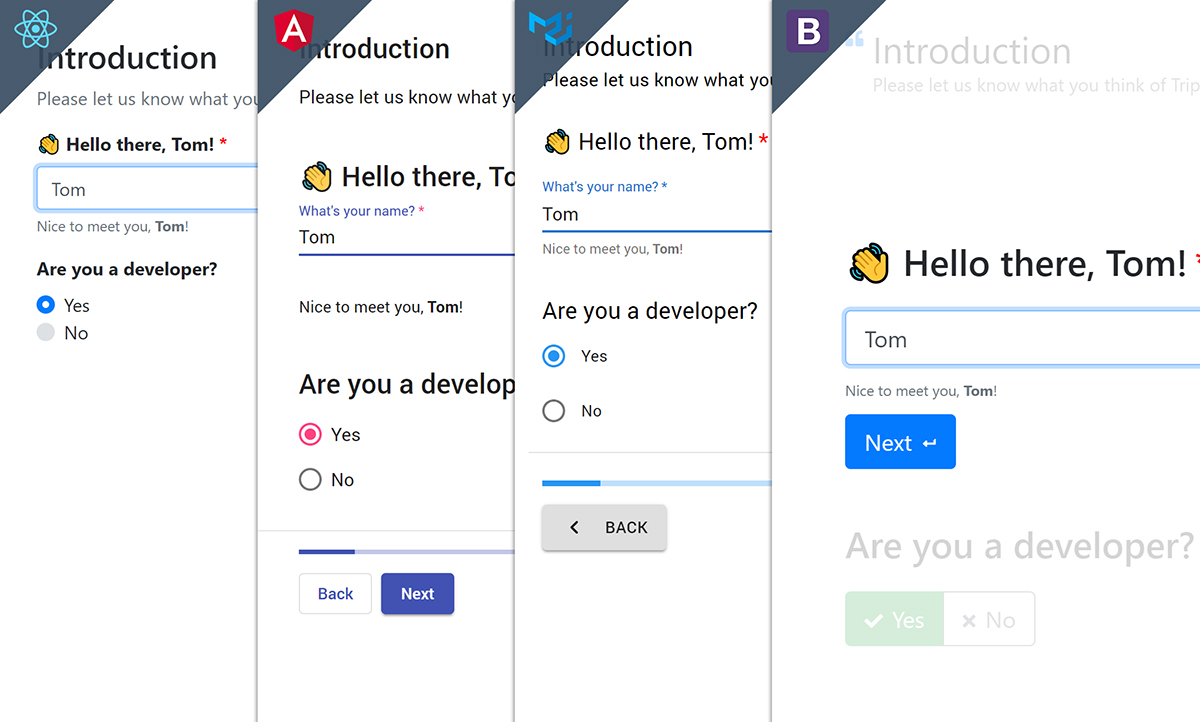 What are your goals for the future?
Our big dream is to shift the form and survey paradigm towards more open-source, platform-agnostic, conversational solutions that people can bake into their own projects and extend independently. We really hope this becomes a broad community effort because that spurs creativity and versatility.
But to get there we think Tripetto needs at least two obvious things in the short term: a bigger user base and more polish. We've gathered plenty of helpful feedback and we're using it to prioritize where we put the polish. And we use the most polished parts first to attract a user base.
Money is a crucial factor here. We're self-funding Tripetto. What we make from Tripetto goes straight back into it. We're doing fine so far, but there are days we wish there was more funding to prevent cutting some corners and help us progress faster, because it feels awesome to have people use your product. You really need that boost to keep going if growth is sluggish at first.
What are the biggest challenges you've faced and obstacles you've overcome? If you had to start over, what would you do differently?
Like I mentioned, money is a factor. We've been fortunate enough to have self-funded Tripetto so far and that's been a very conscious decision. We feared that pressure from investors would have forced us to rush and tolerate imperfections in the core technologies. We didn't want to do a '"lean startup" with an MVP in that sense.
However, I do think that we went overboard with pacing ourselves at times. The product definitely got better every time and I wouldn't trade any of that. But by regularly going back to the drawing board we also stretched our patience and motivation early on.
We're still now learning how to most effectively sell Tripetto and to whom. That's hard enough in itself and also takes time. In hindsight we should have found a way to work out the sales angle far more concretely and much earlier. In that regard self-funding has helped creativity and quality but also taken away a healthy dose of urgency.
Have you found anything particularly helpful or advantageous?
Three things come to mind right away:
We discovered the potential of Tripetto technology for developers (instead of just end-users) almost by accident thanks to the initial partial launch. So I'm glad we decided to share early rough parts of our work for feedback. Mind you, it wasn't even a so-called MVP.
Around that same time, GDPR came into force. It turns out that because of GDPR people are looking for alternatives to SaaS solutions for data collection like form and survey tools. We were lucky to have the self-hosting and data security part of our message driven for us this way.
Shortly after our initial Product Hunt launch in 2018, we were contacted by investors and incumbents. For us, this was a really good validation of the more uncommon aspects of Tripetto (we knew the form and survey space is huge and requires no validation in itself, but parts of our approach did).
What's your advice for indie hackers who are just starting out?
Quite often I wonder what single best piece of advice I would give my younger self today, knowing what I know now. Would I want to know about mistakes in advance so I could avoid them, or about upcoming highs to just hold onto during early lows?
I would probably say this: It's okay and actually highly recommended to change the plan as you go — even drastically. Changing the plan for the right reasons doesn't necessarily mean changing the dream or vision. Always be open to at least entertaining other paths forward. It's the best vaccine against bias or changing your course too late.
Where can we go to learn more?
Visit tripetto.com to learn more about our offerings. Or go to tripetto.app to start creating right away. It's free. More on the WordPress plugin can be found at tripetto.com/wordpress. Check out our blog for more depth and context.
Tripetto really is a diamond in the rough and hard work in progress. We aspire to ultimately inspire other people to use Tripetto and do really cool stuff with it. We're wide open to any suggestions and contributions that can help us realize that dream.
—

Martijn Wijtmans , Co-founder of Tripetto
Want to build your own business like Tripetto?
You should join the Indie Hackers community! 🤗
We're a few thousand founders helping each other build profitable businesses and side projects. Come share what you're working on and get feedback from your peers.
Not ready to get started on your product yet? No problem. The community is a great place to meet people, learn, and get your feet wet. Feel free to just browse!
—

Courtland Allen , Indie Hackers founder