How Talking to Customers Grew My Business to $70K/Month
Hello! What's your background, and what are you working on?
Hi, my name is Josh Ho and I'm the founder and CEO of Referral Rock. I live in Silver Spring, Maryland, with my wife and two kids. I'm an engineer by trade but consider myself a full-stack entrepreneur (not sure if that's a thing). I lead product and marketing for Referral Rock but have also done my tours in sales and customer support.
Referral Rock is in the SaaS martech space and is 100% remote. We make referral marketing software for any type of business — not just e-commerce. Most of our customers are small- and medium-sized businesses across a range of business types from car dealerships and tax accountants to SaaS and, of course, e-commerce.
Today Referral Rock makes over $70K in revenue per month. It started out as the indie hacker dream of a recurring-revenue self-service SaaS business of just me, but I followed the opportunity to grow as it was presented to me. This led me to add services and inside sales to accelerate our growth and find our fit in the market.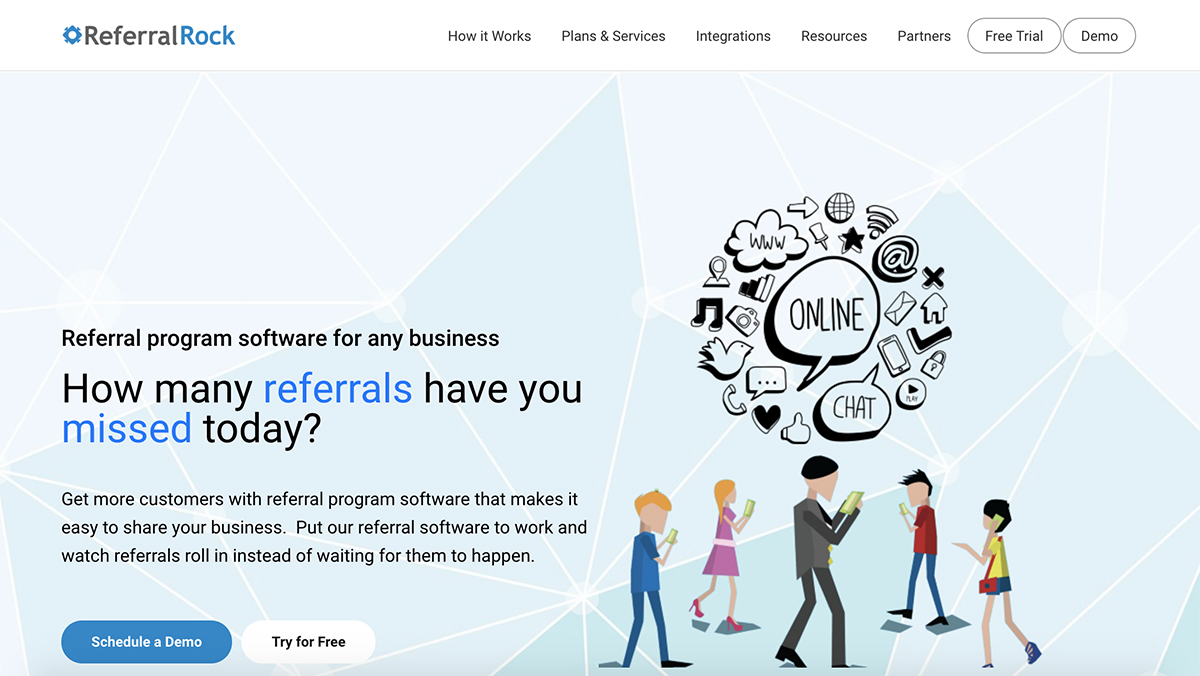 What motivated you to get started with Referral Rock?
The idea for Referral Rock was born while I was waiting for car service in a Honda dealership. A customer walked in and made a beeline to one of the salespeople. The customer mentioned they were referred by a friend and the salesperson had a blank look on their face for two long seconds before they snapped out of it and went into sales mode.
That's when I started wondering how car dealerships or any local service-based business ran referral programs. A quick Google search later and all I found was refer-a-friend software focused solely on e-commerce. Thinking I had identified a gap in the market, I started pursuing the idea of referral program software for non-e-commerce businesses.
I first validated the idea by reaching out to any and all small businesses I had contact with. That meant family, friends, and their friends, as well as any local business services I used, like my accountant, real estate agent, roofing contractors, and so on. I sent them a survey and did a drawing for a gift card for every 10 people.
I have to admit that the results of the business surveys weren't a "take my money" type of response; but the interesting results came from consumers that participated in referral programs and the pain they felt. In those days the most important requirement was that the business was a B2B SaaS business. In a past startup I created called UberNote, I suffered the pain of trying to get consumers to pay for online services and swore never to do that again.
What went into building the initial product?
Over the first six months, I worked about 10 hours a week on the alpha version, with several peaks and valleys depending on workload. At the time I was a software consultant working for myself so I had a good amount of flexibility in my schedule.
I tried to use as little code as possible. The first version was a super basic framework of ASPX pages and resource files that I had cobbled together from an old project. Each resource file was meant to represent the configurable elements of a given customer. This even allowed me to avoid using a database for the first version.
For the admin interface I used a survey tool that allowed customers to fill out their business name, upload a logo, their referral offer, some basic business description, and so on. Then I took the .CSV and converted it into one of my resource files.
My goal was to spend as little time as possible to validate the initial product to see if Referral Rock had legs.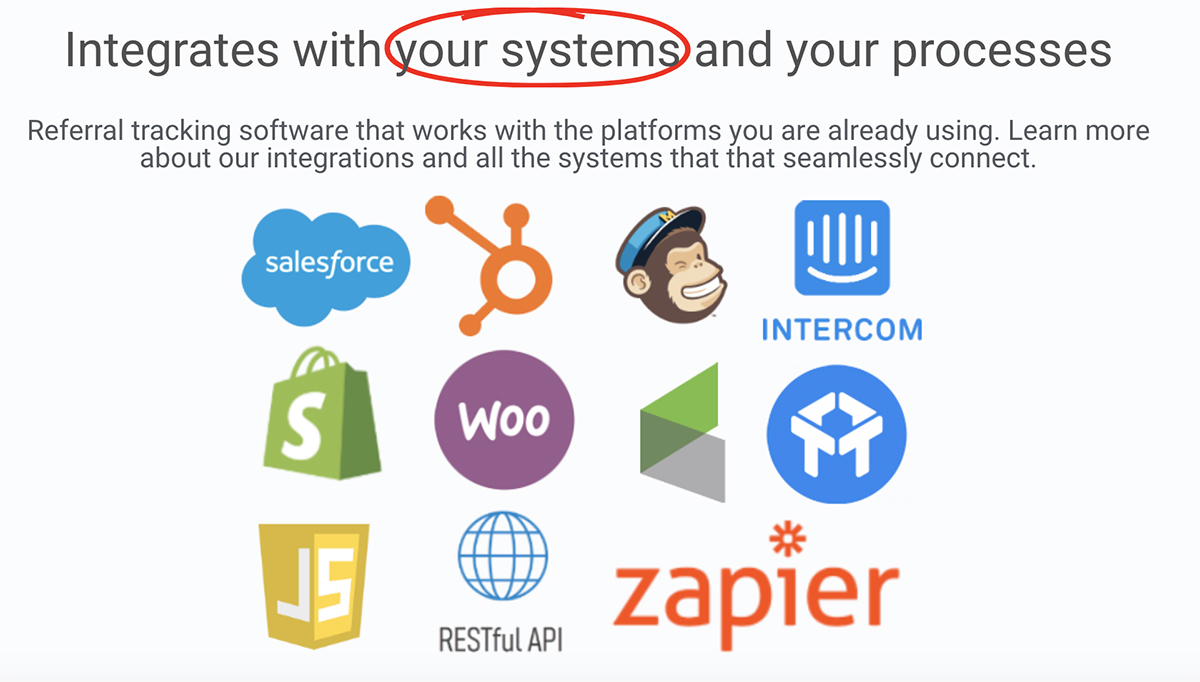 How have you attracted users and grown Referral Rock?
I launched the first version on Betalist in June of 2014, which did pretty well at the time. I tracked Betalist users with a promo code so I knew who signed up. I recall the launch attracted around 200 signups or so. Then I sent out the survey and got about 20-30 people to complete the setup survey.
From there I was also active on Twitter where I reached out to marketers or anyone that mentioned "referral programs." I would comment or favorite tweets from the Referral Rock Twitter account which listed a free referral program. Throughout the year-long beta I had over 500 individuals kicking the tires on the free referral program before I started charging.
While working on Referral Rock part time, I continued to refine the service and create an actual database and admin UI. I often reached out to users over chat/email to see what would make the product better. I can't say I thought the product provided enough value to charge, even though, slowly but surely, customers were gaining some real traction with their referral programs.
Finally on a dare from a friend I set up Stripe and a checkout service.
I started with content marketing and SEO to continue the flow of new users. Knowing how effective it was for previous businesses, I started blogging very early so we could be in the conversation for anyone looking for referral software. I even bought failed competitor domains on Flippa so I could point them back to Referral Rock.
| | |
| --- | --- |
| Month | Visitors |
| Jan. '16 | 3400 |
| Jan. '17 | 6500 |
| Jan. '18 | 14000 |
| Jan. '19 | 22900 |
Over time and by producing lots of excellent content, we were ranking well for many referral marketing related terms. My goal was (and still is) to be in the conversation and put our differentiation front and center. The fact that supported businesses that weren't e-commerce helped us stand out in a crowded market so our ideal customers could find us. We also have a disciplined focus at the bottom of our marketing funnel and on the audience that is ready to buy.
What's your business model, and how have you grown your revenue?
Referral Rock is a SaaS business where we make money based on monthly subscriptions and one-time service fees. Today we are making over $70K a month in revenue after almost four years since we started charging in 2015.
| | |
| --- | --- |
| Month | Revenue |
| Jan. '16 | 5000 |
| Jan. '17 | 17000 |
| Jan. '18 | 38000 |
| Jan. '19 | 50000 |
| Apr. '19 | 70000 |
In the beginning Referral Rock was built to be a lower priced self-service business. I never envisioned I'd be charging more than $100 a month for the service or having more than a couple employees helping out with support. A turning point for us came about because of my frustrations with helping customers over chat.
I find helping people over chat excruciatingly painful as I get very impatient with the single-threaded nature of the conversation while waiting and watching them type responses. So I started asking people if they wanted to do screenshares/calls so I could help them faster. Low and behold, paid conversions started going up. Way up. We quadrupled trial-to-paid conversions. Talking to users directly helped me establish a connection and improve my understanding of what they were looking for. It also put a real person behind the business vs. someone just hiding behind a chat from who knows where.
Even though it started as a way to relieve my annoyance with talking to customers on chat, it ended with what I now know as "inside sales." I found that customers wanted to hear from me and about my expertise on why the software worked a certain way vs. how they wanted it to work. Many times I would be pleasantly surprised by suggestions and found myself saying, "You're right, the product should work that way. I can fix that by tomorrow."
I believe that the passion and insights you provide as a founder can go a long way in the early days when your product is not entirely proven. I emphasize this to any founder and to make use of this opportunity if they can.
After months of doing the screenshares and calls, I got a better feel for what customers were looking for, in addition to gaining an understanding of how much value they were getting out of the service. This prompted me to increase prices and start charging setup fees for the extra amount of work it took to help customers launch their programs. Because my time began to focus around these demos, the development and content marketing efforts slowed; I realized I was neglecting the other parts of the business that helped with growth. This was when I knew I needed help to grow the business, and thus began the long road of building a team around me.
Little by little we've scaled the business by hiring for the jobs where I could be replaced. We are now a fully remote company of 12 with multiple managers and teams across marketing, sales, customer success, and product.
What are your goals for the future?
Our goal is to continue to be a profitable company and further our mission of helping businesses grow through word of mouth.
We believe there is fragmentation in the current referral space; the old guard of affiliate marketing is meeting the new guard of referral marketing, customer advocacy, and influencer marketing. At the end of the day we're all attributing a referral to the referrer. We see a strong future for all these segments and want to see awareness grow as word-of-mouth marketing all together. Collectively we can all help our customers grow and have fewer dependencies on digital advertising giants.
For Referral Rock, we want to continue to be a remote-first company where we can find the right talent no matter where they live in the U.S. It's been extremely rewarding building a business that can support people and their families while also giving them a space to advance themselves.
What are the biggest challenges you've faced and obstacles you've overcome? If you had to start over, what would you do differently?
It's all hard and painful, but the hardest part has been hiring and building a team. Mistakes in hiring are very expensive. As Referral Rock is self-funded, time and money are both critical resources to manage as there is not much room for error.
My biggest hiring mistakes were when I brought people on too early. (Just to clarify, I don't mean it was too early for the business because I definitely felt the pain and had the need.) The mistake I made was that it was too early for me as a leader and manager.
I've learned that hiring from a position of pain is not a good idea. It's a lot like going food shopping when you're hungry — there is a good chance of making a bad decision.
If I were to do it differently, I would tell myself to take pause and do more of the job myself first and make sure there are repeatable processes involved. I would take the time to get a better understanding of what a successful hire looks like from all angles —not just what they would achieve but how I'd work with them on a day-to-day basis, how they took direction, and the processes and cadences necessary to be effective. You should know the ins and outs before you can effectively hire and manage a role.
It's tough to figure that out with just a few calls and a project, but we have built a process to help us avoid mistakes and see red flags sooner. I still struggle to find the right fit for some particular roles but I have also been fortunate to find people I feel like I can build the company with.
Have you found anything particularly helpful or advantageous?
I listen to a ton of podcasts (like Indie Hackers) which fills a lot of in-between time at the gym, on car rides, and while waiting at pick up for kids. Mainly they are founder interviews and startup stories which help me learn how to avoid others' mistakes and hear about their successes.
Accelerate your learning by getting as much sampling as possible. Don't get hung up on the specific advice but have a better understanding of their decision-making process and look at it through your own lens. Use the advice to build your own decision-making model. Sometimes you get a gem of insight or idea but more often hearing other people's experiences reinforces your thesis and validates your own take on how the world works.
The skill that helps me the most is my sense of empathy. It's helped on many fronts such as in sales, marketing, hiring, managing, and product design. I also think a strong sense of empathy can accelerate learning and help you put yourself in others' shoes and see things as they would see it.
The other important skill is an engineering mindset. Obviously for building the technical product itself, but also because so much of a running a company involves building in general. People, process, company structure... not sure where'd I'd be without my inclination to systemize everything and have a repeatable process.
Recently I've started reading more books and networking with other founders. Being a solo founder is a lonely journey, but Twitter and communities like Indie Hackers help me connect with like minds, share experiences, and get support.
What's your advice for indie hackers who are just starting out?
Don't be concerned with labels or even your own pre-conceived notions of yourself. Be open-minded and you may surprise yourself with what you are capable of. Overall I've learned a lot about myself that I didn't know before. Before I started the journey of Referral Rock I never would have considered myself a salesperson — nor did I have any desire to be. I fell into it and honestly liked it and got to understand the thrill of the kill. I'm not sure where Referral Rock would be today if I'd never decided to start taking calls and giving demos.
I learned that you can be an excellent salesperson by being honest and helpful; you don't have to be pushy or aggressive. I do firmly believe entrepreneurs need to learn how to sell and that it shouldn't be outsourced or farmed out.
The other piece of advice I'd give is to leave slack on the line and room for things to not go as planned. Pack in everything too tight for you and your team and you won't see the nuances and little things that can make a big difference. The game changers for Referral Rock didn't come from a plan; they came from being able to step back and see trends and directions. Be willing to test and see how they go. Then when you have some success, drill in and make them repeatable.
Where can we go to learn more?
You go can to https://referralrock.com to see how we're making word of mouth a channel for growth or follow me on twitter.com/jlogic. I also post about my startup journey at https://mojoho.com.
To support our community and help spread word of mouth we've started a new site and email newsletter to share stories about businesses. It's called Word of Mouth Uncovered. We try to get to the root of how and why word of mouth works by examining interesting businesses. If you want to contribute or are interested in hearing these stories, please check it out.
I'm always happy to chat about bootstrapping, founder selling, building a remote team, or anything else you throw at me.
—
Josh Ho , Founder of Referral Rock
Want to build your own business like Referral Rock?
You should join the Indie Hackers community! 🤗
We're a few thousand founders helping each other build profitable businesses and side projects. Come share what you're working on and get feedback from your peers.
Not ready to get started on your product yet? No problem. The community is a great place to meet people, learn, and get your feet wet. Feel free to just browse!
—
Courtland Allen , Indie Hackers founder