How We Quit Our Jobs to Bootstrap and Grow Our Own Business
Hello! What's your background, and what are you working on?
Hi! I'm Scottie Schneider. I'm a fullstack developer and former military officer. Chris Davis, who works on product and is a Python developer, and Chris Goss, our marketer, are the other two co-founders.
Our SaaS platform, Followup Edge, takes inbound leads through an automated sequence of text messages, emails, and ringless voicemails that stop when the lead responds. Advertising agency owners and their clients use our product to increase the power of every dollar spent, and to gain prospect response rates of over 40%.
Our revenue chart is a good indication of the product's success. We've been growing 10% or more week over week since we began six months ago, and as of this interview we will clear 30k in monthly recurring revenue.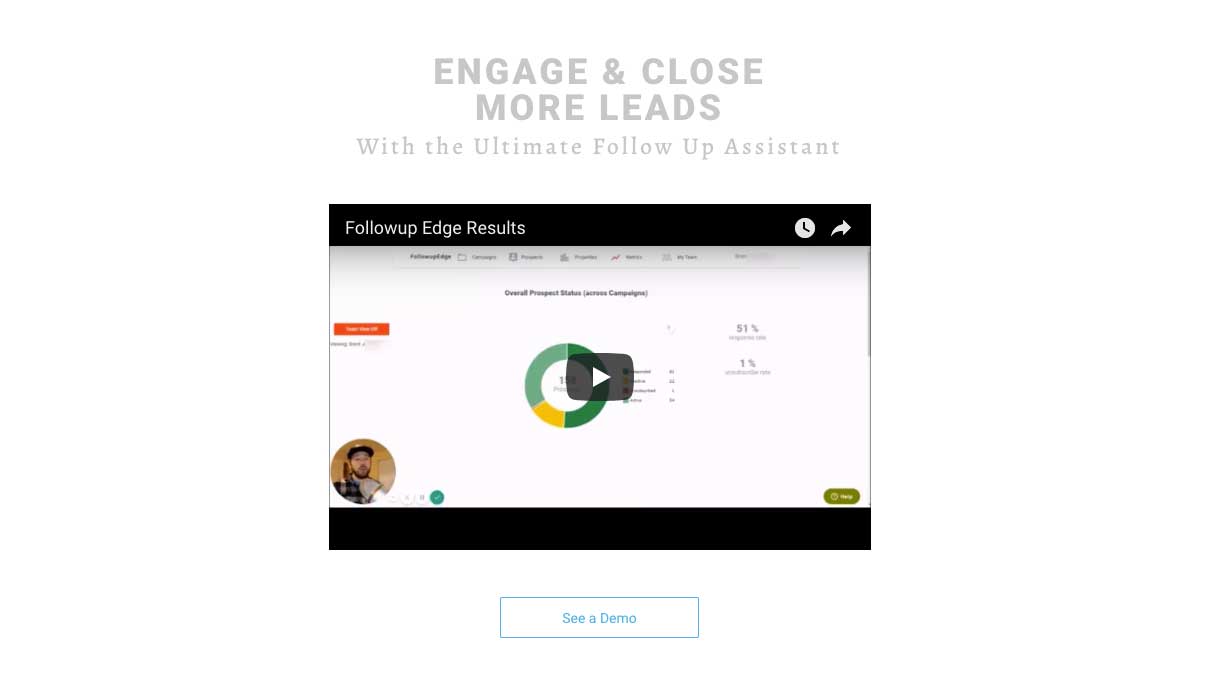 What motivated you to get started with Followup Edge?
We created Followup Edge to solve a problem we faced in our ad agency — our clients weren't following up with the leads we were sending them, which was leading to strained relationships between the agency and clients. If the client didn't pick up the phone and call the prospects that we passed along, they would often turn around and blame us for a "bad lead" instead of taking ownership of the poor follow-up. This oft-repeated scenario ultimately decreased retention rates for our agency. Followup Edge grew out of that frustration.
Our initial hypothesis was that leads may prefer to receive and respond to client outreach in a variety of different ways, so by utilizing three distinct forms of communication (text, email, ringless voicemail) we could increase overall response rates. All three of us have experience in various forms of marketing and startups, which taught us to avoid anything that looked automated or felt spammy in any way. We considered stringing together the various communication components through Zapier and Active Campaign, but this approach lacked some key features that we needed in the product, such as the ability to stop automated communications from being sent to a lead once they'd responded.
All of the founders were working full time when we started in earnest, but Chris Davis and I quickly eschewed everything else in order to focus on building the product while Chris Goss kept the lights on through his job.
What went into building the initial product?
We've bootstrapped this thing the whole way through. The initial build was completed on Bubble, as it allowed us the flexibility to build what we needed virtually for free and without code. I had the MVP up in three weeks, and we pulled in our first revenue two weeks later. Further product development and iteration continues to this day — building a SaaS product never really ends.
I went through a fullstack web development bootcamp the year before, which really helped me understand how web applications work. But don't despair! It is certainly possible to do what I did without that background.
MVP Tech stack:
Current Tech stack:
Near Future Tech stack:
Ember.js (front end, MVC framework)
MongoDB (database)
Zapier (integrations)
Key takeaway: Through no-code tools like Bubble, there's no excuse to not get started, even if you're not a developer.
How have you attracted users and grown Followup Edge?
A lot of our initial success and growth has been driven by partnering with an influential ad agency owner, Bobby Stocks, who we had worked with in the past. Chris Goss was instrumental in bringing us together, and it was a win-win for everyone. Bobby essentially gained a software development team and a custom-built solution to his problem, and we gained a very motivated affiliate and invaluable product feedback.
Early on, we determined that allowing ad agency owners to take a cut of the profit by upselling our service to their clients would be pivotal to furthering our growth. We solved their problem with follow-up, increased client their retention, earned them an added profit, and expanded our user base in the processes. Designing the product with this in mind drove our development from day one.
To date we've done absolutely no marketing — our users have come solely from ad agency client referrals and the growth of their teams. You could say we've grown through affiliate marketing, but at the end of the day it's really just understanding who we're actually serving: the ad agency. We make their life easier, and in return and they get as many of their clients as they can on the platform. It's a beautifully symbiotic relationship.
| | |
| --- | --- |
| Month | Users |
| January | 7 |
| February | 18 |
| March | 35 |
| April | 64 |
| May | 101 |
| June | 181 |
| July | 236 |
Key takeaway: Understand who your actual customer is — sometimes it isn't the end user — and look for win-wins for that customer.
What's your business model, and how have you grown your revenue?
We operate on a subscription model, and distinguish between individual accounts and team accounts. It's $200/mo for individual accounts, and $100/mo for each team member on a team account, with a 10 person minimum per team. Our first customer was Bobby Stocks and his agency clients formed the base. We use Stripe as our payment gateway because they're developer friendly and it's easy to get started.
Churn has been very low up to this point, so revenue has steadily increased each month without fail. Followup Edge operates on the profit-first model — we know how much we can spend on the business at any given time as a percentage of revenue and we pay ourselves first.
| | |
| --- | --- |
| Month | Revenue |
| January | 970 |
| February | 1170 |
| March | 4170 |
| April | 6754 |
| May | 11950 |
| June | 15689 |
| July | 30000 |
Key takeaway: By using the profit-first model, we ensure that we're profitable (and, thus, stable), which in turn allows us to continue growing.
What are your goals for the future?
Team: I'm looking forward to hiring a developer — currently it's just Davis and I doing all the day to day work and support, which is taxing. We could certainly use the help - but we're holding off until we can actually afford one under the profit-first model. It should be in the next few months.
Revenue: Growing at this rate, we'll be over 200k/month by the end of the year. We'll certainly need to keep raising our game to make this happen, but this is our benchmark.
Product: I'm hard at work on v3.0 of the web platform, this time fully coded. As we've scaled, we've realized that our architecture needs to be reconstructed. An app is also in the works, and should be out by end of summer.
What are the biggest challenges you've faced and obstacles you've overcome? If you had to start over, what would you do differently?
Most of the mistakes I made early on happened because I doubted my own abilities or those of the team. I initially spent thousands of dollars on solutions that I thought we needed (e.g. custom code that I didn't think I could write). I was capable of doing it but didn't take ownership of the task. That ended up costing us money and time. Nobody will ever understand your business the way that you do, so the solutions we bought were never as good as the ones we simply could have and should have made ourselves.
On a personal note, the amount of stress I experienced was more intense than anything I've encountered, and I spent four years at West Point and went on to serve in the Army. It was critical for me to face my own inadequacies when it came to stress management. There were times when handling things poorly as a founder negatively impacted our finances, as well as relationships with my business partners. Both are vital to succeed. In the end, I had to take ownership of my failures and acknowledged the areas in which I was deficient and needed help or improvement. Coming to terms with some of my own shortcomings has not only enabled personal growth, but also helped us grow as a team.
As the say: "If you want to go fast, go alone. If you want to go far, go together."
Have you found anything particularly helpful or advantageous?
My co-founders describe me as an "engine". I'm a freak for deep work and can crank out 10 hour days of actual production seven days a week for six months. This has been a skill I've been cultivating for years, starting at West Point.
Davis is the steadfast "glue" that holds us together. His advice and feedback continue to ground me, and he's the sort of person that will stay up all night to ship a critical feature. We would have failed multiple deadlines without his productive force.
Goss has been behind the scenes constantly pulling the right deals together, and guiding the product from the user's perspective. If he hadn't paid the bills, brought the needed people together, and steered us away from focusing on the wrong things, I wouldn't be writing this article today.
None of this could have happened without all of us, together.
What's your advice for indie hackers who are just starting out?
Stop researching and go build something.
Build first, then worry about scalability. You simply can't anticipate every problem that 10 customers will bring, much less 100.
Good developers are not interested in your ideas. Go build something on Bubble, or get some cash/customers to pay a technical co-founder.
We lie to ourselves and others in order to explain why we haven't done/sold/produced/built what we want. Taking courses, looking for a co-founder, conducting market research — these are all necessary, but are never a substitute for action, even though we want them to be. When in doubt, do something!
Make mistakes, just never the same one twice.
Every bit of advice has an opposite and equally valid counterpoint. Find what works for you.
Where can we go to learn more?
Happy to help in whatever way I can, so ask away below!
—
Scottie Schneider , Founder of Followup Edge
Want to build your own business like Followup Edge?
You should join the Indie Hackers community! 🤗
We're a few thousand founders helping each other build profitable businesses and side projects. Come share what you're working on and get feedback from your peers.
Not ready to get started on your product yet? No problem. The community is a great place to meet people, learn, and get your feet wet. Feel free to just browse!
—
Courtland Allen , Indie Hackers founder