How We've Launched and Grown Our First Profitable SaaS Business
Hello! What's your background, and what are you working on?
Hi, my name is Osman Koc. Muhammet Enginar and I founded UserGuiding, a user onboarding tool that helps companies improve product adoption rates. With UserGuiding, companies can design interactive guides and help pages that don't require any coding or coding knowledge, allowing non-technical product staff to create interactive tutorials, in-app messages, and reusable guides in minutes.
It's a much easier and faster way to design a unique user onboarding experience than utilizing in-house resources for a few of reasons:
No developer work is required
UserGuiding Assistant provides 24/7 customer support
The service comes with a built-in, detailed analytics service
Today, we have more than 1,300 active users from 82 countries, and we're making around $5,000/month from the service.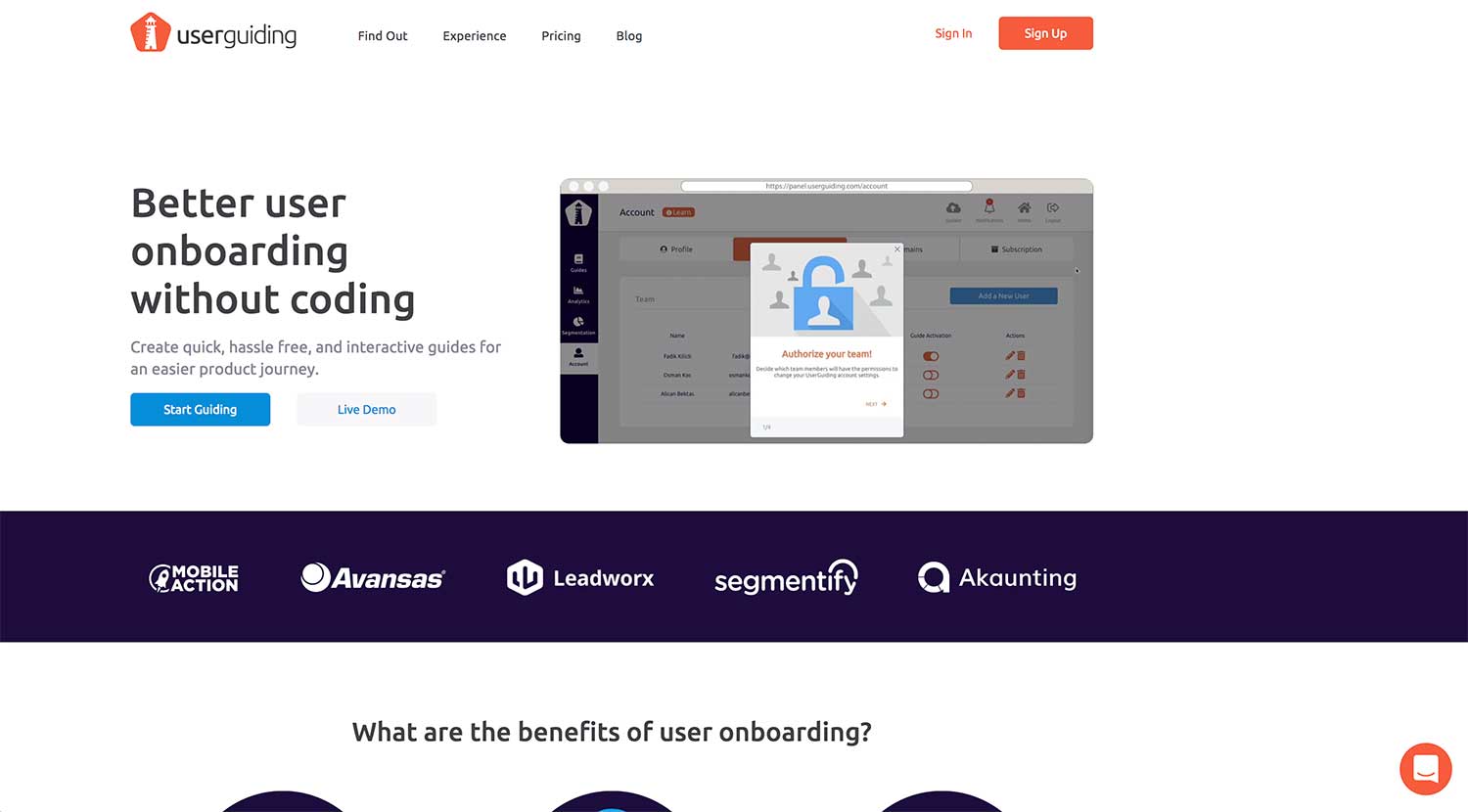 What motivated you to get started with UserGuiding?
Muhammet and I have been close friends through high school and university, and UserGuiding is the second company we've founded together. We have a startup studio named "YNOT Partners" — derived from "Why not?" — which aims to help entrepreneurs build their business from ideation to investment. We knew that we wanted to be founders and that the best place to do that was Silicon Valley, so we both threw ourselves into work in order to build up the savings we needed to make the move and focus full time on starting a business. After a year, we had enough stashed away to move to San Francisco and kick things off. We had no idea what the business would be or what product we would sell, but we were excited!
We had a lot going for us in the race towards a billion dollar company. We were grateful to be staying with our friend, Deniz, founder of Voscreen. We were in Silicon Valley, a hotbed of creativity and growth, and had lots of free time, a comfortable amount of money saved away, and the skills to get something off the ground — we just didn't have an actual product! Those first few weeks of brainstorming were stressful, but we knew that we would land on a fruitful product idea eventually. We stayed grounded by reminding ourselves that anyone can come up with a product — ideas are free for the taking — the significant part of growing a successful business is in the execution. We didn't have a product idea, but we were confident in our ability to run and grow a business.
We spent our days scouring sites like G2 Crowd, crunchbase, alternativeTo for a product idea. We spent our first month in San Francisco working on our business model, attending over 25 events and meeting with at least 100 new people. Despite all this, we still didn't have a product idea.
At this point, a friend of ours, who used to work at Google and is now a managing partner of a VC in San Francisco, offered us a job in one of the startups his firm had invested in. We were feeling a little restless and the offer intrigued us, so we took some time to analyze the startup and research their product. We quickly realized that, though the product had potential, it was somewhat difficult to understand — and just like that we came up with a product idea of our own!
We decided to develop a tool that would allow this company to create product tours and tutorials. Within our planning processes, we wanted to make sure that this tool was scalable, not just a one-off for this particular company, but something generic that any business could use. Research showed that there were already existing players in this market, but for whatever reason the tools they'd developed weren't working very well. Because we had a lot of web development experience, we were confident that we could build a better user onboarding tool than what was already out there.
We created a potential customer list and started calling around to get validation and feedback. Though the initial feedback was positive and it seemed like people were interested in what we were planning on building, we were still a bit nervous. You never really know how your product will fair until launch. Ironically, the first iteration of our user onboarding process was terrible. We found ourselves answering the same customer questions over and over again, and had less than a 1% conversion rate.
Like so many others, our final product born as a solution to our very own problem. We examined what wasn't working and took our customer's feedback into account, and redesigned our product adoption process by using our very own tool. After the redesign, our conversion rates have risen to about 3%, and our customer support workload has decreased by about 50%.
What went into building the initial product?
Firstly, we analyzed the current tools on the market in order to get an idea of crucial functions we would need in our own product. Since we had both already led various web projects we knew the main points of user onboarding, but we needed to be experts, so we spent a good amount of time just researching. We read hundreds of articles and books about the onboarding process in order to solidify our knowledge. Meanwhile, we made a prototype on proto.io, a tool that we love. Our first few iterations were actually called Splinter Guide.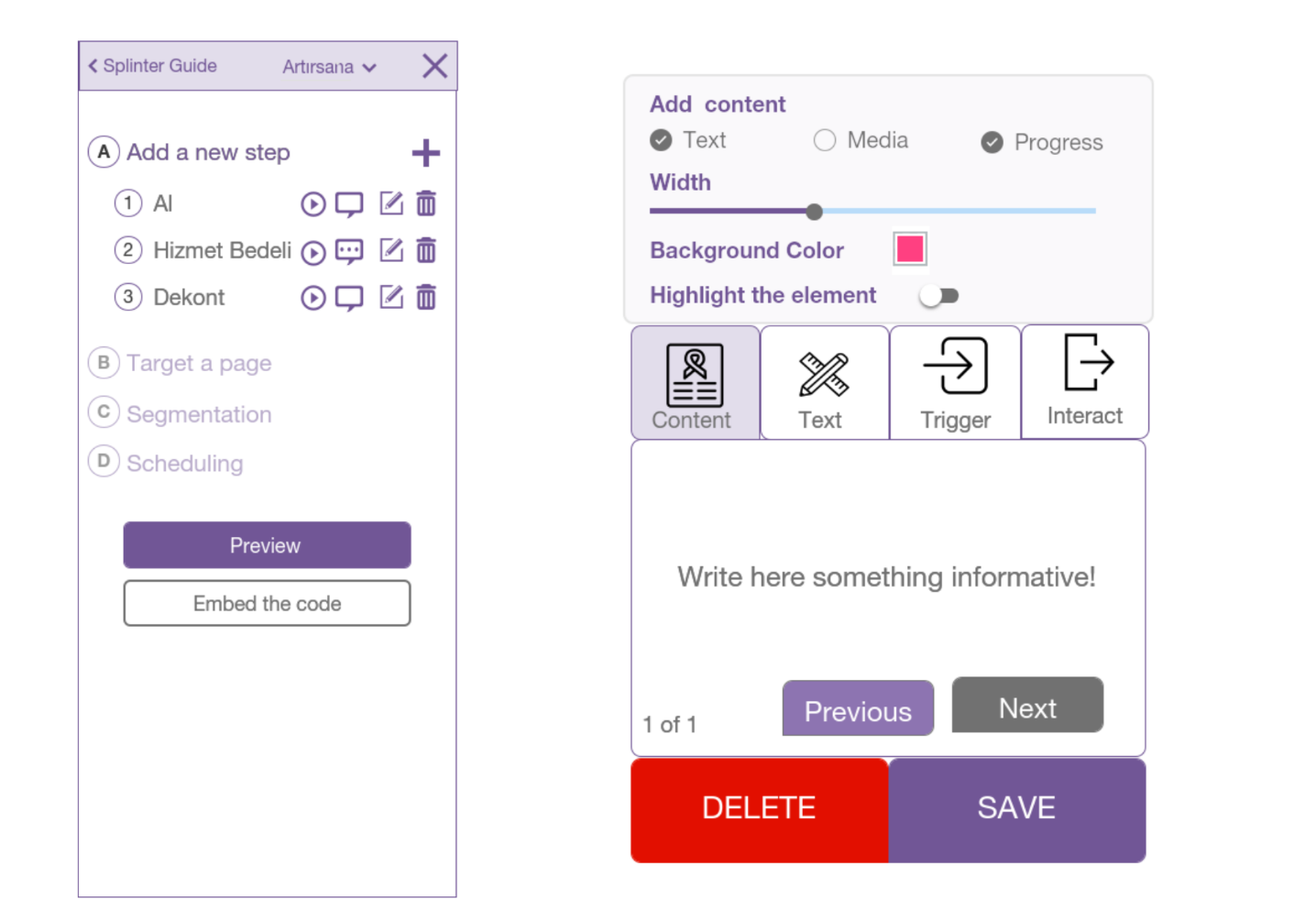 The turning point for us was meeting with Aykut, founder of Mobile Action, an app marketing intelligence tool. He's one of the most successful Turkish entrepreneurs in Silicon Valley, and after watching his videos we really wanted to meet with him to discuss our product. After a couple of emails back and forth, he agreed to meet up for coffee at a nearby Philz. We talked about our background in web development and showed him our prototype. He told us that he was already paying $200 per month for similar tool, and said that if we could build this product he'd be our first customer. He challenged us that if we could build an MVP within two weeks, he'd meet with us again.
That was an excellent kick-start for us. We set up a second meeting with Aykut and hoped to make our first sale!
Those two weeks were crazy busy! We called Alican, our designer at YNOT Partners, to create the first design of UserGuiding. Muhammet began working on the MVP immediately after Alican and I completed the product design and website, and built it out at lightning speed. We also created a couple of guides for Mobile Action to show Aykut. With only two weeks to pull everything together, it was obviously a very primitive version of our product. But it was good enough, and served as a sure sign that we really could build a promising user onboarding tool.
Aykut's was pleasantly surprised when we showed the MVP and the guides that we'd created, so he gave us another two week challenge. He gave us access us to the onboarding tool he was currently using and told us to transition in our tool and all of our guides within two weeks.
How have you attracted users and grown UserGuiding?
Once we migrated Aykut's Mobile Action onboarding processes to our tool and uploaded our Mobile Action guides, we went back in and demoed for to Aykut and his team members. Though they noted that our product didn't have all of the same features as the competitor tool they had been using, they thought it was good enough to pay for! Aykut subscribed to an annual growth plan, and we made our first sale! With this sale, UserGuiding made $2,000 in its first month. Aykut offered to help advise us on an ongoing basis, and we spend half a day in his office each week.
We officially launched UserGuiding on Product Hunt on January 17th, 2018. It was an unforgettable night, with hundreds of visitors coming to our site from all over the world. People were asking about upcoming features, giving feedback, and helpfully criticizing our product. Over the next week, we had more than 300 new sign-ups and a couple of paid customers. We were officially running a global business, and it was truly exciting!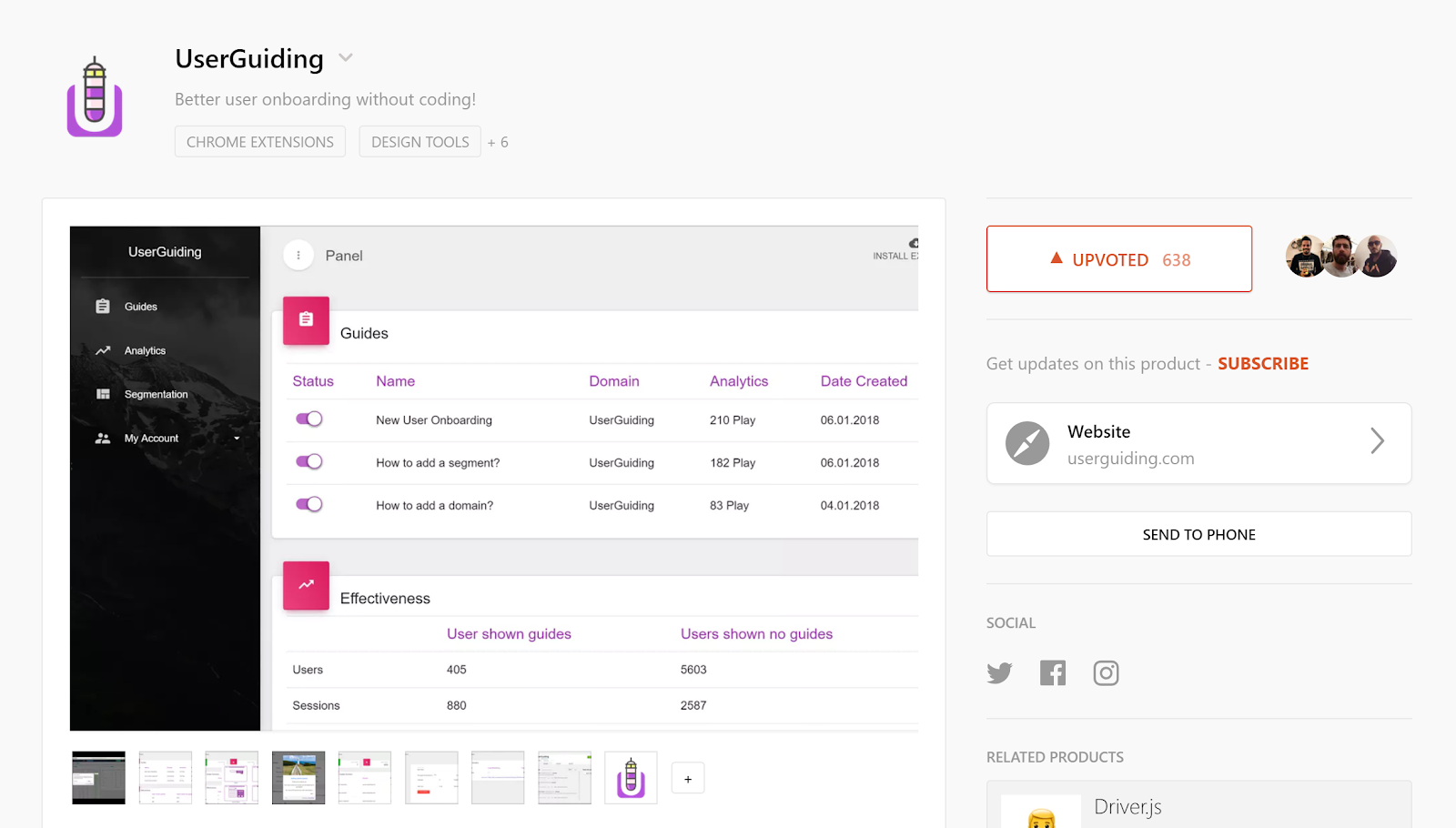 After the Product Hunt launch, Aykut asked us if we were planning on attending SaaStr Annual 2018. The event hosts thousands of SaaS entrepreneurs from all over the world and is a great networking opportunity. However, tickets are expensive for early-stage startups that are just getting off the ground and don't have a lot of wiggle room in their budget. Aykut graciously bought us two tickets as a gift for the launch. SaaStr was heaven to us. We hustled like crazy and ended up acquiring a couple of paid customers and making friends who were also executing their own a SaaS business.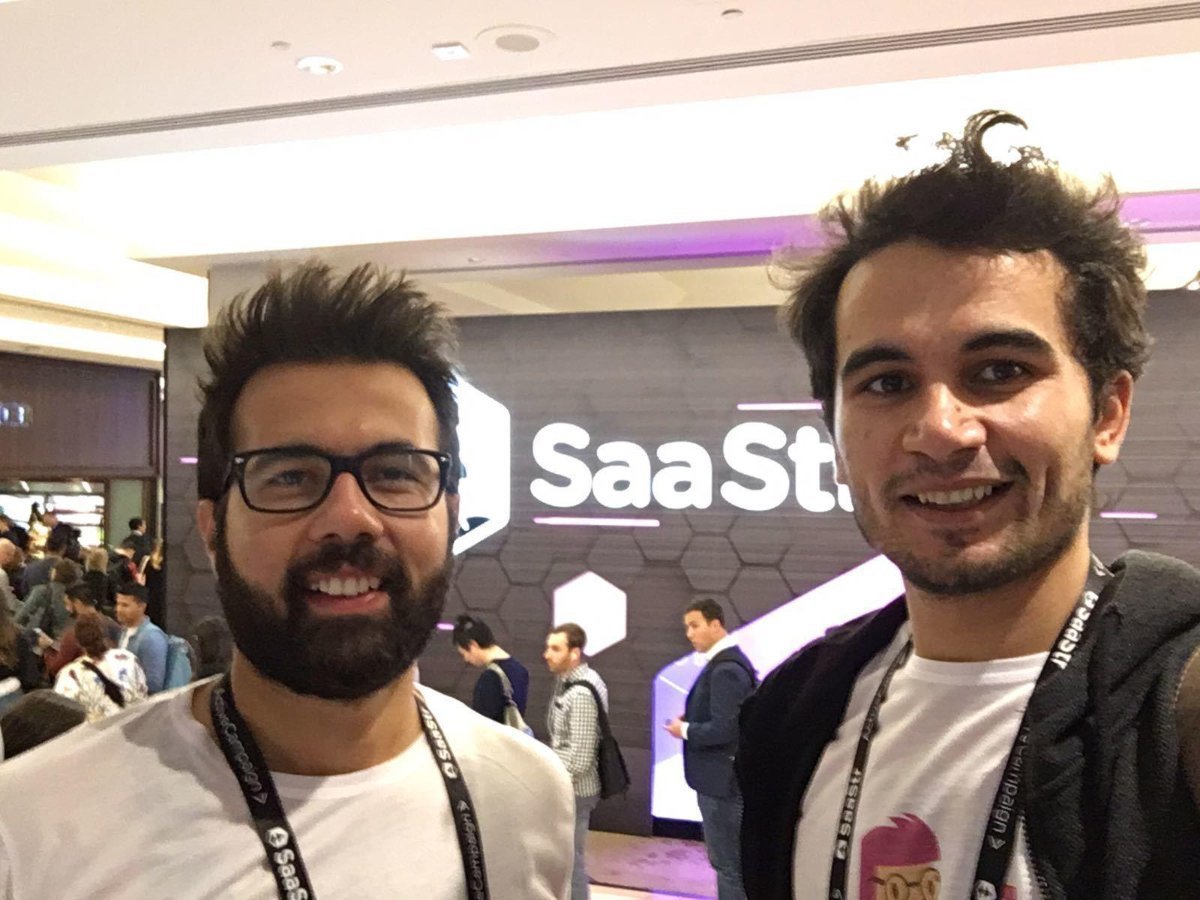 What's your business model, and how have you grown your revenue?
Our revenue model is based on monthly subscriptions. We have three main prepared plans: Startup, Agency, and Growth. Each plan is categorized by the number of monthly active users. We also have an Enterprise plan for companies with an extremely high numbers of users, where we provide a dedicated success coach and goal tracking. Our paid customers are mostly in SaaS, e-commerce, or ERP business. We're making around $5K per month.
Our primary marketing channel is cold emailing. We have a great mentor, Cem, advising us on our mailing strategy. Cem is a veteran of SaaS and co-founder of two successful companies, Sendloop and Octeth. We send a personalized email to potential customers, which increases open and click rates considerably. Muhammet developed a bot which can automatically create a draft guide for your web platform, and allows potential customers to test the product out before committing without too much work on our end. At this point, we haven't done any A/B testing on our landing page or pricing, but we plan to start doing that soon.
We've also organized a lifetime deal on AppSumo, which we think it is an amazing catalyst for an early stage startup. This whole processes from ideation to launch to growth has been incredibly exciting, involved a lot of stress and sleepless nights, and ultimately been really satisfying. We sold thousands of subscriptions, got 34 five taco reviews, and made money as a sum of pre-seed investment in only two weeks.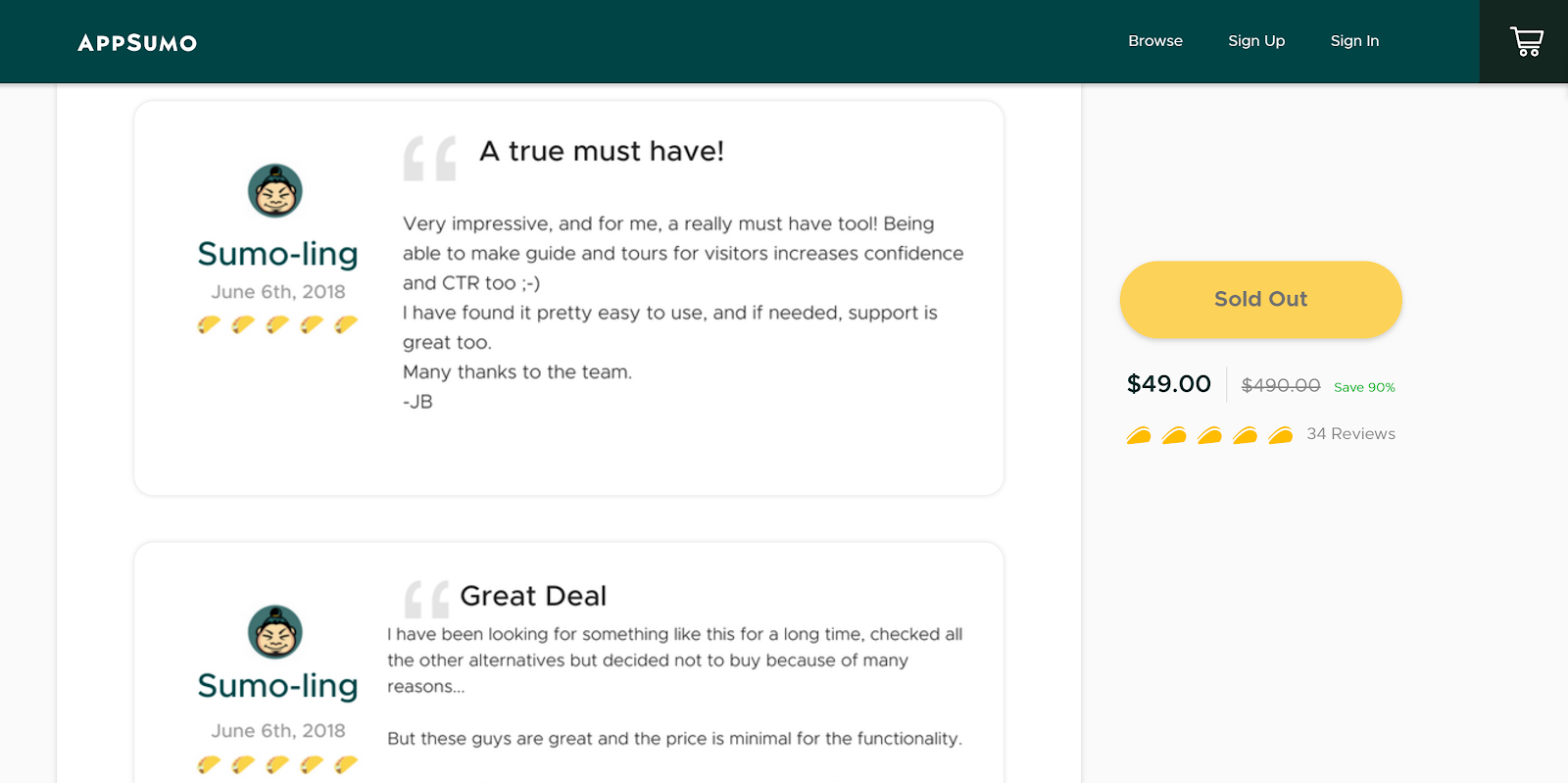 Have you found anything particularly helpful or advantageous?
Building a growing, sustainable, and profitable SaaS is tough, especially if you have no experience in SaaS. You can spend thousands of hours to developing a product only to have no one using it ten days after launch. The only thing more difficult than getting money from people initially is getting money from people every month. It's hard to convert free trials to paid customers when you don't have any existing paid customers to vouch for your product. It's a vicious circle. I'm sure there are other ways to disrupt the cycle, but a solution that worked for us was to organize a lifetime deal.
Lifetime deals are helpful in three main ways:
Numbers: It boosts your all of positive numbers. We acquired more than a thousand new customers from 82 countries, which is awesome for raising seed investment.
Feedback; Only paying users give real feedback. Pretty much all of our feedback came from our paying customers. From their valuable feedback, we were able to develop a roadmap of required features.
Partnership: Your brand recognition increases significantly. We had a couple of great partnership opportunities, which were good for marketing and customer development after the deal.
What's your advice for indie hackers who are just starting out?
After you find a business idea, it's important to allocate significant time and effort to finding the right advisors and mentors. If you find the right people, you get the guidance you need and have a good sounding board for any and every question that might come up. Don't be afraid to ask for help, both from people you're close with and from strangers in the industry. Most likely they've already walked these roads and successfully navigated some of the same issues. Why struggle alone indefinitely when you could potentially find a solution right away by asking the right people the right questions?
Where can we go to learn more?
The best place is userguiding.com. You can also get in touch with us on Twitter or LinkedIn.
Thanks for having us on Indie Hackers! Feel free to ask questions in the comments below. I'll answer to the best of my ability.
—
Osman Koc , Co-founder of UserGuiding
Want to build your own business like UserGuiding?
You should join the Indie Hackers community! 🤗
We're a few thousand founders helping each other build profitable businesses and side projects. Come share what you're working on and get feedback from your peers.
Not ready to get started on your product yet? No problem. The community is a great place to meet people, learn, and get your feet wet. Feel free to just browse!
—
Courtland Allen , Indie Hackers founder