Identifying Consumer Demand Before Building My Travel Service
Hello! What's your background, and what are you working on?
My name is Kyle Davidson. I'm the founder of Sourced Adventures, an online adventure travel company based in New York City.
We specialize in day trips from NYC, Boston, and Washington DC, and we operate three destination travel programs in Iceland, Mexico, and Nicaragua. We operate the largest ski bus service in NYC and DC, and run regular whitewater rafting day trips, river tubing day trips, wine tours, kayaking day trips, and several other programs from our local markets.
Our total sales in 2016 were $1.5M, and in 3.5 years we've taken approximately 40,000 people on trips.
What motivated you to get started with Sourced Adventures?
I got my start in the travel industry as a full-time tour guide in San Francisco, working for a company called Incredible Adventures.
In 2011 I moved to NYC after a few months of traveling and got hired to run the NYC market for a brand new division of LivingSocial. The division was called "Adventures", and we were tasked with building an in-house tour operator/travel business. We scaled it up to running local trips in 30 markets around the US.
LivingSocial was making cuts by 2013, and they eliminated the entire Adventures division. This left a pretty big opportunity for me to take it over, so I started Sourced Adventures to reboot most of our programming.
I borrowed $10,000 from one of our largest vendors, who had a lot to gain by helping me create Sourced Adventures. I used that money to buy the massive insurance policy I needed and made a deal with LivingSocial to market our trips on the platform to our old customers.
Within a couple months I'd sold 5,000 tickets to our first ski bus trip as Sourced Adventures. The cash from that first season pretty much gave me enough to keep it going from there. I had no idea it was going to work. In fact, I was pretty sure people would not be interested since we had no reputation online.
I'd already been let go from LivingSocial and since they pulled the plug on the entire division there was no noncompete issue, but to pull this off I had to give up my apartment, go on unemployment, and be personally liable for that $10k loan. My financial situation at the time was… zero dollars.
The truth is that Sourced Adventures wouldn't have worked out as quickly as it did without tapping into that existing customer base who already knew the product. Granted, they didn't know Sourced Adventures per se, but I'd already validated the idea, and I was just putting the pieces back together. We sorta just slipped in to fill the void.
If there was one thing I understood, it was the distribution side of the business, and the importance of distribution in the travel industry, so I always just focused on these things in the beginning.
What went into building the initial product?
Initially we had no way to take bookings online for Sourced Adventures. No phone number, just a landing page with email support — and I would answer loads of support tickets per day. Literally all I had was just this one distribution deal that put us on the map.
So while I was working on the site, which at the time had no traffic, I went out to every single OTA (online travel agency) and third-party reseller site and said, "Look how many tickets we're selling through just one channel! You should get in on this!" And I just set up as many channels as I could find to fund the next stage. It's very common for tour operators to have either no tech or bad tech, so it wasn't that weird to these channels.
From there I built a very simple website, installed a reservations system, and started capturing all the customer data being sent to us from one of the channels. This way we were able to build a dedicated following and remarket other products.
It took us about 4 months to go from the initial launch of the company to actually being able to take bookings on our website. We basically made 5,000 sales before we even had a working website or any online infrastructure. People going on the trips didn't even know the name of the company.
The key was to get our booking system up and running so we could start to capture customer data. I was lucky to get traction right away. Even though we had cash coming in, most of it was going back into the business. Our margins weren't great because we were paying commission to channels on every single booking, so I was still struggling, but by this point I was committed to doing it full time.
My good friend Damian, who runs https://sammich.shop built the first, second, and third (current) versions of the website. The current version is built on Wordpress. My friends were a huge help. Anyone who had something to contribute, did. Whether it was advice, PR help, or making intros, my old friends at LivingSocial were helping me from the inside. In the end, it's all about relationships.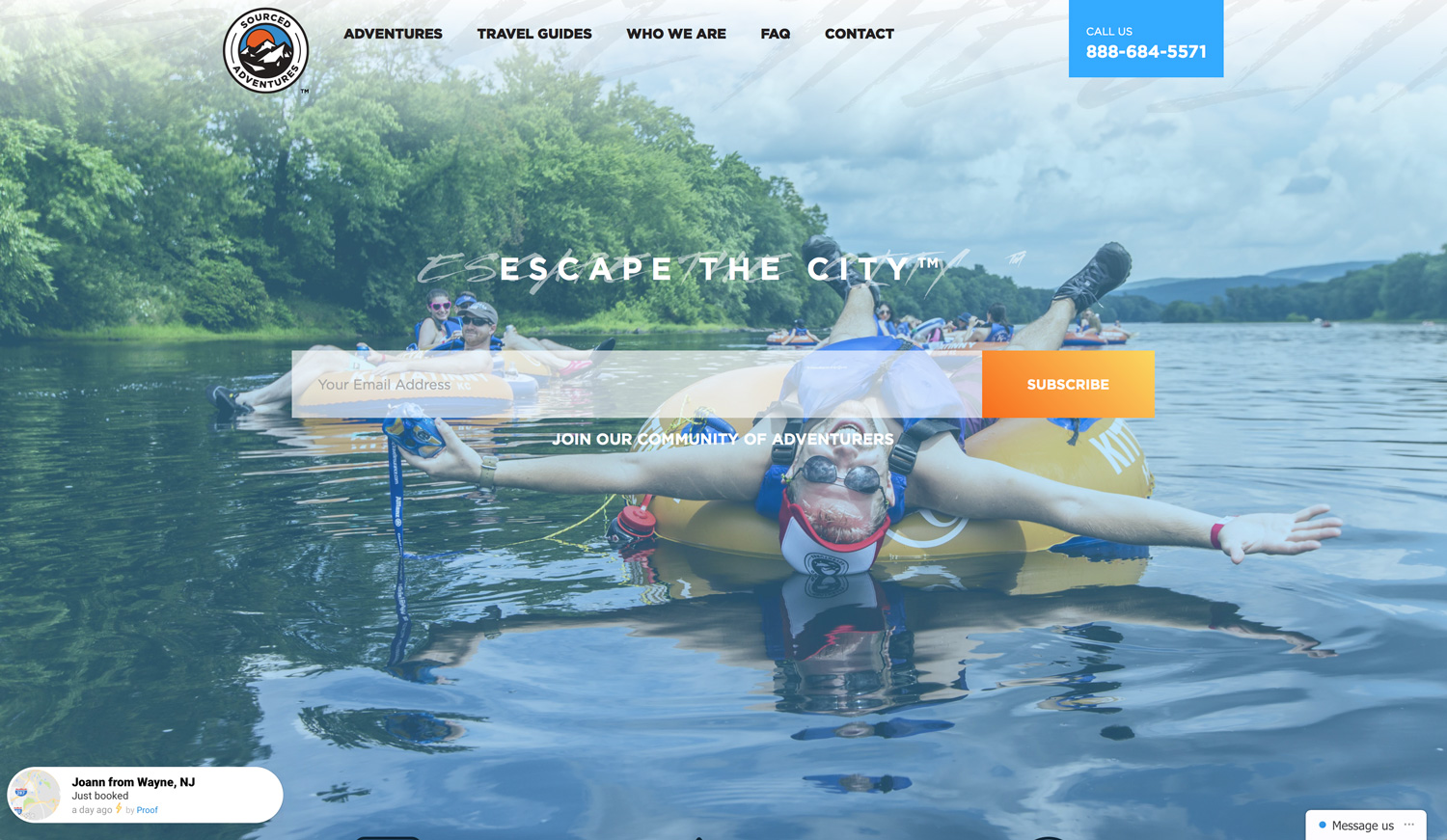 How have you attracted users and grown Sourced Adventures?
For us it's always been about OTAs, like Expedia. Those customers then need to come to Sourced Adventures to complete their reservation. Afterwards, we try to win them over to come back and book with us directly next time. This has worked very well for us because we provide a good online experience, great customer service, and do a good job remarketing other trips they might be interested in.
We get around 50k-60k monthly pageviews. The business is very chunky and seasonal right now, so we make around 75% of our total revenue for just six months out of the year (January through March and June through August).
We take an average of around 12k bookings annually, and in total have taken around 40k people on trips in less than 4 years.
Here's a rough breakdown of our traffic over the last year:
Direct (~25%)
Organic Search (~25%)
Referral (~25%) (Mostly OTAs)
Social (~14%)
Email (~8%)
Paid (~3%)
Until recently, we haven't done any PR, outbound cold emails for corporate trips, or other B2B engagement. For B2B outreach we use reply.io. We do a lot of email marketing and get quite a lot of bookings through channels. However, third-party affiliate sites are still a big deal for us. We work with probably 10-15 different sites that sell our products.
We're big into distribution to get the word out. In the travel industry, you need to be on every channel unless you serve a niche or have a brand people know. Everyone wants to go whitewater rafting or to Iceland, but you have to find them where they're actually looking to book. I can't overstress the importance of distribution. Often it might feel like you have this impossible task to build an audience that loves your product, but your audience most likely already exists somewhere else. Some platform has already gathered them all up — you just need to find that platform and work with them.
That said, our direct business is the most important thing to us and the key to the future of the overall business. Right now we're ramping up our paid and CPC marketing. I don't recommend doing this outside of retargeting until you really understand your audience and how to optimize your ads.
I think the best advice I can give for someone starting a business is to first think about how you're going to distribute your product, then work backwards from there. You might have the best product out there, but if you haven't figured out how to get it in front of customers faster and more efficiently than your competitors, then it doesn't matter. Traditionally you might build a product, then find customers. I prefer to look at things the other way around — find your customers and then build the product they're looking for. In my experience you can validate a business much faster this way.
What's your business model, and how have you grown your revenue?
The majority of our revenue comes from local day bus trips. After that is our destination products, then finally our B2B business. We've started doing a lot of corporate trips, and a lot of companies outsource their travel/activity planning to us. We've done corporate trips for ZocDoc, Google, HelloFresh, Harry's, Nationwide, BlackRock, and many others you might have heard of.
We use a reservation system/back end called PeekPro, which we power with Stripe for payment processing. We were PeekPro's 25th customer. They had just launched, and only had a couple of salespeople, so I just called them up and asked if we could get in on it. Now they're a team of around 150.
Our sales last year were $1.5M, and we're on track to do $2M this year. Here's the breakdown of our online direct sales:
| | |
| --- | --- |
| Year | Revenue |
| 2015 | 213484 |
| 2016 | 665259 |
| 2017 | 950000 |
(Revenue for 2017 is projected.)
The biggest driver of our business is probably also our biggest weakness. We relied heavily on distribution channels for our first couple years, so it's been hard to ween off it. Occasionally a channel would decide to jack up our commission and totally screw us. This is partially why we aggressively tried to diversify our channels from the beginning, which worked. Sometimes we'd get on a channel that would do well, and other times a channel would kill us on commission so we'd have to shut that channel down the next season. It's stressful. This is why we prefer direct sales.
I'm into dynamic pricing and just figuring out pricing in general. To me it makes sense to sell your distressed inventory for cheaper and your more valuable inventory for more, when applicable. Supply and demand, like what hotels and Airbnb and airlines do. When there is a lot of demand, the prices go up.
At first it didn't occur to me to apply this to our business model. Now we price things differently based on around 7 different pricing rules our system has. For example, I took a look at one of our trips which was initially selling well, and I experimented with raising the price $5 on the last few tickets. And boom, it worked! Just like that, I was able to increase our profits on that bus. So I kept at it, and we are still finding new ways to price our trips dynamically that make sense both for us and our customers.
We try to maintain around a 25% margin on all of our products. But a lot of profitability is tied to yield management, which we try to think about intelligently. Think about it like an airplane. It costs us the same amount to run the bus whether it's full or not, so we make a lot more money when the bus is at 100% capacity vs 80% capacity. With dynamic pricing this is becoming a bit easier.
For example, selling the first 10 tickets on a bus for cheaper and the last 10 tickets on a bus for a little more. Or giving lower prices for bookings 30 or 45 days out and raising the price as trips get closer. We can automate all of these pricing rules. There's also a strong case for overselling by a touch under our no-show rate, which is usually around 5%.
What are your goals for the future, and how do you plan to accomplish them?
One of our big goals with Sourced Adventures is to offer more destinations. Currently we're working on providing access to several new destinations all over the world, including Sweden, Germany, Ireland, Tel Aviv, Italy, and a few others. We also just locked in a pretty sweet airline partnership, so we're hoping to be able to scale flights more easily. On the domestic side we're in the process of launching San Francisco.
A big roadblock we face is the nexus between sales, program development, operations, and customer service. In our business we have to scale all of these almost simultaneously, which is super challenging. Every new trip we release and operationalize is a huge load on the entire team. Our shortest trip is probably 10 hours and our longest trip is 5 days, which means we spend a lot of time with our customers. So everything needs to be perfect. Always.
What are the biggest challenges you've faced and obstacles you've overcome?
I've made many mistakes — some big and many small. Something we got wrong early on was our process of acquiring and maintaing users. You need to have a solid plan for user acquisition and also for how you're going to communicate to those users to keep them engaged. In the beginning I focused solely on acquiring new customers, but never on what to do with them once we had actually acquired them. I think we probably lost a lot of customers this way in the first couple years. We did our existing customers a disservice by trying to market the wrong products to them.
Another big mistake I made was to switch our entire reservation system to another platform basically overnight. Not only did it upset my employees (who now, for seemingly no reason, needed to learn an entirely new system), but it understandably upset PeekPro, our reservations software provider, who we've always had a very close relationship with.
I thought it wouldn't be a big deal, but I learned that if you're not happy with your software, or with a service of any kind, it's a good idea to call them up and tell them what's wrong before you make a move. You might be surprised to find how receptive they are to your feedback. If they're not receptive, you can just stop using them.
What were your biggest advantages? Was anything particularly helpful?
I read a lot of startup books and asked a lot of people for advice. Recently I enjoyed Let my people go surfing by Yvon Chouinard, founder of Patagonia.
One of the best decisions we made was to join 1% For The Planet. Starting January 1st, we decided to give 1% of all our gross sales to nonprofits that support the environment. I think all businesses should consider their impact on the environment and implement some form of philanthropy.
You can't calculate the true cost of running a business until you consider the impact it has on the environment. What most shocked me was how much support we received. Your customers will thank you, your employees will thank you, and hopefully the environment will thank you. If I could go back in time I would have done this from day one.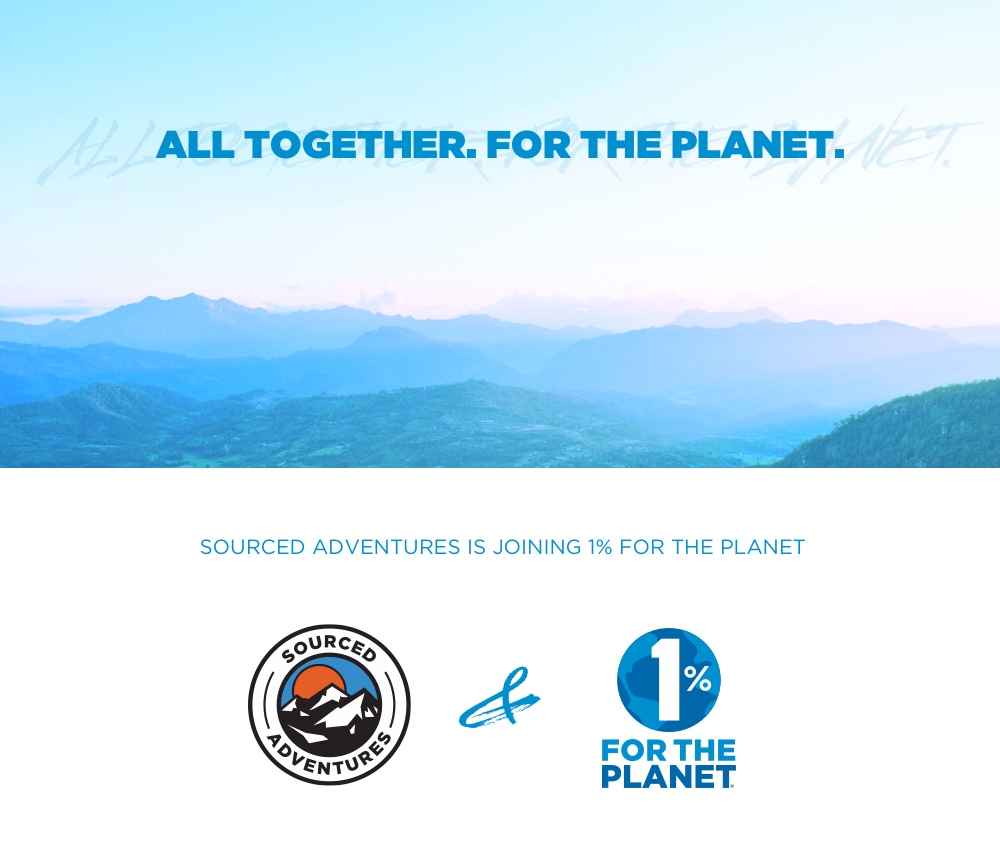 I'm good at building MVPs (minimum viable products) and patching together a bunch of software to make something work the way I want it to. We use tons of different services to streamline, and I'm obsessive about finding the perfect solution for everything. One time I switched our entire phone system three times in one week because I knew it could be better. I don't like to settle if I think someone out there has a better product or is doing a better job.
A few services I'm a big fan of:
What's your advice for indie hackers who are just starting out?
Automate everything. Seriously, everything. Turn it into a challenge: How many things can I automate? I also push my team to do the same. It's important to analyze everything you do, especially the things that take tons of time. The more time something takes you, the bigger the payoff is for automating it. I like to look for small improvements that save us money and add up over time.
I constantly try to improve our internal processes, and I find that often people don't want to make changes. There is a lot of powerful software out there, and you should always be looking for new stuff. I'm not advising you to make changes for the sake of making changes, but instead to look for the right tools that will improve your business.
I would also encourage indie hackers to build everything to scale from day one. Everything from your customer service, to payroll, to HR processes, and every tool you use. Always think, "How would this work with 10x or 100x more people using it?" If it can't scale I wouldn't do it unless I had to or it was obviously a huge or necessary cost-saving measure.
I highly recommend knowing how to do something before hiring someone else to do it. Otherwise you'll never really know what it's like to be in that person's shoes or what success in that role looks like. I still jump on the phone sometimes on a busy day, and like to get yelled at by a few customers once in a while. I usually immediately jump off and make 10 separate changes to the website or our policies of operation.
Where can we go to learn more?
You can learn more or book a trip at https://www.sourcedadventures.com. Feel free to ask us any questions in the comment section below and we'll do our best to answer all of them. Thanks for reading, and happy hacking!
—

Kyle Davidson , Creator of Sourced Adventures
Want to build your own business like Sourced Adventures?
You should join the Indie Hackers community! 🤗
We're a few thousand founders helping each other build profitable businesses and side projects. Come share what you're working on and get feedback from your peers.
Not ready to get started on your product yet? No problem. The community is a great place to meet people, learn, and get your feet wet. Feel free to just browse!
—

Courtland Allen , Indie Hackers founder