Launching a Profitable Startup Without Technical Founders
Hello! What's your background, and what are you working on?
My name is Nicholas Romano, I'm a marketing and supply chain graduate from Naples, Florida. I've been working on GetMeToEurope.com — a site dedicated to providing cheap trips to Europe — with my co-founder, Kyle Hetherington, for about 3 months.
As of August 2017 we're expecting $300-400 in monthly revenue, with our subscriber base growing at 5-10% per week.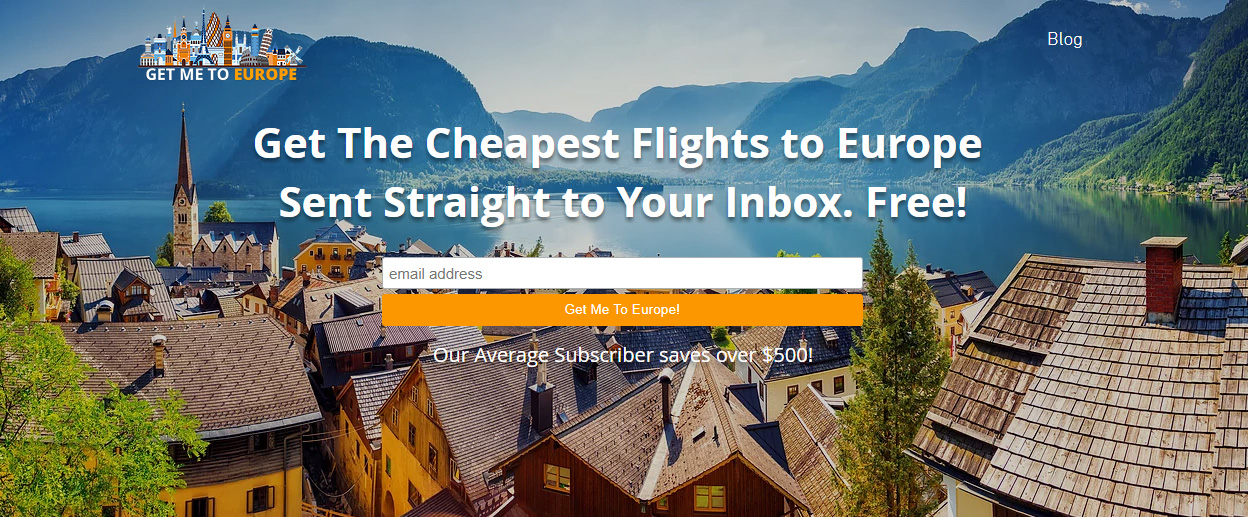 How did you come up with the idea for Get Me To Europe?
Instead of taking classes during my college summers, I packed my bags and traveled. I was a broke student, and I couldn't afford those pre-built tours advertised to undergrads that cost upwards of $5,000. So I had to be creative and leverage my fascination with logistics, which at the time was my major field of study.
I was able to optimize my trips and travel for a fraction of the normal cost, which allowed me to increase my budget for things I cared much more about, like hotels in prime locations or great seats to once-in-a-lifetime soccer games.
When my friends saw photos of all the different places I traveled, their curiosity got the best of them: "How the hell are you affording this?" And they were always shocked when I told them.
What motivated you to turn this hobby into an actual business?
My co-founder, Kyle Hetherington, texted me out of the blue one day and asked to meet up so we could shoot business ideas back and forth. That's when I pitched him the basic idea behind Get Me To Europe, and we both agreed to go forward with it.
I registered the domain back in 2015 and had a basic site already built, but we decided to start from scratch and hit the ground running.
I'd worked with Kyle on countless projects in college, so I knew he'd make a great co-founder. He just had the same entrepreneurial drive that I did.
In terms of validation, cheap flight newsletters are common in the industry, so we knew demand existed. They all operated on the same premise: they provided deals to their free users, but held back the best deals for their paying subscribers.
We wanted to put a spin on that typical structure by offering all the deals in the newsletter for free, and then offering an enhanced experience — faster alerts and fully-built-out euro-trips — to our paying subscribers.
So far this has worked, mainly because these deals are time-sensitive and people love receiving fully-built trips to Europe for sometimes less than $500. The trips often undercut the equivalent trips from tour companies by around $3,000, so a lot of our free subscribers have no issue paying $14-34.
I have to ask: Why Europe? Why not the rest of the world?
I get that question a lot. Aside from it being my area of expertise, some big reasons why I chose to focus on Europe had to do with market potential and the concept of focused differentiation.
It's important to apply your expertise, and you should always let data point you in the right direction. Data from Google Trends helped to validate my idea. More people searched "Cheap Flights to Europe" than any other continent.
I wanted to be better than the competition, so I had to sacrifice other destinations, like Asia and Australia, to focus on Europe. This allowed me to get deals to my subscribers that are often missed by other subscription-based travel services. It also allowed me to get out deals much faster than the competition — sometimes by a few days or more.
What went into building the initial product?
My background is in marketing, as I mentioned before, and Kyle studied business management. At the time we were fresh out of college and had close to zero budget to build our site. So there we were with an idea, no coding skills, and close to no marketing budget.
We did the only thing we could at the time and considered website-builders we could use to launch our MVP. We narrowed it down to BeaverBuilder for WordPress, Squarespace, Wix, and Shopify. Eventually we went with Wix, which would immediately make any developer roll their eyes.
Wix has continually proven to be problematic, slow, and generally unresponsive. But it was also cost-effective, and it got us to where we are now. If I had to go back I would either learn to code or just start fresh on WordPress. But hey — you live and learn, right?
We're currently working on a rollout of a redesigned website, but it could take some time. We built our first version on Wix in under two weeks, which allowed us to get out there fast and gain some critical feedback. My advice to anyone looking to start a business online is that you might be the best marketer in the world, but consumers will still respond negatively to poor design. After we redesigned our site using professional images and copy, our bounce rate dropped by about 20%. Of course, there's always room for improvement, but we're leagues ahead of where we started.
Kyle and I needed to find the time to work on Get Me To Europe with full-time jobs, and for us this has meant working early in the morning and late at night. We've worked it out so that Kyle works on the site every morning and I pick up where he left off every night. One of the benefits here is that we are now way more responsive to customer service, because one of us is always available.
We also use Google Hangouts, which is a great tool for any teams working remotely. While working at our full-time jobs we keep constant communication through our instant messenger on Google, along with regular phone calls and video chats.
Our cheap flight newsletter is based entirely on MailChimp, a great email client. MailChimp templates are easy to create, and one of our favorite features is the ability to schedule email campaigns using optimized times based on your subscriber list.
Zapier is another crucial tool we use. It's an automation tool that integrates with our site and Mailchimp. In the beginning, every time a subscriber upgraded to our premium service, we had to manually add them to a new list. Now, Zapier automatically moves users from the checkout form to the premium list, and then takes them off the free list. Best of all, the first few automations are free, so it's great for those who are bootstrapping.
We finished the first version of Get Me To Europe around the end of May 2017, and we got ready to launch.
How have you attracted users and grown Get Me To Europe?
Our official launch date for Get Me To Europe was June 1st, 2017. We went with a three-pronged, all-out assault on getting our initial users.
Our methods have been simple: paid advertising, social media, and the holy grail: free publicity via blog posts and articles. From the start, we wanted as many eyeballs on our site as possible so that we could gather written and analytical feedback and tweak the product accordingly. And we've learned countless lessons along the way.
Mind starting off with what didn't work?
Not at all. The first thing that clearly wasn't working out was paid advertising on Google and Bing.
Starting a search engine ad campaign in a competitive market segment (like cheap travel) without dedicating significant time and resources is a lot like lighting money on fire.
The CPA (cost per acquisition) for our free users was approaching $2.50, and with a conversion to paid users hovering around 5%, search engine ads were simply not an efficient way to spend our very limited capital, so we ditched the campaign.
Perhaps we could have optimized the ads and gotten a better return, but our lesson learned is that our time and money was better spent elsewhere.
Another flop for us was the effort to reach out to influencers in the travel industry. This was part of our initial plan. We figured if we connected with top influencers — those with 500k+ social media followers, for example — they'd use their platforms to promote us.
In all honestly, this didn't work at all. All of the influencers that got back to us gave us initial excitement, and then tried to stick us with a huge bill. (In one case we were quoted $8,500 for a joint photo on Instagram — and that wasn't even from the most popular of the influencers we reached out to!)
Total stats for that approach?
70 cold emails
11 responses
0 features
Okay, so which marketing methods have worked for you, then?
First, paid Instagram shoutouts.
As I said before, in the beginning we were more focused on getting volume to our site, rather than attaining scalable, organic growth.
We started reaching out to Instagram accounts with large followings and asking them to feature our account and put a link to our site in their bio. The interactions we had with different accounts were hit or miss, and prices were all over the place. Some small accounts wanted to charge $300 a post, while larger ones, who had a better understanding of the market, were actually much more reasonable.
We ended up forming a great relationship with an Instagram page in our niche with over 500k users. We paid a few hundred dollars for one post a week for 5 weeks.
At one point we decided to pay for a post for each day of the week to see if the day had any effect on engagement. The results were better than expected: in total we attracted 1,200 free users and around 15 paid users. The campaign effectively paid for itself. (Our findings on different days of the week proved to be insignificant.) Engagement increased with each consecutive week, possibly because we improved the design of our posts each week.
The second thing that's worked well for us is cold-email outreach out to news websites and medium-size bloggers.
What Kyle and I have lacked in our development skills we've made up for with our dedication to marketing. We've reached out to hundreds of small- and medium-sized travel blogs, and to our surprise we've received a much more positive response than some of the larger blogs.
These small and medium blogs want great content for their growing audiences, and they've been much more willing to work with us for free in exchange for some insider tips and original pieces. We've found our leads on Twitter, Facebook groups, and blogs that focus on lists (e.g. "Top 10 Ways to XYZ").
Pro-tip: When you find a blog you like but can't find any contact email on the site, use an email-finder tool like hunter.io. You can also use the tool to reach out to editors at large publications like Forbes, Buzzfeed, Huffington Post, etc. We have about five upcoming features from small (~10k users) to large (500k users) organizations thanks to cold emailing.
Here is an example of a guest post that was published by blogger with around 60k followers. We found her on Twitter and sent her a friendly email asking for a guest post. The reaction from her post was fantastic, generating hundreds of new users on our site and achieving over 100 repins on Pinterest.
Ironically, our worst-performing link was from the Huffington Post. I spent days preparing great content and talking on the phone with a contributor, and the post ended up using a single sentence and generating less than 10 visitors to our site.
The lesson we've learned from all of our cold emailing so far: sometimes when you think you've caught a whale (e.g. a Huffington Post feature), you've actually reeled in a minnow. And, conversely, some of your best content can actually be produced from your average blogger. So dedicate your time wisely. Focusing on the stars too much can actually impede your progress. Bootstrapping is a long, slow process, and success doesn't happen overnight.

What's your business model, and how have you grown your revenue?
We use a freemium business model. That term gets thrown around a lot, but it basically means that we offer a standard service for our free users, and they can then upgrade to an enhanced experience if they choose to.
Our free emails contain ads for our paid service, which is $34 for a yearly membership. We entice initial users by offering a free cheap flight newsletter, where we email them the cheapest fares to Europe. We differ from the many newsletters in that we offer all of the deals we send out for free.
The cheapest fare we've sent out so far was a $233 roundtrip flight to Dublin. We had to think of different ways to build value for our paid service, so we came up with some unique differentiators, all of which have paid off so far.
Home airport. Our paid users get to choose their home airport; free users get a general list that may or may not have deals from their nearest international airport.
Priority. Paid users also get the deals first, which can be crucial for time-sensitive deals. Sometimes they sell out in as few as 30 minutes!
Full itineraries. We also send out full trips to our paid users, so they can take advantage of an entire euro-trip. We call them "Dream Trips". We find cheap round trip flights to Europe and then build itineraries with popular European destinations. Finally, we send links for the bookings via email. The whole trip usually ends up costing less than $600. Best of all, we offer a money-back guarantee. If they don't like the service, we will refund them 100%, no questions asked.
Our payment provider is Stripe, which we were pretty adamant on using throughout this project. Stripe has a fantastic reputation in the startup community.
Wix proved problematic here, because there's no way to integrate Stripe checkout into a Wix site. I won't go into details, but the back end just isn't compatible.
We created a workaround by using a service called MoonClerk, which to our delight allowed for Mailchimp integration. Unfortunately, it added another layer of costs, as MoonClerk charges a very similar rate to Stripe. (So essentially we are being double-charged at the moment.) We'll be discontinuing this when we port our site to WordPress, but for the time being it will have to do.
Considering we're primarily an information-provider, Get Me To Europe operates on very few expenses. Our margins are sitting high at around 60%, our total running costs are about $150 per month. This includes Google webmaster tools — email, analytics, payment processors, web hosting, and paid advertising. Of course, these costs will naturally rise as we scale, but we're bootstrapping this as much as possible to keep our margins high.
In July, our second operational month, we earned $400 in revenue — up from $100 in June.
What are your goals for the future?
Our immediate goal is to build up our free subscriber list as much as possible, in hopes that we can learn more and optimize.
The truth is, there's so much that can be improved about our site, and it all starts with the customer experience. We have some great traction, but also some roadblocks ahead.
What are the biggest challenges you've faced and obstacles
The single biggest challenge we've had so far is consumer education. The truth is, a lot of our users don't know how to use tools like Google Flights, Skyscanner, and Momondo, which are imperative to our site. My inbox gets flooded with requests and questions like, "How do you book?" We usually direct them to our instructions page, but that still leaves some subscribers confused. We're starting to create some YouTube videos that detail the process, which we think will greatly benefit users.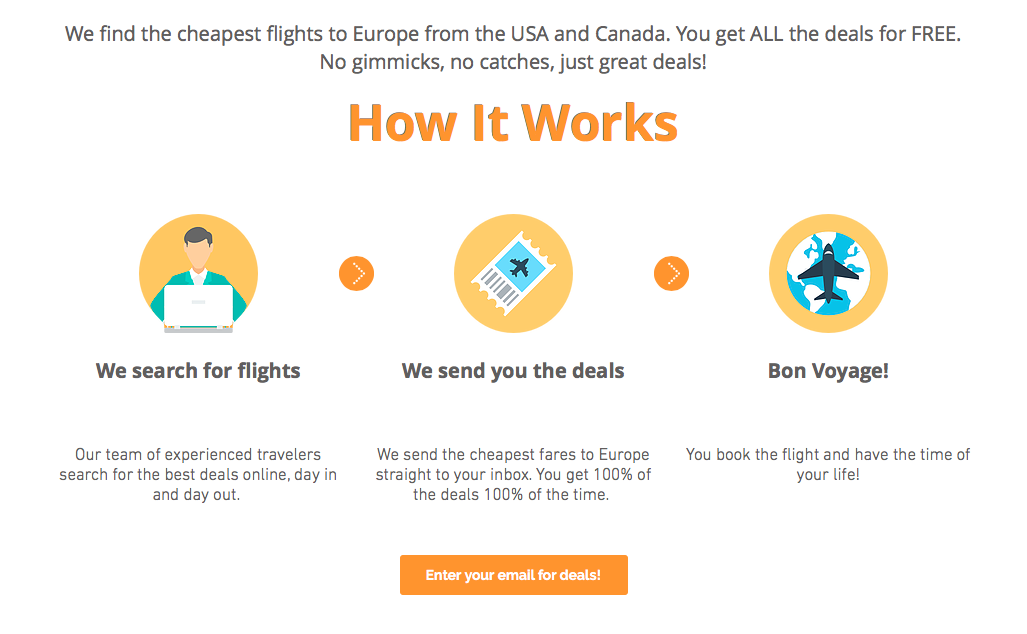 Another issue we have is that the whole site needs to be ported over to something more developer-friendly, like WordPress. This is going to involve a complete remake, which is taking some time. But it's 100% necessary, so our only regret is that we didn't start earlier.
Have you found anything particularly helpful or advantageous?
Aside from Indie Hackers, reddit.com/r/entrepreneur is a great resource for case studies.
HARO (Help a Reporter Out) has been an extremely useful tool for us. It's an email list that you can subscribe to where reporters who are looking for information submit the stories they are working on. In exchange for a feature, you can provide advice/content to the reporter. It's a win/win.
My advice is to be genuine when making an attempt to contact reporters. We've received far better response rates that way, as opposed to copy-and-pasting a template. In fact, it's how we landed our original feature on the Huffington Post.
What's your advice for indie hackers who are just starting out?
You could have the best product or service in the world, but if people don't know about it you won't sell anything. Get yourself out there as much as possible, and adapt to feedback.
Finally, if you're looking for under-the-hood inspiration outside of Indie Hackers, check out Builtwith.com. It's a tool for finding out the tech stack behind a particular site.
Where can we go to learn more?
If you have any questions, comment below and I'll get back to you as soon as possible!
—

kylegetmetoeurope , Creator of Get Me To Europe
Want to build your own business like Get Me To Europe?
You should join the Indie Hackers community! 🤗
We're a few thousand founders helping each other build profitable businesses and side projects. Come share what you're working on and get feedback from your peers.
Not ready to get started on your product yet? No problem. The community is a great place to meet people, learn, and get your feet wet. Feel free to just browse!
—

Courtland Allen , Indie Hackers founder