Leveraging 3rd-Party Platforms to Stay Ahead of the Competition
Hello! What's your background, and what are you working on?
Hi, my name is Aleš Krivec. I graduated with a degree in computer science and worked for some time as a PL/SQL developer.
My co-founder Aleš Žagar and I founded PremiumCoding in 2011, hoping to develop WordPress themes and plugins. We are currently focused on blog themes, so our primary audience consists of bloggers all around the world.
PremiumCoding currently makes around $12,000 to $15,000 per month. (It varies from month to month.) Two years ago we had higher revenue from Themeforest alone, but since then we've had to adapt and are now selling on several different marketplaces (including our own shop).
What motivated you to get started with PremiumCoding?
PremiumCoding goes back to July 2011. I had a regular job as a PL/SQL developer, and my friend was working at his father's company as a PHP/delphi developer. We both had a mutual vision to start our own business. I started developing Flash Applications for Activeden (which is now sadly gone) and it was working pretty well for a while. Then Apple decided to stop supporting Flash, and it went straight downhill from there. It was time to try something new, and I made a suggestion to my friend that we should make a theme for Themeforest.
If I take an objective look at it now, our first theme was nowhere near good enough to be accepted to Themeforest. Of course it looked fine to me back then — just proof of how perspective changes when you gain more knowledge and experience.
We gave up on Themeforest for the time being and started developing WordPress Plugins for CodeCanyon. The main reason for this was that the design doesn't play such a crucial role in plugin development as the functionality and usefulness. We made a few plugins, and some sold pretty well.
After a year of plugin development we decided it was time to give WordPress Theme development another shot. I'd been working pretty hard on improving my design skills in the meantime, and had some designs approved on GraphicRiver. My feeling for typography also improved, and we felt it was time to try again.
We started working on a theme called Radial. After every upload we were certain we'd improved the theme enough and that it would be accepted. Naturally, that wasn't the case. It got rejected time and time again. We didn't want to give up, but after six or seven rejections you start to feel pretty frustrated.
We kept going because the reviewers started giving a more positive feedback as to what still needed to be improved. On the 8th attempt we got a soft rejection, and I couldn't believe my eyes. It was finally happening: we were inches away from acceptance. We made some further (and final) adjustments, and Radial finally saw the light of day.
We both expected that it would sell at least decently, but we didn't expect for it to sell that well. We even made the weekly best sellers list. This was the best possible incentive to keep going and to keep learning.
Since then we've made quite a few themes, and some of them (like Brixton and Amory) are still selling very well. A little over a year ago we also achieved the power elite status (for earning more than a million dollars in overall sales).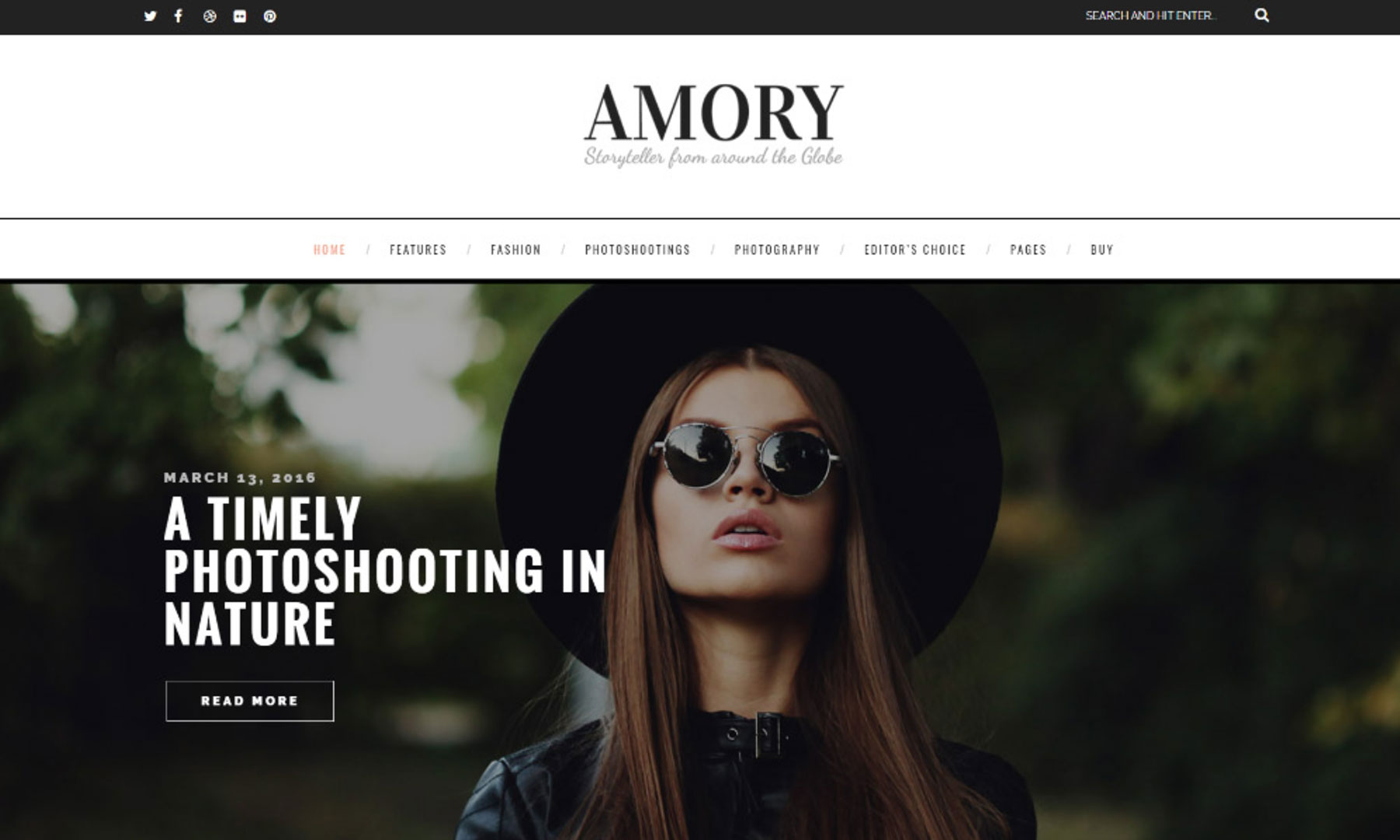 What went into building the initial product?
It took us about three months to create Radial (our first theme for Themeforest). We mostly worked on it after the regular job — that is, on afternoons, evenings, and weekends.
The first sale came in almost immediately after the release. We made five sales the first day, and 10 the next. I still remember how happy I was to see such a positive response from the market and its users. By the end of the week Radial was among top 50 best sellers list. I thought it was a great achievement for our first theme, and I was very excited to design and develop new themes.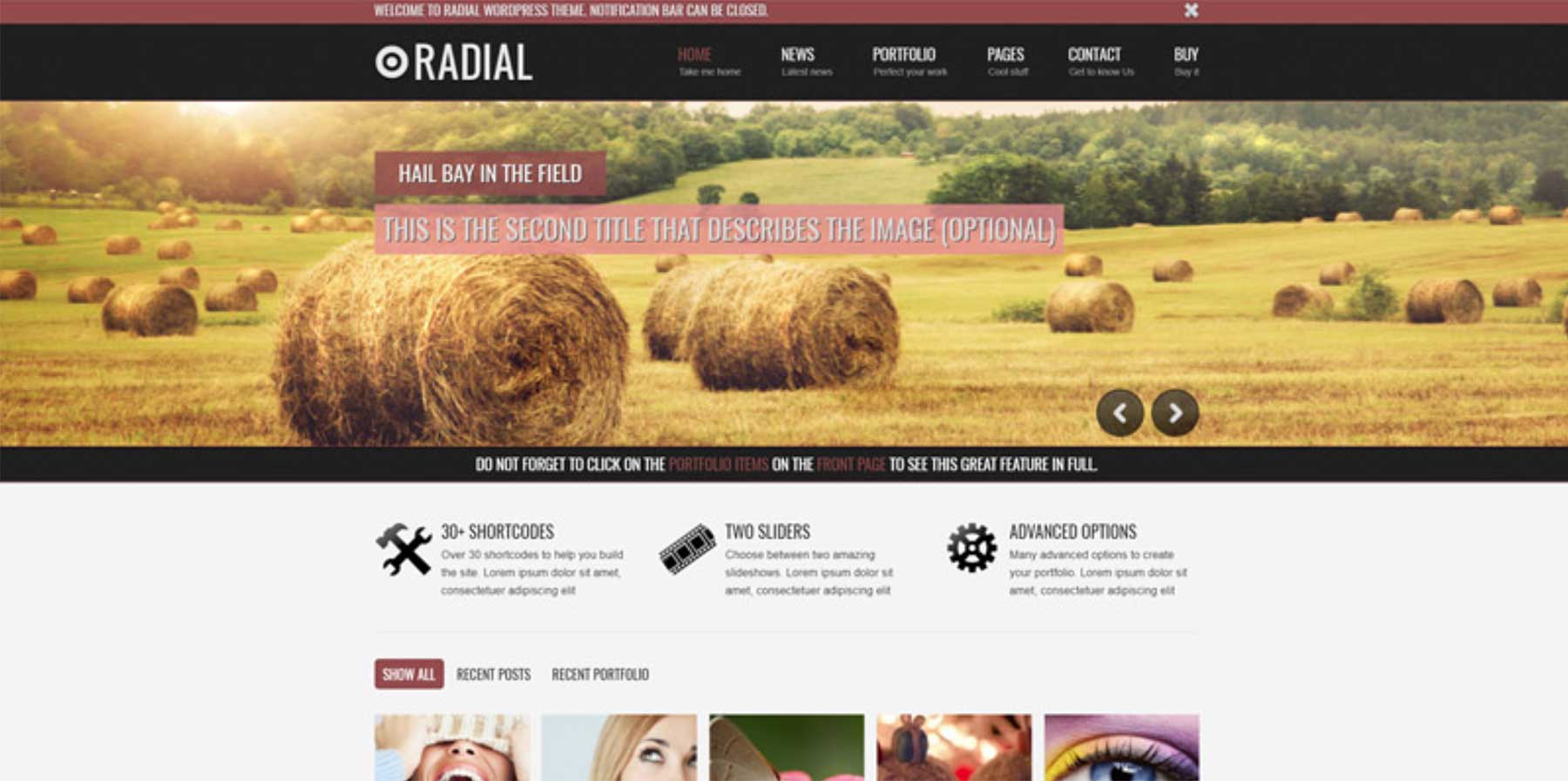 Of course the theme now feels outdated as it's a very simple portfolio and blog theme. But for the time being it had some advanced and cool features (like blog posts and dynamic portfolio opening via AJAX).
Fortunately, this kind of business doesn't take a lot of resources apart from your time. So funding wasn't a problem since we both had regular jobs. The progress was gradual and pragmatic though. From Flash and Activeden, to WordPress plugins and CodeCanyon, and finally to WordPress themes and Themeforest. And we are still sticking to that, even though times aren't as good as they were.
How have you attracted users and grown PremiumCoding?
When we started with our website PremiumCoding I gave away free PSD templates and posted tutorials and articles about web design, WordPress, and our progress. Organic traffic was easier for us to get back in 2011, and website quickly started receiving over 1,000 visitors per day.
Unfortunately we had no knowledge of marketing back then, so all of this effort and user traffic resulted in zero subscribers. This is probably our biggest mistake — we didn't get around to launching our newsletter until about a year ago.
When we started uploading more themes on Themeforest we felt like no extra marketing was needed. Themes were selling very well for over two years, and we never even thought that this could change so quickly.
With certain changes on the Themeforest market, sales started to go down. First slowly, but about a year ago we had a very sudden drop from one week to the next, and it never really picked up from there.
We had to adapt quickly, and the first move was to create our own shop on PremiumCoding and move all those themes that weren't selling anymore from Themeforest to our own store. Fortunately we'd developed quite a few themes over the years, and we started our venture with 18 themes.
We also started growing our audience through our newsletter. (We use OptinMonster.)
What's your business model, and how have you grown your revenue?
We offer three options: licenses for individual themes, a yearly subscription plan, and a lifetime membership. For us, the single licenses are selling the best.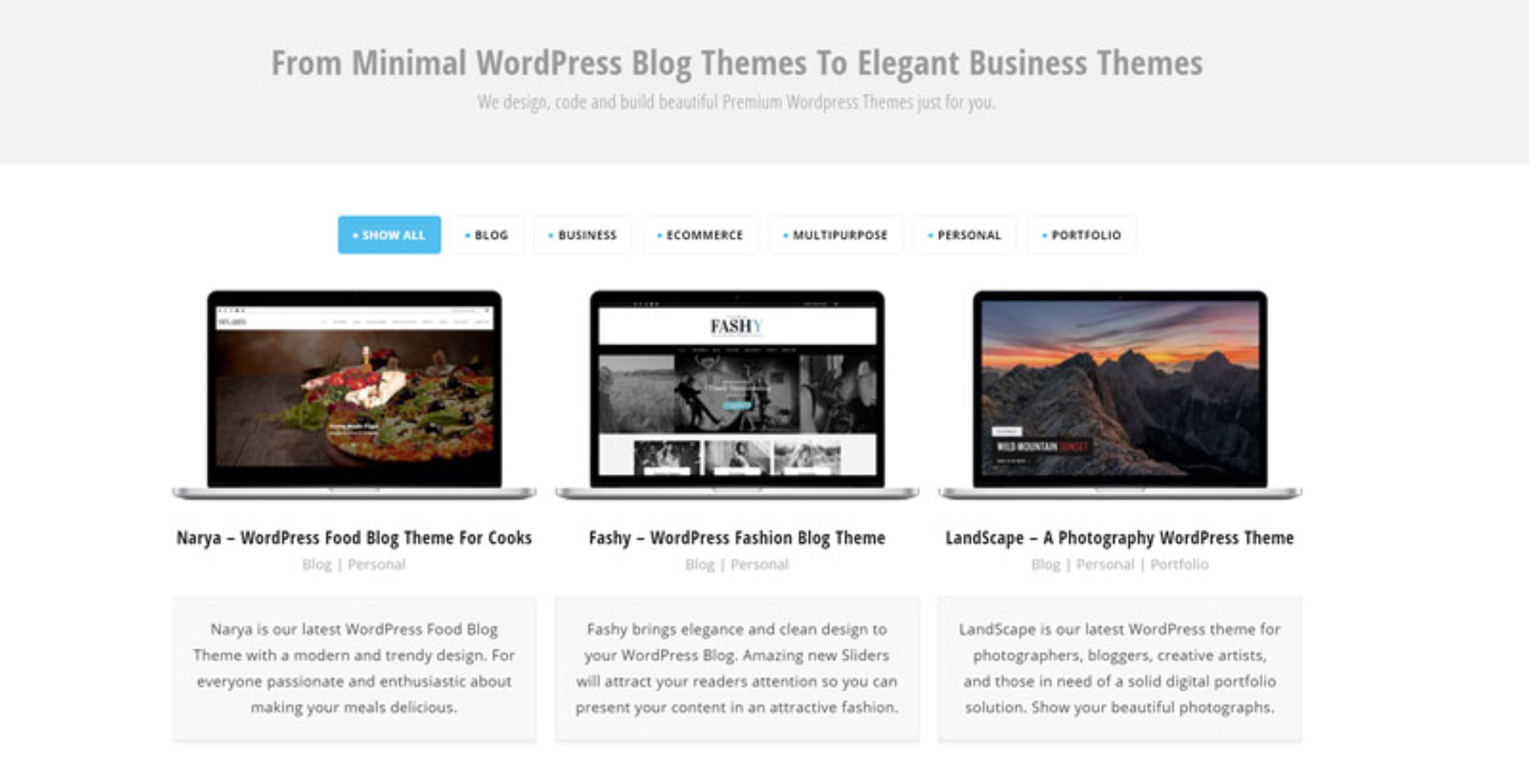 Since Themeforest has an exclusive policy which is account-based, meaning any themes that are for sale on Themeforest can't be sold anywhere else, we decided to create a second account on Themeforest, where we are able to sell themes we've developed for our shop.
Around the same time we discovered another great market for selling themes: Mojo Marketplace. And only a few months ago, yet another big template-selling site opened up for public uploads: Template Monster. We've had to utilize all of these resources to keep revenue steady, as the loss of revenue from Themeforest was substantial.
Here's a look at our revenue from 2012 — the year we launched on Themeforest. We started with $1,245 in January and were almost at $16,000 in November. (We released Radial in March.)
| | |
| --- | --- |
| Month | Revenue |
| Jan | 1245.93 |
| Feb | 1056.78 |
| Mar | 4360.40 |
| Apr | 5053.78 |
| May | 5382.00 |
| Jun | 5461.96 |
| Jul | 11144.42 |
| Aug | 11213.30 |
| Sep | 9353.40 |
| Oct | 14721.70 |
| Nov | 15687.00 |
| Dec | 11584.30 |
Things were going very well on Themeforest for about three years with a peak in September 2014 ($22,375). In 2017 sales on Themeforest went down to about 40% of what they'd previously been. But with extra revenue from other markets and our own shop we still receive a decent monthly revenue that allows us to develop and market new themes.
Here's data from 2014, our most successful year on Themeforest:
| | |
| --- | --- |
| Month | Revenue |
| Jan | 16986.90 |
| Feb | 17379.60 |
| Mar | 17697.40 |
| Apr | 15983.80 |
| May | 13062.70 |
| Jun | 15132.60 |
| Jul | 17374.70 |
| Aug | 20711.10 |
| Sep | 22375.50 |
| Oct | 18355.40 |
| Nov | 15056.30 |
| Dec | 16675.40 |
These numbers dropped more than 50% in 2016 and 2017, but Themeforest is still our biggest source of income. Our own shop is getting close to Themeforest numbers though, so for me that's a definite sign that we should invest primarily in our own shop in the future.
What are your goals for the future?
My team and I are still 100% focused on retaining WordPress as our primary business. However, we are slowly and surely putting more time and effort into growing the official PremiumCoding shop.
But that's not all. While single products are currently our best sellers, we are pushing our yearly subscription the hardest. One of our main goals at the moment is to grow our recurring revenue and make it more predictable.
If it works out, we'll have more freedom with WordPress theme creation, and we'll even be able to release products for niches we aren't supporting yet. While blog themes will remain our number one niche, we'll no longer have to say no to other industries, and we'll be able to bring a whole new selection of products to the market. This is definitely something we look forward to putting more time into.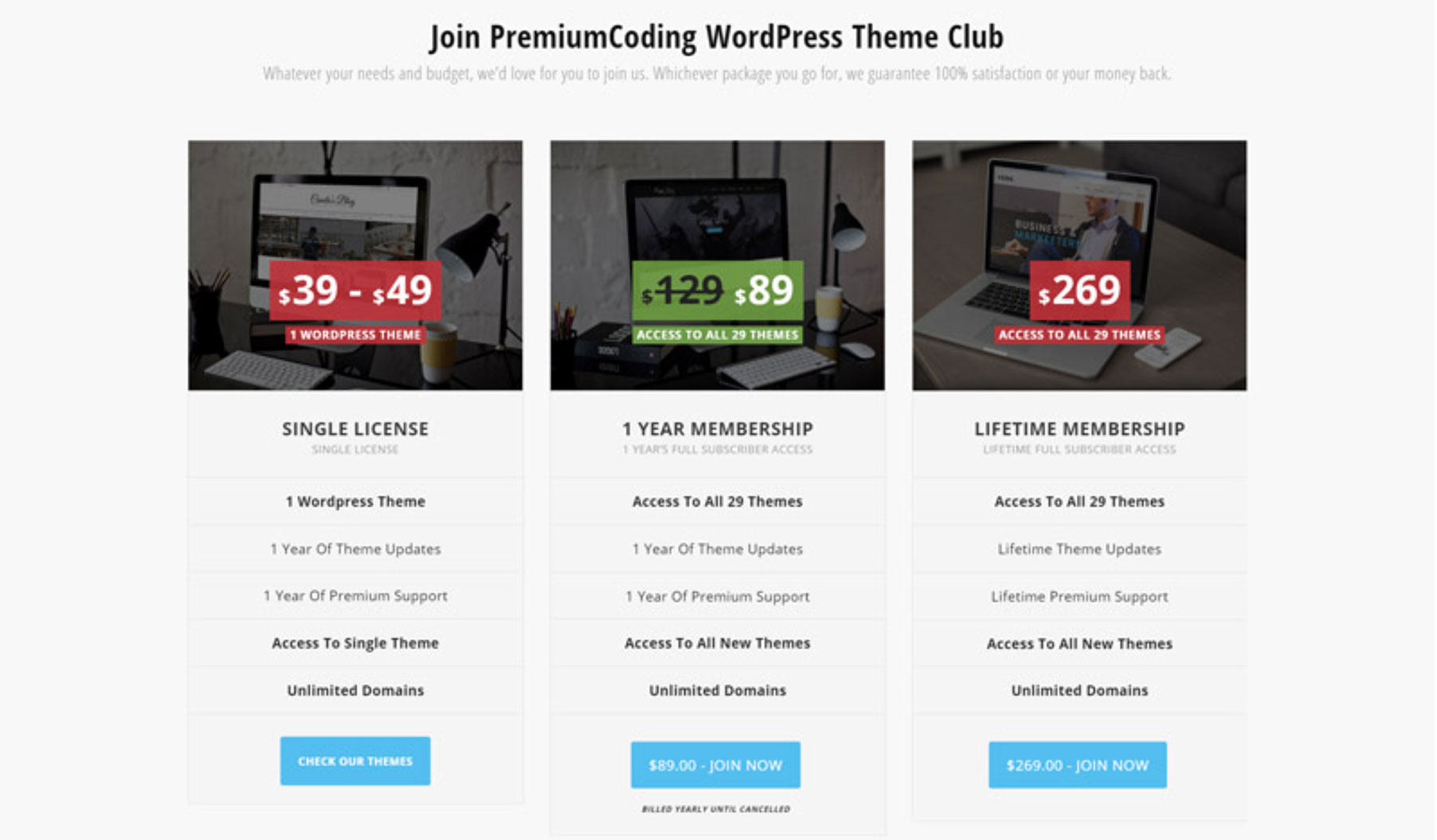 The first step in achieving this goal is to grow our website — both products and blog content. We are actively boosting our domain authority by spreading the word about PremiumCoding and sharing our knowledge with other webmasters.
Additionally, we'll continue releasing articles and other content of the highest standards on our blog. Doing so, we are already witnessing an increase in organic traffic, which we plan to scale even further.
Collaborating with other WordPress shop owners and bloggers is another of our approaches, which is affecting our website in a very positive way. But we tend to stay away from buying any sort of links and do it as organic as possible. That said, we won't refuse an offer for a top-notch paid review if it feels right and the review will benefit our readers.
Last but definitely not least, since our affiliate program is doing fairly well, we plan to triple the number of our active affiliates by summer 2018. We are working closely with our affiliates at all times so both parties get the most out of it. We're playing the win-win-win game: the client wins, the affiliate wins, and the product owner (us!) wins.
What might be one of our biggest challenges is the fact that our monthly revenue is constantly fluctuating. There is still a lot of work we need to do to succeed at reaching a steadier income.
If you had to start over, what would you do differently?
As I mentioned previously, probably our biggest mistake starting out was that we didn't have a place on our website allowing users to subscribe. In other words, we weren't capturing any emails when we were generating the most traffic to our shop and blog.
Sounds almost silly, but somehow no one thought about that back in 2012. Only now do I realize the power of email marketing.
That said, if I had to start over, the first thing I'd do is to begin building an audience right off the bat with tools like OptinMonster. But better late than never, right?
What were your biggest advantages?
There are two things that I find of benefit. First, being in the right place at the right moment. Second, keeping our business strategy remote.
Right place at the right moment. Back when the idea struck me to give ThemeForest a go, the industry was still fairly young. Although it took us some time to have our first WordPress theme approved, I believe the timing was still very good. But if we were to have gotten into the business only a year or two later, things would've definitely turned out completely differently, and we'd have missed the best years.
Remote business strategy. It gives everyone more freedom with their personal lives, hobbies, and other whatnots. I believe not having a strict 9-to-5 office job and being able to free yourself from the cubicle opens your mind and makes your working hours more productive. Not to mention, you can simultaneously travel and work, which is a big plus for everyone involved in PremiumCoding. But when work needs to be done, we surely are not fooling around. In the end I put in a lot more than 40 hours per week, but it's more spread along the whole day, and I work a lot of weekends also.
What's your advice for indie hackers who are just starting out?
No matter how many takes it requires or how many refusals you get, keep grinding, and by all means never give up. Approach every challenge with an open mind and find other possibilities in it. However, first things first: start. You might discover something that intrigues you or you might already have the most amazing million-dollar idea. But if you don't start working on it, it will all go to waste. The endless hours of brainstorming and papers full of notes are worthless. You know how the saying goes: "The best time to plant a tree was 20 years ago. The second best time is now."
Everyone says read this book, listen to that podcast, and follow this guy or girl. All this is fine and can have an extremely positive impact on your thinking, actions, and business. However, I would advise you to read, listen, and gain inspiration on the go. Meaning, launch your project with the knowledge you have at this very moment. Once you have it live, keep the hype going by doing all the previously mentioned actions.
Why? Because reading and educating yourself first might turn into just another form of procrastination. "I only need to read one more thing from XYZ and then I'll start," is a pretty common situation for the wantreprenuer. One week can turn into one month, one year, and so forth. You get the gist of it. Act today and stop thinking so much. Even if one project fails, you get a lot of experience from doing it and it increases the chances that the next one will be more successful.
I believe most of us have a lot of potential to be good in many different branches. But in my opinion, to have passion for something is more important than to have talent. If you really love what you are doing, it's not hard to put in 12 hours a day, and improving your skills just becomes part of the fun. I once read that you need at least ten years of doing something for ten hours a day before you yourself can believe you are good at it.
Over the last few years, I've needed something to take me away from the computer, and landscape photography has been the answer. I put a lot of time into it, and at some point I spent more time doing photography and exploring mountains around me.
What's funny is that a lot of good ideas for themes and our business have come from those hikes. Sometimes it's just necessary to move away for a bit so you can see the bigger picture of your business. And also my photography skills improved by a lot because of that. If you are interested, you can check out my photography website: DreamyPixel.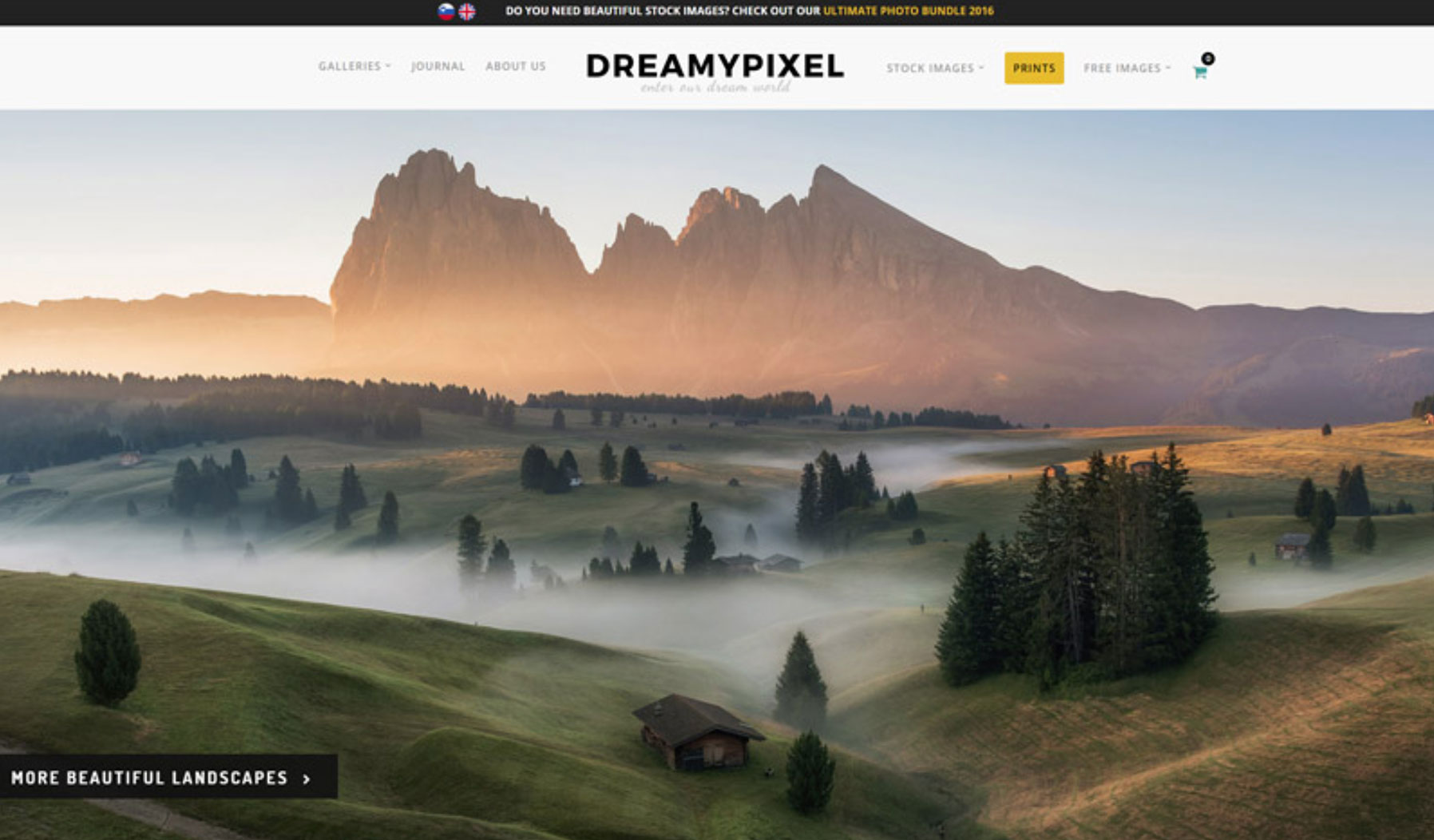 Where can we go to learn more?
To get an even better picture of my business, check out our PremiumCoding WordPress theme shop. Additionally, you can check my ThemeForest profile, where you can find both exclusive and non-exclusive WP themes. For socializing, follow us on Twitter and Facebook. But signing up to our newsletter will keep us in close contact at all times :)
Thanks everyone for your time getting through the interview. I am interested in talking to anyone who is interested to know more about our venture and how we had to adapt to meet the changes in the WordPress market.
—
Aleš Krivec , Creator of PremiumCoding
Want to build your own business like PremiumCoding?
You should join the Indie Hackers community! 🤗
We're a few thousand founders helping each other build profitable businesses and side projects. Come share what you're working on and get feedback from your peers.
Not ready to get started on your product yet? No problem. The community is a great place to meet people, learn, and get your feet wet. Feel free to just browse!
—
Courtland Allen , Indie Hackers founder