Leveraging a Social Movement for My Growing Side Hustle
Hello! What's your background, and what are you working on?
Hi, my name is Jay Caetano and I have been doing web design and web development for the past ten years. But lately I've had this desire to go into business for myself. I have always been an entrepreneur at heart, but early on in my career I quickly fell for the easy money working as a corporate drone.
Since then I've started several side hustles including AnarchoCoffee, which has been my first real success. AnarchoCoffee is the organically farmed, ethically sourced coffee for the free thinker. Since our very first month we have had consistent growth month over month and are selling coffee via fiat money and cryptocurrency.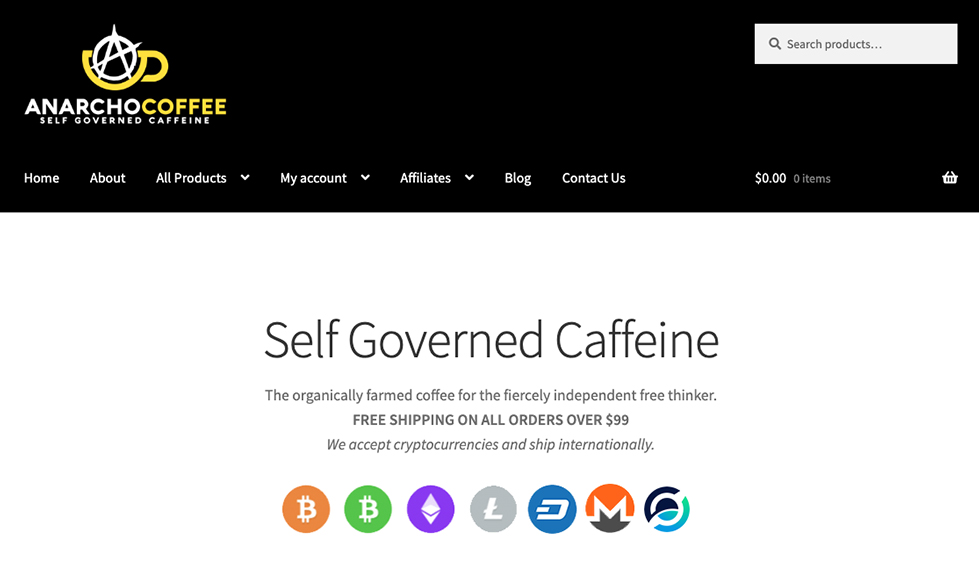 What motivated you to get started with AnarchoCoffee?
I was motivated to start AnarchoCoffee for two major reasons. 1) I love coffee, and 2) I love liberty.
I have always felt that the corporate grind of the nine-to-five beats you down. My hope is that over time one of my business ideas (or many of them) will set me on my way to financial freedom. I like the idea of generating a passive income and being something of a digital nomad.
I came up with the idea for AnarchoCoffee while listening to several of my favorite podcasts and was motivated by others in the liberty movement to do something that had a social impact. You can see there was no real "validation" — I found a niche and scratched the itch. Each month the business grows by adding new products, services, and finding creative ways of advertising since we are banned from using Facebook ads.
My expertise is in web design and development ,and I wouldn't consider myself a coffee connoisseur yet. I did my research on coffee beans and distribution and found the right distributor. Something interesting I discovered about coffee distribution is the idea of the coffee beans being "ethically sourced" — meaning no child labor. So it was important that I found a distributor with ethically sourced beans.
Some ideas that I am working on for the future are monthly coffee subscriptions and the ability to donate during checkout to liberty-minded non-profits. Today I still work a nine-to-five as a director of the web at a venture capital firm by day, but by night I'm an entrepreneur side hustler in search of ultimate freedom.
What went into building the initial product?
Because of my background in web design and web development I was able to build the website in a weekend. I created some social media posts and was a guest on several podcasts. Since then it's been a rollercoaster of excitement.
AnarchoCoffee is a totally grassroots and bootstrapped company. I am not looking to become the next Starbucks but if that happens, great. I enjoy the idea of being 100% independent and see AnarchoCoffee being a "ma-and-pop" type of company; but who knows where the road will lead. To keep it running, I need to burn a lot of midnight and weekend oil, so I'm hoping something gives.
Since the launch, I have taken feedback directly from customers and friends and added new roasts and features they want to see. Interacting directly with customers and the AnarchoCoffee community has helped with word-of-mouth marketing. In some ways I feel like this is more of a community project than just me running a business. I continue to listen for feedback directly from customers and use that to make decisions on the scope of new features.
My wife has been my biggest supporter in this endeavor, taking on extra hours to watch the kids so I can work on it. But also many individuals in the liberty movement have been supportive, including the Lions of Liberty, Sounds Like Liberty Podcast, The LAVA Flow Podcast, Liberty Weekly Podcast, and The Launch Pad Media.
The tech is quite simple for now: WordPress, WooCommerce, MailChimp, Stripe (of course), CoinPayments for cryptocurrency, and Jilt. Plus a little blood, sweat, and tears.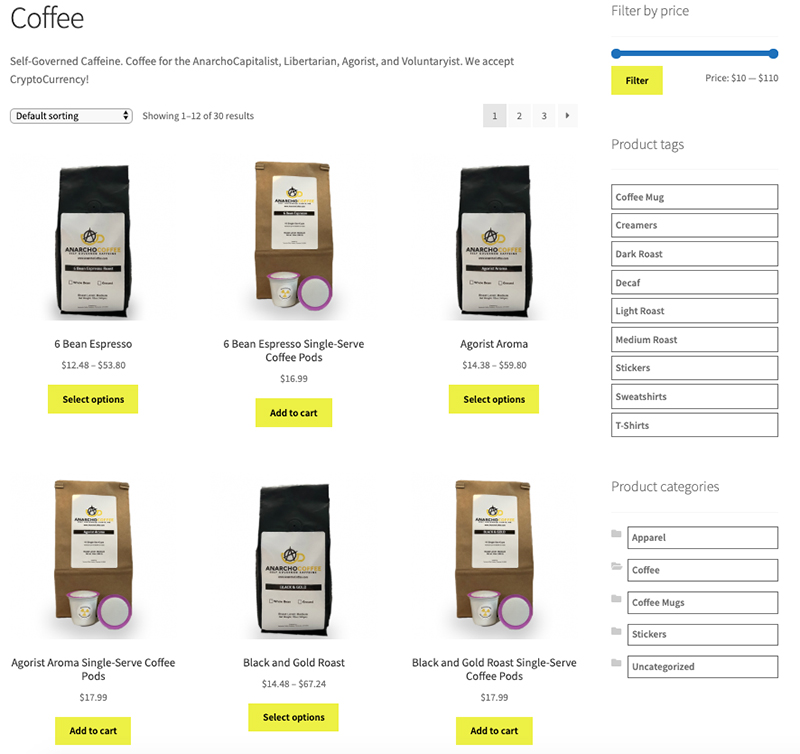 How have you attracted users and grown AnarchoCoffee?
Like I said, this has been grassroots growth. For some reason I got banned from Facebook advertising, so I had to find alternative methods of spreading the word like posting to unique groups on Facebook and Reddit. I reached out to influencers in the liberty movement asking them if they would like to try a sample of AnarchoCoffee.
From there, those influencers either voluntarily did a social media post about AnarchoCoffee or asked me to come on their podcast show to discuss the project. Another tactic was just word of mouth: talking to friends and co-workers about the project, and attending local liberty events and meetups.
By doing all the above, I was able to find growth in website traffic and sales. When I first launched the site we had about 900 visitors a month; that has since grown to about 2,500 visitors a month with traffic sources ranging from Facebook (50%), Instagram (40%), and Twitter/Reddit (10%). I also started a podcast about my endeavors as an entrepreneur and have other liberty-minded entrepreneurs on the show as well to discuss their projects. In addition to the interviews on the podcast, I share updates about what's happening with AnarchoCoffee and any new announcements. The podcast has over 2,000 downloads and gets about 50-100 downloads per episode and continues to grow slowly.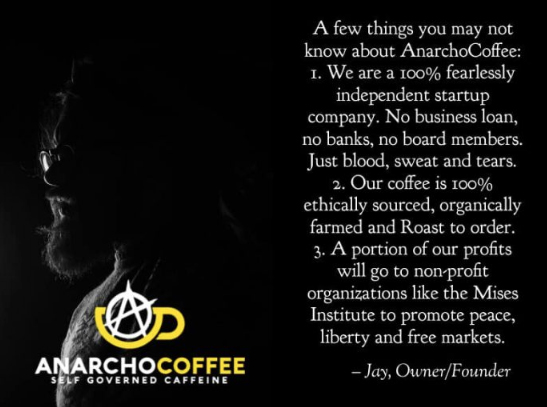 What's your business model, and how have you grown your revenue?
Our brand is a liberty social impact organization whose mission is to have a positive social impact by selling products that promote Individualism, Individual Rights, Spontaneous Order, The Rule of Law, Limited Government, Decentralization, Privacy, Free Markets, The Virtue of Production, Natural Harmony of Interests, and Peace.
In terms of revenue, the average gross monthly sales are about $500/month. We started charging for our product right away but did many free giveaways in the beginning just to get people to try the coffee. To increase sales and word of mouth, we accept payments through PayPal, Stripe, multiple cryptocurrencies including Bitcoin and BitcoinCash via CoinPayments, and bartering/trading with other individuals for other goods and services.
Our revenue ebbs and flows and we continue to work out kinks on pricing and logistics. Our biggest expense is, of course, shipping and handling. I continue to work through the best options for WooCommerce solutions and shipping plugins.
What are your goals for the future?
I have several goals for the future of AnarchoCoffee, both technical and business related. Our first technical goal is to add a subscription model, making it easier for customers to get a monthly coffee subscription. Our second technical goal is to have the ability to donate to non-profits at checkout. Our third technical goal is to improve shipping and handling and get shipping costs down. And last but not least, our fourth technical goal is to redesign the website and checkout experience to improve user experience.
AnarchoCoffee's business goals are centered around increasing brand and company awareness. Other business goals include attending trade shows, events, and local farmers markets. I also hope to see AnarchoCoffee in grocery stores and supermarkets one day.
What are the biggest challenges you've faced and the obstacles you've overcome? If you had to start over, what would you do differently?
The biggest challenge for AnarchoCoffee has been spreading the message about the product. Other smaller obstacles include things like shipping and handling and just not having enough time or capital to grow the business. But I have to keep reminding myself that the company is only six months old as I am writing this. My only regret is not starting on the entrepreneurial path sooner.
Have you found anything particularly helpful or advantageous?
The most helpful tool I have found is WordPress; there are many great reasons to choose WordPress to start your online business. The great variety of templates, the ability to categorize and tag posts easily, features such as spell check and autosave, the ability to post audio and video files, a variety of privacy options, and the ability to track statistical data related to the website have all been incredibly helpful.
These features may be more important to some entrepreneurs than others, so deciding whether or not WordPress is right for you will largely be a matter of personal preference. For example, entrepreneurs with little or no programming experience may enjoy the myriad of templates available on WordPress while entrepreneurs who are concerned about privacy issues may be more interested in the privacy options available.
In addition, utilize social media to find your tribe online. People who are involved in e-commerce understand how marketing can be very expensive. In order to drive sales, marketing your products or services to people who are in need of them is vital. Social networks present a viable internet marketing alternative or supplement.
What's your advice for indie hackers who are just starting out?
Becoming an entrepreneur is something that a lot of people dream about. After all, these are the people who you hear about in the news making tons of money and living the good life. Of course not all entrepreneurs are rich, but it can be quite fun to live this kind of life.
But before you decide whether it's right for you, there are a few things you should consider. If being a successful entrepreneur was a piece of cake, everybody would do it. This is not to say that you have no chance of entrepreneurial success, but you cannot simply jump into this and expect to start raking in loads of cash. The most helpful advice is to find a niche and take a leap of faith. You never know what people may be interested in. And maybe you find your tribe along the way too.
Where can we go to learn more?
You can find AnarchoCoffee online at www.AnarchoCoffee.com. You can also find AnarchoCoffee on Facebook, Twitter, and Instagram.
—
Jay Caetano , Founder of Anarcho.Coffee
Want to build your own business like Anarcho.Coffee?
You should join the Indie Hackers community! 🤗
We're a few thousand founders helping each other build profitable businesses and side projects. Come share what you're working on and get feedback from your peers.
Not ready to get started on your product yet? No problem. The community is a great place to meet people, learn, and get your feet wet. Feel free to just browse!
—
Courtland Allen , Indie Hackers founder