Making $45,000/mo Turning Ideas and Designs Into Hardware
Hello! Tell us about yourself and what you're working on.
I'm Simon Arthur. I help makers turn their ideas into real parts.
My business is Big Blue Saw. Our website gives instant quotes on parts made from the material of your choice and then lets you order as you would from any other e-commerce website. Our customers include makers, engineers, artists, designers and anyone who has a need for custom parts.
Since going full-time less than 2 years ago, I've managed to increase monthly sales by 330% and am making a comfortable living on the profits from Big Blue Saw. I'm on year 2 of a 5-year plan to grow the business to the point where it can function without me, based on Chuck Blakeman's Making Money Is Killing Your Business.
How did you come up with the idea for Big Blue Saw?
The business came about from a dinner conversation I had back in 2005 at the Dragon*Con science fiction convention. I had been building fighting robots for competitions like BattleBots and Robot Battles and had difficulty getting the custom parts I needed.
Many of the other builders at the dinner had the same problem as well. Dealing with machine shops to get custom parts made out of the materials we needed, like steel, aluminum, and plastic, was a big hassle. The communication from machine shops was poor, and most did not want to deal with customers who needed only a few parts.
I realized that I could quickly put together a website that would make ordering waterjet cut parts easy. I figured if robot builders were having trouble getting custom parts, there must be others out there in the same situation.
What went into building the actual website and ordering system?
At the time, I didn't know much about marketing, customer support, or running an e-commerce business. I did know how to build software and websites, so I just built it and put it out there to see if it would work. I made changes to the website, ordering process, and products based on customer feedback.
The initial website was built on Joomla, PHP, MySQL, and Linux, with Java handling the quoting and part rendering. Here's a partial list of other software packages and services we rely on:
GnuCash
QCad
LibreCAD
Inkscape
OnShape
Clicky
Redmine
MijoShop
Stripe and PayPal
Google Analytics
Teamwork Projects
Freshdesk
I had a great deal of difficulty finding manufacturers to work with. Most manufacturers simply don't want to deal with small (less than $500) orders, which was the problem I was trying to solve to begin with. Others have poor communications skills or lousy turn around times. I've had at least 3 manufacturers who took my business for a time, then fired me as a customer. This left me scrambling to find replacements.
For a while I was doing much of the manufacturing myself with a laser cutter at my house. This was a huge time sink, though, and I needed time to grow the business. So all of that is outsourced at the moment. In 2017, we're going to start bringing some of the manufacturing back in house so we can have more control over the production quality and schedule, as well as offer new services.
I continued to run Big Blue Saw as a side business, working nights, weekends, and during lunch breaks responding to voicemail, dealing with support e-mails, improving and maintaining the website, and handling incoming orders. Eventually Big Blue Saw was starting to interfere with my work as a consultant, and so on January 1, 2014 I was able to begin working on it full-time.
How'd you find the time and funding to get things off the ground?
The initial time to get things going came from my spare nights and weekends, as well as time off between contracts. The initial idea came from a dinner discussion over Labor Day weekend 2005, I registered the domain on October 15th, and the website was live by the beginning of December. The first sale came on December 12th. (You can see a very early version of the website here.)
If you don't deduct for the cost of my time, the business has been profitable since the very first sale. This was in part due to low overhead: no money spent on marketing, inventory, or an office. I even managed to have the website hosted for free for a couple years thanks to a friend who owned a data center and to a server donated by one of my consulting clients.
Consulting/contracting is actually ideal for starting a side business. You're paid by the hour or the job, and you can simply tell the client (within reason) when you will not be available to work on their project, rather than asking for time off from a boss.
The website was originally hosted on a cheap VPS server, but I found that a VPS couldn't really handle spikes in traffic very well. I needed to way overprovision for capacity, at which point it made much more sense to go with a dedicated server where I didn't have to worry about sharing resources with other people on the same physical server. One of my consulting clients gave me an older rack mount Compaq server that was built like a tank. My friend Matt Liotta of PodPonics ran a small data center at the time and offered to let me park the server there for free. That lasted for a couple years until he left that business and I was on my own to find a new place to host Big Blue Saw.
I was very risk averse when starting the business, so I didn't buy any machinery, rent any office space, or pay for anything that wasn't directly related to filling orders. One exception, as you can see in the pie chart below, is advertising. This was a learning experience, as I found out that Google Adwords and Yahoo Ads didn't really work well for me, and print ads were beyond what I was able to do well at the time. Still, I never spent more than I took in.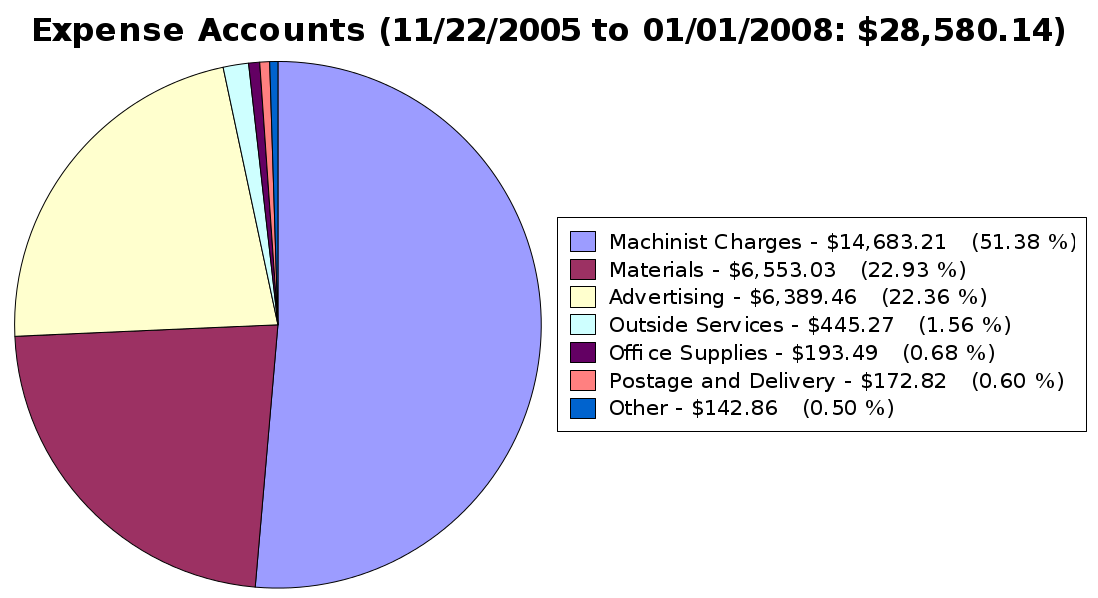 I've gone through several manufacturing partners, and this early time was fairly turbulent. I got rejected a lot by companies that I thought could have helped me. It was the same problem I faced as a robot builder: they just didn't want to deal with any small orders, were unresponsive, etc. Now, I've got great lineup of USA-based manufacturers that understand my goals much better. They benefit, because I can give them standardized, low hassle orders.
In the early days, having a wife at home really helped with dealing with day to day hassles and taking care of the kids, freeing my time to work on the business. Later, Denny started working full-time again, which was really useful the first year (2014) I went full-time on Big Blue Saw, because my income just from the business was not enough at that point.
How have you grown your customer base at Big Blue Saw?
The only thing I recall doing to promote the launch was to contact a few bloggers who seemed like they might be interested. Make Magazine ran an item on Big Blue Saw in November 2005. I created an article for them which showed off ordering from Big Blue Saw in 2006. I figured at the time that this would be enough to create a flood of customers, but I learned otherwise.
Since then, I've done a number of things to bring attention to the business over the years. Here's a partial list:
Print ads
Google (with an advisor from Google)
Yahoo and Bing
Search results placement
E-mail list
Animated ads
Static Image ads
Text ads
Remarketing (via an agency)
Promotions/Discounts
Pay per click advertising (which generally doesn't work)
Facebook ads (via Power Editor and Boosted Post)
Social media (Facebook, Twitter, LinkedIn, Google Plus)
Direct paid advertising on other websites
Snail mail sales letters (to existing and potential customers)
Content placement (by general interest and targeted page)
In-person exhibiting (sponsoring Maker Faire Atlanta and giving talks at Dragon*Con)
Sponsorships (both for events and individuals and teams)
Online forums (posting to "Vendor areas" and getting involved/answering questions in the general forum)
SEO (sponsorships, online forums, Google Plus/Local Business, reviews, off-site links, content)
Many of these channels turned out to be ineffective, or at least have a low payoff for the time invested. Right now I'm focused on Facebook and content creation, with the occasional promotion. New content gets posted to Facebook, my mailing list (hosted by MailChimp), and other social media (via Buffer). Less frequently, I'm taking advantage of sponsorship opportunities as they arise, forum posting when it's relevant, and in-person events when they appeal to me. These seem to be good at getting Big Blue Saw's message to the right people.
One thing I like about Facebook is that it allows me to limit my boosted posts to just the USA and to just friends of people who already like Big Blue Saw. This means that I'm reaching the most relevant audience possible. Blasting your ads to all of Facebook is just guaranteeing that you'll get worthless "likes" from fake accounts. By targeting friends of people who already like your business, you are more likely to get real people seeing your content, plus you get some social proof that your business is OK.
One challenge I've had in the past is getting people to understand exactly what Big Blue Saw can do for them. They might not know what terms to search for in Google or are simply unaware that services like ours exist. So by putting interesting content on Facebook, we're able to draw some of those people in.
Google deems searches for "waterjet cutting", "laser cutting", and similar terms to be localized searches, so I have to be sure to be visible there as much as possible. This means optimizing for those search terms, as well as creating a Google Plus Local Business Page or whatever they're calling it these days.
Search advertising sucked up thousands of dollars over the years without providing me solid results. I was even contacted by Google at one point and they provided a consultant to help me set up Adwords the "right way". (I believe I was selected for the program because I filled out a survey, so you might want to do the same.) The conclusion we reached after a couple months was that I was probably better off running a cheap remarketing campaign. This only costs a few bucks a month and provides a trickle of traffic.
With the mailing list, I can see the spike of traffic that comes in whenever I send out a message. I do this once or twice a week in order to keep Big Blue Saw in people's minds. I use the mailing list for sale announcements as well as tips for using Big Blue Saw, advice on designing parts for waterjet cutting and laser cutting, and interesting projects that our customers are working on. Customers have told me that they find the mailing list useful, and I try to respect their time by giving them something that will help them out.
The least effective thing I did was to hire an ad agency to run Google ads for me. I contacted them based on the information on their website. They seemed like they knew what they were doing, at least on the sales call and in the initial setup. They were good at providing information like how much the ad click percentage (CTR) had improved over the past month. But they weren't really responsive when I would ask questions like, "What exactly is in these ads you're running?", "Which keywords are you targeting and why?", and "How do you know this leads to more sales?" After a few months, they had collected their commission on top of Google's charges and produced no measurable results.
A friend gave me some good advice once: only hire service providers that are about the same size as your own business. This applies to advertising, accounting, legal services, or any other service where they really need to understand your needs.
Here's a graph of my traffic and referrers in the early days: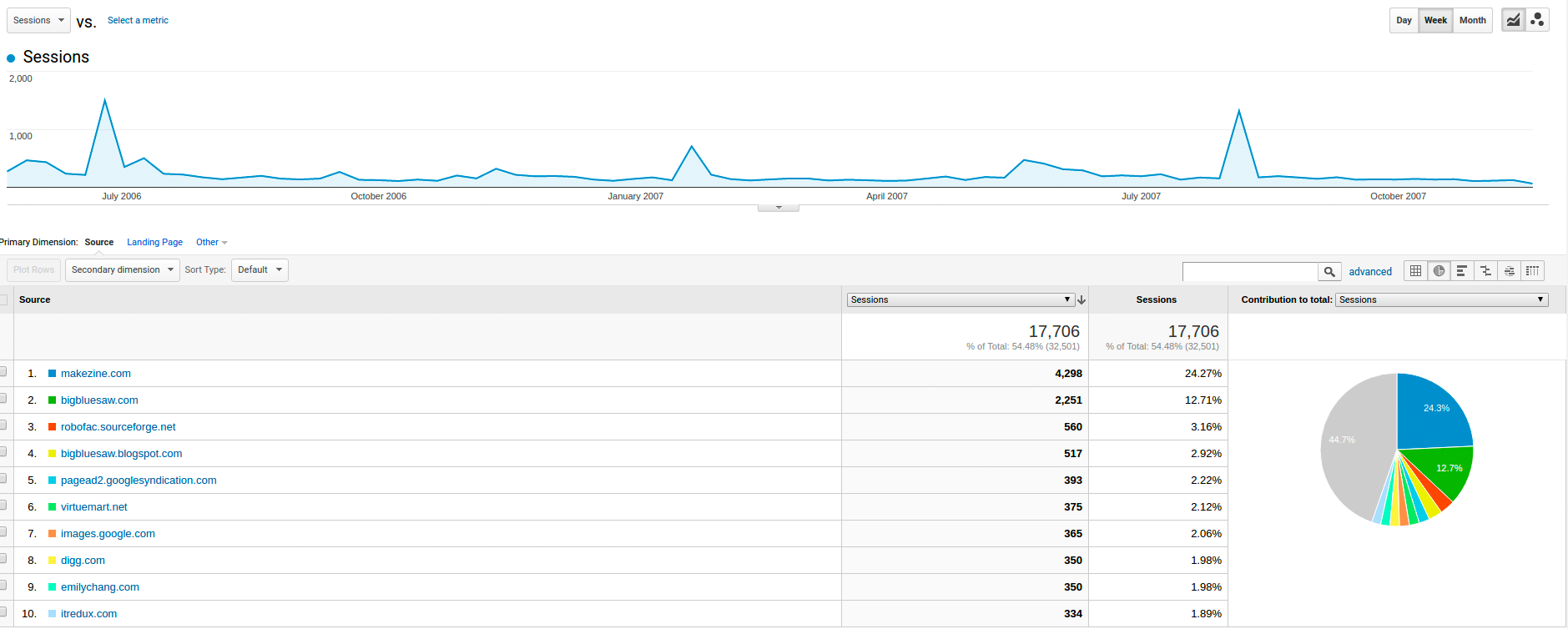 In the earliest days, Google provided about 16% of my traffic. That fraction has been steadily increasing to around 66% today. I suspect that this is a factor in the increasing revenues.
The most effective sponsorship I've done is sponsoring the robot Bite Force from Aptyx Designs. They ended up winning the BattleBots competition broadcast on ABC in 2015. I got a nice little spike in traffic when that happened, and Paul Ventimiglia and his team have been fantastic about promoting Big Blue Saw via social media and on the web.
I also ran very popular promotion back in July 2008: Free Part Day. People love free stuff. This one spread rapidly around the web and through word of mouth. After Free Part Day, my website traffic was permanently higher. But it's a blip compared to the current website traffic: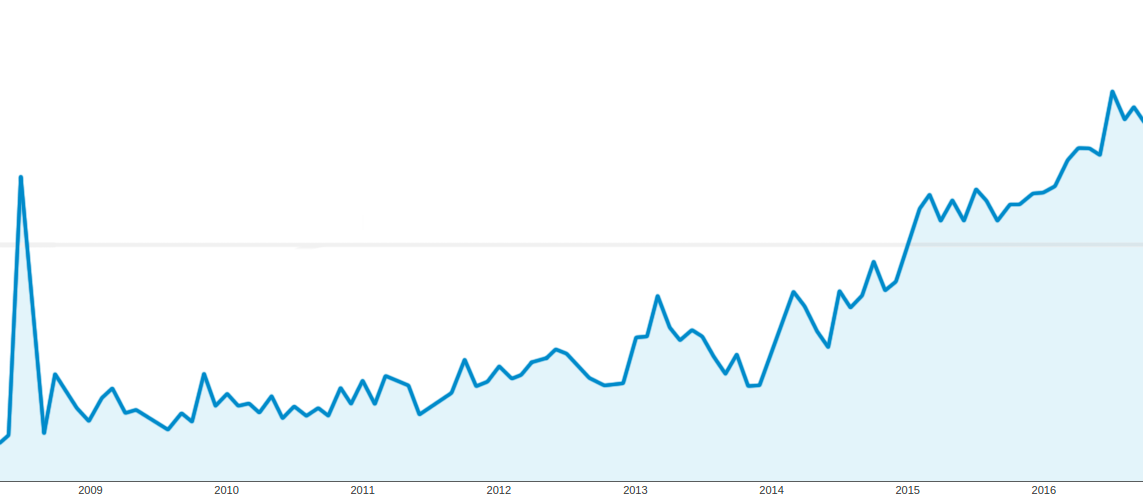 It had a similar effect on income. I wasn't thinking about it at the time, but that's the year the overall economy went to hell. Here's a chart of US GDP for the last 10 years.
A consistent challenge for me has been tying promotional activities and website traffic to money coming in the door. There seems to be little direct correlation between sales and website visits. For example, take a look at the monthly breakdown of website visits vs sales for last year. Website traffic grew much faster than sales. A financial and marketing dashboard is in the plan for 2017 to help me figure this stuff out.
Nearly all of our sales are of custom parts, either through the website's quoting and ordering system, or custom orders through e-mail and phone. Average revenue for 2016 was around $45,000 a month in the beginning, but we got a significant bump up in the final few months. : Revenue has been growing slowly but steadily since the beginning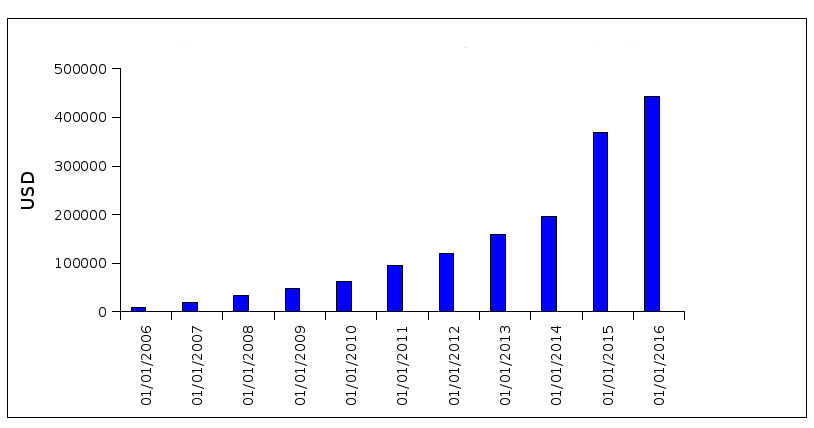 In the beginning, it was a nice little income stream, but hardly worth the time I put in. Now I'm making a living, plus building equity in an asset I fully control.
What are your goals for the future?
My personal goals include being able to spend more time on my family and on robot fighting. I love building the business as well, but that's done to support my personal goals and values.
To facilitate that, I'm following the playbook from Making Money Is Killing Your Business. The E-myth Revisited and Built to Sell: Creating a Business That Can Thrive Without You cover similar ground, but without as much step by step planning.
There are a few things lined up for the mid-term future, including better internal tracking of orders, a sales dashboard, improved rush orders, and improved order status updates for our customers.
What do you think your biggest advantages and disadvantages have been?
I'm lucky in that I understand how to use computers and know what they're capable of. Most people don't really think of the labor saving potential of computers or the power of the Internet to help with sales.
Selling physical products rather than software or information is definitely going about things the hard way. If I had to start over, I'd rather not have to worry about the real world as opposed to bits.
What advice would you share with aspiring indie hackers?
Get something out there and see if it makes money.
I ran a small workshop at Dragon*Con this year for makers wanting to turn their hobbies into businesses. Many of them were hung up on stuff that was largely irrelevant to their success, like what form of ownership their business should take, how to protect their ideas from getting stolen, etc. These types of questions are far less likely to have an impact on your ultimate success than whether or not somebody will buy what you're selling. So get out there and sell it.
It's possible to build a successful business via a slow route. You don't have to risk everything "swinging for the fences" while quitting your job. Just make sure that what you're selling doesn't require too much support or personal interaction.
My blog has a slightly outdated list of business books I've read. My favorite podcasts include Mixergy, Startups for the Rest of Us, Planet Money, and the Tim Ferriss Show.
Where can we go to learn more?
We regularly announce sales and offer information for makers on our website. You can also get that same info via social media or our mailing list.
Big Blue Saw is on Twitter @bigbluesaw and Facebook (facebook.com/bigbluesaw).
My personal blog: https://planiverse.wordpress.com
—

bigbluesaw , Creator of Big Blue Saw
Want to build your own business like Big Blue Saw?
You should join the Indie Hackers community! 🤗
We're a few thousand founders helping each other build profitable businesses and side projects. Come share what you're working on and get feedback from your peers.
Not ready to get started on your product yet? No problem. The community is a great place to meet people, learn, and get your feet wet. Feel free to just browse!
—

Courtland Allen , Indie Hackers founder