Sourcing a World-First Product to Bootstrap to Over $15,000/mo
Hello! What's your background, and what are you working on?
My name is Jack Bramhall, and I'm the co-founder of mugpods — Nespresso Compatible Pods.
My background is varied. I left school at 16 to go into full-time work as an apprentice looking after a small health supplement company's websites. From there I have been in a number of roles across multiple companies,including desktop support, service desks, service delivery, and marketing. Ever since I was a teenager I have always wanted to own my own business, from taking part in young enterprise in high school to running a number of online stores from my teens onwards, learning as I went.
Mugpods was created in 2015 and is an e-commerce store specialising in Nespresso Compatible Pods, including hot chocolate, coffees, and milkshakes — most are the world's first! Mugpods is targeted at the UK, but is now also shipping all over Europe.
One of our biggest achievements has been shipping approx 1000 units in our first month and then growing at an average rate of 40% per month since, in both units shipped and revenue. The challenge now is to keep the growth at that level!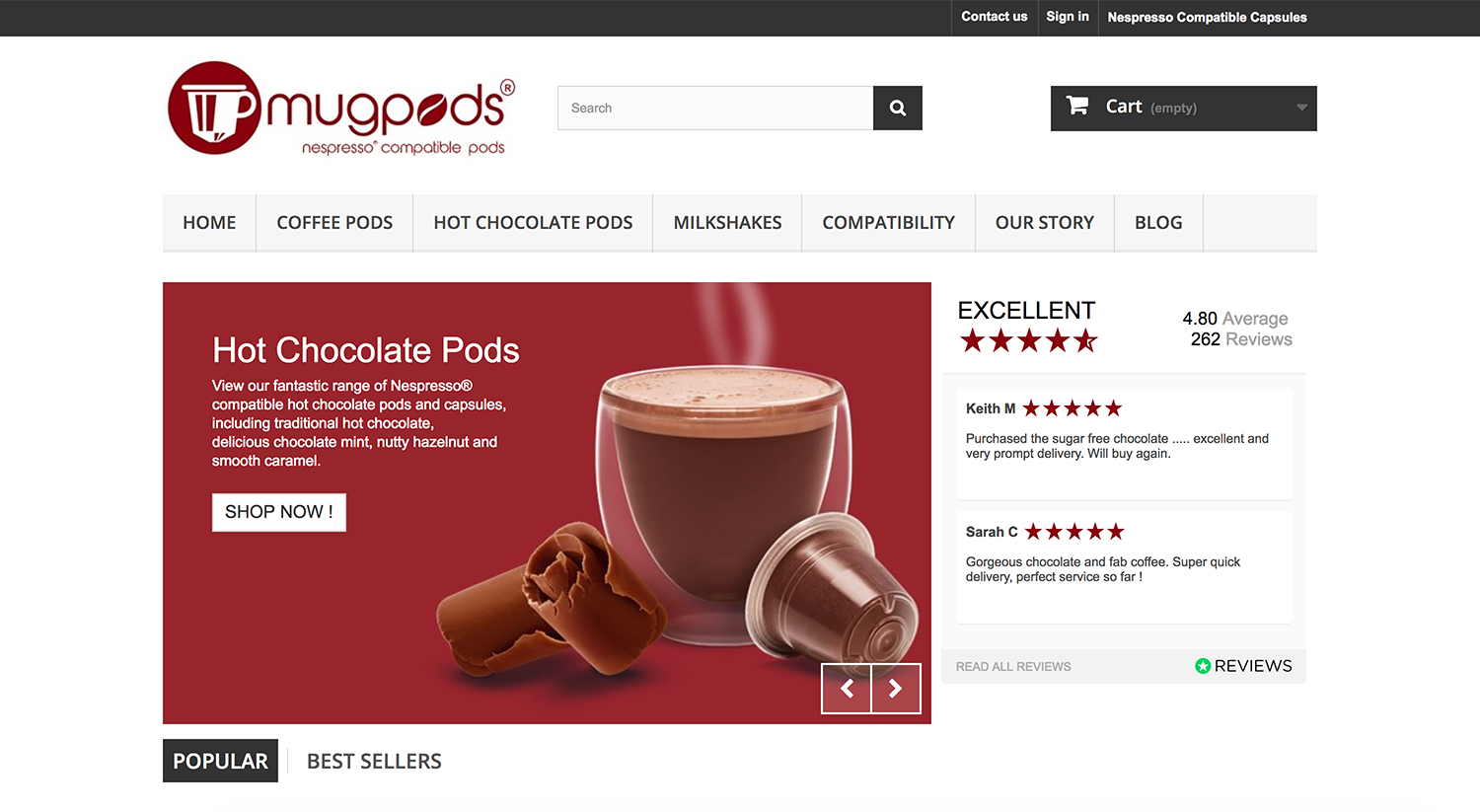 The mugpods home page.
What motivated you to get started with mugpods? What were your initial goals? And how'd you come up with the idea?
Previous to mugpods I tended to start businesses that were already in a saturated market. This was the first where I was genuinely lucky enough to see a gap in an existing market and find something not already available.
The original idea came from me sitting at my desk within ear shot of our office Nespresso machine while working full-time in a service delivery role. I wondered why only coffee was available for Nespresso machines (never mind the price), as it seemed almost every other mainstream "pod" machine allowed so much more variety, from teas to Oreo flavours!
I began searching the internet for any kind of hot chocolate pods for Nespresso, and I came across a single manufacturer in Australia (PODiSTA). They had created the worlds first multi-beverage range for Nespresso machines and were looking for international partners. During my search I found multiple Facebook page/petitions asking for these sort of products. Using the Google keyword research tool I was able to see clear demand as well. When the samples arrived they worked great in our machines and also tasted fantastic.
The original plan was sell one pallet of products a year — a holiday fund! If it grew beyond that it would have been a bonus! I did not have any clue how to fund the whole project, nor did I have any experience of importing from a foreign country (especially one 16,000km away), and both my co-founder and I were working full-time.
What went into getting things setup and making your initial shipments?
It took quite a few emails to persuade the manufacturer that we were really serious about the whole project. Quite rightly they asked if we had existing partnerships etc, which we clearly didn't have. To prove how serious we were, I personally built the e-commerce store over a weekend using the open source Prestashop platform, and I created the mugpods.com website.
My co-founder and I agreed to get personal loans to buy the initial stock, and then we placed our order. On arrival, we simply had to learn as we went with regards to importing, commodity codes, taxes, etc.
Originally we started in my co-founder's parents' garage. We started taking orders immediately by accepting payments via PayPal. Each night I would pick up my co-founder, go to his parents' garage, pack the orders, take the parcels home, and get up early to take them to the post office. I used software that would check a mailbox every 2 minutes and automatically print packing slips to speed up the process. With next to no marketing, we sold out in two weeks!
Following that, we went out of stock and had to wait for more to arrive, repeating this over and over as we grew, and buying more stock each time.
As we grew, we got to a stage where going after work wasn't enough. Consequently, my co-founder's mum became our daytime packer! Within 6 months we outgrew the garage and moved to our own shared office premises with warehouse racking, and my co-founder left his job to work on mugpods full-time.
How does your business model work, and what strategies have you used to grow your customer base?
I think our business model is quite simple — we buy the product from our manufacturer, import it, and sell at a higher price, ensuring enough margin to fuel growth.
There are a number of marketing activities and tools that I feel have helped us grow in order of traffic generation:
Google Organic — We have done quite a lot of work in SEO, from regular blog posts, to building backlinks, to additional site pages and content.
CPC — Originally we spent a fortune, but I came across a tool called Opteo which I can't recommend enough for reducing spend while increasing conversion and relevance to your Adwords campaigns.
Social Media — I find Facebook to be one of the best drivers of interest, particularly when you have products to sell. We also run regular competitions to drive engagement.
Review — We use reviews.co.uk to automatically request reviews from our customers, helping both SEO and reducing abandoned carts.
Outreach — We've reached out to bloggers and Instagrammers to promote our products.
In addition to the above, we launched on a number of marketplaces, including Rakuten, eBay, and Amazon.
| | |
| --- | --- |
| Month | Sessions |
| Aug | 5385 |
| Sep | 7500 |
| Oct | 8846 |
| Nov | 11346 |
| Dec | 14231 |
What are your goals for the future, and how do you plan to accomplish them?
In the medium-term we aim to continue to grow mugpods in the UK market, and so we are continuing to increase our stock levels to keep up with demand.
Longer term, our natural progression will be to ship more parcels internationally.
Automation is key to our success, as we have been able to ship hundreds of parcels a day with minimal staff. I continue to improve our technology, such as APIs with Royal Mail in the UK to automatically generate postage labels.
What are the biggest challenges you've faced? Would you do anything differently if you had to start over from the beginning?
From a process point of view, anything manual should be removed as soon as possible. Don't leave it, because as you grow it becomes a real pain.
Technology — I came across an issue whereby our site didn't already have SSL, but it was required to enable in checkout payments and various APIs. The transition was slightly painful and did affect our search engine rankings for a while. So my advice is follow best practices right at the beginning.
Money — "Cash is king." Because we have a physical product and demand has been increasing month over month, our issue becomes cash flow. You have to be constantly on top of your funds and practice operational efficiency to make every penny count whilst your growing. If you can, get additional funds to cushion you.
What about advantages and things that you've found helpful?
Our biggest advantages have been:
World-first products.
A varied yet high-quality marketing strategy.
Help from friends and family when we needed it most.
Automation and lean processes.
What's your advice for indie hackers who are just starting out?
I think mugpods has proven to me that there are still opportunities out there that can come out of nowhere by simply asking a question that starts with "why".
Cash is king. Whether you own physical products like us or you are starting up an app or SaaS, you still need funds to grow. So either have a cushion of cash to protect you, or immediately start generating revenue, even if it's small.
I particularly enjoyed Tim Ferris' 4-Hour Workweek book — mainly because of his ethos and advice around automation and reducing time spent on manual tasks.
Where can we go to learn more?
You can view our website at mugpods.com. Feel free to message us via our contact us page or on Facebook. For those of you with a Nespresso machine, we would obviously love for you to try our products or tell your friends they can now save money on their coffee, and even get hot chocolate and milkshakes for their Nespresso machine!
For anyone looking for advice on starting or indeed running a business from a web, marketing, or general operational (accounting etc), feel free to leave your questions and comments below.
Want to build your own business like mugpods?
You should join the Indie Hackers community! 🤗
We're a few thousand founders helping each other build profitable businesses and side projects. Come share what you're working on and get feedback from your peers.
Not ready to get started on your product yet? No problem. The community is a great place to meet people, learn, and get your feet wet. Feel free to just browse!
—

Courtland Allen , Indie Hackers founder