My Lightning Campaign to Sell Hundreds of Presidential T-shirts
Who are you, and what are you working on?
I'm Ernest! I've been working on "backend systems" for a handful of companies throughout my career. Right now I'm working with Timshel on The Groundwork, supporting a major political campaign for this Election. We build tools that help those in the social impact space. Additionally I've been volunteering with the Python Software Foundation supporting things like PyPI and other various Python web presences since 2012.
Recently, I started working on Slayary T-Shirts in my spare time. We are selling t-shirts and stickers to people who want to represent for Hillary Clinton with a little more style and flair than your average campaign swag.
How'd you get started with Slayary T-Shirts?
Around a year into working with Timshel — primarily on tools and infrastructure to support the aforementioned major political campaign — a random happening in our #random channel occurred. I can't remember precisely when it was, but one day in our Slack a few people were tossing around the idea of a mashup of the Slayer metal band logo with Hillary Clinton's first name. One of our front-end team members, Tyler, ran off later that night and the next day posted the "Slayary" logo into the channel.
Eventually after kicking around as an emoji and occasional paste into the Slack, someone on the team had a small run of shirts made with the logo. A few weeks later mine showed up, and I was a little put off at the quality. I joked about setting up my own competing print run on better quality fabric and in cuts that were more suitable for women. Little did I know, another team member would push me on it. Feeling like I was responsible for my word, I began doing research on getting shirts printed locally.
The tipping point came when I started doing math and seeing that the economies of scale for screen printed shirts plotted out as a steep curve. I figured if I ponied up the cash upfront I could sell a few hundred t-shirts easily by the time the election was over. After a quick confirmation with Tyler, we just kinda went for it. Tyler built us out a really fun and engaging website while I ran around in evenings talking to screen printers in the area. Slayary T-Shirts was underway.
How'd you find the time and funding to get things off the ground?
With the blessing of my spouse I took a chunk of savings out to cover the initial costs of screen printing, some various supplies for labeling and shipping, and some prototype shirts.
Getting the first run of shirts out the door took most of my free time for a few weeks. I was regularly stopping in to screen printing shops locally, discussing our quality goals and getting quotes. Simultaneously, Tyler and I were working pretty late nights getting the front-end and back-end for the website together. With a goal of launching before the DNC in Philadelphia, there was an inherent deadline in most of the work. Also, we wanted to keep margins as high as possible, which drove us to using Stripe directly, removing the additional cut that various "drop-ship-a-design" t-shirt companies provided.
Eventually I left a print shop with my car loaded full of cardboard boxes containing our shirts. (In total we've printed 550 t-shirts.) Without even stopping at home, I drove to retrieve some excellent quality vinyl stickers from another local company. It was incredibly rewarding to work with local small businesses to make our product a reality.
How'd you start getting the word out and selling t-shirts?
We launched in a fury on July 28, 2016, the date Hillary accepted her nomination for President of the United States of America. Our primary means of getting people to the site was Twitter. The "slayary" brand was pretty bizarre, so we had little trouble getting domain, Twitter, Instagram, etc.
Our biggest initial response was "look at these crooks trying to profiteer off of the campaign". That was a little surprising, as we had explicitly stated that we planned to donate a portion of our profit back to the campaign. Driving that a little harder seemed to quell that reaction, and eventually people settled down.
As our initial boost from organic retweets and shares started to dwindle, we started using Twitter Ads to promote giveaways. Having never run any Twitter Ad campaigns before, it was kind of an eye opening experience. $20 can either go a long way if you're tight with your targeting, or vanish in a few seconds with nothing to show. Surprisingly, this is a much different experience than I've had recently starting in with Facebook "Boosts", though I still don't claim to have any understanding how any of this actually works.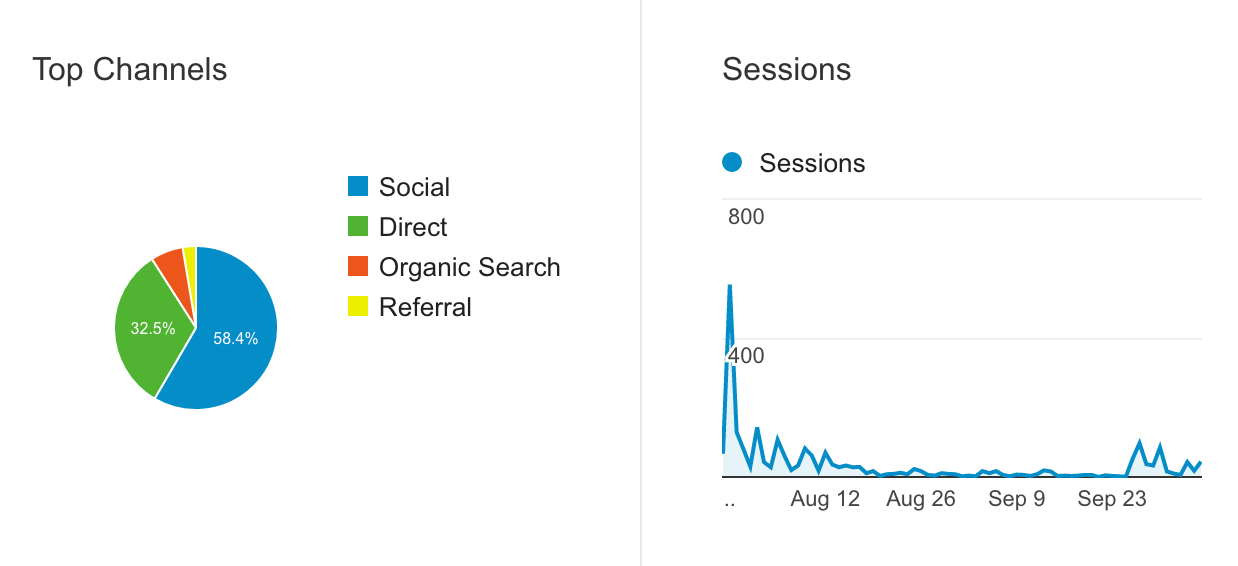 Ultimately we saw a huge drop off in traffic through August and into the first few weeks of September. Sales were steady and generally attributed to word of mouth from previous buyers. As the campaign season started to really pick up in late September, we have been pushing a bit harder with Twitter and Facebook buys as well as giveaways to drive traffic.
What's the story behind your revenue?
We've been very stable with pricing. The initial price was $25 for all shirts and a few different "tiers" of sticker packs that averaged about $1.75 a sticker. That price leaves us a decent margin after shipping costs, tax, and Stripe fees. But recently we've dropped the price on men's shirts to $20 to begin attempting to liquidate stock. We're not sure how popular the shirts will be come November 9th.
Building on Stripe as a payment processor was a breeze. We tried to offload as much of the work onto their platform as possible. That includes handling all credit card data as well as integrating with their Products/Orders APIs. Our fulfillment is just a wrapper around those APIs, so we actually ended up with no database behind the site!
Also, we chose EasyPost as a provider for shipping labels, since their API is similarly strong, and it offers a substantial discount on USPS shipping fees.
In the end, our fulfillment process is super clean cut. I run a script when I'm ready to fill orders in the evening, and it generates PDFs which can be printed quickly via laser printer. One side is the shipping label and the other is the pick/pack list. Box it up and move on with my life.
What are you goals for the future?
Our goal is to clear all of the existing stock, as quickly as possible. We are reserving 2/3 (66.6%) of our profit to donate to Hillary for America and time is running out! In the end we'll continue to hold back that portion of profit for another cause, TBD.
If you had to start over, what would you do differently?
Things have actually gone really well with this endeavor. I think if we were going to do it again, the first batch would have been pre-order. Ponying up the cash for hundreds of shirts was pretty stressful and weighed on my mind until we eventually broke even.
Also, it would have been incredible to have wired up more logic into our fulfillment process to donate as we went along instead of in lump sums. Though it was fun to round up to $666 for our first donation to HFA.
What resources and habits have you found really helpful?
Excellent API documentation has been the best part. We were moving super quick building out the site and back-end, so it was really nice to be able to point at Stripe's excellent documentation when things got fuzzy for Tyler on the front-end of things.
Also, it became critical that I set aside dedicated time for "Slayary Stuff" in the early morning or evening. Without those boundaries, it would have been really easy to lose sight of other things that were going on in my life (professionally and personally).
Where can we go to learn more?
I'm @EWDurbin on Twitter. You can email me at ernest@slayary.com, and if you're interested in a Lightning Talk I gave at PyOhio 2016 about Slayary, check it out here.
If you leave a comment below, I'll try and get back to you:
—

EWDurbin , Creator of Slayary T-Shirts
Want to build your own business like Slayary T-Shirts?
You should join the Indie Hackers community! 🤗
We're a few thousand founders helping each other build profitable businesses and side projects. Come share what you're working on and get feedback from your peers.
Not ready to get started on your product yet? No problem. The community is a great place to meet people, learn, and get your feet wet. Feel free to just browse!
—

Courtland Allen , Indie Hackers founder