My Side Hustle's Journey from Boom to Bust to (Hopefully) Boom Again
Hello! What's your background, and what are you working on?
Hey there, my name is Doug Breaker, and I own MovingCompanyReviews.com. My amazing wife, the CEO of the company, actually runs the day-to-day business, as my role as CEO of Scripted.com keeps me pretty busy. I help out as much as I can on product and tech stuff in my off hours. Our goal is to get to get movingcompanyreviews.com pulling in as much cash as it used to and more, so it can stand on its own two feet as a thriving, independent business.
I started my career as a consultant-turned-developer at Telution (now CSG), and worked my way through several online businesses throughout the years. After Telution, I did product work at Orbitz (the travel site, not the shady moving site), then moved into the role of VP Product and Marketing at HomeFinder, where I spent seven years, working my way up to CEO along the way. After that, I served as CEO of Earth Class Mail for two years before moving on to Scripted.
MovingCompanyReviews.com gives people the most trustworthy, transparent way to find a great mover. Moving sucks and stresses out the best of us, we make it suck less. We show users everything we can about every mover possible—licensing, pictures, and 100% human-verified reviews (people leaving a review have to upload their moving receipt). Our mission is to connect people with the best movers possible and facilitate low-stress, happy moves.
We're currently pulling in around $7K/month, down from about $45K/month four years ago. Shocking, huh? Though I wish $45K still rolled in each month, the story of MovingCompanyReviews.com is a bit of a rollercoaster. I'll do my best to lay out our trajectory and explain how revenue dropped from $45K/mo to $7K, and how we'll grow back up and beyond that.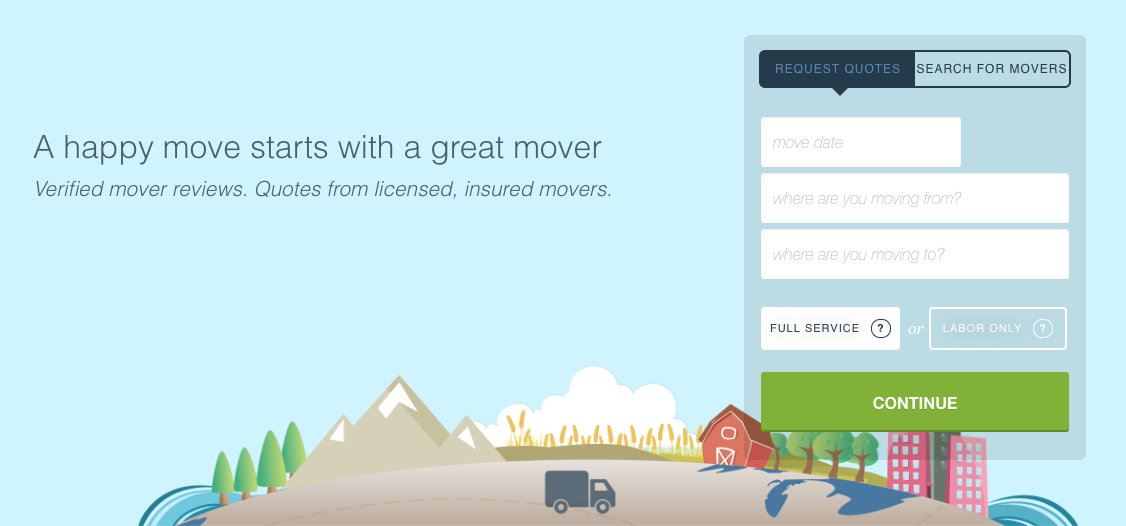 What motivated you to get started with MovingCompanyReviews.com?
Three random events conspired to convince me to launch MovingCompanyReviews.com.
Random Event #1: MovingTruck.com
MovingCompanyReviews.com launched in 2012, but the idea popped into my head in 2009. I worked at Orbitz from 2005 until 2009 and then left to join HomeFinder as the VP of Product. Growing SEO traffic ranked as the highest product priority at HomeFinder that year, so when I started I checked out what domains we owned.
Namely, I wanted to know if we owned any that were ripe to build out into SEO-driven traffic sites. Enter: MovingTruck.com.
We spun up a simple directory of moving truck locations, storage locations, movers, and moving box locations. Sprinkle in a little SEO love with links from the roughly 130 newspapers that owned us and presto! We watched as monthly revenue hit $10K from AdSense and affiliate commissions, and sat back and basked in the 2009 SEO. :)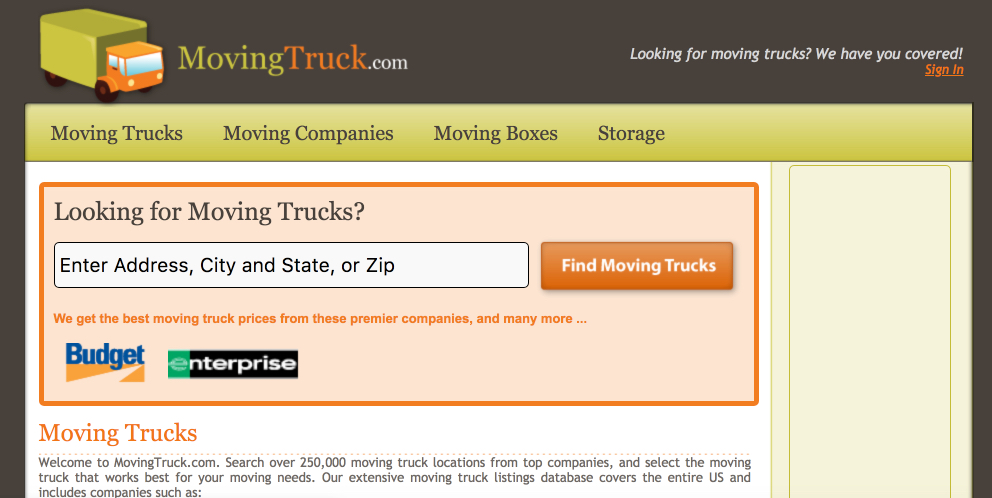 Random Event #2: A Company For Sale (and an Industry The Internet Forgot About)
Shortly after launching MovingTruck.com, a potential deal to buy a lead-gen company in the moving space crossed our desks. The company up for sale made about $10M per year selling moving leads to about 1,000 moving companies. Their traffic came in from partner sites (like MovingTruck.com) and from a slew of their own SEO sites.
I analyzed the opportunity for us and two things hit me:
Wow! You can make $10M per year off 1,000 movers? Who knew?
Holy moly, consumer search for movers still existed in the dark ages of the internet. Like, 1998 internet dark ages.
No Orbitz, HomeFinder, Zillow, Cars.com, or any consumer-friendly search site existed to find movers. Getting moving quotes online meant blindly giving up your information and then getting slammed by moving companies incessantly calling and emailing you (see my case study on Orbitz Moving for an example). The whole experience of getting quotes stunk and offered nothing in the way of evaluating the quality of movers or sussing out shady companies. Ick.
Random Event #3: Elvis Returns to the Building
Our CEO (and dear friend) decided to leave a year and a half into my tenure as VP of Product, and luckily enough our board named me as the next CEO. Our former CEO's new gig didn't work out, and about a year later he found himself with some free time. Meanwhile, MovingTruck.com continued to pump in $10K/month with revenue per visit north of 50 cents. Seeing an opportunity to take a bigger swing at this area, I convinced the ex-CEO to join us as a consultant. He set out to research if launching a consumer-friendly search site to find movers made sense.
What Happened Next
We spent around three months researching the idea and came to the conclusion that consumers deserved a more trustworthy, less-stressful way to find movers. We wanted to show consumers all the moving companies out there, show them pictures of the moving companies, show them insurance and licensing info, let consumers read 100% verified reviews, and shine some light on a process stuck in the dark ages. We pitched the idea to the HomeFinder board and they approved staffing a team of 5-8 people to go after it. They gave the green light to buy a small company to speed our launch. We bought MoversReviewed.com, which had painstakingly built a database of every moving company in the US, and used it as the basis for MovingCompanyReviews.com, which we launched in the spring of 2012.
What went into building the initial product?
From board approval to launch took us about four months with two developers, a designer, and a product-focused General Manager. Buying Mover Reviews gave us the data to start with (a spreadsheet of about 12,000 US moving companies, with tons of info on each) and from there we spun up a Ruby on Rails app with some SOLR thrown in to make searching fast. For the first launch, we limited scope to a just few things:
Giving consumers a great search experience, and building the site to appeal to Google's SEO eye
Letting movers login and add info to their accounts
Letting consumers create an account and keep track of their move
Creating a separate team within HomeFinder proved key to launching and iterating quickly. If we had treated it as a side project I doubt we ever would have launched. Keeping the app simple and using common frameworks sped development and made ongoing maintenance and improvements easy. Specifically, we chose the following:
Rails for the app framework
Devise for user management in Rails
SOLR to make our search fast
Postgres for our database
Heroku for hosting
Filestack for file upload and management
Staying "boring" with our tech choices gave us the freedom to focus on getting customer feedback and building to their values.
How have you attracted users and grown MovingCompanyReviews.com?
Our initial user growth came pretty easily. Using our newspaper owners gave us an incredible advantage here. HomeFinder's owners—Gannett (around 80 newspapers), McClatchy (around 30 newspapers) and Tribune Company (around 15 newspapers) gave us a huge platform from which to drive traffic and valuable SEO links. We linked each newspaper's real estate page into the corresponding city page on MovingCompanyReviews.com and watched our traffic skyrocket from nothing to over 100K/mo visits in just over a year's time. The vast majority of that came in via SEO. At one point our city pages (e.g. Chicago movers, Scottsdale movers, and Baltimore movers) ranked in the top three on Google for something crazy like 20 of the top 50 markets when people searched terms like "Chicago movers". Ah, the glory days. That's what great inbound links from sites like The Chicago Tribune, LA Times, and Miami Herald will do. We promoted MovingCompanyReviews.com heavily on HomeFinder, too, which bought us a bit of traffic, and paid for some traffic coming in off of Apartments.com.
The SEO traffic worked really, really, really well.
The paid traffic didn't work so well. We never made more than we spent there. We tested AdWords but never moved the needle to more than a marginally positive position and could never bid enough on a per-click basis to get serious traffic.
We spent a mountain of time talking to real estate brokers about promoting MovingCompanyReviews.com on their sites, but nothing much came of that. We got placements on a few sites, but not enough to make a difference.
Our last method to drive users was and is to offer them a great moving experience so they come back and use us again. We think we do a decent job there, but we still can do much more.
Unfortunately, the SEO fun and traffic didn't last. Why? We lost our newspaper links.
After I left HomeFinder in the summer of 2015, our board decided to sell the company, eventually selling HomeFinder to Placester. After Placester took control, I heard rumblings that they wanted to shut down MovingCompanyReviews.com or sell it off.
I took a chance and reached out to them to see if I could buy it. We worked out a deal and I became the proud owner of MovingCompanyReviews.com in the summer of 2016. Unfortunately for us, all of those great inbound links from the newspapers went away once we were no longer part of the family. Placester sold off the HomeFinder website and converted all of the newspaper real estate pages to their platform. As each page converted our links disappeared.
Google does not look kindly on a website losing scores of super high-quality links, so as the links went away so did our SEO traffic. While it was definitely a bummer, keep in mind that SEO traffic comes from two key ingredients: great content (which we've got), and great inbound links (which we need to build again).
What's your business model, and how have you grown your revenue?
We make money in a really simple way—movers pay us to "suggest" them to consumers that are moving. They pay us each time we do that. We make sure to keep the control in the hands of the consumer throughout the process so it doesn't feel like they're getting thrown to the wolves. At any point, consumers can see which moving companies will contact them, including their star ratings, etc., and choose exactly which companies will or will not contact them.
We tried a handful of different ways, with the goal of not making money by charging moving companies for leads. However, we ended up with this business model for two main reasons: all of the others we tried didn't work, and charging moving companies for leads gives consumers the best experience.
That last point may sound odd, but it works. When moving companies invest real money into the process up front, it tends to foster a sense of intentionality. They want a return on that investment, so they respond faster and care more. We still make sure consumers get full transparency and control throughout the process, so charging movers per lead gives us the best of both worlds.
Before landing on this model we tried the following:
AdSense and banner ad revenue — we made some money here, but most of it came from shady lead-gen sites that we didn't want to associate with
Site-wide sponsorships — Comcast bought a big sponsorship early on, but they wanted a bunch of lead-gen integration that didn't make us feel good about ourselves
Affiliate money from cable, security, and utility companies — we never made more than a little bit here, and it pushed us in directions we didn't want to go
Referring consumers to real estate agents and sharing in the commission — we tested this out, but the volume didn't make it worth the effort
Partnering with a "moving insurance" site to cross-sell moving insurance — this started out really well, but then they went out of business and no other alternatives existed
After working our way through all of those we decided to let movers pay to have us suggest them to consumers. We carefully vet movers who sign up to make sure we're suggesting quality companies. This has enabled us to give consumers great pre-move experiences, and build a loyal customer base that will refer our site and return for future moves.
At the height of our traffic, we brought in around $45K per month. As our links from the newspapers went away and Google put more paid ads and local features on the front page, our traffic dipped and now we're down to $7K per month. We're working hard to build new quality links back up by providing great content, like our guide on how much to tip movers and our reviews of things like Home Depot moving boxes, and through helpful new features like our real estate agent "recommended movers" pages (e.g. Lori Neuschel's recommended movers).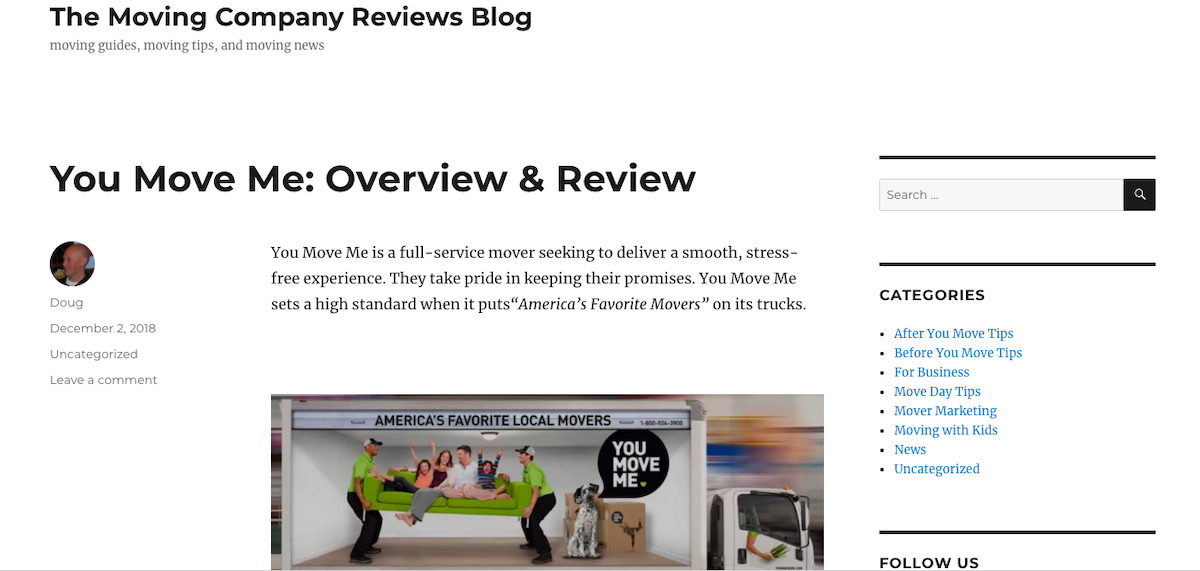 What are your goals for the future?
We have two simple goals:
Grow traffic and revenue so MovingCompanyReviews.com can support our family if it needs to, or at least bankroll some great college funds for our kids
Keep working to make moving less stressful for consumers
To grow traffic we need to keep improving the user experience and value to consumers so they use the site and recommend it, and keep creating content (reviews, articles, pages, etc.) worth linking to and working to build quality links to that content.
It's always easier said than done, but that's the plan.
What are the biggest challenges you've faced and obstacles you've overcome? If you had to start over, what would you do differently?
Great question! Convincing the HomeFinder board to fund the project posed a high initial hurdle to leap over. The biggest ongoing challenge we face is building SEO traffic in a scalable way. Google SEO traffic acts as a strange beast, and mastering the art of growing SEO traffic tests our skills constantly.
If I had to start all over I'd start with a more robust and future-proof SEO traffic strategy. We depended on the newspapers, but never baked in a traffic strategy immune from Google updates or the newspaper links disappearing.
What's your advice for indie hackers who are just starting out?
I tell people just starting the startup/side-hustle journey a few things that can massively change their results.
Build an audience and test before you build anything. I can't emphasize this one enough. I made this mistake probably 10 times with various side-hustles (e.g. PickleOfTheMonth.com, AccentTraining.net and a host of other sites I built and launched before demand testing). As a developer, my first instinct is to build, build, build! That's the worst place to start. Start by understanding your audience's pain, then create content and solutions that solve that. I often recommend the following as great resources for this:
Start! Reading all of the free content above, researching, and testing ideas takes very little money and not a lot of time. Spinning up a blog and creating content and links to build an audience takes effort, not money.
Once you have an audience and some positive demand tests, only then start building. Build the minimum possible to solve the biggest problem your niche will pay for (Getting Real by Basecamp is a great read on this topic).
Where can we go to learn more?
Our website is MovingCompanyReviews.com and our twitter is @MCRforMovers. You can follow me personally on Twitter at @dbreaker. I also blog a bit on my other side hustle, SQLBot.co, a small service I built to make SQL reporting into Slack and email dead easy. If you're super bored and want to read about earlier side hustles I attempted to launch (all failed), you can read the gory history on my personal blog at NancesKitchen.com. The PickleOfThemMonth.com saga should give you a few laughs.
If you're moving soon, definitely get some quotes at MovingCompanyReviews.com. I'd love to hear any feedback or answer any questions in the comments. Thanks for letting me interview!
—
Doug Breaker , Founder of MovingCompanyReviews.com
Want to build your own business like MovingCompanyReviews.com?
You should join the Indie Hackers community! 🤗
We're a few thousand founders helping each other build profitable businesses and side projects. Come share what you're working on and get feedback from your peers.
Not ready to get started on your product yet? No problem. The community is a great place to meet people, learn, and get your feet wet. Feel free to just browse!
—
Courtland Allen , Indie Hackers founder