Overcoming Feature Creep and Growing Revenue to $43,000/mo
Hello! What's your background, and what are you working on?
Hey! My name is Wyatt Jozwowski, and I'm one of the co-founders at Demio. I'm currently 21 years old, and I've been creating and building things for ten years. Throughout that time, I've found a passion for creating simple, useful, and delightful software applications.
As of right now, all of my focus is on building Demio, a smart webinar platform built for marketing and sales. By using Demio, business owners and marketing teams can generate leads, connect with their audience in real time, and make more sales on their products.
Our customer base mainly consists of small- to medium-sized businesses that sell software, info, services, or any other digital products. They use Demio for the simplicity, the integration ability, and the marketing features that help them improve conversions for their webinars.
Demio is currently hovering at $43k MRR and growing consistently at around 10% month-over-month. Although we set out on the journey to build Demio nearly three years ago, we only started generating revenue back in November, 2016 — just ten months ago.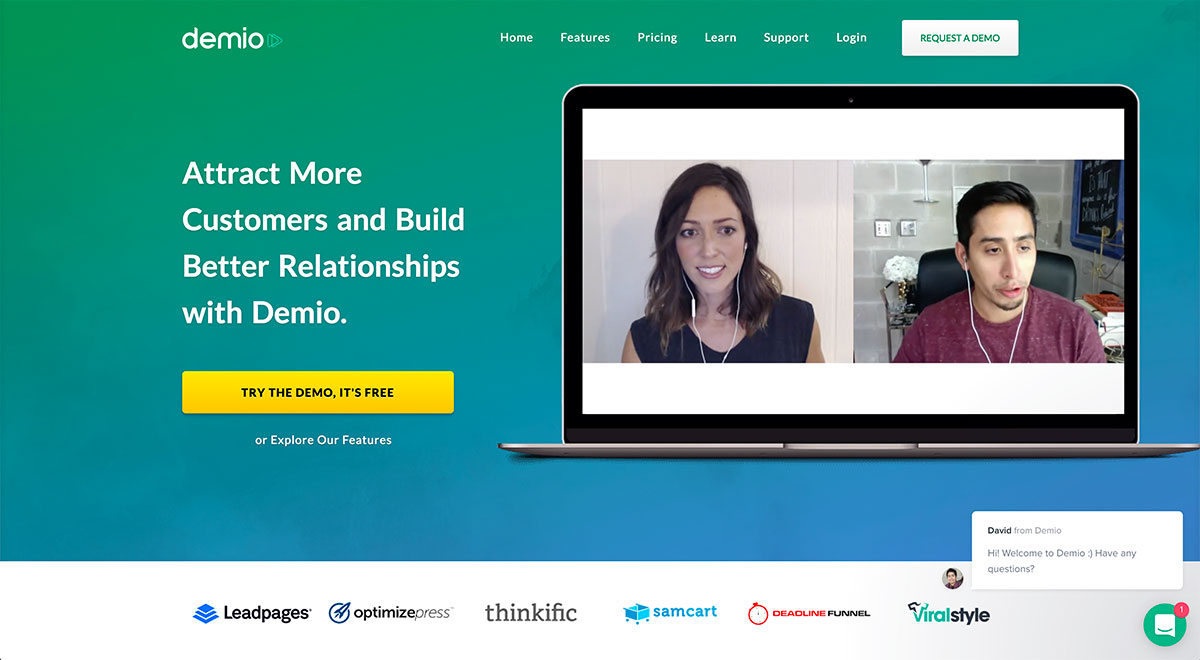 What motivated you to get started with Demio?
I remember seeing posts everyday on social media about the poor experiences people were having with the current webinar platforms. I read all kinds of horror stories, from webinars crashing to recordings being lost, ad spend being wasted, and more. Marketers were constantly asking around for a better solution.
Around the same time, I was running monthly webinars for my other company, and I was extremely frustrated with the lack of marketing flexibility. It took me hours to setup a webinar campaign, and it always involved hacking together multiple tools to make it all work. Not to mention, the UI and user experience were horrific. It felt like I was back in the early days of the internet every time I ran an event.
I partnered with my co-founder, David, and we set out to build a simple yet powerful webinar platform. We were both busy. He was running a digital marketing agency at the time, and I was running an online members' area for SEO and marketing lessons called Drip Apps. Neither of us had a technical background, so we hired out an agency overseas and decided to work on Demio part-time until it was ready to launch.
What went into building the initial product?
The story of Demio is a classic one of "playing startup". We had the huge office: the ping pong table, the bean bag chairs, the box of T-shirts, and absolutely no product. We were burning through personal savings at a stomach-wrenching rate. After 3–4 months of working with an agency, and with $100,000 already gone, we had absolutely nothing to show. The agency kept leading us on until they finally couldn't hide it any longer — we were getting scammed, and it bled us dry. You can read more about this early experience on our blog.
We finally dropped the agency and decided to take things seriously. We only had a little bit of money left over, but I still had an income coming in from Drip Apps. I was able to invest about $20–30k per month as it came in from Drip Apps. This time around, we built our own internal team of developers, and we were burning capital as fast as I could put it into the account. However, we were finally making progress.
Neither David nor I had any idea how challenging it would actually be to build a reliable real-time streaming platform from scratch, especially back in 2014. We had an entire whiteboard wall filled with product mockups, feature ideas, and UI drawings, and we fully intended to build all of it.
We completely ignored building the core engine, and instead we built the bells and whistles. After nearly another six months had passed, we had a bloated product full of features, but we couldn't get the core streaming engine to work. We went in circles for months, and we had multiple conversations at coffee shops about potentially having to shut the company down.
When we finally made it to beta for the first time, we got our monthly recurring revenue up to $2,200 before we decided that it was time to shut it down. The product just wasn't good enough. It was one of the hardest decisions we've ever had to make, especially because we had always been on the verge of running out of money.
The core streaming engine was built on outdated flash technology, and the product had tons of bugs. Since the foundation was shaky, we knew we couldn't slowly improve it. We either had to live with it for a while, or start over completely on the streaming aspect and try again.
It was getting more and more challenging to put money into Demio as time went on. David also put everything into that he could, and we did random side projects just to keep Demio afloat. We knew we could only keep it up for just a few more months, so this would be our last attempt. We decided to strip out more than 50% of the current features and focus 100% on the core streaming aspects of Demio.
Three months later we finally made it back to a beta release — this time with a great MVP.
How have you attracted users and grown Demio?
We decided to make the second beta completely free. The goal was to attract a lot of users, really test our scaling limits, and force ourselves to focus on the core features. We figured that with hundreds of users, we would have to keep things simple in order to survive.
We offered personal demos to every single person that signed up, during which time we attracted more than 800 users.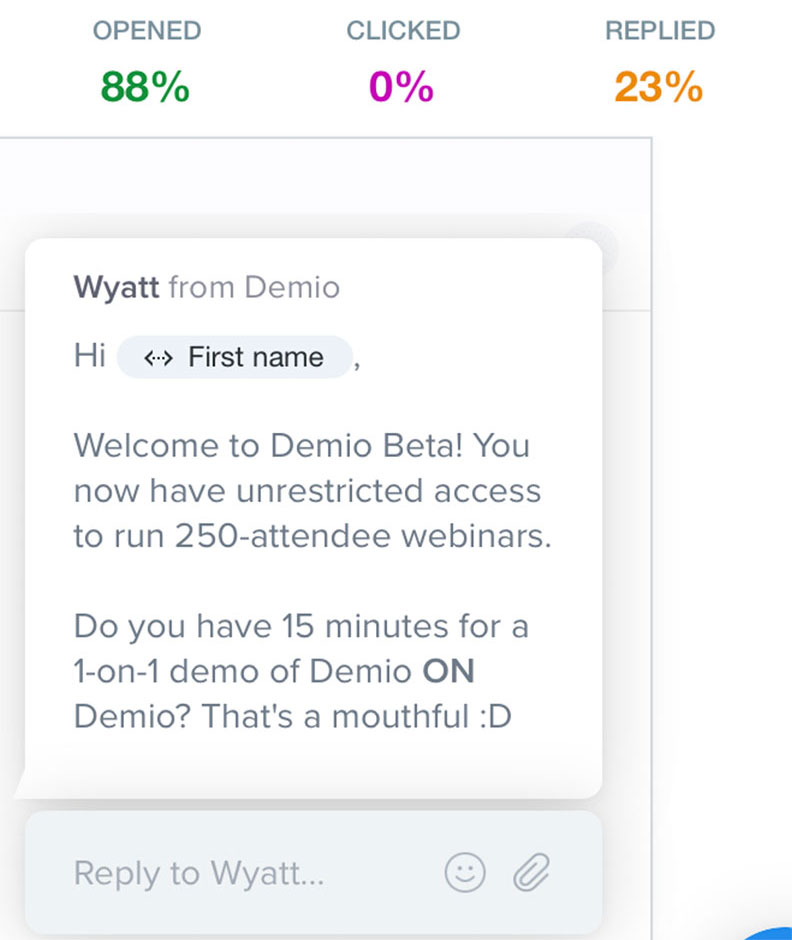 Our calendars were constantly filled: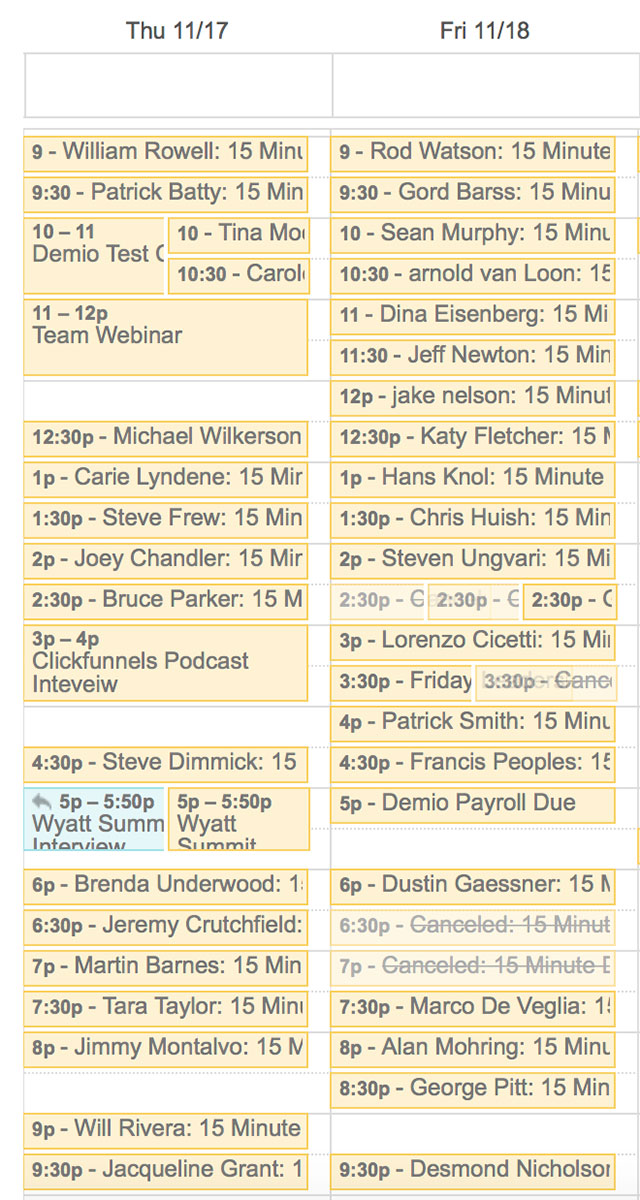 These demos allowed us to learn a tremendous amount during our few months in beta. We learned what marketers were looking for in a webinar platform. We learned what objections stopped people from using our platform, and we learned what people liked about it.
At the end of beta, we offered all beta users the option to upgrade to a paid account at a very discounted, annual-only rate. We had 37 people take us up on this offer, and that's the foundation we've continued to build upon to this day.
Before going into beta, we already had our strategy planned. We knew we would be on the brink of going out of business, so we would need an influx of customers right after beta to make it work. Knowing that, we had a big affiliate launch planned right after the beta period. Not only did we spend those three months in beta bringing the product to the right level, but David and I nearly spent all of our time getting ready for the launch. We were able to get hundreds of affiliates on board to promote the launch.
We put together an affiliate invitation page which you can see here. We used this page to explain the launch of Demio and why affiliates should get on board to promote it. We were offering extremely discounted prices for Demio during this grand opening launch period, and we were giving 50% commissions to any affiliate that promoted. These discounted prices allowed the affiliates to use extreme scarcity with their audience, since the prices were going up by more than 300% after the 7-day launch window.
It was a huge success. When it was all said and done, we had 500+ new customers on annual packages of Demio, and we had enough cash in the bank to last us at least six months. We could finally breathe.
Since then, we've been growing consistently through referrals, affiliates, content marketing, and some advertising.
| | |
| --- | --- |
| Month | Customers |
| 11/9/2016 | 37 |
| 11/17/2016 | 521 |
| 12/18/2016 | 617 |
| 1/18/2017 | 658 |
| 2/18/2017 | 718 |
We've been lucky — referrals have been a huge part of our growth from the very beginning. By nature, Demio has somewhat of a viral nature to it. When a customer runs a webinar, our platform is exposed to potentially hundreds of attendees. When these attendees have a great experience, many of them check out our site and schedule a demo.
Since launch, David and I have personally done over 1,000 demos, and it's where we've gotten the majority of our customers. For us, the more our customers use our product, the more visitors we attract to our site. So that's where we focus.
We keep our product simple to use, so it's easy for our customers to learn, benefit from, and refer to others. Since we continue to offer 30% recurring commissions to affiliates, many of our customers recommend Demio to their email lists, Facebook groups, and friends who are looking for better webinar platforms.
What's your business model, and how have you grown your revenue?
We sell Demio as a subscription, either monthly or annual. As of right now, we have three different tiers, and the main difference between the packages is the size of the webinar room, or how many attendees you can have on your webinars at any one time. Our average revenue per user is hovering right around $56, and we've been able to consistently grow that number over the past few months. (It was $50.47 in March.)
We've been able to grow that number in two ways:
By attracting more of the right customers — customers who have larger audiences
By starting to limit features on our "starter" package
We have a feature called "Like Live Replays" that lets customers take a past event on Demio and turn it into an evergreen simulation of the live event that continues to run and generate results as long as it's active. In order to get access to this feature, the customer has to either be on our middle plan at $117 per month or our higher tier plan at $237 per month.
We never really liked the idea of limiting features on our lower packages because we wanted to keep things simple for potential customers. Making the size of the webinar room the only difference allowed us to achieve this goal of keeping things simple.
But we came across a really important realization: good customers, for us, are not necessarily defined by how many attendees they can get in the room. We've had large customers, recognizable logos, who were only paying us $47 per month because they didn't need a bigger room. Yet, they were running consistent webinars, and they were getting great results.
On the other hand, we've had "bad" customers who would run one webinar with 500 attendees, and then churn because they only needed it for one event. That realization prompted us to test out only offering Like Live Replays on our higher tier packages, and it's worked extremely well. We have plans to segment features even further based on package size to increase ARPU (average revenue per user) and to decrease revenue churn.
For the past six months, we've been able to grow at a rate of 5–20% each and every month. Some months have been slower than others for no clear reason, but the graphs have continued to go up and to the right.
| | |
| --- | --- |
| Month | Revenue |
| March 2017 | 30365 |
| April 2017 | 33630 |
| May 2017 | 36741 |
| June 2017 | 38729 |
| July 2017 | 41370 |
| August 2017 | 43014 |
What are your goals for the future?
There are five main goals that we have over the next six months:
Decrease churn. We're sitting at a deadly 12% user churn right now, and our goal is to bring this down to 8%.
Increase ARPU. Our goal is to increase it from $56.12 to over $70.
Improve the product. We are expanding browser compatibility, launching the second version of Like Live Replays, and adding new distribution channels for our customers' live streams.
Increase traffic with SEO. We're only getting about 200 monthly unique visitors to our blog right now, and our goal is to bring that number to 5,000.
Increase MRR from $43k to above $70k.
Here's how we're going to attack these five goals:
1. Decrease Churn
Ultimately, even 8% user churn will be too high if we want to continue growing, but it's better than the 12% churn we have now.
The are a few different reasons why we lose customers. Many times, customers will churn because they simply don't have a need for the product anymore; they ran some webinars, and now they don't plan on running any for a while. Although there will always be some people that sign up with the intention of only running one event, we can definitely improve in this area with better onboarding — helping them understand WHY it's important to be running webinars.
In addition, we will continue to add features to the product that make it "stickier". For example, our Like Live Replays feature is something that is always running and always generating results, unlike a one-time event. We'll also be adding other features like daily/weekly reports that will constantly re-engage the user.
Another big reason customers have churned is because of our lack of browser compatibility up to this point. Many customers have left because we only support Google Chrome on desktop, iOS devices, and Android devices. Thankfully, we're releasing a long-awaited update next month that will expand our browser support to Firefox, Internet Explorer, Edge, and Safari soon after. We're predicting that this update alone should reduce churn by a couple percentage points.
We'll continue to reduce churn after that by studying onboarding, improving education through videos and weekly webinars, and by attracting more of the right customers.
2. Increase ARPU
Thanks to our realization about how valuable it can be to tier out features on multiple plans, we're heading further down that path. Next month, we're launching a completely new pricing structure that we believe will take our ARPU to over $70 in the next six months.
We're going to be separating the attendee room size aspect from the package level, and there will be two packages: Lite and Pro. To explain further, Lite will have most features and Pro will have all features, including things like custom branding, Like Live Replays, sub-user accounts, etc. With this restructuring, customers can now be on a "Pro" plan even if they are still paying for only 100 attendees. In addition, we'll be raising all of our prices with our new compatibility update.
So, while customers are currently paying $47/month for our 100-attendee package, new customers, starting next month, will either pay $57/month for 100-attendee Lite or $87/month for 100-attendee Pro. While it will help bring in more revenue for us, it's also more helpful for our customers, because they can now get access to more advanced features, such as Like Live Replays for only $87/month, instead of the $117/month that they would have to pay now.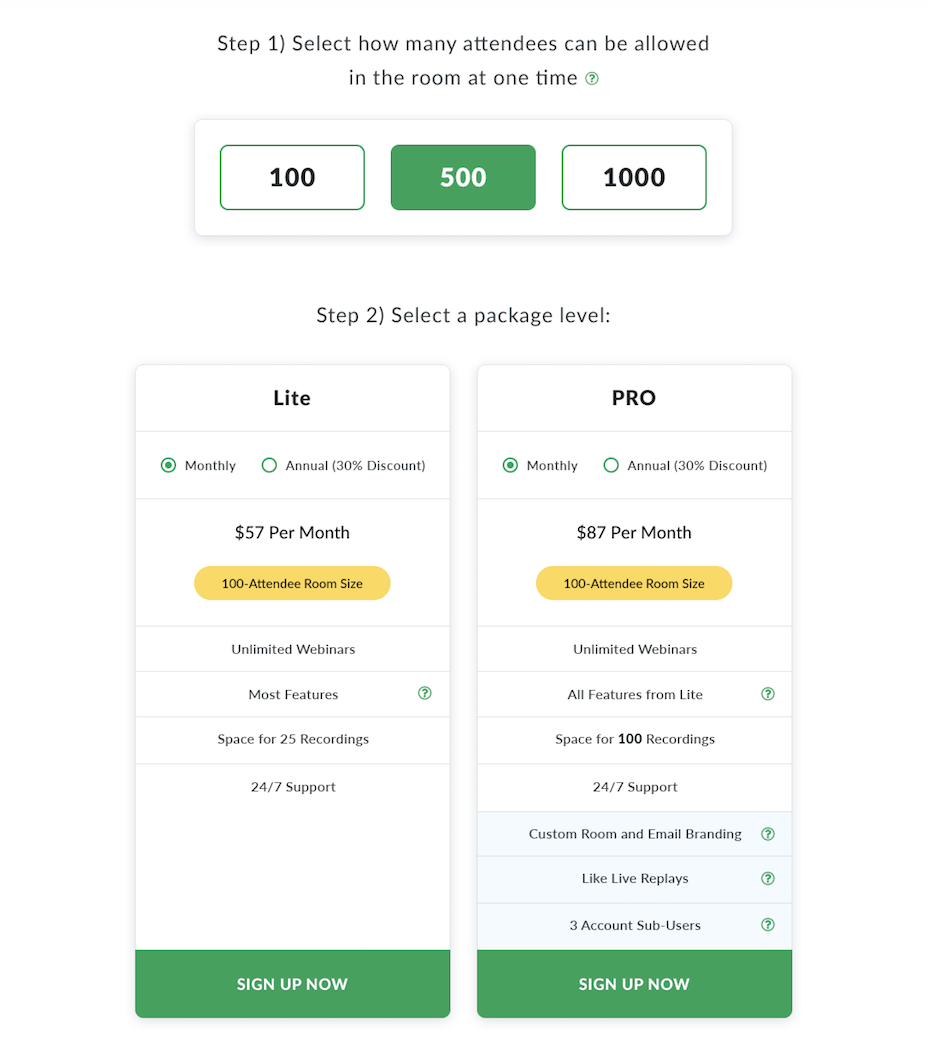 We've faced a lot of resistance from people not wanting to upgrade to the next level because they don't need more than a 100-attendee room size, even though they really want the Like Live Replay feature. With this new structure, we believe we'll see a lot more upgrades overall.
On a side note, we also believe this change will reduce revenue churn. Customers who are using Like Live Replays, sub-users, and, soon, custom branding will be less likely to leave. Our biggest churn right now is on our starter package, which does not currently have Like Live Replays. So, while Lite customers might still churn at the same rate without those features, Pro customers will churn less, and they'll make up more of the revenue due to the higher prices.
3. Improve the Product
If you're building your SaaS product out in the right way, you will naturally reduce churn over time. Each month, we're slowly killing objections or reasons why someone might churn by adding new features, new integrations, improving stability, and more. Our compatibility update coming next month is a good example of that.
Other than churn, we want to increase usage by adding features that keep the user continually coming back instead of just coming back when they need to run a webinar. With Like Live Replays, new chat messages are constantly coming in that need responses, so this is a great way to have the user continuously engaged. The problem right now is that the user doesn't always know when there are new chat messages, so this is one of the reasons why we will be introducing daily email reports.
Some of our main goals around product are about making our customers more successful with their webinars. We constantly ask ourselves how we can improve the registration process to get more sign-ups for our customers, how we can get higher attendance for our customers with better reminders, and how we can improve conversions on the webinar and after the webinar with marketing/sales-related features.
For example, we'll be adding the ability to stream your Demio webinars on Facebook Live and Youtube Live. This feature will be great for a couple of reasons. First, it will increase attendance on our customers' events since attendees can join from more areas. Second, it will get more eyes on Demio, which will ultimately mean more organic traffic to our website.
4. Increase Traffic with SEO
We recently hired a marketing director at Demio, and his main focus is growing targeted traffic to our website through our blog. In the past month alone, we've been able to pick up tons of great links to our website as well as double our traffic. It's a new initiative, but we're quite positive about the future with this strategy.
David and I have been writing more journey-based posts on our blog to build deeper relationships with our customers and followers. The high-level strategy is to increase traffic through the wide-net articles around various business topics, and then keep them following our content through our more transparent journey posts.
In addition, we've started focusing a lot more on getting quality guest post opportunities, podcasts, and other content opportunities that "stick" around. We're very long-term focused at Demio, so we want our efforts today to be able to benefit us for years to come, which is why we're much less focused on paid advertising, at least for now. Not only are these guest posts great for targeted traffic and SEO purposes, but they also let us build strategic relationships with other SaaS companies.
5. Increase MRR
I don't think it will be easy to bring Demio to above $70k MRR in the next six months, but I believe we can do it. If we can maintain the same growth rate while also reducing churn, it should be possible.
In addition, we've lost a lot of potential sales due to not having more browser support. As soon as we release that new update next month, that will no longer be an objection we face.
We plan on doing a promotion period after the update, and we'll be letting everyone know that prices will be increasing for any new customers. This will increase the urgency to sign up now at the grandfathered pricing options. We'll be reaching out to our affiliates to get them to promote during this 10–14 day promo window. On top of that, we'll be manually reaching out to any customers who have churned because of this lack of support, and we'll be reaching out to any demos that didn't convert due to this objection.
This should be a great way to get the word out about the new updates and also obtain an influx of customers. It will definitely help us get closer to achieving our goal of $70k MRR in the next six months.
What are the biggest challenges you've faced and obstacles you've overcome?
Where do I begin? We've made a countless number of mistakes over the past three years, and some of them were very close to being fatal.
Many of the obstacles we've faced have stemmed from bad hiring decisions. It started with the agency, and that was followed by some other hires that were either short-term focused or not good culture fits. I believe the reason we made these hires is because we always felt like we were in a hurry. We always felt like we were behind after getting scammed by the agency, so we were trying to get a product built as fast as possible.
Not to mention, our burn rate was unnecessarily high from the beginning, which added a ton of pressure.
I'm grateful for the path that we went down and the lessons we learned. However, if we could do it again, we would start by first identifying exactly what was needed in an MVP, instead of mapping out a million features we wanted. Secondly, we would be patient with hiring. We would start by hiring one great programmer, and we would focus on the core aspects of our product.
When you have an idea to start a company, you usually want to get started right away. But, in fact, this was the reason for many of the obstacles we faced. In reality, since neither of us were technical founders, we should've been very patient when it came to building the team. Only now, with the great team that we have, do we finally realize how important it is to hire the right people.
On the personal side, I think David and I have become significantly more patient, more zen, and more long-term focused. Running a product that is operated in a live environment, there is an endless amount of stress. At any moment, something could go wrong, and there are so many factors outside of our control, such as internet connection, firewalls, webcam/microphone devices, etc. Because of this, we've had to accept that there will always be at least some level of stress associated with running this company.
Have you found anything particularly helpful or advantageous?
I've found that it's really important to practice sustainability, to take breaks, to take vacations, to clear your mind, to see things from an outside perspective. It's easy to get caught up in the day-to-day problems, support, churn, and think the world is ending, when, in reality, pretty much everything is heading in a positive direction. Easy to see from the outside, hard to see from the inside, ironically.
We are in it for the long haul, so we are constantly looking at ways to make our work lives less stressful, not only for us, but also for our employees. This means that in addition to simplifying the product, we will also always be focused on simplifying internal processes, communication, team structure, employee onboarding, and more. We're willing to forgo growth in order to make our lives better, so that we can work on this for a long time to come.
Personally, I've learned so much from following Jason Fried and DHH at Basecamp. I think they've given everyone in our community a different perspective when it comes to building a company that lasts. Their book, Rework, is a must-read for anybody building a company. We have a remote team at Demio, so we relate heavily to their advice.
What's your advice for indie hackers who are just starting out?
It's funny because I think my advice actually contradicts itself. I'll break it down into two parts:
Be patient
Just get started
It's always going to take longer than you think it will. It takes TIME to build a great product, it takes TIME to get traction, it takes TIME to make the right hires, but it's always worth it. Your patience will definitely be tested when you're building a SaaS company; I believe it's one of the most important traits you can have.
On the other hand, patience does not mean sitting around, doing nothing. I hate hearing the question, "What should I do?" from aspiring entrepreneurs. There's no step-by-step guide that I can give you to build a business. The best way to get started is literally just to get started, to do anything. You'll learn along the way.
This advice also applies to problems you'll run into later on. You'll never know how to solve them right away… you just need to take your best guess and run with it. You'll figure it out through experimentation.
When you combine these two pieces of advice, you end up being patient with the long-term goals but flexible on how you achieve them, and I think that's crucial to achieving success.
I read a lot, so I'm sure there are a ton of books that I could recommend — I'm just not sure how many of them directly apply. Some great ones that come to mind are Rework, Good to Great, The Hard Thing About Hard Things, The Obstacle is the Way, and The Startup J-Curve.
I've also gotten heavily invested in books on philosophy — specifically, Stoicism. These books have been great for setting the right long-term mindset as well as helping with the day-to-day stress we face. I would recommend reading A Guide to the Good Life: The Ancient Art of Stoic Joy, The Daily Stoic, Letters by Seneca, Letters by Marcus Aurelius, and letters by other Stoic philosophers.
Where can we go to learn more?
As I mentioned earlier, we've started investing heavily in our blog. David and I have been releasing posts about our journey so far with Demio, and we're sharing almost every detail along the way. You can read those posts here.
If you want to follow me personally, you can follow me on Twitter: @WyattJawz — it's also the best way to reach me!
I'll be keeping an eye on the comments, so please make sure to post any questions below if you want to know anything about our journey thus far :)
—
wyattjozwowski , Creator of Demio
Want to build your own business like Demio?
You should join the Indie Hackers community! 🤗
We're a few thousand founders helping each other build profitable businesses and side projects. Come share what you're working on and get feedback from your peers.
Not ready to get started on your product yet? No problem. The community is a great place to meet people, learn, and get your feet wet. Feel free to just browse!
—
Courtland Allen , Indie Hackers founder