Quitting My Job and Going Full Time to Grow My SaaS Company
Hello! What's your background, and what are you working on?
My name is Philippe Genois. I'm 23 years old and studying software engineering part-time while living in Montreal, Canada. For the past year and a half, my good friend and business partner Jean-Philippe and I have been working on InputKit. I just quit my part-time job to give it 100% of my attention.
InputKit is customer feedback software that helps small-to-medium sized business owners with their after-sales follow-up process. We've put together a package of best practices, such as feedback surveys and solicitations, online reviews, testimonials, referrals, cross-sells, etc., so that they can take advantage of overlooked opportunities to reach out and build their business. It lets them create a customized follow-up strategy for their customers and connects them to Zapier to automate the process.
Right now, we are only doing direct sales (nothing online), and are at $1,400 monthly recurring revenue.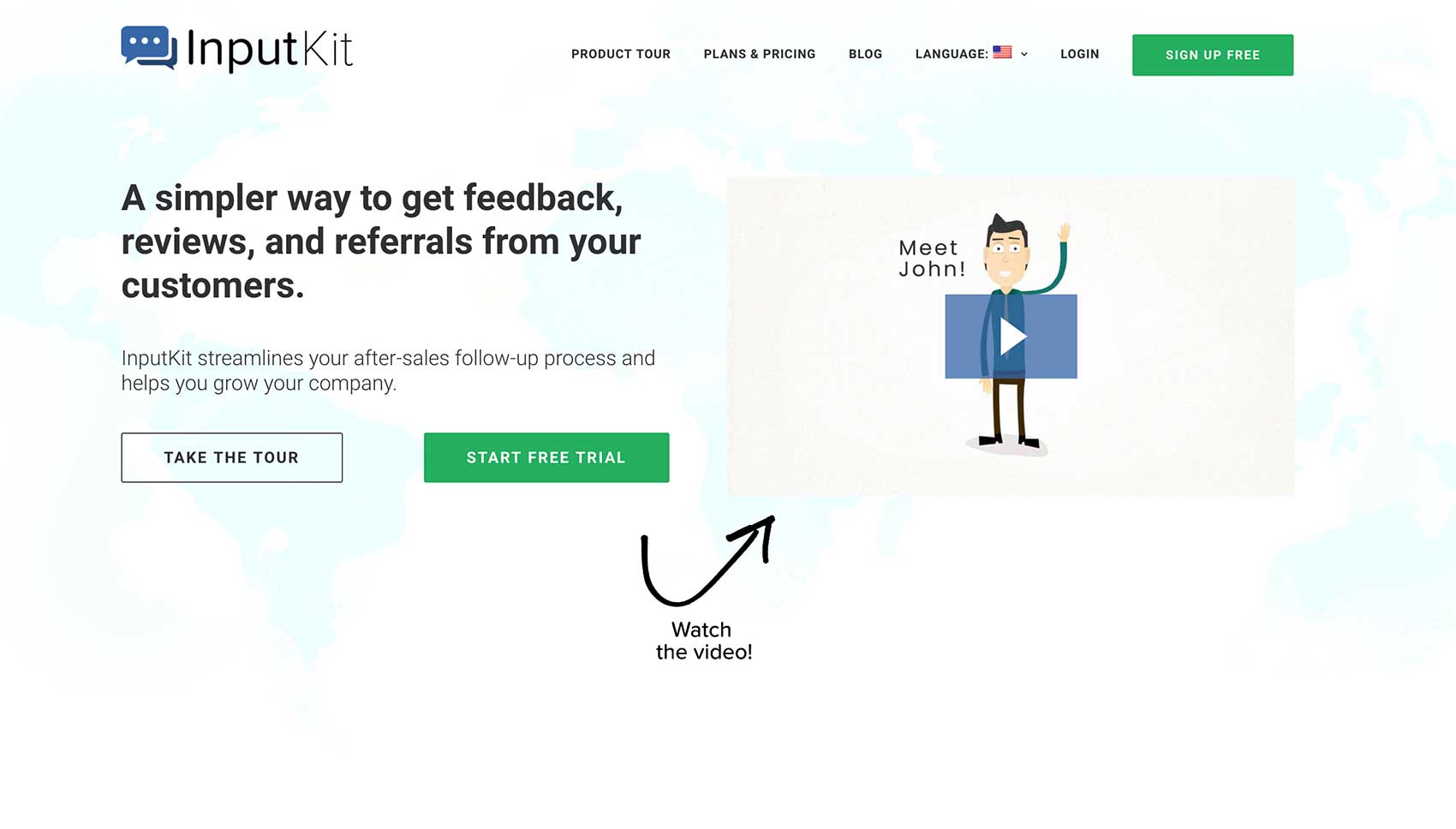 What motivated you to get started with InputKit?
I love software, and I love to build things and I love to help people, so I've always wanted to start a SaaS company. To facilitate the process, in November 2016 I joined an online program called The Foundation, which helps people build products from scratch on the side and, ideally, start a software business.
I came up with the idea for InputKit in January 2017 by doing Idea Extraction, which is a process by which you identify a target market and then try to find out what kind of problem they want to solve. To do this, I reached out to multiple business owners and asked them questions about their customers, their products, their business model, etc., in order to extract ideas from them about what kinds of problems they were running into and how I could go about solving them. I landed on the problem of neglected after-sales follow-ups. I took a weekend to build a quick prototype using Hotgloo, then did pre-sales with business owners in order to validate the idea.
Within a couple of weeks, I had four customers. After that, Jean-Philippe joined the team to actually build the software. At this point, I still had a part-time job to pay the bills.
What went into building the initial product?
We had built a couple of web apps before, so I knew this one would not be too much of a challenge. We didn't have any funding and used our own money to bootstrap everything. Our expenses weren't very high, with most of the money going into hosting and databases.
Initially, I did a draft on sheets of paper with a sharpie to make sure I had thought about it from every possible angle, even including data structures (classes, attributes, database tables). The whole process took me about four hours.
Then I went on Hotgloo, a wireframe prototyping tool, and started putting stuff into visual web pages. All told, it took me about two to three days to put everything together. After that I started showing it to potential customers to get some pre-sales.
A couple weeks later, I had secured four paying customers who wanted a fully built out product. JP joined the team, took the prototype, and built an MVP that had all the features required for customers to get started. Working only evenings and weekends, it took him about two months to complete using NodeJS for the backend and VueJS for frontend.
How have you attracted users and grown InputKit?
We initially acquired all of our customers through proactive outbound sales. I would call people, send cold emails, send messages on LinkedIn, and offer an in-person demo — anything to try to get the product out there. Within 14 months I did around 40 in-person demos, and used join.me to do more over the phone.
This strategy landed us our first 10 customers. While it helped us validate the idea, it was a pain in the ass and I wish the whole process had taken a lot less time. At this point, we were not relying on our website at all for sales or marketing, and I think this was a mistake.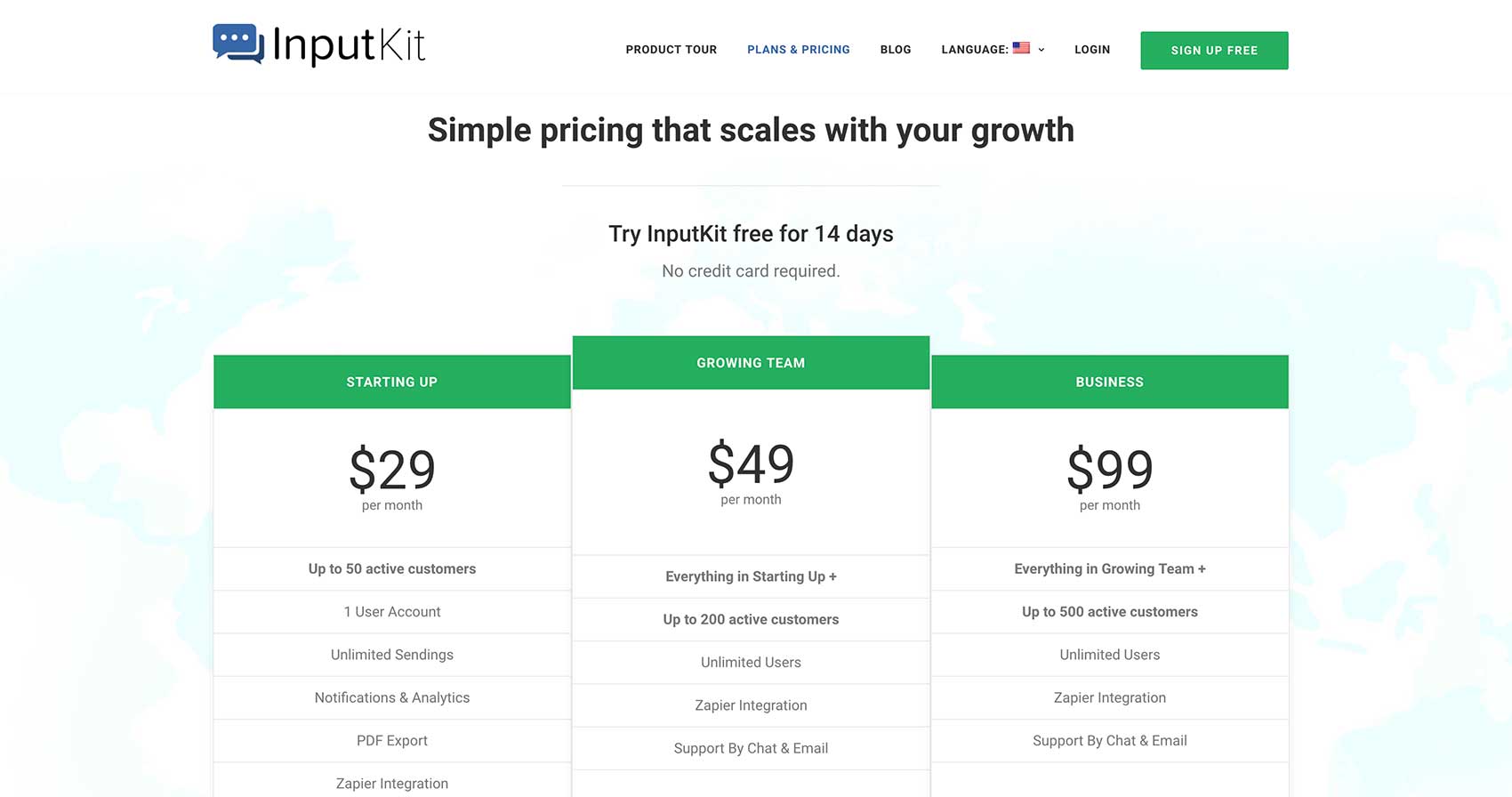 What's your business model, and how have you grown your revenue?
My pre-sale asking price was $300 with the built-in incentive of becoming a "founding member", which included a 15% lifetime discount. To be honest, $300 was a deal. I think the product was worth at least $1,000 at that point. We didn't have a payment processor set up, so customers paid by check, which meant that I had to wait couple of days to actually receive and access the money.
Currently, all of our customers are businesses that are paying either monthly or annually to use our software. They pay between $50 to $450 a month, with $140 per month being about average. In the beginning, our pricing was a bit improvisational — we proposed a different price for each customer depending on their needs because we didn't have an official pricing structure in place.
Right now, we get paid mostly through Stripe and Quickbooks. Three or four customers still pay by check, and one uses direct bank transfer.
Here's our revenue growth:
| | |
| --- | --- |
| Month | Revenue |
| Oct '17 | 300 |
| Nov '17 | 800 |
| Dec '17 | 900 |
| Jan '18 | 1000 |
| Feb '18 | 1200 |
| Mar '18 | 1400 |
What are your goals for the future?
Just last week we decided to completely change our approach and target a new market. We are going to expand our audience to include the United States, which means that we'll need to rethink some of our sales and marketing strategies, and leverage some of our underutilized resources, such as the website. Since we hail from Quebec, the French region of Canada, and were initially only targeting clients in our area, the original website was in French. I've created an English version of our website, which has a short explanatory video and offers a free trial. Hopefully that will help build out our client base in the United States.
Explanatory video:
Along with the revamped website, we plan to continue our original outbound sales strategy and contact US based businesses via cold email, offer Skype demos, and send them our website and explanatory video. We're considering doing some advertising, and we've been trying to answer questions on Quora and on other search-and-response based websites in order to increase traffic to our website.
We are aiming for $6,000 in monthly recurring revenue by the end of 2018.
What are the biggest challenges you've faced and obstacles you've overcome? If you had to start over, what would you do differently?
I'd say that the biggest challenge was getting out of my comfort zone in order to make cold calls, ask questions, meet with business owners, give demos in front of big teams, and ask for money.
Through writing all of this out, I've also come to realize that we didn't think big enough. If I had to do it all over again, I would target the US market right off the bat and use online traffic to gain traction as soon as we secured our first few customers.
Have you found anything particularly helpful or advantageous?
I think it's important to focus on making your customers happy. At this point, we have a 0% churn rate, and I think that's in large part because I'm willing to do (almost) anything to keep our customers.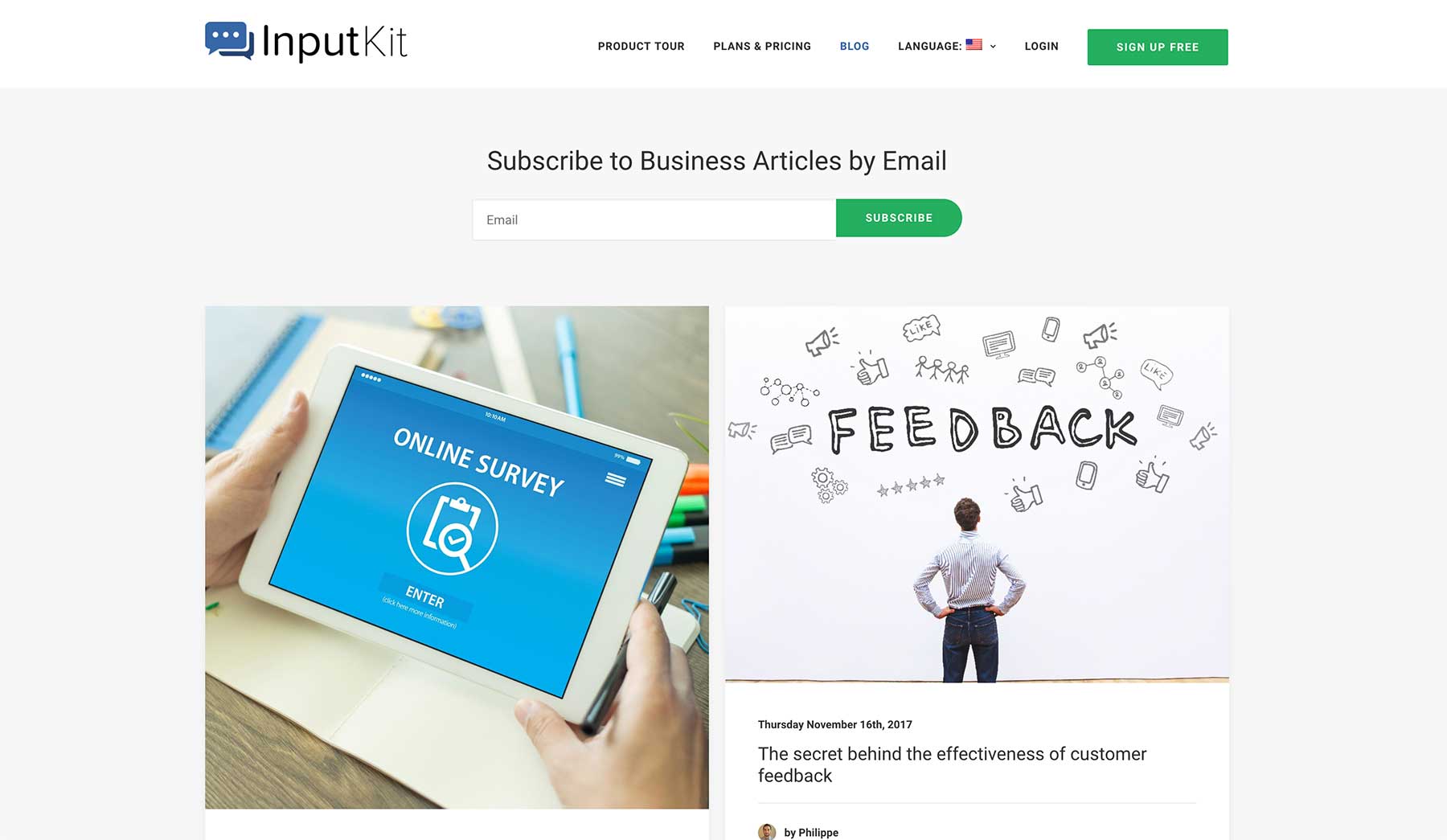 What's your advice for indie hackers who are just starting out?
The most important advice I have to give is to actually get money from someone before you get started building anything. I know it's hard to hear, but if a person is not willing to pay upfront, then it's very likely they won't pay when your product is ready.
So make sure to get paid before wasting your time building something that nobody will ever use!
Where can we go to learn more?
You can go to our website: InputKit
If anyone has any questions for us, please don't hesitate to ask in the comments. We'll try to answer anything and everything.
—
Philippe Genois , Founder of InputKit
Want to build your own business like InputKit?
You should join the Indie Hackers community! 🤗
We're a few thousand founders helping each other build profitable businesses and side projects. Come share what you're working on and get feedback from your peers.
Not ready to get started on your product yet? No problem. The community is a great place to meet people, learn, and get your feet wet. Feel free to just browse!
—
Courtland Allen , Indie Hackers founder