Quitting My Miserable Day Job to Build and Grow a Profitable Business
Hello! What's your background, and what are you working on?
My name is Davis Baer, and I am the co-founder of OneUp, a tool for scheduling and automatically recycling your "evergreen content" on social media. Evergreen content is content that is highly interesting to your audience and doesn't have an expiration date — it will still be relevant information a few weeks, months, and years from now.
If you want to share your company's latest blog post on your Facebook page once a month for the next five months, OneUp makes it very easy and helps keep your most valuable content visible. Our customers consist of startup founders, e-commerce store owners, small business owners, bloggers, podcasters, YouTubers, and social media managers.
OneUp is currently making around $320 in monthly recurring revenue.

What motivated you to get started with OneUp?
Back in 2012, I graduated from a small school in Pennsylvania called Grove City College, where I got my degree in finance. After graduating, I worked a few jobs in corporate finance and absolutely hated it. The sad (or funny, depending on how you look at it) part was that almost everyone I worked with also hated their jobs, and would trudge through their misery week after week, motivated only by the promise of a weekend off, or those glorious 2–3 weeks of vacation each year.
A few years ago, I had the opportunity to leave the corporate finance world and join a startup that a former classmate from college was starting. I came on board to help with marketing, but took a pretty substantial pay cut from what I was making before, as the founder of that company had only raised a small friends-and-family seed round to get things up and running.
That ultimately didn't end up working out, as we ran through the money faster than projected  —  the development of the site and mobile app was being outsourced to freelancers, and, fun fact, those development costs never really end. However, that role gave me great experience, and made me realize that it's possible to actually enjoy work. Prior to that, I had never felt that my contributions actually made a difference in the large organizations I was working for.
After spending a little time doing some freelance marketing and working on a few no-code side projects, I joined my co-founder Vishal Kumar at OneUp. We created OneUp to help increase visibility of evergreen content on social media. Whenever you share something on social media, it is typically only seen by roughly 5% of your followers. Despite this, most people put crazy amounts time and effort into creating evergreen content and share it just once across their social media channels, guaranteeing that most of their followers will never see that post. OneUp helps these people by automatically driving traffic and engagement to the content that they have worked so hard on producing.
What went into building the initial product?
OneUp started in 2017 as a side-project for Vishal, which he worked on over nights and weekends while working at his day job. He is the technical co-founder, and has built everything himself using the domain expertise he picked up during an internship at a social media management company a few years ago. Since then, the product has gone through many different iterations, including a recent major overhaul.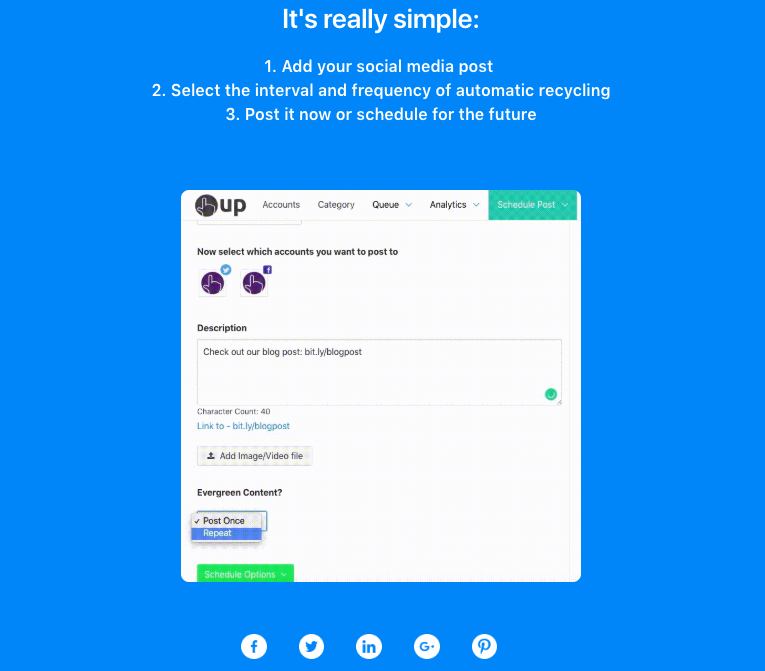 How have you attracted users and grown OneUp?
Vishal originally launched OneUp on Product Hunt, where it did pretty well and attracted some of the first paying customers. This was a major form of validation, because you never really know if you have a good product unless someone is willing to pay you for it. We did, however have some validation going in from some of our competitors, like MeetEdgar and Buffer, who do millions of dollars in annual recurring revenue.
The initial launch provided the opportunity to talk to customers, work out the bugs, make improvements, and see what kind of features users are looking for. Almost everything we build is the direct result of customer feedback.
Most recently, we launched OneUp 2.0 on Product Hunt, and finished fourth for the day with over 500 upvotes. This gave us an awesome wave of traffic and signups, with many converting to paying customers. While the Product Hunt performance provides great social proof and will probably serve as a small source of traffic moving forward, it is not a long term plan for success as many people on Product Hunt aren't in our target market.
We have found that Quora has been a great source of quality traffic. There are tons of questions with people asking for recommendations on different types of social media tools, so we are working hard to get OneUp near the top of the answers. Almost everyone coming from Quora represents a high-quality potential user, because they are actively seeking out a solution to their problem.
Have you found anything particularly helpful or advantageous?
Yes! I wanted to take advantage of being small and, as Paul Graham says, "do things that don't scale" by really wow-ing the users during the onboarding experience.
First, I tried sending a personal email to each person after they signed up. That failed miserably. Maybe it was the copy I used, or maybe I didn't personalize it enough, but I got virtually zero responses from it. I believe most people thought it was just another automated email.
So I started thinking about different ways I could make it 100% clear that this a personalized message from the co-founder. My idea: I would record a short personal video using Loom, introducing myself and thanking them by name for signing up, and email it to every new user.
Well that also failed. Everyone I sent it to thought it was just a pre-recorded "message from our founder" video, and the click-through rate on those was close to zero. I learned that everyone expects to get some sort of email from the service they just signed up for, and if those people are anything like me, they normally delete them right away.
This is where I used OneUp's unfair advantage: most people that signup connect a Facebook page, so instead of sending that personal video to their email, I could send that as a message via Facebook.
This made a huge difference! You can't really fake or automate this, which has led to almost a 100% response rate to these welcome videos. People are normally taken aback by the fact that someone took the time to record a personal video message for them.
There are 3 great things about this:
It starts the relationship on a great note, and let's the user see that there is a real person behind the company.

It makes getting feedback much easier. You've already opened up a conversation channel, and built at least some rapport. I've had people take the time to let me know that they will not be using the service, when they would normally just leave without notice. This has given us the opportunity to figure out what went wrong, or what features they were looking for that we didn't have.

Some people are so wowed by the personal touch that they've shared it on Twitter. Here are some of the responses I have received:
"Hey Davis, thanks for the video! Is it ok if I share your personal message on twitter?"
"Hi Davis, that's a great touch sending your personalized message, very slick and very appreciated indeed."
"Hi Davis, Thanks for reaching out. I like that!"
"Thanks Davis! Nice touch with the personal video."
"Hi! That was so nice!"
Recording each video only takes about 15 seconds, so while it may not scale forever, there is no reason why we can't continue it into at least the near future.
This personalization helped us land Nir Eyal as a paying customer, and he was willing to give us an awesome testimonial that we've added to our landing page. For those that are unfamiliar, Nir is the author of Hooked: How to Build Habit-Forming Products, which is co-written by Product Hunt founder Ryan Hoover. It helped that I already owned his book and was holding it in the personal video I sent him. He was really blown away by the personal touch!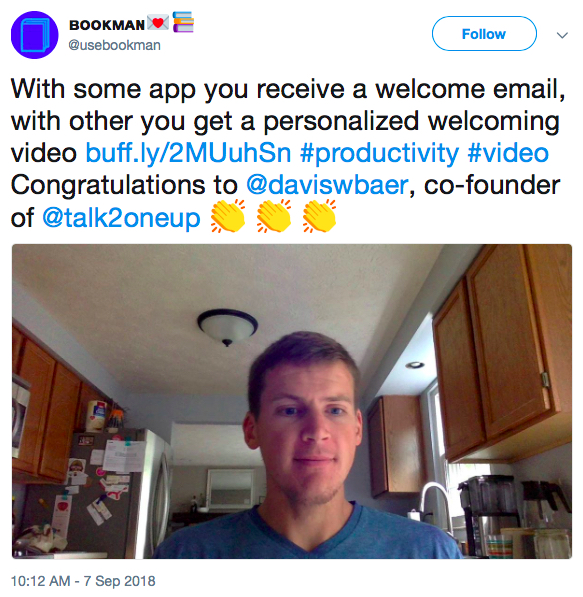 What's your business model, and how have you grown your revenue?
OneUp has different pricing tiers ranging from $10/month to $99/month. The tiers are based on usage categories, such as how many accounts you want to connect, how many users you have, and how many posts you have scheduled.
We currently offer a free trial, but have opted not to offer a free-forever tier at the moment because of the large increase in support that would be required to service all of the free users. We just don't have the manpower for it.
We plan on experimenting with different paid advertising channels in the near future, and hope this leads to a profitable return on investment so we can pour some gas on our growth.
Our currently revenue isn't enough to fully support us. To pay the rent, Vishal works a day job as a developer, but spends nearly all his free time working on OneUp. I am fortunate enough to have an amazingly supportive wife with a decent job, which allows me to work full-time on OneUp.
What are the biggest challenges you've faced and obstacles you've overcome? What are your goals for the future?
Like many entrepreneurs, we made the early mistake of building features that we thought our users wanted, only to find out that nobody really used it. Now, we talk to our users to find out what they like, what they dislike, and what features they would like to see in the future. This helps us to know exactly what we should prioritize on our roadmap.
One of the difficulties of working with different social networks is that their APIs are always changing, which means you have to be ready to adapt at a moments notice. This is where Vishal's domain expertise comes up extremely helpful!
What's your advice for indie hackers who are just starting out?
Just start something. Even if it's a small side-project, you are going to learn a ton about how to make something, and maybe more importantly, how to market your product. Whether it turns into a success or failure, you will grow more than you ever could by reading books, blogs, or listening to podcasts.
With that said, I do love podcasts and reading. In all sincerity, the Indie Hackers podcast is probably my favorite podcast. Courtland does a great job at finding successful founders that share amazing insights into how they grew their company. I am always inspired or have a "light-bulb" moment after listening to an Indie Hackers podcast.
For anyone trying to improve their SEO, I would highly recommend Brian Dean's blog and YouTube videos. If you need landing page help, Julian Shapiro's Growth Guide is an amazing resource.
Where can we go to learn more?
You can check out OneUp at oneupapp.io, and you can find me on Twitter @daviswbaer.
Happy to answer any questions in the comments section :)
—
Davis Baer , Co-founder of OneUp
Want to build your own business like OneUp?
You should join the Indie Hackers community! 🤗
We're a few thousand founders helping each other build profitable businesses and side projects. Come share what you're working on and get feedback from your peers.
Not ready to get started on your product yet? No problem. The community is a great place to meet people, learn, and get your feet wet. Feel free to just browse!
—
Courtland Allen , Indie Hackers founder