Quitting Our Jobs to Follow Our Callings
Channing
Thanks for doing a joint interview! Tell us your backgrounds and what you do at Hallow.
My name is Alessandro DiSanto and I just recently quit my dream job in finance to try and help people around the world improve their faith lives by launching Hallow, an audio-guided meditative prayer app. Needless to say, there are more than a few colleagues wondering if I have lost my mind.
I was born in raised in Harrisburg, PA and was raised in a large, Catholic Italian-American family. My faith has always been a big part of my life, but I would never have called myself an evangelist. Immediately after graduating from Notre Dame, I took a job at a large investment bank in New York City and after two years, I moved to Chicago for a job as a private equity investor where I was responsible for buying and growing technology businesses. It was my dream job and it was incredibly rewarding, but it quickly began to dominate every aspect of my life. At the end of the 100 hour work weeks, I looked around and realized my relationships with my family, my friends, my faith, and even my health were quickly deteriorating.
That's where Hallow comes in. Over the previous few years, I had tried some of the popular meditation apps at the recommendation of my best friend, Alex Jones, and although I found them helpful in terms of carving out a moment of peace in my day, the experience felt like it should have been the first step in a religious journey. So when Alex called me again last year with the idea to help people learn how to pray by pairing a modern, digital user experience with the church's 2,000 years of meditative and contemplative prayer practices, I immediately knew it was something I would love to use in my own life.
It didn't take long to realize that there were many people like us desiring a way to bring the popular theme of mindfulness into their faith lives. Eight months and two beta tests later, we have built and launched Hallow, a mobile app that offers audio-guided meditative prayer sessions in the Christian tradition. Less than a month in, we have over 4k downloads and a 4.8 star rating in the Apple App store.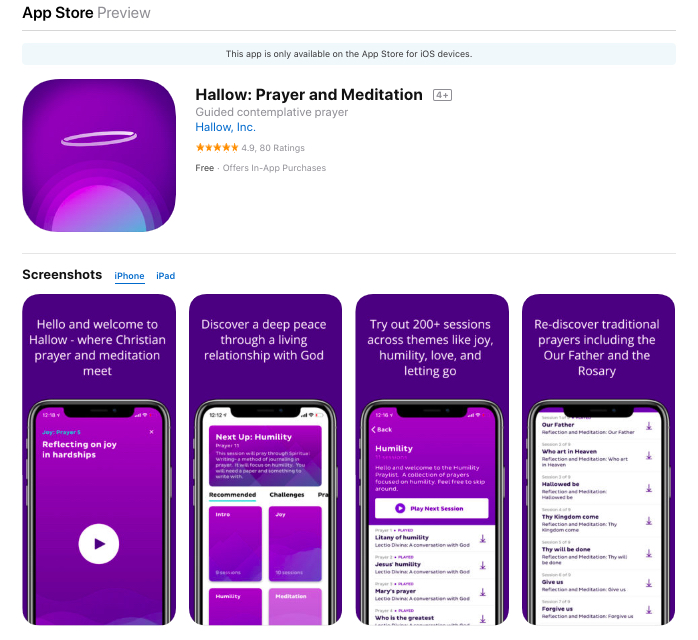 My name's Erich Kerekes and I grew up in Barrington, IL outside of Chicago. I went to Notre Dame and earned a degree in computer science and engineering. However, instead of pursuing software engineering after school, my last three years were spent in management consulting at McKinsey. The last year of those three years was in the Bay Area with Fuel by McKinsey, where I served high-growth tech companies on go-to-market and growth strategy.
Perhaps even more pertinent than my career background is my faith background. I was born and raised Catholic, but had ups and downs in my faith life and in my relationship with God. After discovering powerful meditation and contemplative prayer techniques that were previously unknown to us, we decided to build Hallow to make them more accessible to the world.
Hallow sits at the intersection of the popular mindfulness trend and Christian faith. It offers audio-guided sessions across different contemplative prayer techniques to help users explore new ways to connect with God and grow in their faith lives. I joined Hallow full-time in July 2018 as a co-founder and as the Head of Sales and Marketing.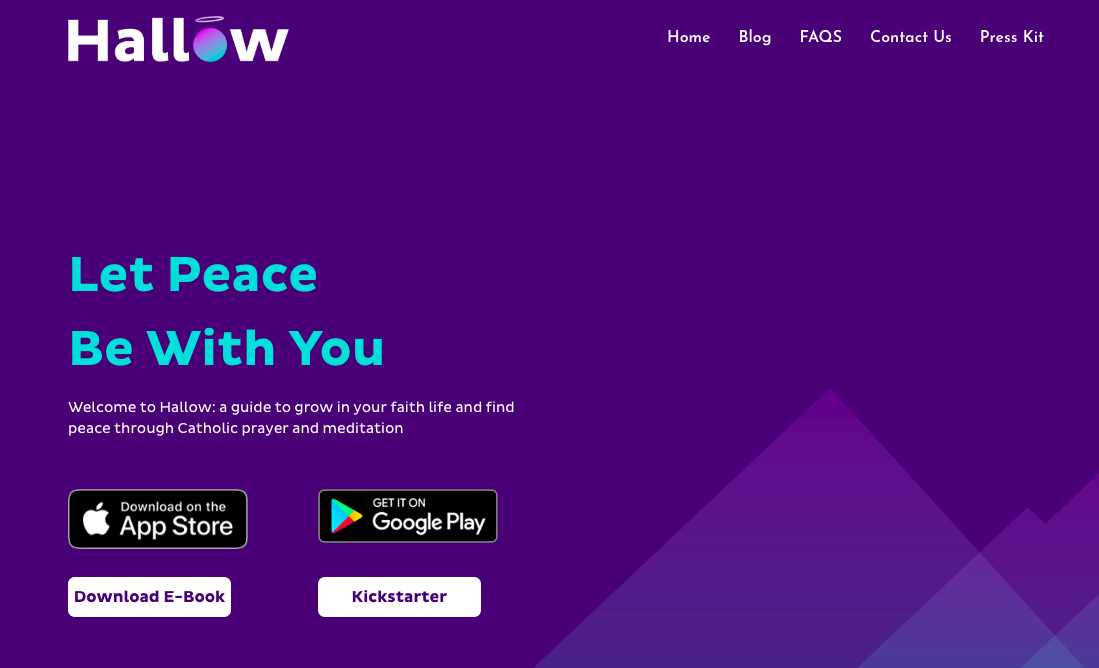 Channing
What motivated you to get started with Hallow?
Each of us on the founding team is exactly Hallow's target market. We are young adults who were in stressful environments, had Christian backgrounds, but were somewhat limited in our own personal relationships with God. More specifically, my prayer life was mostly one-sided and relatively repetitive. I would tell God about my day, thank Him for things, apologize for things, and ask for a few things, but hardly ever spend time in silence with Him or listen. At the same point in time, the only real prayers that I practiced other than these were ones that I had memorized—Our Father, Hail Mary, etc. While these are very powerful in their own right, it does not allow for the two-way conversation required to form a relationship.
The last key factor was that, among all the craziness and relentless hustle of the working world, we were all seeking out a way to find peace. Our co-founder, Alex, turned to meditation through a popular mindfulness app. I myself turned to nature and hiking to find peace in silence. In each case for our team, our methods were effective but not fully satisfactory and felt like they were lacking in spirituality and were disconnected from our Christian faith.
The natural question to follow then was "What kind of contemplative, reflective, calming practices exist within the Christian faith that can deliver a similar peace, but in a way that is connected to God?" After a few months of research talking to friends, family, professors, religious brothers and sisters, priests, and reading many books, it was clear that there are plenty of tried and true methods of prayer at this intersection. After learning about them, we implemented them into our personal prayer lives and found them to be extremely impactful. The question then immediately followed: "How can we get these prayer techniques out into the world in an accessible, intuitive, convenient format?" It didn't take long before a mobile app solution won out and Hallow was born.
At the time, our founding team held positions across a variety of fields—two of us were in management consulting (McKinsey), one was in private equity (GTCR), and one was at a faith-based company (Dynamic Catholic). In regards to how we decided to leave these jobs for Hallow, I can point to only one thing: prayer. I know articles on Indie Hackers and other entrepreneurial websites are most likely filled with more analytical, logically driven arguments, but I'd be lying if I said anything other than prayer was the driving factor in the decision-making process for us to quit our jobs and dedicate ourselves to Hallow full-time. We felt clearly called.
Channing
What went into building the initial product?
From the very first concept of the idea until the launch of the first beta, the MVP took about four months. It was another four months after that before we launched in both the App Store and Play Store on the same day. Our co-founder, Alex, took a two-week crash course in Swift and worked with a friend to code the first version of the app in native iOS, while a third friend took a stab at the first UI design.
After a few months, the other pieces of the business (e.g., writing the content, recording it, marketing, partnerships) started taking up the majority of the day and we thought it best to contract out the development. Development of the app, branding, and design were our largest expenses (at <$50K each). We knew right from the beginning that the mobile app space is insanely difficult to enter with over 4,000 new apps a day, and is even more difficult to protect. Almost anything you make could be copied at any moment. As a result, branding is one of the biggest competitive differentiators in the market, and design is a key part of that. We knew we wanted to take a different approach to religion. We didn't want to be preachy and we didn't want to be old-school. We wanted to be a cool, modern, Silicon Valley tech company with a light-hearted approach to connecting with God.
The biggest question during development was what features we would need as an MVP, and how to prioritize the features that we wanted to include in the app. To this, the most valuable piece of advice that we received was the need to define a "North Star Metric". What is the one metric that your company is trying to achieve as a whole—the one metric that is most closely aligned with the overall mission? After a few conversations, we determined our North Star Metric to be Weekly Prayers Completed (WPC). WPC can intuitively be increased in two ways: (1) increasing the number of people saying prayers and (2) increasing the number of prayers said per person. After defining this metric, we could make rough estimates for what impact any given feature would have on WPC and that would determine our prioritized order of features. E.g., implementing the ability to set reminders for prayer might impact the number of prayers said significantly, while submitting payments online versus in the App Store is likely to have a lesser effect, and would therefore be prioritized lower down the list.
Fortunately for us, these two largest expenses were still relatively insignificant compared to any startup with a physical product/prototype, so funding was not a large roadblock. In addition to the founding team contributing money, we ran a Kickstarter and raised $25K (of a $20K goal), and raised some money through a friends-and-family round.
Other than the technical side, the biggest piece of the product itself was in the audio guided sessions. We tried 10-12 different voices as options for the app and landed on the two that sounded the most soothing and genuine. Because these two were also part of the founding team and not contractors, we distributed equity and do not pay cash for the recordings themselves.

Channing
How have you attracted users and grown Hallow?
The way that I think about customer acquisition is in three major groups: (1) People experiencing the problem that you solve, recognizing that it is a problem, and actively seeking a solution before even hearing of your product; (2) people who are experiencing the issue you solve but haven't yet acknowledged it as a problem or searched for a solution; and (3) people who stand to benefit from your product but haven't yet had exposure to the issue you are solving.
To make this more concrete, I'll reframe them in the context of Hallow. For us, (1) would be folks who are already Christian and meditate and have searched for ways to meditate within their faith or already practice a form of Christian Meditation and are just looking for a more convenient way to do so. (2) is Catholics who are, to a degree, struggling with their prayer lives but haven't yet acknowledged to themselves that they feel less engaged in prayer, and (3) could be a number of groups including "spiritual but not religious" people who might benefit from further exploring their faith or could be a religious person who has been more focused on the sacraments but hasn't yet developed or tried to develop a personal relationship with God.
Based on the definitions, it is easy to see that group (1) will be the easiest and cheapest group to acquire. They're the ones who will stumble upon our website because they're already googling things like "How to meditate as a Catholic." It is with group (1) that we ran our beta tests and had our initial launch. Contacting this group was a matter of reaching out to our friends and family, building a landing page/SEO, and finding these customers where they are.
After identifying these customer types, we had to think of ways to reach out to them. We sat down as a team and identified 10 ways:
Personal connections: the most obvious one and where everyone starts. There were eight of us working on Hallow (counting part-time folks), and with each of us reaching out to our networks through social media (especially LinkedIn), we easily contacted over 10,000 people right away.
Kickstarter: While a piece of this was of course about raising the funds, it was also an amazing way to build an interest list before release and to help us get the word out. It was natural then to post this on our personal social media accounts, as well as asking friends and family to do the same.
Content marketing: We wrote blogs about our own personal faith lives and on tips that we thought our users would find helpful.
Ambassadors: Because our company is mission-driven, we have folks who are interested in helping us succeed solely because they believe in spreading the word about God. As such, we created a way for them to be formally involved as Ambassadors to help build local prayer groups, or to bring Hallow to their campus/employer.
In-person events: Because we are Christian app, there are already so many events that organize our target audience together. Within the first month of release, we went to a new Christian/Catholic conference or gathering every week to build a presence and talk to prospective customers.
Partnerships: It's tough to overstate the importance of partnerships. Immediately after launch, we began reaching out to parishes, Catholic conferences, and other organized religious events. Any place that gathers your target market together is a great place to be.
Media: We immediately built a press kit on our website to ensure anyone from the press would have everything they need to build an article if they so desired (references to other articles, facts about the team, high-quality product photos, commonly asked questions, etc.). Then we found journalists who have written about something similar (in our case, anything related to Christianity or mindfulness) and tracked down their email addresses or LinkedIn pages to contact them with a personal message.
Social media: the obvious part of this is creating our own pages for Hallow on Facebook, Instagram, Twitter, YouTube, etc. In addition, we found the most pertinent groups that already existed on Facebook and Reddit and garnered interest there.
Influencers: Related to media outreach, this is contacting people who already have some credit and decent followings in your space. It's unlikely you can gain the interest of a big wig, but beginning by targeting folks with 1-10K followers can be a great place to start. We found the most success in direct messaging folks on Instagram with followers of that level.
Paid marketing: I put this one last because, other than a short test during the Kickstarter, we have every intention of avoiding paid marketing until we have iterated on the product significantly and have built a strong user base. But no doubt that it belongs on the list and is a good way to differentiate between the customer types I listed above. You can be sure we'll have drastically different ads for targeting customers in group (1) than group (3).
Channing
What's your business model, and how have you grown your revenue?
Early on, we had a key discussion as a founding team on whether we should structure as a non-profit, seek grant funding, and provide Hallow as a completely free service, or whether we should pursue building a commercially viable, for-profit business with a profitable revenue model.
We landed on the latter for one main reason. Our goal as an organization is to bring prayer to as many people as possible in an effort to help them radically improve their lives by helping them develop a relationship with God. We believe that the best way to achieve that mission is to build a best-in-class product that offers an experience that people are willing to pay for, allowing us to grow profitably and reinvest in the product. At the end of the day, our revenue model is our motivation to create the best app that we possibly can and avoid becoming just another free faith-based app designed in the Windows '98 era.
Shortly after we decided against offering a completely free app, we landed on a freemium model. We had heard early-on in our first beta test that there would be significant skepticism in paying upfront to download an app that offers original content (as opposed to a third party content distributor like Netflix, or at least the original Netflix/Blockbuster) without being able to sample the quality of the content. We found that sentiment to be particularly strong given the faith-based nature of the content since there are many free prayer apps that consolidate the vast majority of rote prayers that exist within the Christian faith.
Our free content includes a nine-day introductory challenge that exposes users to the three most popular forms of contemplative prayer (Christian Meditation, the Exman, and Lectio Divina), plus daily prayers using each of those techniques, as well as the Rosary. Our premium content library is centered around "Praylists" focused on different emotions and life topics (e.g., love, humility, making decisions, letting go) and challenges that explore the deeper theology behind popular prayers and elements of the Christian faith (e.g., the Our Father, Advent, Lent).
We priced the premium subscription at $8.99/month, $59.99/year, and $199.99 for a lifetime subscription (a 20-30% discount to the most popular secular meditation apps). In an effort to attract users to the premium subscription, we are currently offering a 30-day risk-free trial of all our content before any payment is taken. All payments are currently made through the App Store and Google Play Store directly.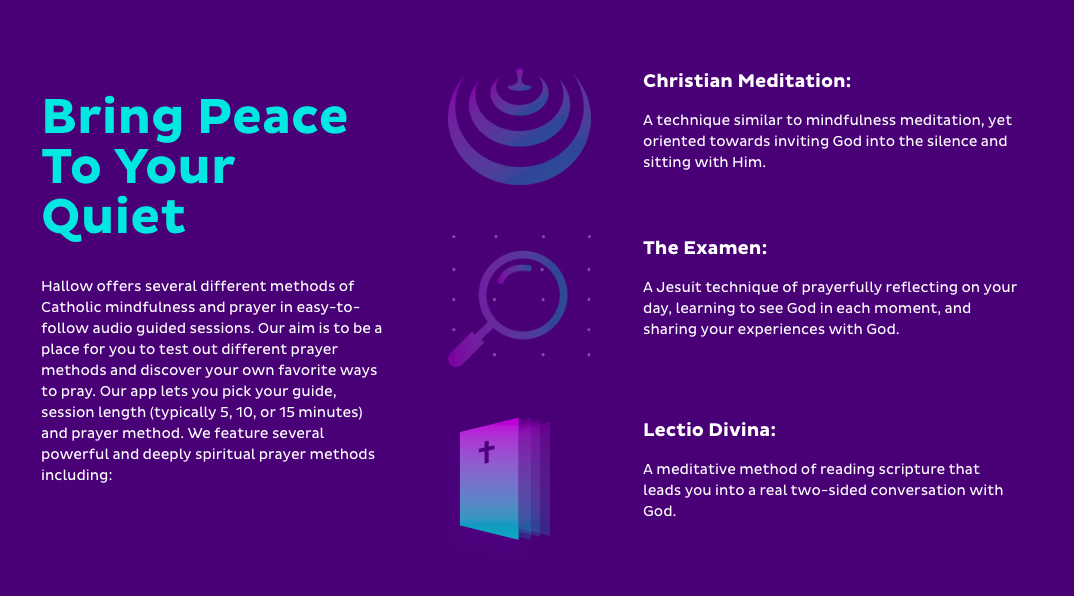 Channing
What are your goals for the future?
Our goal is to build Hallow into a leading tool for the world's 2 billion Christians to build a relationship with God through prayer. With that goal in mind, we have a long and exciting pipeline of product features, prayer content, and other tools that will enable us to execute our vision.
First and foremost, we are focused on continuing to expand our content library to give our users a guided resource to pray through every experience in their lives. From creating additional Praylists centered on a daily commute, going on a run, or dealing with addiction, to expanding our Challenges library to other theological topics including the sacraments, the Gospels, and the lives of the saints, we have our work cut out for us.
We are also focused on delivering a robust, modern, and intuitive user experience. Our long-term goals also include developing social features for our users to help build communities and habits of prayer.
Channing
What are the biggest challenges you've faced and obstacles you've overcome? If you had to start over, what would you do differently?
As we approached the end of 2018, we knew we wanted to launch at the beginning of December to capitalize on the religious sentiment during the holiday season. But we were also resource-constrained from a development perspective, needing every hour leading up to launch, so we weren't about to build out all of the web features we wanted to before going live. We prioritized getting live and figuring out any glitches later over potentially missing the Christmas spending period to get everything right.
The main workflow process we ended up overlooking was payment acceptance, specifically Apple's terms of use in the App Store. Our main promotional strategy at launch was offering discounts via promo codes to faith-based organizations to help spread word-of-mouth buzz, and we had successfully negotiated printed ads in bulletins in a number of churches. Then, on the day after launch, on Apple's sixth review of our app, they notified us that the use of promo codes for discounted pricing is specifically against their terms of use, leaving us with potentially thousands of users expecting discounts that we could no longer provide.
Luckily, we did not have many users write in for support and of those that did, most were understanding of our story, but we had nonetheless let our users down. That was the last thing we ever wanted to happen, especially right at launch.
Even though Apple had previously approved the app with the promo code functionality five separate times before launch, we could have more closely looked at the terms of use. The moral of the story is that when a team is moving fast, large risks can easily fall through the cracks. When it comes to weighing a self-imposed deadline versus double-checking you haven't missed something massive, it's probably worth the extra couple of days to make sure.
Early on, we hired too fast out of eagerness. Take your time hiring, and learn what you can about the role before hiring them. Chances are the first contractors you're hiring are going to be for the purpose of performing a skill you know little about. It is very easy to sound like an "expert" in a topic to someone who has only surface-level knowledge in that area. If you don't do your due diligence, you may very well make a poor hiring decision early on, which is not only a waste of time and money but can set you back during some of the most important months of growth. Take your time to get to know something about the subject for which you are hiring and, once you've got this down, always, always ask for references before hiring someone. My rule of thumb is now ensuring you can get at least three references that don't just say "Yes they did the work well and I have no complaints", but something more like, "Without this person, our organization/department wouldn't be where it is today", or, "They consistently went above and beyond any expectations."
Channing
Have you found anything particularly helpful or advantageous?
Read a lot. Especially in entrepreneurship, you have to wear so many hats which means you'll be wearing some hats that you have never worn before. Fortunately, other people before you have worn similar hats and have written books about them.
Regarding books and resources, I did find some of the classic top entrepreneurship books to be helpful. At the top of these would be The Hard Thing About Hard Things by Ben Horowitz, and High Output Management by Andy Grove. This may be obvious, but you can never read too much on the specific industry in which you are involved. For us, this meant devouring books on prayer techniques and Christianity. Pretty much every major book by C.S. Lewis (Mere Christianity, the Great Divorce, Screwtape Letters, and Problem of Pain are probably my favorites), plus books like The Interior Castle by St. Teresa of Avila and Ascent of Mt. Carmel by St. John of the Cross
One of the biggest factors (which is, of course, completely out of our control) that is helping us enormously is the trend in mindfulness. There has been an absolute explosion of interest in this space with Headspace and Calm each at tens of millions of users, mental health advocacy on the rise, and even implementation of meditation as a prescribed form of treatment in medicine. Plus just last week, Calm actually became the first mindfulness Unicorn when it raised an $88M series B, bringing even more attention to mindfulness as a category.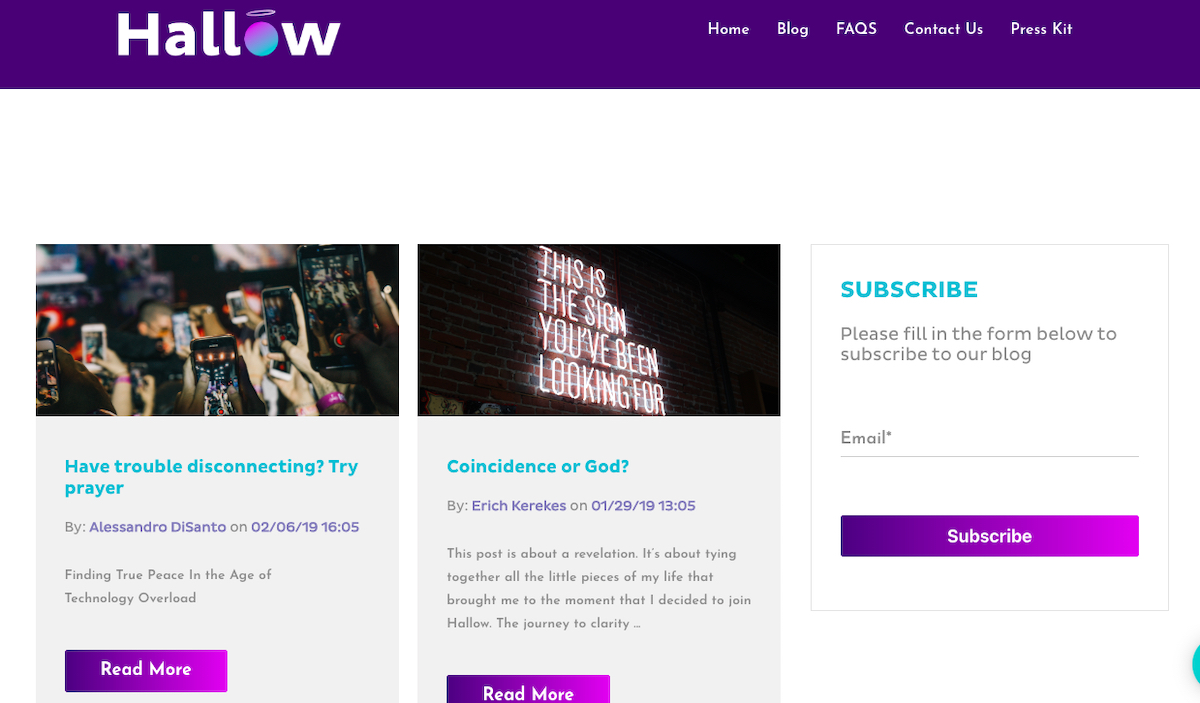 No matter your background, the value of getting out and meeting people cannot be overstated. There is something to be said for coders that pull marathon sessions developing killer solutions, but I don't believe a really great business can be built without ever leaving your apartment.
For us, since we were coming from different professional backgrounds, reaching out to thought leaders from priests to bishops, VCs to PhDs and pounding the pavement at every faith-related conference we could find was absolutely critical. It's how we found our key advisers, it's how we got introductions to our first key partners, and it's how we fine-tuned our prayer content.
Generally speaking, everyone loves to think of themselves as an expert, and although we are all extremely busy, asking for someone's advice after you have demonstrated a sincere desire to make a difference rarely gets shut down. Never leave a conversation without asking for an introduction to another person who might be interested in your idea. It doesn't take long to find someone at the center of a key social network who can drastically improve in your trajectory.
Lastly, from a skills perspective, figuring out communication was absolutely key for us as a founding team. With team members living in five cities across the U.S., each with very different professional backgrounds, the actual communication process was also important to figure out (shoutout to Slack for being an awesome tool), but since we were all great college friends, figuring out hierarchy and role-segregation effectively was make-or-break. Inevitably, critical feedback needs to be conveyed in any team and adjustments need to be made to individual working styles, but delivering that message can create extra tension when the person delivering it was in your wedding. For us, not holding anything back for fear of hurting our friendships and being 100% transparent by acknowledging each of our biases, allowed us to really minimize the personal friction during the transition process. It's not easy, but sitting on negative emotions doesn't help anyone and most often ends up hurting everyone involved.
Channing
What's your advice for indie hackers who are just starting out?
After reading countless books and talking to many entrepreneurs and VCs and professors, three pieces of advice came up above all else:
Focus on nothing but product until you have something with a distinct competitive advantage that you know customers are willing to pay for.
Avoid paid advertising for as long as you can. Focus on product and LTV first, and only invest heavily in paid ads when you have a favorable LTV/CAC ratio.
It's okay (and, in fact, is often advantageous) to not have extremely high growth in the early months or even years. Not only does extremely high growth cause many challenges that are difficult to address, but it often leads to inefficient solutions (you just go for whatever is fastest) and can set unrealistic expectations for investors in the future. Lastly, trying to grow as fast as possible can lead you to rush into bad deals, or grow by capturing customers with a lower lifetime value/rate of retention. I could go on for a long time about why putting the pedal to the metal isn't usually the look for the first year or two, no matter how good it may feel when the customers and revenue start rolling in.
Plan your days and weeks ahead of time. Literally from your first day, to the day you sell your last share, there will be exponentially more that you could do than you can do. Prioritizing is a key skill and I have found that I can only do it well when I write things down. Every night, map out the key things you need to accomplish the next day, including that one thing that if nothing else got done, would result in the day still being productive. Also, leave some flex time. Things always come up that need to be dealt with and you should have flex time to not let those things affect your key priorities.
This is going to sound dumb, but just Google things. Then either become an expert or find one. You will most likely be wearing more hats than you have fingers. You will need to be responsible for things you have never heard of before. Whether its sales and use tax laws, the fine print of Apple App Store's terms of use, or the best guerilla marketing techniques, if you don't figure it out, no one else will, and after a while, it will be a problem. Be honest with yourself about what you don't know, take responsibility, and figure it out. You will be surprised how many questions can be answered with five minutes on Google.
Sleep. Whether it's six hours or eight hours, find the amount you need to really be fresh and don't compromise. Building a business requires the ability to constantly think creatively and transition laterally across workstreams. It is physiologically impossible to be at your best when you are sleep deprived. There are always times when you need to have your 100 hour sprint week, but that shouldn't be your status quo (and drugs are not a viable long-term alternative).
Pray. Not just because we have the perfect meditative prayer app you can download, but because it's worth it. Whatever or whomever God is to you, take some time each day to figure out what you feel you are being called to in life. I promise it will be time well spent.
Channing
Where can we go to learn more?
First and foremost, feel free to download Hallow to learn more about the product itself - we're available in both the App Store and Google Play Store We're in the midst of a promotion right now and if you download before 3/6/19, you'll get a free 3-month trial! Otherwise, feel free to click on any of the following links to learn a bit more as well:
And of course, please feel free to ask us any questions at all in the comments below and we will happily answer them all!
—

Erich Kerekes , Head of Sales & Marketing of Hallow: Prayer and Meditation
Want to build your own business like Hallow: Prayer and Meditation ?
You should join the Indie Hackers community! 🤗
We're a few thousand founders helping each other build profitable businesses and side projects. Come share what you're working on and get feedback from your peers.
Not ready to get started on your product yet? No problem. The community is a great place to meet people, learn, and get your feet wet. Feel free to just browse!
—

Courtland Allen , Indie Hackers founder