Scaling a One-Man Operation into a Million-Dollar Business
Hello! What's your background, and what are you working on?
I'm Dom Wells, hailing from the UK, but currently living in Taipei, Taiwan. I've been living in Taipei since 2008 (when I was an English teacher), but have been working full time online since around 2013. I'm currently working on Human Proof Designs, which I founded in late 2013 and bootstrapped to its current state. HPD offers training and services in the affiliate marketing world.
Our flagship products are our "Done For You" affiliate websites. Anyone from beginner affiliate marketers to more experienced people looking to scale their business use our services.
In 2017, we did $1.1 million USD in sales, which was the first time we crossed the seven-figure threshold. In 2018 we're looking to hit $1.3 million.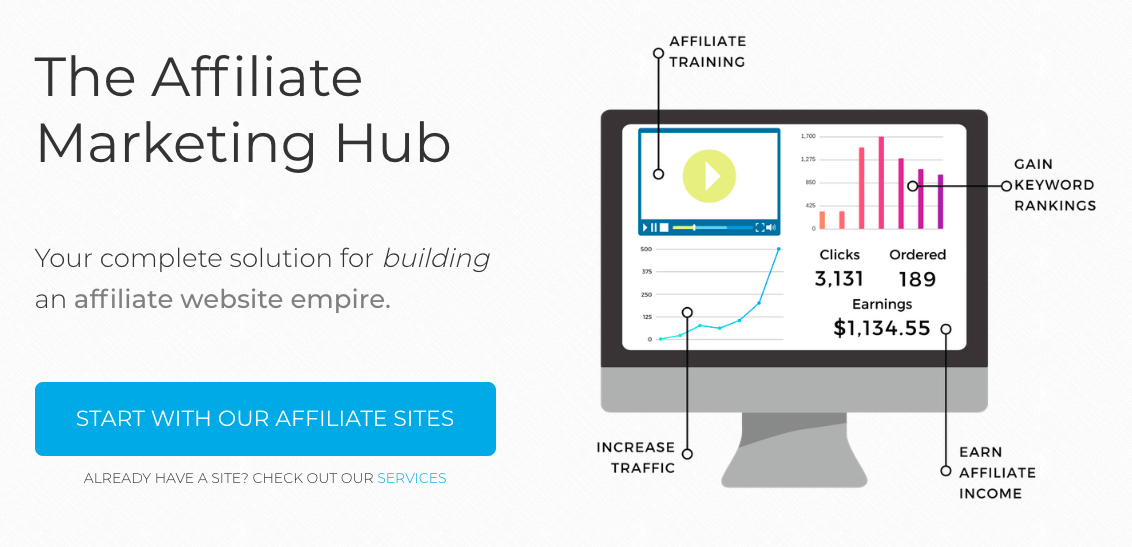 What motivated you to get started with Human Proof Designs?
I founded HPD because I noticed there were dozens of people selling junk "turnkey websites" on Flippa, and people were gobbling them up, expecting to make money on autopilot.
I knew these people were going to fail because they were buying trash, but that they wouldn't understand why they were failing because they weren't familiar with the product or the business. So I wanted to offer something better, something legit, that would actually help people get started with a "Done For You" service. I then realized I would also have to create a ton of training, since most people didn't understand what to do with these sites one they were up and running.
So HPD and its blog were created. At the time, I was still teaching English part-time, and using my own affiliate site income as well. Every dollar I earned went back into helping HPD scale, so it was very much a bootstrapped business.
It was hard to validate the idea at first because I was mostly competing with scammers. I knew that a "Done For You" service must have been in demand, though, because I own bunch of my own affiliate sites and I live and breathe internet marketing. My personal connection to the business was what helped us get some traction. I blogged about what I've learned and the techniques I have succeeded with, so naturally people were attracted to us and our offers.
What went into building the initial product?
Since I had success with a few of my own sites, I already knew what was required to make a decent affiliate website. The tough part was figuring out exactly what to include in the initial offer. I wanted to make something affordable, so I started off offering sites for around $250, with no content included. However, I came to realize that people wanted content, and wanted researched keywords as well. They didn't want me to just pick the niche, give them a skeleton site, and let them get on with it.
So over time we increased what we included with the sites and priced accordingly. Then it was just a case of tweaking until we found the sweet spot. We basically wanted to give people the maximum possible, for the most reasonable price. This led to us creating "Done For You" sites that come with around 10,000 words of content, keyword optimization, on-page SEO, a fully built website, and a plan/blueprint to take the sites from there and grow them.
It's been an evolving process and we are due to update our offer in the next few weeks. As affiliate marketing has changed, our audience has changed, and what people want from us has inevitably changed as well. Ultimately, our decisions are based on responding to demand. If people want X and we can include it, we will.
I had originally wanted to build sites for people first, and then have them view and buy them. The problem was that I initially had basically no money (my own internet marketing efforts were paying my rent), and no audience. So I didn't want to build a bunch of sites, pay for their content, and then be stuck with them hoping someone would come along and buy them.
So instead I initially built sites on commission. This meant that customers would pay up front, and I would then go and start the project, which was a much more scalable method, and I was able to hire help as more orders came through.

How have you attracted users and grown Human Proof Designs?
I touched on this a bit above, but essentially here's what we did, and still do:
Write good content and sit back while everyone flocks to us.
Haha no, just kidding.
Good content is a huge part of what we do, though. We focus on teaching affiliate marketing, so that attracts an audience to us, and many of them end up hiring us for our services. We've started to sell courses, which are taking time to get traction, but content marketing is a large part of this. I had initially considered giving sites away for free and having users subscribe to training instead, but I felt that was less practical and I didn't want to hold people's sites hostage in order to turn a profit. In the end, I'm happy with the path we've gone down.
Initially we focused on SEO, and while we still do this, we also do content that is designed for an existing audience, so not every post we create is with the aim of ranking in Google. Sometimes your audience just need to read something, regardless of whether or not there are people searching for it.
Before we had a name and a brand, I did a lot of outreach to other influencers in the space.
This of course took time, because there are so many "gurus" and people teaching affiliate marketing, that I wasn't really taken seriously initially. Fair enough, actually. After a while, people started to see that I was doing good things, and once one or two influencers started recommending me, letting me guest post for them, or having me on their podcasts, then other influencers started to do the same thing.
Many of these are now my friends (some even in real life), so networking has been a huge part of finding success in this niche. In fact, I wish I hadn't waited six months to pluck up the courage to start doing it! At one point, referral traffic was our highest converting traffic source, so it just goes to show how important networking is.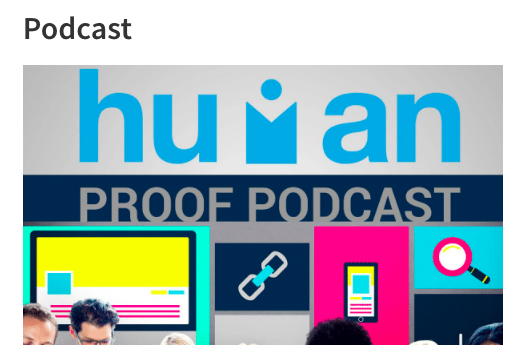 Be active in Facebook Groups and forums.
Spending time on Facebook can make you feel like you are working when in fact you are wasting time, so it is a double edged sword. That said, in my niche, this is where my audience hangs out, and it's how I've been able to build my authority and capture a user base. By answering people's questions, engaging with the community, and dropping links to my content ONLY WHERE RELEVANT (very important), I've been able to get a lot of traction on Facebook.
It's also a good place for brand evangelists. Whenever people ask for reviews on our services, or ask which services to use, there are a lot of HPD customers in those groups who are more than happy to recommend us, and the fact that I'm active in those groups as well makes the process more organic.
What's your business model, and how have you grown your revenue?
Every month we list "Ready Made" affiliate websites that we've researched and built. Some of these are "Aged" sites, which we built six months prior to listing, so people can pick them up and skip some of the sandbox period (a period where Google doesn't like ranking brand new sites). There are others, which are cheaper because they're brand new and listed as soon as they're built.
We have some sites that people commission us to build, so they're not ready at the time of listing, but we'll build as soon as someone pays. We are transitioning out of these sites, though, and only focusing on ones that are ready to pick up instantly.
We also do custom sites where people bring us their niche ideas, and we go and build the sites around those niches, based on our own expertise and keyword research. Outside of that, we have a few complementary services like article writing, SEO, link building, and so on. We initially didn't offer these, but people kept asking, so who were we to deny them!
Upsells, additional services, and increasing the lifetime value of our customers has been one way to grow our business. We've also scaled the amount of sites we list, as well as the aforementioned supplementary services. We are a huge team now — over 200 freelancers fulfilling services, and a core leadership team of around 10.
We have experimented with paid ads, but the results are never conclusive. Sometimes it looks like we made more than we spent, other times, not even close. Pay-per-click can be frustrating considering it is supposed to be clearer than SEO. One thing that has worked really well, however, is promotions. In July we recorded $115,000 USD revenue, by offering a huge two week promotion where we offered discounts on our services. In spite of the discounts, it was still our second best month ever.
Some of our services only have a 10% margin while other services have closer to 50%, so we have to be careful which products we do promotions on. In 2017 we had a few months where we did promotions on our lowest margin products, had breakthrough revenue months, and then wondered why we barely made any money. Oops!
We've found that many of the biggest buyers were repeat buyers. We have a lot of brand evangelists and people who buy from us time and time again. This is because we have improved our operations department over the years, and turned what was once our weakest department into our strongest.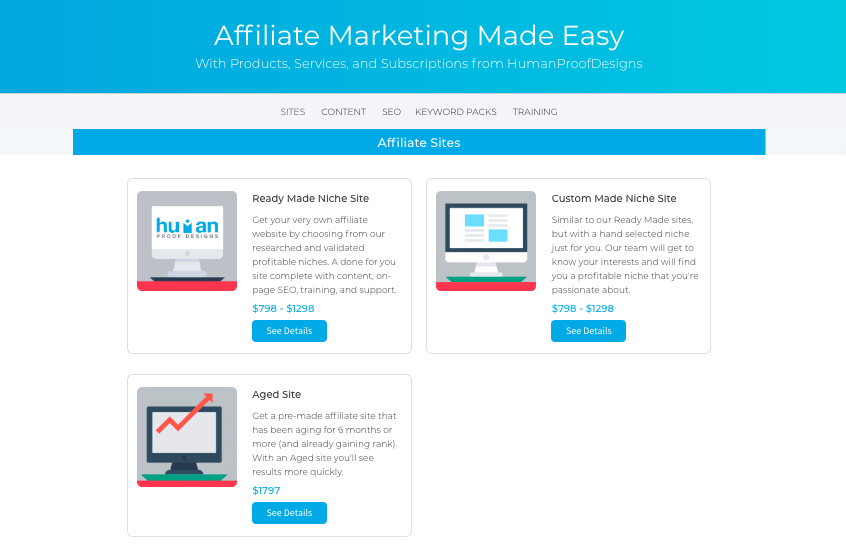 What are your goals for the future?
The whole time we've been scaling HPD, we've also been scaling our own portfolio of affiliate sites because it's important to to walk the talk. We can't just teach affiliate marketing if we're not actively in the trenches ourselves. We've got efficient processes and a talented team, and it would be a waste to just build sites for other people and not ourselves.
So, a large part of our growth over the next two to three years is going to come from scaling our portfolio more aggressively. We've also partnered with some people to help grow their sites for them, and we may consider starting a fund as well.
What are the biggest challenges you've faced and obstacles you've overcome? If you had to start over, what would you do differently?
We struggled a lot with operations when things really started to take off. We just didn't have enough people to meet the demand, and we ended up having to refund customers. Our reputation took a hit back then because those same people who now praise us in Facebook groups would go there to complain about how slow we were.
We got that all sorted out, and the hardest thing now is continuing to scale to meet the salaries of people we've hired along the way. We're still very much profitable, but as you acquire more expenses, growth eventually starts to slow down and you have to be diligent about balancing the books.
If I were to do anything differently, I would focus more on what my audience needed and less on what I wanted to give them. That's probably true for many businesses, though. I also would have started networking sooner, and would have hired my team earlier.
Have you found anything particularly helpful or advantageous?
The book Traction by Gino Wickman was a huge help when we were having operations issues. It truly change my life, just as advertised. Also, joining various communities like Dynamite Circle and networking with other business minded people is very important.
You have to level yourself up if you want to level your business up. Not just mindset, but everything.
What's your advice for indie hackers who are just starting out?
Don't be afraid to evolve and change your offer or service based on new information. There is going to be some diminishing return with this because you can't keep changing all the time, but you have to keep innovating and responding to new demands and client feedback.
Where can we go to learn more?
www.humanproofdesigns.com is the best place to keep up with the business.
We also have a pretty engaged audience in our free Facebook Group!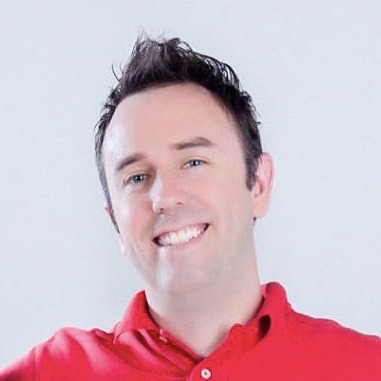 Want to build your own business like Human Proof Designs?
You should join the Indie Hackers community! 🤗
We're a few thousand founders helping each other build profitable businesses and side projects. Come share what you're working on and get feedback from your peers.
Not ready to get started on your product yet? No problem. The community is a great place to meet people, learn, and get your feet wet. Feel free to just browse!
—
Courtland Allen , Indie Hackers founder