Taking On an Entrenched Dating Monopoly with Passion and A/B Testing
Hello! What's your background, and what are you working on?
My name is Sierra Sterling. I'm 24 years old, live in Los Angeles, and am the CMO at Sweet Pea.
Sweet Pea is a dating app that makes meeting new people online an experience that is more about conversations and less about swipes. We're for thoughtful, intelligent people who want a better social experience out of their dating apps. If Tinder's a party, we see ourselves as the coffee shop of dating apps. Sweet Pea is here to humanize the online dating experience so that by the time people meet up in real life, it feels like their third date, not their first. We want to make meeting people online an experience people enjoy having, not just one they feel like they have to tolerate and settle for.
Our goal is to make meeting people online a more expressive, conversational, human experience.
We're currently launched in California and New York, as well as ten college campuses around the country. We've gone from a few thousand users to many tens of thousands of users in 2018. Having spent the past two years in R&D to build the best product possible, we're planning to focus our efforts on scaling in 2019.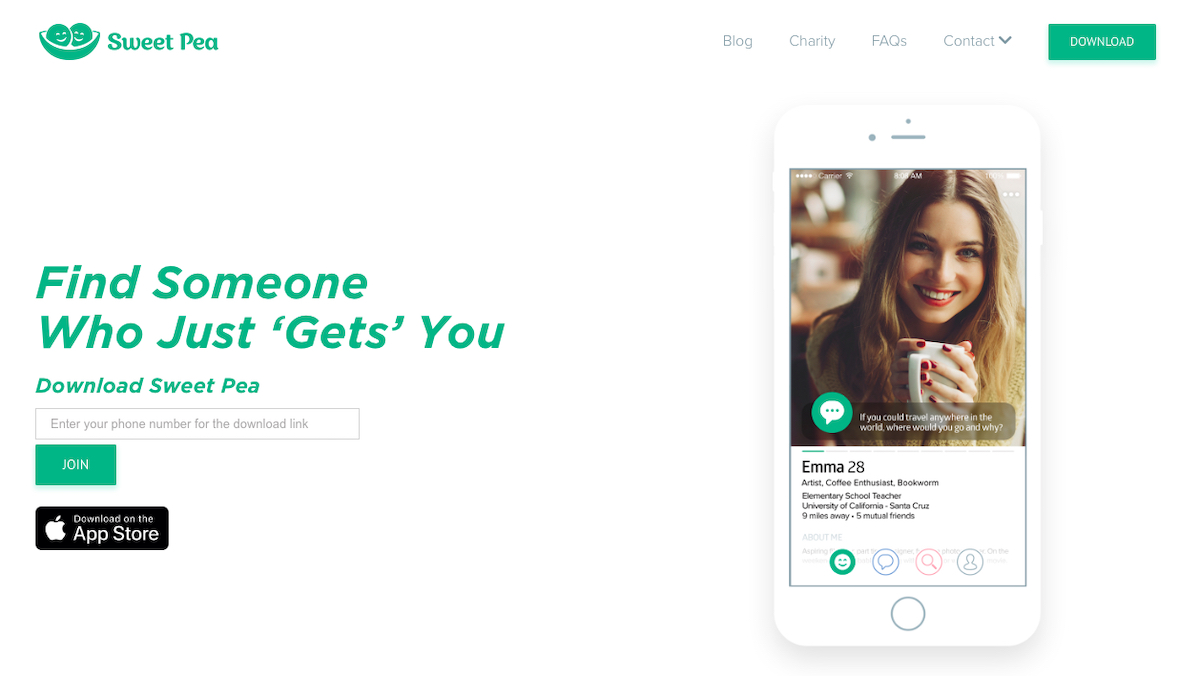 What motivated you to get started with Sweat Pea?
Michael came up with the idea and built the app initially, but I was drawn to his vision for the company really early on, before very many users had signed up. His ideas resonated with me on a personal level—seeing the impact dating apps have had on modern dating culture made me want to be part of a company trying to approach the space more thoughtfully.
We've spent almost a year and a half together testing the idea, refining the product, finding our audience, getting our messaging/branding right, and now, finally, starting to scale. We validated the idea through a lot of A/B testing. This meant moving fast, trying lots of different things, being open to change, listening and empathizing with users, prioritizing tasks judiciously, and just working really, really hard. We're missionaries for this company, not mercenaries. We really believe in what we're trying to do and are willing to work harder, with fewer resources, than everyone else to prove it.
I didn't really have any expertise in the technology industry before joining Sweet Pea, but I did have experience marketing to college students through my work at Sony. Really, I just wanted to learn, work hard, and believed in the company's mission from the start. I've been focused on the journey and the learning opportunities. Wearing multiple hats at a startup can be taxing, but it's an experience that's been invaluable to my development as a woman in tech and as a person. It's taught me a lot.
If I wasn't at Sweet Pea, I'm not sure what I'd be doing. Maybe working in the music industry. Maybe starting my own company. I was fresh out of college, working part time writing for an online publication when I met Michael at a coffee shop on a whim. After talking with him for a couple of hours I asked if I could help with the college marketing for Sweet Pea. We worked together part-time for three months, and then I joined the company full-time as their first marketing hire. Luckily, I don't have to think about too many alternate ideas for work right now—at the moment I'm happy trying to solve this problem.
What went into building the initial product?
Building the first product took a lot of time. It's a mature industry so disrupting multi-billion dollar companies wasn't going to be easy, or cheap. The bar for an MVP is very, very high for dating apps. So we took our time, paid attention to every little detail, ran lots of A/B tests, and after two years—of which I was around for 1.5—finally feel comfortable with where we are as a product and a company. We're relentless in our desire to constantly improve and iterate faster than our competitors, but the base level comfort with the product is finally there. We feel like we're ready to seriously compete.
We're a small company, eight people in total at this point. So we have to be judicious with how we spend our time, and work ten times harder than the brands already out there. Resource constraints have slowed us down, but it's also forced us to really prioritize and think deeply about how we spend the resources we have. In some ways, that's been a good thing. Depth is better than breadth for a new startup. This applies to product development and customer acquisition.
What's your business model, and how have you grown your revenue?
We make money through subscriptions, like every other dating app, but the difference lies in price. Sweet Pea only gives free users 15 matches a day, and charges premium users $3/month for unlimited matches and all the other premium features we offer. From a business perspective, we are the happy medium between expensive, members-only websites like Match.com and freemium apps like Tinder where 5% of the user base is paying for everyone else through $15/month subscriptions. We'd like to grow into a company that's more like Spotify, with 40-60% of users paying a small, affordable amount of money to a service that really adds value to their daily life.
We also think our business model is inherently conducive to a more thoughtful, interesting community. Even the smallest amount of patience (restricting to 15 matches per day) and paywall ($3/month) will weed out the people who use the other free apps to passively swipe. Our community, and the user experience, is in effect strengthened by our business model. Rather than gasify the experience with in-app purchases, algorithms that throttle engagement, and a casino-like user experience, our business model allows us to be straightforward and honest with users.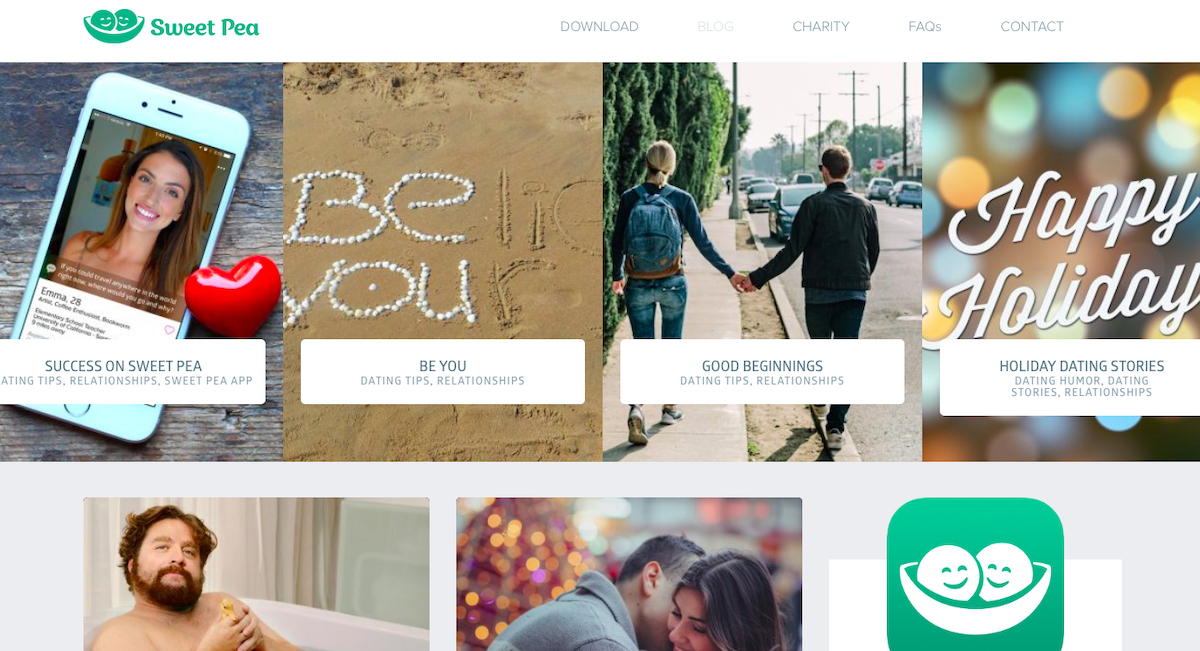 What are your goals for the future?
At this point, there are a number of variables to A/B test moving forward, such as price, subscription duration, number of daily matches for free users, limiting daily matches for premium users, free vs premium features, and a whole host of other small things to try and get things right. If Tinder is monetizing their user base at $15/month (on average), and 5% of people are footing the bill, in order for us to offer a $3/month subscription, we need a 25% subscription conversion rate. It's going to take time to hit that number, but we think it's doable and trending in the right direction. Ideally, we'd like to get to a point where we can get as close to zero marginal cost as possible and offer $1/month subscriptions, but that's a goal that's going to require scale and take a lot of time.
The hardest thing about building a marketplace has been solving the chicken and egg problem. At this point for us, it's a science. To activate a new geo location, we need X minimum number of users. After X, we need to add Y number of users per day to prevent attrition. We see network effects after Z user threshold, and if we're lucky, will get people to refer their friends directly through in-app invite mechanisms.
Our margins are a work in progress. Like any software business, they'll get better at scale. We're still losing money, but that's okay. Tinder is currently operating at 800 million a year in revenue on 40% net margins. Our goal is to get to a 20% net margin in three years.
In terms of product, we want to build a better dating app so that people can delete the other dating apps they have off their phones, not just another dating app that people add to their phones. This will require building out our product faster than our competitors, continuing to de-risk and prove out our business model, and raising capital to efficiently scale and prove our marketing acquisition channels and unit economics exceed that of our competitors.
Fundamentally, we believe all of this is doable if we stick to our founding principles—making people happy and connecting them through fun, interesting, meaningful conversation.
What are the biggest challenges you've faced and obstacles you've overcome? If you had to start over, what would you do differently?
Our biggest roadblock is going to be staying diligent and focused on the product while we raise growth capital. Competing against an entrenched monopoly (Match Group) is no small task.
In terms of marketing, if I could change anything I would have been more patient with some of the experiments I've run and money that's been spent. Small numbers don't satisfy the brain the way big numbers do—it's just basic human psychology. I've often found myself saying "If Bumble is getting 50,000 users a day then we need to get on their level, now." It's easy to rush yourself into things and trying to scale before your company or your product are ready. Being patient and content with where we are instead of rushing to get where we want to be and spending a ton of money carelessly has been an acquired skill. I'm still developing a better capacity for patience, and constantly having to remind myself that a startup is a marathon, not a sprint.
Poor hiring decisions—either hiring too early or not vetting the people thoroughly enough—has been another area that's been a struggle. It's really expensive to make bad hires in terms of dollars, but it's even more expensive in terms of time and energy. Hiring judiciously, carefully, and slowly is something that's very, very important for new companies.
Have you found anything particularly helpful or advantageous?
Reading: all the old Y Combinator blogs, Andrew Chen's newsletter, Andreessen Horowitz's a16Z Podcast, Brad Feld's blog, First Round Capital's newsletter, and lots of other reading on the internet.
Lifestyle: Regular exercise helps manage stress.
Luck: Meeting great people like Michael and Sally. Sometimes you just get lucky.
What's your advice for indie hackers who are just starting out?
Stay patient
Pay attention to competitors but don't let their success consume you
A/B test constantly
Lots of small experiments with low investment > Big experiments requiring a large investment
Reach out and meet as many people as you can
Where can we go to learn more?
Questions? Want to chat? Let's talk! [email protected]
—
SweetPeaApp , Founder of Sweet Pea App
Want to build your own business like Sweet Pea App?
You should join the Indie Hackers community! 🤗
We're a few thousand founders helping each other build profitable businesses and side projects. Come share what you're working on and get feedback from your peers.
Not ready to get started on your product yet? No problem. The community is a great place to meet people, learn, and get your feet wet. Feel free to just browse!
—
Courtland Allen , Indie Hackers founder