The Product and Marketing Strategies We Used to Surpass $20,000/month
Hello! What's your background, and what are you working on?
My name is Sagi Gidali. I'm the co-founder and CPO of SaferVPN, a leading virtual private network and cyber security SaaS service. SaferVPN allows consumers to browse the web safely, securely, and anonymously; and enables businesses to protect their employees and organizations from wi-fi security threats and potential data breaches.
My personal background is in user experience and product design. Before I co-founded SaferVPN, I was part of the Israeli Defense Force's visual intelligence unit. After that, I worked as a UX and UI consultant for Siemens. While there I had the opportunity to design web applications for major automotive clients like GM and Volvo.
Now, as the co-founder and CPO of SaferVPN, I manage everything that has to do with the product. From our cross-platform VPN applications to our company website, I'm always focusing on how we can simplify our technology for our users and provide them with an excellent and intuitive user experience.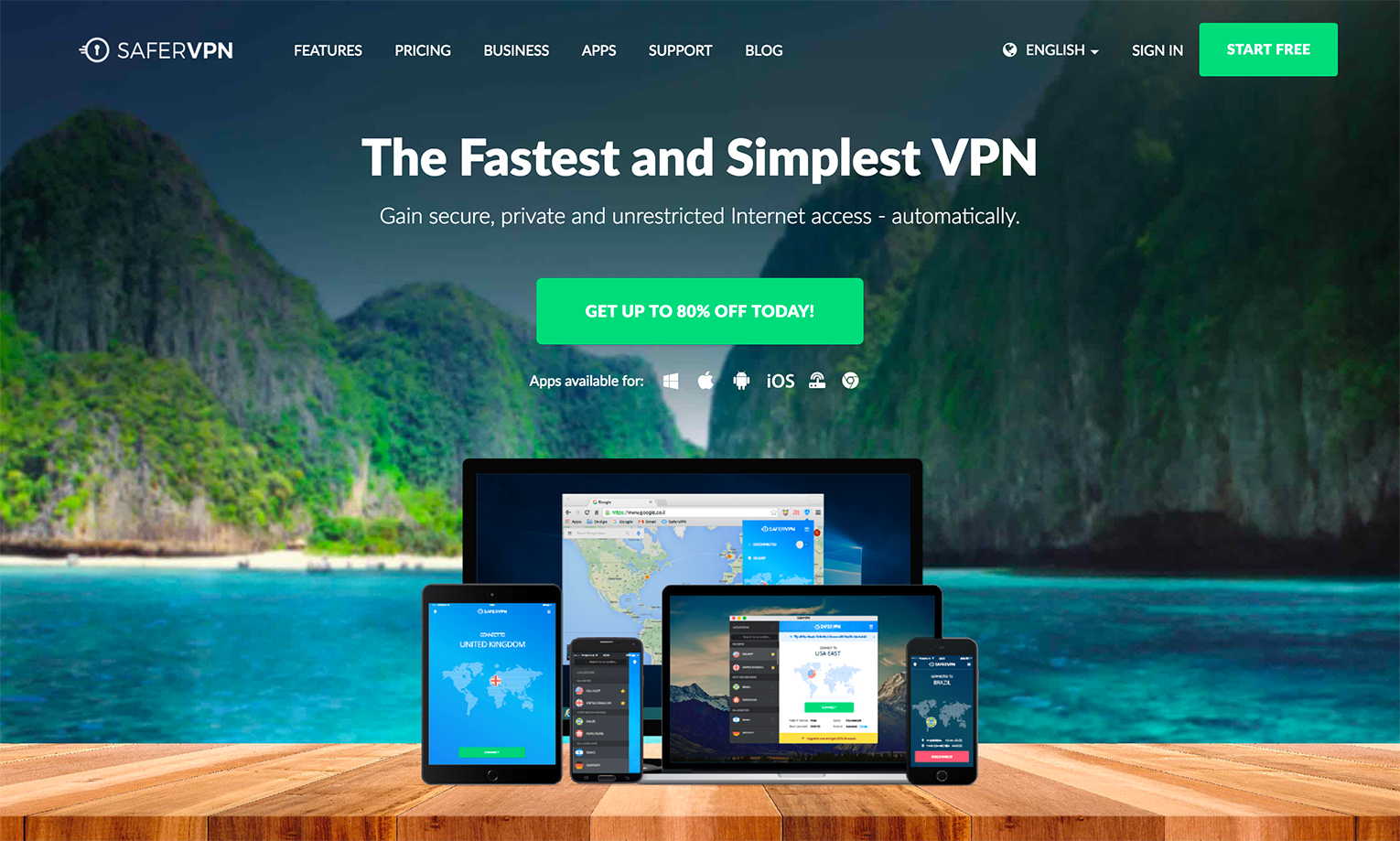 What motivated you to get started with SaferVPN?
I founded SaferVPN in 2013 with my college friend, Amit Bareket. We both dreamed of becoming independent business owners and contributing to society in a meaningful way.
While studying computer science at university, Amit and I developed an app together, submitted it to a Microsoft competition, and won one of the top prizes. Afterwards, we began to receive considerable recognition and interest from investors and VCs, and we really started to see the potential of our working relationship and professional synergy. So, following graduation, we decided to build a business together.
During the first few months, we spent time brainstorming about the kind of product we wanted to develop. We had an idea for a very different product, but a trusted investor advised us against pursuing it, suggesting it would be hard to create a profitable business.
We ultimately chose to pursue the VPN space, prompted by the huge demand we saw in the market and today's fast-changing online world, where we now encounter Internet censorship, privacy breaches, security threats, and geo-restrictions.
What went into building the initial product?
Initially, we were working out of the Google Campus Launchpad, where we received a lot of support. While there, we also had the opportunity to enjoy special mentorship and advisory programs.
We also received a great deal of valuable support and advice from fellow Israeli entrepreneurs and IDF intelligence alumni, many of whom are founders of successful high tech companies. The startup ecosystem in Israel is very supportive, and it's easy to find excellent people to partner with and collaborate and learn from.
When we were in the initial stages and evaluating the idea of building a VPN solution, we met the CEO of a big ad company. He was seeking software for ad verification purposes, and we knew a VPN was the solution he needed. He was our first customer, and we were obligated to deliver the product in one month. We managed to stick with the timeline and delivered the first version to him within 30 days. This customer paid our bills for further growth of the product.
At the same time, we started to develop the website, conduct market research, develop our go-to market strategy, identify our target audiences and personas, and gain some clarity about what we could do to differentiate our product in the VPN field.
We bootstrapped the company for 2 years, and in order to sustain ourselves financially we both worked two days a week in large organizations (Siemens and IBM). All the rest of our time was spent working on the baseline infrastructure of the product.
And of course, there are the unsung heroes: our interns. Over the years, we've been very fortunate in our ability to recruit incredible interns who were critically important in various aspects of the company's development. We've entrusted them with a great deal of responsibility, and in return, they've helped us to create valuable international partnerships, develop our platform, and build our business.
What's your tech stack like?
Our VPN solution includes fast and simple apps for Windows, Mac, iOS, Android, and Chrome; and highly scalable white label, cloud VPN, and automatic wi-fi security innovations for businesses, institutions, and enterprises
We use a large variety of technologies to manage a full environment from the cross platform VPN clients, infrastructure, website, and more. Everything we do at SaferVPN is created, implemented and managed in-house.
The technology we used to build SaferVPN includes Ansible, TeamCity, PHP/Laravel, NodeJs/Express/ParseServer, Webpack, React, Docker, Native Mobile, and others.
What strategies have you used to attract users and grow your business?
We've used a variety of marketing strategies to grow SaferVPN, including direct, organic, and paid approaches.
To support and sustain company growth, we initially acquired two local businesses as customers: a search engine optimization (SEO) organization and the aforementioned ad company.
Once we launched our website, we began using Google AdWords with the help of the team at Google Israel. With a small budget of $5k a month, we managed to get a positive ROI. From there, we began to generate revenue, with 15-20% increases a month going forward.
We also created affiliate relationships to bring customers to the company, and later on, we increased the company's visibility and organic user acquisition by establishing a blog, social media channels, and a unique email funnel for the product.
One thing that differentiates us from the competition, and has served as a highly effective channel for growth, is that we offer a free trial without requiring a credit card number. This has allowed us to get leads and engage with users to ideally convert them to a sale.
From our launch until now, our organic acquisition has increased to around 40-50% of our monthly website traffic, our brand is widely recognized, and our customer base has reached over 1.5 million free and paying users.
One customer outreach strategy that's been very effective is our "email from the founder," which has helped us to build relationships with our customers and engage with them: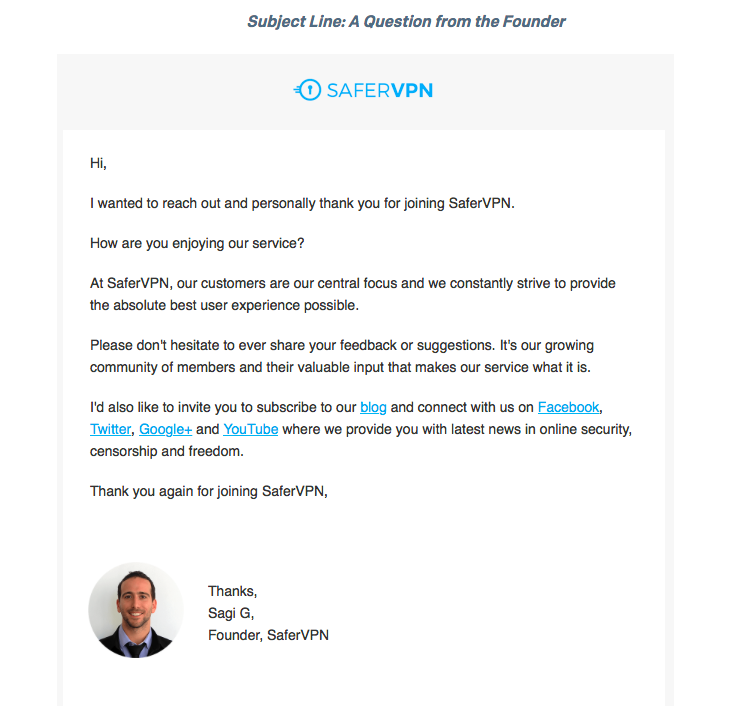 This email has a very high unique open rate of 60%. Every week I receive dozens and dozens of emails from loyal customers and power users interested in sharing their feedback — and I read every one! It's proven to be a hugely effective way to engage with customers as well as understand their needs.
We've also invested heavily in our customer support program, which includes a 24/7 live chat, comprehensive knowledge base, and easy-to-use self support tools. In fact, Software Advice named us as a leader in customer support among SaaS companies for our customer-friendly help desk and support technology.
Our customer-centric focus has certainly paid off. We have a very high satisfaction rate of 9.7 out of 10 on Trustpilot, a leading customer review site. Working together with them, we've incorporated our strong rating and positive customer reviews on our website and email funnel, which in turn has helped us to educate potential customers on the benefits of our product and achieve a meaningful uptick in our conversions within a very short time.

Along with our customers, we highly value our partnerships. For example, we maintain an agenda of supporting unrestricted access to the Internet and freedom of speech for all. Therefore, we have partnered with the human rights crowdsourcing organization, Movements, to create our powerful initiative called UnblockTheWeb. As Internet freedom fighters, we believe that it's every person's basic right to have uncensored Internet access, and our initiative provides activists and dissidents in closed societies with free VPN service so they can exercise this basic right.
For the business-to-business arm of our business, we partner with big OEMs to offer our complete white-label VPN solution. We offer company-specific branding and totally seamless integration.
Regarding SEO and ASO (app store optimization), we've successfully utilized new platforms and tools to boost our rankings and generate organic traffic. For example, by using mobile marketing platform TUNE, we were able to effectively target low competition, high traffic keywords and rank #1 on the UAE App Store — even beating out WhatsApp!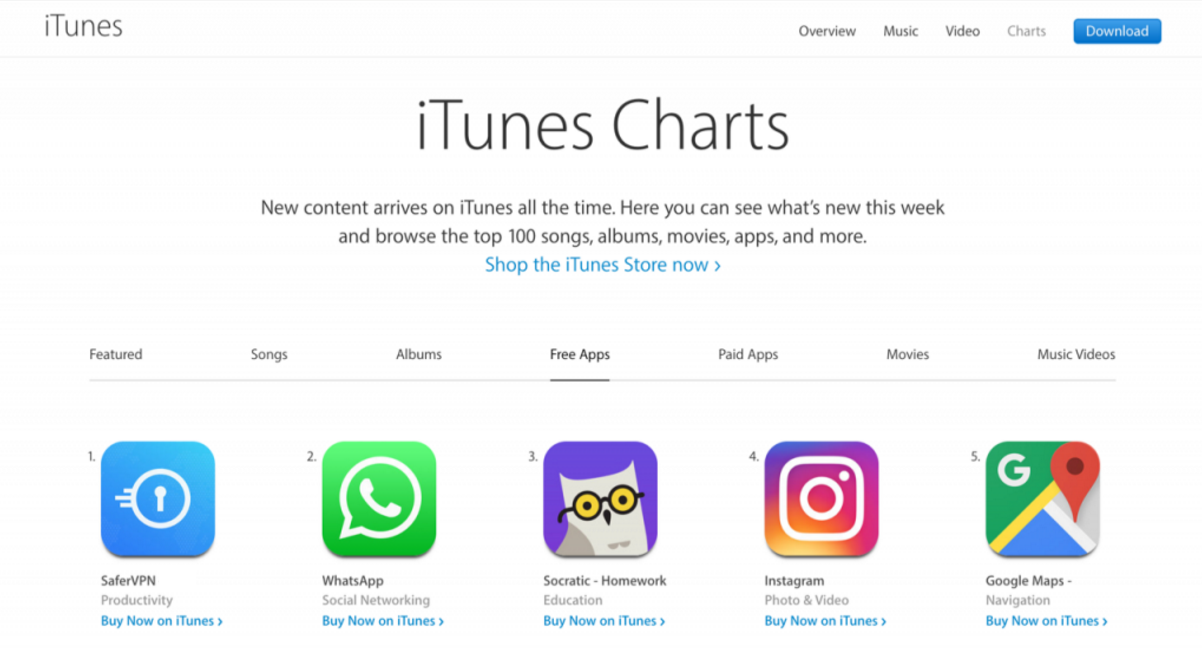 Top free apps on iTunes.
Like our Apple and Google Play app store traffic, the majority of our growth on the Chrome App Store is organic, driven again by careful selection and placement of target keywords in our app description:

Growth in Chrome extension customers.
We drive organic traffic in other ways as well. Every week, we publish a lot of content via our blog and social media in an effort to inform our users about the benefits of using a VPN as well as to educate them about current events pertaining to cyber security. Our blogs are SEO-optimized and offer useful tips and information about a variety of topics, such as online security, censorship, and anonymous browsing.
Alongside these efforts, we are constantly A/B testing, improving our extensive email funnel, conducting research on design to see how it influences the users, and altering our infrastructures to enhance our UX/UI.
Have you tried any growth strategies that turned out poorly?
What's worked for us so far is simply persevering, working hard, and never letting any failures slow us down.
I would say our biggest challenge thus far was that in our first year of business, we were unable to achieve our customer acquisition goals. We tried to sign up 10,000 customers but only managed to get around 1,000.
This setback led us to totally re-evaluate and revise our marketing strategy. Overcoming this major disappointment also taught us to be more patient and to carefully plan out our strategies for acquiring and retaining customers.
Ironically, this experience has also made us less fearful and more willing to take risks. Now, when my co-founder and I have new ideas for our business, we have more confidence and conviction to go for what we've envisioned and see our ideas through — because we know we can bounce back from anything.
What's the story behind your revenue and business model?
We have two successful verticals: consumer and enterprise.
Our consumer business model is very simple. We offer a SaaS premium service based on subscriptions with a free trial, and a freemium Chrome extension with a monthly data limit.
We also work with EMM/MDM (Enterprise Mobility Management and Mobile Device Management) distributors and sellers to provide our VPN solution to enterprises. Our SDK encapsulates our technology, and enables us to partner with and offer our customizable white label solution to large telecom and internet security companies. This type of innovation is what makes us stand out in our industry and is also a strong driver of continuous business development and expansion.
Like many SaaS companies, we have faced issues with fraud, and we will likely continue to encounter them in the future as well. Though we are always working to improve our systems and detection methods to discourage and prevent fraudulent behavior, we know it is something we must continue to remain aware of and to address.
We are also always revising our strategies to deal with churn. Many expats and travelers, for example, primarily seek out a VPN to access geo-restricted content from abroad. Once they've returned home, they often don't see as much use for the technology. We are working to educate these customers on all the benefits of our service, particularly the online privacy and security benefits, which are invaluable and can easily come into play during daily life.
On the positive side, our newest feature, Automatic Wi-Fi Security, was released at the end of 2016 and is a showcase piece of our innovative, proactive technology approach to cybersecurity. It has not only helped grow our revenue, it has gotten us extensive exposure within the industry.
We've also been very strong in developing and delivering our promotions and promotional offerings. During this past holiday season, we tested out various promotions and pricing models to pinpoint what offer was most attractive for our customer base. Using this knowledge, we were able to hit a record high number of sales (4 times our average daily number!) and significantly boost our monthly and annual sales as well.
On the technical side, our revenue is generated using a subscription-based model. Payment systems include: all major credit cards, PayPal, Bitcoin, AliPay, iDeal, Sofort Bank Transfer, Yamoney, Redcompra, Webmoney, Unipin Express, Qiwi Wallet, Mobiamo, MINT, OneCard, EcoCard, CherryCredits, Unipin Wallet, Oxxo, MOL, Neosurf, myCard, Member, Wallet, and Yannex.
What are your goals for the future?
We have a very interesting roadmap for 2017, which includes expanding the company to new verticals through our groundbreaking, next-gen B2B and white-label solutions.
Already in the pipeline for 2017 are new desktop clients, new content filtering solutions, VPN server location expansions, and multiplying partnerships with NGOs to forward our #UnblockTheWeb initiative.
As far as our product, this year Amit and I aim to take SaferVPN's consumer market success and build upon this for the development and marketing of our new enterprise and B2B offerings. We've received warm feedback on our pilots with enterprises in different verticals, which looks promising.
We're also continuously improving the customer experience, be it via increasing the number of languages available on our website to expanding the payment options to enhancing our customer support services.
As far as any foreseeable roadblocks, we know that the VPN space is a crowded one, and only continuing to grow. To keep our edge over the competition, we are constantly innovating in order to ensure we continue to offer the best, simplest, and most relevant cybersecurity products in the market.
On a personal level, as someone who strongly values healthy living and keeping up with an active lifestyle, my goal is to continue maintaining balance in my work and personal life. I train at a CrossFit gym several times a week, and it helps me take a step back from my job and use my brain in a different way.
I'm a very creative person, and it's important to me to take time off to reflect, contemplate, and let my creative juices flow. I find I achieve this best when I'm playing sports, hiking, and generally disconnecting from electronics and work. Recharging my batteries in the great outdoors really helps me to gain additional perspective.
What's been advantageous and helpful to you while growing SaferVPN?
A huge advantage in the success of SaferVPN is that my co-founder and I come from tech backgrounds, having both been in elite intelligence units in the army and then working in corporate tech positions afterwards. Along the way, we've been able to gain useful insight from our army colleagues as well as successful CEOs within the Israeli ecosystem who we were introduced to as a result of our military service and experience.
Our vast knowledge of both product and tech, our complementary abilities, and our individual personality strengths really create a good synergy for working together and melding our knowledge and experiences. All of these characteristics have allowed us to build our agile company based on fast, simple product.
Our company investors have also had a big impact on our growth and development. We have close relationships with most of them, and they have always been very supportive, taking part in the growth of the company, and maintaining unwavering faith in our team and their abilities. In addition, our relationships and our connections with other successful entrepreneurs have helped us avoid mistakes and gain invaluable advice.
Another thing that has been beneficial for us is timing. The current demand for VPN solutions is increasing, with one of the major drives of this demand being the rapid growth of unsecured Wi-Fi networks. According to Cisco's Visual Networking Index, public Wi-Fi hotspots are expected to grow to 7 times the 2015 figure, from 64 million to 432 million by 2020. Meanwhile, a recent study by Kaspersky revealed that, with the lack of security on public networks, 1 in 5 people and 3 in 10 senior business managers have been hit by cybercrime while on-the-go.
In light of this growing issue, we recently received a special approval from Apple to implement our Automatic Wi-Fi Security solution. This innovative technology, which works across all platforms, solves the huge cyber security threat posed by unsecured public Wi-Fi networks. Unlike other VPN services, which require users to actively connect for Wi-Fi data protection, with SaferVPN, every time a user connects to an unsecured network, our solution automatically initiates.
Our vision has been a driving force in our success. We are very focused and clear about where we want to go, no matter how long the road will be to make it. For us, success is the only option, and we pursue it with passion, perseverance, dedication, and even a bit of humor.
We have a social agenda around freedom of speech and expression; for us, this is not just a business. We are focused on the real benefit our solution offers: helping people exercise their basic human rights and access to an uncensored Internet experience. For some, lack of freedom to Internet access and online privacy can be a critical situation — even a matter of life or death.
Where can we go to learn more?
—

Sagi Gidali , Creator of SaferVPN
Want to build your own business like SaferVPN?
You should join the Indie Hackers community! 🤗
We're a few thousand founders helping each other build profitable businesses and side projects. Come share what you're working on and get feedback from your peers.
Not ready to get started on your product yet? No problem. The community is a great place to meet people, learn, and get your feet wet. Feel free to just browse!
—

Courtland Allen , Indie Hackers founder