Transitioning from Design Shop to Subscription-Based Plugin Business
Hello! What's your background, and what are you working on?
Hi, I'm Katie Keith. I co-founded Barn2 Media back in 2009 with my husband Andy.
Andy's a web developer by trade, but my web knowledge is all self-taught. My background is actually in marketing and project management — and my degree is in English and Philosophy!
Before founding Barn2 Media, I spent seven years in a marketing job for local government, encouraging people to foster or adopt a child. This did involve some online marketing and web design, but that wasn't the main focus.
Andy and I had always wanted to work from home and start a business together. We talked about this for most of our 20s, but felt that we didn't have a killer idea that would be a success. As a result, we stayed in our jobs for far longer than we should have.
Eventually, Andy quit his job as a senior software developer and started Barn2 Media, while I supported the business alongside my full-time job. I went full time at Barn2 Media after having a baby in 2011.
We started by designing WordPress websites for small and medium businesses, and never had any trouble getting work. Instead of recruiting staff (which neither of us were keen on doing), we grew the business by recruiting a team of freelancers. At its height, we had a distributed team of about 10 freelancers working together on a regular basis.
However, we always felt that selling WordPress-related products would be a better way to get the work-life balance we were looking for. In 2016 we took the plunge and put most of our time into developing and selling WordPress product plugins, which add extra features to people's websites.
Fast forward two years and we now sell over $24k/month of plugins, on top of the income from the web design business.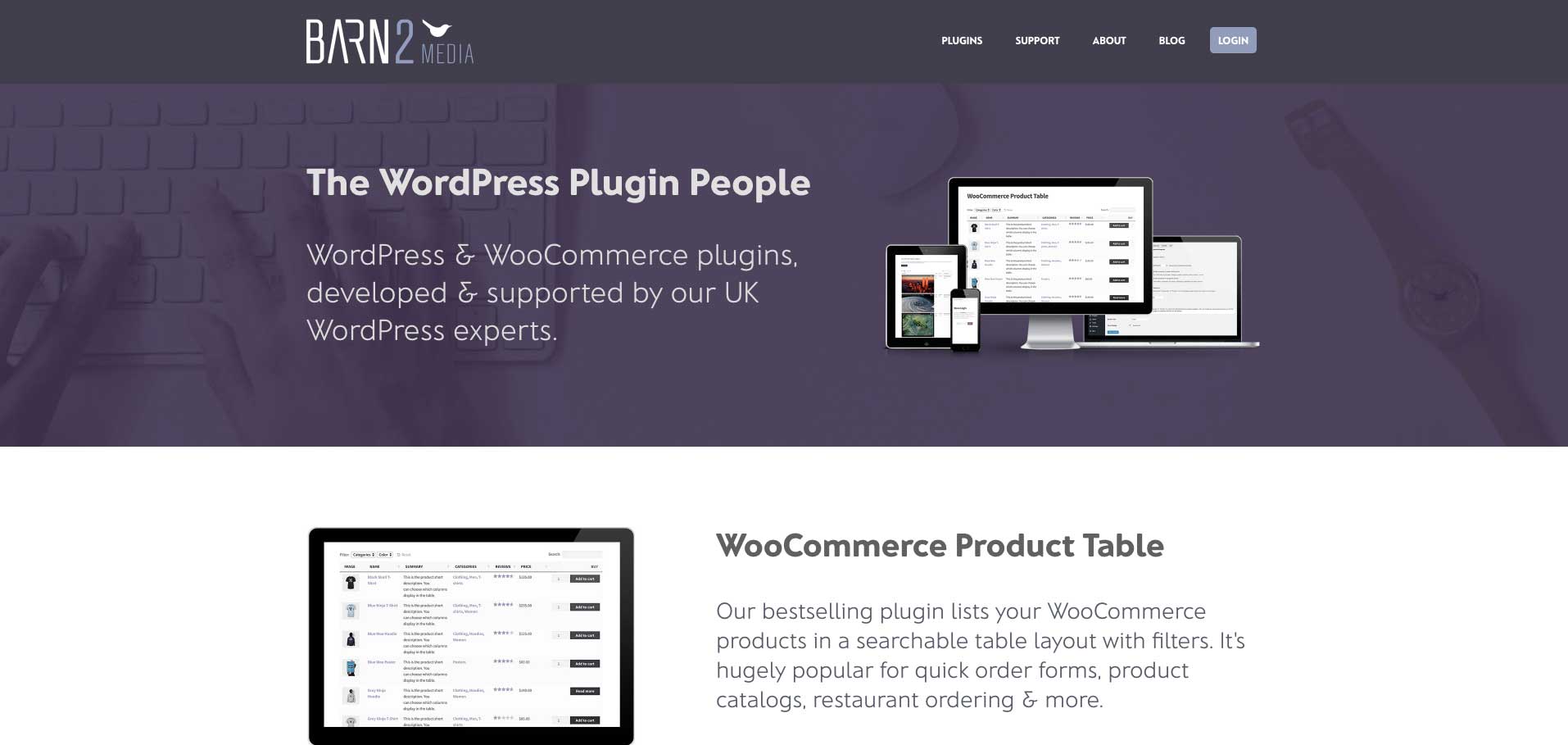 What motivated you to get started with selling WordPress plugins?
I'd wanted to sell web-related products since the early days of Barn2 Media, as I felt that it was a more scalable business model. I loved the idea of creating a product that would sell many times, without having to work for each sale.
We got the idea for our first plugin from an ideas forum where people requested new features for WooCommerce. WooCommerce is the world's biggest WordPress e-commerce plugin, and powers over 42% of all online stores worldwide. Quite a few people had asked for a way to password protect specific categories within their WooCommerce stores, and no one else had developed this yet. As a result, we developed our first plugin — WooCommerce Password Protected Categories.
We didn't do any formal validation of the idea, and had no idea if it would be successful. It felt like a very small niche to target! However, it didn't require a huge amount of development time, so we decided to take a risk.
Launching a WooCommerce plugin was a good combination of our skills. We were very experienced in developing WooCommerce websites and writing custom plugins for clients built on WooCommerce. This felt like a good niche to target within the wider WordPress arena.
At the same time, we also launched two free plugins to help grow awareness of Barn2 Media as a plugin company — Better Recent Comments and Posts Table with Search + Sort. These were enhanced versions of plugins that we had already built for our web design clients.
What went into building the initial product?
The perfect thing about selling WordPress products is that you can develop them and get them to market with no significant financial outlay. You just need to be able to afford the drop in income that comes from spending time building products that may never make any money.
We were already making a good living from designing websites for clients. With an established process and a team of freelancers, I could continue running the client business while Andy dedicated himself to building WordPress plugins.
In the early days, I probably spent a quarter of my time marketing the plugins and providing customer support. This increased to 90% of my time once the products became successful and I could afford to stop taking on new web design projects. This meant that we were very fortunate and could structure the existing business in a way that would allow us to start selling plugins without any big financial risks.
Once Andy was spending all his time on product development, we were able to launch two free plugins within a few weeks, and our first premium plugin a month or so later.
We achieved this by thinking carefully about the scope and complexity of each plugin. I'm quite risk-averse, and didn't want to spend too long working on a product that may not be successful. The strategy was to launch several small- to medium-sized plugins, each fulfilling a specific need that wasn't available elsewhere. We could then evaluate the success of each product, learn from our mistakes, and plan how to continue growing the business.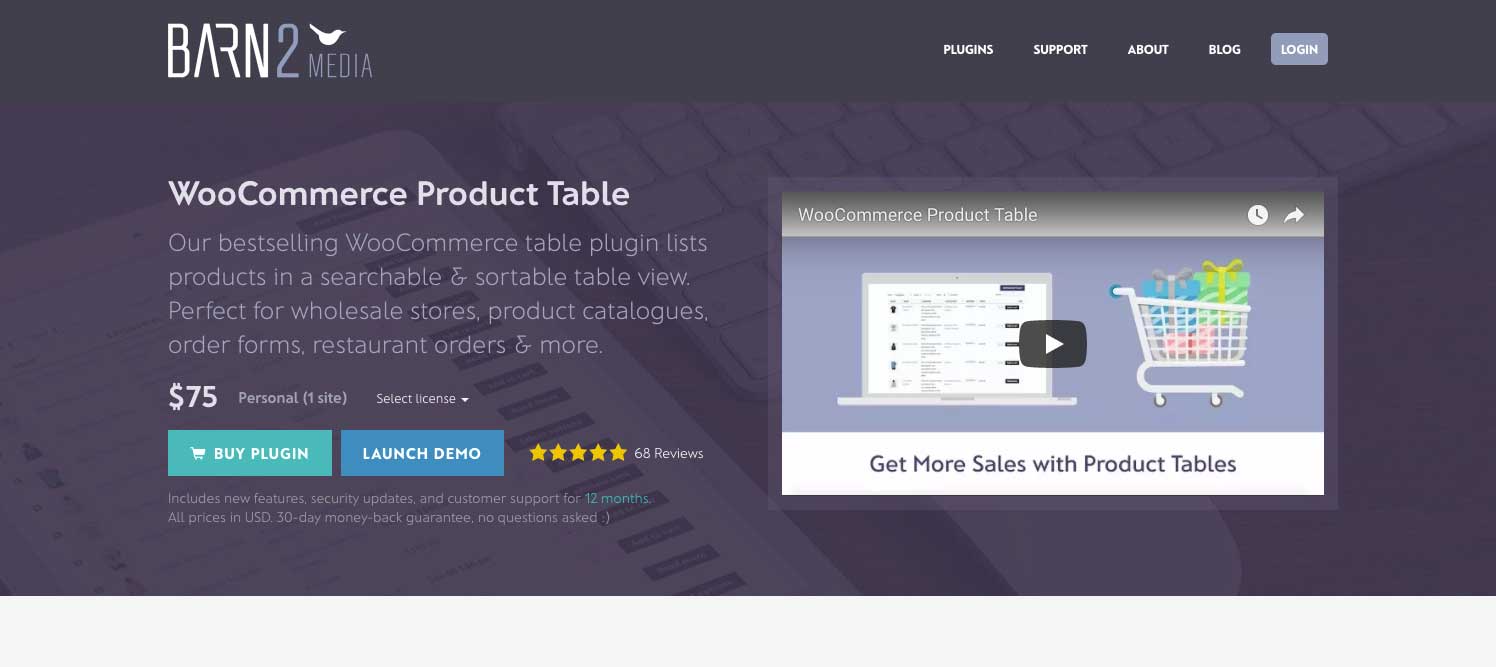 How have you attracted users and grown Barn2 Media's product sales?
When we launched our first plugin — WooCommerce Password Protected Categories — we started getting sales within a few days. There were only eight sales in month one, but those first sales felt so good!
I didn't do any paid advertising, pre-launch marketing, build a mailing list, generate a buzz on social media, or any of the things you're meant to do to promote a new product! All I did was to publish some articles on our blog. Since it was a niche area, that was enough for people to find us in Google. People were willing to buy from us because our website looked professional and there were no other products offering the same solution.
We grew the product sales by listening to our users. Once we'd released WooCommerce Password Protected Categories and the two free plugins, feature requests started flooding in. This gave us some excellent ideas for new products that would sell. For example:
Unexpectedly, lots of people were using WooCommerce Password Protected Categories to create a completely hidden store. The plugin wasn't really designed for this, so we developed a new product: WooCommerce Private Store. This now gets more sales than the original product.
Users of our Posts Table with Search + Sort plugin soon started asking to list other post types and custom data in a table. The free plugin only lists blog posts in a table, so we developed the Posts Table Pro WordPress table plugin to meet this need.
A lot of Posts Table Pro users were using it to list WooCommerce products in a table, which we hadn't expected. They wanted extra features such as add to cart buttons, so we created a dedicated table plugin for WooCommerce — WooCommerce Product Table. This plugin had huge demand and has skyrocketed our sales — it has sold more than all our other plugins combined.
My advice to aspiring entrepreneurs is to stop waiting for the perfect "big idea". Read forums and look on Quora for ideas and gaps in the market, and build a few products that won't take too long to develop. It's important to find products that don't already exist elsewhere, as that makes it much easier to conquer your niche and drive traffic to your website.
Evaluate the results, listen to feedback, and use the results to come up with more unique ideas that will sell even better.
What's your business model, and how have you grown your revenue?
The business model for the plugin business is to continue promoting our existing products; add new features where we have evidence that these will increase sales; and develop new plugins to fill further gaps in the WordPress and WooCommerce market.
We have grown our revenue through a combination of:
Experimenting with pricing to find the most profitable cost for each product.
Launching new products and adding new features to existing products.
Ongoing marketing to raise awareness and show how our products offer solutions for many different use cases.
Annual pricing with subscription model.
Having read about the success of other WordPress product companies such as Pippin Williamson's company Sandills Development, we decided to use a subscription model for our products. When someone buys one of our plugins, they are automatically signed up for an annual subscription. They are billed once a year for continued access to new versions of the plugin and support.
This makes the business more sustainable and will grow our revenue over time. We currently receive a couple thousand dollars from plugin renewals each month, which gives a nice boost to the income from new sales.
We offer two payment methods: PayPal and Stripe. I think this is important because we're a UK company and 89% of our customers are overseas. They need payment methods that they know and trust. PayPal is great because it's so easy and people don't have to enter their credit card details. I think it's good to add a credit/debit card option too, as this has slightly lower fees for us and some people (especially larger companies) don't like to use PayPal. Stripe is our default payment method because of the lower fees, and 60% of our customers pay via Stripe.
We sold $24,000 in plugins last month, and this figure is growing each month. This is on top of revenue from other sources such as supporting websites that we previously designed.
My tip for aspiring entrepreneurs is to create niche products where you have a reasonable chance of success by selling direct. It's better to have a big slice of a small pie than a 0% slice of a big pie — especially if you can choose your own pricing and sell subscriptions, which isn't an option on most marketplaces. Selling directly on your own website brings more potential for higher revenues than selling on a third-party marketplace where you'll lose 30-50% of your income in fees.
| | |
| --- | --- |
| Month | Sales |
| Mar 16 | 8 |
| Jun 16 | 13 |
| Sep 16 | 48 |
| Dec 16 | 59 |
| Mar 17 | 153 |
| Jun 17 | 177 |
| Sep 17 | 203 |
| Dec 17 | 211 |
What are your goals for the future?
I'm not keen on making formal revenue goals and projections. Instead, I plan to continue doing what we're doing — that's the best way I know to build on our existing success.
This means:
Using our feature request list to improve our products in a way that will increase sales. 
- Continuing to experiment with new ways to promote and raise awareness of the products.
Launching more WordPress plugins — both free and paid. Each one will be aimed at meeting a specific need in WordPress or WooCommerce, based on gaps in the market that we discover.
Personally, my goals are to be less busy and make more time for leisure and family life. I'm naturally a highly motivated person, and enjoy working hard! This means that I'm always looking to continue growing the business, even though I could drastically reduce my hours while still earning enough to live on. I need to find the right balance between building enough income to make the family financially secure into the future, while remembering to live life and take some time off in the short-term.
What are the biggest challenges you've faced and obstacles you've overcome? If you had to start over, what would you do differently?
I love selling products because while our customers need a lot of support, it's far less demanding or time-intensive than designing websites for clients. I also love working for myself, as I have much more freedom and can choose my working hours.
My biggest regret is not doing it sooner. I graduated from university in 2002, and didn't start selling WordPress plugins until 2016. I spent most of my 20s talking about starting a business without really doing anything. It's easy to do that when you're getting a regular salary!
Once I started Barn2 Media and built a successful web design business (which I'm really proud of), I spent years talking about selling WordPress products without really doing anything. It's easy to do that when you've got plenty of projects on the go!
The biggest obstacle to selling WordPress products has been time. I used to be busy with full-time employment, and then I was busy having a baby and managing web design projects. During those years, I played around with several side projects, but none of them went anywhere because I didn't dedicate enough time.
I've learned that sometimes you have to create time in order to do what you really want. There are lots of distractions along the way, and you need to be strong and focused.
For example, by September 2016 (six months after launching our first plugins), it was clear that the plugin business had the potential to be successful. This gave me the confidence to stop taking on new web design projects and focus most of my time on selling plugins. I continued supporting existing clients, and this provided a financial safety net. However, putting the bulk of my time into the products made a huge difference, and I should have done it sooner.
Have you found anything particularly helpful or advantageous?
I've found it really helpful to build products in an industry that I'm already familiar with. While I've been selling products for less than two years, I've been in the WordPress industry for over eight years.
During this time, I'd used hundreds of plugins from other companies. I knew what made a good plugin, and what other companies got wrong. I'd received outstanding support and poor support. I knew who the big players were, and who to learn from. I'd spoken with hundreds of WordPress website owners and knew their priorities and pain points.
I've put all this knowledge directly into selling our own plugins, which I think has helped us to become successful more quickly. It has also helped me to avoid a lot of the mistakes that other companies make.
For example, I've seen lots of WordPress products that come with free support with customizations and third party integrations. I've always wondered how they can afford to do this, because it means there are no limits to the support they will provide. As a result, I knew from the outset that our plugin business would have a clearly defined support policy with set limits. This is more sustainable, and our customers are still happy because even if we can't help them, we will always point them in the right direction.
Since starting the plugin business, I've also found it invaluable to speak with other plugin companies. WordPress conferences such as WordCamps are fantastic for this, and I'm a member of a Facebook group for people selling WordPress products.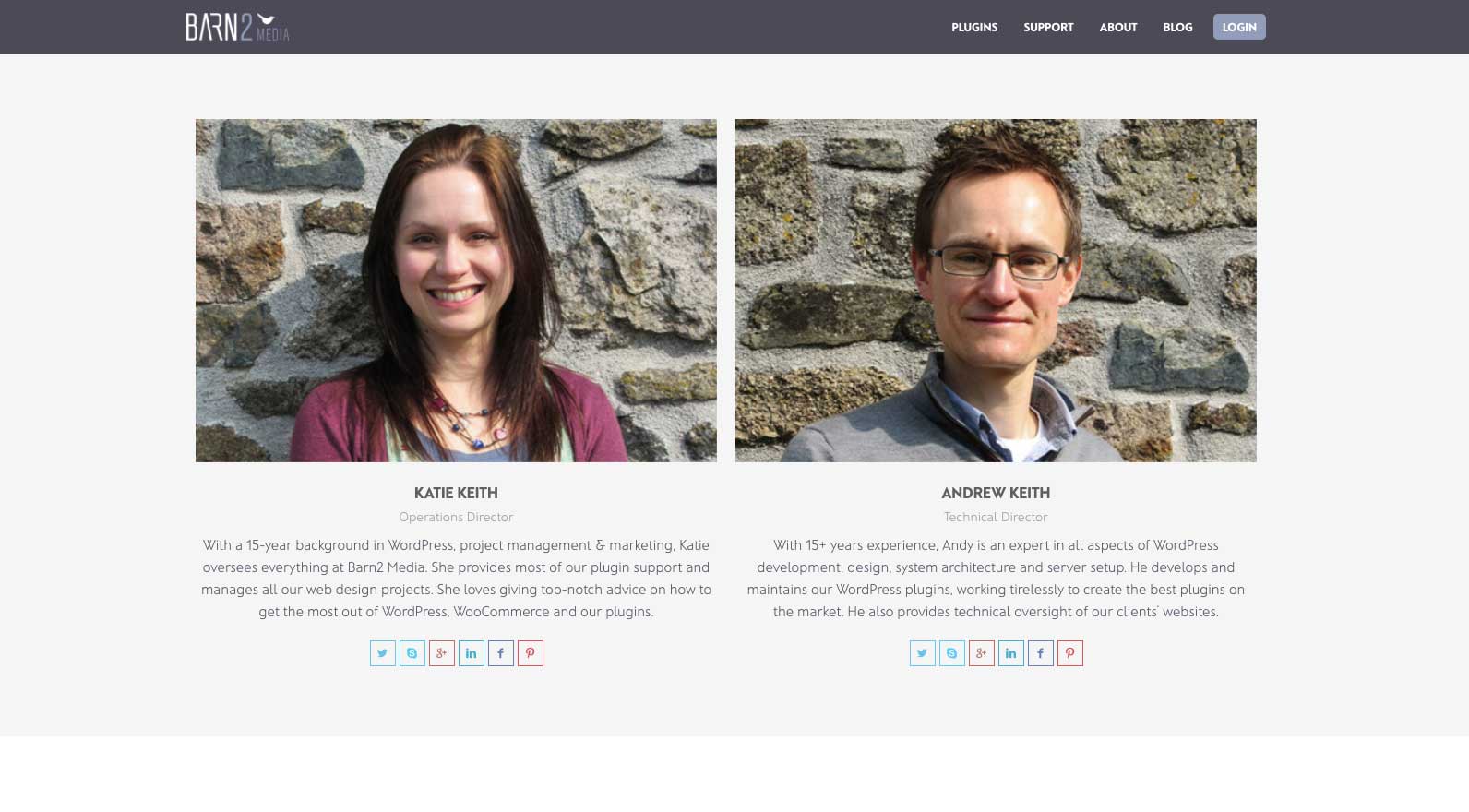 What's your advice for indie hackers who are just starting out?
Make it happen. You can talk about something for years, but it will only happen if you take action and launch a product. It doesn't matter if your first attempt isn't successful. By getting out there in the first place, one idea can evolve into another and your chances of success are infinitely higher.
Commit. You'll find greater success if your products are your main focus. You can find success with side projects, but this is harder as there are so many distractions.
Make it repeatable. Business gurus often say that it's easier to retain existing customers than to recruit new ones. Build a subscription-based revenue model and avoid products that involve one-off payments.
Listen and learn. Starting a successful business is a journey, not a destination. Be willing to change your plans based on your experiences, customer feedback and other new information.
Enjoy. There's no point in working for yourself if you hate your work. Choose work that you will actively enjoy, which makes good use of your skills and experiences. It's your business, and you can make it whatever you want it to be.
Where can we go to learn more?
Our company website is barn2.co.uk. You can also follow us on Twitter @barn2media.
If you'd like to leave a comment or question below then I'd love to hear from you.
—
Katie Keith , Founder of Barn2 Media
Want to build your own business like Barn2 Media?
You should join the Indie Hackers community! 🤗
We're a few thousand founders helping each other build profitable businesses and side projects. Come share what you're working on and get feedback from your peers.
Not ready to get started on your product yet? No problem. The community is a great place to meet people, learn, and get your feet wet. Feel free to just browse!
—
Courtland Allen , Indie Hackers founder